RingCentral and 8×8 are two of the world's leading global cloud communications platforms. As voice-over-internet-protocol (VoIP) services, they facilitate better experiences between employees and customers by employing modern-day conversation tools like chat, messaging, phone calls, video calls, file sharing, and more. These two software solutions share a lot in common, but a few nuances make them more appropriate for certain businesses.
Small businesses will appreciate 8×8's budget-friendly pricing plans and video- and audio-focused features, while businesses big and small that operate remotely will value RingCentral's powerful team messaging functionality. 8×8 offers more plans and pick-and-choose feature bundles to allow companies to pay for the services they need, but RingCentral provides better unified communications with a tad more advanced services and features.
RingCentral: Remote businesses that need unified communications internally and externally.
8×8: Small budget-conscious businesses that want a video- and audio-focused communications tool.
RingCentral vs 8×8 at a Glance
| Feature | | |
| --- | --- | --- |
| Pricing | From $29.99 to $59.99 per user, per month | From $12 to $45 per user, per month |
| Free Trial | 15 days | 30 days |
| Maximum Video Participants | 200 | 100 |
| Local and Toll-free Numbers | ✓ | Metered |
| Auto-attendant | ✓ | ✓ |
| Unlimited Domestic Calling | ✓ | ✓ |
| Mobile App | ✓ | ✓ |
| Business SMS Messaging | ✓ | ✓ |
| File Sharing | ✓ | ✓ |
| Advanced Call Analytics | ✓ | ✓ |
| E911 (Enhanced 911) | ✓ | ✓ |
| Video Conferencing | ✓ | ✓ |
| Voicemail Transcription | ✓ | ✓ |
| Single Sign-on (SSO) | ✓ | ✓ |
| Open API | ✓ | N/A |
| Activation/Deactivation Fee | N/A | ✓ |
| More Information | | |
The competition is close, but RingCentral takes the lead with more affordable prices at scale, advanced features, and available open APIs. Businesses that want an all-in-one communications platform will value RingCentral's robust internal and external conversation tools. 8×8 caters more to companies looking for a customer support option with intensive audio and video communications features.
How We Evaluated RingCentral vs 8×8
RingCentral and 8×8 share a lot in common, but they both serve slightly different needs—making a direct apples-to-apples comparison difficult. To make for a fair evaluation, we looked at each solution with precise criteria in mind.
Here's how we evaluated the two services:
Price: We compared the different price packages available to see which offered lower costs in the short term and long run. While evaluating price, we looked for which features and functionality were provided at each pricing tier to correlate price more directly with value.
Scalability: Most cloud communications software is built to scale, but some make the processes more difficult and costly for businesses. We looked at the pricing structure and feature set of advanced packages to measure each platform's ability to accommodate a user's evolving demands.
Basic features: We considered which features are offered on the basic plans that small businesses were more likely to use.
Advanced features: Advanced features usually end up on the most expensive pricing tier packages, but we looked to see which are offered at lower tiers and which platform went above and beyond with their functionality.
Voicemail services: We compared platforms to see which have more advanced voicemail services, including voicemail-to-text, voicemail transcriptions, and voicemail management.
Call management features: We looked at call management features like virtual waiting rooms, multilevel interactive voice response (IVR), caller ID, call forwarding, call recording, and more.
Integrations: We looked into how these providers simplify elaborate workflows through its current third-party integrations.
Overall customer reviews: Beyond our own research, we dove deep into customer reviews to see what the day-to-day users think about each platform.
When to Use RingCentral vs 8×8

RingCentral is a unified cloud communications platform that empowers remote teams to collaborate better to serve a global audience. Whether you need to chat with your team, share files with clients, or hop on a customer support call, RingCentral makes the process easy and straightforward.
Pricing plans start at $29.99 per user, per month to get access to RingCentral's most basic (yet powerful) functionality, like unlimited domestic calls, unlimited business SMS, team messaging, and document sharing. As compared to its top alternatives, RingCentral shines for its feature-packed communication options, easy-to-use interface, and extensive third-party integrations.
RingCentral Pros & Cons
| RingCentral Pros | RingCentral Cons |
| --- | --- |
| HIPAA-compliant | Less affordable for small teams |
| Offers powerful third-party integrations | Best features are limited to high pricing tiers |
| Includes advanced features | Requires an international calling-specific plan to make international communications more affordable |
| Easy-to-use interface | |
RingCentral Pricing
RingCentral is a business phone system that offers pricing plans dependent on the number of estimated users. The more users you have, the lower your monthly cost per user will be. Beyond the plan-included numbers, you can purchase additional toll-free, local, and international numbers.
The pricing tiers below were calculated based on the assumption of two to 20 users on the plan, billed on a monthly basis.
Essentials: $29.99 per user, per month with up to 20 users and 100 toll-free minutes. Unlimited domestic calls and unlimited business SMS are included, as well as basic features like voicemail-to-text, team messaging, and file sharing.
Standard: $34.99 per user, per month with no limit on users and 1,000 toll-free minutes. Expands features to include unlimited internet fax and audio conferencing, as well as 100-participant video meetings and basic integrations.
Premium: $44.99 per user, per month with no limit on users and 2,500 toll-free minutes. Includes functionality like advanced call management, single sign-on (SSO), 200-participant video meetings, advanced integrations, and access to open APIs.
Ultimate: $59.99 per user, per month with no limit on users and 10,000 toll-free minutes. Plan includes unlimited storage and device status reports and alerts.
Annual pricing is also available at a discounted rate.
RingCentral also has three tiers of Contact Center solutions (Basic, Advanced, Ultimate), but you'll need to contact sales for pricing.
Why RingCentral Is the Better Choice for Remote Businesses
Third-party integrations: RingCentral works for you, not against you. Integrate everything from Salesforce, Zendesk, Slack, Google Workspace, and more to maximize productivity and efficiency.
Scalability: When your team is growing along with your customer base, RingCentral makes it easy and affordable to scale your operations.
Team messaging: With the world operating remotely, it's more important than ever that your technology facilitates better internal communications. RingCentral's team messaging tools feature chat, task management, shared calendars, and more.
Visit our RingCentral reviews page to learn more about pricing, features, and other top considerations.
When to Use 8×8 vs RingCentral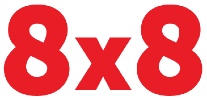 8×8 is a cloud-hosted communications platform that builds off the platform's original voice-over-internet-protocol (VoIP) services by expanding with new features and unified multichannel communications functionality. Built with small businesses in mind, 8×8 has scaled its offerings to serve any size business in various industries and scenarios.
Pricing plans start at $12 per user, per month to use 8×8's unlimited calling, business SMS, team messaging, and more. Small businesses willing to sacrifice features for affordability will love 8×8's range of tiers, allowing users to pick and choose the features that most closely align with their needs.
8×8 Pros & Cons
| 8x8 Pros | 8x8 Cons |
| --- | --- |
| Low-cost starting plans | Mobile app is not as robust as desktop version |
| Added security compliance options such as BAA, Privacy Shield, Cyber Essentials, FISMA 140-2, and FIPS | Less straightforward user interface |
| Offers a free trial | Does not offer as much instructional content |
| Easy-to-use interface | Fewer integration options and lacks an open API |
8×8 Pricing
8×8's straightforward, transparent pricing plans let you pick and choose the most important features for your business. While the pricing doesn't scale as nicely as RingCentral's pricing structure, you rarely pay for anything you don't use.
Tailored quotes are available for additional licensing on each plan.
Communications Plans:
8×8 Express: $12 per user, per month; small business phone system that supports unlimited domestic calling, business SMS, team chat, file sharing, and more.
X2: $25 per user, per month; adds all-in-one voice and video functionality, as well as basic analytics.
X4: $45 per user, per month; provides more advanced analytics and call management features like barge, monitor, and whisper.
Contact Center Plans:
X6: $115 per user, per month; provides the basic contact center functionality with limited analytics and team collaboration.
X7: $135 per user, per month; adds additional digital channels beyond voice to contact center.
X8: $175 per user, per month; includes auto-dialing, quality management, and advanced analytics.
Why 8×8 Is the Better Choice for Businesses on a Tight Budget
Flexible pricing: Small teams that don't anticipate accelerated growth will love 8×8's budget-friendly tiers.
Security compliance: No matter which industry you serve, 8×8 has compliance measures to ensure you're compliant.
Advanced calling: With additional features for call routing, management, and productivity, 8×8 boasts a slightly better phone service.
Learn more about 8×8's pricing and features by visiting our 8×8 reviews page.
RingCentral vs 8×8: Which Is Better for Small Businesses?
Although they have their differences, RingCentral and 8×8 both have:
Unified communications tools: Both solutions go beyond phone calls to provide SMS, video conferencing, chat, and more.
Mobile and desktop applications: RingCentral and 8×8 both provide high-quality mobile and desktop apps.
Unlimited calling and SMS: No matter which plan or service you choose, you're guaranteed unlimited domestic calling and business SMS.
While RingCentral and 8×8 have their fair share of similarities, RingCentral takes the lead with easy-to-use interfaces (for users and customers), third-party integrations, and an open API that empowers endless development possibilities.
Frequently Asked Questions (FAQs)
How difficult is it to switch between solutions?
Since you're only switching software solutions (not hardware), transitioning to a new platform is straightforward and easy. However, it'll require employees (and customers, to some extent) to learn how to use a new tool.
Depending on my industry, am I better off choosing one service over another?
Potentially. If there's a specific compliance requirement your industry requires, look at both RingCentral's security measures and 8×8's compliance measures.
Bottom Line
With a growing demand for reliable voice-over-internet-protocol (VoIP) service providers, unified communications have become the future of employee and customer engagement. Having the right platform can empower better conversations at scale—regardless of your business' location (or your customers').
While 8×8 and RingCentral both offer powerful, cloud-based communications platforms, RingCentral delivers a more feature-packed solution that'll improve engagement for companies big and small, remote or fixed.