Mobile voice-over-internet-protocol (VoIP) apps for Android devices let you take your business phone service on the go and use your business phone virtually anywhere. We looked at the best Android VoIP apps and evaluated them based on price, feature set, and usability. We narrowed it down to the top six before declaring an overall winner.
Top 6 VoIP Apps for Android 2019
| VoIP App | Best For |
| --- | --- |
| | (Best Overall) Teams wanting business numbers on Android devices without buying more phone equipment |
| | Solo workers looking for a free VoIP Android app with basic phone functionality |
| | Businesses that want a virtual phone powered by a complete VoIP business phone system |
| | Small teams that seek enterprise-level features for an affordable price |
| GoToConnect | Organizations that need unlimited international calling to overseas associates, clients, or customers |
| | Businesses that want a memorable, customized vanity number to represent their organization |
How We Evaluated the Best VoIP Android Apps
The vast majority of mainstream VoIP services offer both iOS and Android apps as a standard feature with their service plans. However, to be truly effective, Android VoIP apps should be easy enough to set up and use for workers of all skill levels. They should also have core features for calling, texting, and voicemail. Services should also be affordable enough for smaller organizations, and there should be customer service support available.
We, therefore, evaluated the best Android VoIP apps on the following:
Price: We examined the monthly costs associated with using each app.
Ease of Use: We evaluated how easy each service is to set up and use.
Android App Integration: Solutions that are able to natively integrate with your phone's calendar, address book, and other apps are especially helpful
Call Management: Apps should have enough call management options to meet the needs of small business users.
Extensions and Lines: Options available for routing calls via phone number extensions were compared.
Hardware Compatibility: Most VoIP apps for Android also offer compatibility with landline phones and desktop computers.
Auto Attendant: The best providers offer extra features like an automated attendant for greeting and routing callers.
Software Integrations: We looked at each service's ability to connect data with outside business software.
Call Quality & Reliability: We looked at online customer reviews of each virtual number provider's call sound and quality.
Based on these criteria, we recommend Grasshopper as the best VoIP app for Android. It's a great way to establish a business number and easily switch between that and your personal number on your smartphone. It provides unlimited domestic calling, a virtual receptionist, and many core features that you'll find in more robust business phone systems for less than the overall price of most competitors.
Best Overall Android VoIP App for Small Business: Grasshopper

Grasshopper is a virtual phone number service with a VoIP Android app that includes all the calling, text messaging, call history, voicemail transcription, and faxing options of the desktop edition. The service starts at $29 per month, so it is a good choice for small businesses who want an economical mobile business phone number with business phone system features but don't want to maintain physical handsets or other telephony hardware.
Grasshopper Pricing
Grasshopper offers the choice of three different packages that range between $26 and $80 per month. The only difference between these packages is the number of phone numbers and available extensions supported by each plan. Otherwise, all features are identical.
The Grasshopper pricing packages are broken out as follows:
Solo ($26 per month): Includes one number and three extensions
Partner ($44 per month): Gives you three numbers and six extensions
Small Business ($80 per month): Comes with five numbers and unlimited extensions
Grasshopper Features
Grasshopper has all the core telephony features you'd want from a business phone solution like voicemail transcription, SMS business texting, unlimited domestic calling, and custom greetings. The service strikes the ideal balance between usability, feature set, and affordability.
Grasshopper features include:
Android App
Grasshopper's app on Android devices comes free with all service plans. Mobile features include calling, SMS texting, call logs, Wi-Fi calling, and visual voicemail. The app is among the most intuitive we've seen to date. The fact that it looks very similar to a smartphone's default phone app makes it immediately familiar to most users.
Call Management
Grasshopper's Android app has call management functions including call routing, transfer, block, and a business hours module that can automatically send calls to voicemail during off hours. Grasshopper also offers call screening which allows you to see the caller's name or number on your before deciding whether to take the call. This is especially helpful for a smartphone app where you'll likely take personal and business calls on the same phone.
Automated Attendant
Grasshopper's automated attendant module automatically answers inbound calls and routes it to the right phone number or extension. Similar to RingCentral and Nextivas's auto-attendant, users can also record personalized messages on the system's desktop app to play automatically when a customer calls.
Phone Numbers
Like Phone.com, Grasshopper offers the ability to adopt a toll-free, local, or vanity phone number. Vanity numbers, such as 1-800-FLOWERS, are a good marketing strategy as they are a great way to help customers remember your phone number. It is rare for a system this affordable to offer a vanity number.
What Grasshopper Is Missing
Grasshopper offers a wealth of features for an affordable price. However, it might be overkill for a solo worker or freelancer who is just looking for a free business phone service to keep on their Android phone. For that, we recommend looking at Google Voice. That service provides a free local telephone number that business users can leverage for calling, texting, and voicemail.
What Users Think About Grasshopper
Our readers generally like Grasshopper. They find that the service works well with their existing devices and that the system comes at a great price. However, they find that configuring call forwarding rules can be a bit cumbersome. For more reviews, visit our Grasshopper User Reviews page.
Where to Find Grasshopper
Small businesses looking for a strong, affordable business phone service for their Android devices should take a look at Grasshopper. The fact that the service offers toll-free number can also make your business look more established and respectable. Click the link below to start your 7-day free trial.
Best Free No-Frills Android VoIP App: Google Voice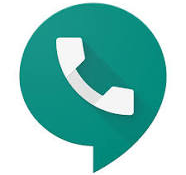 Google Voice is a free, basic internet phone service that can be used on an Android phone (both Android and Google Voice are Google products). All of the service's features, including text, calling, and voicemail, are available here on the Android platform. It is ideal for solo workers, freelancers, or anyone who is simply looking for a free separate business number on their personal phone.
Google Voice Pricing
Google Voice is a free service that offers users a local phone number. The service offers free calling and texting to most of the United States and Canada. Calls to select North American locations and other countries start at one cent per minute.
Google Voice Features
Google Voice offers basic telephony features like voicemail, call blocking, and call screening capabilities. Unlike paid systems we looked at, you cannot adopt a toll-free number. It doesn't offer extensions or an auto-attendant either, making it best suited for those who only need a basic business phone number to use on their Android phone.
Google Voice features include:
Android App
The Android operating system (OS), like Google Voice, is developed and distributed by Google. As you might expect, the company's virtual phone service offers a modern-looking and intuitive app on their OS. Using the service's features works identically to calling, texting, and checking voicemail on your personal phone. Google Voice very much feels like having a separate business phone on your Android device.
Call Management
Google Voice imports data from your mobile device's address book to tell you who is calling. You also have the option of answering the call, sending it to voicemail, or blocking the number from calling you. This is nearly identical to how a smartphone's default phone app works.
Automated Attendant
Unlike other services we looked at, Google Voice does not offer an automated attendant, so you won't be able to automatically route incoming calls. The service does come with a call screening module that greets callers and asks them to identify themselves, but that module is no substitute for the virtual receptionist functionality found in Grasshopper, Nextiva, and other leading products.
Phone Numbers
Google Voice lets you choose phone numbers from almost any area code in the United States. Unfortunately, it does not offer the ability to adopt a toll-free 1-800 number. This can make your company look less established to prospective customers. However, it probably won't be a problem if the entire scope of your business is in one local area.
What Google Voice Is Missing
The fact that Google Voice is free makes it easy to overlook its lack of advanced features. However, it does not offer multiple extensions on the same number, which means it is not viable for most established companies. If you are looking for a more complete business phone service that also offers an Android app, we suggest looking at Nextiva instead.
What Users Think About Google Voice
All told, Google Voice users are happy with the service, as it offers the ability to adopt a separate business number at no cost. The fact that it offers texting and voicemail functionality is also appreciated. With that said, many customers say that they have experienced difficulty when trying to port phone numbers over from landlines. For more impressions, check out our Google Voice User Reviews page.
Where to Find Google Voice
Google Voice is a useful free option for solo workers, freelancers, or any other type of business user who only needs basic telephony features. All you need is a free Google Account to get started. Click the button below to learn more.
Best Complete VoIP System for Android Phones: Nextiva

Nextiva is a VoIP platform that ranks as our top business phone system with a mobile app starting with its mid-level tier. The mobile offers features like text messaging, call recording, and group chat. Prices range from $35 to $55/user per month but go lower as you add more users. Nextiva is the right choice for sales agents and teams wanting a VoIP app with tools that help them easily communicate while on the go.
Nextiva Pricing
Nextiva comes in three different versions: Basic, Office Pro Plus, and Office Enterprise. Pricing ranges from $35 to $55/user per month. However, pricing can go as low as $20/user per month if you bring on enough users. The Android app is only available with Office Pro Plus or higher.
Nextiva Tiered Features
| | Basic | Office Pro Plus | Office Enterprise |
| --- | --- | --- | --- |
| Pricing | From $35/user per month* | From $38/user per month* | From $55/user per month* |
| Professionally Recorded Auto Attendant Greetings | N/A | 1 | 3 |
| Auto Attendant | ✔ | ✔ | ✔ |
| Unlimited Calls & SMS | ✔ | ✔ | ✔ |
| Hold Music | ✔ | ✔ | ✔ |
| Voicemail Transcription | ✔ | ✔ | ✔ |
| Conference Bridge | | ✔ | ✔ |
| Softphone Mobile App | | ✔ | ✔ |
| Call Recording | | | ✔ |
| Nextiva Anywhere | | | ✔ |
*Prices go lower for more than five users
Basic
Nextiva's Basic plan starts at $35/user per month, with pricing going down if you have more than five users subscribed. In this package, you get a desktop softphone, call management functionality, unlimited domestic calling, and SMS texting. Even in this entry-level form, it's still a complete business phone system for an affordable price.
Unfortunately, this plan does not come with access to Nextiva's mobile app for Android application devices. Therefore, you will have to subscribe to the Pro or Enterprise editions if you want to take your business phone on the go. As such, this plan is not viable for anyone seeking an effective Android VoIP app.
Pro
The company's Pro plan starts at $38/user per month and comes with all of the features of the Basic package along with a few bonuses. You get access to the mobile app so that you can use your VoIP service on your Android device. The app has a clean, smooth interface, although it is not quite as aesthetically pleasing as RingCentral's.
This plan is missing Nextiva's built-in customer relationship management (CRM) functionality that comes bundled with the Enterprise version of the product. With that in mind, this is still a good fit for organizations that want to use all of Nextiva's core features and also get access to the company's VoIP Android app.
Enterprise
Nextiva calls this package the "Enterprise" version, but it can be used by any business because it does not require a minimum number of users. Starting at $55/user per month, it comes with an analytics dashboard that provides information on call activity, call time, and more. It also comes with access to Nextiva's CRM features, so you can track prospects through a sales pipeline.
This plan is far too expensive for most small businesses. Unless you need a complete CRM system in your internet phone solution, you should go with more affordable tiers of the service, or even a less expensive competitor like Grasshopper. Still, Nextiva Enterprise is ideal for companies that can afford a complete set of features.
What Nextiva Is Missing
It's unfortunate that Nextiva's most affordable package does not come with access to the company's mobile app. This effectively means that organizations that need mobile access could be forced into buying features they don't need just to be able to take their business phone with them on their personal device. If you want an entry-level system that still offers a robust set of features, we recommend RingCentral.
What Users Think About Nextiva
Our readers commend the company's customer support options, saying that Nextiva is very helpful in the event of a problem. With that in mind, there are several complaints about glitches and other technical issues. Check out our Nextiva User Reviews page for more information.
Where to Find Nextiva
If you are looking for an Android VoIP app that comes with a complete set of business phone features, you should take a look at Nextiva. The company offers a 30-day money-back guarantee for all of its packages, so you can try it for yourself before committing. Click the button below to get started.
Best Android VoIP App With Enterprise Features: RingCentral

RingCentral, which starts at $29.99/user per month, is a VoIP service featuring a mobile app with call management, unlimited calling, and SMS functionality. All versions of the system come standard with access to the company's Android app, so that you can enjoy all of these features even when you are away from the office no matter what package you choose. RingCentral is ideal for business users who can afford a no-compromise feature set.
RingCentral Pricing
RingCentral has three small business plans. The Essentials plan starts at $29,99, the Standard edition starts at $34.99/user per month, and the Premium package costs $44.99/user per month. It is one of the pricier options on the market, although it comes with a wealth of features.
RingCentral Tiered Features
| | Essentials | Standard | Premium |
| --- | --- | --- | --- |
| BusPricing | $29.99/user per month | $34.99/user per month | $44.99/user per month |
| Toll-free minutes | 100 | 1,000 | 2,500 |
| Unlimited Calls | ✔ | ✔ | ✔ |
| Unlimited SMS | ✔ | ✔ | ✔ |
| Mobile Apps | ✔ | ✔ | ✔ |
| Multi-level Auto Attendant | | ✔ | ✔ |
| Internet Fax | | ✔ | ✔ |
| Call logs & Reports | | ✔ | ✔ |
| Automatic Call Recording | | | ✔ |
| Integration With Salesforce.com | | | ✔ |
| Voicemail to Text Transcription | | | ✔ |
Essentials
RingCentral's Essentials edition costs $29.99/user per month. It comes with options for call forwarding, waiting, and blocking. On top of that, you get access to the company's mobile app on Android devices. RingCentral's mobile app is incredibly intuitive. It is one of the better business phone system applications we've seen on the Android market to date.
It's unfortunate that conferences are so limited, as it forces companies that hold large webinars to subscribe to a more expensive package. Additionally, it lacks the multi-level auto-attendant module that comes with the Standard and Premium versions. RingCentral Essentials is best suited for smaller teams looking for a strong core set of features.
Standard
The Standard edition, which costs $34.99/user per month, offers 10 times the number of toll-free calling minutes. You also get a multi-level auto attendant that can serve as an automated, virtual receptionist for your organization and internet faxing functionality.
RingCentral standard is not able to video meetings of more than four participants at once, so you will either want to upgrade to the Premium plan or use a third-party service like Zoom. Still, the fact that this package has an auto-attendant makes it a great fit for established businesses that want a professional phone presence.
Premium
RingCentral Premium is the most popular version of the service. For $44.99/user per month, the package comes with 2,500 toll-free calling minutes. It also offers unlimited audio and video meetings for up to 100 people, so you can hold mass webinars with your staff and associates. The service also automatically records all calls and transcribes all voicemail messages, even if you are using an analog phone adapter device.
This top-shelf version of RingCentral about matches the features of similarly-priced plans from competing systems. However, the fact that it offers so many toll-free minutes, software integration, and large video meanings give this package one of the most impressive feature sets on the market. It is a good fit for call centers as well as general business users that want digital records of all call traffic.
What RingCentral Is Missing
RingCentral offers international calling on a per-minute rate. While this is fine for the needs of many American businesses, this can be prohibitively expensive for teams with overseas operations. If you need to make frequent international calls, we recommend GoToConnect, which offers unlimited international calling to 52 countries.
What Users Think About RingCentral
Our readers appreciate the fact that RingCentral offers volume discounts. They also find that the service's interface is incredibly smooth and easy to understand. Still, some customers say that RingCentral's customer support isn't very helpful. Check out our RingCentral User Reviews for more details.
Where to Find RingCentral
RingCentral is great for organizations that want an internet phone service packed with Android compatibility along with a wealth of features. You can even start a 15-day free trial and get a tour of the system by a company Representative. Click the button below for more information.
Best Android App for International Calling: GoToConnect

GoToConnect (formerly known as Jive) is a VoIP service that starts at $29.95 per month. The solution provides an Android app with features like call management, text messaging, and call conferencing. However, what makes GoToConnect stand out from other VoIP services is the fact that it offers unlimited international calling to more than 52 countries throughout the world, even with the mobile app. It is an ideal service for companies that need to speak with overseas associates on a regular basis.
GoToConnect Pricing
GoToConnect offers five monthly plans ranging from $29.95 to $19.95 per month depending on the number of users signed up for the service. Virtual phone numbers are available for an additional 50 cents per month. This is one of the more affordable services available.
GoToConnect's pricing tiers break down based on user count:
$29.95: 1-4 users
$25.95: 5-9 users
$23.95: 10-24 users
$21.95: 25-49 users
$19.95: 50+ users
GoToConnect Features
GoToConnect has all the features you'd need to make and receive calls with an Android phone. It also comes with free unlimited calling to 52 countries on top of unlimited domestic calling. That, along with texting, voicemail, reporting, and access to the company's mobile app makes it an effective product.
GoToConnect features include:
Android App
GoToConnect offers its mobile app on the Google's Play store, so you can download it to virtually any Android device. The app boasts a modern interface and allows you to take advantage of all of GoToConnect's features. It about matches its competitors in terms of usability.
Call Management
GoToConnect makes it very easy to manage all of your call traffic, whether you are on the Android app or a desktop computer. The solution offers call waiting, call transfer, call forwarding, block, and caller ID. A nice bonus here is that it also comes with a do not disturb feature that automatically blocks all calls during set times. It also comes with an E911 function, so that your employees can make emergency calls from any connected device.
Automated Attendant
GoToConnect comes with an automated attendant module that greets and routes callers based on their response to your voice menu options. It works similarly to other solutions we looked at in this space. However, it is worth noting that GoToConnect does not come with a professionally-recorded voice greeting for these menus like Nextiva's Pro edition.
Phone Numbers
Like other VoIP services, GoToConnect comes with the ability to adopt a toll-free 1-800 number. This is ideal for giving your company the appearance of a more established organization. It also comes with the ability to adopt an international number. These cost $19.99 to set up, followed by a monthly cost of at least $5.99 depending on what country you would like a telephony presence in.
What GoToConnect Is Missing
GoToConnect is an effective solution, but it's not without some issues. The fact that all packages offer unlimited domestic calling essentially means that teams with low call volumes are essentially paying for features that you don't need. Phone.com, on the other hand, offers bundles of minutes starting at just $12.99 per month.
What Users Think About GoToConnect
GoToConnect customers like the system's international calling options. They also find that the service is easy to use. Criticisms of the service include the fact that the process of adding numbers can be a bit confusing to nontechnical users.
Where to Find GoToConnect
GoToConnect is a great fit for multinational organizations seeking an effective, affordable Android-compatible VoIP service. Best of all, the company offers a free demo of their product.
Best Android VoIP App for Vanity Numbers: Phone.com

Phone.com is a VoIP solution that starts at $12.99 per month. It comes with a VoIP Android app along with features such as an auto-attendant, voicemail, and the choice of either unlimited or pay-per-minute calling plans. Additionally, the system also lets you adopt a customized vanity number, like 1-800-FLOWERS, which are much more memorable to prospective customers. Phone.com is great for teams with low call volumes who want to save money.
Phone.com Pricing
Pricing for Phone.com ranges from $29.99 to $59.99 per user extension for unlimited calling packages. There is a one-time fee for custom numbers starting at $100, and there is also a monthly fee of $4.99 per month. This gives Phone.com one of the more unconventional pricing structures on the market.
Phone.com Features
Phone.com offers users an automated attendant, unlimited extensions, internet faxing modules, and SMS functionality. The service's features and pricing make it helpful for very small teams as it has many of the same tools found on more expensive platforms.
Phone.com's features include:
Android App
Phone.com's Android app offers a full set of features in the palm of your hand, such as calling, texting, and voicemail. It has virtually all the features of the desktop edition. It also is incredibly easy to use, just like its competitor's mobile apps. However, it does have a slightly dated interface, and we hope that Phone.com issues a refresh of the app soon.
Call Management
Like any business phone service, Phone.com comes with a range of functions to handle incoming calls. You can block, transfer, and forward calls to other extensions. It also includes a call screening feature that reads the number of the caller and shows key call information such as the caller name and location. This is helpful for determining which calls to bother taking and which ones to send directly to voicemail.
Automated Attendant
Phone.com offers an auto-attendant module with a voice menu that supports button presses as well as voice commands, just like competing systems. It also offers a dial-by-name directory that allows callers to enter the name of the person they wish to speak with. The auto-attendant is extremely easy to set up and deploy, even for nontechnical users.
Phone Numbers
One of the best things about Phone.com is that it allows you to adopt a customized vanity phone number for your business. These numbers are easier to remember for customers and help you stand out. If you were a mason, for example, having a catchy number like 1-800-STONES on the side of your truck will stick out to passersby more than a regular local phone number.
What Phone.com Is Missing
Phone.com offers a lot of features for an affordable price, which makes it a solid choice for any established business that can afford a paid system. However, teams that are just starting out might not be ready to invest in a paid business phone app just yet. If you need a free system, we suggest looking at a free alternative like Google Voice instead, which provides you with a free local phone number and an Android app, so you can take your business number anywhere.
What Users Think About Phone.com
Our readers like the affordability of Phone.com. They also appreciate the flexibility of the calling plans and the ability to adopt a vanity number. However, some customers are disappointed with the quality of the Phone.com's customer support, saying that representatives can take a while to respond.
Where to Find Phone.com
Phone.com offers an effective, memorable vanity number for your small business while also giving you strong internet phone features. All plans come with a 30-day money-back guarantee so you can try it out for yourself. Visit Phone.com's website today to learn more.
Bottom Line
VoIP Android apps put the most important features of your business phone system on your smartphone. Modules like conferencing, SMS messaging, faxing, and voicemail helps you keep in touch with all of your business associates no matter where you are. These apps also help you keep your business phone number separate from your personal line.
Companies that want a complete range of mobile business telephony features for an affordable price should look at Grasshopper. The company also offers a 7-day free trial so that you can try the solution out before committing. Visit Grasshopper's website for details.