8 Best Competitors & Alternatives to Xero (Free & Paid)
Xero is a powerful cloud-based accounting software system with terrific accounting features, such as inventory management, project accounting, and fixed asset management. While Xero is powerful accounting software, it's not the best at everything. Xero does have some limitations, such as not allowing users to manage books of multiple businesses and talk to a customer support agent over the phone. In this article, we evaluated Xero's competitors and came up with a few to consider, including a couple of free alternatives:
*QuickBooks Self-Employed and Quicken were not scored as part of the FSB Case Study because they are not double-entry bookkeeping systems. However, they do provide the best solution for certain users.
Comparison of Top Xero Alternatives
Xero Alternatives

Pricing

Users Included

Great Invoicing

Solid Inventory Accounting

Good Project Accounting

$0 to $70 per month

1 to 10

✓

✓

✓

$30 to $200 per month

1 to 25

✓

✓

✓

$349.99 to $1,275

3 to 40

✓

✓

✓

$56.08 per month for one user to $371.08 for 10 users (custom pricing for 11 to 40 users)

1 to 40

✓

✓

✓

$15 to $50 (custom pricing available)

1

✓

✕

✓

Free

Unlimited

✓

✕

✕

$15 to $35 per month

1

✕

✕

✕

$35.99 to $103.99 per year

Unlimited

✕

✕

✕
Which Small Business Accounting Software is Right for You?
Answer a few simple questions to receive a customized suggestion for your Xero alternative.
Zoho Books: Best Overall Alternative to Xero
Zoho Books is our overall best alternative to Xero for good reasons. Unlike Xero, Zoho Books has a free plan for businesses that generate less than $50,000 in annual revenue and need to send up to 1,000 invoices a year. Some of its most notable features include invoicing, project management, and inventory accounting. It also has a capable mobile application that lets you send recurring invoices and accept online payments, making it our choice for the best accounting software for freelancers.
We also selected Zoho Books as one of the best accounting software for Macs. Unlike Xero, the software has been optimized for iOS users and allows you to send invoices, estimates, and account statements to customers within iMessage, and there is an app for the Apple Watch.
Zoho Books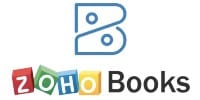 What We Like
Offers a competitive free plan
Phone support and live chat included in all paid plans
Capable mobile app that can perform almost all accounting functions
Integrates with Zoho Inventory for detailed inventory tracking
What's Missing
Cannot manage and track fixed assets
Limitation on the number of invoices you can send
Requires subscription to Professional plan to track unpaid bills
Unable to manage multiple companies
Plans & Pricing
Free: $0 per month for one user plus one accountant
Standard: $20 per month for up to three users
Professional: $50 per month for up to five users
Premium: $70 per month for up to 10 users
Read our Zoho Books review.
Features
Zoho Books and Xero share a lot of similar features, including accounts payable (A/P) and accounts receivable (A/P), bank reconciliation, and online invoicing. However, there are a few significant differences worth mentioning. For instance, Zoho Books offers automation features and a client portal, which you can't find in Xero. Both programs offer inventory, but Zoho Books' direct integration with Zoho Inventory allows you to be more detailed when it comes to tracking inventory items. Meanwhile, Xero has a fixed asset manager, which isn't offered by Zoho Books or any other software providers we reviewed.
Here are some of Zoho Books' most outstanding features:
Invoicing: Zoho Books offers plenty of design options and templates to create unique invoices.
Bank reconciliation: Reconcile bank accounts by connecting your bank account (live bank feeds) or manually importing bank statements.
Inventory management: Even without the Zoho Inventory integration, you can track the cost of inventory on hand and allocate that cost between ending inventory and the cost of goods sold (COGS).
Mobile app: The unbeatable Zoho Books app contains all the essential features of mobile accounting, including invoicing, online payments, receipt capture, time entry, and reporting.
Our Expert Opinion
In our comparative analysis, Zoho Books also holds the edge with its mobile app and customer support. With Xero, you have to send an email and may have to wait an hour before getting a response. With Zoho Books, you can talk to a real agent over the phone and get immediate assistance. Zoho Books is also better for accounting on the go as its mobile app can do more than the Xero app. For example, in addition to the ability to record bills and enter invoices, it also allows you to accept online payments, enter bill payments, assign time and expenses to projects and customers, and view reports.
QuickBooks Online: Best Xero Alternative With an Enormous Network of Independent Bookkeepers & Advisors
Both Xero and QuickBooks Online have an advisor network, but QuickBooks' is much more developed. QuickBooks' ProAdvisor Program is the largest network of professional bookkeepers and accountants who specialize in QuickBooks. Since QuickBooks Online is widely used by professional bookkeepers, you should be able to find a local QuickBooks ProAdvisor easily to help you with your bookkeeping duties. QuickBooks Online also can track activity by class and location, and it has more advanced A/R capabilities than Xero. We also ranked QuickBooks Online as the best small business accounting software as well as our best invoicing program. To help you choose which QuickBooks Online version is best for you, read our comparison of QuickBooks Online plans.
QuickBooks Online

What We Like
Similar features to Xero
Ability to track activity by class and location
Robust mobile app
Live customer support is available
More than 130 customizable reports
What's Missing
Requires a separate subscription for each company file
Cannot compare estimated to actual project costs
Limitations on the number of users
Plans & Pricing
Simple Start: $25 per month for one user
Essentials: $55 per month for up to three users
Plus: $85 per month for up to five users
Advanced: $200 per month for up to 25 users
Read our QuickBooks Online review
Features
QuickBooks Online has many of the same features offered in Xero, such as automatic bank reconciliation, inventory accounting, and integrated payroll. However, if you want more flexibility in your banking process, QuickBooks Online is something to consider. Unlike Xero, QuickBooks gives you the option to reconcile your bank account without connecting to your bank.
The following features make QuickBooks a great alternative to Xero:
QuickBooks ProAdvisor Program: This program lets you access independent QuickBooks-certified accounting pros easily to help you with routine bookkeeping tasks.
Manual reconciliation: Enter the ending balance of your checking account to perform manual reconciliation.
Inventory management: Set up and track inventory items and track the COGS.
Check printing: Print checks through the program instead of printing by hand.
Income tracking by class: Set up classes and locations for tracking profit and loss (P&L).
Our Expert Opinion
With QuickBooks Online, you must upgrade to the most expensive Advanced plan if you have more than five users. In comparison, Xero includes an unlimited number of users with any subscription. However, QuickBooks shines through with its large network of ProAdvisors that you can hire for one-on-one training and bookkeeping service. It also has several features that Xero lacks, such as the ability to track activity by class and location and create sales orders.
QuickBooks Desktop: Best Desktop Alternative to Xero
Xero is a completely cloud-based accounting software program, which means it can't run without an internet connection. If internet speed and connection are a major concern or you're simply not comfortable giving anyone online access to your accounting data, then QuickBooks Desktop is a great alternative to Xero. QuickBooks Desktop is a locally installed accounting program that works best if you have an internal bookkeeper working on a single computer. Another advantage of QuickBooks Desktop over Xero is that you can manage the books for an unlimited number of companies. With Xero, you have to get a separate subscription if you have an additional company to manage.
QuickBooks Desktop comes in four editions: Pro, Premier, Enterprise, and Accountant. Read our QuickBooks Desktop comparison to see which product is best for you.
QuickBooks Desktop

What We Like
Manage the books for an unlimited number of companies
Large network of independent QuickBooks ProAdvisors
Manage inventory and calculate cost of goods sold (COGS) using the average cost method
Perceived to be safer than cloud-based software
What's Missing
Very limited mobile app
Each user requires a separate subscription fee
Cannot manage and track fixed assets
Harder to share your books with an external accountant
Plans & Pricing
QuickBooks Pro: Starts at $349.99 for one user (allows up to three concurrent users)
QuickBooks Premier: Starts at $549.99 for one user (allows up to five concurrent users)
QuickBooks Enterprise: Starts at $1,275 for one user (allows up to 40 concurrent users)
QuickBooks Accountant: Starts at $499 for each ProAdvisor
Read our QuickBooks Desktop Pro review.
Features
QuickBooks Desktop's features are very close to those of QuickBooks Online, as discussed above. A huge difference is that QuickBooks Desktop offers industry-specific features and capabilities for retailing, nonprofit, contractors, manufacturing and wholesaling, and professional services. If you are engaged in any of these types of businesses and need industry-specific reports and workflows, QuickBooks Desktop is preferable to Xero.
QuickBooks Desktop includes the following features:
Multicompany accounting: Manage the books for an unlimited number of companies.
Time tracking: Track time worked and assign it to customers and jobs, and then mark it as billable to include in your invoice.
Inventory management: QuickBooks Desktop uses the average costing method to assign the proper amount to the COGS.
A/P: Enter new bills as you receive them and then pay later. You can also track unpaid bills until they are paid.
Our Expert Opinion
While many modern businesses have turned to online accounting, some still prefer locally installed accounting software because of internet and security issues. If you prioritize security over accessibility and usability, you should choose QuickBooks Desktop over Xero.
Sage 50cloud: Best Alternative for Consolidating Multiple Companies
Sage 50cloud is a desktop accounting software that offers limited remote data access through Sage Drive. One of the largest distinctions between Sage 50cloud and Xero is Sage 50cloud's ability to support multiple companies, which allows you to set up, manage, and consolidate an unlimited number of companies. Like Xero, it has strong inventory management and job costing capabilities, but it lacks a mobile app for users on the go. It is also only available for Windows.
Sage 50cloud

What We Like
Create consolidated financial statements from multiple company files
Strong inventory management capability
Powerful reporting tools
Payroll integration available
What's Missing
Limited integration options
Only available for Windows machines
No mobile app
Plans & Pricing
Pro: $56.08 per month for one user
Premium: $87.58 per month for one user to $201.58 per month for five users
Quantum: $145.17 per month for one user to $371.08 per month for 10 users—custom prices for 11 to 40 users.
Read our Sage 50cloud review.
Features
Sage 50cloud has features comparable with Xero, including invoicing, bank reconciliation, and inventory management. While Sage 50cloud is not a cloud-based program, it includes a Sage Drive service that lets you access your data remotely, making it unique from other locally installed accounting software applications. Essentially, Sage Drive can store your data file so it can be accessed from any computer with Sage 50cloud installed:
Multiple companies: Sage 50cloud allows you to manage multiple company files and even create consolidated financial statements.
Bank reconciliation: Reconcile bank accounts through a bank feed or by manually uploading your files of statements.
Time tracking: Enter billable hours manually or use its built-in time tracker.
Job costing: Track how much money you're making on each job.
Our Expert Opinion
Sage 50cloud has solid features and is very customizable, and although it lacks such features as a mobile app (which Xero does have), its strong inventory management capability and powerful reporting tools make this an attractive option for users that prefer desktop software. Unlike Xero, it also can consolidate the financial statements of multiple companies.
FreshBooks: Best Xero Alternative for Outstanding Customer Service
Xero's customer support doesn't even come close to FreshBooks'. FreshBooks allows you to speak with a real customer service representative over the phone. If you have questions about any particular feature or service of FreshBooks, just dial the toll-free phone number and you'll get to talk to an agent within minutes. Most accounting software providers don't offer phone support, so FreshBooks is worth considering if you're looking for this rare feature.
FreshBooks is an ideal choice for freelancers and service providers because of its powerful time tracking and invoicing tools. The software allows you to track billable hours easily, add them to great-looking invoices, and track the invoice's status until paid. With its intuitive and uncluttered user interface, FreshBooks is also easier to use than Xero. Its mobile app has a built-in mileage tracker, which makes it easy to add these expenses to client invoices. However, FreshBooks cannot track and manage inventory, which is an area where Xero excels.
FreshBooks

What We Like
Excellent customer service
All plans include unlimited invoices
Includes time tracking and team collaboration tools
Mobile app has GPS mileage tracker
Client self-service portal available
What's Missing
Not able to track activity by class and location
Only one user is included with each plan—additional users can be added for a fee
Plans limit the number of billable clients
Cannot track inventory
Plans & Pricing
Lite: $15 per month for five billable clients
Plus: $25 per month for 50 billable clients
Premium: $50 per month for unlimited billable clients
Select: Custom pricing for unlimited billable clients and specialized features
All plans include one user—each additional user is $10 per month.
Read our FreshBooks review.
Features
While FreshBooks combines time tracking, project management, and accounting to accommodate the needs of freelancers and service providers, Xero focuses more on complex areas like inventory management and reporting. FreshBooks' biggest asset is its invoicing and time tracking features. It allows you to track time and expenses and add them to professional-looking invoices.
FreshBooks contains remarkable features, like:
Phone support: You can talk to an agent over the phone.
Invoicing: Create unlimited customized invoices in all its plans.
Time tracking: Track the number of hours worked and bill clients for it.
Job costing: Compare your budget costs to actual time and expenses.
Our Expert Opinion
If you value superb customer support and don't need inventory management and advanced reporting features like tracking income by class, then FreshBooks is a good substitute for Xero.
Wave: Best Free Alternative to Xero
Wave's accounting software is absolutely free, which makes it an attractive option for businesses on a tight budget. It also allows for multiple businesses under the same account, a feature that Xero lacks. Wave also supports multi-currency transactions and unlimited users and transactions. Because of these capabilities, we ranked Wave as the best overall free accounting software.
Wave

What We Like
Accounting software is free forever
Able to manage multiple businesses under a single account
Supports unlimited users and transactions
Can handle multi-currency transactions
What's Missing
No time tracking feature available
Inventory tracking is not available
Not able to track by class
Features
As we mentioned earlier, Xero beats Wave easily in terms of features. However, for free software, we find Wave's feature set commendable. If you only need basic accounting and bookkeeping functions, like expense tracking, bank reconciliation, and invoicing, you should consider Wave:
Unlimited invoices and estimates: Create and customize unlimited invoices for free and send them on a recurring basis.
Expense tracking: Wave lets you capture expense receipts for efficient expense tracking.
Bill management: Enter a new bill and record an expense without paying and track outstanding bills until they are paid.
Read our Xero vs. Wave article for a more in-depth discussion of the key differences between the two software programs.
Our Expert Opinion
While Wave may not offer as extensive a feature set as Xero, it has many attractive features such as unlimited invoices and estimates with every plan. Wave is best if you are a very small business with basic needs like tracking income and expenses. Another great use for Wave is to catch up on prior-year accounting, which comes in handy if you're behind on your books for the year. Wave also lets you create unlimited organizations for free, which is perfect if you're managing multiple businesses.
QuickBooks Self-Employed: Best Alternative for Freelancers Who Need Simple Expense Tracking
QuickBooks Self-Employed is a cloud-based accounting system designed for freelancers and self-employed. Unlike Xero, QuickBooks Self-Employed doesn't track assets and liabilities and won't be able to generate a balance sheet for your business. Therefore, you won't have the same access to the type of complex reports that you would with Xero. It is also not possible to upgrade to a double-entry accounting system, such as QuickBooks Online. But with all of these considerations, QuickBooks Self-Employed has many attractive features, such as the ability to pay estimated quarterly taxes and track expenses and mileage automatically with the robust mobile app.
QuickBooks Self-Employed

What We Like
Client portal to track and send invoices
Automatically track expenses
Easy to set up and use
Access to the mobile app with GPS mileage tracker
Estimate and pay quarterly taxes
What's Missing
Invoice items cannot be saved and must be retyped for each invoice
Doesn't track assets and liabilities
Cannot upgrade to other versions of QuickBooks Online
No integrated payroll
Only allows one user, plus an accountant user
Plans & Pricing
Self-Employed: $15 per month for one user
Self-Employed Tax Bundle with TurboTax: $25 per month for one user
Self-Employed Live Tax Bundle with TurboTax: $35 per month for one user
Read our QuickBooks Self-Employed review.
Features
Despite not being a double-entry accounting program, QuickBooks Online Self-Employed still has some decent accounting features that are particularly useful for freelancers, including invoicing, mileage tracking, and bank and credit card connection:
Basic invoicing: While not very advanced, you can create and send basic invoices to your clients in any language or currency.
Mileage tracking: The program logs your travel automatically and keeps a record of your business miles.
Expense categorization: Set up user-defined categories to separate personal and business expenses as they flow through from your bank feed.
Receipt capture: The mobile app captures a photo of your receipt and creates a transaction out of it.
Our Expert Opinion
If you're a freelancer or sole proprietor with basic accounting needs, QuickBooks Self-Employed is a great option. However, it does have its limitations, such as the inability to enter unpaid bills and track assets.
One of its most attractive features is the ability to track your quarterly estimated income tax payments. You also have access to QuickBooks Self-Employed's mobile app, which has a built-in GPS tracker (Xero only lets you enter the start and end addresses to determine the mileage). QuickBooks Self-Employed also tracks your estimated quarterly taxes, simplifying the payment process. This feature is not currently available with Xero.
Quicken: Best Alternative for Individuals With a Few Rental Properties
Unlike the other entries on this list, Quicken is a personal finance management application that allows you to create a budget, track personal expenses, and manage investments. The Home & Business version is well-suited for rental property owners because it allows them to keep track of tenants, rental rates, and lease terms.
However, if you have a large number of rental properties, you might want to look into software that allows for automation and advanced functionality. Quicken differs from Xero in that it is not a double-entry accounting system and therefore cannot track assets and liabilities or generate a balance sheet.
Quicken

What We Like
Powerful budgeting capability
Able to manage both personal finances and rental properties
Easy to use with a robust feature set
Bill pay feature available
What's Missing
Only available as a download for your computer
Not a double-entry accounting system
No way to track and manage payroll
Plans & Pricing
Prices for each plan are the same for both Windows and Mac versions. The Mac version does not offer a Home & Business plan:
Starter: $35.99 per year
Deluxe: $51.99 per year
Premier: $77.99 per year
Home & Business: $103.99 per year
Read our Quicken review.
Features
While Xero is designed with small businesses in mind, Quicken's features are geared toward rental property owners and personal finances. Its core features allow you to manage and track budgets and transactions, spending trends, investments, and other essential aspects of rental property management.
Here's a list of some of Quicken's features:
Tenant management: Track everything related to rentals, such as bank accounts, documents, loans, and income and expenses.
Contact management: Manage all your contacts, including rental agreements, security deposits, and lease start and move-out dates.
Document storage: Store all documents related to your rentals in one place.
Our Expert Opinion
Quicken differs from Xero in that there are multiple customer support options, such as phone or chat. However, since it is only available as a download for your computer, it is not as easily accessible as Xero. It does have a bank feed integration and a bill management solution via Quick Pay for digital bills and Check Pay for physical checks. If you're a landlord looking to manage a few units, Quicken Home & Business is an affordable option.
How We Evaluated Xero Competitors
To help you better understand Xero and how it stacks up against other leading accounting software on the market, our expert team formulated an internal case study. Our case study evaluates accounting software across several predefined categories, such as banking and cash management, A/P and A/R, inventory accounting, and reporting. The results reveal key areas of accounting in which a certain program is strong and where it falls short.
Our list of Xero competitors and alternatives was formulated based on how they stack up against Xero in terms of the following:
10% of Overall Score
Some of the software programs presented have a free plan or are completely free to use. We also considered the cost of the higher plans and how scalable they are to growing business needs.
40% of Overall Score
We looked into how each application performs across general accounting features, particularly accounts receivable and payable, banking, tax, and reporting.
15% of Overall Score
While Xero has robust features for tracking inventory and calculating the cost of goods sold (COGS), other software programs presented in the list have inventory features that are more developed than Xero.
15% of Overall Score
We evaluated each Xero alternative based on how it performs in terms of essential project accounting tasks, like assigning time and costs to projects and comparing estimated costs to actual expenses.
15% of Overall Score
Xero doesn't have the best customer support, so a great Xero alternative should have more reliable customer service options, like phone support.
5% of Overall Score
The best mobile accounting app alternative to Xero should be able to do what Xero can't, like accept online payments and assign time and expenses to customers and projects.
*Percentages of overall score
Bottom Line
While Xero is an excellent accounting software package with powerful features like inventory and project accounting, there are many other areas of accounting and business where Xero is not the best option. For instance, if customer service is important to you, choose FreshBooks. If you want a mobile app that is better than Xero, pick Zoho Books.
If you have trouble finding a Xero Advisor, it might be time to switch to QuickBooks Online. If you want a free alternative, there's Wave. Overall, the best alternative to Xero depends on your budget, the intricacies of your industry, and the specific features you need.