Xero CRM integration can allow businesses to sync contacts, create invoices, and track customer payments from within one platform, closing gaps in information and reducing the time spent switching between the two tools. We evaluated dozens of CRMs and compiled a list of the six best CRMs offering Xero CRM integration, including the best overall.
Top 6 CRMs That Integrate With Xero
| Xero CRMs | Best For |
| --- | --- |
| | (Best Overall) Teams wanting a comprehensive CRM with built-in calling and direct Xero integration |
| | Small businesses desiring a comprehensive CRM that includes Xero integration and advanced reporting |
| | Businesses needing a free tool that supports Xero CRM integration |
| | Teams that want CRM training and Xero integration included with their CRM plan |
| | Businesses wanting a CRM that offers considerable file storage and Xero integration |
| | Organizations needing a CRM with price books, product lists, and Xero integration |
How We Evaluated Xero CRM Integrations
Xero accounting software and customer relationship management (CRM) integration helps businesses maintain consistent information between the two platforms. The integration also consolidates activities like creating invoices and monitoring payments. To comprise a list of the best Xero CRM integrations, we reviewed the capabilities and service offerings of several platforms. We considered the features, advantages, and benefits of each tool in comparison to the others.
We used the following criteria to determine the best CRMs for integrating with Xero:
Price: We considered the affordability of the featured CRMs, including the availability of free plans.
Ease of use: In addition to reading user reviews, we considered how intuitively each CRM tool is laid out.
Integration with Xero: We took a look at how well each CRM integrates with Xero, including the features available with the integration piece.
Affordability of upgrades and paid plans: We compared the price ranges of paid plans and upgrades, including feature comparisons.
Customer satisfaction: We took a look at CRM software user reviews in order to gauge customer satisfaction.
Lead and opportunity management: We examined how well each platform facilitates lead and opportunity management.
Mobility: Because many sales teams employ remote or traveling employees, we compared how well each platform supports mobile CRM.
Reporting tools: We compared each CRM's capabilities for reporting and analytics.
Security: We also compared the encryption protocols and ability of each tool to facilitate privacy compliance.
Workflow automation: We considered the automation features included with each CRM.
We chose Freshsales as the best overall choice for small businesses wanting Xero CRM integration. Freshsales offers a free-forever plan with essential CRM features like account and pipeline management. Paid plans that start at just $12 per user, per month are also available and include flexible invoice and payment management by way of this integration.
Freshsales: Best Overall CRM That Integrates With Xero

Freshsales is a cloud-hosted CRM with a free plan that offers web-based calling as well as account, lead, and deal management. Paid plans start at $12 per user, per month and offer forecasting and workflows, among other common CRM features. Because these plans also include a Xero integration that simplifies invoice and payment management from its interface, we recommend Freshsales as the best CRM for Xero integration and day-to-day sales activities.
Freshsales Pricing
Pricing for Freshsales ranges from a monthly price of $12 per user for its entry-level, paid plan that includes five workflow rules to $79 per user, per month for its highest plan, which includes 75 workflow rules, advanced reporting, and a dedicated account manager.
Freshsales Tiered Features
| | Blossom | Garden | Estate | Forest |
| --- | --- | --- | --- | --- |
| Pricing | $12/user per month | $25/user per month | $49/user per month | $79/user per month |
| Intelligent Workflows | 5 | 15 | 40 | 75 |
| Bulk Emails | 250 | 500 | 1,000 | 2,000 |
| Reporting | Basic | Advanced | Advanced | Advanced |
| Android & iPhone Apps | ✔ | ✔ | ✔ | ✔ |
| Built-in Phone Powered by Freshcaller | ✔ | ✔ | ✔ | ✔ |
| Automatic Call Logging & Recording | ✔ | ✔ | ✔ | ✔ |
| Classic Forms for Web-to-Lead Capture | ✔ | ✔ | ✔ | ✔ |
| Contact Management | ✔ | ✔ | ✔ | ✔ |
| Office 365 Two-Way Sync | ✔ | ✔ | ✔ | ✔ |
| Pipeline Management | ✔ | ✔ | ✔ | ✔ |
| Role-Based Access | ✔ | ✔ | ✔ | ✔ |
| Advanced CRM Customization | N/A | ✔ | ✔ | ✔ |
| Report Scheduling | N/A | ✔ | ✔ | ✔ |
| Sales Forecasting Reports | N/A | ✔ | ✔ | ✔ |
| Territories & Lead Assignment | N/A | ✔ | ✔ | ✔ |
| Auto Profile Enrichment | N/A | N/A | ✔ | ✔ |
| Smartforms for Web-to-Lead Capture | N/A | N/A | ✔ | ✔ |
| Website Visitor Tracking | N/A | N/A | ✔ | ✔ |
| Audit Logs | N/A | N/A | N/A | ✔ |
| Dedicated Account Manager | N/A | N/A | N/A | ✔ |
Blossom
Building on the tenets of account, contact, lead, and deal management included with its free tier, the Blossom plan from Freshsales is offered for $12 per user, per month and supports multiple integrations, including with Xero. The integration permits teams to easily view invoices within Freshsales and to obtain account summaries for leads, contacts, accounts, and deals.
The Blossom plan also offers five automated workflow rules and one feature, built-in voice-over-internet-protocol (VoIP) capabilities, that CRMs like Salesforce and Really Simple Systems lack entirely. This also beats the three user-limited introductory plan from Zendesk Sell. That is why the Blossom plan is our pick for sales teams needing a CRM with built-in calling and accounting software integration.
Garden
Freshsales' Garden plan makes a great alternative to the Essentials package from Salesforce with advanced customization, report scheduling, territory management, and sales forecasting for a monthly price of $25 per user. In fact, it is our recommendation for small businesses looking for a comprehensive CRM that allows for the customization of fields such as deal stages and forecast properties to reflect internal sales processes.
The Garden plan also introduces functionality around team management. Administrators can set up groups of users to reflect different teams within a single sales organization within the platform for individual teams or divisions. Because of its ability to drive team-specific or role-specific activity reporting, the Garden plan is our overall best choice from Freshsales.
Estate
The Estate plan from Freshsales builds on the features included with preceding plans and adds auto-profile enrichment, smartforms, and website visitor tracking for a monthly per-user price of $49. Users can capture information on targets who have checked out the company website and generate new leads with free Facebook integration as well.
The Estate plan is perfect for small businesses that want to improve outbound prospecting. Smartforms can help teams capture more information on prospects, like the names and company associations of website visitors, and reps can use the resulting lists of contacts as warm leads.
Forest
Freshsales' Forest plan is $79 per user, per month and offers security-conscious organizations increased data protection and quality control. With the Forest plan, audits regularly take place and log changes or updates to accounts, deals, leads, territories, workflows, and other records.
We recommend this package for teams with quality control resources like deal registration approvers and operations analysts. Due to its ability to automatically record activity histories, information is readily available and helps users resolve requests related to deal registration or pricing discounts quickly.
What Freshsales Is Missing
Freshsales does not offer the ability to manage price books or product catalogs, nor does it support the creation of price quotes. Teams that need these features should consider the Professional plan from Salesforce or Zendesk Sell.
What Users Think About Freshsales
While there are some accounts of system glitches or problems customizing reports, most Freshsales users rate it highly for affordability, workflow automation, and customer service. To learn more, check out our Freshsales review page.
Salesforce: Best CRM With Xero Integration for Advanced Reporting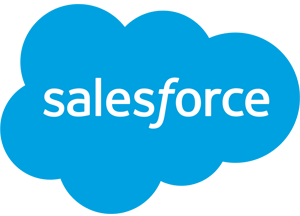 Salesforce is a cloud-hosted CRM that offers a good fit for small businesses that want enterprise-like CRM features like advanced reporting, opportunity registration, product catalogs, and workflow rules. In addition to a competitive price of $25 per user, per month, Salesforce's introductory plan works with Xero and makes it possible to create invoices and track invoice statuses. That's why we chose it as the best advanced-feature CRM offering Xero integration.
Salesforce Pricing
Salesforce's entry-level plan costs a monthly per-user price of $25 and includes all of the essentials businesses need from a CRM. Building on that core functionality are two upgraded tiers costing $75 and $150, respectively, per user, per month.
Salesforce Tiered Features
| | Essentials | Professional | Enterprise |
| --- | --- | --- | --- |
| Pricing | $25/user, per month | $75/user, per month | $150/user, per month |
| Account, Contact, Lead, and Opportunity Management | ✔ | ✔ | ✔ |
| Customizable Reports and Dashboards | ✔ | ✔ | ✔ |
| Customizable Sales Process | ✔ | ✔ | ✔ |
| Developer Sandbox | ✔ | ✔ | ✔ |
| Email Integration With Gmail or Outlook | ✔ | ✔ | ✔ |
| Internal Collaboration Platform | ✔ | ✔ | ✔ |
| Salesforce Mobile App | ✔ | ✔ | ✔ |
| Task Management, Activity Feed | ✔ | ✔ | ✔ |
| Web-to-Lead Capture | ✔ | ✔ | ✔ |
| Collaborative Forecasting | N/A | ✔ | ✔ |
| Orders, Price Books, Products, and Quotes | N/A | ✔ | ✔ |
| Lead Registration | N/A | ✔ | ✔ |
| Roles and Permissions | N/A | ✔ | ✔ |
| Rules-based Scoring | N/A | ✔ | ✔ |
| Territory Management | N/A | ✔ | ✔ |
| Web Services API | N/A | N/A | ✔ |
| Workflow and Approval Automation | N/A | N/A | ✔ |
Essentials
The Essential package from Salesforce is $25 per user, per month and supports integration with Xero through Breadwinner and other integration services. The integration allows teams using Salesforce to create invoices in multiple currencies and to track invoice status from within the platform.
The Essentials plan also enables users to manage activities related to contacts, leads, and opportunities in progress from the desktop or from the Salesforce mobile app (available from both the App Store and Google Store), keeping them in the loop even while on the road. We recommend this plan for teams of up to 25 users who want the option to monitor CRM and accounting activities from mobile devices.
Professional
Salesforce's Professional package is offered at a monthly, per-user price of $75 and adds rule-based scoring. Teams can view, sort, and assign new leads that have been rated based on the potential value brought to the organization, allowing salespeople to set deliberate follow-up plans. The package also offers lead registration, allowing businesses to acknowledge partners for identifying and driving new revenue opportunities.
While the Starter package from Agile CRM also offers lead scoring (and at a significantly lower price), users of this particular plan have access to all of the tools needed to more successfully engage both customers and partners. So, we recommend the Professional package from Salesforce for businesses looking to grow their channel sales programs.
Enterprise
The Enterprise tier from Salesforce builds on the features of its predecessors with the addition of workflow and approval automation rules. For $150 per user, per month, administrators can enact numerous workflows, making the Enterprise tier perfect for businesses with large sales teams and complex sales processes and for those that need unlimited workflow rules for delegating and managing a high number of tasks.
Salesforce offers an Unlimited plan for $300 per user, per month. We recommend the plan for businesses with larger sales teams, specifically those looking for 24-hour, dedicated support and configuration services.
What Salesforce Is Missing
Despite a robust set of features that suit most businesses, Salesforce does not offer a built-in caller, which can really help sales teams save time and maximize activity reporting accuracy. Businesses wanting click-to-dial functionality should take a look at Zendesk Sell, which offers a power dialer and call scripts with its Enterprise plan.
What Users Think About Salesforce
Some Salesforce users say the platform can be difficult to set up and to use, while others say it satisfies their needs for integration and customization. To read more about the user experience, visit our Salesforce review page.
HubSpot CRM: Best Free CRM That Integrates With Xero


HubSpot CRM is a web-based tool that allows its users to manage marketing and sales activities for free. With contact and deal management, email tracking, reporting dashboards, and Xero CRM integration, HubSpot's free platform has most of the tools teams need to drive customer experiences. It is also ideal for businesses that are self-reliant and comfortable managing and troubleshooting their CRM independently of technical support.
HubSpot CRM Pricing
Free users of HubSpot CRM can manage contacts, deals, and tasks. They can also track emails, share files, schedule meetings, and chat with customers, while upgraded marketing and service features are also available and start at $50 per month.
HubSpot CRM Features
HubSpot CRM provides essential CRM features for free, such as contact, lead, and deal management. It also includes the ability to make calls directly from a browser, and thanks to built-in email templates and email tracking, it can impact marketing and improve engagement with prospective buyers.
Additional free features include:
Contact & Lead Management
HubSpot supports the management of contact records from creation to association with specific companies or deals. Because of information fields like lead status and last contacted, as well as company, deal, and ticket associations that provide important details, users can also easily log related activities, such as calls, emails, notes, and future tasks. Plus, Xero integration supports the import of contacts from Xero to HubSpot CRM, preventing lapses in data.
Content Management
HubSpot users can store proprietary files and documents, in addition to five custom emails, newsletters, or blog posts using built-in tools and templates, for future sharing. Additionally, social media integration allows for the management and scheduling of future posts, helping teams leverage their web presences to consistently publish new, engaging content.
Pipeline Management
HubSpot CRM enables the creation of new deals that can be tracked using either predesigned or custom deal stages. Administrators and other users can then view team activities, performance, forecasted deals, and deals won within the last 30 days from the sales dashboard.
What HubSpot CRM Is Missing
HubSpot CRM free users do not have access to email or phone support, though they can watch video tutorials on using each component of the platform from the HubSpot Academy. Teams that want a more flexible customer service platform should look at Freshsales, which offers chat, email, and phone support 24 hours a day, five days a week, with all plans.
What Users Think About HubSpot CRM
Our readers find that HubSpot CRM is easy to use. However, some users say that changes to site navigation are needed and that encounters with features that require transitioning to paid plans occurs often. For more information, visit our HubSpot CRM review.
Agile CRM: Best Training-included CRM That Integrates With Xero



Agile CRM is a cloud-hosted tool that enables small businesses to manage marketing, sales, and service activities. Xero CRM integration also tracks payments and other customer activities in one central platform, with plans from $8.99 to $47.99 per user, per month. What really sets Agile CRM apart is its robust collection of training resources, making it the best for teams that want to minimize software user guesswork in order to make the most use out of their CRM.
Agile CRM Pricing
Agile CRM is available in one of four plans: one free plan and three paid plans with more advanced features and customization. Paid plans range from a monthly price of $8.99 for two-way email integration and phone support to $47.99 per user, per month, which includes two-way telephony and unlimited workflow rules.
Agile CRM Tiered Features
| | Starter | Regular | Enterprise |
| --- | --- | --- | --- |
| Pricing | $8.99/user, per month | $29.99/user, per month | $47.99/user, per month |
| Plugins/Integrations | 3 | 50+ | 50+ |
| Automation Rules (Triggers) | 5 | 10 | Unlimited |
| Campaign Workflows | 5 | 10 | Unlimited |
| Email & Phone Support | Email only | ✔ | ✔ |
| Custom Deal Milestones | ✔ | ✔ | ✔ |
| Helpdesk With Canned Responses | ✔ | ✔ | ✔ |
| Lead Scoring | ✔ | ✔ | ✔ |
| Marketing Automation | ✔ | ✔ | ✔ |
| Social Monitoring | ✔ | ✔ | ✔ |
| Unlimited Deals, Tasks & Documents | ✔ | ✔ | ✔ |
| Custom Deal Tracks | N/A | ✔ | ✔ |
| Mobile Marketing | N/A | ✔ | ✔ |
| Two-Way Telephony | N/A | ✔ | ✔ |
| Post-call Automation | N/A | N/A | ✔ |
| Call Recording | N/A | N/A | ✔ |
| Dedicated Account Rep | N/A | N/A | ✔ |
| Onboarding Coach | N/A | N/A | ✔ |
Starter
The Starter package is $8.99 per user, per month. The plan equips users with five workflow automation rules and three plugins or integrations; with direct integration between Agile CRM and Xero, teams can use the CRM to create and send both invoices and payment reminders as well as view the payment histories of individual customers.
Agile CRM's entry-level plan includes marketing automation and social monitoring in addition to unlimited deals, tasks, and documents. The company also offers ongoing live training webinars to help users understand the platform as well as on-demand videos so workers can learn at their own pace. Due to its ability to monitor customer preferences and invoice statuses, the Starter plan is optimal for small businesses whose reps handle sales and payment processing.
Regular
Agile CRM's Regular plan introduces custom deal tracks and two-way telephony for $29.99 per user, per month. Users can make and receive calls from a web browser. They can also reference internal sales processes when logging updates.
The Regular plan includes a total of 10 workflow rules, lead scoring, and mobile marketing, enabling teams to route leads to reps based on prioritization to the company and to communicate with prospects and customers via SMS text messages. That is why the Regular plan is a great way for small business teams to address an increasing number of potential buyers who work from mobile devices.
Enterprise
Agile CRM's Enterprise plan is $47.99 per user, per month and offers post-call automation and call recording. Inbound and outbound calls are recorded and logged automatically as they take place, allowing teams to use the recordings for auditing and training purposes.
The package also entrusts its users to a dedicated account manager and an onboarding coach, both of whom can help the implementation and application process run more smoothly. Because these roles are often essential to successful implementations and return on investment (ROI), we recommend the Enterprise tier to small businesses that are new to using CRM.
What Agile CRM Is Missing
The free plan from Agile CRM only supports one plugin or integration, which is OK for businesses that are looking to integrate with Xero only. However, businesses that work with other tools or anticipate future integrations should consider the Starter plan or the free plan from Freshsales, which offers multiple integrations including Zapier, Google Apps, and a Gmail add-on.
What Users Think About Agile CRM
Though the telephony feature is not as strong as that offered by other CRMs like Freshsales, we recognize that Agile CRM offers businesses the ability to manage entire customer journeys smoothly. To read more, visit our Agile CRM review page.

Really Simple Systems is a cloud-hosted solution for managing marketing and sales activities, like drip marketing, contact management, pipeline management, and forecasting. Free and paid plans are available starting at $14 per user, per month. Really Simple Systems is a strong option for businesses that prefer a CRM that integrates with accounting software and includes sizable file storage, beginning with a generous 100MB on the free plan.
Really Simple Systems Pricing
Really Simple Systems offers three paid plans that build on the functionality of its free model. Annual customer agreements for the entry-level plan start at $14 per user, per month, while annual agreements for its two upgraded plans are offered at $30 and $46 per user, per month, making it the most competitively priced featured CRM.
Really Simple Systems Tiered Features
| | Free | Starter | Professional | Enterprise |
| --- | --- | --- | --- | --- |
| Pricing | $0 for up to 2 users | $14/user, per month | $30/user, per month | $46/user, per month |
| Document Storage | 100MB | 1GB | 5GB | Unlimited |
| Contact & Pipeline Management | ✔ | ✔ | ✔ | ✔ |
| Sales Weightings & Probability | ✔ | ✔ | ✔ | ✔ |
| Product Lines | ✔ | ✔ | ✔ | ✔ |
| SSL Encryption | ✔ | ✔ | ✔ | ✔ |
| Automated Marketing Campaigns | N/A | ✔ | ✔ | ✔ |
| Custom Dashboards | N/A | ✔ | ✔ | ✔ |
| Lead Management | N/A | N/A | ✔ | ✔ |
| Response Tracking | N/A | N/A | ✔ | ✔ |
| Accounting Software Integration | N/A | N/A | ✔ | ✔ |
| Case Level Ranking & Management | N/A | N/A | ✔ | ✔ |
| Custom Cases, SLAs, Case Level | N/A | N/A | ✔ | ✔ |
| Quotations | N/A | N/A | ✔ | ✔ |
| Service Desk Email Integration | N/A | N/A | ✔ | ✔ |
| Telephone Support | N/A | N/A | ✔ | ✔ |
| Account Manager | N/A | N/A | N/A | ✔ |
| Team Training | N/A | N/A | N/A | ✔ |
| Single Sign-on | N/A | N/A | N/A | ✔ |
Free
Really Simple Systems offers a free-forever option that suits up to two users and includes 100MB of document storage. Though it does not offer Xero CRM integration or any integrations (as do free plans from HubSpot CRM, Agile CRM, and Freshsales), it does include the option to store lists of products, making it a good option for teams that often work with files or attachments.
The Free plan also includes standard security encryption, contact and pipeline management, and sales weightings and probability. Because it offers products and basic customer management features, it is a great choice for small businesses with just one or two dedicated CRM users who want access to product lines but do not need more complex features like lead scoring, mass emailing, third-party integrations, or workflow automation.
Starter
The Starter plan from Really Simple Systems is $14 per user, per month and includes direct integration with Xero, allowing sales and service teams to access customer account balances, view invoices, and create invoices from within the CRM platform. Document storage is bumped up to 1G and also includes a two-way contact sync, closing any gaps in the databases of either system.
In addition to account and pipeline management, Starter plan users can create and automate email drip campaigns and track the related ROI. Because the built-in marketing functionality of this package is strong, we recommend this plan for teams that want a CRM that can help improve demand and that offers integration with Xero.
Professional
The Professional package from Really Simple Systems adds lead management and response tracking for a monthly per-user price of $30. It offers even more file storage with a total storage space of 5GB, enabling small business teams to organize commonly used internal resources and customer-facing assets.
The Professional plan also introduces several help desk features, including case management, case level ranking, service desk email integration, and custom service level agreements (SLAs). Due to its ultra-competitive price, increased file storage, integration with Xero, and capacity for managing both marketing and service activities, we recommend this plan for small businesses that simply want a more cost-friendly alternative to the Professional plan from Salesforce.
Enterprise
The Enterprise plan from Really Simple Systems is $46 per user, per month and builds on the preceding plans with the addition of single sign-on and unlimited file storage. Users can log into multiple applications from a single portal and work with as many files and file types as needed.
Finally, Enterprise plan users gain access to an account manager and an onboarding trainer, ensuring that their questions are answered and that proper expectations for getting the most out of this investment are set. That's why it is our pick for small businesses looking for an affordable CRM plan with accounting integration and unlimited file storage, as well as marketing and service capabilities.
What Really Simple Systems Is Missing
Really Simple Systems anticipates the release of mobile apps for Android and iOS in late 2019. The platform is also missing the ability to automate approvals and workflow rules, and like Salesforce, Really Simple Systems also lacks a built-in dialing feature. Businesses that want a CRM tool with integrated workflow rules, mobile apps, and voice calling should consider Freshsales.
What Users Think About Really Simple Systems
Our readers say that Really Simple Systems is easy to use, even for people without advanced technical skills. Complaints stem primarily from the desire for native mobile functionality and for better integration with email. To learn more, visit our Really Simple Systems user reviews page.
Zendesk Sell: Best CRM for Price Books That Integrate With Xero


Zendesk Sell is a CRM offering (formerly known as Base) that offers affordable and comprehensive CRM functionality in an integration-rich ecosystem. In addition to customized dashboards and advanced call analytics, Zendesk Sell offers email and Xero integration as well as product lists and price books, making it the perfect CRM for companies looking to manage customer activities and price quotes.
Zendesk Sell Pricing
Zendesk Sell is available in one of four software packages, all of which support Xero integration. Pricing ranges from a per-user monthly price of $19 for its introductory package to $199 for its most inclusive.
Zendesk Sell Tiered Features
| | Team | Professional | Enterprise | Elite |
| --- | --- | --- | --- | --- |
| Pricing | $19/user, per month | $49/user, per month | $99/user, per month | $199/user, per month |
| Prebuilt Reports | 7 | 20 | 28 | 35 |
| Plug-and-Play Integrations | 6 | 13 | 18 | All |
| Click-to-Dial and Call Reporting | ✔ | ✔ | ✔ | ✔ |
| Customized Sales Pipeline | ✔ | ✔ | ✔ | ✔ |
| Email Integration With Tracking | ✔ | ✔ | ✔ | ✔ |
| Mobile App | ✔ | ✔ | ✔ | ✔ |
| Advanced Call Analytics | N/A | ✔ | ✔ | ✔ |
| Sales Goals and Forecasting | N/A | ✔ | ✔ | ✔ |
| Unlimited Custom Fields | N/A | ✔ | ✔ | ✔ |
| Activity Reports | N/A | N/A | ✔ | ✔ |
| Lead and Deal Scoring | N/A | N/A | ✔ | ✔ |
| Products and Price Books | N/A | N/A | ✔ | ✔ |
| Task Automation | N/A | N/A | ✔ | ✔ |
| Advanced Reporting | N/A | N/A | N/A | ✔ |
| Rep Performance Dashboard | N/A | N/A | N/A | ✔ |
| Unlimited Sales Pipelines | N/A | N/A | N/A | ✔ |
Team
Zendesk Sell's Team plan is $19 and enables up to three users to co-manage contact records and deals. They can also click to dial contacts from within the tool itself, making it one of the few base CRMs to include web-based phone service with its entry-level offering. The Team plan, however, does not include integration capabilities, making it the only introductory paid plan featured that does not support working with Xero.
The Team package also enables mobile functionality with apps for Android and iOS, making it more feasible to remain productive on the road. That's why the Team plan is a good option for small business owners who do not need accounting software integration but want an entry-level CRM plan that allows them to capture and manage customer information from mobile devices.
Professional
The Professional package from Zendesk Sell is $49 per user, per month. It includes the functionality of its predecessor and adds advanced call analytics, allowing sales teams to identify ways to improve the effectiveness of their activities.
Also included with the Professional tier are sales goals with forecasting and unlimited custom fields. Teams that struggle with forecasting or inventory planning can benefit from custom deal stage fields mirroring internal deal stages and processes. Not only will reps recognize information more quickly, but they'll also feel confident executing administrative tasks.
Enterprise
At $99 per user, per month, the Enterprise tier offers storage of product lists and price books, enabling teams to quantify deals by adding price-specific line items. The plan also offers direct integration with Xero, enabling users to create invoices and track payment statuses and due dates without switching between apps. We recommend the Enterprise plan for growing businesses that want a product and price book-enabled CRM that can improve control over end-to-end customer management.
The Enterprise package from Zendesk Sell includes all of the features included with previous tiers with the addition of lead scoring, task automation, and predefined activity reports. Leaders can access basic reporting on activity metrics, and leads can be assigned to reps automatically, further decreasing time spent on administrative and operational tasks.
Elite
The Elite tier from Zendesk Sell is its most inclusive. The plan builds on the features included with the previous tiers with a rep performance dashboard and unlimited sales pipelines for a per-user price of $199 per month.
While dedicated assistance from Salesforce comes at a monthly per-user cost of $300, the Elite plan also includes access to premium customer support options. This makes it a better option for small businesses that prefer both advanced CRM features and triaged access to customer support.
What Zendesk Sell Is Missing
Zendesk Sell is equipped to handle the day-to-day needs of most small business sales teams, like pipeline management and forecasting. However, it does not support direct integration with Xero except with its Enterprise and Elite plans, which are priced significantly higher than some featured plans offering the same functionality. Businesses looking to leverage Xero integration with their CRM more affordably should consider Agile CRM.
What Users Think About Zendesk Sell
Our readers think Zendesk Sell's well-designed user interface and intuitive layout make it simple to use. Some users, however, have expressed a desire for smoother navigation from one record to another. Visit our Zendesk Sell review page to read more.
Bottom Line
Integrating Xero with a CRM can allow businesses to import and save contact records, keep track of accounts receivables, and view customer payment histories from within one central platform. Not only does this close gaps in information between the two tools, but it also reduces the time spent gathering and analyzing customer and payment-related information separately.
Teams wanting a flexible CRM that is all-inclusive, customizable, and supports web-based calling, marketing automation, and pipeline management in addition to direct integration with Xero should consider Freshsales. Visit their website to learn more or to sign up for a free Freshsales account today.