The ability deliver a sales pitch of your business' products and services to future customers is a crucial skill for salespeople and small business owners. In this article, we will provide you with a step-by-step guide on how to deliver an effective sales pitch and increase your chances of winning new business.
Using a CRM software is an excellent way to keep track of your business contacts, leads, and opportunities. Pipedrive can help you stay organized, ensure follow-ups happen in a timely manner, and boost your productivity results. Click the button below to start your free trial and increase your sales results:
What is a Sales Pitch?
A sales pitch is a key part of the sales process, during which a salesperson attempts to sell their company's products or services to a prospective customer. This can take place over the phone, online or in person. A sales pitch is often supported by a pitch presentation, a demonstration and a cost proposal that's left behind.
1. Know Your Audience & Venue
The first step to a successful sales pitch is getting to know your audience. A personalized sales pitch that addresses your customer's specific pain points will be far more successful than a generic one.
Do Your Research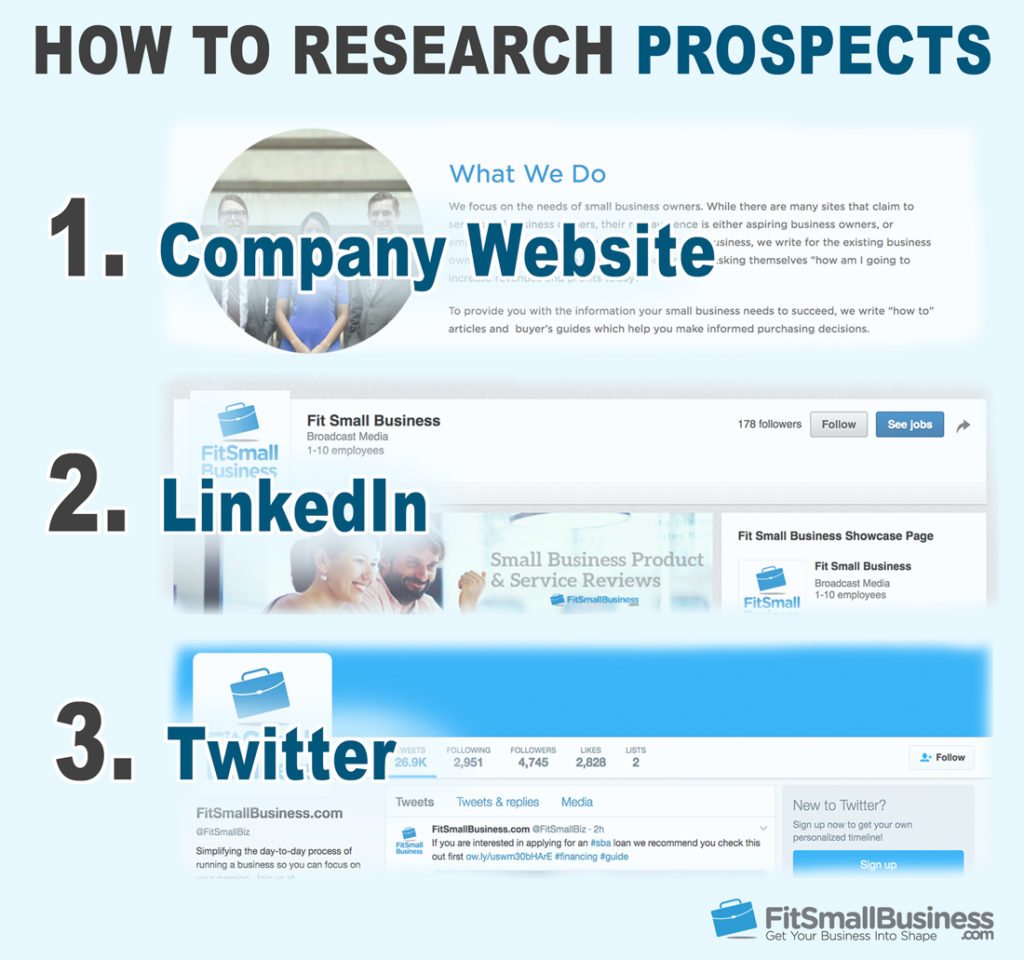 With the information you have available to you via Google search, customer websites, LinkedIn profiles and Twitter feeds, there is no excuse for not knowing your audience well ahead of pitching to them.
Company website — your prospect's company website will provide you with a clear understanding of their value proposition, their products and/ or services and their About Us page may provide a bio of your prospect. The news and/ or blog section will also update you on their most recent activity.
LinkedIn — searching LinkedIn will allow you to learn more about your prospect. If you search by company name, you may be able to identify other members of the team relevant to your sales pitch. You can also look at your prospect's career history and their LinkedIn connections to see if you have any common ground that will help you to personalize your introduction. Or maybe a common connection could introduce you and help to turn this into a warm lead?
Twitter — if your prospect has a Twitter feed, this will provide you with a good feel for the type of person you are dealing with, their opinions and what is currently top of mind for them. You can also see who they follow on Twitter to understand their personal interests and customer focus.
Pitch to the Right Person or People
The person you want to deliver your sales pitch to is typically referred to as the decision-maker. They have control over the budget that is used to buy the services that you are selling.
For instance, there is no point in delivering a sales pitch about marketing services to the sales director alone, unless she holds the budget for marketing. Typically you'll need to pitch to the marketing director, but maybe still have the sales director in the room, as she could strongly influence the decision.
You also want to know if there is anyone else involved in the decision making process. For example, there may be the need for a contract to get signed-off by the legal department, or a procurement process to navigate with someone from purchasing.
Schedule the Right Kind of Appointment
Once you've identified the right person (or people) to deliver your sales pitch to, schedule an appointment at the most convenient time and location for them. This usually means visiting them at their place of business.
If you're delivering your sales pitch to more than one person, then discuss booking a room so that you can get their full attention. If it's difficult for them to book a room, be prepared to suggest meeting in reception or in a coffee shop nearby. Whatever it takes to secure the opportunity to deliver your sales pitch.
Ideally, you want to deliver your sales pitch face-to-face but if this is not possible, then next best option is a video conference or online presentation. If this is not possible, then the last resort should be delivering your sales pitch over the phone. This is because pitching in person allows you to generate more rapport, start building a relationship and understand and respond to your audience's body language while you are delivering your pitch.
Confirm How Much Time You've Got
Once you've got your appointment scheduled, it's really important to confirm how much time is scheduled. Suggest at least 30 minutes so that you have time to introduce yourself properly, deliver your sales pitch, answer questions and decide next steps. Your sales pitch itself may only take 10 minutes.
If you do not know how long you have got, you might have your meeting closed before you get the chance to ask for the business!
2. Develop Your Sales Pitch
Once you know your audience well, it's time to develop your sales pitch. You may already have your generic pitch good to go. If so, it's time to customize it to suit your audience.
Design Your Sales Pitch as a Conversation
No one likes to receive a one-way presentation that they are forced to listen through for 15 or 30 minutes before being given the chance to contribute. A 2-way conversational approach also allows you to build trust, understand your prospective customer's interests and keep them engaged.
I also strongly recommend you give your audience the opportunity to tell their story and to describe what makes their situation unique. Some people like to do this at the start of their sales pitch and throughout, which is my personal preference. Others like to ask for feedback at specific stages during their sales pitch. Yet others, prefer to open up the discussion at the end. However, waiting until the end has risks, as you have no real way of knowing exactly how tuned in your audience are to the pitch you are delivering.
Use Simple Language
It's easy to be blind to your own jargon, which customers will find difficult to translate unless they are an expert. Test you sales pitch on someone at home who is not an expert. They can help you to identify the jargon you need to replace with plain English.
Keep it Short
It may sound obvious, but so many people create more content than they have time to deliver. As a rule of thumb, create half of what you think you will need for a 15-minute presentation and it will be more than enough to fill that time. If your audience want more, they will ask. Better to arouse their curiosity and have them ask for more than to over-deliver and put them to sleep.
Tell a Story
Try to put your sales pitch together like a story so that it gradually builds. This is a great way to maintain the interest of your audience. For instance, you could:
Set the industry context
Create an emotional hook
Identify real customer problems
Explain the impact of the problem
Show how current solutions don't properly solve the problem
Deliver your value proposition as the solution
Demonstrate how your solution works
Build testimonials into your sales pitch
Anticipate questions, complaints and objections
Use visual aids carefully to demonstrate key points
Let's take a look at each of these considerations in more detail:
Set the Industry Context
Most companies consider their business within the context of their marketplace. If you want to get on the same wavelength with your audience, it makes sense to show some understanding of the market dynamics and competitive context your prospect in operating in. This then naturally narrows to consider them in more detail.
Create an Emotional Hook
Most sales pitches rely on logical content to convince the audience that it makes sense to buy a product or service. But the reality is that most of us decide what we like and what we dislike first as an emotional response. Then, we find a logical way to justify the decisions that we make when we are asked.
What emotions can you tap into? These can be positive emotions or the negative frustrations or fear related to an unsolved problem.
For instance, a positive emotional hook for using accounting software could be that it frees you up to spend their time on other things. Or a fear-related reason could be that the software doesn't make mistakes and get in trouble with the IRS, like humans do. Later, when asked why they bought this particular accounting software, customers may say, "it's because of these great technical features," but what really drove their decision was the ability to free themselves up, or to eliminate the fear of making mistakes and getting into trouble.
Identify Real Customer Problems
During the cold calling and qualification stage, you will hopefully have identified the specific problems that your prospective customer is trying to solve. This allows you to focus on their problems and how to solve them in your sales pitch. If possible, use the customer's own words to describe their problems as this will resonate most powerfully with them.
Explain the Impact of the Problem
It's not enough to simply state the problem. You want to talk through how this problem has a negative impact on your customer. It's also a good idea to quantify this if you can.
For instance, using my accounting software example, the customer might say that the tools that they are currently using seem to take up more time than they should and allow for human error to creep in.
You could talk through this by explaining how it's taking 15 minutes to create each invoice and that the company sends out 250 invoice per day, which over 60 hours a week, or enough work for nearly 2 execs at a cost of $6,000 per month. When this work could be largely automated freeing up the execs to spend their time getting more invoices paid on time, which improves cash-flow – hurrah!
Or you could talk through how 1 in 20 invoices has a human error, which with 250 invoices going out each day means circa 12 customers not paying on time, which damages the customer relationship. This in turn is raising concerns for the Sales Director as it's damaging valuable customer relationships and keeping the CEO awake at night.
Show How Current Solutions Don't Properly Solve the Problem
By this stage, hopefully your customer is convinced that they need accounting software, but if not then you have to confirm a need or there is no sale to be made.
Let's assume that they confirm they need accounting software, now they will be considering whether they should buy yours or a competitor's.
Without calling out the names of your competitors, it's a good idea to explain how competitors do not properly solve the problem.
For instance, with our accounting example, you might explain that the existing solutions do not integrate with the CRM system your customer is using. This means human error still creeps in, as some data needs to be manually entered, and it still takes longer than it should to complete an invoice.
Deliver Your Value Proposition as the Solution
A value proposition is a simple and concise summary of what your product or service does, how it benefits the customer and why you provide an advantage over the competition.
This is one of the key factors in a good sales pitch. Your customer isn't always blown away by how many awards you have won. Instead, they want to know how your product will improve their business, make their life easier and save them money.
Let's use our accounting software scenario to provide an example:
QuickBooks is a market-leading accounting software for small business, let's see how they put across their value proposition online:
QuickBooks Value Proposition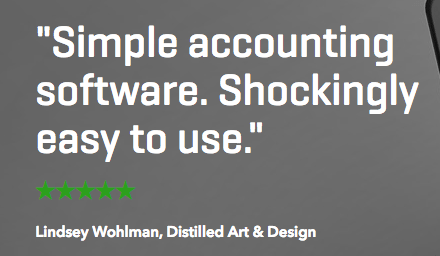 QuickBooks covers 5 objectives in their value proposition in just 13 words:
What they do – "accounting software"
State a clear customer benefit – "shockingly easy to use"
Indicate how they stand out from the competition – "simple and shockingly easy to use"
Deal with a common unspoken customer concern – "all accounting software is complex and hard to use"
Provide a customer testimonial
Demonstrate How Your Solution Works
If you don't go on to unpack your solution and explain how it works, then you are expecting your customer to place too much trust in you too soon. Once you have delivered your value proposition, you need to go on to unpack it to explain exactly how your product or service works. This will be at the heart of your pitch and may take up to 5 minutes. If you have a product that can be demonstrated, then this is the best way to explain to people how it works.
Using my example, QuickBooks is easy to demo and the software is explained by unpacking each of the key features for small business: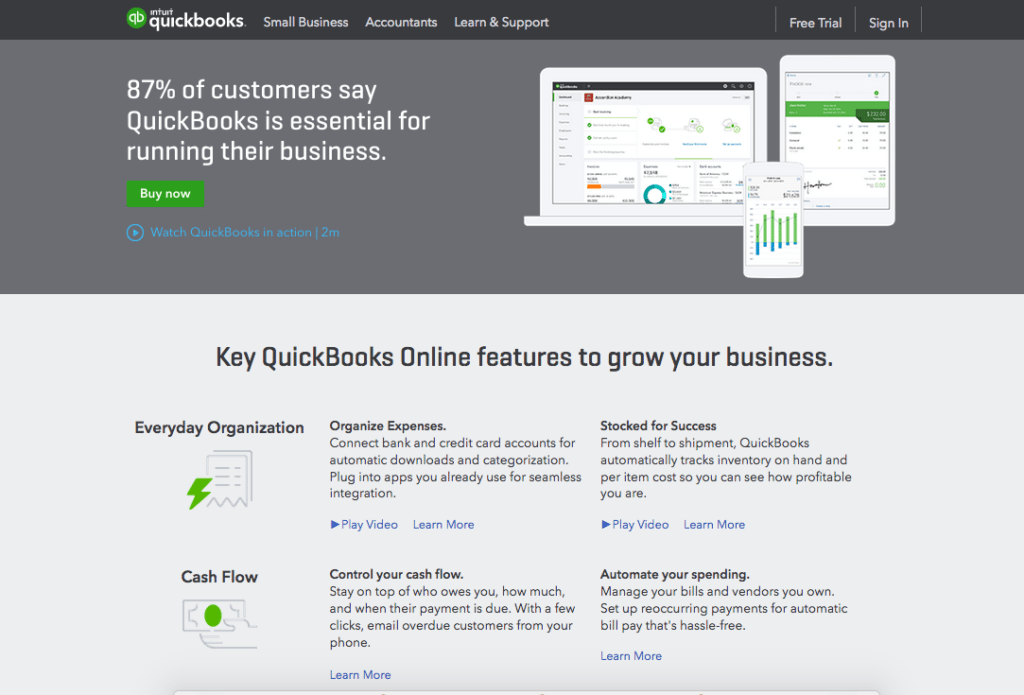 Build Testimonials Into Your Sales Pitch
If your business is not already known to your audience, it becomes even more important to provide them with credible third party customer endorsements. No one likes to perceive that they may be taking an unnecessary risk. Sharing positive customer testimonials from other businesses like the one you are pitching to, will help to provide the required reassurance.
Anticipate Questions, Complaints, and Objections
Hopefully you will have discovered some of your prospective customers concerns during the qualification process that earned you to right to deliver your sales pitch. Whatever the case, you must be able to predict the potential objections to the solution that you are pitching.
Make a list of the top 10 reasons why someone might say they don't need or want your product. Craft responses to each of these. Objections are often hidden in the form of questions. So listen carefully to questions they may raise during your pitch.
For instance, using my accounting software example, the customer may ask:
"Is QuickBooks easy to use straight out of the box or do you require any training?"
Their concern may be that they do not fully believe how easy it is to use.
A good response would be:
"Yes, anyone with experience of accounting and finance would find it easy to set-up and use, and we can setup a no obligation free trial so that you can test this for yourself."
Use Visual Aids Carefully
Some salespeople find presentation software like Slidebean useful as it provides your audience with a visual picture of what you are pitching. Using a slide deck is a good idea as long as you keep the slides visual and they do not get in the way of your engaging with your audience.
It's important to avoid reading bullet points from slides, this will be unlikely to emotionally engage your audience, which is why it is commonly known as "death by PowerPoint!"
Check out our guide on the best presentation software for 2017 to learn more about the current tools out there.
3. Practice & Prepare
Practice delivering your sales pitch often enough so that you know the flow of what you want to deliver without needing to refer to notes. Once you no longer get stuck when practicing, you are ready to pitch to your audience.
This will also allow you to understand how long your sales pitch is so time yourself to ensure that your sales pitch is not taking longer to deliver than you intend.
It's also great to test your sales pitch on friends or colleagues to make sure it makes sense. Ask for honest feedback so that you can refine your sales pitch before you are doing it for real.
Confirm the Time and Location
The day before your sales pitch, call or email your prospect to confirm your appointment. It's also worth confirming that they have the time to devote to hearing the sales pitch and whether anyone else will be joining you. If they don't then reschedule to give yourself the best chance of success.
Dress Appropriately
You want your audience to view you are honest, reliable and professional. Consider the norms of the industry that you're presenting to. If you normally work in overalls, but you are presenting to an office audience, dress for the office environment.
4. Deliver Your Sales Pitch
Always make time to introduce yourself properly and briefly explain your role, then let your prospect and anyone else joining them properly introduce themselves too. This is giving you the opportunity to start building a relationship and understand who any new people are that are joining the meeting.
Try to Keep Calm
The more experience you have of pitching, the more natural it will become. Really knowing your pitch well helps you be more relaxed, as will breaking the ice with introductions to help warm things up from the outset.
If you still suffer from nerves, then the key thing to remember is to try and breathe deeply and naturally. If you are doing this, then you will be able to relax. Another thing that will help is to occasionally ask your audience a question that will allow you the opportunity to gather yourself and your thoughts at natural end-points in your sales pitch.
Demonstrate Positive Body Language
Body language is what people pick up before you even start talking. If you are nervous and your body language is closed, then the audience will find it difficult to engage with you.
Try to be calm, open, positive and relaxed. If you appear confident, then it will be easier to feel confident. And if you feel confident, then it will be easier for your audience to be confident in you.
Maintain Regular Eye Contact
You can keep your audience engaged much more easily if you maintain good eye contact with them. This also helps an experienced and natural salesperson to understand when to move on to the next point and when to ask questions.
Build in Natural Pauses
A common mistake that inexperienced salespeople make is to rush through their sales pitch. This is often related to nerves.
Instead, try to pause after delivering an important point, so that your audience can catch-up. Remember, your sales pitch is new to your audience and if they are genuinely interested, they need time to digest what you are saying. This also allows you to place emphasis on key points and, in general, control the overall pace of your delivery.
Ask Questions
As you deliver your sales pitch, it will hopefully become clearer to your audience that your product may be the right solution for them. Be sure to ask questions to confirm their understanding, to confirm their needs and any concerns that you need to cover off before you will be able to ask for the business.
5. Close Your Sales Pitch
If you have delivered your sales pitch, confirmed a concrete need and covered any concerns that your customer has, then you are ready to close the deal.
Explain What You Get For Your Money
Creating a compelling a b2b sales pitch is all about making your prospect acutely aware of the problem you are best placed to solve and the value that they will get from your product or service. Try to quantify this. For instance, using my accounting software example:
Improve cashflow – by getting invoices out faster and reducing errors that slow-up invoice settlement. We've discussed how your debtor days could be reduced by 10, which is worth $X to you per year.
Reduce the time and effort – simpler software that automates more of the process means less errors and less time required to complete the same task. We have discussed how the time it takes to complete invoices can be reduced by X days per year, which costs your business $X.
Reduce risk – automating more of the process reduces relationship and reputational risk from getting invoices wrong. We have discussed how your business can reduce the invoice error rate from its current level of X to a lower level of Y. This will lead to X% reduction in reputational risk arising out of invoicing errors.
Try to quantify the value as much as possible, this will help you at the next stage when you explain the price of your solution.
But before you reveal the price, first make sure that price is the last issue on the table. Talking about price before confirming the need, demonstrating the value and covering off any objections will result in a good opportunity hitting the dust.
Set Price Expectations
Explaining what other premium products like your usually cost sharing the cost of your solution, helps to plant a seed in your audience's mind that this is quality product likely to have a high price.
To help with this, you could run through each of the different components in your product or service and explain how much they would cost individually. Then when you reveal the true price, and it seems less expensive.
Be careful how you do this, if your customer senses that you are "selling" the price to them they may become impatient and this could be counter-productive.
Ask For The Business
At this stage you have delivered your sales pitch, confirmed the need, demonstrated the value covered off any objections and shared the price.
Now you need to give guidance on the next steps to take. For example, you may seek to commitment to consider a written cost proposal or to enter a product trial.
The most important thing is to keep the momentum up and to make sure that you are agreed on the next course of action.
6. Follow Up
Personally, I like to have my follow up email and cost proposal ready to send through as soon as I leave the meeting. This means having it pre-prepared and making any final adjustments necessary soon after you leave the meeting. This allows you to strike whilst the iron is hot. However, do not leave it more that 24 hours as this starts to allow the deal to cool off and reduces your chances of closing the deal.
Your follow-up communication should:
Thank them for the meeting
Follow-up on any actions you agreed to perform (e.g. provide more information, send through an NDA, schedule another meeting, provide a cost proposal).
Until your customer has signed the contract and sent through the first payment, you are making good progress, but you have not closed the deal. This is often where the great salespeople outperform the average ones. They follow through until the deal is sealed and they leave nothing to chance.
Adjust Your Sales Pitch
The final thing that you should do following a sales pitch (whether successful or not) is to reflect on what when well and what could be improved next time around. Then amend your standard sales pitch and approach accordingly.
The Bottom Line
If you want a scalable, growing business, you can't leave delivering your sales pitch to chance or deliver on the hoof. Your sales pitch needs to be properly planned, along with a tried and trusted sales process that can be repeated over and over again. Committing to a disciplined approach and measuring and managing how you perform gives you the best chance of success. A good CRM tool like Pipedrive can help you with this.
If you're just starting out, the sales process comes with a steep learning curve. Don't expect to get it right first time around, even if you're already an experienced professional. Selling a new product or service has to be learned from the ground up.
Creating a winning sales pitch is about learning from each sales pitch experience and then refining and improving your approach. The quicker you make mistakes, the faster you can learn and the sooner can refine your sales pitch and maximize your revenue.