6 Best Operational CRM Platforms for 2023
This article is part of a larger series on CRM.
Operational customer relationship management (CRM) software is designed to improve the sales productivity of business operations by streamlining sales processes. Its fundamental tools include omnichannel communication tools, appointment scheduling, lead management, automation workflows, and document management. We compared dozens of options to find the six best operational CRM providers based on features, cost, and ease of use.
Here are our picks for the six best CRM for operations:
Best CRM for Operations Compared
Provider

Free Plan

Free Trial for Paid Plans

Starting Price for Paid Plans*

Special Features

Help & Support

✓, up to 3 users

21 days

$15 per user/month

Built-in phone system

Tier-based support via email, phone, and chat

✕

30 days

$25 per user/month

Auto-routing of customer service cases to sales

Premium support; typically 30% of license fee

✕

14 days

$14.90 per user/month

AI sales assistant on all plans

Live chat, and premium support for Enterprise plan

✓, up to 2 users

14 days

$29 per user/month

Automatically updates customer profiles

Email and phone support from 4 a.m. - 7 p.m. Pacific Time

✓, for unlimited users

30 days

$49 per month for up to 5 users

Extensive ecommerce management tools

Live chat and email during business hours

✕

14 days

$23 per user/month

Robust Google Chrome extension

24/7 chat support and community forum
*Based on annual billing; monthly subscriptions are also available at higher rates.
Freshsales: Best Overall CRM for Operations & Best Workflow Automation Capabilities
What We Like
Growth plan is free for up to 3 users
Workflow automations for lead and task assignments
Robust built-in phone system that can be used for inbound and outbound calls
What's Missing
No workflow automation on free plan
Lacks artificial intelligence (AI) features on lower-tiered plans
Bulk emails and email sequences have limits on how many can be sent per user
Monthly Pricing (per User) Summary*
Growth: $15 (free for up to 3 users)
Pro: $39
Enterprise: $69
Free trial: 21 days
*Based on annual billing; monthly subscriptions are also available at higher rates.
Freshsales is the best option for executing CRM operations because of features that help improve users' efficiency and productivity by automating routine manual tasks. These include automatically assigning leads, contacts, and even chat conversations to the right salespeople based on their bandwidth and availability. Its CRM automation features include sales sequences, web forms, email templates, workflows, and an activity timeline.
While Freshsales has email capabilities that include two-way syncing and bulk personalized emails, it limits the number of sequences and bulk emails a user can send depending on the plan. For unlimited email deployment, check out Copperas a viable option Gmail users can use to send unlimited emails.
Freshsales Plan Summary
| | Growth | Pro | Enterprise |
| --- | --- | --- | --- |
| Contact, Account & Deal Management | ✓ | ✓ | |
| Built-in Phone Dialer | ✓ | ✓ | ✓ |
| Chat Widget | ✓ | | ✓ |
| Workflows | 20 | 50 | 100 |
| Personalized Bulk Emails | 250/user/day | 1,000/user/day | 5,000/user/day |
| Predictive Contact Scoring | ✓ | ✓ | ✓ |
| Reports & Dashboards | ✓ | ✓ | ✓ |
| Lead Gen Bot & Chat Bot | ✕ | ✓ | ✓ |
| Forecasting Insights | ✕ | ✕ | ✓ |
| Website Tracking | ✕ | ✕ | ✓ |
More Freshsales CRM Features
In addition to having a range of workflow automation tools, Freshsales offers essential CRM features that help you better manage customer relationships. Below are some of the features we find most beneficial:
Pipeline management: Track the status and progress of your leads and deals through simple and easy-to-understand sales pipelines.
Freddy AI: Enhances your productivity by offering smart suggestions for deal closure, upcoming meetings, and tasks.
Organization features: Create follow-up tasks, schedule and track appointments, and record notes for every lead, contact, account, and deal.
Communication tools: Make calls within the app and send messages using email, short message service (SMS) texting, chat, social media, and messaging services like WhatsApp and Apple Business Chat.
Website stats analysis: Get insights about your visitors' interests or engagement levels by analyzing their page visits, resource downloads, and other activities on your website.
Mobile app: Access features and customer data, as well as engage with potential customers anywhere, in real time.
Want more information to see if Freshsales is the best CRM option for your business? Our Freshsales review provides all the information you need to make a sound purchasing decision, including CRM features, plan comparisons, and product usability.
Salesforce: Best Operations CRM for Sales & Customer Service Collaboration
What We Like
Robust mobile app that includes task automation and AI analytics
Features for routing customer service cases to the sales team for cross-selling
Advanced AI tools for business analytics and sales performance
What's Missing
Lacks low-cost plans, and higher-tier plans get expensive
No proposal and quote generation on lower-priced Essentials plan
Monthly Pricing (per User) Summary*
Essentials: $25
Professional: $75
Enterprise: $150
Unlimited: $300
Free trial: 30 days
Add-on
Einstein (AI assistant): $50 for AI tools (included in Enterprise plan)
*Based on annual billing; only the Essentials Plan is available for month-to-month billing.
Salesforce stands out as an operational CRM when a business needs internal collaboration between customer service and sales teams for cross-selling opportunities or product inquiries. It allows you to easily re-route customer service cases to other departments, including the sales department, within the system. This includes notes on the customers' preferences, which makes it easy for the sales team to cross-sell or upsell.
Salesforce's entry-level plan, Essentials, however, lacks tools for generating quotes and contact proposals as well as artificial intelligence (AI) features, which only come in higher plans or as fairly expensive add-ons. Pipedrive is an excellent lower-cost alternative with an AI assistant included at every level that allows users to send quotes and proposals from the CRM platform.
Pro tip:
Did you know that a CRM can be used for more than just sales activities? Because it stores customer information and communication tools to assist customers, you can use a CRM to improve your customer service operations.
Salesforce Plan Summary
| | Essentials | Professional | Enterprise | Unlimited |
| --- | --- | --- | --- | --- |
| Opportunity Management | ✓ | ✓ | ✓ | ✓ |
| Lead Management | ✓ | ✓ | ✓ | ✓ |
| Pipeline Management | ✕ | ✓ | ✓ | ✓ |
| Sales Forecast | ✕ | ✓ | ✓ | ✓ |
| Collaborative Forecasting | ✕ | ✓ | ✓ | ✓ |
| Opportunity Scoring | ✕ | ✕ | ✓ | ✓ |
| Workflow & Approvals | ✕ | ✕ | ✓ | ✓ |
| Territory Management | ✕ | ✕ | ✓ | ✓ |
| Lead Scoring | ✕ | ✕ | Available for purchase | ✓ |
More Salesforce Features
Apart from its excellent inter-departmental collaboration tools, Salesforce offers features and tools to improve your sales process and customer management tasks. Below are some of its key features:
Advanced analytics: Generate smart reports to improve your sales activities, including lead sources, marketing performance, and revenue predictions.
Lead management: Track, filter, and qualify prospective customers and route hot leads to the most appropriate reps to increase the probability of conversion.
Intelligent routing: Distribute work among your team based on agent skill set, availability, and capacity to handle incoming work based on their case pipeline.
Mobile app: Provides the ability to perform nearly all of the functions that can be done on its web application, making it easy for your agents to refer to significant customer and CRM data in real time.
Workflow automation: Includes email notifications for deal changes, auto-task assignment, and automatic approvals for business requests such as deal discounts and travel expenses.
Salesforce is one of the most sophisticated CRMs on the market and is known for its powerful sales force automation, lead outreach, and business performance analytics tools. If you need a CRM system with excellent sales and opportunity management capabilities, check out our Salesforce review to learn how it fosters business growth.
Pipedrive: Best Operations CRM With Low-cost AI Capabilities
What We Like
Built-in meeting scheduler
AI sales assistant available on all plans
What's Missing
Doesn't have a free plan
Lacks workflow automation on Essentials plan
No document management features on low-tiered plans
Monthly Pricing (per User) Summary*
Essentials: $14.90
Advanced: $24.90
Professional: $49.90
Enterprise: $99
Free trial: 14 days
Add-ons
LeadBooster: Starts at $32.50 per month
Website Visitors: Starts at $41 per month
*Based on annual billing; monthly subscriptions are also available at higher rates.
Through Pipedrive, sales teams can streamline their CRM operations with deal management tools, customizable pipelines, and most notably, the artificial intelligence (AI) sales assistant. The AI bot acts as a guide, giving you sales tips to boost performance and recommendations on workflow automation. The AI assistant is also included in all plans, even on its lowest-priced tier, the Essentials plan.
Pro tip:
CRM artificial intelligence (AI) tools automate tasks such as chatbots that converse with customers via live chat or pop-ups. It provides coaching tips to sales reps in real time while they're on the phone with customers. AI can also generate insights based on analytics to identify sales data trends or where additional workflow automation can be set up to streamline business operations.
Unfortunately, Pipedrive doesn't offer a free plan. If you're looking for a robust operational CRM with a free plan, we recommend Bitrix24 or Freshsales. It also doesn't include document management features on its lower-tiered plans, which Insightly offers in all of its plans.
Pipedrive Plan Summary
| | Essentials | Advanced | Professional | Enterprise |
| --- | --- | --- | --- | --- |
| Deal & Lead Management | ✓ | ✓ | ✓ | ✓ |
| Customizable Pipelines | ✓ | ✓ | ✓ | ✓ |
| Products Catalog | ✓ | ✓ | ✓ | ✓ |
| AI Sales Assistant | ✓ | ✓ | ✓ | ✓ |
| Workflow Automation | ✕ | 30 | 60 | 100 |
| Two-way Email Syncing | ✕ | ✓ | ✓ | ✓ |
| Meeting Scheduler | ✕ | ✓ | ✓ | ✓ |
| Smart Docs for Sending Invoices, Proposals & Quotes | ✕ | ✕ | ✓ | ✓ |
| E-signatures | ✕ | ✕ | ✓ | ✓ |
| Organizing Sales Reps Into Teams for Monitoring Performance | ✕ | ✕ | 3 teams | Unlimited |
Pipedrive Features
Pipedrive features sales pipelines and automation tools to help users move their opportunities along various sales stages easily. Below are some of the features users find most useful:
Sales pipeline management: Provides solo users with visual representations of their pipelines that show actionable insights for their leads and deals.
Insights and reporting: Has prebuilt or customizable sales reporting templates that show sales trends, revenue, and active leads and opportunities.
Email campaigns: Nurture your clients through sustained content marketing campaigns that offer valuable content related to their business industry.
Extensive CRM integrations: Can be connected to 300-plus third-party apps that include project management, email marketing, ecommerce, and invoicing and accounting. Some of the most popular integrations include Slack, HubSpot CRM, and LiveChat.
Pipedrive boasts a clean and sleek interface, as well as essential tools like an automated sales assistant, workflow automation, and deal reports. To learn more about its features, read our in-depth Pipedrive review.
Insightly: Best Operational CRM With File Sharing & E-signature Integrations
What We Like
Free for up to two users for basic project management and contact management features
Third-party integration options for team collaboration, file sharing, and productivity apps
Custom dashboard reporting with drag-and-drop layouts
What's Missing
In-app phone is only available on higher-priced plans
Lacks workflow automation on lower-tiered plans
No quote generation or products catalog on lower-tiered plans
Monthly Pricing (per User) Summary*
Free: Up to 2 users
Plus: $29
Professional: $49
Enterprise: $99
Free trial: 14 days
*Based on annual billing; monthly subscriptions are also available at higher rates.
The best operational CRMs offer integration capabilities with tools your business already loves using. Insightly offers more than 250 integrations with third-party providers, of which file sharing tools are the most notable. Whether it's sending a form, survey, contract, proposal, or any other document, Insightly pairs easily with file sharing and e-signature platforms like Google Drive, DocuSign, and Box.
Pro tip:
CRM integrations allow businesses to use their favorite productivity, collaboration, and management apps in conjunction with their CRM. This allows data from each system to always be in sync so users can complete tasks using one centralized system instead of going back and forth between screens.
Insightly offers an in-app phone feature through its native Insightly Voice platform, but the phone system costs an additional $35 per user, per month. If your business wants a phone system to improve operational efficiency that is included at no extra cost in your CRM plan, Freshsales is the best option.
Insightly Plan Summary
| | Free | Plus | Professional | Enterprise |
| --- | --- | --- | --- | --- |
| Max Number of Users | 2 | Unlimited | Unlimited | Unlimited |
| Record Limit | 2,500 | 10,000 | 250,000 | Unlimited |
| File Storage | 200MB | 10GB | 100GB | Unlimited |
| Email Templates | 5 | 100 | Unlimited | Unlimited |
| Daily Mass Emails | 10 | 2,500 | 5,000 | 10,000 |
| Customer Support | Help center | Help center, email | Help center, email | Help center, email |
| Contact, Lead, Sales & Project Management | ✓ | ✓ | ✓ | ✓ |
| Custom Dashboards | ✕ | ✕ | ✓ | ✓ |
| Workflow Automation | ✕ | ✕ | ✓ | ✓ |
| Products, Price Books & Quotes | ✕ | ✕ | ✕ | ✓ |
Insightly Features
Apart from being an excellent file sharing platform for operational CRMs, Insightly offers robust project management tools. Below are some of the features users find most beneficial:
Project management: Track projects, milestones, and correspondence with teammates; schedule and assign tasks associated with projects.
Contact management: Contact organization with a comprehensive view of records, including communication and activity history, and links to other deals or opportunities.
Insightly Voice: An in-app phone that provides users with click-to-call features to easily reach leads or contacts. It also enables users to log calls and has automatic call analysis and reporting tools.
Email marketing automation: Email template customization with bulk email deployment features for email drip campaigns.
For more detailed information about this CRM solution, check out our Insightly review, where we go over everything you need to know about its features, best-for scenarios, and pricing. We also share what other users think about the product.
Bitrix24: Best CRM for Operations With Ecommerce & Management Tools
What We Like
Free for unlimited users
Extensive ecommerce management tools, including inventory, product management, and payment processing
Task delegation capabilities for assigning or reassigning tasks
What's Missing
No automation features on lower-priced plans
Can be difficult to operate features
Lacks phone support for customer service
Monthly Pricing Summary*
Free: $0 for unlimited users
Basic: $49 for up to five users
Standard: $99 for up to 50 users
Professional: $199 or unlimited users
Free trial: 30 days
*Based on annual billing; monthly subscriptions are also available at higher rates.
Bitrix24 is an excellent choice for businesses engaged in ecommerce activities. Online business owners can create a website, develop product catalogs, process orders, manage inventory, and handle payment processing from the CRM system. Users can also generate business proposals or invoices directly from a deal in the CRM and set up recurring invoices.
Compared to the other operational CRMs on this list, Bitrix24 is the most difficult platform to use in terms of operating the features and navigating the interface. For a CRM that's both easy to use and has high-level sales operations tools, we recommend Pipedrive or Freshsales.
Bitrix24 Plan Summary
| | Free | Basic | Standard | Professional |
| --- | --- | --- | --- | --- |
| Project Management Tools | Unlimited projects | Unlimited projects | Unlimited projects | Unlimited projects |
| File Duplicate Detection | ✓ | ✓ | ✓ | ✓ |
| Appointment Booking | ✕ | ✓ | ✓ | ✓ |
| Creating a Deal From an Email | ✕ | ✓ | ✓ | ✓ |
| Task Delegation | ✕ | ✓ | ✓ | ✓ |
| Invoice Generation | ✕ | ✓ | ✓ | ✓ |
| Quote Generation | ✕ | ✕ | ✓ | ✓ |
| Efficiency KPI | ✕ | ✕ | ✓ | ✓ |
| Task Automation | | ✕ | | ✓ |
Bitrix24 Features
Apart from the extensive ecommerce management features of Bitrix24, below are standout features this provider offers:
Performance tracking: Efficiency key performance indicator (KPI) evaluates how well tasks get completed by employees.
Lead and contact management: Lead, contact, company, deal, and duplicate detection to find records that may need to be deleted or merged.
Project management features: Built-in project management tools for creating and tracking project tasks.
Payment processing: Payment processing through integration with popular platforms like Authorize.net, Stripe, Square, and PayPal.
What to learn more about which business circumstances Bitrix24 is best for? Check out our Bitrix24 review to learn about its features, pricing, usability, and what other users are saying about the platform.
Copper: Best CRM for Operations for Google Workspace Users
What We Like
Chrome extension add-on enables you to manage Gmail, Calendar, Drive, and Copper CRM in one place
Built-in project management tools
Unlimited bulk email sends
What's Missing
No free plan
Lacks integration options on low-priced plan
Three-user maximum on entry-level plan
Monthly Pricing (per User) Summary*
Basic: $23
Professional: $49
Business: $99
Free trial: 14 days
*Based on annual billing; monthly subscriptions are also available at higher rates.
One way to improve productivity for sales operations is by enabling users to perform tasks from multiple, commonly used applications in a centralized location. This can be done in Copper with its Google Chrome Extension add-on. CRM activities can be managed in Gmail, Calendar, and Google Drive. Likewise, Google Workspace users can also manage emails, calendars, and file sharing tasks in the Copper CRM system.
Copper does not have a free plan, and the lowest-tiered option is capped at three users. For operational CRMs with a free plan and higher user availability, check out Bitrix24 and Freshsales as solid alternatives.
Copper Plan Summary
| | Basic | Professional | Business |
| --- | --- | --- | --- |
| Users | Up to three | Unlimited | Unlimited |
| Gmail Sync | ✓ | ✓ | ✓ |
| Chrome Extension & Google Workspace Add-on | ✓ | ✓ | ✓ |
| Contact Enrichment | ✓ | ✓ | ✓ |
| Workflow Automation | ✕ | ✓ | ✓ |
| Bulk Email With Templates | ✕ | Unlimited sends | Unlimited sends |
| Email Sequences | | ✕ | ✓ |
| Goal Tracking | ✕ | ✕ | ✓ |
| Insights on Sales & Leads | ✕ | ✕ | ✓ |
Copper Features
Copper's integration with Google makes it one of the best choices for Google Workspace users who want an intuitive and centralized operational CRM. Some of its operational CRM example features are listed below:
Chrome extension syncing: Chrome extension add-on to manage and sync CRM activities from Gmail, Drive, and Calendar apps, and vice versa.
Workflow automation: Automate repetitive tasks like creating a new task, updating contact data, and changing the status of a deal.
Contact enrichment tool: Simply click one button to transfer the lead into the CRM dashboard from Gmail to add a new record.
Lead scoring: Based on preconfigured scoring rules, quantify how strong a lead is based on page visits, emails opened, or emails clicked.
Copper has more features than just integrations with Google Workspace applications. Learn more about Copper's pricing, tools, usability, and best-for scenarios by reading our Copper CRM review.
Operational CRM Software vs Other Types of CRMs
An operational CRM is one of the three fundamental types of CRM—the other two being analytics and collaborative CRMs. While they have different sets of functions and purposes, each has the same goal: to improve customer relationships and grow your business.
Operational CRMs manage and track your organization's prospect and customer interactions to help you acquire new leads and retain existing ones. Users rely on this type of CRM to generate leads, convert leads into customers, record contact details, and serve customers. It also allows you to facilitate accounting, inventory, project, and human resource functions from a single system.
On the other hand, analytical CRMs focus on gathering data and analyzing it to help you deliver better service to your customers and improve your sales performance. Finally, collaborative CRMs bring together your sales, marketing, and support departments to help you better understand your customers' needs.
Benefits of Using Operational CRMs
An operational CRM is best for companies that need to use automation tools to make their business processes more efficient. Below are some of the benefits of using an operational CRM: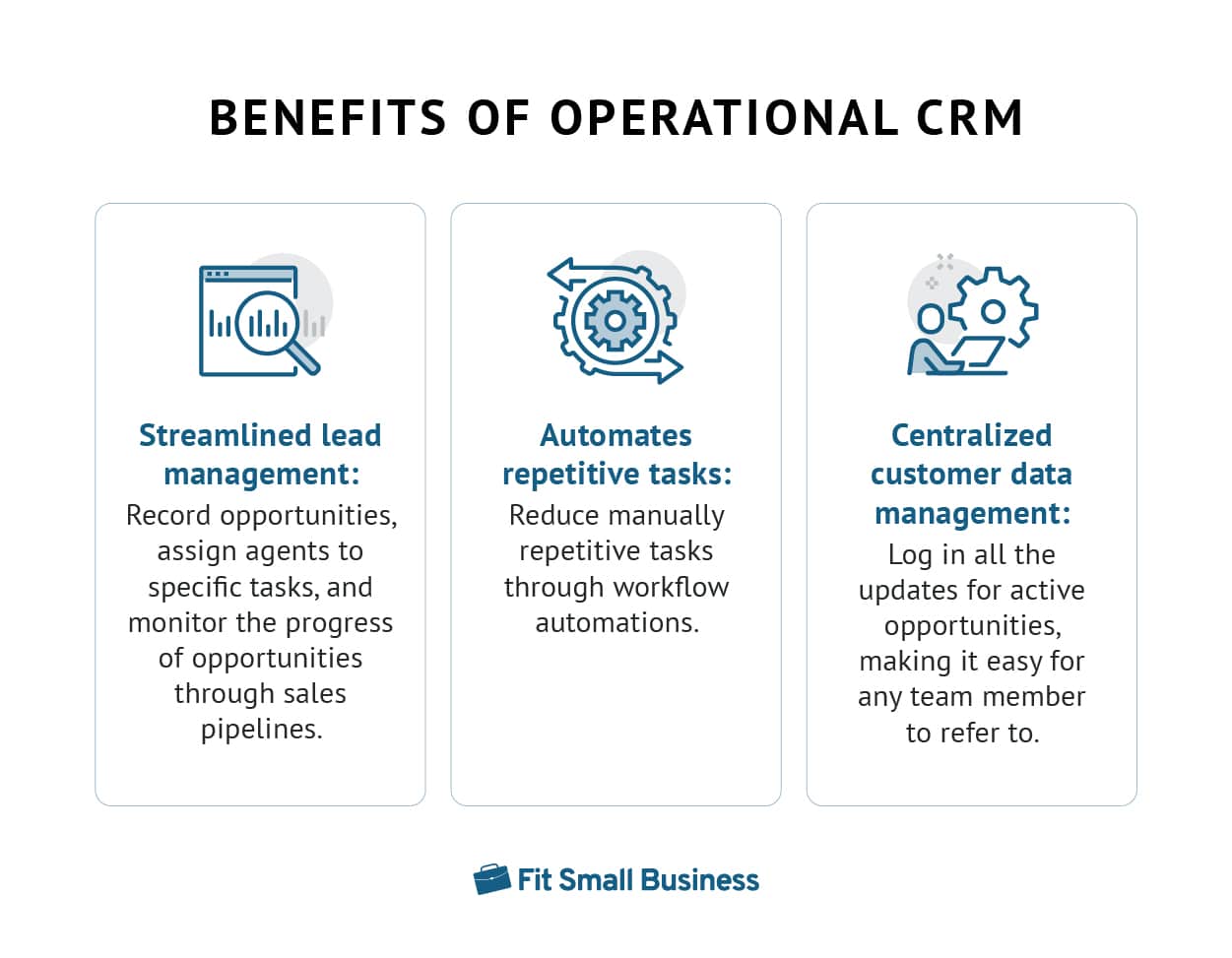 Streamlined lead management: Record opportunities, assign agents to specific tasks, and monitor the progress of opportunities through sales pipelines.
Automates repetitive tasks: Decreases manual and repetitive tasks, and ensures that nothing falls through the cracks as tasks are automated based on pre-identified conditions.
Centralized customer data management: Lets agents log in all the updates for active opportunities, which makes it easy for other team members to look through existing customer records.
In addition, below are some examples of users who will benefit the most from using an operational CRM:
Companies wanting to oversee and track business functions across departments within their CRM
Sales professionals needing to manage pipeline stages and perform sales activities like appointments and quotes
Teams that execute and track marketing campaigns and link them to leads and contacts
Sales professionals and business managers who need to manage post-sale projects for the products they are selling
Businesses that coordinate and execute inbound or outbound calling within their CRM
How We Evaluated the Best CRMs for Operations
To determine the best CRM systems for operations, we evaluated product attributes like workflow automation functionality and value-based pricing options. We also looked for essential features like built-in communication tools for sending emails or placing calls, as well as document management and a mobile app.
Overall, we found Freshsales is the best CRM for operations. It offers a free plan with a built-in business phone system to streamline sales team communication. It also offers an all-around solid user experience through easy-to-use tools and a user-friendly interface. Freshsales also has scalable pricing options that will grow as the needs and size of your sales operation ramp up.
The tabs below offer insight into our evaluation process for choosing the best sales operations software:
10% of Overall Score
Cost is always an important factor for small businesses. We also considered the availability of a free plan, pricing of entry tiers, savings for annual prepayment, and whether or not monthly billing options are available.
10% of Overall Score
We looked at overall features we feel are necessities in an operational CRM system, such as integration options, reporting and CRM analytics tools, and a mobile application. We also evaluated features specific to making a sales operation more efficient, like a built-in phone system and collaboration tools.
30% of Overall Score
We put the most weight on the providers' niche features, including workflow automation, document management tools, and AI capabilities. We also looked if they offer crucial features like lead and opportunity management.
20% of Overall Score
The best CRMs for operations were also evaluated on platform usability. This was analyzed in terms of the expertise needed to set up an account and the learning curve for integrating the CRM with third-party applications. We evaluated the skill required to operate the features and the intuitiveness of navigating the system's interface.
20% of Overall Score
Support is a critical part of running any CRM system, especially for small businesses that don't have in-house technical support. We analyzed the types and availability of support offered by these providers through live chat, email, and phone.
10% of Overall Score
We looked through existing customer reviews on credible sites to measure the level of customer satisfaction current users have and any problems they typically encounter. We also added our thoughts and expert opinion on key features, value for money, and popularity.
*Percentages of overall score