Copper CRM Review: Is It Right for Your Business?
This article is part of a larger series on CRM.
Copper is customer relationship management (CRM) software designed to integrate with Google Workspace apps. Based on our Copper CRM review, this compatibility, along with its email and contact enrichment automations and project management tools, make Copper a great fit for businesses using Google's productivity and communication tools. On the other hand, it may not be right for a startup or small business needing a free or low-cost CRM, or one that wouldn't benefit from the Google integrations.
What We Like
Similar feel to Google Workspace
Built-in project management features
Features for automated contact enrichment
Easy-to-use report generation tools
Built-in performance leaderboard for individual performance monitoring
What's Missing
Does not offer a free plan
Except for Google Workspace products, all integrations require higher-priced plans
Workflow automation not available on the basic plan
Lacks customer service management features
Copper-native integrations not available on the basic plan
What We Recommend Copper For
Based on our Copper CRM review, this solution is best for Google Workspace users who want to automate repetitive tasks like email follow-ups and updating contact profiles. It also stands out for its project management features, making it a solid choice for businesses that are project-heavy, such as business consultants and marketing agencies.
Who Copper CRM Is Best For
Who Copper CRM Is Not a Good Fit For
Copper CRM Pricing
Copper pricing may get expensive for businesses with a large number of users, or those needing features only available in higher-tier plans. It's also worth noting that the Google applications and single sign-on tools are the only integration capabilities available on the Basic plan. However, users on the Basic tier do reap the benefits of Copper's project management and auto-profile enrichment features.
Plans

Basic

Professional

Business

Best For

Startups

Small sales teams

Growing sales teams

Monthly Pricing

($/User/Month)

$29

N/A

N/A

Annual Pricing

($/User/Month)

$25

$59

$119

Maximum Users

3

Unlimited

Unlimited

Custom Data Fields

10

Unlimited

Unlimited

Google Workspace Integration

✔

✔

✔

Auto Contact Enrichment

✔

✔

✔

Project Management Features

✔

✔

✔

Google Data Studio Integration

✕

✔

✔

DocuSign Integration

✕

✔

✔

QuickBooks Integration

✕

✔

✔

LinkedIn Integration

✕

✔

✔

Workflow Automation

✕

✔

✔

Integrations With Wix and WordPress Online Forms

✕

✕

✔

Sales Leaderboard and Goal Tracking

✕

✕

✔

Automated Email Campaigns

✕

✕

✔
Basic Plan
Copper pricing starts at $25 per user, per month when paid annually. The Basic plan allows up to three users to integrate the CRM with their Google Workspace applications, such as syncing a Google Calendar with Copper's built-in meeting scheduler. Additionally, this plan allows users to access the platform's project management features and provides auto-profile enrichment tools, as well as up to 10 data field customizations.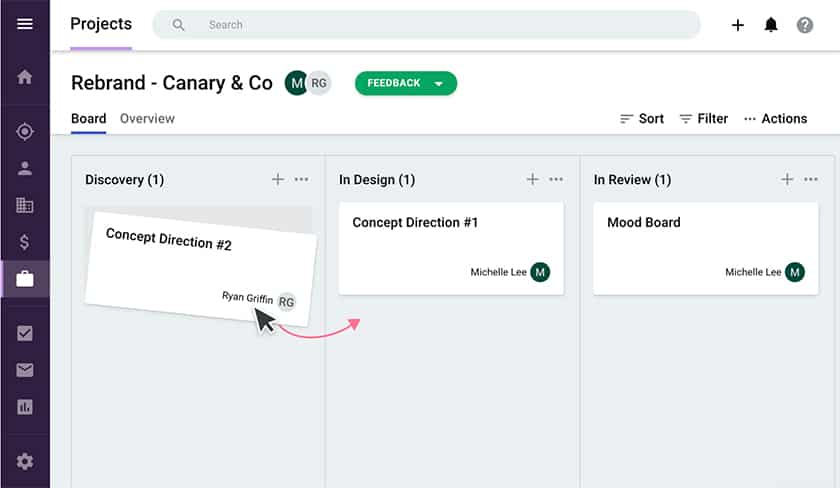 ---

---
Professional Plan
The Professional plan includes everything in the Basic plan and adds integrations with third-party applications like LinkedIn, DocuSign, and QuickBooks. It also integrates with other CRM systems, such as HubSpot and Zendesk. If your business is already using one of these systems, this integration enables you to add some of Copper's unique features, like profile enrichment and comprehensive integrations with Google products.
On the Professional plan, you can also begin automating repetitive tasks with workflow automation features. Workflow automations make your business more efficient and help to ensure prospects keep moving through your sales process, such as automatically creating a project when you close a deal.
Business Plan
The Business plan includes everything in the Professional plan, plus integrations with online web form tools like Wix and WordPress. The major upgrade included in the Business plan, however, is the ability to send automated email campaigns, as well as track individual sales leaderboards and monitor team sales goals.
Copper Features
Regardless of the plan you choose, Copper includes an array of features for organizing contact data, managing sales opportunities, monitoring performance, communicating with customers, and automating repetitive tasks. One of the limitations, however, is customer support availability, which only allows for email or live chat communication during business hours.
General Features
One feature Copper offers that is not typically provided in all CRM software platforms is the automatic enrichment of contact profiles. By downloading their Google Chrome extension, contact records can be added from Gmail with just one piece of information, such as an email address.
Existing contact records can also be automatically updated using this feature. Copper does this by scraping the internet, including social profiles, for contact and organization information, and then offering to add the lead into your Copper database or automatically updating the existing record.
The software comes with built-in project management tools, enabling teams to collaborate on tasks and monitor the progress of ongoing, long-term projects. Users even have the ability to create projects by transferring closed deals from the sales pipeline into projects in the project management system. Once added, users can drag and drop tasks under different stages of the project in the Kanban-style view.
The platform has the ability to automate tasks for multiple sales processes. The first and arguably most time-consuming task it can put on autopilot is data entry, specifically for lead information. Using the Copper contact enrichment tool, users can click one button to transfer the lead into the CRM from Gmail, adding a new record.
Copper can also automate lead management processes, such as lead scoring. Based on preconfigured scoring rules, users can quantify how strong a lead is based on page visits, email opened, or emails clicked. The system automatically updates lead scores as the prospect performs certain actions, allowing your sales reps to prioritize outreach to those leads who are most likely to convert and identify those which need nurturing.
The platform's lead management features can be extended to monitoring website visitor activity and creating lead segments based on contact tags, lead actions, or lead statuses. This information becomes useful when you want to automate email campaigns in what Copper calls "email sequences."
Email sequences can be scheduled and triggered based on contact traits and behaviors. It automatically logs email campaign performance by tracking clicks, replies, bounces, and unsubscribes. To help users save time, Copper even comes with prebuilt email templates users can customize.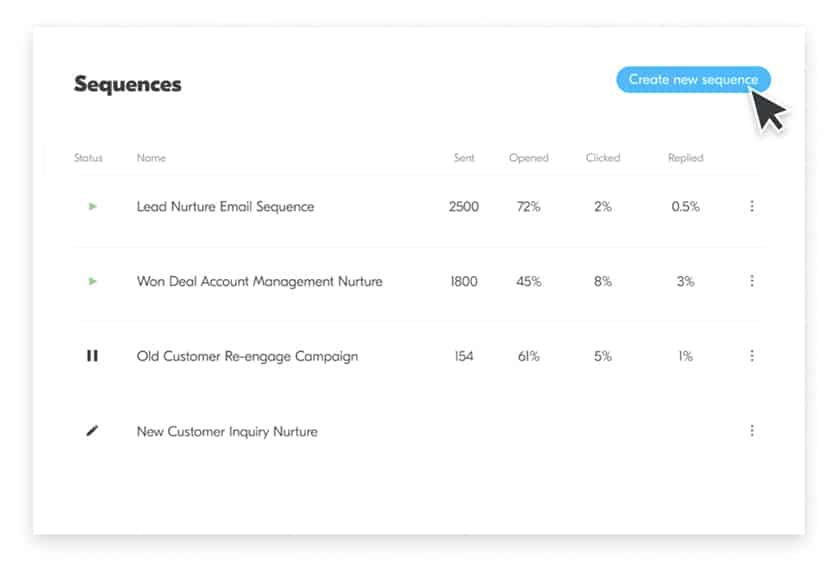 ---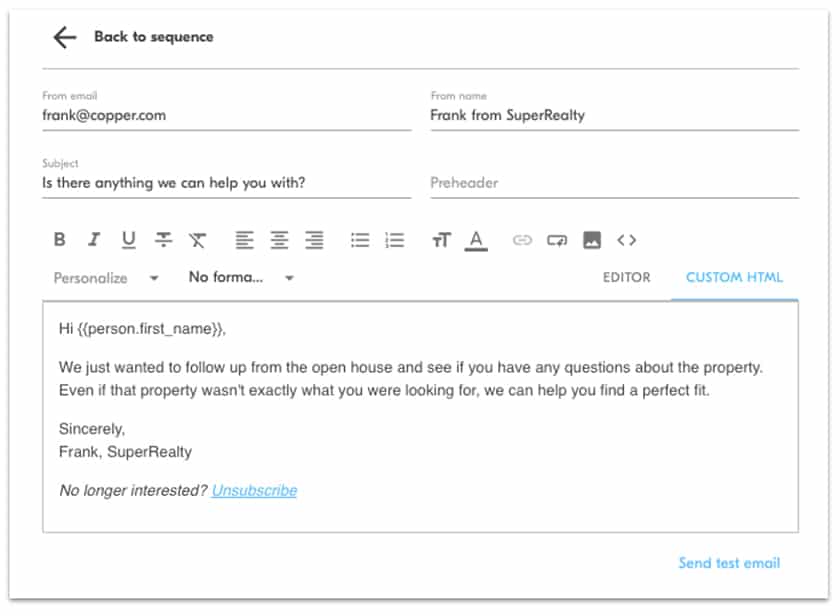 ---
Email marketing tools within CRMs can help your business achieve its lead generation goals. If your business is specifically looking for a CRM with strong email marketing functionality, read our review of the best CRM software for email marketing.
Mobile Application
Copper allows users to work on-the-go with the ability to nurture leads, log activities, and monitor opportunities using the Copper mobile application. Any CRM information that is altered or added via the mobile app is automatically synced with the web application, and vice versa. Overall, Copper's mobile app is easy to use and serves as an effective tool for outside sales reps.
A robust mobile application is essential for sales teams that need to work from anywhere. Our picks for the best mobile CRM applications of 2021 can help you navigate through the CRM options that offer the most intuitive and advanced mobile apps.
Reporting & Analytics
Copper offers a range of reporting and analytics, both built-in and through its Google integrations. You can create custom dashboards and reports using Copper's templates and easily share them with team members. Among the unique reporting features in Copper are its legacy reports for monitoring and reporting individual performance.
Legacy reports monitor team activity and are broken down by user or sales rep. Managers can use legacy reports to track emails, calls, meetings, and calendar events. They can also view sales revenue metrics by user to track revenue lost, won, abandoned, or open, and use the probabilities of those deal opportunities for sales forecasting reports.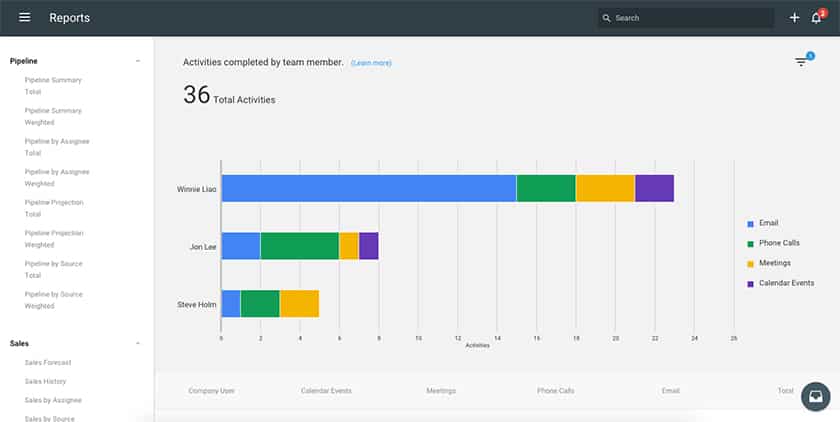 ---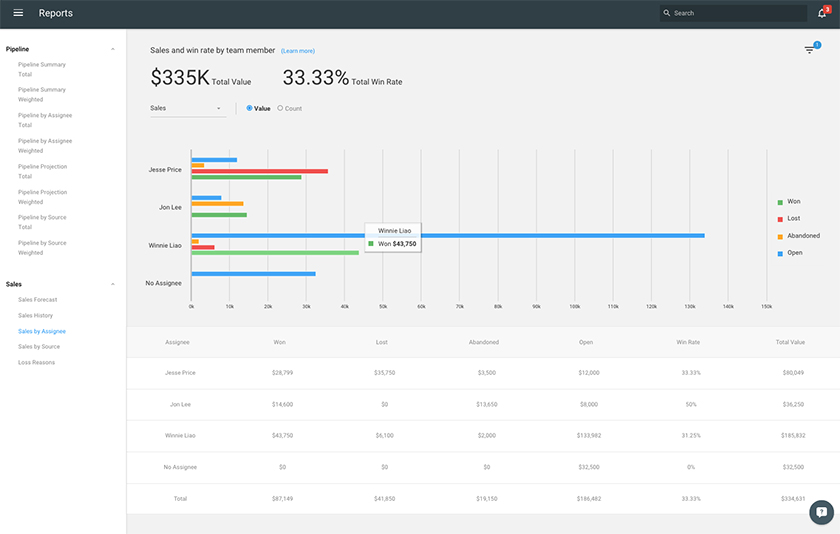 ---
Because of the platform's Google-focused integrations, Copper allows users to not only generate reports from the CRM system, but also build reports from Google Sheets. Business teams comfortable with spreadsheet-style data management and reporting can especially benefit from this feature.
We review CRM products that have highly acclaimed tools for analyzing data and generating reports in our CRM data analytics buyers guide.
Third-party Integrations
The first major integrations Copper offers, and which are included in its Basic plan, are for Google Workspace products like Sheets, Docs, Calendar, Drive, and Gmail. The platform's design looks similar to Google applications, and many of its features are tied to using the Copper Chrome Extension for Gmail that lets users simultaneously work from their Gmail and Copper CRM.
The Chrome Extension allows your business to manage leads, contacts, opportunities, projects, and tasks from Gmail. For example, if you are in the CRM and want to send an email to a contact, the Gmail email draft page pops out for use. While on that draft page, you can attach files from Google Drive or schedule meetings that sync to your Google Calendar.
On the flip side, you can also access the CRM from Gmail. For example, if you want to show a completed activity, you can take an email on the Gmail program and click one button to navigate to a task in the CRM to show it as completed.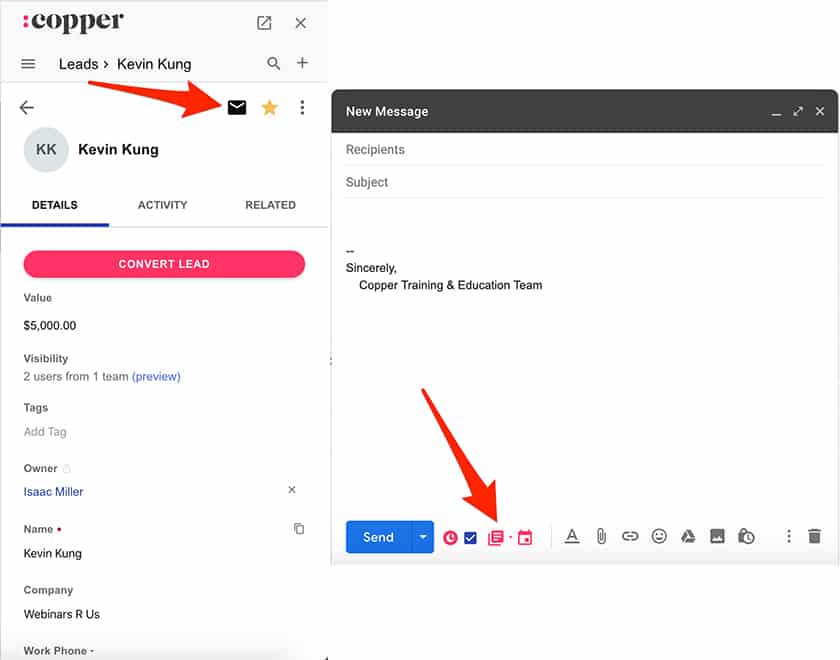 ---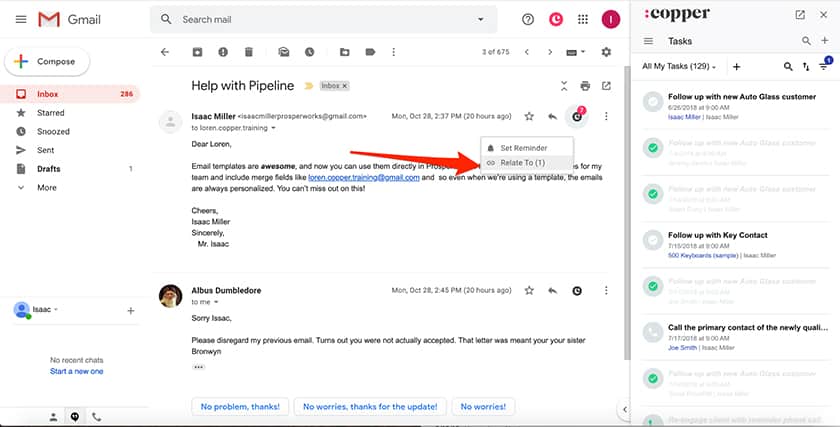 ---
This deep interconnection with Google products makes it simple to keep all of your data centralized, organized, and up to date. By design, either the CRM or Gmail system can be used to complete tasks or enter information, and they sync automatically.
In addition to Google integration capabilities, Copper also integrates with other popular applications like QuickBooks for invoicing management, Dropbox for document storage, and DocuSign for attaining signatures, but only in the Professional and Business plans. There's also a RingCentral integration for placing, receiving, and logging phone calls.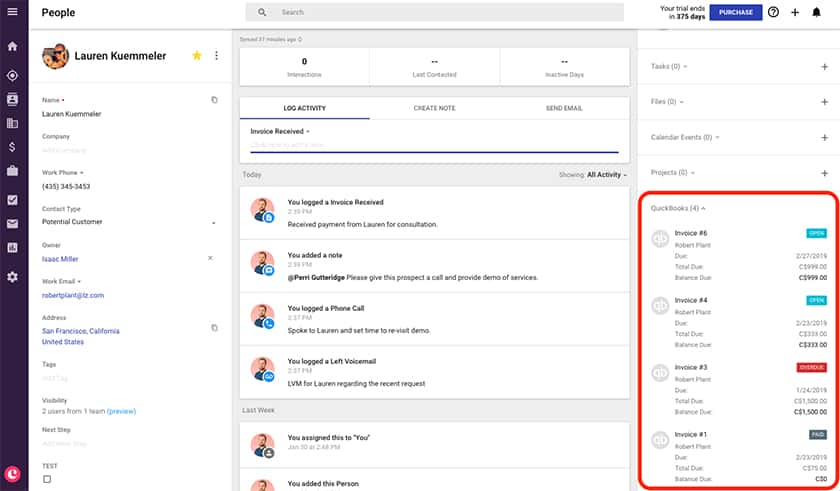 ---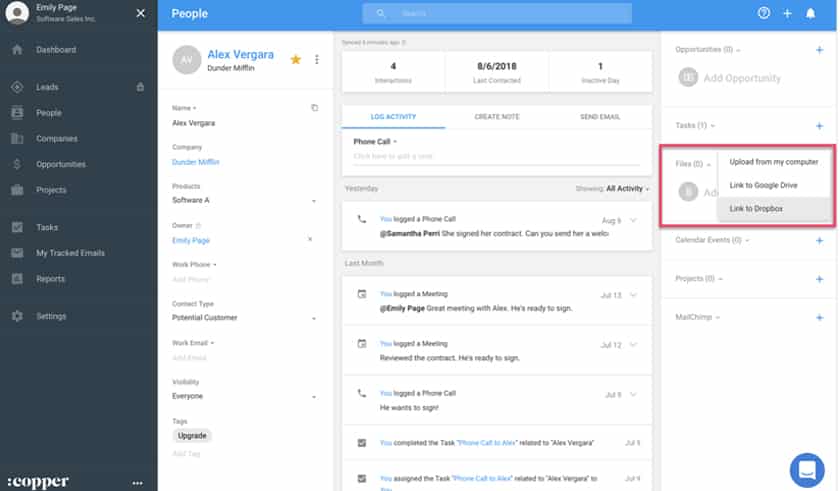 ---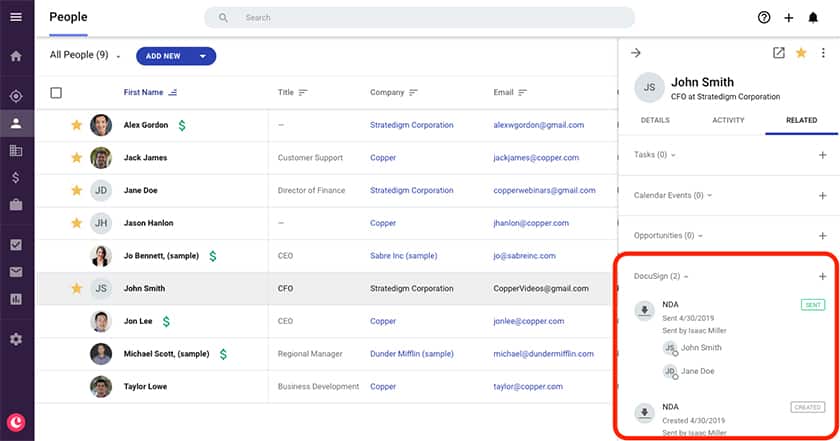 ---

---
Customer Service
While Copper only offers customer support during business hours through live chat or email channels, it does provide a Copper Community web page. This gives users access to tutorials, question and answer (Q&A) forums, and training webinars to assist with using product features and setting up the system.
Ease of Use
This software is especially intuitive to operate for those who are familiar with Google Workspace products. Users will find that the CRM system uses fonts and color schemes similar to other Google products, making it appear like it's a Google-developed CRM. The platform also keeps navigation simple by minimizing page options to just a few on the left menu tab.
Usability is an important CRM attribute, especially for businesses that are new to using a CRM. For examples of CRM products that are easy to use, see which solutions made our list of the best simple CRMs.
Copper CRM Alternatives
Although Copper offers a relatively easy-to-use contact management platform with integrations, project management tools, and high-level workflow automations, it may be missing a feature or product trait your business desires. Plus, if your business doesn't use Google products, some of Copper's most popular features become irrelevant. Below are some solid alternatives to consider.
| | | |
| --- | --- | --- |
| | | |
| Best for: Businesses looking for free project management features | Best for: Sales teams that want a built-in telephone system included in their CRM | Best for: Teams looking for low-cost workflow automation |
| Starting price: Free to $39 per month* | Starting price: Free to $15 per user, per month* | Starting price: Free to $14 per user, per month* |
| | | |
*Pricing is based on annual billing
User Reviews of Copper CRM
In addition to our expert review, additional user reviews show that overall it's a well-liked CRM solution. Ease of use is the top attribute stated, specifically when referring to how conveniently it works with Google Products. Users also cite the automation capabilities of the platform as a positive feature that saves time on repetitive tasks.
Most of the negative Copper reviews left by users have to do with poor customer service. Some users feel the product value isn't worth the price. Copper pricing can get expensive, even for the basic tier, which doesn't include integrations apart from Google products, workflow automation tools, and email campaigns.
Bottom Line
Copper is an effective, easy-to-use CRM solution for businesses that use Google Workspace and prefer Google aesthetics. It also contains excellent tools for managing projects, auto-finding contact information online, and automatically updating contact profiles. On the other hand, Copper is not the best fit for businesses on a tight budget or whose users are not familiar with Google products.
You Might Also Like…
If your business is struggling to fully adopt a new CRM, our guide shows six ways to increase CRM adoption.
Looking to optimize your lead qualification process? Check out our guide for lead qualification and how to best identify leads for your business.