The 6 Best Mobile CRM Apps for 2022
This article is part of a larger series on CRM.
The best customer relationship management (CRM) mobile apps let you manage leads, track deals, update sales pipelines, communicate with your prospects and customers, and complete tasks even without desktop access. With the need for remote access to deal information and customer data on the rise, we evaluated dozens of the best mobile CRM apps on the market to arrive at the top six options.
Check out each of the remote-friendly CRMs below and their best use cases:
Best CRM Apps Compared
Provider

Free Plan

Free Trial for Paid Plans

Starting Price for Paid Plans*

Help & Support

Yes

(Unlimited users)

21 days

$15 per user, per month

24/5 email, live chat, and phone support; a dedicated account manager for Enterprise

Yes

(Unlimited users)

14 days (content management system, or CMS, and Operations Hubs only)

$45 per month, includes 2 users seats, $23/month for each additional user

Community, knowledge base, HubSpot Academy; extended tier-based support via email, chat, and phone (7 a.m. to 8 p.m. Eastern Time, M-F)

Yes

(Up to three users)

15 days

$14 per user, per month

Self-help guides, community forum, training videos and webinars, tier-based customer support via email (24/7), phone and live chat (24/5)

No free plan

30 days

$19 per user, per month

24/5 email, live chat, and phone support

No free plan

14 days

$14.90 per user, per month

Pipedrive Developer Center, knowledge base, community forum, 24/7 live chat support, and Enterprise-tier phone support and onboarding

No free plan

14 days for Essentials and 30 days for higher-tier plans

$25 per user, per month

Community support, online learning, demos, and technical support (2-day response time)
*Based on annual billing

If this list of mobile-friendly CRMs doesn't meet your business needs, check out our guide on the best CRMs for small businesses to find a more suitable option. You could also take our quiz to find out which mobile CRM provider will efficiently help you track, manage, and respond to your customers.
What's the best mobile CRM for you?
Answer a few questions about your business, and we'll give you a personalized product match.
Freshsales: Best Overall Mobile CRM With Excellent Lead & Deal Management Tools
What We Like
All pertinent lead details, like profile and associated deals, are accessible via the app
Provides extensive customer communication channels, including mobile and social messaging
Extensive third-party integrations
What's Missing
Automatic customer profile enrichment feature is limited to the most expensive plan
Free plan doesn't have storage allocation
Pricing Summary*
Free: Supports unlimited users
Growth: $15 per user, per month
Pro: $39 per user, per month
Enterprise: $69 per user, per month
Free trial: 21 days
*Based on annual billing. Monthly subscriptions are also available at higher rates.
Freshsales' mobile CRM app gives you easy access to all your essential CRM data, including contacts, deals, sales pipelines, and team collaboration tools. Through its iOS and Android apps, you can create and manage lists of qualified contacts and get complete contexts of deals with the app's activity timeline and 360-degree customer profile views. It also lets you create tasks, appointments, and notes for each lead or customer.
Furthermore, you can manage the information of companies you are working with straight from your mobile phone by building account hierarchies (if you are dealing with multiple departments from the same company), and get a 360-degree view of related contacts and associated deals of that particular company.
Freshsales' free plan doesn't have storage allocation, and its auto-customer profile enrichment is also only available on the most expensive plan. Users who need access to both can consider Zoho CRM instead. Zoho CRM provides free users with up to 1GB storage and all of its plans, except the free plan, have profile enrichment capabilities.
Freshsales' Mobile Features
Freshsales is an easy-to-use CRM that provides extensive tools to engage prospects and close more deals. Check out some of its best mobile features below:
Mobile filters: Use default filters or create your own filter to sort your contacts, accounts, or deals in the mobile CRM app.
Uber booking: Book Uber rides right from the mobile app when going to customer meetings.
Mobile check-in: Confirm your presence for any sales activity, like face-to-face meetings and lunch appointments, and keep your team in the loop via the app.
Voice notes: Record conversations with leads or contacts and save them as voice notes in the mobile app for future reference.
Google Maps integration: Navigate to your meeting location using Google Maps when integrated with your CRM calendar.
Freshsales is a powerful and scalable sales CRM packed with features for contact, account, sales pipeline, and deal management. Learn more about what this software can do in our comprehensive Freshsales review.
HubSpot CRM: Best Free Mobile CRM
What We Like
Offers free tools like deal pipelines, email scheduling, and email tracking
Can be used right out of the box
Has a 1 million-contact allocation
What's Missing
Free plan doesn't offer sales automation features
Plan upgrades can add up quickly
Pricing Summary*
Free: Unlimited user allocation
Starter Sales Plan: $45 per month for 2 paid users
Professional Sales Plan: $450 per month for 5 paid users
Enterprise Sales Plan: $1,200 per month for 10 paid users
Free trial: 14 days
*Based on annual billing. Monthly subscriptions are also available at higher rates.
HubSpot offers a free CRM app with unlimited user allocation that offers a robust set of sales, marketing, and service features not usually found in similar free CRM solutions. Free features like deal pipelines, email tracking and notifications, an in-app dialer, and meeting scheduling can be easily done through the mobile app. It also lets you access customer contact records, create tasks and reminders, and update customer details without being in front of a desktop computer.
However, HubSpot CRM's free plan lacks sales automation features for leads, deals, contacts, and accounts—something that Zoho CRM offers without charge. Furthermore, plan upgrades can be costly with HubSpot CRM, which makes it a disadvantage for users who are planning to scale their business. For users who want more affordable pricing plans, Freshsales is a solid alternative.
HubSpot CRM's Mobile Features
HubSpot CRM offers extensive sales, marketing, and service tools—making it a well-rounded tool to manage customer relationships and grow your business. Check out some of its standout features below:
Email tracking: Easily track your customer's interaction with your emails—whether it has been read, acted upon, or simply left unopened in their inbox.
Meeting notes: Use the dictation feature to instantly add transcribed notes so you don't have to use the keypad and can talk via the microphone.
Real-time notifications: Alerts you about any updates on your deals and leads through real-time alerts that are sent directly to your mobile app, so you are updated even while away from your desk.
Live chat: Offers a live chat function accessible via its mobile app so you communicate with your website visitors from anywhere.
Email campaigns: Allows you to launch email campaigns even through the mobile app by simply triggering the campaign and blasting it to your distribution list.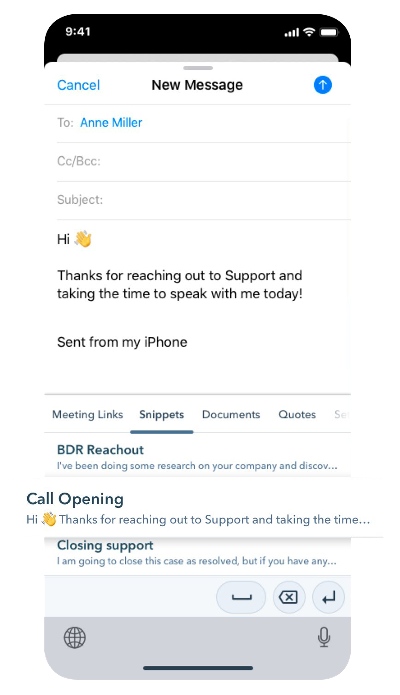 HubSpot CRM features a simple, intuitive interface to manage leads and customers, understand their behavior, and improve their marketing strategies. It is ideal for those who need basic, reliable CRM functionalities, as well as robust email marketing tools. Check out our HubSpot CRM review to discover if it suits your business needs.
Zoho CRM: Best Mobile CRM With AI & Predictive Capabilities
What We Like
Users can easily ask AI assistant for any sales or customer information they need through the mobile microphone
Has robust analytics and reporting functionalities
Intuitive and easy to use; ideal for novice users
What's Missing
Free plan is limited to 3 users
Advanced analytics tools are only available in the top-tier plans
Pricing Summary*
Free: Up to 3 users
Standard: $14 per user, per month
Professional: $23 per user, per month
Enterprise: $40 per user, per month
Ultimate: $52 per user, per month
Free trial: 15 days
*Based on annual billing. Monthly subscriptions are also available at higher rates.
Zoho CRM is an all-in-one CRM solution with sophisticated AI and predictive sales tools. Its AI assistant, Zia, which is comparable to Apple's Siri, is easily reached through mobile by messaging or calling the bot to ask questions or request lead or sales information while on the go. Zia is able to help users virtually with anything—from taking notes and providing sales numbers to scoring leads and giving task suggestions based on a deal's status.
However, Zoho CRM's free plan is limited to only three users, and its advanced analytics features are only accessible to subscribers of the more expensive plans. For users who prefer unlimited user allocation in a free plan, HubSpot CRM and Freshsales are the best alternatives. Meanwhile, those who want access to more affordable advanced reporting and analytics tools should subscribe to Salesforce Essentials.
Zoho CRM's Mobile Features
Apart from its easily accessible AI capabilities via mobile, users have broad functionality with Zoho CRM while away from their desktop, like collaborating with their team and updating deal information. Below are the features users have access to while they are on the move:
Prospect geographical scanning: A built-in map enables users to locate prospects nearby, view their organization's location on the map, access the website links, and get all the information necessary before reaching out to them. It also lets them check the most efficient route to navigate to their customer's location.
Sales forecasting: Analyzes both your current and historical forecasting and performance data to recommend the most accurate targets for your business.
Reporting and analytics: Data-driven reports offer insights on a variety of metrics, such as sales performance, trends, marketing campaigns, and activity reports.
Task management and reminders: Shows all the upcoming tasks like following up on a lead, sending out an email, meeting with your team, or moving a deal in the pipeline.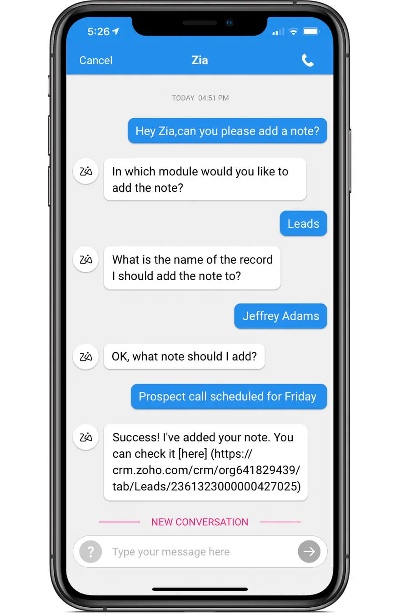 ---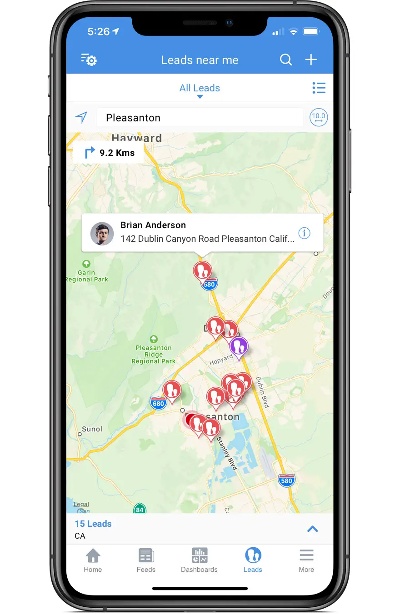 ---
Zoho CRM is robust software that manages sales activities and processes, workflows, CRM reports, and lead outreach. It is also user-friendly and has an intuitive interface suitable for beginners. To discover if it suits your business needs, read our Zoho CRM review.
Zendesk Sell: Best Mobile CRM With Access to Sales KPI Dashboards
What We Like
Mobile app shows all sales KPIs in a centralized dashboard
Excellent text messaging and call features from the mobile app
Robust customer service analytics and reporting tools
What's Missing
No free plan
Lacks marketing tools
Pricing Summary*
Sell Team: $19 per user, per month
Sell Professional: $49 per user, per month
Sell Enterprise: $99 per user, per month
Free trial: 30 days
*Only an annual contract is available.
Zendesk Sell's mobile app helps agents access the most crucial sales and CRM data within their reach—especially if they are on-site and meeting with their clients face to face. Zendesk Sell's mobile app arms them with a mobile-friendly view of their sales KPI dashboard, where they can view charts that track activity, metrics, reports, and goals.
Some dashboards in its mobile app are completely interactive. With a few clicks, users can instantly pull up all relevant information and data for further insights into the data and numbers they are seeing, so they can provide helpful insights and information to their customers and collaborate with team members more effectively.
Zendesk Sell does not offer a free plan—unlike some of the platforms included in this list, such as Zoho CRM. It also lacks marketing tools, which users can get by subscribing to HubSpot CRM.
Zendesk Sell's Mobile Features
Zendesk Sell gives businesses access to integrated sales tools that provide the full context of their projects and accounts in a single place. Some of its features that can be conveniently accessed via the mobile app include:
Note-taking: Helps you stay on top of your contacts and leads by letting users add notes to associated contacts and syncing the information with your desktop CRM app.
Integrations: Connects your mobile CRM software with other apps, like calendars, email, and social media.
Mobile app customization: Lets you organize how you want to view the features of your app so you only see the data you need to see on a daily basis.
Messaging: Stay connected with clients, managers, and team members with in-app messaging, where you can share and store important information about meetings, deals, and tasks.
Zendesk Sell empowers businesses to manage and optimize their sales processes through its excellent lead management capabilities, mobile app, and communication tools. To learn more about its features and functionalities, read our Zendesk Sell review.
Pipedrive: Easiest-to-Use Mobile CRM With Visual Sales Pipelines
What We Like
Sleek, simple, and intuitive interface
Mobile app seamlessly reflects web app customizations
Offers visual pipelines for improved deal and lead management
What's Missing
Does not offer a free plan
Fundamental features like a meeting scheduler and in-app phone are only available on the more expensive plans
Pricing Summary*
Essential: $14.90 per user, per month
Advanced: $24.90 per user, per month
Professional: $49.90 per user, per month
Enterprise: $99 per user, per month
Free trial: 14 days full access
*Based on annual billing. Monthly subscriptions are also available at slightly higher rates.
Pipedrive's mobile app is designed to reflect the desktop app, making it one of the easiest mobile apps to use for agents who are constantly on the go. Even when you're offline, you can access and update all of your CRM data on your smartphone. These include updating leads and tasks, moving deals in various pipeline stages, logging calls, tracking emails, and accessing sales reports.
While Pipedrive is one of the easiest CRM systems to use, it has its share of limitations. For instance, there are fundamental features, such as contact activity history and email scheduling, that can only be used by top-tier plan subscribers—features that Zoho CRM or HubSpot CRM offer in their free or lower-priced plans. Pipedrive also doesn't have a free plan, and a good alternative for this is Freshsales.
Pipedrive's Mobile Features
Pipedrive offers a broad range of automation features that assist users in reducing repetitive and administrative tasks so they can focus more on closing sales and coordinating with leads. Below are some of the features we like most from the platform:
Pipeline customization: Customize pipelines to follow your internal business processes and workflows.
Insights and reporting: Use prebuilt or customizable sales reporting templates reflecting sales trends, targets versus revenue, ongoing leads, and active opportunities.
Accounting and invoicing integration: Integrate existing accounting software, such as QuickBooks and Xero, to your Pipedrive account.
Workflow automation: Set up triggers and actions when certain conditions are met, such as sending a follow-up email to a lead when a certain amount of time lapses or archiving a deal that is not moving forward.
Pipedrive is a simple, intuitive CRM that offers visual sales pipelines and tools for managing leads, contacts, deals, and activities. Apart from lead and deal management, other standout features include an automated sales assistant, workflow automation, and deal reports. Interested in learning more? Check out our Pipedrive review.
Salesforce Essentials: Best Mobile CRM With Advanced Analytics
What We Like
Analytics reports can be easily viewed on the mobile app
Access to Salesforce's technology stack
Highly customizable
What's Missing
No free plan; can be budget-prohibitive for startups and small businesses
Not ideal for users with no previous CRM experience
Pricing Summary*
Essentials: $25 per user, per month
Free trial: 14 days
*Based on annual billing. Monthly subscription is also available at a slightly higher rate.
Salesforce Essentials' mobile app lets users access all of their CRM data from their smartphone so they can transition from desktop to mobile whenever needed. Its analytics tools allow you to translate various business metrics into actionable sales plans, strategies, and business reports. The analytics tools let you see how much revenue your deals are worth, which deals need attention and close follow-ups, or what your recurring customer support issues are.
While Salesforce Essentials offers advanced analytics, its interface could be challenging to navigate for novice users—unlike more user-friendly providers such as HubSpot CRM or Pipedrive, which are easy to operate right out of the box.
Salesforce's Mobile Features
Salesforce Essentials is equipped with extensive tools to help users sell and market efficiently, as well as provide reliable support to their customers. Below are some tools that help users grow their business and improve their relationships with their customers.
Einstein sales assistant: Conversationally save notes, pull up needed CRM data, and create and complete tasks with the help of an in-mobile assistant.
Lead scoring: Define scoring metrics and conditions, such as location or purchase history, to easily identify hot leads.
Sales forecasting: Analyzes both your current and historical forecasting and performance data to recommend the most accurate targets for your business.
Task management: Create multiple tasks under an opportunity or project, so no step is missed and follow-up actions are completed on time.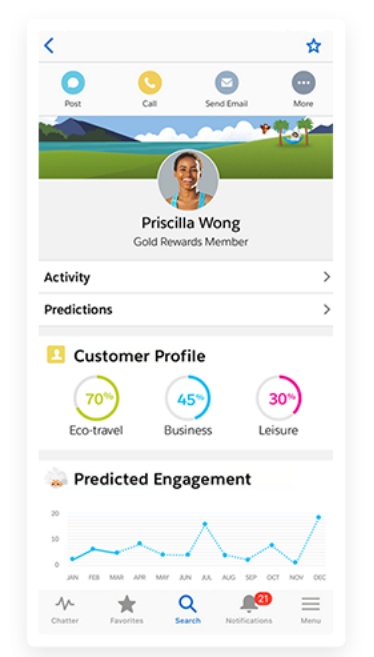 Salesforce Essentials is an advanced CRM tool that integrates with the overall ecosystem of Salesforce apps. Its many features, such as sales pipelines, marketing automation, and customer service tools, are highly customizable and can be tailored to your business needs. However, due to its sophisticated interface, previous experience with using a CRM tool is a must. To learn more about the software, read our Salesforce Essentials review.
How We Evaluated the Best Mobile CRM Apps
As our world becomes increasingly more digital, it's important to have a CRM solution that's mobile, easy to use, affordable, and offers ample CRM integrations. We looked for CRM with mobile apps that benefit sales and marketing teams when they're in the field, as well as customer service teams that are on the go as well.
We chose Freshsales to be the best overall mobile CRM example. Freshsales has an allocation for an unlimited number of users and its mobile app packs a punch, as users can do virtually anything in the mobile app as if they were in front of their laptop. These include contact, account, and deal management, as well as call logs, filters, voice notes, and bulk emails. On top of these, Freshsales offers a range of affordable pricing options that are suitable for various team sizes.
The tabs below offer more insight into our evaluation process for selecting the best mobile CRM:
40% of Overall Score
Cost is always an important factor, so CRM pricing was the most heavily weighted when reviewing our top picks. We also considered the availability of a free plan, pricing of entry tiers, savings for annual prepayment, and whether or not monthly billing options are available.
20% of Overall Score
We evaluated the overall set of CRM features and their accessibility via mobile, including customizable pipelines, reporting, and analytics. In addition, we looked at the availability of third-party integrations to the mobile app itself.
15% of Overall Score
It's important that mobile CRMs are easy to use, especially while in the field, and can appeal to users of all technical backgrounds.
15% of Overall Score
Support is a critical part of running any CRM system, especially for small businesses that don't have in-house technical support. We analyzed the types and availability of support offered by these providers through live chat, email, and phone.
10% of Overall Score
We looked through existing customer reviews on credible sites to measure the level of satisfaction current users have and any problems they typically encounter. We also added our thoughts and expert opinion on key features, value for money, and popularity.
*Percentages of overall score