This article is part of a larger series on CRM.
Mobile customer relationship management (CRM) software lets teams remotely manage sales tasks and leads on a phone or tablet device. The best CRM apps allow mobile completion of contact, lead, and pipeline management tasks, as well as offer multiple communication channels to engage contacts. We evaluated dozens of products with a mobile application to identify the best CRM app for small businesses.
What Is a Mobile CRM & Why Is It Important?
A mobile CRM is a sales application available on iOS and Android devices such as iPhones, iPads, and Android phones. This kind of software offers some or all of the modules and features available on a cloud-based, web CRM application. For example, mobile lead management, task automation, pipeline oversight, and communication features like email, phone, and live chat allow team members to work on the go.
Mobile CRMs are crucial to outside sales performance. Ideally, account executives, sales agents, and business development reps should be client-facing and attending networking events to develop relationships, generate leads, and close deals. This requires them to complete and organize sales activity without being at their regular workstation—demanding an application they can use while out of the office.
Best CRM Apps Compared
Provider

Free Plan

Starting Price for Paid Plans*

Free Trial for Paid Plans

Key Features

Customer Support

Yes, unlimited users

$15 per user/month

21 days

Built-in with caller ID and call logging

24/5 email, phone, and chat support on all plans

Yes, unlimited users

$45 per month for up to 2 users

14 days

Live chatting with web visitors through the app

Tier-based email, chat, and phone support (7 a.m.-8 p.m. Eastern Time)

No free plan

$19 per user/month

14 days

Lead geolocation and visit verification features

Live chat and email support during business hours

Yes, up to 3 users

$14 per user/month

15 days

Zia artificial intelligence on app

Tier-based chat, email, and phone support with some 24/7 options

No free plan

$14.90 per user/ month

14 days

Notes and document scanning plus upload from phone to the CRM

24/7 live chat and email support

N/A

$25 per user/month

30 days

Lightning app builder for creating modules and pages

Tiered phone and live chat support plus some 24/7 options
*Based on annual billing; monthly billing is also available at slightly higher rates
Freshsales: Best Overall CRM App
What We Like
Free for unlimited users with scalable and cost-friendly paid plans
Calling, voice notes, and Uber booking available for free
Clean interface design that's easy to navigate
What's Missing
Offline use unavailable until Pro plan
Relatively limited outside integration options
No free call logging or check-in capabilities
Freshsales Pricing at a Glance*
Free: Unlimited users
Growth: $15
Pro: $39
Enterprise: $69
Free trial: 21 days
Add-ons
Configure, Price, Quote: $19 for managing branded invoices, onboarding documents, quotes, and contacts.
Additional workflows and bot sessions: $5 for 10 more workflows and $75 per month for 1,000 bot/automated live chat sessions.
Phone credits: Starts at $5 for additional telephone credits
*Per user, per month pricing based on annual billing; monthly billing is also available at a higher cost
Freshsales is sales-specific software and one of many Freshworks products that helps teams manage business functions such as marketing, IT support, customer service, and human resources. The CRM has a free plan for unlimited users and has excellent scores and outside reviews for its usability.
This platform ranks the best overall on this list thanks to its user-friendly interface, solid feature capabilities, and the fact that it offers a free plan. Its telephony features, in particular, are excellent for sales teams that want to make calls on the go. For example, users can dial to connect with leads and receive calls that will come in, showing a caller ID. Plus, users can review contextual information or try to improve their conversions with automatic call logging.
While the Freshsales app has excellent built-in capabilities, it has a relatively low amount of third-party integration capabilities. For those who want to incorporate their favorite business software and tools into their CRM, we recommend Salesforce Essentials, which has over 2,500 general-use and industry-specific third-party options.
Freshsales Plan Summary
| | Free | Growth | Pro | Enterprise |
| --- | --- | --- | --- | --- |
| Contact, Account & Deal Management | ✓ | ✓ | ✓ | ✓ |
| Voice Notes | ✓ | ✓ | ✓ | ✓ |
| Calling With Caller ID | ✓ | ✓ | ✓ | ✓ |
| Google Maps on App | ✓ | ✓ | ✓ | ✓ |
| Uber Booking | ✓ | ✓ | ✓ | ✓ |
| Check-in to Appointment | ✕ | ✓ | ✓ | ✓ |
| Automatic Call Logging | ✕ | ✓ | ✓ | ✓ |
| Document Management | ✕ | ✓ | ✓ | ✓ |
| Territory Management | ✕ | ✕ | ✓ | ✓ |
| Offline Capabilities | ✕ | ✕ | ✓ | ✓ |
| Auto-profile Enrichment | ✕ | ✕ | ✕ | ✓ |
Freshsales Key Features
Lead and deal tracking: Users can view contact and lead profiles from the app as well as interactions, timeline activities, and deal progress for opportunities.
Telephone and email from app: Reps can make and log calls or send emails directly from the app and add the interaction info as record notes.
Uber booking: Users can book Uber rides from the Freshsales app.
Camera file management: Ability to scan and upload documents associated with contacts, leads, and deals using phone cameras.
Application push notifications: Custom alerts for new or upcoming tasks and appointments, as well as opens, replies, or clicks on emails.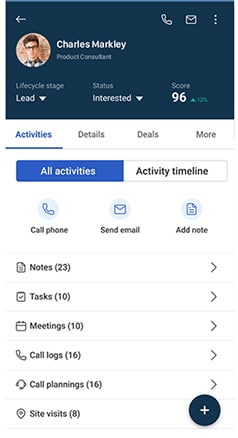 ---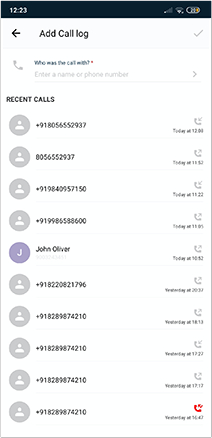 ---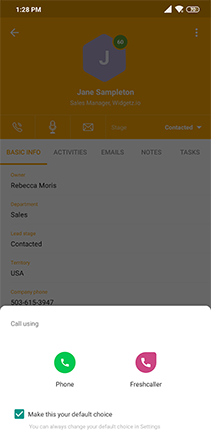 ---
Freshsales Customer Support
Freshsales users seeking self-service options can access online resources and help guides through a blog, system tours, product tutorials, and documentation. There's also 24/5 support via live chat, phone, and email. Enterprise users receive extra support to help achieve their goals through a dedicated account manager.
Is Freshsales the product for you? Find out in our Freshsales review for detailed information on features, pricing, and overall usability.
HubSpot CRM: Best for Engaging With Website Visitors
What We Like
Free plan for unlimited users
CRM solutions for chatting with website visitors
Excellent usability ratings for navigating the app and using its features
What's Missing
Individual and bundled paid plans get expensive
Calling is limited to cell phone provider only and not available on the Free plan
No free sales automation features
HubSpot CRM Pricing at a Glance*
Free: Unlimited users
Starter CRM Suite**: $45 per month for two users
Professional CRM Suite: $1,600 per month (up to five users)
Enterprise CRM Suite: $5,000 per month (up to 10 users)
Free trial: 14 days
*Pricing based on annual billing; monthly billing is also available at a higher cost
**CRM Suite includes sales, marketing, customer service, content management system (CMS), and operations software. Individual modules can be purchased at lower monthly costs.
HubSpot has numerous software products available individually or bundled, including sales, marketing, customer service, operations, and a content management system (CMS). There are free plans available for an unlimited number of users, and the interface uses a calm color scheme and minimal objects and buttons for superior user navigability.
With the free HubSpot app, teams can manage lead and contact information, upload their CRM data through the business card scanner, and engage through email or short message service (SMS) texting. When upgraded to the paid plans, users can place calls through the app. Arguably the standout feature, however, is the live chat tools. While on the go, users can communicate with website visitors via chat widgets to ensure they don't miss an opportunity.
HubSpot begins to get expensive once users upgrade to a paid plan. Freshsales and Zoho CRM are the two best alternatives that offer cost-friendly and scalable paid plans in addition to free-forever options.
HubSpot CRM Plan Summary
| | Free | Starter | Professional | Enterprise |
| --- | --- | --- | --- | --- |
| Lead & Contact Management | ✓ | ✓ | ✓ | ✓ |
| Live Chat & Email | ✓ | ✓ | ✓ | ✓ |
| Email Notifications on App | ✓ | ✓ | ✓ | ✓ |
| Meeting Scheduling | ✓ | ✓ | ✓ | ✓ |
| Sales Goals & Quotas | ✕ | ✓ | ✓ | ✓ |
| Calling Included on Mobile | ✕ | Up to 500 minutes | Up to 3,000 minutes | Up to 12,000 minutes |
| Sales Automation | ✕ | Task and email notifications for deal changes | Up to 300 custom workflows | Up to 1,000 custom workflows plus sequence triggering |
| ACH Payments & Stripe Integration | ✕ | ✓ | ✓ | ✓ |
| Content Strategy Management | ✕ | ✕ | ✓ | ✓ |
| Marketing A/B Testing | ✕ | ✕ | ✓ | ✓ |
| E-signature | ✕ | ✕ | 10 signatures per month | 30 signatures per month |
| Predictive Lead Scoring | ✕ | ✕ | ✕ | ✓ |
HubSpot CRM Key Features
Business card scanner: Users can scan business cards from phone cameras and have data automatically entered into the CRM system.
Notes, outcomes, and attachments: Teams can create updates on deal outcomes, file attachments from the app, and voice record notes into CRM records.
Email and live chat: Ability to send and receive prospect emails and live chat with website visitors from the app.
Event notifications: Push notifications on major sales events such as deals closed, leads generated, and communication activity with prospects.
HubSpot Customer Support
HubSpot has tier-based support on its paid plans available from 7 a.m. to 8 p.m. Eastern Time via phone, email, and live chat. Free users and those seeking self-help can access some of HubSpot's resources, including a community forum, a library of tutorials and product guides, and HubSpot Academy with certifiable courses on sales, marketing, and CRM usage.
Want to learn more? Check out our HubSpot CRM review for insights on features, integrations, and best-for uses cases.
Zendesk Sell: Best for Geolocation Features
What We Like
Most mobile features are available on the Team plan
Unique geolocation feature for finding nearby leads and receiving directions
Offers text, email, and calling from the app
What's Missing
No free plan
Marketing tools limited to mass emailing, templates, and texting
Can be a tough system to set up for new users
Zendesk Sell Pricing at a Glance*
Team: $19
Growth: $49
Professional: $99
Enterprise: $150
Free trial: 14 days
*Per user, per month pricing based on annual billing; monthly billing is also available at a higher cost
Zendesk Sell lets teams manage leads, deals, sales tasks, and product books all in one place. Though there's no free plan, the paid options are cost-friendly and scalable to a firm's growth requirements. On the app, Zendesk Sell users get offline functionality and data access, set appointments, manage tasks, text contacts, and place and log phone calls.
The best app feature, however, is the geolocation and verification capabilities. This lets reps use their phone and CRM app to find nearby prospects on an interactive map. From there, they can receive directions to the locations, log their visits, and verify lead address data already stored in the system. Managers can also use this feature to track rep locations and confirm they've attended in-person meetings.
Unfortunately, just as the name suggests, Zendesk Sell can only assist with sales activities such as lead and pipeline management. Its marketing tools are limited to mass emailing and deploying text campaigns. HubSpot is the best marketing CRM for teams that want email campaigns, content, and website management included in their CRM platform.
Zendesk Sell Plan Summary
| | Team | Growth | Professional | Enterprise |
| --- | --- | --- | --- | --- |
| Offline App Access | ✓ | ✓ | ✓ | ✓ |
| Prospect Geolocation | ✓ | ✓ | ✓ | ✓ |
| Directions & Visit Log | ✓ | ✓ | ✓ | ✓ |
| Task & Appointment Setting | ✓ | ✓ | ✓ | ✓ |
| Email Send & Tracking from App | ✓ | ✓ | ✓ | ✓ |
| Call & Call Logging from Mobile Device | ✓ | ✓ | ✓ | ✓ |
| Texting | ✓ | ✓ | ✓ | ✓ |
| Product & Price Books | ✕ | ✓ | ✓ | ✓ |
| Automated Lead Distribution | ✕ | ✓ | ✓ | ✓ |
| Call Scripts & Power Dialer | ✕ | ✕ | ✓ | ✓ |
| Lead Scoring | ✕ | ✕ | ✓ | ✓ |
| Company Technology Stack | ✕ | ✕ | ✕ | ✓ |
Zendesk Sell Key Features
Geolocation and verification: Users can find nearby prospects, get directions, log visits, and verify lead addresses while on the go using the app.
Communications: Ability to send emails, texts, and make and log calls with prospects from the app.
Contact and deal management: Data management for contacts, leads, and deals, activity, and notes tracking, as well as list filtering.
Collaboration and productivity: Teams can manage tasks, appointments, calendar events, and attach documents from the app.
Zendesk Sell Customer Support
Zendesk Sell offers a help center full of product articles for setting up and operating the CRM system. Additionally, users can contact customer support via live chat and email during standard business hours for product and account assistance.
See how Zendesk Sell can help your business streamline and organize its sales operation by checking out our Zendesk Sell review.
Zoho CRM: Best for Artificial Intelligence Capabilities
What We Like
Affordable, scalable pricing options
Offers analytics and artificial intelligence features (AI)
Mobile record management is free
What's Missing
Free plan limited to three users
App interfaces are tough to navigate
No free integration options
Zoho CRM Pricing at a Glance*
Free: Up to three users
Standard: $14
Professional: $23
Enterprise: $40
Ultimate: $52
Free trial: 15 days
Other Plans
Bigin: $7 for basic pipeline management
Zoho CRM Plus: $57  for added help desk, email and social media marketing, survey, and analytics functions
*Per user, per month pricing based on annual billing; monthly billing is also available at a higher cost
Zoho CRM is the most scalable CRM solution on this list, with free and low-priced plans that teams can slowly upgrade to as their feature needs evolve. The platform supports sales, marketing, and customer case management all in one highly customizable system. On its app, users can track leads and accounts, log notes, calls, and events, and communicate with contacts via email, text, and telephone.
One of Zoho's most beloved features is the AI Zia, which acts as a sales guide and analysis tool—giving teams reminders, predictions, and suggestions such as the best time to contact a lead. On Zoho mobile, Zia can serve as an on-the-go assistant where users can make voice or text requests, such as creating a new record, updating a deal status, contacting a customer, or adding notes to a record for Zia to complete.
Though there are advanced AI features on the Zoho CRM app, it does not score well in the usability column as it demands a decent learning curve to navigate the interface. Freshsales and HubSpot stand out as great alternatives for offering a user-friendly interface.
Zoho CRM Plan Summary
| | Free | Standard | Professional | Enterprise | Ultimate |
| --- | --- | --- | --- | --- | --- |
| Lead, Account & Contact Management | ✓ | ✓ | ✓ | ✓ | ✓ |
| Tasks, Events, Call Logs & Notes | ✓ | ✓ | ✓ | ✓ | ✓ |
| Workflow Automation Rules | ✓ | ✓ | ✓ | ✓ | ✓ |
| Analytics | ✕ | ✓ | ✓ | ✓ | ✓ |
| Custom Data Fields | ✕ | 10 per module | 155 per module | 300 per module | 500 per module |
| Support Case Management | ✕ | ✕ | ✓ | ✓ | ✓ |
| Inventory Management | ✕ | ✕ | ✓ | ✓ | ✓ |
| Scheduled Mass Emails | ✕ | ✕ | 10 per module | 10 per module | 10 per module |
| Motivator for Zoho | ✕ | ✕ | ✓ | ✓ | ✓ |
| Custom Modules | ✕ | ✕ | ✕ | 10 per module | 500 modules |
| Zia Voice & Text Commands | ✕ | ✕ | ✕ | ✓ | ✓ |
| Web Form A/B Testing | ✕ | ✕ | ✕ | Two forms per module | 10 forms per module |
Zoho CRM Key Features
Business card scanner: Data import capabilities into the CRM for business cards by scanning them with a phone camera.
Analytics and Zia: Managers and team members can access analytics dashboards, key performance indicator (KPI) information, goal progress, and growth numbers and interact with Zia AI to make requests.
CRM record management and communications: CRM access with lead, deal, customer, task, and calendar data along with calling, call logging, texting, and emailing from the app.
Apple Maps and RouteIQ: Users can use Apple Maps on the application to find and get directions for leads, contacts, and accounts within their location and plan optimized routes and appointments using the RouteIQ interactive maps.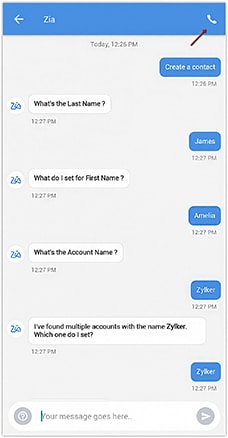 ---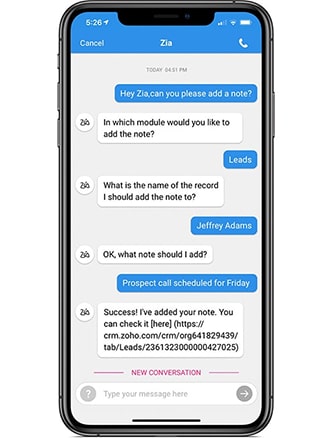 ---
Zoho CRM Customer Support
Depending on your plan, Zoho offers tiered levels of customer service. While all plans get email support, phone and live chat support are available only to paid users, either 24/5 or 24/7, depending on the tier. There are also self-service options such as product documentation, guided product tours, video tutorials, and webinars.
Interested in learning more about Zoho? Our in-depth Zoho CRM review tells you everything you need to know and whether it's best for your business.
Pipedrive: Best for Scanning & Uploading Documents
What We Like
Relatively low-cost paid plans
Excellent features for scanning notes and documents for CRM upload
Intuitive app to navigate and operate
What's Missing
No free plan
Expensive e-signature features
Option to reroute incoming calls to mobile phone not available until Advanced plan
Pipedrive Pricing at a Glance*
Essential: $14.90
Advanced: $24.90
Professional: $49.90
Enterprise: $99
Free trial: 14 days
*Per user, per month pricing based on annual billing; monthly billing is also available at a higher cost
Pipedrive gives sales teams terrific lead, pipeline, and task management, as well as sales automation capabilities to streamline operations. The paid plans are not very expensive, and the system scores well in all-around usability. Pipedrive's app offers on-the-go functionality, such as calling and logging, lead data tracking, and great reporting features for monitoring performance and activity on the system's dashboard.
Even today, it's common for reps to take handwritten notes during in-person sales meetings. The issue, however, is that they then have to transcribe and manually enter those notes into the CRM later. In addition to scanning and uploading documents into the CRM, Pipedrive's app lets you scan handwritten notes for fast upload. Any file can be attached or associated with a specific lead, contact, deal, or account record after completion.
Pipedrive does not offer any sort of free-forever plan for businesses on a tight budget or those that just want to try it out risk-free. HubSpot and Freshsales both offer free plans for unlimited users, which include mobile capabilities.
Pipedrive Plan Summary
| | Essential | Advanced | Professional | Enterprise |
| --- | --- | --- | --- | --- |
| Lead Management | ✓ | ✓ | ✓ | ✓ |
| Mobile Insights | ✓ | ✓ | ✓ | ✓ |
| Real-time Mobile & Web Data Sync | ✓ | ✓ | ✓ | ✓ |
| Call & Call Logging | ✓ | ✓ | ✓ | ✓ |
| AI Sales Assistant | ✓ | ✓ | ✓ | ✓ |
| Nearby Contact Location | ✓ | ✓ | ✓ | ✓ |
| iOS App | ✓ | ✓ | ✓ | ✓ |
| Web-to-Mobile Calling | ✕ | ✓ | ✓ | ✓ |
| Email, Meeting & Video Call Scheduling | ✕ | ✓ | ✓ | ✓ |
| Workflow Automation | ✕ | ✓ | ✓ | ✓ |
| Document Management & E-signature | ✕ | ✕ | ✓ | ✓ |
| Team Management & Goals | ✕ | ✕ | Yes, for up to three teams | Unlimited teams |
Pipedrive Key Features
Calling and logging: Users can make calls from the app, automatically log them into the CRM, and transfer inbound web calls to go to their phone.
Nearby location: On-the-go users can have their app find deals and contacts near them on an interactive map.
Note scanning: The phone camera will scan and transcribe handwritten notes taken during a meeting, as well as scan and document typed notes or documents to add to the CRM.
Insights: On-the-go analytics, dashboards, and reporting on the app for activity, performance, and goal progress.
Pipedrive Customer Support
Pipedrive offers excellent support through live chat and email on a 24/7 basis. There are also resources on their website like a help center, blog, product tutorials, a community forum, and an academy dedicated to enhancing sales and CRM skills.
For more insights, check out our comprehensive Pipedrive review and see if it's the right solution for your sales needs.
Salesforce Essentials: Best for Creating Custom Apps
What We Like
Excellent app customization options
Access to over 2,500 third-party and native integration options
App includes offline functionality
What's Missing
No free plan
Web and mobile app are notably difficult to set up and operate
Many extra features, such as AI insights and quote and billing tools, require add-ons
Salesforce Essentials Pricing at a Glance*
Salesforce Essentials: $25
Free trial: 30 days
Add-ons
Sales Dialer: $5 for a built-in dialer with click-to-dial and call logging
CPQ and Billing: $75 for price and quoting tools
Social Intelligence: $25 for social media data collection and sharing
Sales Cloud Einstein: $50 for AI analytics and automaton
Partner Relationship Management: $25 per user or $10 per login, per month for partner oversight features
*Per user, per month pricing based on annual billing; monthly billing is also available at a higher cost
Salesforce Essentials is a CRM product designed specifically for small businesses. Teams have built-in data management and communication features, as well as the option to connect their platform with thousands of third-party and native integration products. On the Salesforce Essentials app, users can store, view, and update data records, track pending deals in the pipeline, and manage tasks and files associated with different records.
The major standout is the Lightning App designer. It allows users to build modules or pages within the CRM and for its mobile equivalent using drag-and-drag functionality. Teams can design any unique app needed to help manage their sales, marketing, or service operations and utilize it on the mobile platform.
Salesforce Essentials is its own product and, therefore, only has one pricing option that might not be ideal for teams looking for free or lower-cost plans. Zoho CRM and Freshsales are both excellent in the pricing category with free plan options and scalable paid plans.
Salesforce Essentials Plan Summary
| | Salesforce Essentials |
| --- | --- |
| Record Management | Sales cycle, activity, and data tracking for accounts, contacts, leads, and opportunities on the go |
| Offline Functionality | Users can update data within the CRM while offline, and the information will sync once back online |
| Direct & Mass Email | Email design and deployment to targeted audiences with performance tracking |
| Lead Assignment | Automated lead routing to sales reps based on preconfigured criteria |
| App Builder | Teams can create custom applications and modules for their mobile device |
| Sales Process Management | Ability to create and track custom sales pipeline stages |
| Reporting & System Dashboard | Customizable performance and activity reports are presented in document formats or on the CRM dashboard |
| Case Management | Auto-routing of submitted customer support inquiries and tickets to agents or service reps for remediation and tracking |
| Lightning Flow Automaton | Up to five custom processes and five automated workflows using point-and-click automation designer |
Salesforce Essentials Key Features
Custom app builder: Drag-and-drop app building capabilities for designing customs apps and modules to fit business needs—even for accessing on mobile devices.
Record management: Teams can view, edit, and organize contact, leads, and customer data records from the app.
Pipeline tracking: Trackable deals and opportunities on a customizable sales pipeline.
File and task management: Users can upload files to specific records as well as view, assign, and monitor tasks.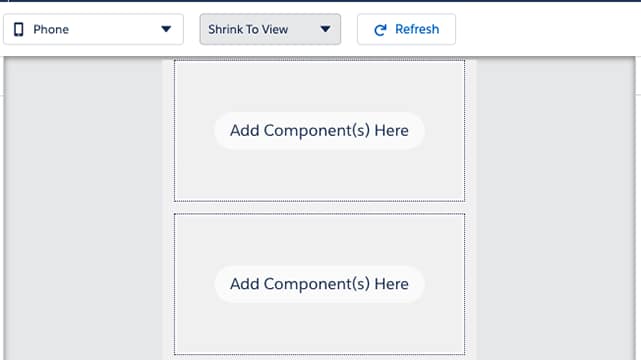 ---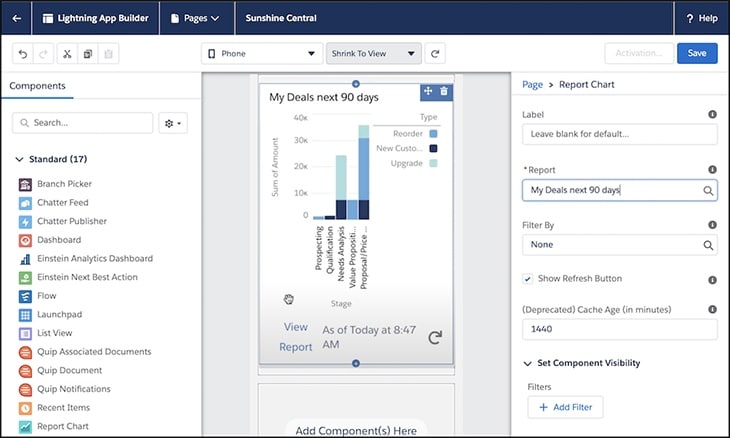 ---
Salesforce Essentials Customer Support
Salesforce Essentials uses a range of tiered-based support and customer success options—with more services on the premium plans than the standard ones. They provide live chat and phone support with 24/7 capabilities for Premier Success users and above. Additionally, there are self-service options through online resources, such as Trailhead, the help portal, a community forum, and a success center.
Check out our Salesforce Essentials review to get detailed evaluations of the platform's features, integrations, usability, pricing, and customer support.
How We Evaluated the Best Mobile CRM Software
To determine the top CRM apps, we only considered products that offered an iOS or Android application to supplement its web application. We then evaluated feature capabilities specific to the app, such as lead management, email marketing, social media management, and telephonic functions. We also looked into each product in terms of standard attributes like price, general CRM features, usability, and customer support.
We found Freshsales to be the best option as it is free for an unlimited number of users and extremely easy to use. It has awesome telephone features for making and receiving calls on the go and logging calls within lead or contact records for analysis. Additionally, Freshsales offers other features such as lead and deal tracking, custom notifications, and scannable files to upload into the CRM using the phone camera.
The tabs below offer insight into our evaluation process of the best platforms:
30%
Niche-specific Features
30% of Overall Score
The most important evaluation criteria involved the features specifically available on the application. For instance, teams should be able to organize contact data, track deals and opportunities, and manage leads all from the app. Additionally, they should be able to place calls, send emails, oversee tasks, and collaborate with team members.
20% of Overall Score
The solutions are also evaluated on platform usability. This was analyzed in terms of the expertise required to set up a CRM account, sync it to a mobile device, and integrate with native or third-party applications. We also reviewed the overall intuitiveness of navigating the system's interface and the skill needed to operate the CRM's general features.
20% of Overall Score
Extensive support and service help prevent poor user experiences and outcomes users may encounter while using any of these systems. Help and support are evaluated in terms of customer service hours and the availability of support via phone, live chat, and email. We also look at online resources for users to review, like tutorials, forums, or training modules.
10% of Overall Score
Pricing takes into account free plan availability, various scalable pricing options users can purchase affordably, and the availability for a subscriber to either pay monthly or save by paying annually. Additionally, we looked at the costs specifically for access to the mobile application.
10% of Overall Score
In addition to app functionality, we looked at overall features we feel are necessities for a CRM. These include CRM integration options, reporting and analytics tools, and system customization to let any business make the platform their own. We also evaluated other common capabilities in most CRM systems, such as data and record management and workflow automation options.
10% of Overall Score
In addition to firsthand experience with these CRM systems, we evaluated what users say about each product. These criteria consider how customers feel, based on their reviews, to gain insight into platform popularity, ease of use, and overall value for the price.
*Percentages of overall score
Bottom Line
Mobile CRM capabilities enable on-the-go productivity by sales reps through lead management, pipeline tracking, document storage, and communication features on a CRM app. While Freshsales has the best overall CRM app, other products on this list serve certain use cases and contain stronger product attributes such as price, niche features, or usability—making them ideal for particular circumstances or business needs.