What Is Impulse Buying & How to Leverage It in 2023
Impulse buying refers to unplanned or spontaneous purchases that shoppers make on a whim due to an emotional response at the moment of seeing the item. Impulse buying can happen both in brick-and-mortar stores and online.
This guide will explore why people buy impulsively, what items are most frequently purchased, and how you can capitalize on impulse buying for your business.
Why Does Impulse Buying Happen?
It can be hard to predict when people are going to make an impulse purchase. This is because impulse buys don't arise from any plan or need but from emotional factors that can be present today and gone tomorrow.
People might impulse buy when they are stressed or unhappy and want some kind of relief, afraid of missing out on a good deal or rare opportunity, or just distracted and not thinking very clearly. But people can also impulse buy when they feel rich and want to splurge, if they are confident that they will use the things they buy (even if they won't), and when they feel like they deserve the item they are about to buy.
In short, people usually impulse buy in hopes of improving or maintaining their emotional state. Impulse shopping is a form of instant gratification, and whether or not the purchase is a good idea in the long term is not a factor in the shopper's mind.
What Do People Usually Buy When Impulse Shopping?
Impulse buys are often smaller, convenient, "why not" type items like prepared food and minor accessories or home decor. They can, however, also be more expensive items, such as electronics and jewelry (and impulse purchases of cars and houses are not unheard of).
While impulse buying will always be unpredictable to some degree, some patterns have emerged over time. For example, according to Statista, most men impulsively purchase electronics, while women most often go for clothing and shoes. (Neither men nor women impulse-buy personal care products very much.) See the graph below for a breakdown of impulse purchase patterns in 2022.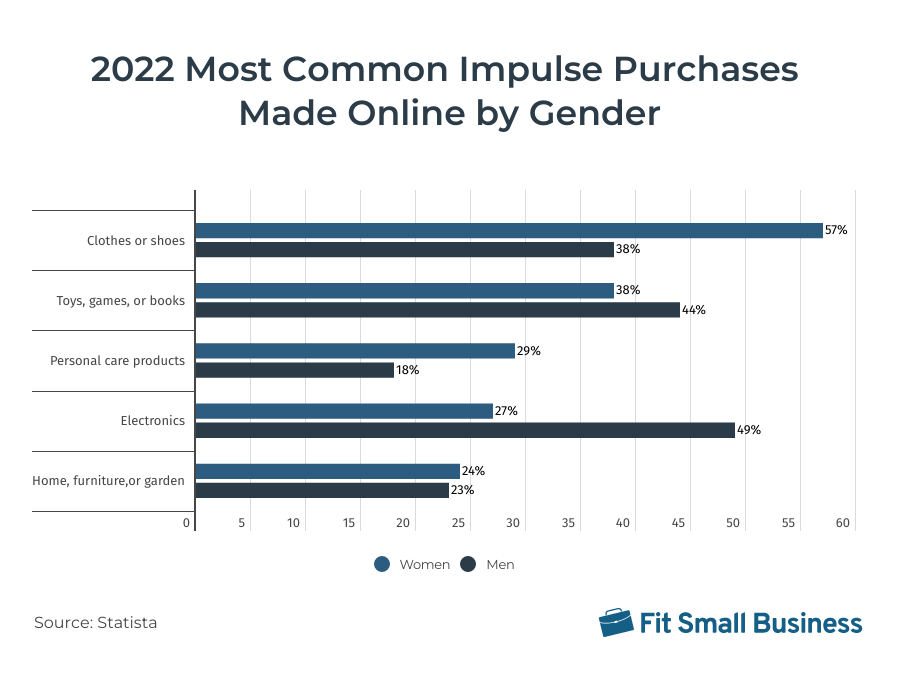 Why Should Business Owners Care About Impulse Buying?
Nearly 75% of Americans make most purchases impulsively, spending an average of over $300 on impulse purchases every month. Impulse shopping is a widespread phenomenon with massive potential for increasing business revenue, so ignoring it would be unwise and unprofitable.
While impulse buying is sometimes associated with guilt or buyer's remorse, this doesn't have to be the rule; you can encourage customers to spend more in your store while also providing them with great products and services that they won't regret, even if they bought them on impulse.
Being aware of the potential of impulse buying is one thing; making changes to your business in order to profit from it is something else. While impulse buying is largely driven by the emotions of the potential buyer and can't always be reliably predicted or generated, there are still some concrete steps a business can take to nudge customers closer to making these purchases.
7 Strategies to Drive Impulse Buying
Some ideas you can implement in your store include capitalizing on convenience, offering great deals, using promotions, and optimizing your store layout. These tactics will work whether you are starting a new retail business or modifying an existing store. Learn more about each tip below.
1. Make It Easy for Customers to Spend Money
No customer will turn down the idea of greater convenience when making purchases, and this is something you should leverage to encourage impulse buying.
For a brick-and-mortar store, making self-service kiosks available and equipping your floor staff with mobile point-of-sale systems will eliminate annoyances such as waiting in line at a store register—making it more likely for a potential buyer to become an actual one.
If you run an online or multichannel store, look into practices that increase customer convenience. Consider setting up alternative checkout methods, such as buy online, pick up in-store (BOPIS), to drive both online and in-store sales and increase the chances of shoppers buying other items while picking up their orders.
For both physical and online stores, you should ensure that your business can accept as many different payment methods as possible (cash, card, digital wallet, etc.). Consider offering buy now, pay later (BNPL) financing for specific products to capitalize on buyers' desire to own these items immediately.
2. Offer Limited-time Discounts or Deals
We know that emotions play a significant role in customers' potential to impulse buy, and one of the strongest emotions is fear of missing out (FOMO) on a good deal or a soon-to-run-out product. You can offer occasional discounts and deals for certain items for a limited time, encouraging potential buyers to take advantage of lower prices while they are available. Synchronizing this tactic with other factors, such as holidays, can strengthen the enticement even more.
3. Employ Promotion Strategies
You can leverage some retail promotion ideas specifically to encourage impulse purchases. Consider the following:
4. Keep Your Bestsellers in Stock
Another key tactic to encourage impulse purchases is understanding your customers and what they are most likely to buy from your store. Thus, it is important to effectively manage your store's inventory to keep top-selling items that may be impulsively purchased in stock.
5. Set Up Eye-catching Displays & Showcases
Showing off visually attractive displays and showcase areas is a time-tested retail marketing strategy; it can quickly attract in-store customers' attention, make them think about possibilities (like, "that would look great in my house!"), and thus tempt them to buy more. You can do this with anything from clothing to furniture and from appliances to sports and hobby equipment.
Use lighting to guide shoppers to key areas of your shop.
Understand the importance of using signage to catch shoppers' attention. Incorporate language that gives a sense of urgency.
6. Optimize Your Store Layout
Optimizing your store's physical layout and appearance is another way to increase convenience for customers and improve the chances of them making impulse purchases.
Because shoppers are more likely to buy smaller and cheaper items on impulse, place these goods in locations where customers often walk by or linger, such as store entrances and checkout registers. Appropriate items to place here include candy or small snack items, keychains, sunglasses, toothbrushes, air fresheners, batteries—anything that would make the customer think, "I might as well buy this too," or "this might be useful in the near future."
In the same locations, you can also place add-on or complementary items that would improve something customers have already bought. Examples include accessories to enhance clothing or electronics, or small food or beverage items to add to larger food items that customers placed in their cart earlier.
7. Train Your Floor Staff to Be Attentive & Helpful
Not only does preparing your staff well increase customer convenience and satisfaction, but it also serves as an additional avenue for enticing buyers to purchase more than they planned to. A customer might like a certain item, but prefer it in a different size, color, or variation. Having well-trained and accommodating staff on-hand to assist can make the difference between a customer walking out of the store empty-handed or walking out having bought three tops, two pairs of pants, and four accessory items.
Bottom Line
People usually impulse buy out of short-lived emotions that can be difficult to predict, but that doesn't make it impossible to work with this phenomenon. Savvy business owners can use it as a way to both increase their business revenue and improve customers' experience at the store. Understand the emotional forces driving impulse buying, optimize your store to cater to it, and make this a win-win situation for you and your customers.