How to Start a Subscription Box Business in 7 Steps
Subscription box businesses are gaining popularity as new subscription companies pop up and existing retailers start incorporating subscription services into their business models. In fact, the global subscription box industry was valued at $26.9 billion in 2022, and between 2023 and 2028, the market is projected to grow to $74.2 billion.
In general successful subscription box businesses share the following traits:
Items are thematically related
Subscribers can skip installments with no fees
There are opportunities to customize box sizes and/or contents before sending
There is a perk—whether that be expert curation or savings
Packaging and presentation are well-branded and create a positive unboxing experience
Users can shop the items they receive on the subscription box company's website
So, how can you start your own subscription box business? Take a look at our seven-step guide below to learn just that.
Step 1: Create a Concept & Define Your Brand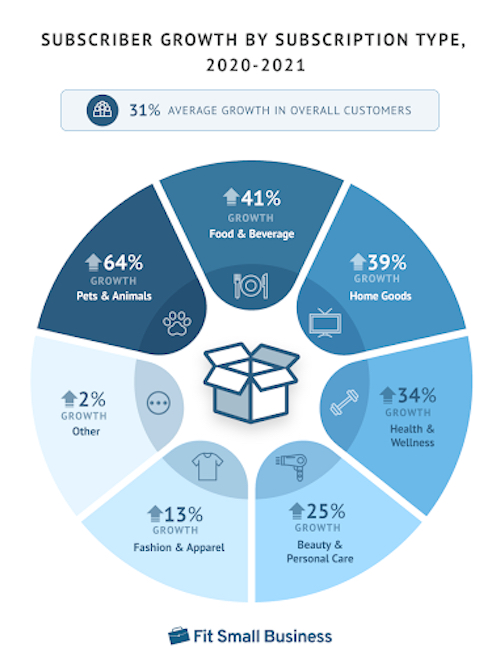 To start answering the question of how to start a subscription box company, you will first need to settle on a brand concept. In general, subscription box companies are defined by an overall product theme and brand image.
Your subscription box concept will guide your overall branding as well as the contents of your subscription boxes, your target audience, your curation process, your inventory management, your fulfillment strategy, and your website aesthetic.
Don't be too broad or narrow when defining your subscription box concept. Your theme needs to be discernable and clear, but you don't want to "box" yourself in too tightly and run out of items that fit your theme as time goes on.
Some subscription box concepts that leave room for variety but stick with a theme include:
Organic pet foods
Environmentally friendly beauty products
Children's educational story books
Camping snacks and meals
Seeds and planters based on the time of year
Craft of the month
Other things you will want to consider when creating a subscription box concept include:
Price point: The price of your subscription will play a large role in your subscription box brand, including who you target, the types of goods you include, and your brand image.
Target market: You should consider who you intend to sell your product to, as this will guide your marketing and branding efforts.
Product availability: Sourcing should be top of mind as you look into subscription box concepts. You should look for suppliers that are reliable and products that you will be able to realistically acquire.
Budget and financing: Along with all the conceptual stuff, you also need to remember the dollars and cents of the matter. You need to define your budget, which will be based on how much you can personally invest, or you can look into business loan options.
Frequency: Some subscription boxes go out each week, some go out monthly, and others are quarterly or seasonal. Consider how often people will want or need the products from your box to determine the frequency of your sends.
Brand: Consider what you will call your subscription box company and what your overall brand image will look like. Your brand should match the contents of the box, so be sure that the name and images you choose make sense with what customers can expect to receive from you.
There are two types of subscription services that you might think of when you are thinking about subscription box businesses—subscriptions and replenishments. Whereas a subscription box service sends different, curated items to customers at a regular cadence, a replenishment service sends reinstalments of the same items (Dollar Shave Club's shaving supplies box is a good example). Our guide focuses on subscription box services rather than replenishment.
Finding a Subscription Box Niche
One thing that you might struggle with when deciding on a subscription box concept is market saturation. There are seemingly countless subscription box companies on the market, and you will want to discern yourself from them by choosing a box concept that is novel and provides something new.
Here are a few tips.
Start broad and then focus: Say, for example, you are interested in pet supplies. From there, you might consider pet treats, hunting dog supplies, artisan pet accessories, etc. Adding specificity to your broad box concept is a great way to find your market niche.
Local appeal: Let's say you really want to do a beauty box, but you know that is one of the most common types of subscription boxes. Rather than looking for a more narrow category within beauty, you can also find your niche based on location and work on targeting your local market.
Market research: You should look into which markets are saturated and which ones are still growing and still have demand.
Step 2: Acquire Products & Packaging Materials
Once you have chosen your subscription box concept, you should then source your products and packaging materials.
Products
There are two primary ways you can find products:
Wholesale marketplaces: These are B2B (and sometimes also B2C) online marketplaces where you can shop wares at wholesale prices. Most of these sites have order minimums, and there are a wide variety of marketplaces—from smaller, artisanal marketplaces all the way to Alibaba, which boasts some 150,000 suppliers.
Trade shows: Trade shows are events where manufacturers and wholesalers come together to showcase their products for retailers to buy for their stores. Most trade shows are thematically connected, so you should find the ones that work for you and attend them annually.
Subscription Services Inventory Management Tips
As you acquire inventory, here are a few tips for successful inventory management for a subscription box company.
Have a large supplier network: The best way to avoid limited product selection or unfavorable terms from your suppliers is to have an extensive supplier network. This will ensure you can always find products from another manufacturer if one cannot help you with what you need.
Nurture supplier relationships: While having a large supplier network is important, you should also identify reliable suppliers over time and nurture those relationships. This means paying invoices on time, buying repeatedly, and having an open line of communication.
Remember fulfillment times: Subscription boxes run on a schedule, so you don't want to be stuck waiting on products when your boxes are supposed to go out. As you buy, be sure to check on fulfillment times and ensure that they will fit your schedule.
Order for at least three months' worth of boxes: While it can be difficult to anticipate what sales will look like when you are first starting out, you should not waste your sourcing effort, time, and logistic costs to only order for a single box at a time. Seek to order three to six months of box content as you buy.
Use sales forecasting: Whether you are just starting out or you have been at it for a while, you should use data from your POS or other resources to help anticipate your product needs.
Use a marketing calendar: One of the best ways to ensure to avoid missing out on any trade shows or critical product periods is by using a marketing calendar. Fill it out with key marketing and buying initiatives six to 12 in advance and then add tasks to get them done.
Packaging Materials
Keep your brand in mind and choose a supplier with customization options as well as high-quality materials. In most cases, the box that you send to customers will be the only interaction shoppers have with your brand. You want to be sure that you create an unboxing experience that is both enjoyable and well-branded—so customers remember your brand and want to keep their subscription.
Get a prototype before you order in bulk. As you are creating your box design with your supplier, request a prototype so you can see what the finished product will look and feel like before you launch it to customers.
Take a look at these examples: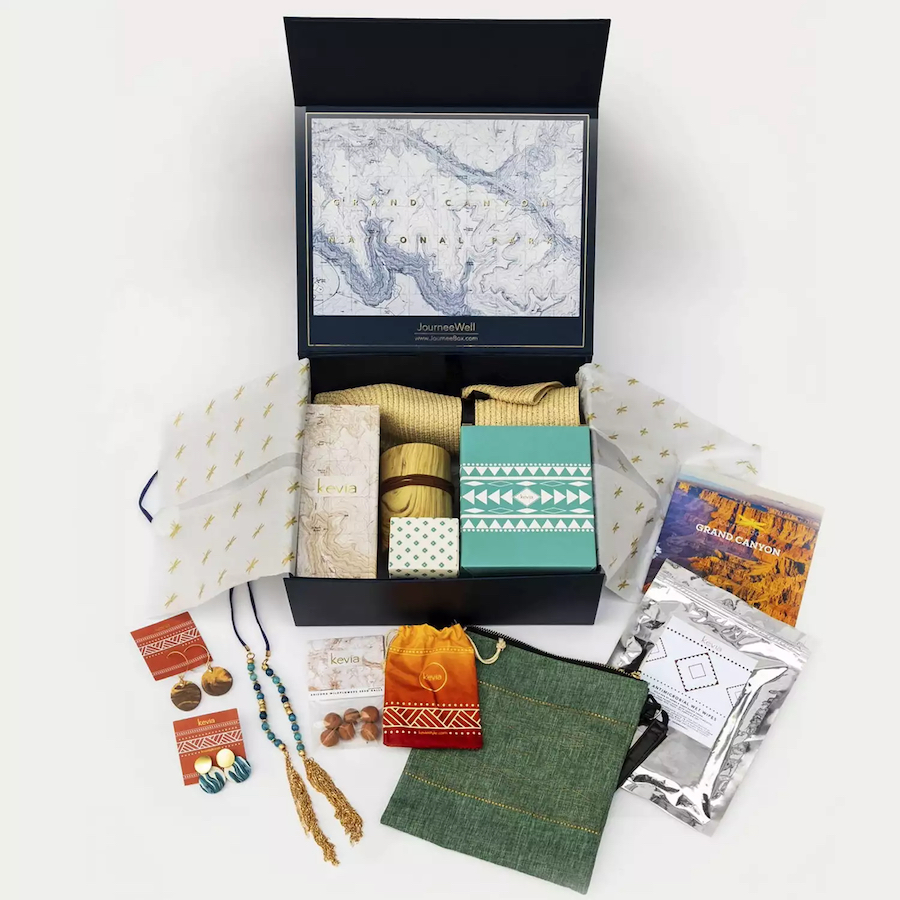 ---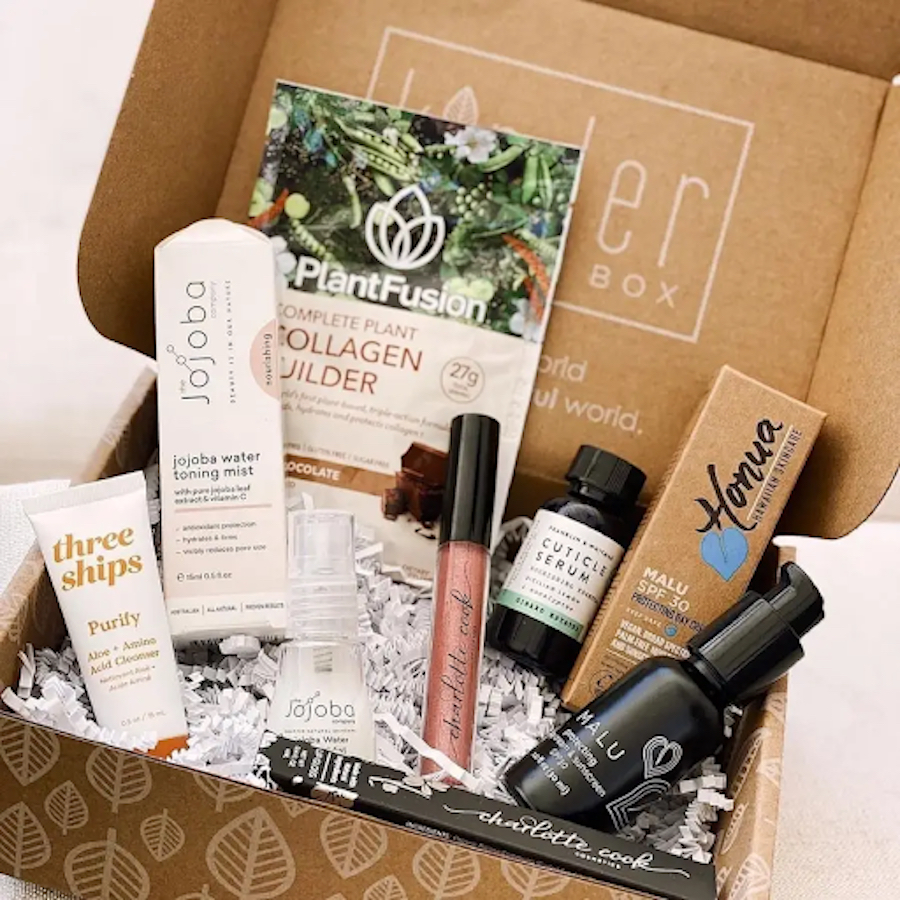 ---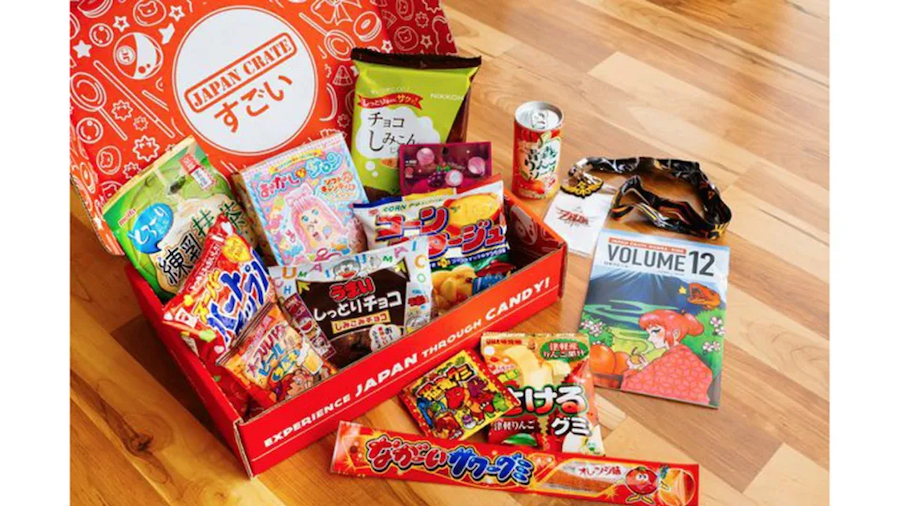 ---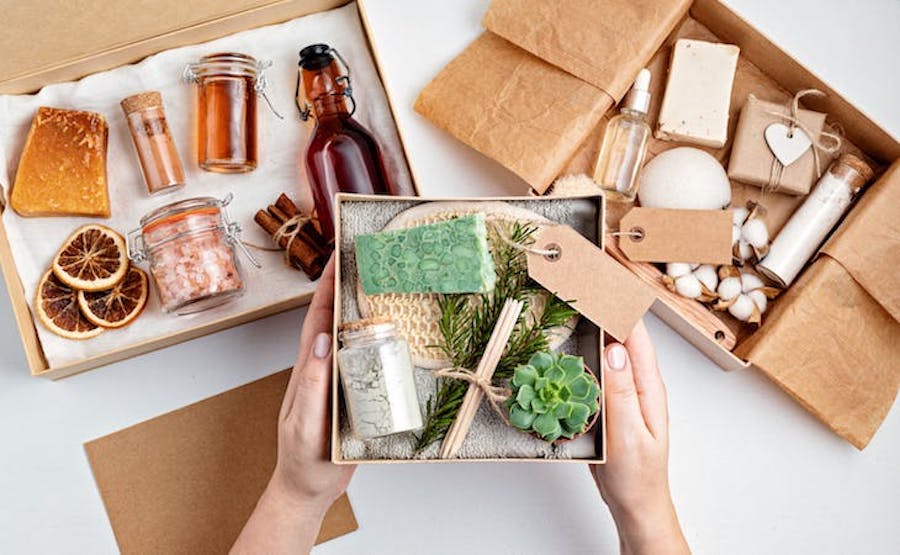 ---
Step 3: Choose a Pricing Strategy
Once you have products, you will then need to choose a pricing strategy. Typically, subscription box companies follow a tiered membership model, where shoppers can sign up for different subscription levels that scale with price depending on the number or type of products. Alternately, you will sometimes see brands where customers can build their boxes and get a custom price or where you can simply buy boxes individually without a subscription.
When looking at pricing strategies, the main things you will want to consider are:
Value: Your pricing strategy should deliver value to your customers so they feel like they are getting a fair and desirable trade for their money.
COGS: Your cost of goods sold (COGS) will be the primary determining factor of your price. You should seek to have a target cost per box (including packaging and logistics) as you are looking at products and have a clear budget in mind as you approach sourcing.
Profit: At the end of the day, your goal is to make money. Having an accurate picture of how much each box costs your business and your customer base is key to creating prices that will leave you with healthy margins and a profitable company.
In addition to the variables above, you can also use this online pricing calculator from Crate Joy to input all of your specific pricing considerations and get a suggested starting box price.
Step 4: Create an Online Storefront
Once you have products in hand, you will need to create an online storefront where people can view your brand, sign up for a subscription, and even shop wares if you are planning to support additional ecommerce.
In general, you will want to follow these steps:
Choose an ecommerce platform where you can build your site.
Choose a template or build your site from the ground up in accordance with your brand.
Consider pages for:

Pricing and Sign Up: Include pricing information and what is included in each plan. There should also be sign-up options here.
About Us: This is where customers can read about your brand, how your subscription model works, the types of wares they can expect each month, and more about your company in general.
Shop: This is where customers can buy the products they received in their boxes if they like them and want more or buy boxes outright.
Customer Reviews: This is where you can aggregate real customers' feedback. As subscription boxes leave an element of surprise and take some control away from the consumer, reviews are a great way to build trust.
Past Boxes: Another way to harbor trust among shoppers is to give them a taste of what they can expect from your subscription service with images and breakdowns of past boxes.
Your Account: This is where customers can manage their subscription and/or customize their boxes each month.
Contact Us: Make it easy for customers to reach you by providing contact information. This is also where you can link to your social media pages.

Add a signup banner that carries through all pages of your site for easy access.
Launch your site.
Here are some great examples of subscription box company ecommerce sites: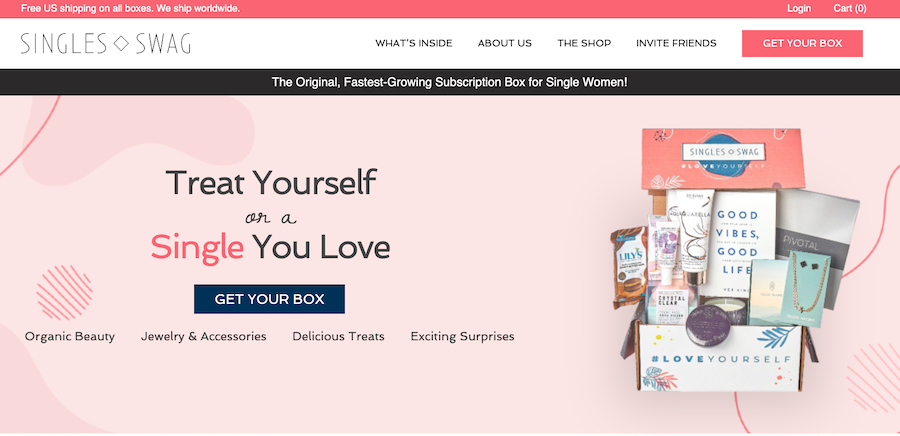 ---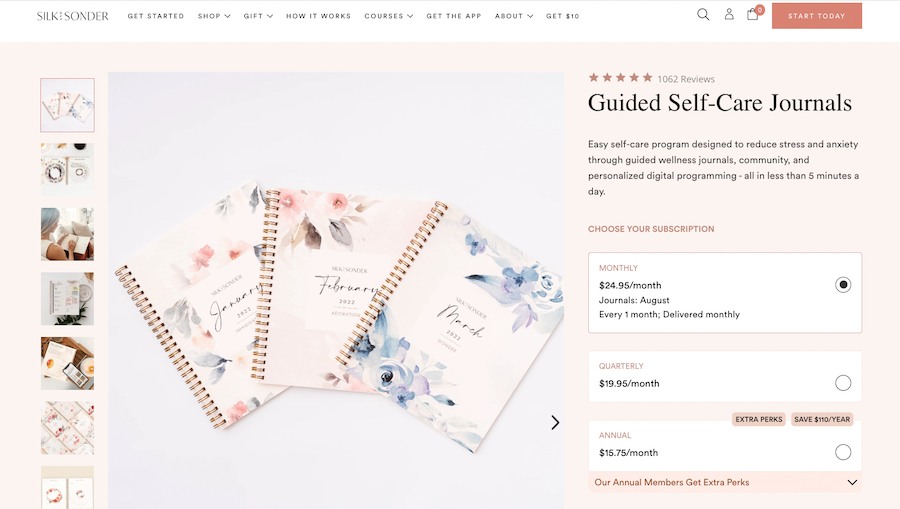 ---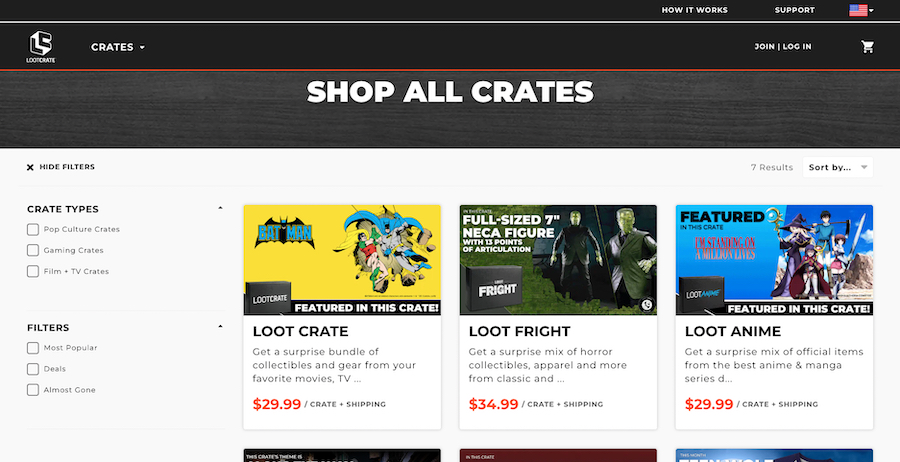 ---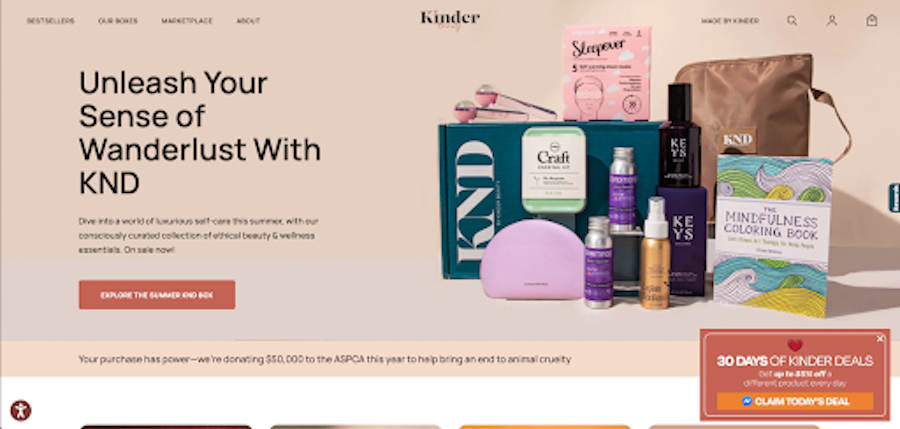 ---
Step 5: Market Your Subscription Box Business
With all the pieces in place, the last thing you need to do is find customers to subscribe. Here are a few ways that you can attract shoppers and then keep them. And for more inspiration, check out our guide to retail marketing strategies.
Attracting New Members
Offer a Signup Promotion: Get people interested and signed up with a signup promotion for money off, free products, or other rewards.
Use Outreach Marketing: One of the best ways to keep your customers in the loop regarding promotions, timelines, and other updates is by sending them texts and emails. Many POS systems have outreach marketing tools built in, but you can also send out messages manually or use standalone outreach software.
Utilize Social Media: Promote your brand on social media with ads, posts, and a strong brand presence.
Use our guides to social media sales and marketing to learn more:
Retaining Subscribers
Have a Clear Cancellation Policy: One of the biggest questions that shoppers will have when signing up for a subscription service is how cancellation works. You should make your cancellation policy clear and easy to find on your site as well as favorable to customers.
Reward Retention with a Loyalty Program: With subscription box companies especially, retention is going to be key to success. Keep customers subscribed through the years by using a loyalty program that rewards people for staying and makes ongoing support fun and exciting.
Try Brand Collaborations: Reel customers in and build their trust by featuring known brands in your boxes that customers can count on.
Customer retention is key to the success of subscription box businesses. Learn how to keep shoppers ordering again and again with our guide to customer retention rates.
Step 6: Fulfill Your Orders & Start Making Money
The final step is here: fulfillment. Orders are in, and all you have to do is send out your boxes and finally start seeing the fruits of your hard work. This step is twofold:
Pack your boxes: As we talked about before, you should seek to create a branded box that is enjoyable for customers to unpack but also keeps the parcel contents safe and secure.
Work with a fulfillment company to deliver your orders: The fulfillment company you choose will largely depend on your location, budget, the size of your parcels, and where your boxes are going. I would suggest starting with our guide to the Best Order Fulfillment Companies for Small Businesses to get started.
Partnering with a fulfillment company can save you a lot of time and overhead. However, it's possible to fulfill orders yourself as you're just starting out.
Bottom Line
Subscription box companies are becoming more and more popular among shoppers as people increasingly shop online and prioritize convenience. As you look at how to start a subscription box business, you will want to begin with a brand concept, then acquire your products, create a storefront, market your business, and finally start sending out parcels. With the guide above, you have all the tools for starting a subscription business and making money.