7 Effective Customer Service Channels for Small Business
Customer service channels are platforms businesses use to communicate with customers. Maintaining an open line with customers, whether through one or multiple channels, is crucial as it provides essential information that can lead to a sale or influence a customer's sentiment toward a company. In this article, we share the seven most common customer service channels, including live chat, shared inboxes, social media messengers, texts, and phone.

1. Live Chat
Live chat has become an essential customer service channel as it provides an immediate response to customers visiting your website—some of which may be in the middle of their purchasing decision process. Having this tool on your website not only answers queries but can also directly impact your sales. In fact, 79% of businesses said using a live chat tool as a customer service channel helped increase sales, customer loyalty, and revenue.
Providers like LiveChat offer users a robust set of live chat tools, such as message sneak-peek (allows agents to see messages before customers send them), canned responses, file sharing, and chat transfers to other agents. It also provides users with analytical tools to gain visibility on the number of active cases, monthly tickets, and agent ratings.
2. Chatbots
Chatbots are similar to live chat because they provide real-time responses. However, the biggest difference is that it is run by chat robots, and conversations are conducted based on predetermined response workflows, so some of the answers may be limited. Chatbots simulate human conversations and provide users with canned responses and options they can click through to proceed with the conversation.
Chatbot tools from software like HubSpot Service Hub and Chatbot have sophisticated chatting capabilities. HubSpot Service Hub allows users to include links and clickable responses in the bots' messages, leading customers to relevant pages on the knowledge base page. Chatbot, on the other hand, allows users to include rich media, such as file uploads and access to calendars.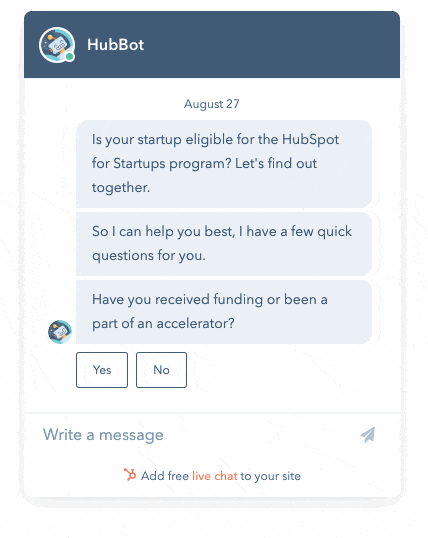 ---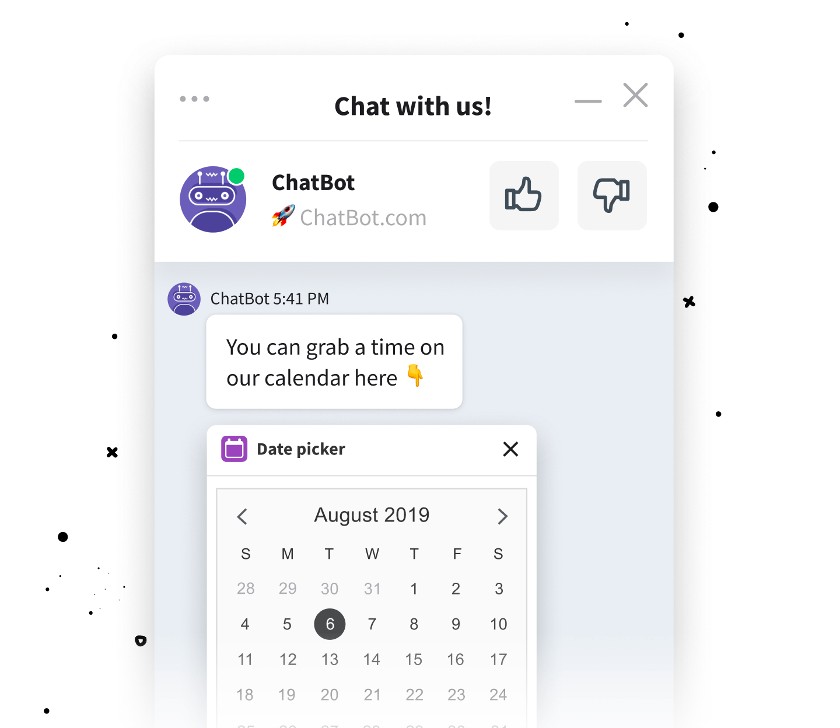 ---
3. Shared Inboxes
Shared inboxes offer customer service teams a centralized platform to receive incoming emails and assign each case accordingly. This lets the teams track incoming customer email requests and ensure each case is attended to promptly. In addition, users can easily follow the progress of conversations by referring to the email trail, which includes previous discussions and the agent involved.
Zoho Team Inbox lets customer service teams manage emails in a single collaborative space. It allows them to auto-assign threads, pick up conversations from other team members, assign emails to colleagues, and follow specific conversations. Users can also access preset message content for common queries, so any agent can use them to respond to customers with consistent tone and information.
4. Social Media Messengers
Sixty-nine percent of Facebook users who message businesses say it makes them feel more confident about the brand—underscoring the importance of social media as a customer service channel. Integrating social media accounts in your customer service software lets you monitor all incoming messages from various platforms, such as Facebook Messenger, Instagram, and Twitter. You can also create message workflows to expedite assistance to your customers.
Freshchat enables users to message their customers in various social media support channels, such as WhatsApp for Business, Facebook Messenger, Telegram, and Viber, from a single inbox. It also has analytics capabilities that let users analyze customer sentiments and monitor the performance of their customer service agents.
5. Text Messages
Communicating with your customers through SMS or text messages is one of the most convenient customer service methods. It allows customers to reach out to businesses through their mobile phones even without an internet connection or data. It also enables businesses to capture their customers' mobile numbers and save them in their database easily.
Pipedrive is a CRM that offers an integration with Sakari for users to communicate with their customers through SMS. For example, customer service agents can send and receive messages straight from their dashboard. They can also automate marketing and promotional messages and send order confirmations and appointment reminders.
6. In-app Phone
Another traditional channel, in-app phones allow agents to make calls straight from their desktop software while accessing all pertinent customer information, such as purchase history and personal profile. According to CFI Group, 76% of consumers still prefer phone calls as the medium for customer service. This means even though digital channels continue to gain momentum, it is still important to keep traditional channels, especially phones.
Freshsales, our top pick for the best CRM software for small businesses, has robust in-app phone support capabilities. It lets you make and answer calls from your desktop, record conversations and call notes, transfer calls, and purchase local and toll-free numbers. It also allows you to conduct conference calls and analyze overall call trends, such as the total number of monthly calls and call duration, using its analytics tools.
7. Customer Relationship Management (CRM)
Using CRM software for improved customer service activities is common because many CRMs provide omnichannel communication tools to reach out to customers. While these channels are typically used for sales outreach, they can also be utilized as service tools. This makes it easy for businesses to record communication history with their customers—allowing them to give highly personalized support.
Some CRM systems, such as HubSpot, offer integrated customer service communication channels and integrate them with their customer records. By using the software, users gain access to essential communication platforms straight from their CRM dashboard, including shared inbox, live chat, chatbots, SMS, and in-app phone.
How to Choose Your Customer Service Channel
Choosing the right customer service channels for your business entails various considerations. Below are some factors to think about in your search for the best customer service channels for your business:
Team Size
Determining which customer service channels to use primarily depends on the availability of team members who can manage them. Therefore, if you are running a micro-business, it is ideal to choose only one or two channels to maintain, such as email or phone. If you are running a larger business and have a substantial customer support team in place, then managing multiple channels is more feasible and may prove more convenient for your customers.
Budget
While some providers, such as HubSpot Service Hub, provide free customer service tools, some require paid monthly subscriptions—especially if you want to access advanced tools like analytics and reports. Decide how much you are capable of spending on customer service software and level of plans on a monthly basis and scout for potential options. If you have a limited budget, check out our guide on the best free customer service software.
Customer Preference
Determining your customers' preferred channel may require you to sign up with a customer service software provider with analytics and reporting tools. Providers like Zoho Desk show the volume of customer service inquiries you receive per channel, making it easy for you to determine which channels to use and which ones to let go of.
Bottom Line
While having various customer service channels is best to make it easier for your customers to reach you whichever channel they prefer, it is important to only choose the ones you can realistically maintain. Having various channels doesn't matter if you are not able to respond to your customers in a timely, effective manner. Consider your team capacity and customer preference to decide which ones ultimately suit your business and customers' needs best.