7 Best Delivery POS Systems for 2022
This article is part of a larger series on POS Systems.
Food delivery point-of-sale (POS) systems are restaurant software and hardware tools that enable restaurants to receive orders, process payments, and manage deliveries. Moreover, food delivery POS systems should accept orders placed in-person, online, over the phone, and via third-party platforms. The best systems dispatch drivers with GPS directions and send automated order status texts to customers. We evaluated dozens of systems to determine the best overall.
Based on our evaluations, the best food delivery POS systems are:
Top Food Delivery POS Systems Compared
| Company | Minimum monthly fee | Contract length | Online ordering (third-party or built-in) | Delivery management (third-party or built-in) | Payment processing |
| --- | --- | --- | --- | --- | --- |
| | $0 | 2 years | Both | Both | 2.49% + 15 cents for in-person swiped, dipped, or tapped transactions |
| | $69 | 1 year | Both | Both | Varies based on processor |
| | $99 | 3 years | Both | Both | Varies based on processor |
| | Custom-quoted | 1 year | Both | Built-in | Custom-quoted |
| | $59 | 1 year | Both | Third-party | Varies based on processor |
| | $69 | Monthly or annual contracts available | Both | Both | Varies based on processor |
| | $0 | Month to month | Both | Both | 2.6% + 10 cents for in-person swiped, dipped, or tapped transactions |
How We Evaluated Food Delivery POS Systems
We considered dozens of the most popular POS systems based on what tools a restaurant needs to manage a delivery operation, including GPS mapping, mobile ordering, and third-party platform integrations. We also looked at general POS functionality and ease of use. We noted our retail and restaurant experts' evaluations of each software to reach a final number.
Using the above criteria, Toast emerged as the best food delivery POS. The software received the highest overall score (4.01 out of 5). Toast is also one of the top POS software that we recommend for independent restaurants based on our experience using various POS software and working in restaurants that use POS systems every day.
Click through the tabs below for our full evaluation criteria:
20% of Overall Score
Delivery adds to a restaurant's costs, so we looked closely at price and value for money. In particular, we rewarded POS systems that offer free software or free trials and gave high marks to POS systems that offer a software subscription below $75 per month.
20% of Overall Score
A POS for food delivery needs to be a high-functioning POS first. Since delivery operations rely on repeat customers, we paid particular attention to customer relationship management and loyalty functions, robust reporting, and tip management.
20% of Overall Score
We weighed how easy each system is to use in a busy service environment and the ease of the customer interface when ordering online or via an app. We considered cloud-based versus non-cloud-based services. We also noted how easy it is to contact customer support and access training resources.
20% of Overall Score
Finally, we relied on our retail and restaurant experts' real-world experience working with POS systems and restaurant delivery operations. Since users offer valuable insights, we also considered the popularity of each system among delivery restaurants and user reviews.
*Percentages of overall score
Toast: Best Overall Food Delivery POS
Toast

Overall Score:
4.01
OUT OF
5
RATING CRITERIA

Pricing
2.50
OUT OF
5
General Features
4.15
OUT OF
5
Delivery Features
3.88
OUT OF
5
Ease of Use
4.50
OUT OF
5
Expert Score
5.00
OUT OF
5
What We Like
Robust driver management with GPS integration
Streamlined third-party platform integrations
Built-in QR code ordering
Free Starter POS
What's Missing
Locked into Toast payment processing
Operates on proprietary tablets
Online ordering and delivery tools cost extra
Toast Pricing
Software subscription fee:

Starter – $0
Essentials – $165 (includes online ordering)
Growth – Custom quoted (includes loyalty, marketing, and gift cards)

One-time Installation fees: Optional, starting at $250
Processing fees: 2.49% + 15 cents for in-person swiped, dipped, or tapped transactions
Pay-as-you-go customers pay a higher 2.99% + 15 cents per in-person transaction
Toast is an incredibly popular restaurant POS that operates on industry-grade Toast-supplied tablets. This POS has a long track record of developing new tools as the restaurant industry changes. In 2021, Toast strengthened its online ordering and inventory tools, while adding a free software subscription tier. The combination of affordable subscriptions and comprehensive tools makes Toast an excellent fit for restaurants of all sizes, whether they rely on built-in or third-party delivery tools.
Toast scored the highest overall on our delivery POS scale, earning a solid 4.01 out of 5. This system performed best in ease of use and among our experts. The delivery-specific features were also a standout but couldn't be awarded full points because they come at an additional cost. Toast could have scored higher if it offered multiple options for payment processing (like Revel, TouchBistro, Lightspeed, and Lavu) or included loyalty in the baseline POS (like Lavu).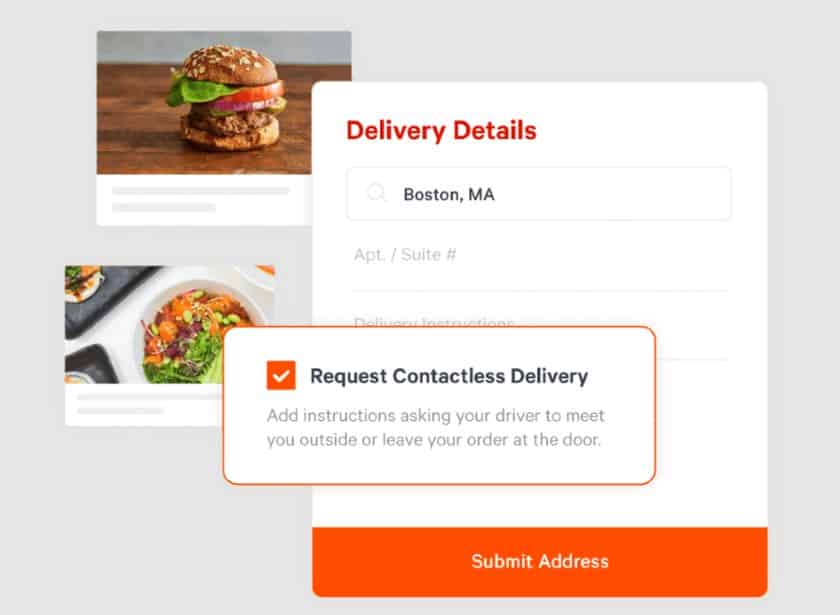 ---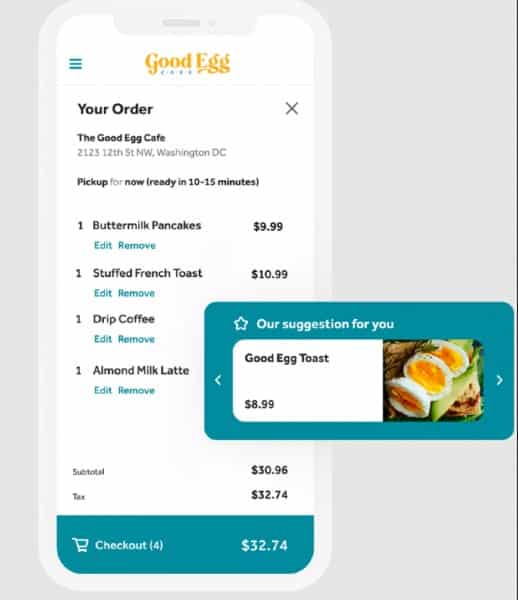 ---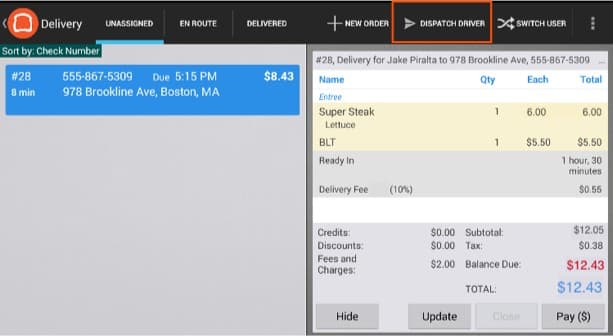 ---
Toast Standout Features
With Toast, your delivery options are endless. This system includes GPS-enabled driver management tools for restaurants that want to manage a team of delivery drivers. It also has terrific integrations for restaurants that want to receive third-party orders directly in their POS order stream but prefer to leave the delivery to third-party drivers. Alternatively, you can reduce your third-party order commissions by referring your in-house delivery orders to third-party drivers for a flat, per-delivery fee.
Toast's other standout features include:
Free Starter POS: Toast offers a free Starter POS. Users can also opt for a pay-as-you-go option for hardware for up to two terminals. So small restaurants can get started with Toast virtually for free. Online ordering and delivery tools are not free, of course. You'll need to get a custom quote from Toast when you add these tools.
Online ordering customization: Toast users can choose to integrate directly with Grubhub or other third-party platforms via the middleman apps Chowly and ItsaCheckmate. You can keep these integrations live while adding Toast Online Ordering to receive orders through your own website.
Order and pay via QR code: Bring Your Own Device (BYOD) tools are a new frontier for restaurants, and Toast was one of the first POS brands to roll out a built-in BYOD tool in 2020. Its Order and Pay module allows customers to scan a QR code with their smartphone camera to place their orders and pay via their phones. Contactless operations don't get much easier than that.
Kitchen display system (KDS) sync: Online orders print directly in your kitchen or are routed to KDS screens. As orders are marked completed by your kitchen team, SMS texts alert customers that their orders are ready.
A wealth of other POS features: Toast offers the widest variety of built-in POS features, from full-scale workforce management with digital employee onboarding to ingredient-level inventory tracking and robust customer loyalty tools. The reporting features are easy to navigate, as are peripherals like KDS screens and self-service kiosks.
TouchBistro: Best User-Friendly POS for Small Restaurants
TouchBistro

Overall Score:
3.87
OUT OF
5
RATING CRITERIA

Pricing
4.10
OUT OF
5
General Features
3.35
OUT OF
5
Delivery Features
4.00
OUT OF
5
Ease of Use
3.50
OUT OF
5
Expert Score
4.38
OUT OF
5
What We Like
Operates on iPads
Easy to self-install
Pricing is transparent
What's Missing
Third-party delivery requires a middleman app like Deliverect or Ordermark
Reporting has limitations
Inventory is less automated than other systems
TouchBistro Pricing
Software subscription fee: $69 per terminal, per month
One-time Installation fees: None
Processing fees: Rates vary based on your chosen processor; choose from TouchBistro Pay, Chase, Worldpay, TSYS, and Square
TouchBistro is an iPad POS, like Revel, Lavu, and Square for Restaurants. TouchBistro recommends purchasing your tablets from them, preconfigured with TouchBistro software, but you can also bring your own compatible hardware. The user interface reflects the Apple iOS style more than any other system on this list, which makes TouchBistro incredibly easy to learn. Anyone who has used an iPhone can learn TouchBistro in no time.
TouchBistro earned a score of 3.87 out of 5 on our delivery POS scoring system. This user-friendly system scored well for delivery features and ease of use. Though it could have scored even higher for ease of use if it included an option for on-site, one-on-one setup like Toast does.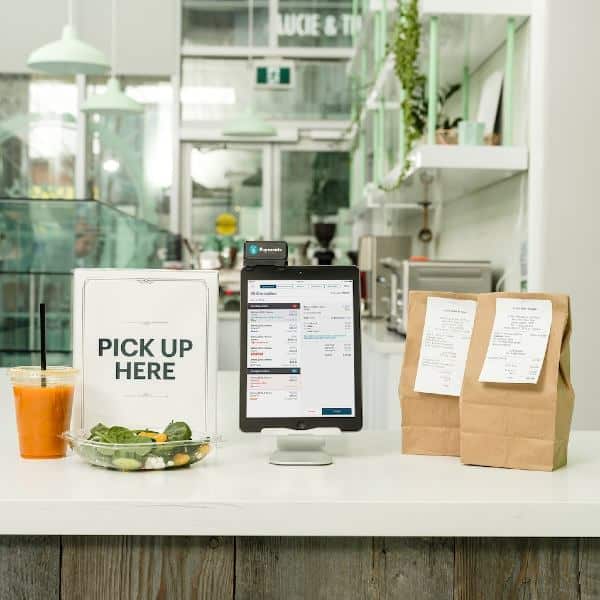 ---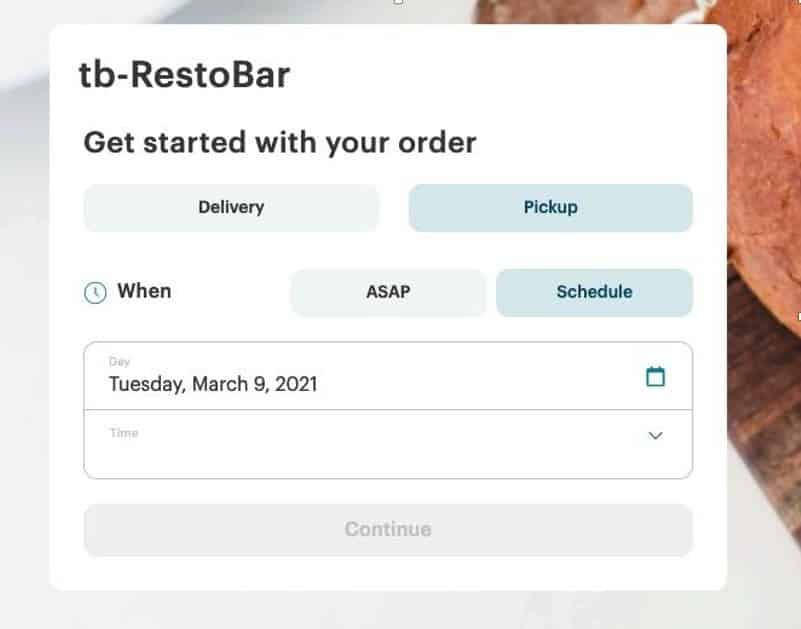 ---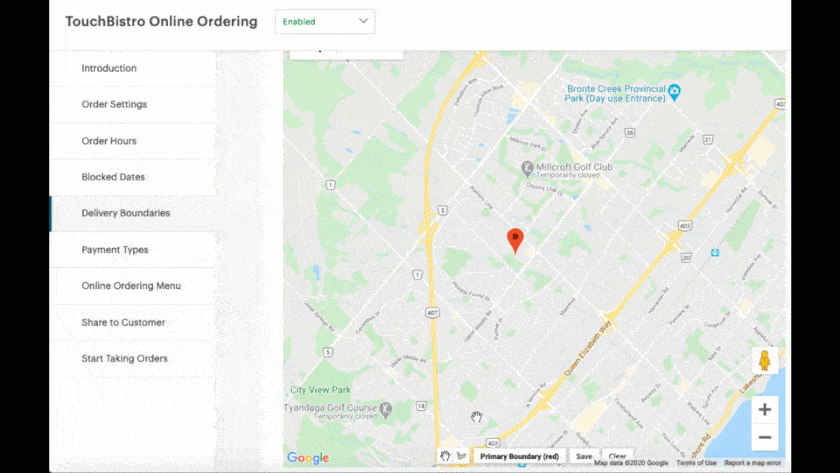 ---
TouchBistro Standout Features
TouchBistro includes all the basic POS tools you need to run a small, independent restaurant. This system is also incredibly easy to self-install. While TouchBistro does charge extra fees for features like loyalty and online ordering, you'll find all of their tools are easy to use and come with 24/7 customer support.
TouchBistro's standout features include:
TBDine: Like Toast, TouchBistro features member restaurants on a centralized online ordering site. This helps you reach new customers when they search for restaurants in their area.
Transparent pricing: TouchBistro's online ordering module costs $50 per month. This price is listed transparently on the TouchBistro website; no guesswork and no custom quote are necessary. This is an incredibly affordable price, considering that tools like Lavu's Menudrive cost $149 per month.
Fleet management: Restaurants that manage an in-house driver fleet can get delivery management tools as part of their online ordering package. The delivery tools are less robust than those of Toast, Revel, or SpeedLine, but they allow you to assign orders to drivers and track drivers' transactions. This may be all a small restaurant needs.
Third-party orders and delivery: You can route third-party delivery orders to your TouchBistro POS via Deliverect or Ordermark. Both of these middleman apps aggregate orders from popular third-party platforms—like DoorDash, UberEats, and Postmates— and send them directly to your POS. Each comes with their own monthly fees on top of the commission rates charged by the platforms themselves, so this strategy might be too pricey for some restaurants.
Revel Systems: Best for High-Volume Delivery Restaurants With an In-House Driver Team
Revel Systems

Overall Score:
3.74
OUT OF
5
RATING CRITERIA

Pricing
2.90
OUT OF
5
General Features
4.15
OUT OF
5
Delivery Features
3.38
OUT OF
5
Ease of Use
4.50
OUT OF
5
Expert Score
3.75
OUT OF
5
What We Like
Highly customizable
Complex combo ordering and modifier screens
Robust dispatch functions with GPS integration
Optional driver app
What's Missing
3-year service contract
Can have a steep learning curve
Pricey
Revel Systems Pricing
Software subscription fee: $99 per terminal, per month
One-time Installation fees: $674
Processing fees: Varies based on payment processor; choose from Revel Integrates with Revel Advantage, First Data, Heartland, TSYS, Worldpay, Chase Paymentech, Elavon
Revel Systems pairs the functionality of a locally installed POS with the convenience of a cloud POS. This robust iPad POS includes maps-based driver management and even an affiliated smartphone app for your drivers. These tools combined with Revel's complex combo-ordering and menu modification screens make Revel an excellent fit for high-volume restaurants managing an in-house driver team.
In this ranking, Revel Systems earned a 3.74 out of 5. The system scored well for general POS functions, which is no surprise since Revel is almost infinitely customizable. It also performed well for delivery-specific functions like built-in driver management. Though, like Toast, it couldn't earn the highest possible score because the delivery tools come at an extra cost. The system would have scored higher if the price were lower and the contract term were shorter. Revel requires a three-year contract, so users should be sure the system is a perfect fit before committing.
If short-term contracts are more your speed, you'll be better off with Lavu or Square for Restaurants. Both offer month-to-month subscriptions.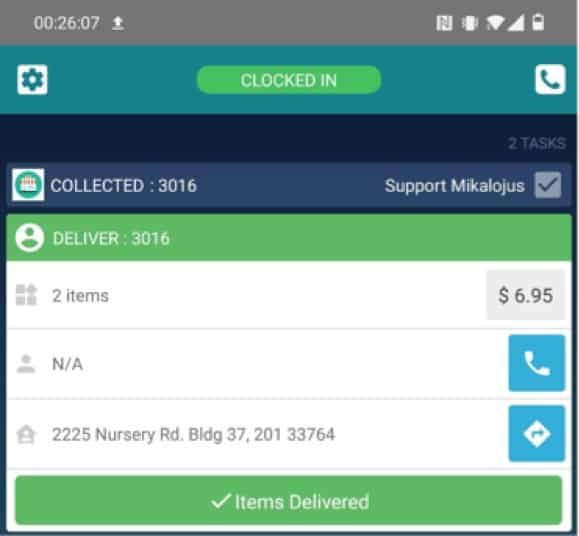 ---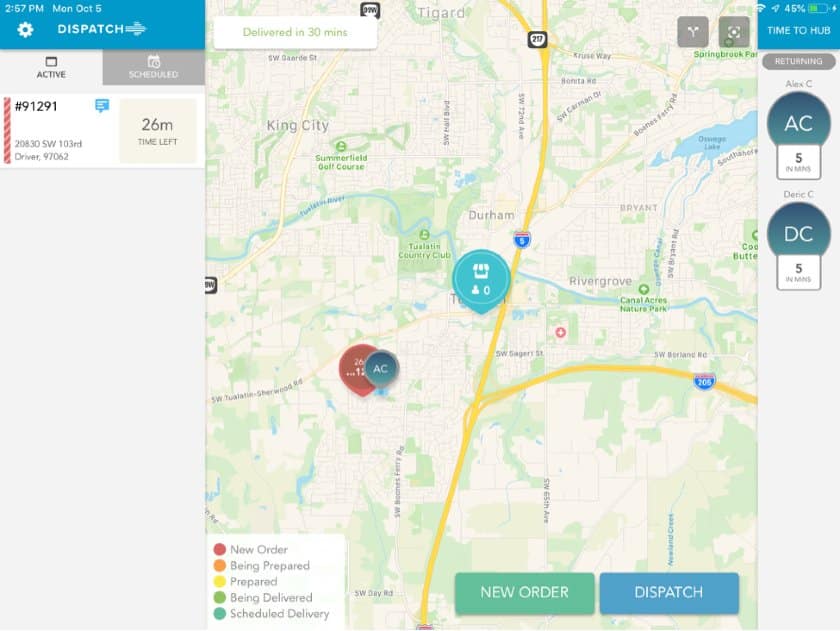 ---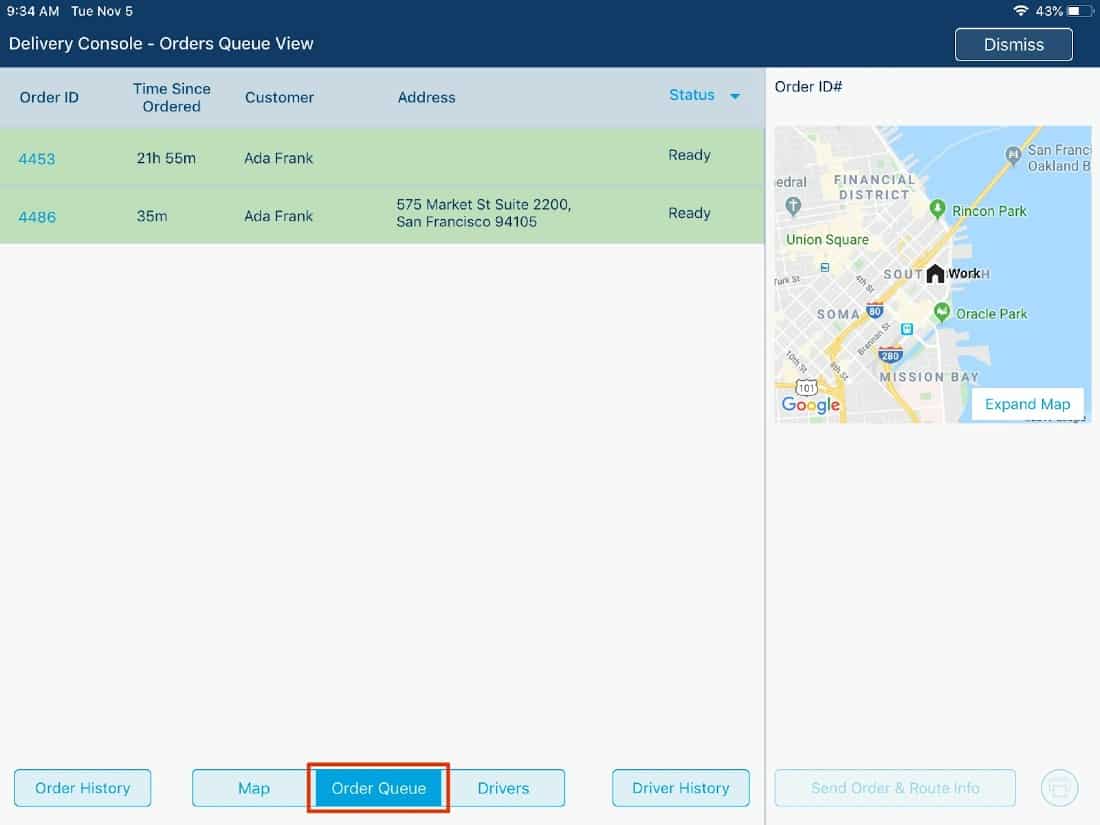 ---
Revel Systems Standout Features
Like Toast, Revel allows you to operate with an in-house delivery team, rely on third-party delivery platforms, or create a combination strategy.
Revel's standout features include:
Delivery dispatch: Map-based driver dispatch tools find the most efficient routes for your delivery team and validate each address before your drivers leave the restaurant. You can email turn-by-turn directions to your drivers' smartphones and collect tons of data about your delivery operation to create high-level reports. Drivers access orders and delivery directions via an integrated smartphone app.
Driver management: Revel allows you to manage delivery drivers with the same level of detail as you would servers in your dining room. You can assign orders to drivers, send mapped directions to their phones, track their status in the field, and print sales reports at the end of the shift with tip tracking and performance metrics.
Online ordering tools: With Revel, your online ordering menu is hosted on a custom URL that you can link to your website and social media channels. This menu syncs with your internal POS menu, so you never sell an item you don't have on hand.
Automated alerts: Like Toast, Revel's KDS syncs with your online ordering system. So customers are automatically alerted when your cooks mark an order complete. Revel also supports a customer-facing order status display screen that shows order names and order status in real time. This screen shows orders separated by type (dine-in, pickup, or delivery) and is excellent for restaurants that operate with both in-house online ordering and third-party delivery platforms.
Rewards and customer tracking: Like Lavu, Revel includes customer relationship management and basic rewards in its baseline POS. The system tracks customer contact information, delivery addresses, and purchase history. Enabling rewards tracking to sync across the platform is as easy as clicking a button in the management dashboard.
SpeedLine: Best for Pizzerias & Restaurants Needing Pay-at-the-Door Tools
SpeedLine

Overall Score:
3.66
OUT OF
5
RATING CRITERIA

Pricing
2.05
OUT OF
5
General Features
4.60
OUT OF
5
Delivery Features
4.50
OUT OF
5
Ease of Use
4.00
OUT OF
5
Expert Score
3.13
OUT OF
5
What We Like
Strong offline functionality
Robust driver management tools
Complex coupon and promotions tools
Pay-at-the-door card readers reduce credit card processing fees
What's Missing
High upfront cost
Reporting is not cloud-based
SpeedLine Pricing
Software subscription fee: Custom-quoted
One-time Installation fees: Custom-quoted
Processing fees: Custom-quoted; SpeedLine integrates with the Worldpay Express Gateway
SpeedLine is a locally installed POS that has long been a stalwart in the hectic pizza delivery landscape. This system excels at processing the massive amount of combos and promotions that pizzerias are famous for and can manage any kind of order modification.
The main difference between SpeedLine and others on this list is that SpeedLine is not a cloud POS. If cloud access is important to you, you'll likely be happier with Revel Systems (which has the most similar functions in a cloud format). However, if you lack strong internet access and you need a lot of one-on-one assistance to get your delivery restaurant off the ground, SpeedLine could be right up your alley.
In our comparison of delivery POS systems, SpeedLine earned a rating of 3.66 out of 5. While it lost points for cost and the lack of cloud functionality, it scored higher than any other system for delivery-specific functions. The system's upfront price also cost it some points; though rates are custom-quoted, most restaurants could expect to pay $8,000 to $15,000 for their SpeedLine POS. If that's too rich for you, you'll likely be happier with any other option on this list; they are all lower-cost.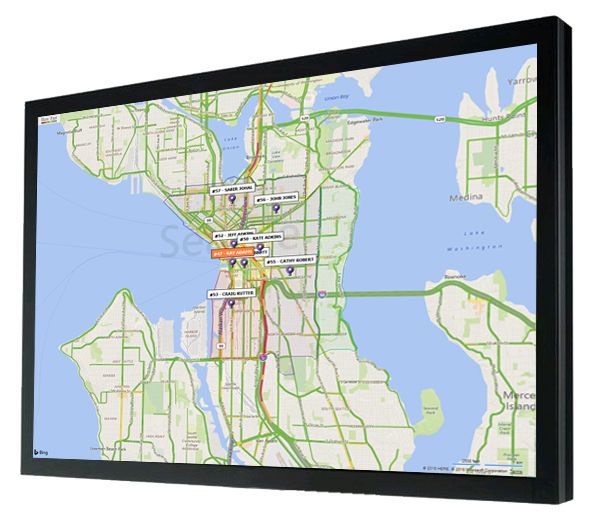 ---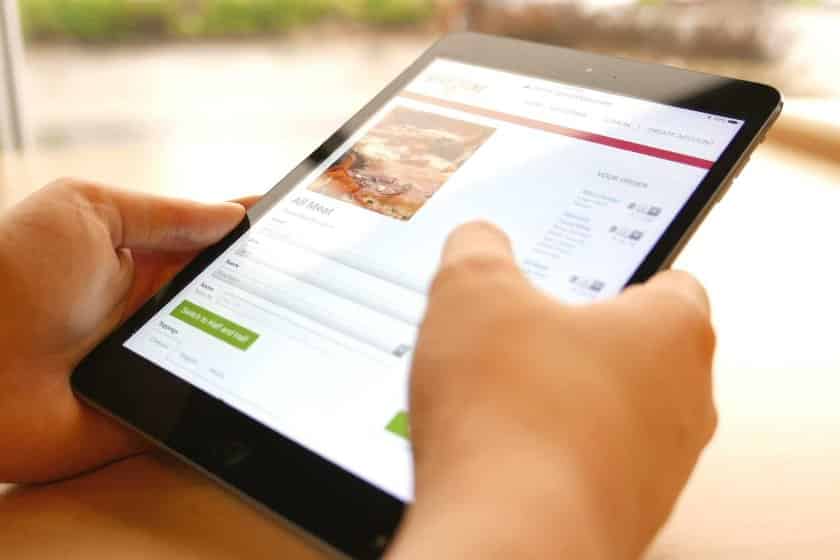 ---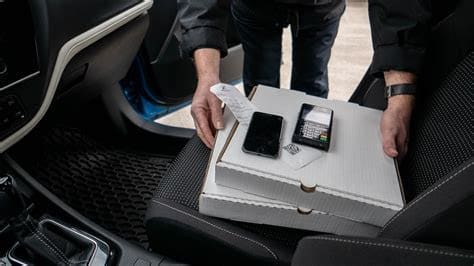 ---
SpeedLine Standout Features
SpeedLine is purpose-built for restaurants that have high delivery sales of highly modified menu items. Pizza is where SpeedLine shines the most, but any high-volume build-your-own-dish eatery will enjoy its wide-ranging modifiers and combo-building functions. It is pricey and not cloud-based, however, so you'll need to do all your reporting and analytics on location in your back office, which is a little old-school for some operators.
SpeedLine's standout features include:
Pay-at-the-door functionality: Its "SpeedLine Pay" app allows your drivers to accept card payments at your customers' doorsteps. This tool allows you to sidestep the card-not-present transaction fees that usually accompany online payments. SpeedLine Pay card readers are EMV-compliant, which means you'll have fewer chargeback disputes and pay lower card-present transaction fees. If you process a lot of deliveries paid by credit card, this feature can add a lot to your bottom line. If you need this option in a lower-cost POS, however, you should check out TouchBistro.
Heatmap reporting: One of SpeedLine's most impressive functions is how it combines navigational tools with sales tools. For example, you can pull up a map that shows what specific items are selling (or not) in certain areas of your city.
Driver management: SpeedLine's map view allows you to see which deliveries can be most efficiently grouped together. Busy SpeedLine users sometimes project this view onto a large television monitor to keep a bird's-eye view over their driver team. The dispatch screen displays estimated driver return times, so you know when to have the next rounds of orders ready.
Online ordering options: You can use SpeedDine, SpeedLine's online ordering module, to accept customer orders directly from any internet-enabled device or via your branded mobile app. Both the app and your online ordering site are tied directly to your POS, so prices, combos, promotional offers, and tax rates are uniform. If you prefer a different online ordering platform, like Deliverect or Mobi2Go, you can integrate via SpeedLine's open software architecture. You can also integrate third-party platform orders via Chowly or ItsaCheckmate.
Personalized attention: SpeedLine's higher price tag and lack of cloud functionality mean that the SpeedLine team must perform many of your installation functions. With cloud POS systems, you are sometimes on your own to perform tasks like creating your menu and networking your KDS screens. With a locally installed system, a support rep does a lot of this work. This setup can be a double-edged sword, of course; sometimes, you just want to add a discount yourself. However, if you are tech-phobic and want someone to do all the back-end work for you, SpeedLine is a great option.
Lightspeed Restaurant: Best for Ghost Kitchens & Restaurants Using Third-Party Platforms
Lightspeed Restaurant

Overall Score:
3.56
OUT OF
5
RATING CRITERIA

Pricing
4.55
OUT OF
5
General Features
4.20
OUT OF
5
Delivery Features
1.81
OUT OF
5
Ease of Use
3.50
OUT OF
5
Expert Score
3.75
OUT OF
5
What We Like
Offers a 14-day free trial
Operates on iPads
Streamlined third-party delivery integrations
What's Missing
Driver management requires a third-party integration
Does not offer a platform website
Lightspeed Restaurant Pricing
Software subscription fee: $59 per month for a single terminal; additional terminals $34 each
One-time Installation fees: None
Processing fees: Varies based on processor; choose from Lightspeed Payments, Worldpay, Cayan, or Bridgepay
Lightspeed Restaurant is a super-streamlined, all-in-one cloud POS for restaurants. Like TouchBistro, Revel, Square, and Lavu, Lightspeed operates on iPads. Users can purchase hardware from Lightspeed or bring their own compatible tablets. Lightspeed has excellent online ordering tools. Your customers can order ahead for pickup, or you can receive third-party platform orders directly in your POS order stream. Lightspeed organizes third-party platform orders on an easy-to-read order screen, making this system a great fit for ghost kitchens.
In our scoring for delivery POS systems, Lightspeed Restaurants earned a 3.56 out of 5. A lower-priced option than Revel or SpeedLine, Lightspeed earned high marks for pricing and overall value for money. Lightspeed would have scored higher overall if it included built-in fleet management tools, supported credit card payments in the field, or offered a central ordering site to feature member restaurants (like Toast and TouchBistro do).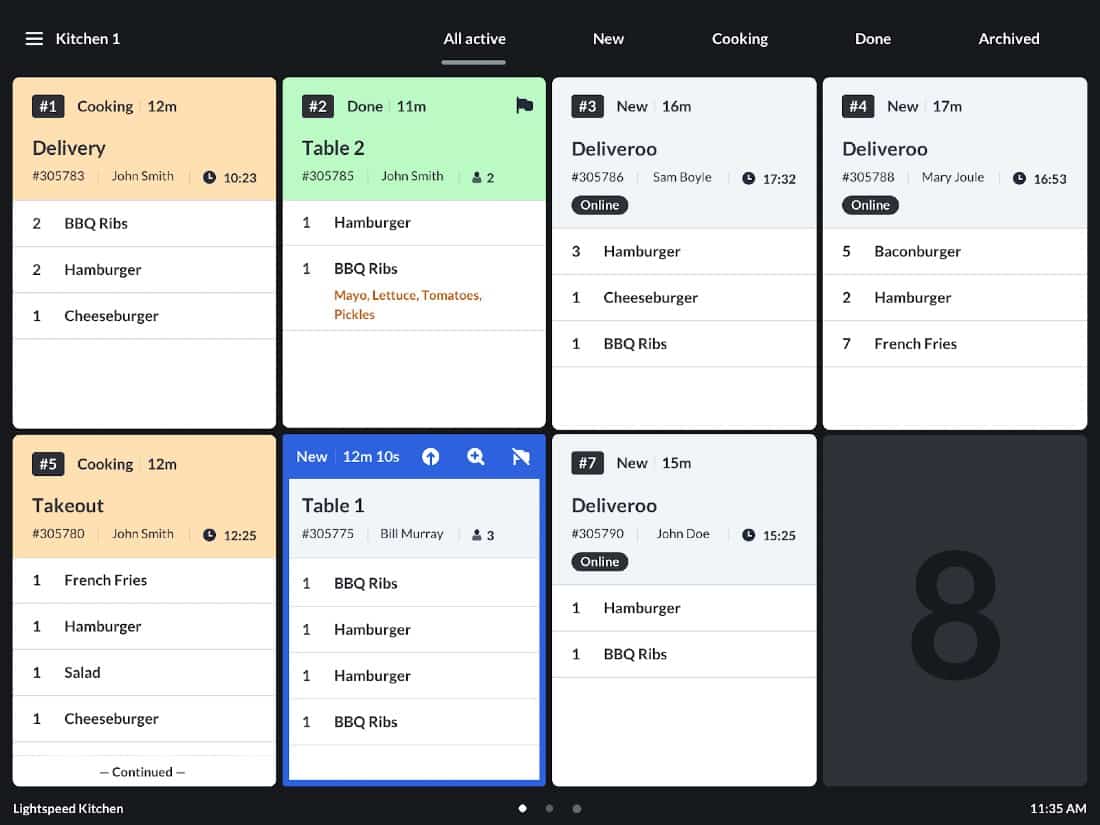 ---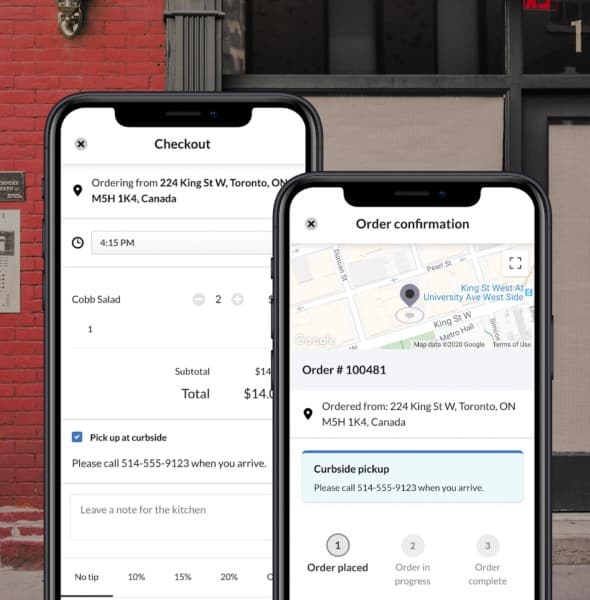 ---
Lightspeed Restaurant Standout Features
Lightspeed doesn't include built-in tools for managing a team of in-house drivers. But if relying on third-party platforms is your plan, Lightspeed will let you trade your collection of platform-specific tablets in for a centralized dashboard. However, small restaurants with streamlined menus will love this incredibly intuitive system. With the addition of the Lightspeed-integrated KDS (which happens to be one of our favorites), this becomes an excellent POS system for a ghost or cloud kitchen.
Lightspeed Restaurant's standout features include:
Lightspeed Delivery: Lightspeed Delivery is a premium add-on to the Lightspeed Restaurant POS, and its pricing starts at $39 per month. This module acts as a centralized dashboard to manage orders placed via third-party delivery apps like Uber Eats and Grubhub. In this dashboard, you can view and accept third-party platform orders and manage your menus across all third-party delivery sites in one location.
Lightspeed Order Ahead: Lightspeed's Order Ahead enables online ordering for takeout and in-house delivery orders. Customers place orders via your online ordering website at a custom URL. You can view an order's delivery address in either Google Maps or Apple Maps in the POS dashboard.
In-house fleet management: You can dispatch a staff team of drivers via Lightspeed's integration with UEat. This app requires an additional, custom-quoted, monthly fee. But the app includes map-based dispatch, driver routing, and real-time driver tracking. UEat also includes the option to hail third-party drivers for flat-rate fees.
Accessibility and flexibility: You can download Lightspeed Restaurant directly from the Apple App Store and get started taking orders as soon as you connect a payment processor. Add-ons like KDS and self-order kiosk software are also right at your fingertips in the App Store. So you can pivot your operation in minutes.
Lavu: Best for Included Loyalty and Workforce Management
Lavu

Overall Score:
3.59
OUT OF
5
RATING CRITERIA

Pricing
3.65
OUT OF
5
General Features
4.55
OUT OF
5
Delivery Features
2.13
OUT OF
5
Ease of Use
4.50
OUT OF
5
Expert Score
3.13
OUT OF
5
What We Like
Includes loyalty in baseline POS
Includes employee scheduling in baseline POS
Operates on iPads; users can bring their own compatible hardware
Multiple options for integrated payment processing
What's Missing
Online ordering costs extra
Marketing costs extra
Reporting has some limitations
Lavu Pricing
Software subscription fee: $69 per month for a single terminal
One-time Installation fees: Not listed
Processing fees: Varies based on your processor; choose between Lavu Pay, Vantiv, Moneris, or Heartland
Lavu is a cloud-based restaurant POS that—like Revel Systems, TouchBistro, and Square—operates on iPads. This affordable POS includes several features in the baseline POS, including workforce management with automated tip pooling and customer loyalty. For online ordering and delivery, Lavu relies on the Menudrive system, which it purchased in 2020. Though Menudrive comes with additional monthly fees (starting at $149 per month), it includes an easy-to-use menu builder and group ordering functions.
Lavu earned a 3.59 out of 5 on our delivery POS scoring system. This POS earned high marks for ease of use and general POS functions. It lost some points, however, for charging fees for niche delivery tools like online ordering. If you need a system that includes online ordering for free, you might prefer Square for Restaurants.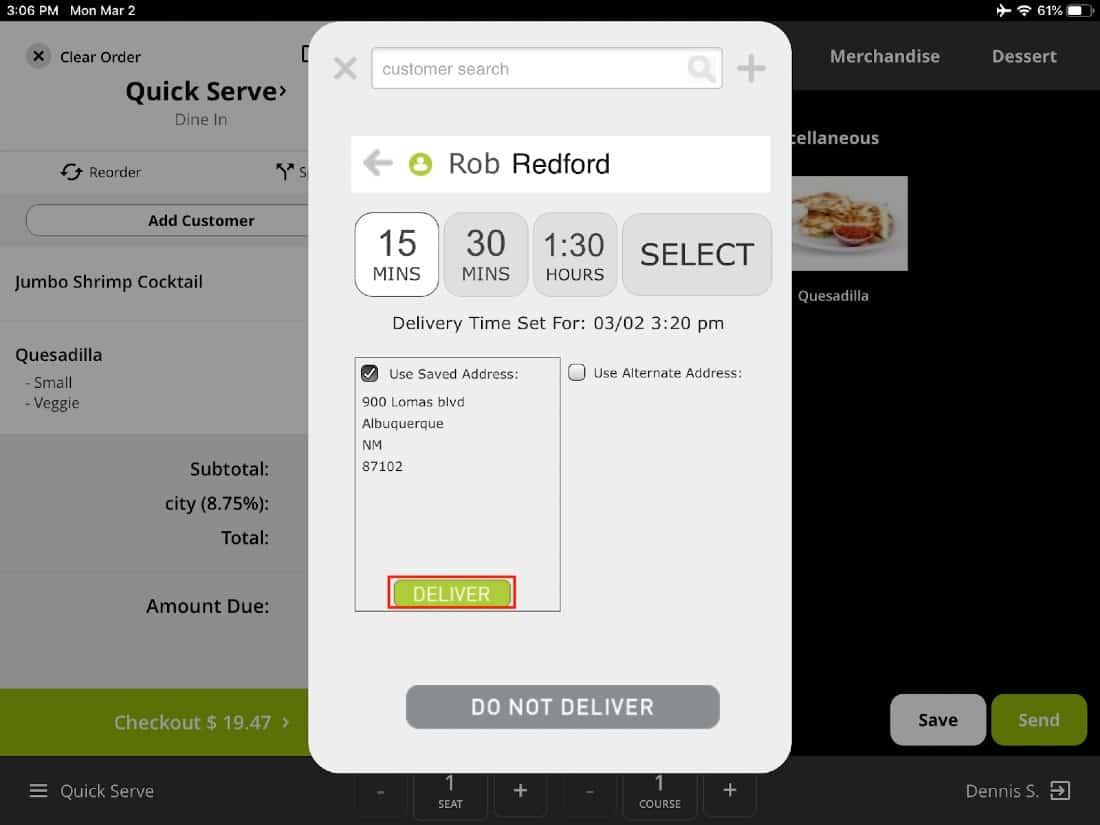 ---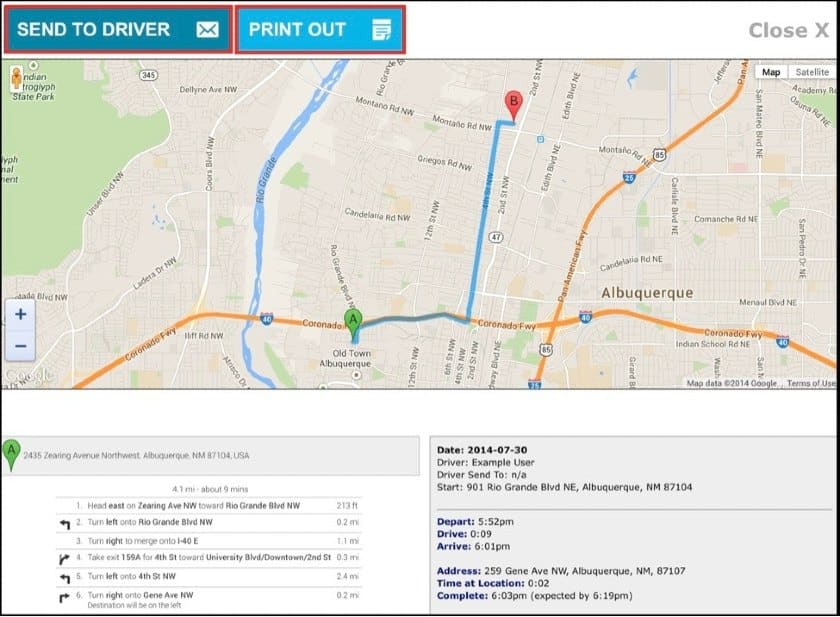 ---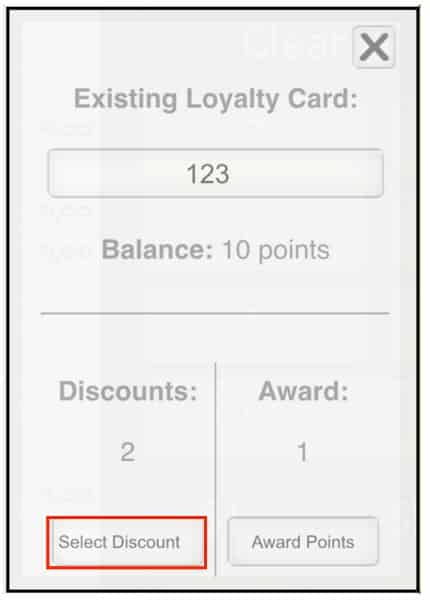 ---
Lavu Standout Features
Lavu falls in the middle of the line pricewise. It's monthly subscription fees are less than those of SpeedLine and Revel Systems, but unlike Toast and Square for Restaurants, Lavu does not offer a free baseline subscription. Like the other systems on this list, Lavu includes options for accepting orders for delivery through third-party delivery platforms or routing a team of in-house drivers. Lavu supports a direct integration with DoorDash Drive for flat-rate third-party deliveries.
Lavu's standout features include:
Menudrive: Lavu owns the online ordering app Menudrive. This includes easy-to- use tools for building online ordering menus, automated email marketing, and QR code ordering.
Text ordering: Via Menudrive, you can accept orders via text message. You can also send text messages to customers, letting them know when their orders are ready for pickup or delivery.
Employee scheduling: Like Toast, Lavu includes employee scheduling in the baseline POS. Unlike Toast, however, Lavu includes an employee-facing site where employees can log in to view their schedules, note their availability, and request shift changes. Having all of this scheduling data in one place keeps you from tracking down multiple handwritten notes when it's time to write a new schedule.
Loyalty: Lavu includes loyalty tools in the baseline POS. You can choose whether to reward customers with a reward item or a percentage or dollar discount. Your Lavu system prompts servers or cashiers to apply acquired rewards at check out.
Delivery routing: Lavu includes delivery routing for restaurants that have an in-house driver team. Lavu's routing tools are not quite as robust as those of Toast, Revel, and SpeedLine—you can't track drivers in real time when they are away from your restaurant—but they may be all that a small restaurant needs. You create driving directions from order addresses and either print them or email them to your drivers' smartphones.
Square for Restaurants: Best for Seasonal Restaurants Needing Month-to-Month Contracts
Square for Restaurants

Overall Score:
3.40
OUT OF
5
RATING CRITERIA

Pricing
4.10
OUT OF
5
General Features
3.35
OUT OF
5
Delivery Features
2.44
OUT OF
5
Ease of Use
2.75
OUT OF
5
Expert Score
4.38
OUT OF
5
What We Like
Baseline POS is free
Online ordering site is free
No long-term contracts
Can use hardware you already own
What's Missing
Free POS only includes one set of user permissions
In-house deliveries have a per-delivery fee
Square is the only available payment processor
Square for Restaurants Pricing
Software subscription fee:

Free – $0
Premium – $60
Plus – Custom-quoted

One-time Installation fees: None
Processing fees:

In-person swiped, dipped, or tapped transactions: 2.6% + 10 cents
Online transactions: 2.9% + 30 cents
Manually-keyed transactions: 3.5% + 15 cents
Square for Restaurants is a top-ranking free to low-cost POS app with built-in payment processing that offers useful basic functionality for small restaurants. The baseline subscription—which Square handily calls "Free"—is, well, free. This tier includes an online store function that can be used to enable online ordering for a limited menu. This low cost combined with Square's month-to-month subscriptions make this POS an excellent choice for seasonal restaurants.
Square for Restaurants earned a score of 3.40 out of 5 as a food delivery POS. It scored incredibly well for price and popularity among users, though it would have scored higher if its offline functions were stronger and delivery tools did not require fees. With the competitive price and free online ordering website, Square for Restaurants is a compelling option for small restaurants, like cafes, that want to add in-house delivery operations. The price, combined with Square's centralized third-party delivery dashboard and newly added KDS, also makes Square—like Lightspeed Restaurant—an excellent choice for ghost kitchens.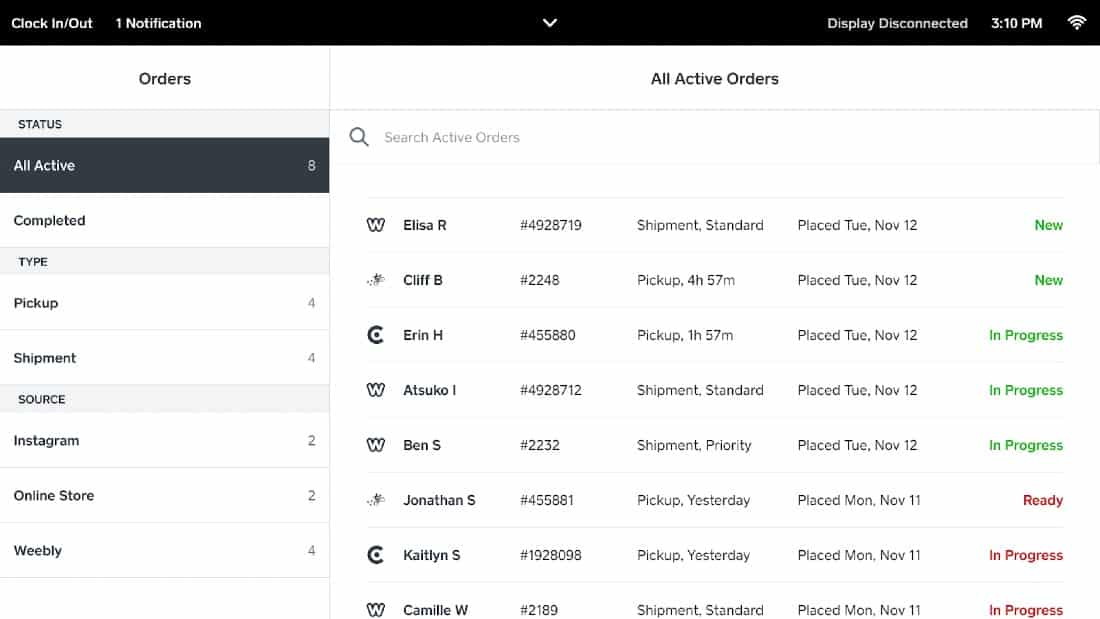 ---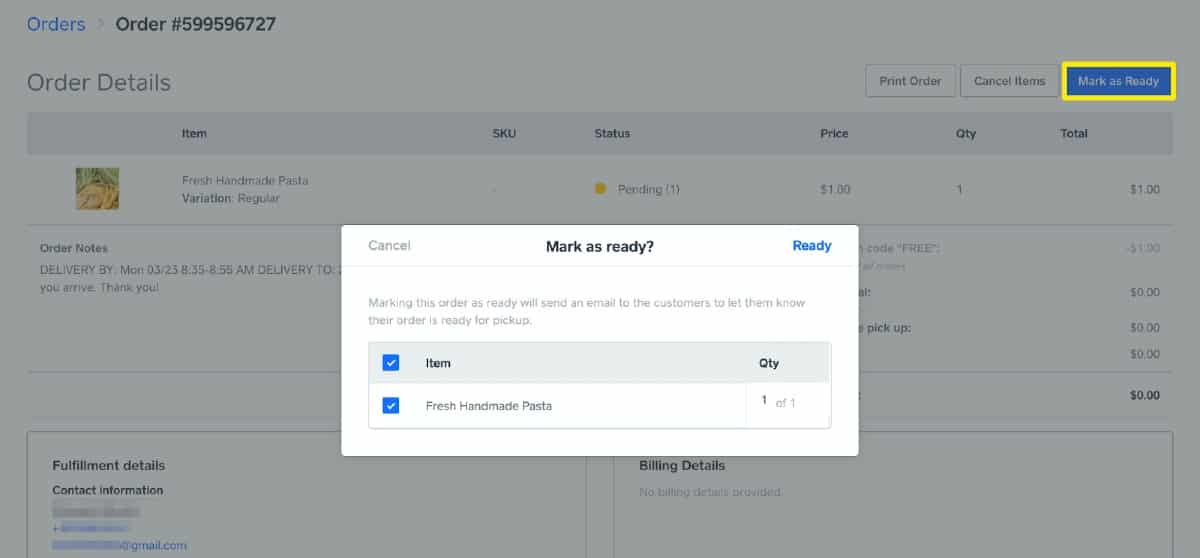 ---
Square for Restaurants Standout Features
Square for Restaurants' free POS includes integration with Square Online and a central dashboard for delivery management. While the processing fees aren't as low as some competitors, this POS is an excellent fit for micro-operations that want to accept credit, debit, and gift card payments or more efficiently manage third-party delivery apps.
Square for Restaurants's standout features include:
Choose your own adventure delivery: Square allows you to rely entirely on third-party delivery platforms for ordering and delivery, on-demand third-party couriers, or delivery via an in-house team. Unlike others on this list, Square charges a fee of 50 cents for each delivery processed by your in-house team. So if you do a lot of in-house delivery, you might be better served by a Toast or Revel.
Online Store: Square supports online ordering via its Square Online tool, and every Square for Restaurants account comes with free Square Online integration. Your online store quickly imports your restaurant menu, and you can choose to offer orders for in-person or curbside pickup or delivery.
BYOD ordering: Like Toast, Square for Restaurants supports contactless ordering via scannable QR codes. This enables customers to scan a QR code then place orders through their smartphone. Orders are sent directly to your POS order stream and print in your kitchen. Customers can pay via the QR code with Apple Pay, Google Pay, or Square Pay, or your staff can drop a check and process payment in the POS.
No long-term contract: Square for Restaurants allows small restaurants to pay for the POS with month-to-month memberships. A seasonal seafood shack, for example, can use the POS for the summer months they are in business, then close their account without penalties when they shut in the winter.
Bottom Line
The best combination of built-in and third-party delivery POS functions is Toast. Underlying Toast's robust options for online ordering, contactless ordering, delivery integrations, and driver management is an incredibly intuitive all-in-one POS. It is also consistently one of our top POS picks for restaurants of all styles. With subscription tiers at all price points—including free—Toast is a great delivery POS for any size restaurant. To see if it is a fit for you, visit Toast for a demo.