A delivery POS is a point-of-sale (POS) system that includes tools for receiving and processing delivery orders. Depending on your restaurant style, your delivery POS might include maps-based driver dispatch, route deliveries to third-party drivers on demand, or organize orders received from third-party platforms. Our restaurant expert evaluated dozens of systems to find the best POS system for a delivery restaurant.
Based on our evaluation, the best delivery POS systems are:
Delivery POS Compared
Minimum Monthly Fee

Contract Length

Payment Processing

Driver Management

Full Review

$0

2 years

From 2.49% plus 15 cents

Good

Custom quote

1 year

From 1.99% plus 25 cents

Only supports third-party drivers

 N/A

$69

1 year

Varies by processor

Basic

$99

3 years

Varies by processor

Best in class

$0

Month to month

From 2.6% plus 10 cents

Good
How We Evaluated Delivery POS
Our restaurant and POS experts considered more than a dozen popular restaurant POS systems and evaluated their delivery-specific features like driver management, delivery channel options, and online ordering tools. We also considered price, ease of use, general POS functionality, and user reviews.
Click through the table below for an overview of our criteria for delivery POS systems:
20% of Overall Score
Delivery adds to a restaurant's costs, so we looked closely at price and value for money. In particular, we rewarded POS systems that offer free software or free trials and gave high marks to POS systems that offer a software subscription below $75 per month.
20% of Overall Score
A POS for food delivery needs to be a high-functioning POS first. Since delivery operations rely on repeat customers, we paid particular attention to customer relationship management and loyalty functions, robust reporting, and tip management.
15% of Overall Score
We weighed how easy each system is to use in a busy service environment and the ease of the customer interface when ordering online or via an app. We considered cloud-based vs non-cloud-based services. We also noted how easy it is to contact customer support and access training resources.
20% of Overall Score
Finally, we relied on our retail and restaurant experts' real-world experience working with POS systems and restaurant delivery operations. Since users offer valuable insights, we also considered the popularity of each system among delivery restaurants and user reviews.
*Percentages of overall score
Toast: Best Overall Delivery POS for Restaurants

Pros
Robust driver management with GPS integration
Streamlined third-party platform integrations
Real-time order tracking for customers
Free pay-as-you-go starter POS
Cons
Locked into Toast Payments
Online ordering and delivery tools cost extra
2-year contract
What We Like
Toast is an incredibly popular restaurant POS that operates on industry-grade proprietary tablets. With Toast, your delivery options are endless. This system includes GPS-enabled driver management tools for restaurants wanting to manage a team of delivery drivers. It also has terrific integrations for restaurants that want to receive third-party orders directly in their POS order stream but prefer to leave the delivery to third-party drivers. Alternatively, you can reduce your third-party order commissions by referring your in-house delivery orders to third-party drivers for a flat per-delivery fee.
Toast also does not increase delivery fees during peak business hours, offering a fair and even fee system that customers must pay for. Toast also offers in-depth reporting and analysis on your online ordering customers. All of these features make it best in class for a food delivery POS system.
Monthly software fees:
Quick-Start Bundle: $0 (Pay-as-you-go)
Core: $69
Growth: $165
Build Your Own: Custom-quoted
One-time Installation fees: $0 for self-installation; $250 for guided installation
Processing fees:
Standard – 2.49% + 15 cents per in-person transaction
Pay-as-You-Go – 2.99% + 15 cents per in-person transaction
Pay-as-You-Go with Marketing tools – 3.39% + 15 cents per in-person transaction
---
Free Starter POS
Toast offers a free Starter POS. Users can also opt for a pay-as-you-go option for hardware for up to two terminals. So, small restaurants can get started with Toast virtually for free. Online ordering and delivery tools are not free, of course. You'll need to get a custom quote from Toast when you add these tools.
Online ordering customization
Toast users can choose to integrate directly with Grubhub or other third-party platforms via the go-between apps Chowly and ItsaCheckmate. You can keep these integrations live while adding Toast Online Ordering to receive orders through your own website.
Order and pay via QR code
Bring-your-own-device (BYOD) tools are a new frontier for restaurants, and Toast was one of the first POS brands to roll out a built-in BYOD tool in 2020. Its Order and Pay module allows customers to scan a QR code with their smartphone camera to place their orders and pay via their phones. Contactless operations don't get much easier than that.
Kitchen display system (KDS) sync
Online orders print directly in your kitchen or are routed to KDS screens. As orders are marked completed by your kitchen team, short message service (SMS) texts alert customers that their orders are ready. Toast's KDS are highly intuitive and are efficiently created for kitchen staff to read during a busy service.
Online pricing options
Toast is very diligent in understanding that managing costs in a restaurant is key, especially in the delivery space. Toast allows you to have minimum price order guardrails so that you only receive orders that make financial sense. This is huge as you can then ensure a bottom line of revenue coming in on each expected delivery order.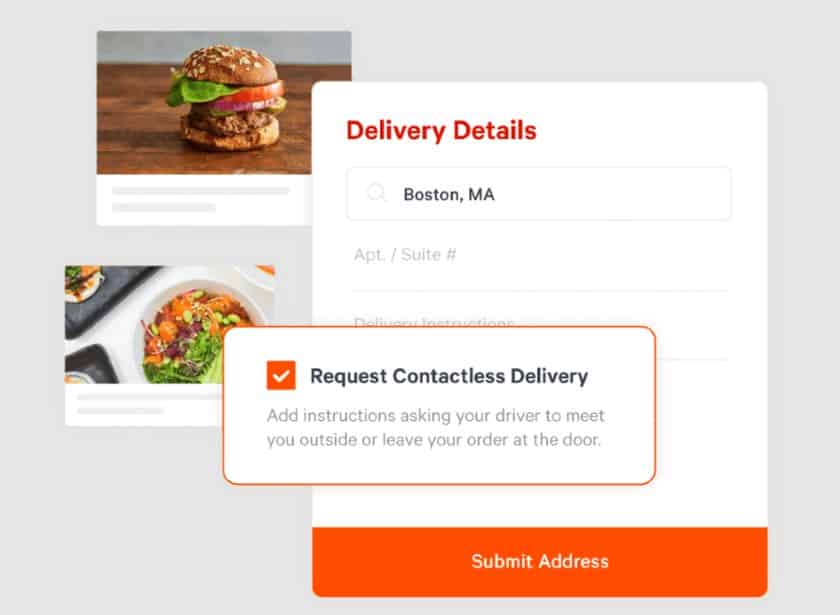 ---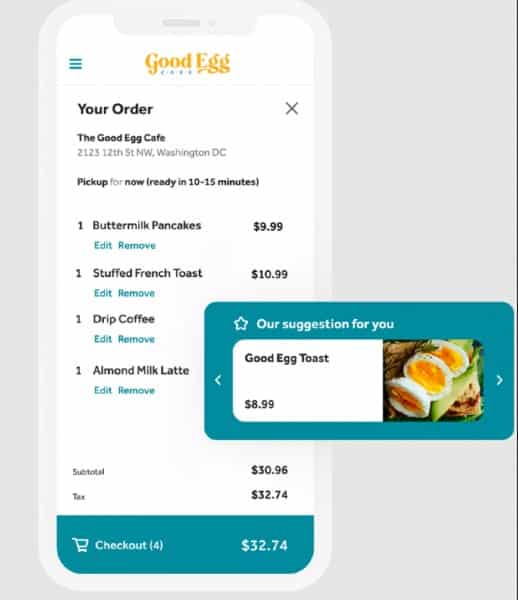 ---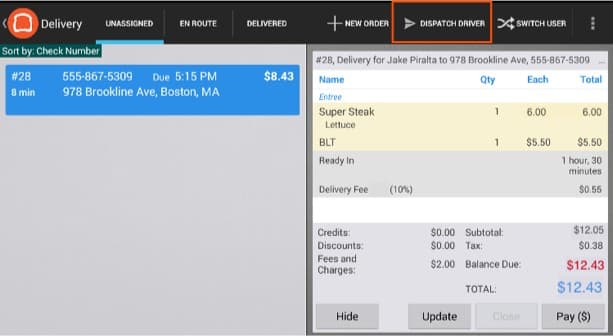 ---
---
Toast scored the highest overall on our delivery POS scale, earning a solid 4.13 out of 5. This system performed best in ease of use and among our experts. The free Starter Kit POS also earned high marks. The delivery-specific features were a standout but couldn't be awarded full points because they come at an additional cost. Online ordering is offered at no extra cost in the Growth plan—while this is one of the higher-priced options on this list, we feel it is worth it.
---
SpotOn: Best for Remote Payments

Pros
Mobile card readers can process off-site payments
Dynamic, white-labeled online ordering site
Built-in QR code ordering
Guest data is used to tie into marketing tools
Cons
Locked into SpotOn payment processing
Operates on proprietary tablets
No built-in driver dispatch tools
What We Like
SpotOn is a rapidly growing POS system that gets a lot of love from users. User reviews are overwhelmingly positive across the board, receiving the highest on this list. This system includes the most robust tools for mobile payment processing. With an integrated smartphone app, your delivery team can process credit card payments off-site. This converts online payments to in-person payments, which have a much lower risk of chargebacks. So, if you are concerned about credit card fraud, SpotOn is the best delivery POS for you.
It integrates directly with DoorDash to help manage all of your online orders using a trusted and highly productive third-party site. SpotOn optimizes your business profile on Google for ease of ordering and overall customer visibility. SpotOn also offers a flat-rate fee that allows you to then add the extra cost of delivery on all of your online orders.
Monthly software fee: Custom quote
One-time installation fees: Custom quote
Processing fees: 1.99% plus 25 cents
---
Dynamic, white-labeled online ordering site
You can have the SpotOn team build a fully integrated online ordering site as part of your POS setup. SpotOn also focuses on an efficient user interface with its website, offering upsells and minimum-click checkouts.
SpotOn Delivery
Like Toast, SpotOn integrates directly with DoorDash Drive to route your in-house deliveries to third-party drivers for a flat-rate, per-delivery fee. With SpotOn, you can get DoorDash drivers for $4 per delivery.
Order with Google integration
You can place an online ordering link directly in your Google business listing. Orders placed via Google then appear directly in your POS order stream, and payments are processed in SpotOn, along with all your other credit card payments. It also partially integrates with the built-in order pacing, so your kitchen won't get overwhelmed.
Virtual terminal
You can run payments on SpotOn on a smartphone with an attached card reader when away from your restaurant. This is excellent for off-site events or for processing in-person payments for deliveries. SpotOn is the only system on this list with such strong offsite payment tools.
Intuitive reporting
SpotOn uses the data from your online orders and guests to help you understand which items do well. They also use this data to build out highly targeted marketing campaigns if you choose to use them.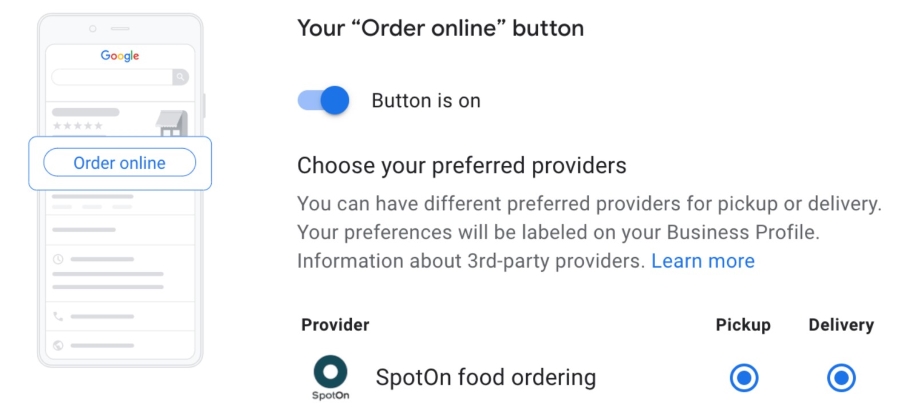 ---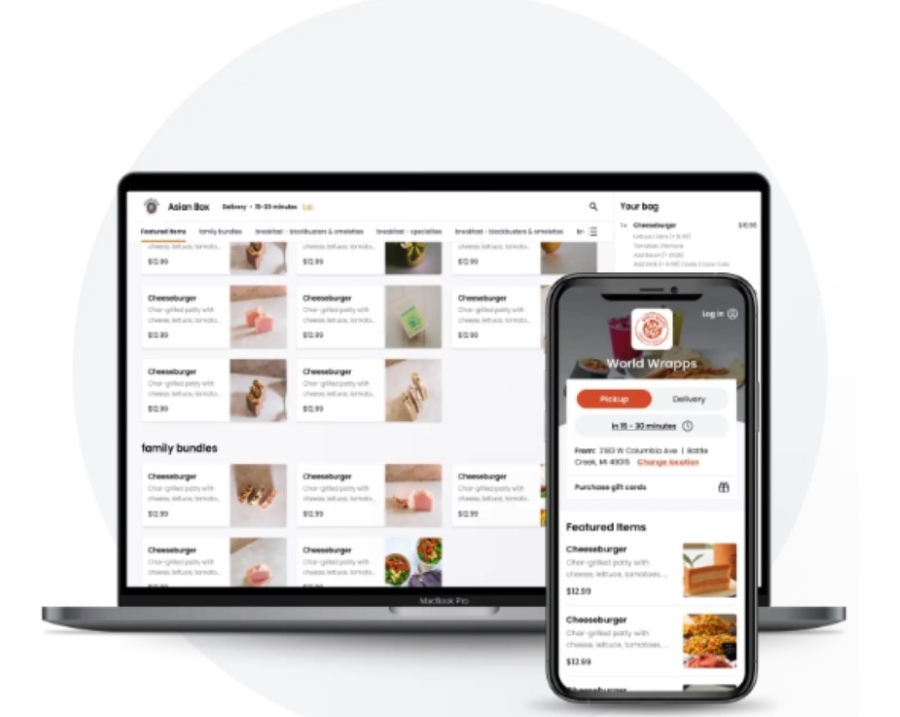 ---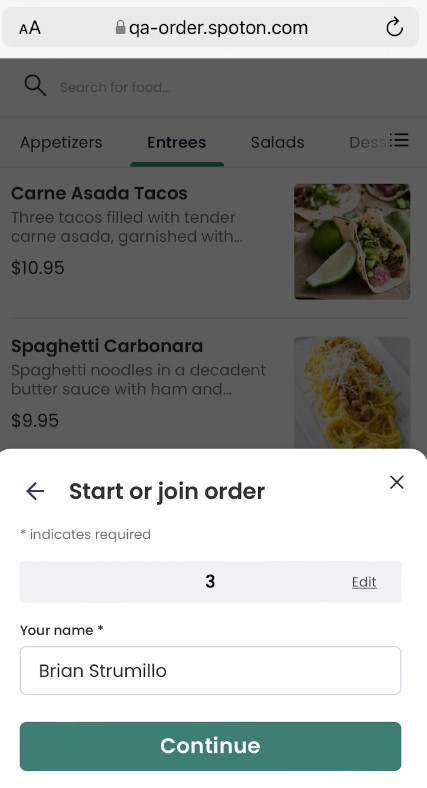 ---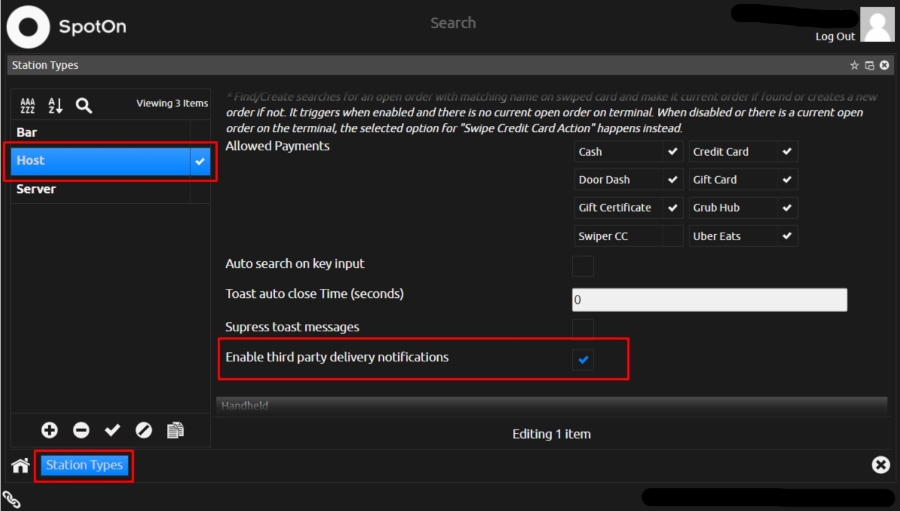 ---
---
SpotOn earned a 4.10 out of 5.00 on our delivery POS scoring criteria. It earned perfect 5s for general and niche POS functions. SpotOn only was held back because most pricing requires a custom quote, you're locked into SpotOn Payments, and it does not include an option for maps-based driver dispatch. If you don't mind using DoorDash third-party drivers or managing your own drivers manually, then SpotOn is a great option.
---
TouchBistro: Best for Low-volume, Self-managed Delivery

Pros
Operates on iPads
Detailed receipts support manual delivery systems
Easy to self-install
Pricing is transparent
Cons
Third-party delivery requires a middleman app like Deliverect or Ordermark
Reporting has limitations
Marketing costs extra
What We Like
TouchBistro is an iPad POS—like Revel and Square for Restaurants. The user interface reflects the Apple iOS style more than any other system on this list, which makes TouchBistro incredibly easy to learn. Anyone who has used an iPhone can learn TouchBistro in no time. This affordable system also includes tons of tools for self-managed delivery. You can set delivery areas and affiliated fees and print detailed customer contact information like name, address, and phone number on delivery receipts.
TouchBistro is perfect for low-volume delivery locations as it works at a very fair price point while giving you just the tools you need to execute on delivery for your customers. It has no live map updates for drivers, but this is really not needed for a basic delivery program.
Monthly software fee: $69
One-time installation fee: None
Processing fees: Varies by processor
---
TBDine
Like Toast, TouchBistro features member restaurants on a centralized online ordering site. This helps you reach new customers when they search for restaurants in their area.
Transparent pricing
TouchBistro's online ordering module costs $50 per month. This price is listed on the TouchBistro website; no guesswork and no custom quote necessary.
Fleet management
Restaurants that manage an in-house driver fleet can get delivery management tools as part of their online ordering package. The delivery tools are less robust than those of Toast or Revel, but they allow you to assign orders to drivers and track drivers' transactions. This may be all a small restaurant needs.
Third-party orders and delivery
You can route third-party delivery orders to your TouchBistro POS via Deliverect or Ordermark. Both of these go-between apps aggregate orders from popular third-party platforms, such as DoorDash, UberEATS, and Postmates, and send them directly to your POS.
Cloud-based menu
TouchBistro offers an easy-to-edit cloud-based menu that allows you to make changes whenever you want from any device. This is great for those who need efficient and easy control of their menu and what they may be selling.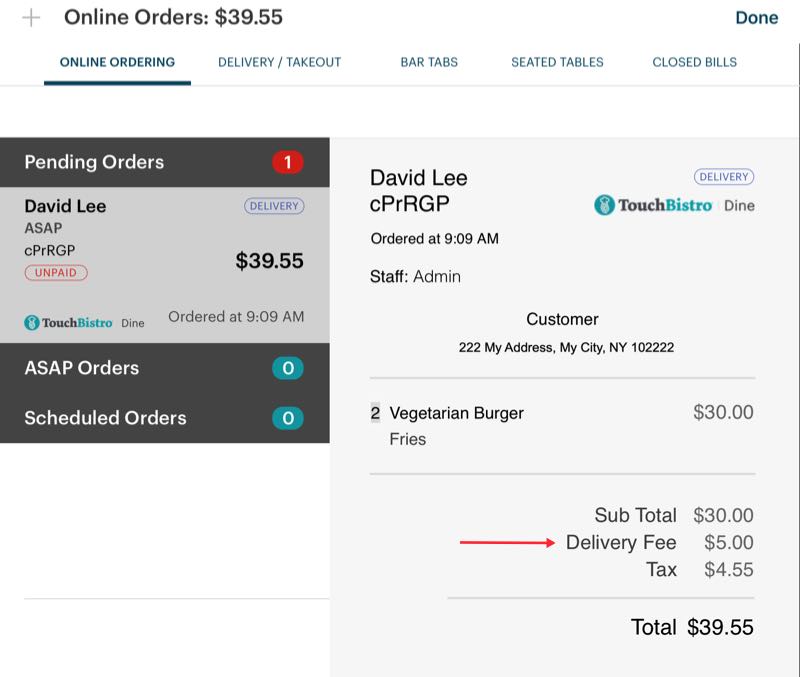 ---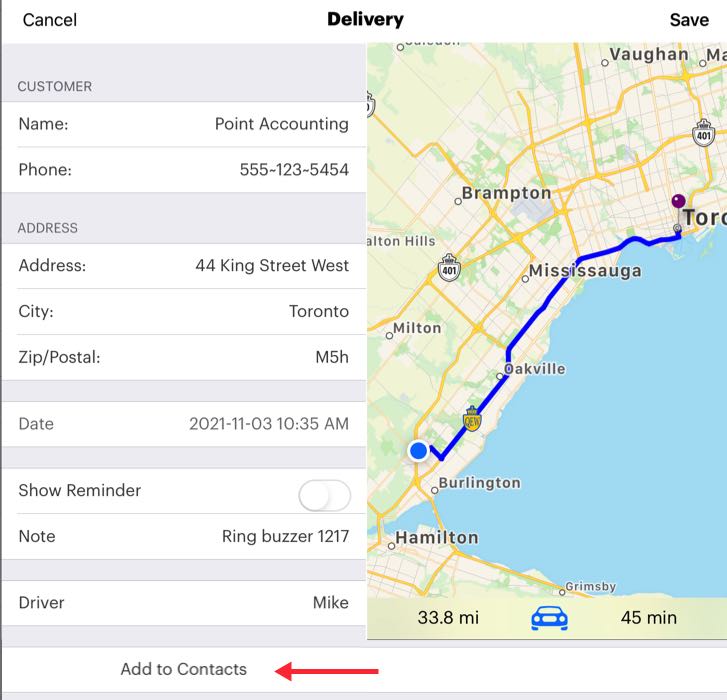 ---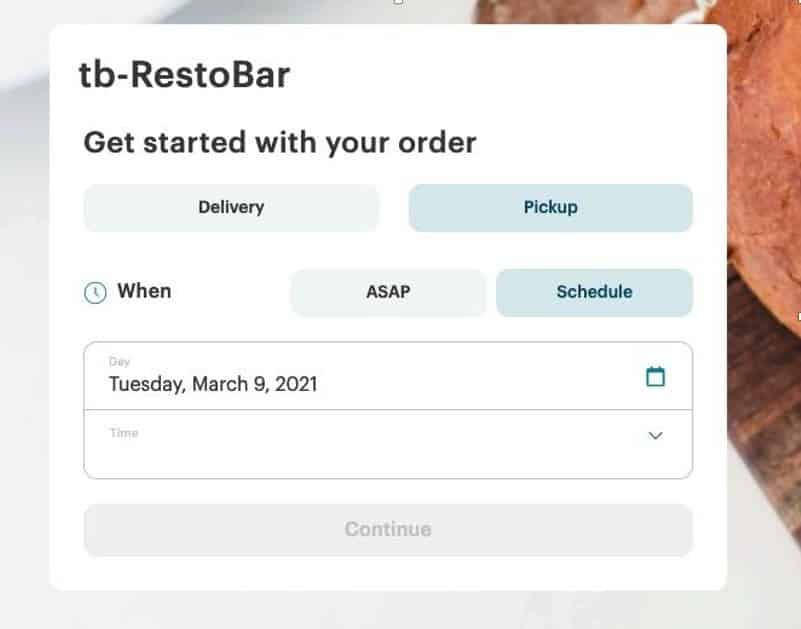 ---
---
TouchBistro earned a score of 4.02 out of 5 in our delivery POS scoring system. This user-friendly system scored well for delivery features and ease of use. It could have scored higher if it offered a free trial or included dispatch tools. It also has very limited reporting, and some features, such as customer marketing, cost extra.
---
Revel Systems: Best for Mulitilocation (5+) Restaurant Groups With In-House Driver Teams

Pros
Highly customizable
Complex combo ordering and modifier screens
Extensive add-on delivery features
Robust dispatch functions with GPS integration
Cons
Delivery tools cost extra
Pricey monthly fee
3-year contract
More machine than a small restaurant will use
What We Like
Revel Systems pairs the functionality of a locally installed POS with the convenience of a cloud POS. This robust iPad POS includes maps-based driver management and even an affiliated smartphone app for your drivers. These tools, combined with Revel's complex combo-ordering and menu modification screens, make it an excellent fit for high-volume restaurants managing an in-house driver team. However, the relatively higher upfront cost and minimum three-year contract make this system a more worthwhile investment for multi-location restaurant groups looking to switch POS providers.
Revel Systems offers a single, live-tracking delivery dashboard for you to see metrics and relevant delivery information. Also, your customers can be contacted throughout their delivery experience straight from your device. This makes both driver and customer management seamless when in use.
Monthly software fee: $99 per month per terminal
One-time installation fee: Onboarding starting at $674 (includes training and set-up)
Processing fees: Varies by processor
---
Delivery dispatch
Map-based driver dispatch tools find the most efficient routes for your delivery team and validate each address before your drivers leave the restaurant. You can email turn-by-turn directions to your drivers' smartphones and collect tons of data about your delivery operation to create high-level reports. Drivers access orders and delivery directions via an integrated smartphone app.
Delivery XT
Revel offers a full suite of online ordering tools at an extra custom-quoted fee. This suite includes a dedicated app for driver assignment, a driver's app to accept deliveries, and a manager's app to manage all of the factors in providing delivery. All of this information is then stored and shared with you in a dedicated platform.
Revel Driver XT
Revel partners with DoorDash to offer a white-labeled, immersive driver management software for anyone using Revel's Online Ordering XT tool. This service allows for real-time tracking of drivers and an in-depth analysis of your customer's order patterns.
Automated alerts
Like Toast, Revel's KDS syncs with your online ordering system. So customers are automatically alerted when your cooks mark an order complete. Revel also supports a customer-facing order status display screen that shows order names and order statuses in real time. This screen shows orders separated by type―dine-in, pickup, or delivery―and is excellent for restaurants that operate with both in-house online ordering and third-party delivery platforms.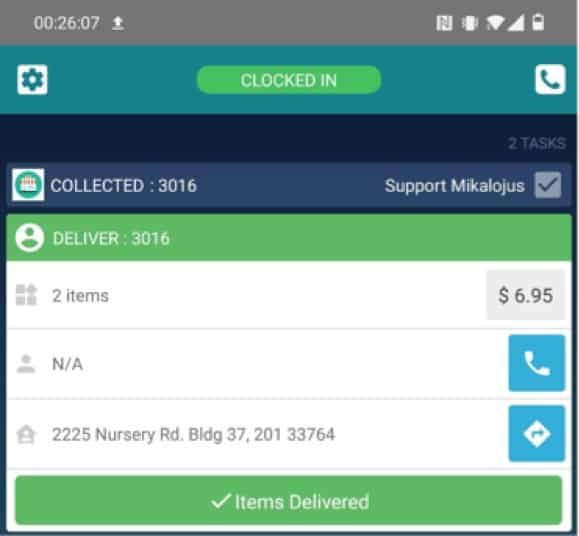 ---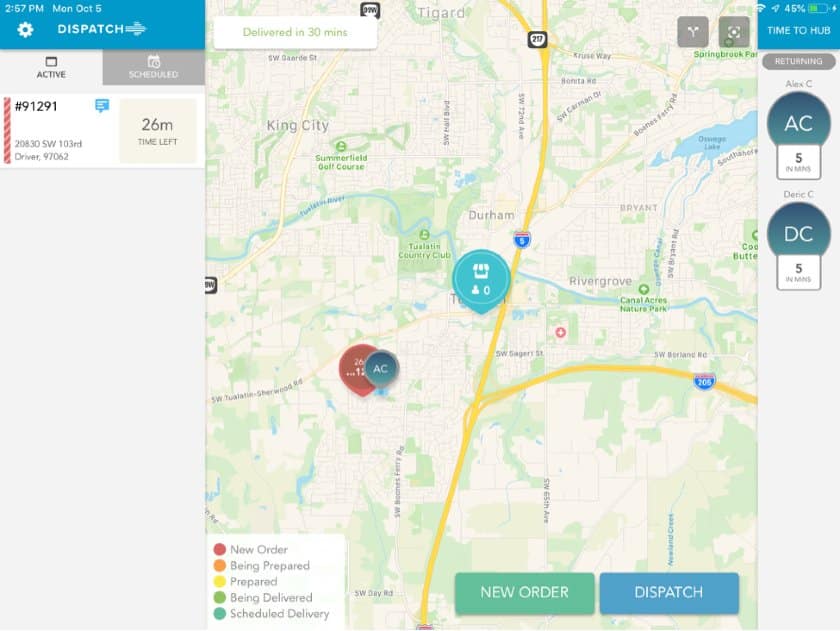 ---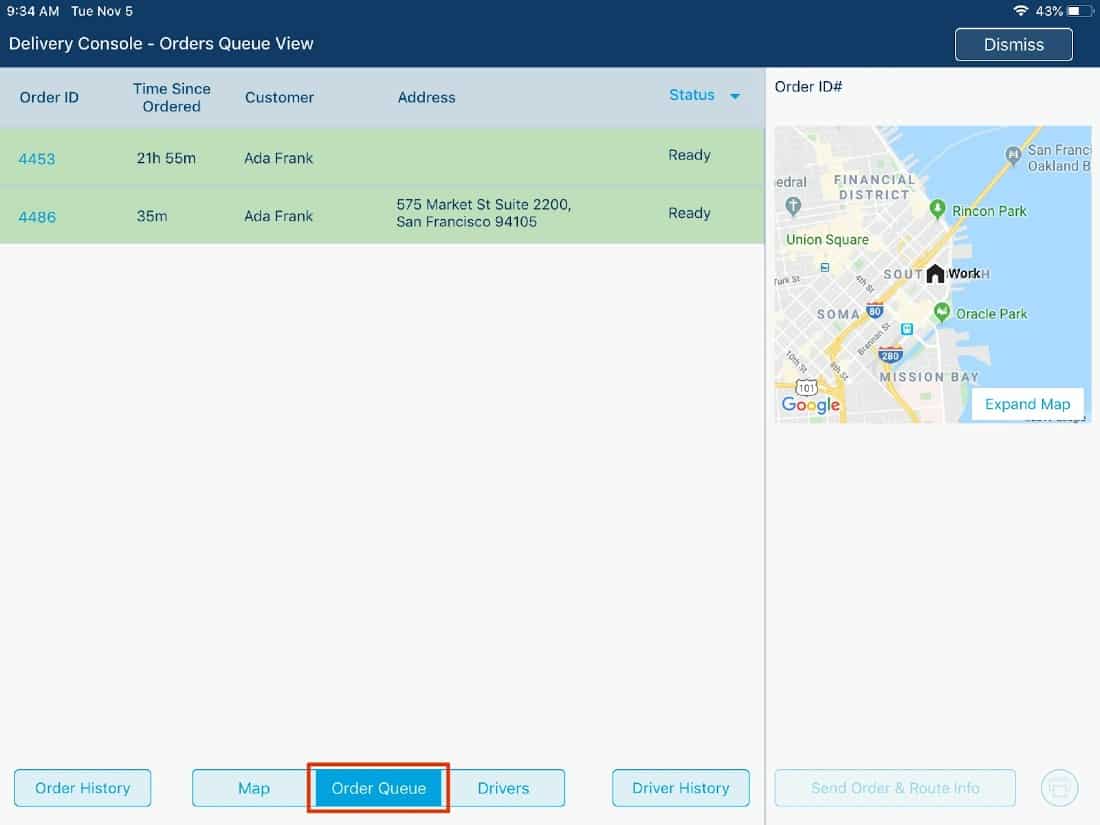 ---
---
In this ranking, Revel Systems earned a 3.80 out of 5. The system scored well for general POS functions, which is unsurprising since Revel is almost infinitely customizable. It also performed well for delivery-specific functions like built-in driver management. However, like Toast, it couldn't earn the highest possible score because the delivery tools come at an extra cost.
---
Square for Restaurants: Best Pay-as-You-Go Delivery Software

Pros
Baseline POS is free
Online ordering site is free
No long-term contracts
Can use hardware you can already have
Cons
Free POS only includes one set of user permissions
In-house deliveries have a per-delivery fee
Square is the only available payment processor
What We Like
Square for Restaurants is a top-ranking free to low-cost POS app with built-in payment processing that offers useful basic functionality for small restaurants. The baseline subscription—which Square handily calls "Free"—is, well, free. This tier includes an online store function that can enable online ordering. Our overall winner, Toast, also offers pay-as-you-go options, but we consider Square the best in this category because Toast limits the number of terminals available for pay-as-you-go users; Square allows unlimited terminals.
It includes in-house delivery management tools that you can use with a pay-per-delivery fee of 50 cents, and you can route deliveries to the third-party drivers, again for a flat per-delivery fee of $1.50. With no long-term contacts and a free baseline subscription, you'll only pay for what you use.
Monthly software fee
Free: $0
Restaurant Plus: $60
Premium: Custom quote
Processing fees
From 2.6% plus 10 cents
Custom rates available for over $250,000 in monthly processing
---
Build your delivery program your way
Square allows you to rely entirely on third-party delivery platforms, on-demand third-party couriers, or deliver via an in-house team. Unlike others on this list, Square charges a fee of 50 cents for each delivery processed by your in-house team. So, if you do a lot of in-house delivery, you might be better served by Toast or Revel to avoid this fee and gain more profit on your deliveries.
Free online store
Square supports online ordering via its Square Online tool, and every Square for Restaurants account comes with free Square Online integration. Your online store quickly imports your restaurant menu, and you can choose to offer orders for in-person or curbside pickup or delivery. You can also customize your web landing page to be made specifically for restaurant online ordering.
BYOD ordering
Like Toast, Square for Restaurants supports contactless ordering via scannable QR codes. This enables customers to scan a QR code, then place orders through their smartphone. Orders are sent directly to your POS order stream and printed in your kitchen. Customers can pay via the QR code with Apple Pay, Google Pay, or Square Pay, or your staff can drop a check and process payment in the POS.
No long-term contract
Square for Restaurants allows small restaurants to pay for the POS with month-to-month memberships. A seasonal seafood shack, for example, can use the POS for the summer months they are in business, then close their account without penalties when they shut in the winter.
Personalized customer ordering
Customers will experience recent orders, personal recommendations, and boosted orders when ordering through your site. This builds loyalty and allows you to offer new items to customers who enjoy coming back to your site again and again.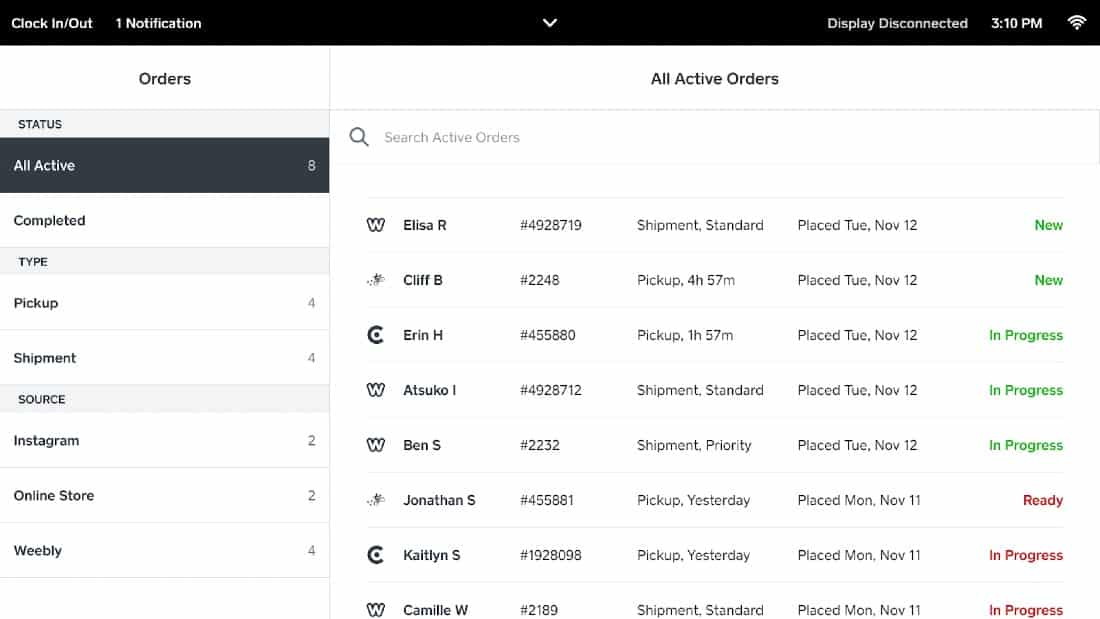 ---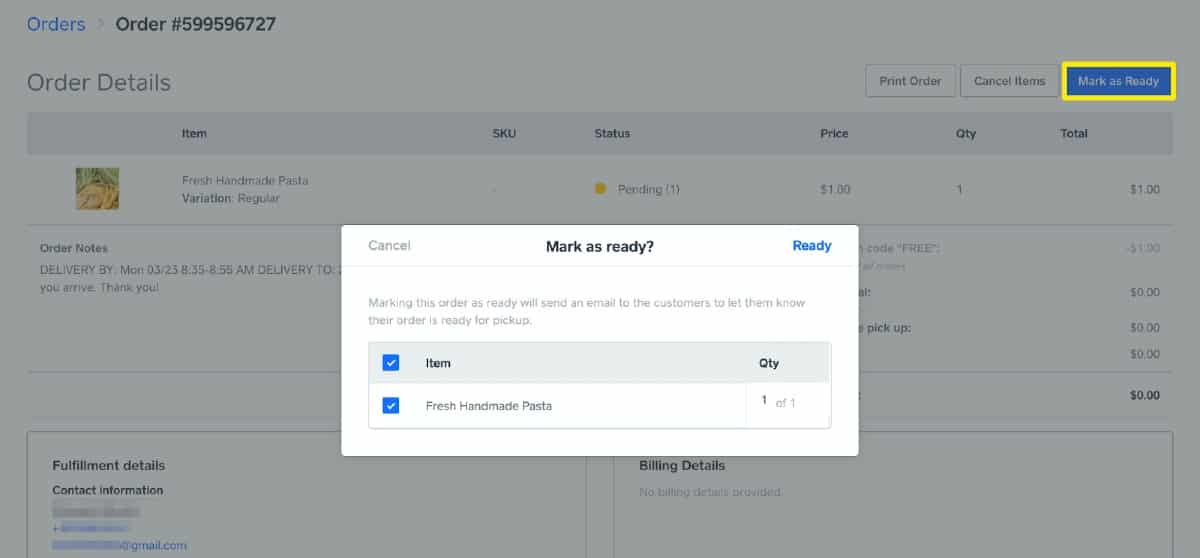 ---
---
Square for Restaurants earned a score of 3.62 out of 5 as a food delivery POS. It scored incredibly well for price and popularity among users, although it would have scored higher if its offline functions were stronger. The price, combined with Square's centralized third-party delivery dashboard and newly added KDS, also makes Square an excellent choice for ghost kitchens.
---
POS System With Delivery vs Third-party Integration
When you are managing a restaurant, you will no doubt, at some point, think of offering delivery of your products. You will have to decide between investing in a new POS system that offers delivery as a function or purchasing third-party software that can fit into your POS system and offer delivery as an added feature.
Your decision should come down to one question: How much do you depend on delivery to boost your bottom line? In the pandemic years of 2020 to 2022, many restaurants had to adopt delivery as a legitimate way to serve their customers food. In 2023, you need to decide whether or not the demand is still there for your restaurant.
If you are expecting a large demand for delivery, then a POS with delivery functionality is the better choice in the long run. A delivery POS increases your efficiency and includes tested tools backed by your POS provider's customer support. If you are only adding delivery at a small scale, then third-party software will suffice; it is more flexible, and you can change strategies more easily if your needs change. Check out our list for the best food delivery software to pick which is best for you.
What to Look for in a Delivery POS
1. Is Delivery Included or Extra?
One major point to look out for first in a POS system focused on delivery is if the delivery tools come with your base plan or cost extra. If you have a budget for your POS monthly fees, then understanding this will shape your decisions and the POS systems you can choose from. Doing your due diligence on what exactly you get when paying for a subscription POS plan is key.
2. Driver Management or Integrations
Arguably, one of the biggest factors in food delivery is the ability to connect to drivers that can deliver your food. If you do not have an in-house fleet, then connecting to third-party drivers is a must-have. The functions of a POS may sound great, but if you lack access to the labor delivering your food, then all of this work is done for naught.
3. Customer Ordering Experience
Delivery food can be tricky, as most restaurant food should be consumed as close to the time it was prepared as possible. The same can be said for ordering, as the only experience a guest will have is your website or app when they go to order their meal. Ensuring the ordering interface is smooth and easy to use is paramount in getting customers to order from you without getting frustrated. You also want your ordering site to reflect your business, so understanding how a POS will represent you is important.
4. In-depth Reporting
Understanding your sales data helps you react in your business and move in ways that better serve you and the customer. That being said, clear data and timely reporting are integral features for any POS system you choose for online delivery. This will help you understand customer behavior, the success of your delivery program, and the overall health of your business.
5. Payment Processing
For this point, just understanding how and at what rates your payment processor charges is sufficient. You should know whether or not you can shop around for processors for better rates or if the standard rate for the POS system you choose is the only option.
6. Delivery-to-Kitchen Accuracy
The last major feature I'd recommend understanding is how exactly orders will feed into your kitchen and KDS screens. If you choose software that is confusing and you subsequently prepare incorrect dishes, this can have a devastating impact on your customers and their willingness to order from you again. Know how the orders will be received and read user reviews on using the POS software during service before committing to a POS provider.
How to Choose a Delivery POS
Step 1: Understand Your Business Needs
The first step in choosing a delivery POS is recognizing your business volume and what exactly you need to make delivery successful. Project your expected volume of deliveries, create a budget for your system, and determine the required resources needed to execute your delivery strategy. Knowing what you can afford, what may be too much, and why you need certain tools is the first step in making this decision.
Step 2: Consider What Your Staff Needs
The next part of choosing a delivery POS system is understanding what your staff needs and what they will be able to work with. You do not want to bring in highly technical delivery software if you have no plan or intention of spending the time needed to train your staff to use it. Also, the volume of your deliveries will dictate how many staff members will be dedicated to delivery alone. You need to understand your staff; what is their comfort level with software and what will fit best with the culture of your team?
Step 3: Shop Around & Accept Demos
This process should be fun, and therefore you should let companies sell you their product. Do not be close-minded to just one system. Accept demos, learn how different systems work, compare pricing, recognize any deals, and just embrace the research process. Taking the time to truly be familiar with a POS before committing is highly important, especially when committing to a three-year contract like Revel's. Take your time and find the system truly made for you.
Step 4: Know Your Must-haves
Understanding what you must have in a POS delivery system is very important as it will help determine which is right for you. For example, if you want highly detailed delivery mapping, then do not waste your time on systems without it. Be confident in not only what you want but what you think will help you excel in your delivery process. That will help you find the best software for you.
Step 5: Commit To A System & Sign Up
Once you have done your due diligence, the last step is to commit to software and sign up. Then take that commitment a step further and become the resident, on-site expert about your POS so you can train your staff and create positive customer experiences. Utilize your POS so that you can grow the revenue you are hoping to attain with food delivery.
Delivery POS Frequently Asked Questions (FAQs)
A delivery POS is a POS system that includes delivery management tools. These might include maps-based driver dispatch, the ability to hail third-party drivers on demand, or the ability to organize orders from multiple third-party delivery platforms. Many delivery POS systems include all three options. These days, many delivery orders come from online sources―either your restaurant website or a third-party platform―so virtually every delivery POS also includes online ordering tools.
---
A POS helps with online ordering by providing a user-friendly interface for customers to place orders and a convenient way for you to accept digital payments. Most restaurant POS systems have online ordering built into the POS. Some, such as Square for Restaurants, include online ordering for free. Using the built-in online ordering tools sends online orders directly into your POS order stream. As such, you can save money by reducing the labor required to process phone orders.
---
Nowadays, most restaurants use a POS as opposed to an electronic cash register. POS systems allow restaurants to process the card and digital payments that customers prefer easily and provide detailed reports that help restaurants remain profitable. With the development of cloud POS systems, some systems, such as Toast and Square, even offer a free baseline POS. So, even the smallest restaurants can benefit from POS software.
---
DoorDash and other third-party delivery platforms don't offer a full-spectrum POS. If you need POS functions like employee timekeeping, inventory tracking, and reporting, you'll need an additional system. If you rely on third-party platforms for online ordering and delivery, you'll want a POS that integrates with your preferred platforms. DoorDash, for example, integrates with 15 popular restaurant POS systems, including Toast and Square for Restaurants.
---
Bottom Line
The best combination of built-in and third-party delivery POS functions is Toast. Underlying Toast's robust options for online ordering, contactless ordering, delivery integrations, and driver management is an incredibly intuitive all-in-one POS. It is also consistently one of our top POS picks for restaurants of all styles. With subscription tiers at all price points—including free—Toast is a great delivery POS for any size restaurant. To see if it is a fit for you, visit Toast to get started today.