eVoice Review: Is It Right for Your Business?
This article is part of a larger series on VoIP.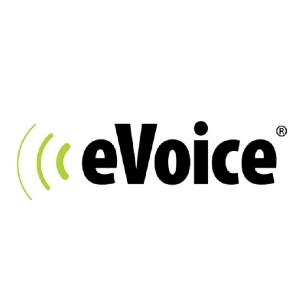 eVoice Overview
PROS

CONS

14-day free trial
Call recording, business texting, outbound faxing, and web conferencing are premium add-on features
Offers every type of virtual number: local, toll-free, vanity, and international
Lacks business tool integrations
Ability to add a live receptionist to your package
Activation period for vanity numbers takes over 72 hours
Cheap per-user price for business calling
Mobile app comes with complete business phone features
What We Recommend eVoice For
eVoice is a great choice for small businesses looking for an easy-to-use and affordable business phone solution. With its virtual answering service and live receptionist plans, eVoice gives businesses an opportunity to establish a professional image. It's also a suitable solution for growing enterprises wanting access to a variety of virtual phone numbers to fit their needs.
When to Use eVoice
Companies planning to expand globally: Catering to potential foreign clients would require businesses to have a local presence, and setting up offices at international locations can get expensive. eVoice is one of our best virtual phone number providers offering numbers in international territories. It also offers an international forwarding feature, giving you the ability to send calls to your businesses in foreign markets.
Teams that need multiple numbers to track advertising campaigns: eVoice offers bundled plans with up to 33 toll-free or local numbers, and various toll-free prefixes are available to choose from. This benefits businesses wanting to assign specific tracking numbers for each of their marketing materials. eVoice also offers a vanity number, which helps in getting a higher recall rate among customers. This puts eVoice in our list of the best vanity phone number providers.
Solopreneurs needing a professional phone line with conference calling features: eVoice is among our list of the best 800.com alternatives as it is one of the few virtual phone providers with web conferencing features. Additionally, it provides the convenience of having a business line accessible from your personal phone through its mobile app, which is ideal for solopreneurs or freelancers.
Businesses needing a low-cost phone provider with a multi-level auto-attendant: From professional greetings, unlimited extensions, to dial-by-name directory, eVoice offers powerful tools included in its multi-level auto-attendant. All these features are available in a single all-inclusive package, helping you save on costs. These features give your customers the convenience of connecting with the right agent or department. With this, eVoice is included in our list of the best Talkroute alternatives.
Businesses looking for a virtual phone provider with a live answering service: Instead of paying for a third-party live receptionist service, eVoice offers an all-inclusive package for its live receptionist plans. You get up to 250 live receptionist minutes, including virtual numbers and standard business calling features.
When eVoice Might Not Be a Good Fit
Businesses wanting to quickly set up a virtual phone number: While eVoice lets users pick their desired toll-free vanity number, the activation process takes up to 72 hours. If you want to set your business number up quickly, choose FreedomVoice. It allows you to start using your vanity number within 24 hours after signing up. Learn more about its services in our FreedomVoice review.
Small businesses looking for a full-featured phone provider: At eVoice, call recording, business texting, and web conferencing come at extra costs. If you want access to all these features without additional monthly fees, consider Grasshopper. If you're curious to find more about these providers, check out our Grasshopper vs eVoice comparison. For those wanting a business phone system with video conferencing features, try RingCentral.
Companies needing support for bulk text messaging campaigns: Unlike most providers, eVoice doesn't offer unlimited text messaging on its plans. If you need SMS capability for marketing purposes, check out 800.com. All 800.com plans include credits for bulk text messaging campaigns.
eVoice Pricing
eVoice has three plans that start at $14 per user, per month. All plans include standard features, such as a virtual answering service, custom greetings, and call controls like forwarding, transfer, blocking, and queueing. A 30-day money-back guarantee is given to first-time subscribers upon signing up.
Unlike most virtual number providers, this solution requires a minimum number of users to access each pricing tier. Also, the maximum number of minutes allotted to all plans remains the same. What sets each plan apart is the number of toll-free or local numbers offered per package.
Users who go over their monthly minutes are charged at 3.9¢ per minute. They also have the option to upgrade their plan through the online account manager.
eVoice Plans

Elite

Elite 6

Elite 10

Elite 11

Best for

Solopreneurs needing a professional business line

Teams with a growing customer base

Small businesses with multiple phone lines

Companies needing more flexibility in call routing options

Monthly Pricing

($/User/Month)

$14 per user, per month

$13 per user, per month

$10 per user, per month

$13.50 per user, per month

Annual Pricing

($/User/Month)

$12 per user, per month

$10.83 per user, per month

$8.33 per user, per month

$11.25 per user, per month

Minimum number of users

1 users

6 users

10 users

11 users

Number of toll-free and local numbers

3 phone numbers

18 phone numbers

30 phone numbers

33 phone numbers

Unlimited extensions

✓

✓

✓

✓

Web portal & mobile app

✓

✓

✓

✓
eVoice has several optional features, such as web conferencing, business texting, outbound fax, call recording, and voicemail-to-text. Contact customer support to subscribe to these features and find out the monthly charge for each service. Outbound faxing requires an additional fee of $1.95 per user, per month and uses your eVoice-included minutes (1 page=about 1 minute)
Account admins can add an international number to their account for $29.95 per month, per number. Per-minute calling rates apply to international calling. Find the equivalent rate per country or code on the eVoice international calling rates page.
eVoice Features
eVoice provides a business phone service dedicated to small businesses. Users get to pick a phone number for their business needs and access a host of features for their inbound call management. It offers a cloud-based interface that lets users manage their accounts and create their call routing schedules. The platform also comes with a mobile app that gives you a second line to manage business calls from your personal mobile phone.
General Features
All eVoice plans come with various business calling features to manage incoming call volume. This enables your business to continuously enhance call flow, while maintaining a positive call experience for customers. Here are some basic features:
Auto-attendant
After-hours greeting
Call blocking
Call forwarding
Call queueing
Call routing
Call transfer
Call screening
Caller ID
Hold music
International forwarding
Professional greetings
eVoice's call management system facilitates various call routing functions such as providing directory assistance, greeting callers, and creating answering rules, to properly forward important calls. For businesses wanting to keep their customers engaged, eVoice lets you leave an away greeting for callers, letting them know when they will expect a call back from you.
Virtual Phone Numbers
eVoice stands out as a virtual number provider because it offers all options for virtual numbers, such as local, toll-free, vanity, and international numbers. One of its strongest advantages is that it lets you choose multiple phone numbers by creating a custom plan that fits your budget and business needs.
eVoice provides up to 33 local or toll-free numbers, depending on your chosen plan. It has a wide selection of toll-free numbers, including 800 numbers. Users also have the option to port their existing number over to a new eVoice toll-free service. To get a vanity phone number, submit a web form or call its sales team to get a quote.
---
Virtual Voicemail
Keep your business reachable to customers with eVoice virtual voicemail. It features advanced voicemail features that let you convert voicemail to audio files, transcribe voicemail to text, and manage voicemail messages on any device.
eVoice automatically emails the audio recording of a voicemail, so you get notified whenever you get a new message. If you're unavailable to respond, eVoice lets you forward the email to the right person on your team. For those who don't have time to listen to their voicemail, you have the option to send the voicemail transcription in your email or via text message.
---
Live Receptionist
eVoice offers a separate plan for users wanting to combine its virtual phone system with its live answering service. Live receptionist plans include a team of four to six US-based operators who will handle your calls from 8 a.m. to 8 p.m. Eastern time. They are trained to schedule appointments, respond to customer questions, and handle admin tasks.
By signing up for their services, eVoice takes about 48 hours to train its receptionists based on your business' area of focus. Users get up to 250 live receptionist minutes, but you may request a custom plan for additional minutes.
---
Mobile App
eVoice mobile app lets you enjoy all the functionalities of a robust virtual phone system on your smartphone. The mobile app is free to download for iOS and Android users. After setting up your eVoice service, download the app to use your eVoice number as your second line for business communications. From there, you'll be able to take calls, check voicemail, and access calling features such as voicemail transcriptions, auto-attendant, and advanced call routing.
---
Advanced Reports
Gain a better understanding of your business calls by using eVoice's advanced reporting feature. It provides a unified view of your call logs, including information about the origin, date, time, duration, and frequency of calls. It also helps customize reports by displaying your preferred call tracking metrics and converting them into detailed charts and tables.
For collaboration needs, eVoice allows users to easily share reports with their team. Export the call report to Excel and schedule the email delivery of your automated reports, whether on a daily, weekly, or monthly basis.
---
eVoice Alternatives
eVoice offers a low-cost solution for businesses needing virtual phone numbers. However, setting up phone numbers takes time, and premium features like web conferencing and business texting require a monthly fee. Here are alternatives to consider that may be a better fit for your business:
| | | |
| --- | --- | --- |
| Best for: Small businesses needing a low-cost virtual phone provider with unlimited minutes and text messaging | Best for: Teams that need a business phone system with video conferencing features | Best for: US-based companies looking for unified communications platform with unlimited international calling |
| Starting price: $26 per month, billed annually | Starting price: $19.99 per user, per month, billed annually | Starting price: $24 per user, per month |
| or | or | or |
Not what you're looking for? Discover more options through the Best Small Business VoIP Services guide.
eVoice Reviews: What Users Think
We found that many eVoice users use the platform to get a business phone number and meet the phone needs of their small businesses. Some of them appreciate its routing features and the ability to upload their own professional greeting. A few also left positive comments about how its customer support team efficiently handles their inquiries. They like that they are able to manage calls and voicemails through the mobile app.
At the time of publication, eVoice earned the following scores on popular review sites:
While many customers like the simplicity of eVoice's user interface, many think it's outdated when compared to other competitors like Grasshopper. A few users also encountered issues setting up the platform because of its lack of documentation. Other negative comments focus on billing issues and number porting.
Bottom Line
eVoice is a good choice for small businesses looking for a budget-friendly, feature-rich virtual phone solution. Besides its live receptionist services, it offers various types of business phone numbers and essential tools for inbound call management. Additionally, eVoice has premium features that allow users to extend its functionalities without switching between providers. Subscribe to its annual plan today and get two months of free access to all its standard features.