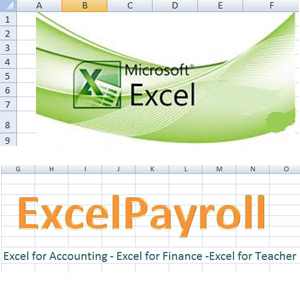 ExcelPayroll is a free payroll solution built to help small businesses and nonprofits. It utilizes Microsoft Excel to perform payroll processes, such as calculating amounts for tax withholdings, deductions, and payments.
What We Recommend ExcelPayroll for
Using ExcelPayroll, you can easily calculate payroll for operations such as small businesses and small nonprofits. Once payroll is calculated, you can print checks, share data with accounting software, and create simple reports. And because the data produced is Excel-based, it's shareable with popular accounting solutions.
ExcelPayroll is best for:
Nonprofits, small companies, and educators looking for free payroll processing software: This software is free and ranked in our best free payroll software guide. It's not intended for large organizations, and we don't recommend it for companies with more than 10 employees.
Microbusinesses using Excel for payroll calculations: Because ExcelPayroll is based on the Microsoft Excel program, the transition would be easy if you're familiar with the software. The tools are just more structured and have a higher level of automation than you would get using manual spreadsheets.
When ExcelPayroll Would Not Be a Good Fit
If you need help deciding which payroll solution is best, check out our guide on how to choose the right payroll provider.
ExcelPayroll Overview
PROS

CONS

Software is free to use
No advanced HR tools
Allows you to print checks in-house
No online or mobile apps
Prints W-2 and other tax forms
Limited support
Generates accounting entries
No direct deposit or pay card payments
ExcelPayroll Pricing and Features
ExcelPayroll provides one version that is free to download. There are no updates, monthly, and annual fees. It does not charge per user or employee, either. No add-on features are available.
The software will not support more than 50 employees or employees with high incomes of over $458,300 per year. It will also not support companies who pay employees less than $7.50 per hour. Limitations may be able to be adjusted for nonprofit organizations.
Features
PTO and Time-off Management
Payroll and Tax Processing
Software Integrations
Customer Service
ExcelPayroll is a simple payment processing tool. It helps small organizations calculate payroll for a small group of employees. It is free, making it a good option for those trying to avoid buying expensive software or committing to a monthly agreement. While it does not process direct payments, it saves organizations money by providing simple check printing for free.
Payroll Processing
The primary role of this software is to assist with payment processing. It can configure payroll for hourly and salary employees, and also:
Process payroll in a variety of intervals, including weekly, biweekly, monthly, quarterly, or annually
Manage common deductions such as taxes, 401(k)s, HSAs, garnishments, Social Security, and Medicare
Track accrued vacation time
Unlike other payment processing solutions, it cannot make the payments. It can print checks via accounting software. However, it cannot process direct deposits or pay card payments. Additionally, tax tables are not automatically updated. Users have to visit the IRS website to obtain the latest tax table information and update the data themselves.
Payroll Taxes and Forms
Unlike some payroll software, with ExcelPayroll, you have to update the tax tables every year yourself. The good news is that it provides you with an updated table at the end of each year to upload and update automatically. The software can also generate and print the most common payroll tax forms, including W-2s, W-3s, 940s, and 941s.
Timecard Tool
ExcelPayroll can process data from timecard entries and time sheets to help create accurate payroll runs. Data from hours-worked entries can help create job costing reports which take into account job numbers, hours worked, and equipment used. It doesn't connect to a time clock, so time worked has to be entered manually. It can also process overtime hours and vacation and sick time.
Customer Support
Since this is a free product, support is limited. On the website, a helpful user guide is published with screenshots and examples. If you have questions or want to submit feedback, you can email ExcelPayroll via a generic Gmail address.
ExcelPayroll Ease of Use
Similar to using an Excel spreadsheet
No additional downloads required
Full instructions included
Allows you to print paper checks in-house
Calculates deductions and withholdings
While ExcelPayroll lacks advanced HR tools, it is easy to use. If you know how to use Excel or Google Sheets, you should be able to set up a business and calculate payroll with few challenges. However, the software does not automatically update the tax tables. Users have to update the tax tables to the current year themselves.
ExcelPayroll integrates with any product Excel is compatible with such as other Office 365 software. It can also be used to share information with popular accounting software such as QuickBooks.
Top ExcelPayroll Alternatives
Best for: Mom-and-pop businesses that are growing (still <100 employees)

Best for: Businesses using QuickBooks for accounting

Best for: Companies with <25 employees needing free software

Monthly fees from: $19 + $6 per employee

Monthly fees from: $45 + $4 per person

Monthly fees from: Free;

25 for direct deposit and

$25 for payroll tax filing
If you need HR tools in addition to payroll, check out our top HR software picks.
What Users Think About ExcelPayroll
ExcelPayroll does not have user reviews published online. However, since this payroll software is free, you can download it and test it for yourself, provided that you have Microsoft Excel software installed on your computer.
Bottom Line
Small organizations that simply need help configuring payroll may benefit from using this free payroll processing tool. Growing businesses or nonprofits may quickly outgrow this software and soon be looking for a full HR solution. ExcelPayroll was not created to support large businesses that require complex HR tools such as hiring assistance, payment processing, and performance management but rather those with experience in Microsoft Excel that need a simple upgrade from a pen-and-paper payroll system.