A sales funnel is a visual representation of a customer's journey, from the awareness stage to a purchase and continued loyalty. The top of the sales funnel represents the customer as an unqualified lead, while the bottom indicates they're ready to buy. Here we provide a sales funnel template with examples to create your own.
Free Sales Funnel Template
You can use our sales funnel template below to create one for your business. The template can prompt you to think of each stage in your customer's journey. It will also help you map out your own sales funnel stages unique to your business. We'll also show you how to implement it automatically with Pipedrive's customizable pipeline stages below.
If you're wondering how these sales funnel stages apply to your business, we'll help you figure this out and provide some examples. You can also check out our ultimate sales funnels guide to learn more about how they work and how to set them up in a CRM.
How Sales Funnels Are Used
There are many sales funnel examples. However, most are either described as being wide or narrow. A wide sales funnel is where you target a large number of people or prospects in the beginning stages, but many of these leads will not convert to customers. A narrow-shaped sales funnel targets fewer people at the top, with the expectation that a larger percentage of the highly targeted leads will make it all the way through the funnel.
Both sales funnel strategies have their uses. Wide sales funnels are best for increasing brand awareness. New companies benefit from using a wide sales funnel strategy to better determine who they should be targeting as their ideal customer. More established companies benefit from a narrow sales funnel strategy because it ensures that marketing dollars are spent targeting those most likely to buy.
Sales Funnel Benefits
There are many benefits to having a sales funnel, including a visual reminder of the steps involved in the customer journey. Visualizing the sales journey allows you to evaluate and identify opportunities for improvement. It also offers a visual way to manage daily sales activities that should be occurring at each stage.
Here are more details around the four key benefits of using a sales funnel:
Improve your sales plan: Identifying the steps to close a sale is a prerequisite to selling better. With a standard method in place and a visual representation of it, you can apply it to your business, test it, and improve it.
Manage daily sales activities: When you create a sales funnel, you're creating a framework in which to categorize your sales activities by stage.
Customize sales force training: Sales funnels can help identify areas in the sales process where sales reps stumble. If most of your deals are lost at the Purchase stage, you can find out why and train accordingly.
A roadmap for success: Sales funnels are a roadmap for success and aid in implementing pipelines in a CRM.
Exploring how both marketing and sales can work from the same playbook to generate revenue can go a long way toward optimizing your sales funnel. Pardot by Salesforce is one of the leaders in the industry, offering a free ebook download so you can learn how to create a powerful marketing and sales platform to grow your business. Click below to read more.
How to Create Your Sales Funnel
To understand your sales funnel, sales management organizations must first think about the different actions, experiences, and perceptions their customers have throughout their journey. Then map them out on paper or using software like PowerPoint or Google Slides. Think about what it will take throughout your sales cycle to close a deal and describe each stage based on what your customer will be doing or experiencing.
There are six stages in a typical sales funnel. At the very top is the Awareness phase, which consists of new leads typically coming from contact forms on websites, marketing campaigns, or leads lists. At this stage of the buyer's journey, potential customers are becoming aware of who you are. What follows are a series of stages that build on each other, where your customer moves closer toward making a purchase.
Below are more details around each sales funnel stage:
Awareness: This is the introductory phase where prospects are learning who you are, what you do, and how you are unique. This stage corresponds to the prospecting and lead generation stage of your pipeline stages.
Discovery: In this stage, you are sharing valuable content related to your prospect's need. This stage occurs while you are qualifying your prospect, conducting initial meetings, and defining their needs.
Evaluation: During Evaluation, your prospect is evaluating you, your company, your products, and your services. They are also looking at other options. At this point, you've probably sent them an initial quote or proposal.
Intent: In the Intent stage, your prospect has made a decision to buy from you, but the deal hasn't closed yet. Here, you are negotiating terms or finalizing your proposal.
Purchase: The deal is closed and your prospect is now your new customer. This is the honeymoon phase and presents the best opportunity to ask for referrals. The corresponding pipeline stage is closing the deal.
Loyalty: This is post-purchase, where you have an opportunity to follow-up to see how the product is working and ask for referrals. If you're working on a project, this is a great time to look for additional sales opportunities.
How to Optimize Your CRM Using a Sales Funnel
After creating your sales funnel, link it to your pipeline stages to your CRM. The sales funnel is the view of the customer journey from your customer's perspective. Pipeline stages are the view from the sales person's perspective, representing activities needed to move a prospect from initial contact to buying your product. A CRM like Pipedrive makes it easy to link sales funnels to pipeline stages.
Here are four steps to link your sales funnel to your pipeline stages in Pipedrive:
Step 1: Align Your Sales Funnel With Pipeline Stages
Place the sales funnel and pipeline stages next to each other and map out specific pipeline sales activities that coincide with sales funnel stages. For example, the Awareness stage in a sale funnel corresponds to the Prospecting stage in the sales pipeline. The difference between the two is the sales funnel focuses on the customer's perspective, while the pipeline focuses on activities performed by the salesperson.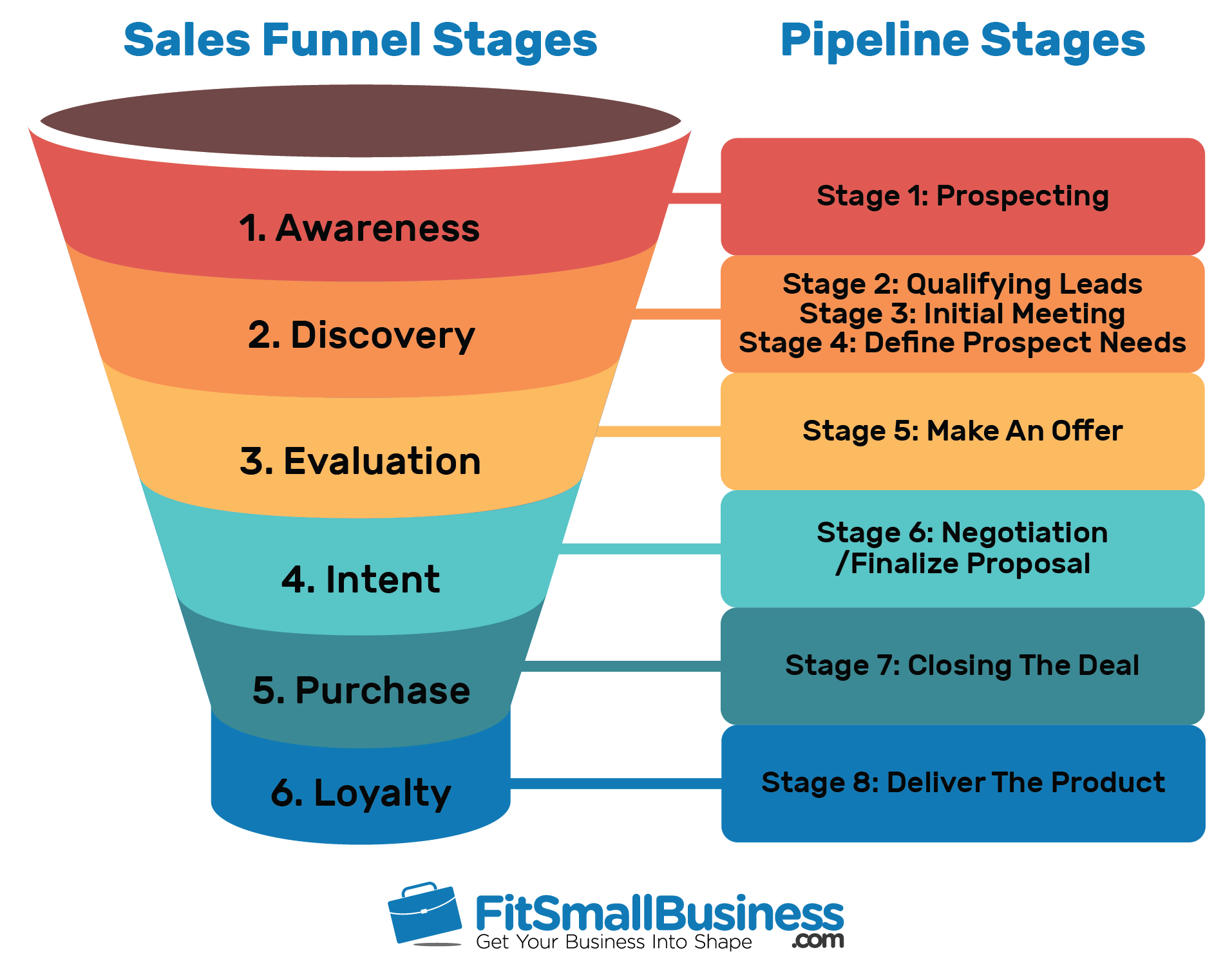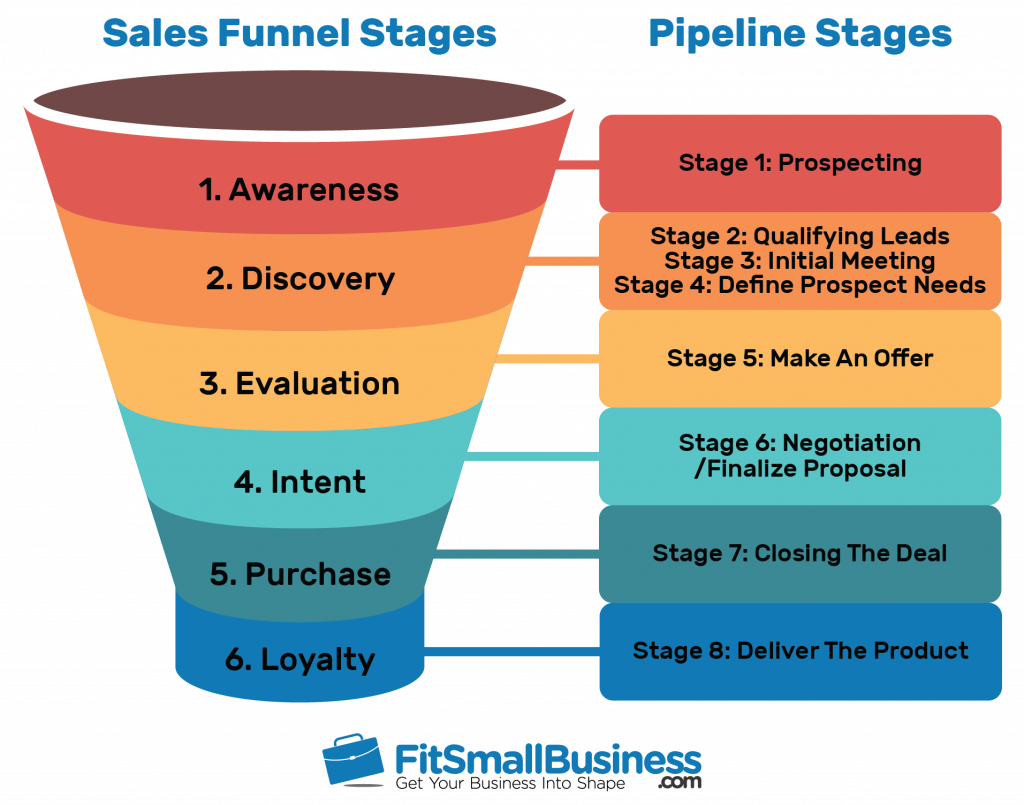 Step 2: Set Up Your Pipeline Stages in Your CRM
Most CRMs allow for some customization of pipeline stages. In some cases, this can mean renaming the pipeline stages in the system, or associating a stage with specific tasks. Use your CRM's built-in features to set up your pipeline with activities that follow the theme of the sales funnel, like Prospecting, which supports Awareness.
Here's how to customize your pipeline stages in Pipedrive:
Click on the "$ Deals" button in the top navigation to bring you to your Deals page.
Click on the "Pipeline settings" button in the top right to bring you to the "Customize sales stages page."
Click on each stage in the default pipeline to bring up the Edit stage window.
Edit the name of the stage to match the corresponding stage in your business' sales funnel and corresponding pipeline stage.
Click the "Save" button and move to the next stage in the pipeline.
Step 3: Add Corresponding Sales Activities
After your pipeline stages are set up, add sales activities, like "attend trade show," to your pipeline. Add the dates and times these activities should be completed by. Pipedrive allows you to set up activities on your Kanban board to remember your activities.
Step 4: Review Your Results
If the number of stages in Pipedrive doesn't match the number of stages your business uses, you can either click the "Add stage" button to add more, or click the "Delete this stage" link in the modal window to delete any extras.
How to Manage Your Sales Funnel Using Your CRM
Back on the Deals page, we can see each stage of our pipeline. Your potential deals are displayed in the column of their current stage. You can then drag and drop each deal between stages as they progress.
Because your pipelines are updated automatically based on the latest data you enter, you can easily check your pipelines each morning and watch for anything out of the ordinary. For example, if the top of the funnel is too small, you can push more resources towards lead generation or more aggressive prospecting to ensure you don't have a shortage.
Use Your Pipeline to Forecast Sales
Your sales pipeline gives you a high-level overview of where in the sales process all of your potential deals—and therefore, your revenue—are. It shows how many prospects you have at each stage and can give you insight into the conversion rates for each stage, any bottlenecks or gaps, and if you need to focus your attention on any specific deals. Your sales funnel can help you identify activities that could increase sales or that may be lowering your conversion rates.
Pipedrive displays every deal's potential revenue and the total potential revenue for every deal in each stage. You can use this information, plus the expected close date in each deal, to forecast your revenue. To view this, click on the "Forecast View" icon on the Deals page.
This view will show your potential deals, but instead of organizing them by stage, Pipedrive will organize them by their expected close date. This will show you how much potential revenue exists each month. Pipedrive will also sort the potential deals in each month by what stage they're in; the closer they are to closing, the higher in the column they will appear.
You can also weigh the likelihood of potential deals progressing to the next stage when setting up your pipeline stages in Pipedrive. Weighted revenue can more accurately forecast earnings. When adding stages to your pipeline, you can predict how likely you are to win a deal in each stage. This can be based on existing data or estimates. Pipedrive adjusts your revenue projections to reflect these weights.
The Bottom Line: Sales Funnel Examples
A sales funnel is a visual representation of the customer's journey from becoming aware of your company to purchasing your product or service. It comes to life when aligned with pipeline stages, which represents activities sales professionals undertake to move customers from awareness to purchase and loyalty. It helps to use a template to create your own sales funnel and pipeline stages.