What Is a Web Banner? Definition, Examples & Costs
Website banners are digital remarketing ads displayed on third-party websites like ecommerce sites, blogs, and online news websites. The cost-per-click (CPC) is lower than Google search or Facebook ads (which range between $0.60 and $3), but the click-through rate (CTR) is also lower. The web banner overview and examples below show how you can use web banners for remarketing to increase revenue, build brand awareness, and drive website and landing page traffic.
How Website Banner Advertising Works
A web banner, or banner ad, is a form of online advertising delivered by an ad server, like Google Ads or Microsoft Ads. Its purpose is to direct traffic to a specific page on the advertiser's website that is designed to convert leads. In most cases, the format of a web banner will be a static or animated graphic displaying a company's logo, tagline, or call-to-action message.
However, banner ads can also include more extensive text, images, flash animation, and other rich media to better capture visitor's attention. The banner ad is then embedded, typically near the top of a web page where it can be seen by the majority of site visitors for easy interaction.
You can learn more about how to set up a web page for use with your banner ads and how to make yours a more effective lead capture or conversion tool in our article on how to create a landing page.
What to Include on a Web Banner Ad
A web banner should be visually appealing and contain concise, easy-to-understand information. It should also be relevant to the site it is being used on, so that it's being displayed to the right type of audience.
Some general guidelines for what should be included on web banners are as follows:
A catchy headline that draws attention
A brief explanation of what the company does or what the site is about
An eye-catching image or graphic
Buttons or links that lead to more information on the advertiser's website
A call to action, such as "Save 25% on your first order!"
Brand identifiers, such as the advertiser's name, logo, or website URL
Types of Website Banner Ads
There are several different types of web banners you can use to promote your website or online product. Here are some of the most common:
Static web banners: This basic banner contains a static image and some text. Usually, you will see these types of banner ads on websites that don't get a lot of traffic or aren't updated very often.
Animated web banners: These banners are more complex, containing multiple images and/or videos that play in succession. They are often used on high-traffic websites or those that are trying to convey a lot of information in a short period. The animation naturally draws attention to the ad, which can increase impressions and click-through rates.
Interactive web banners: Interactive banner ads allow users to interact with them in some way, such as by clicking on a button or playing a game. They are often used on websites that want to increase user engagement.
Expandable web banners: These banners start small but can be expanded to reveal more information when clicked on. They are often used to advertise products that require more information to persuade or explain to get a conversion.
Rich media web banners: These banners are the most complex and can contain various interactive features, such as games, videos, or 360-degree images. Providing a more immersive experience can increase engagement and conversions.
Web Banner Ads vs Other Ad Formats
Web banner ads are targeted to specific audiences at a relatively low cost. Advertisers only pay when users click on the ad, making it a more cost-effective option than other types of advertising strategies such as billboards, print, and television, and even other types of digital advertisements, such as search ads.
Banner ads can also be adapted to different formats depending on the website's size and the viewer's device. This flexibility makes web banner ads a more versatile option compared to other types of advertising.
13 Top Web Banner Examples & Why They Convert
Designing an effective web banner can be difficult for those without a background in graphic design or years of marketing experience. Before diving into web banner advertising, it's a good idea to look at web banner examples for inspiration and ideas to learn what works well.
It's also important to consider various web banner orientations and sizes in terms of what you can design to achieve your campaign goals while also targeting audiences that align with your customer profiles. This will give you a better chance of creating a web banner that generates clicks and conversions.
Check out these 13 website banner advertisement examples and the tactics that make them effective:
1. Animated Semrush Retargeting Ad
Placement: Top, horizontal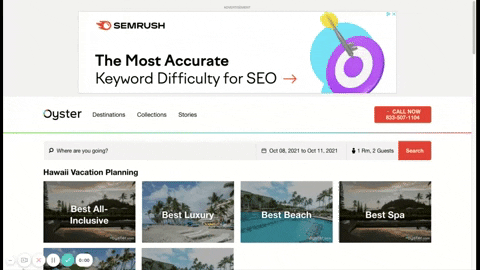 Why it works: The reason this banner ad is effective for retargeting is that it catches the eye with animation.
2. Sticky Web Banner Ad for Jira Software
Placement: Right-hand column (sticky)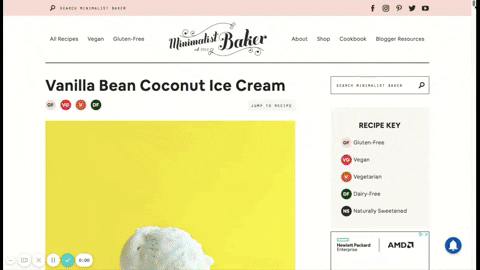 Why it works: This right-hand column banner ad is "sticky." In other words, even as a reader keeps scrolling, the banner ad remains fixed on the screen, helping to increase its visibility.
3. Game-like Airbnb Banner Ad
Placement: Top, horizontal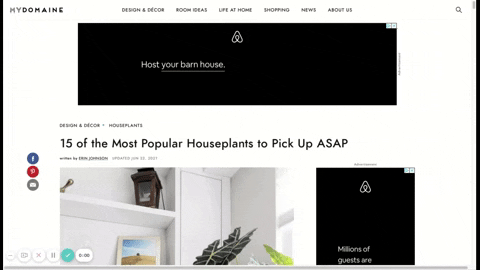 Why it works: It has a gamification feel to it. This strategy piques curiosity and holds a visitor's attention as they wait to see what it will land on, and in return, keeps a reader interested and more likely to click the call-to-action button.
4. Problem-focused Ad for APDerm
Placement: Right-hand column and bottom horizontal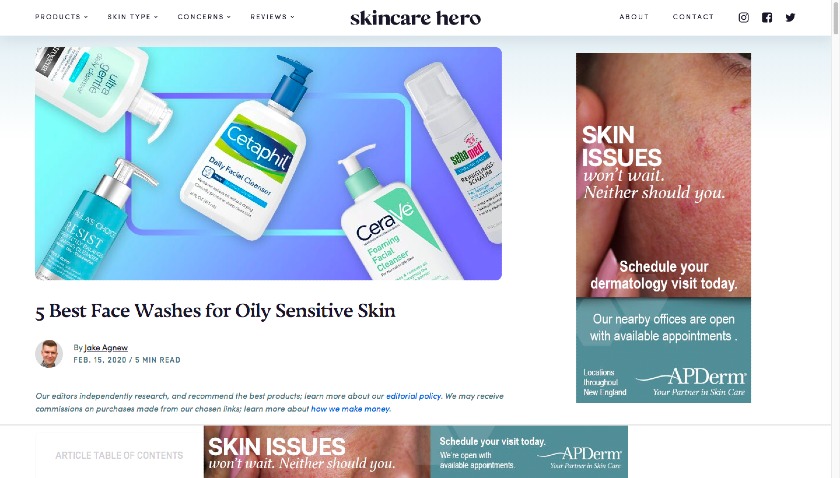 Why it works: What this ad does really well is providing a solution based on a reader's problem. In this case, this banner ad effectively serves the reader's intent, as someone searching for face washes for oily skin is likely having skin troubles. Therefore, a local dermatology practice is a well-fitting banner ad. It's also very well placed as the article topic is likely to be researched and read by the target audience.
5. Inline Ad Placement for Weber
Placement: In-body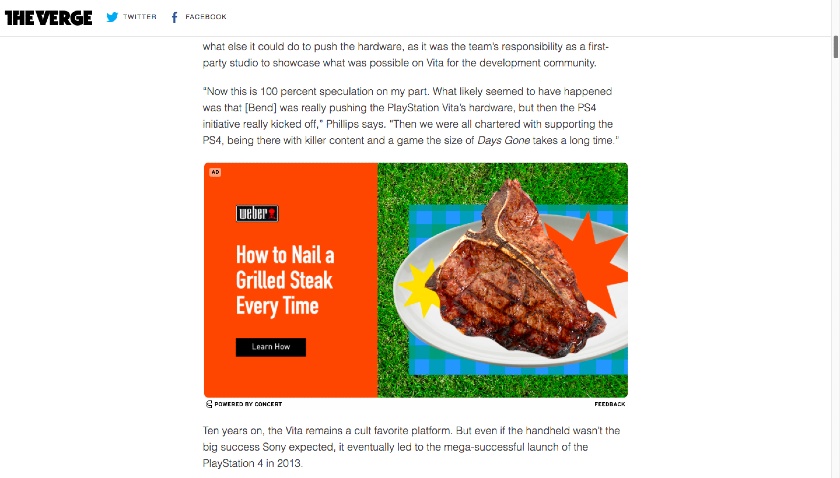 Why it works: This banner ad by grill manufacturer Weber is placed in the middle of a blog post between paragraphs of text. The placement helps the ad be read easily and keeps the page clean without any side-column ads. However, what makes it stand out is that it doesn't feel like an ad, but rather another article as it serves to provide information instead of a sales pitch.
6. Audience Overlap & Ad Size De Beers Jewellers Web Banner
Placement: Right-hand column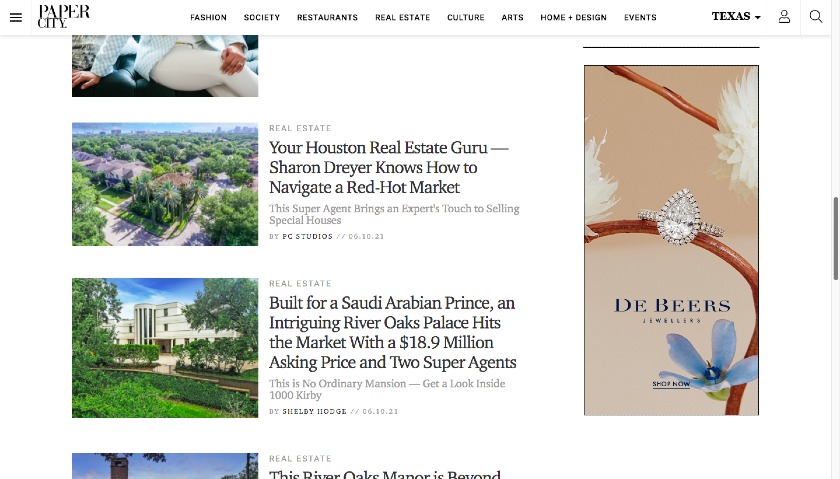 Why it works: This right-hand column banner ad for a jeweler manages to stay on-brand even without search intent. It achieves this through its ads on high-end real estate pages. While the two industries are very different, the audience has a lot of overlap—helping increase clicks to the banner ad. It's also far larger than the article images, making it more visually impactful.
7. Horizontal Hertz Ad With Eye-catching CTA
Placement: Bottom, horizontal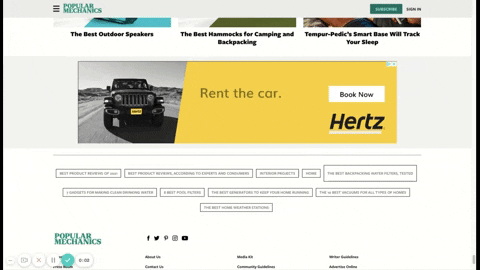 Why it works: Another retargeting ad, this Hertz banner is nestled at the bottom of an article, making it feel more organic and less interruptive. This is key given its call-to-action button, inviting readers to book a rental car—something they would be less likely to do if they are still in the middle of reading an article.
8. Top Billing for LinkedIn
Placement: Top, horizontal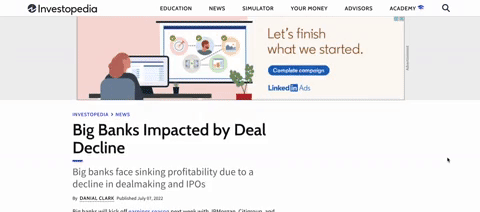 Why it works: This LinkedIn top horizontal banner ad is effective as it's at the top of all other content, making it more likely to be seen by its target audience. Additionally, top horizontal banner ads tend to be less crowded than different types of ad placements, making them stand out even more.
9. Sticky QuickBooks Ad Draws Attention to Brand & CTA
Placement: Right-hand column (sticky)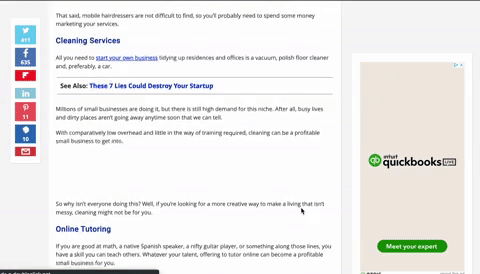 Why it works: This sticky ad is a great way to improve ad viewability and dwell time. However, be careful not to overload web pages with too many ads. The ads should be visible all the time within the viewport, and (as in this example) only one ad should be present at a time.
10: Texas Instruments Inline Square Web Banner
Placement: In-body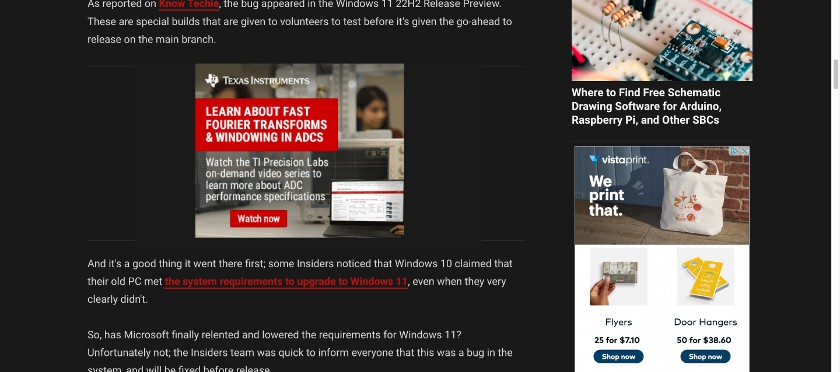 Why it works: In-body ads can be effective. For one, they are often placed in the middle of the content, so readers are more likely to see and engage with them. Additionally, in-body ads come in a variety of sizes (including 300×250), so there's a good chance that they will be able to fit nicely into your site's layout. In the example above, the ad stands out because it's not as wide as the content above or below, and uses a brightly colored headline to draw attention.
11. MOTO G Web Banner With Compelling Offer & Intrigue
Placement: Top, horizontal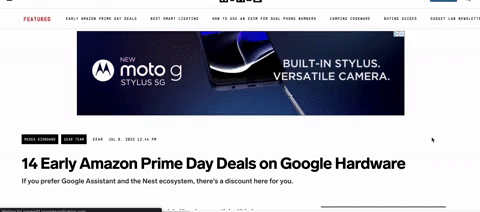 Why it works: This banner ad makes its offer ($50 Off) the prominent part of the horizontal layout and directly above the call to action (Buy Now). It's effective for retargeting, in particular, to remind viewers about the product. It's also animated with a feel of interaction, which draws attention and intrigues the reader.
12. Horizontal Sticky Ad by Shopify
Placement: Bottom horizontal sticky ad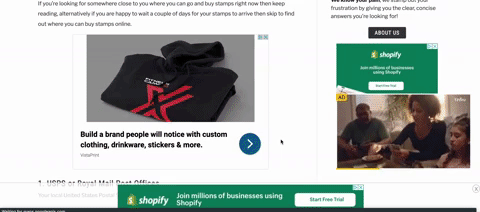 Why it works: Horizontal sticky ads are similar to regular horizontal ads, except they are placed at the bottom of a web page instead of at the top. This placement can be more effective as users are more likely to see them as they scroll down the page.
13. ZoomShift Inline Ad With Pop-out
Placement: In-body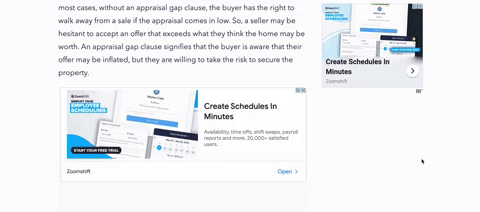 Why it works: This banner ad is placed within the content of a web page or article instead of in the sidebars or other less conspicuous locations. It works because as the reader scrolls past the ad, a pop-out ad is also displayed to draw the reader's attention, making it even more likely to be seen by readers who are already engaged with the content on the page.
How Much Website Banner Ads Costs
Website banners are generally considered affordable as they are priced on a cost-per-click (CPC) or cost-per-thousand-views (CPM) basis, with an average CPC of 31 cents. Costs vary based on two main factors: design cost and display advertising cost (determined by factors like the advertising platform, keyword targeting, and audience).
The two main costs associated with web banners are:
Design cost: There are two options for web banner design—designing it yourself (free on platforms like VistaCreate) or hiring a professional designer (as little as $10 to $25 with Fiverr)
Display advertising cost: The average CPC for web banner ads is $1.39 across all major display networks, but CPCs can vary greatly
Average Web Banner Costs by Advertising Platform
| | Average CPC | Minimum Ad Spend |
| --- | --- | --- |
| Google Display Network | 66 cents to $1.23 | No minimum, but plan to spend at least 2X your average CPC |
| Microsoft Audience Ads | 75 cents to $2.88 | $1 per day |
| Facebook Display Ads | $1.35 | $1 to $5 per day |
| Amazon Advertising | 81 cents | $1 per day |
Sources: WebFX, TopDraw, WordStream, WebFX
Ad costs will be different for every advertiser and every campaign, however. These costs are based on which ad platform is used, ad placement and ad size, ad targeting, ad quality, and ad settings. It's important to consider all of these factors when determining which ad platform and ad type are right for you.
Recommended Web Banner Sizes by Advertising Network
The cost of banner ads depends heavily on placement (where the ad is displayed on a page) as well as its size. To help you plan, we've provided some representative web banners sizes for popular ad networks, including the Google Display Network, Microsoft Audience, Facebook Audience, and on Amazon.
Access each one by opening the drop-down menus below:
---
---
---
---
LinkedIn is a professional networking site with over 500 million members. LinkedIn offers sponsored content ads that are displayed in the feeds of targeted users. These ads can include images, videos, or articles. LinkedIn also offers lead generation forms that can collect leads from users.
Ads can be in PNG or JPG format and up to 5MB in size, with LinkedIn single image ad sizes as follows:
Banner Type

Orientation

Size (W x H)

Horizontal/Landscape

Horizontal

Min. 640x360 pixels

Max. 7680x4320 pixels

Recommended 1200x628 pixels

Square

N/A

Min. 360x360 pixels

Max. 4320x4320 pixels

Recommended 1200x1200 pixels

Vertical

Vertical

Min. 360x640 pixels

Max: 1254x2400 pixels

Recommended: 628x1200 pixels, 600x900 pixels, or 720x900 pixels
---
Frequently Asked Questions (FAQs)
What makes a good web banner advertisement?
Your web banner ad should include your business name or logo, an advertising message, and a call-to-action (CTA) button. Examples of calls to action include to learn more, subscribe, buy something, set up a demo, or even to call your business through a click-to-call hyperlink. Visually, your banner needs to stand out with compelling images and high-contrast or bold colors to capture readers' attention and drive clicks.
What are the best tools for building & tracking web banners?
Many tools can help you create a web banner ad that is high-quality and encourages clicks effectively. The best overall include the following:
VistaCreate for creating professional-looking graphics regardless of design skill set using premade templates and free stock images and graphics (free version available)
Kaboompics or Adobe Stock for free high-quality photography
Envato Elements for access to thousands of premade banner ad templates, stock imagery, graphics, and unlimited downloads ($16.50 per month)
Google Analytics for tracking ad metrics, such as page views, bounce rates, and conversions to help you optimize and improve your ads
Which is better: Google Search Ads or Display Ads?
Whether Google search ads or display ads is better for your business depends what you're selling and your marketing goals, budget, and target audience. Most businesses selling need-based goods and services will find search ads are the more effective. In contrast, those marketing desirable goods or services (e.g., the latest tech gadget, business software, or new shoes) will find display ads work well. Learn more about how to advertise on Google.
Bottom Line
Web banners (aka banner ads or display ads) are image and text or video-based digital advertisements on sites, such as blogs and media outlets. They're considered to be an affordable pay-per-click (PPC) advertising channel with average CPCs of around $1.39. Businesses looking for a low-cost way to build brand awareness online or begin affordable marketing campaigns should consider web banner ads.
Of course, for a display ad to be effective, it needs to be designed well. You can create banner ads using templates on a site like VistaCreate, or get professional design help to ensure your ads are eye-catching and have what it takes to produce a higher return on ad spend (ROAS). See how affordable it is to find a professional graphic designer for rates as low as $5 on Fiverr.
You Might Also Like…