Web banners are digital advertisements displayed in the header, footer, or sidebars of websites. They're generally considered to be an affordable type of online advertising with an average cost-per-click (CPC) of 72 cents. Businesses looking to increase brand awareness or customer engagement with ads outside of their existing network should consider using web banners.
For web banners to be effective, however, they need to be designed strategically to entice visitors to click on them or engage with them. Don't risk wasting money on poorly designed ads that do not represent your business well and fail to generate traffic or interest. Instead, hire a professional web banner designer from Fiverr for as little as $5. Get started today.
What Is a Web Banner?
Web banners are created on advertising platforms such as Google, Microsoft, and Facebook, and are then displayed on the platform's network of partner websites. They typically consist of an image or video, a business name or logo, a message, and a call to action (CTA) that encourages viewers to click for valuable information or a discount/deal.
4 Types of Web Banners
Web banners come in many shapes and sizes. The size and type used depend on which advertising platform you are using and what your campaign goals are. The leading display ad platforms are Google, Microsoft, Facebook, and Amazon. Each offer advertisers different web banner options and ad placements, which can dictate web banner shape and size. The most common web banner is the Google Display Network's standard banner, which 468×60 pixels.
Here are the four most common banner advertising platforms and their banner ad specifications.
Google Display Network Banner Ads
The Google Display Network is the leading ad platform for web banner ads as it is one of the largest and oldest display networks. Banner ads can be displayed across thousands of Google network partner sites. While Google does not publish its partner sites, they include both very large and well-known sites such as Google Finance and YouTube. There are currently six banner-types offered by Google, each with its own size and display orientation.
Google Display Network Ad Placements & Specifications
Banner-Type 

Display Orientation 

Size 
(width x height)

Image Formats

Large Leaderboard

Horizontal 

970x90 pixels

JPEG, SWF, PNG, or GIF

Standard Banner 

Horizontal 

468x60 pixels

JPEG, SWF, PNG, or GIF

Skyscraper 

Vertical 

120x600 pixels

JPEG, SWF, PNG, or GIF

Wide Skyscraper

Vertical 

160x600 pixels

JPEG, SWF, PNG, or GIF

Square 

N/A

250x250 pixels

JPEG, SWF, PNG, or GIF

Small Square 

N/A

200x200 pixels

JPEG, SWF, PNG, or GIF
Microsoft Audience Banner Ads
Microsoft Audience Ads, formerly Bing Ads, display throughout the Microsoft Audience Network based primarily on keywords and audience targeting as selected by the advertiser. Microsoft does not currently have a list of partners published, though it is public knowledge that MSN.com and Microsoft Office are part of the network. There are currently six main banner ad-types.
Microsoft Audience Ad Placements & Specifications
Banner-Type 

Display Orientation 

Size 
(width x height)

Image Formats

Desktop Side Column 

Vertical 

160x600 pixels

JPEG or PNG

Desktop Rectangle 

Horizontal 

300x250 pixels

JPEG or PNG

Desktop Wide Side Column

Vertical 

300x600 pixels

JPEG or PNG

Desktop Horizontal Banner 

Horizontal 

728x90 pixels

JPEG or PNG

Mobile Banner (Standard) 

Horizontal 

300x50 pixels

JPEG or PNG

Mobile Banner (Wide Screen)

Horizontal 

640x100 pixels

JPEG or PNG
Microsoft Audience Ads have some of the lowest costs in the paid search and paid social industries, helping small businesses stretch their advertising budgets for maximum impact. For more information, visit the
Microsoft Audience Ads
website.
Facebook Audience Banner Ads
Facebook Ads also offers banners as an ad-type, which can be displayed on Facebook or the Facebook Audience Network. Banners that display on Facebook are image-based ads in the right-column of user feeds, whereas Audience Network ads are shown on third-party sites in the top or bottom of the screen, typically above or below the header or footer.
Facebook Audience Ads Placements & Specifications
Banner-Type 

Display Orientation 

Size 
(width x height)

Recommended
Image Format

Right-column Facebook Ad 

Vertical 

1200x628 pixels

JPG or PNG

Audience Network Banner Ad 

Horizontal 

320x50 pixels

JPG or PNG
Amazon Advertising Banner Ads
Amazon Advertising offers banner ads that can be displayed on Amazon and its partner sites. Businesses do not need to sell products on Amazon to take advantage of Amazon Advertising, though, being an ecommerce platform, Amazon display ads are geared towards product-based campaigns. Amazon currently offers banner ads on its site and third-party sites, totaling nine banner ad size options and two media types.
Amazon Placements & Specifications
Ad Placement

Display Orientation

Size
(width x height)

File Format

Medium Rectangle

Horizontal 

300x250 pixels

JPG or PNG-8

Leaderboard

Horizontal 

728x90 pixels

JPG or PNG-9

Wide Skyscraper

Vertical 

160x600 pixels

JPG or PNG-10

Large Rectangle

Horizontal 

300x600 pixels

JPG or PNG-11

Billboard

Horizontal 

970x250 pixels; 
800x250 pixels

JPG or PNG-8

Mobile Leaderboard

Horizontal 

320x50 pixels

JPG or PNG-8

Mobile Detail and Search Results page

Horizontal

1242x375 pixels

JPG or PNG-8
Web Banner Costs
Web banners display ads are generally considered affordable as they are priced on a cost-per-click (CPC) or cost-per-thousand-views (CPM) basis with an average CPC of 46 cents. Costs will vary based on two main factors: design cost and display advertising cost (which is determined by the advertising platform, keyword targeting, audience, and other factors).
The two main costs associated with web banners:
Design cost: There are two options in terms of web banner design—designing it yourself or hiring a professional designer. There are many ways to design your own web banner online for free with sites such as Canva. For convenience, others may choose to hire a professional designer, which can vary from as little as $5 to over $100. Get a web banner professionally designed for as little as $5 with Fiverr.
Display advertising cost: The average cost-per-click for web banner ads, or display ads, is 46 cents across all major display networks. However, CPCs will vary based on factors such as which ad platform you use, keyword and audience targeting, ad settings, and ad quality. While CPCs vary, web banner ads are one of the cheapest types of digital ads.
Web Banner Costs by Advertising Platform
| | Google Display Network | Microsoft Audience Ads | Amazon Advertising  | Facebook Display Ads |
| --- | --- | --- | --- | --- |
| Average CPC  | 72 cents  | 44 cents  | 35 cents  | 27 cents  |
| Minimum Ad Spend  | Equal to 2X your average CPC  | 5 cents/day  | $1/day  | $1/day  |
| DIY Banner Design  | $0 | $0 | $0 | $0 |
| Professional Banner Design  | $5-$100 | $5-$100 | $5-$100 | $5-$100 |
5 Factors that Influence Web Banner Ad Costs
The average CPC or cost per thousand views (CPM) for web banner ads is based on each advertising platform's unique advertising auction algorithms. There are certain common factors among all ad platforms, such as ad placement and size, keyword and audience targeting, ad quality, and ad settings, such as ad schedule and device types.
Here are the five main factors that influence web banner ad cost:
Ad platform: Each display advertising platform, such as the Google Display Network, Microsoft Audience Ads, Facebook Display Ads, and Amazon Ads, will have varying costs. For example, the average CPC on the Google Display Network is 72 cents, whereas the average CPC on Microsoft Audience Ads is 44 cents.
Ad placement and size: Every ad platform offers advertisers different options in terms of where they want their ad to be displayed, from the right-hand column to under the website header or above the footer. Each ad placement will require different ad sizes, which will have varying costs.
Ad targeting: Advertisers determine which sort of sites and users its ads should display to using ad targeting. This is based primarily on keywords and audiences. Competition around each keyword or audience varies, and the level of competition will influence the cost.
Ad quality: Ad platforms seek to display quality ads, as they are more effective in driving clicks, and, consequently, revenue for the ad platform. For that reason, ads are often scored based on quality; higher quality ads will often have lower costs.
Ad settings: This encompasses all of the other ad settings, such as ad schedule and device-types. For example, costs may be higher when displayed on certain devices. Desktops, for instance, generally see higher conversion rates and are therefore more experience for advertisers.
Web banner ads are generally considered to be a low-cost form of digital advertising with an average CPC of 46 across major display ad platforms. Ad costs will be different for every advertiser and every campaign, however. These costs are based on which ad platform is used, ad placement and ad size, ad targeting, ad quality, and ad settings. It's important to consider all of these factors when determining which ad platform and ad-type is right for you.
How to Design & Launch a Web Banner Ad in 7 Steps
Many businesses design and launch web banner ads without the assistance of marketing agencies. To design and launch your web banner, start by establishing your campaign goal, then choose your ad platform, ad placement, and ad size. Create your web banner using a customizable web banner template, then create a new display ad campaign in your ad platform of choice, input all campaign settings, upload your web banner, and launch your campaign.
Here's how to design and launch a web banner in seven steps.
1. Establish Your Campaign Goal
The first step is to establish your campaign goal. This is the foundation of your entire banner ad campaign and will influence which ad platform, ad placement, and web banner size you choose, as well as your ad messaging and CTA. The most common web banner campaign goals are to build brand awareness, generate leads, and increase sales. Ask yourself what you are ultimately looking to achieve with your banner ad to find your campaign goal.
Here are the three most common campaign goals:
Build brand awareness: Web banners can effectively build brand awareness as they get your business name out there across the internet.
Generate leads: Web banners can generate leads with CTA buttons and special offers such as a free trial, newsletter signup, or download.
Increase sales: Web banners can increase sales for online stores when the banner serves to promote a product or service with a CTA button that drives clicks to a sales page. These sales can be increased when ads are remarketed to interested leads. Learn more about what remarketing entails.
Once you determine your ultimate goal, keep in mind the elements that your ad will require. For instance, a brand awareness ad won't need a CTA. A sales-focused ad, on the other hand, will have to incorporate both a CTA and a unique offer that will encourage viewers to click on the ad.
2. Choose Ad Platform
After determining your campaign goal, choose which ad platform you want to advertise on. The main display advertising platforms include the Google Display Display Network, Microsoft Audience Ads, Facebook Display Ads, and Amazon Advertising. If you aren't sure which platform to use, familiarize yourself with each before choosing the right one.
Here are the four leading display advertising platforms:
Google Display Network: This is a display ad platform where ads are built and managed in Google and display over the Google network. It's currently the largest and most popular display network. However, it tends to be more expensive than other platforms.
Microsoft Audience Ads: Formerly Bing Ads, Microsoft Audience Ads is a display ad platform where ads are built and managed within Microsoft and are displayed on Microsoft-owned sites such as MSN and Microsoft Outlook, as well as across its partner sites. Like Google Display Network Ads, Microsoft Audience Ads are displayed to users based on the alignment of keywords that are searched and keywords that are associated with each ad.
Facebook Display Ads: This is a paid social ad platform where ads are built and managed within Facebook Ads Manager. Ads are displayed on Facebook and its network partner sites based on audience targeting—as opposed to keywords—giving advertisers more control of who ads are displayed to.
Amazon Advertising: Amazon ads can be displayed within Amazon or its network partner sites. Generally, ads are product-focused, though businesses do not need to sell on Amazon to advertise on Amazon.
While Google is the largest and most commonly used display network, Microsoft Audience Ads generally enjoy lower CPCs. Facebook banner ads, on the other hand, are a good choice for businesses with attractive products or services that people want but do not need—such as trendy clothes. Lastly, Amazon ads are best for product campaigns. Given these characteristics, choose the platform that best meets your needs.
3. Choose Ad Placement & Banner Size
Based on the ad platform you chose, decide on the ad placement and banner size for your banner ad. Each ad platform will offer different ad placements and banner size options. However, there are universal web banner options. These include placement in the right-hand sidebar, the header, the footer, or within the body of a website.
While the ad placement decision is in part decision based on aesthetics, different ad placements often have different costs and click-through rates (CTRs). For example, a horizontal banner ad below the website header gets more clicks than a banner above the footer. This is because people are guaranteed to see a banner that is high up on a webpage, but not every web visitor scrolls to the bottom of a web page; therefore, a footer banner ad is less likely to be seen.
Each platform will offer different banner sizes based on ad placement. Generally, the larger the banner is, the more likely it is to catch web visitors' eyes and therefore gets more clicks. On the other hand, larger ads will have higher prices. Those looking to gain the most exposure and are not as cost-conscious will want to choose a larger size.
4. Browse & Select an Ad Template
Now that you have chosen an ad platform, ad placement, and ad size, you can begin creating and designing it. One of the most affordable ways to have your banner professionally designed is with Fiverr, which can cost as little as $5. While you can outsource design to a professional designer, we recommend designing your own banner ad with Canva or Visme to save money.
To start building your add-on Canva, go to Canva.com and click the "Create a Design" button from the center of the homepage to browse templates by type. Find the "Ads" section and select the ad-type that corresponds with the size of your desired ad. For example, the "Leaderboard Ad" size is 728×90 pixels, a common size for standard web banners.
Next, browse templates by scrolling through the list of templates on the left-hand side of the editor. Keep in mind that all elements can be customized, including all colors, images, image sizes, fonts, font sizes, and calls-to-action. Choose the template that best matches the style and design aesthetic you are looking for. This will cut down on customizations, saving you time.
5. Customize Your Ad Template
With your ad template selected, customize it to make it your own. Every web banner should include your business name or logo, a clear message, and a CTA button (for non-brand awareness ads) over a bold background color or image that does not overshadow the text. Use the Canva drag-and-drop editor to customize the template easily.
Add Your Business Name or Logo
Every banner should include your business name or logo. Input a business name by adding text or upload your logo. To upload your logo, click "Uploads" from the vertical left-hand menu. Then click the "Upload an Image" button and select your logo from your computer's files.
Add Your Message & CTA
Next, update the existing template copy by clicking on the text on the main screen (the live editor). Add the message that corresponds with your campaign goal and CTA. For example, a clothing company might be looking to promote a new seasonal line with the goal of increasing sales, so they would call out the new clothing line in the message and use a "Shop Now" CTA.
Customize Background & Graphics
To finish your web banner design, customize your background, and add graphics, at your discretion. To select a new color, click the area you want to customize and navigate to the color picker in the menu above. To upload an image, click the "Upload" tab in the left-hand menu and select the image from your files. If you don't have any professional-quality photos, try sourcing one from free sites like Pixabay or Pexels.
6. Download Your Finished Banner
Once you are finished customizing your web banner design, update your file name and download your banner. To update your file name, navigate to the upper-right-hand corner of the screen, and click the name of the template. Delete the current name and add your own. Then, click the "Download" button from the upper right-hand corner and select the file-type you wish to use, such as a JPG or PNG.
7. Create Your Display Ad Campaign
The final step is to create your display ad campaign where you will upload and use your web banner. To create a display ad campaign, go to the ad platform of your choice, create a new ad campaign, complete all-new campaign creation prompts—including ad settings, targeting, and budget—and submit your ad for approval. We will use Google Ads as the example in this step as it is the popular display advertising platform.
Sign Up or Log In to Your Account
To start, go to ads.google.com and log in to Google Ads Manager. From the account dashboard, click the "Campaigns" tab from the left-hand menu. Then, click the "+" above the list of existing campaigns to create a new campaign. Select "New Campaign" from the dropdown options that appear.
On the following screen, you will be prompted to select your campaign goal. Before selecting a goal, confirm that display ads work with the campaign goal by hovering over the campaign goal options and looking at the "Campaign Types" listed at the bottom. "Display" should be listed.
After selecting your campaign goal, campaign types will appear below. Select "Display" to create a web banner ad. Depending on the campaign goal selected, you may be asked to input a URL to your site or landing page. Click the "Continue" button below.
Complete all fields on the following page. This includes your campaign name (for your reference), placements, languages, bidding, budget, ad rotation, ad schedule, ad start and end dates, frequency, exclusions, ad groups, and corresponding audiences and ad group bids. For more detail on these steps, please refer to our article on how to advertise on Google.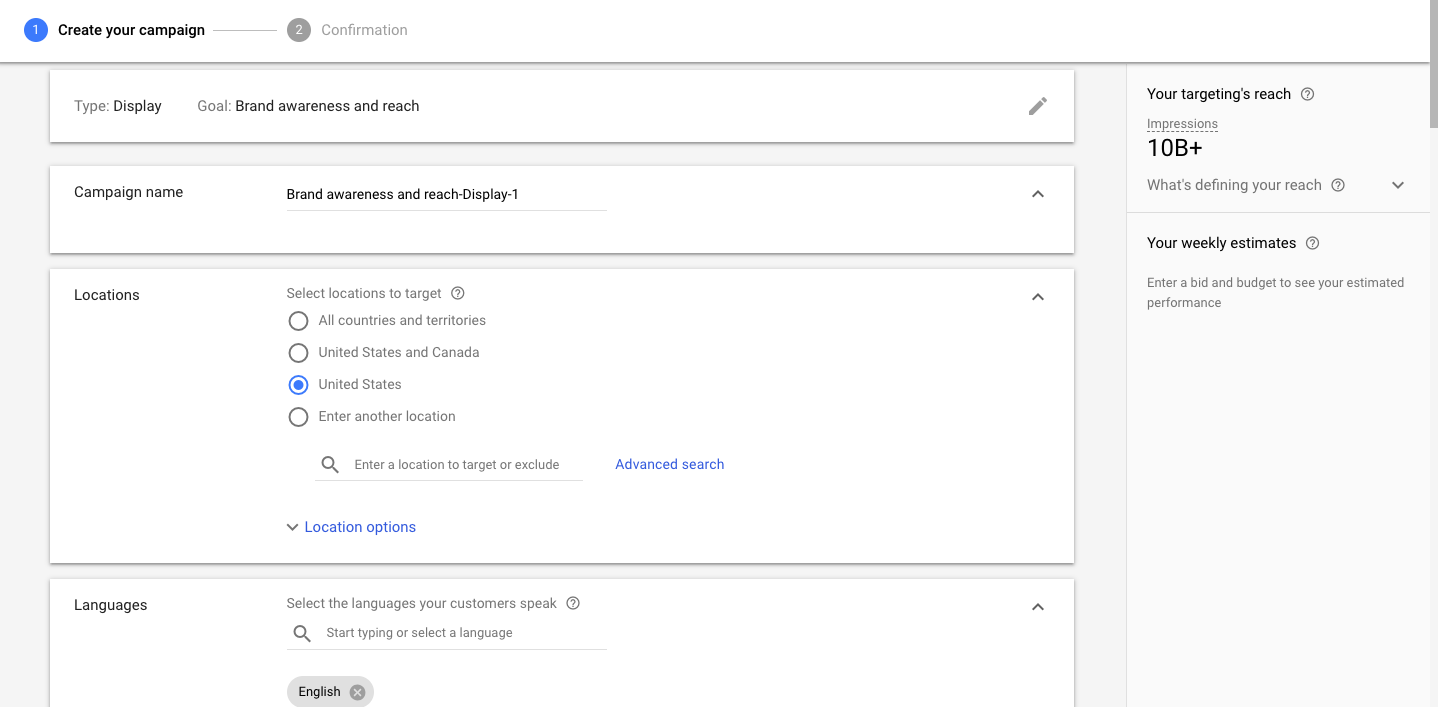 After you have added your ad settings, you will be taken to a "Create your campaign" page. Here, click the "+ New Ad" button.
On the screen that appears, input the URL where you want to direct users after they click on your ad, which should be a landing page designed specifically for this web banner ad. If you don't already have one, learn how to create a landing page. Then, click the "Choose file to upload" button and select your web banner from your files. Finally, click "Ad to Ad Group," then click the "Create Campaign" button.
New campaigns are subject to Google approval, which usually takes around 24 to 48 hours. After this point, your ad will begin displaying on Google network websites.
Keep in mind that you can also create display ads on Microsoft and Facebook. If you're interested in launching banner ads on those platforms, visit their websites to learn more and set up an account.
7 Top Web Banner Examples
Designing a web banner can be difficult, so it's worth looking at web banner examples for ideas and inspiration. The best web banner designs are eye-catching, clean, easy to read, and include a relevant CTA. They also use web banner orientations and sizes that serve their ad and campaign goals while targeting audiences that meet their customer profiles, which increases the likelihood of clicks and conversions.
Here are seven web banner examples that convert.
Why it works:
The Hyatt Resorts horizontal web banner uses a three-column-style banner. The first column displays the company's name in a clean and easy-to-read way. The second column displays an attractive image from one of its locations to draw viewers in. Lastly, the third column uses a solid purple background with text overlay and a "Shop Now" CTA button, which serves to help the CTA button stand out from the rest of the banner content.
Why it works:
This banner ad by Lulus, a women's fashion brand, uses a straightforward and clutter-free design with one image and minimal text. It makes use of timely messaging as it is promoting the brand's formalwear line before both prom and wedding season. The centerpiece of the ad includes two key ad elements—the brand name and the CTA—both of which stand out due to the ad's simplicity.
Why it works:
Dokan, which is software used with WordPress, uses a modern illustration on its web banner to stand out. It also uses a variety of colors without appearing chaotic; what's more, the colors in the illustrations match the colors in the CTA button. It aligns the words "Dream Marketplace" with the company name by using white fonts for both. Lastly, the CTA is an offer for a free trial, which gives users a valuable tool without an investment.
Why it works:
This Alfa Romeo ad manages to successfully pack in a lot of information, including its logo, a headline, a description, and two CTA buttons. To do this without looking cluttered, the text is styled in white over a gray background. This is in contrast to the vehicle and CTA buttons that are in red, making them stand out.
Why it works:
This web banner design provides a good example of how a web banner can use a fair amount of text without appearing cluttered. The use of a bold font and contrasting colors between font and background make the text and ad message prominent. This leads to the web banner's message getting read more frequently and, in return, garnering more clicks.
Why it works:
This web banner ad from Southwest Airlines effectively maintains its brand colors throughout the ad, from the text color to the background image colors. Note that the brand colors are blue, red, and yellow. As a way to garner more clicks, Southwest reserves the use of yellow—a contrasting color—for its CTA button. This makes it stand out, which drives more clicks.
Why it works:
This web banner ad by Crew, a company that produces workforce communication software, illustrates how a message can be displayed in a vertical format without appearing clunky. It does this by skipping a graphic that takes up space and focusing the ad around its message. It's also unique in that it doesn't include a CTA button. Instead, the entire ad is clickable, though the campaign goal is most likely to build brand awareness.
"When marketing your business or products through banner ads, you have to remember that you're going to be battling against consumer's increasing ability to block out or skip over ads mentally. If you want to grab attention, try surprising potential customers with well-designed, humorous, clever, or beautiful images and copy. Put enough effort into giving website viewers a small moment of delight, and you'll be rewarded with a little more of their attention."
—Trevor Wolfe, CEO, BigTeam
5 Top Tools for Creating & Tracking Web Banners
There are many tools that can help you create a web banner ad easily that is high-quality and encourages clicks effectively. Additionally, there are a suite of tools available for free or priced reasonably that allow you to track ad performance and creation conversion-optimized landing pages to increase sales. We chose the best of both categories to help you as you build out your banner ad campaigns.
Here are the top tools used to create and track web banners:
Ultimately, the best tools for creating and managing your web banner ad campaigns will depend on your needs and budget. However, there are plenty of tools available for free that allow you to focus more of your marketing funds on advertising and less on design and tracking.
"When it comes to banner ads, I've historically found that animated banner ads attract more attention and drive a higher click rate. So, I've been increasingly using them as a part of our marketing campaign. There's a great tool called Bannersnack, which makes it super easy to create and animate banner ads without having to code anything painstakingly. It's simple and intuitive to use, and I can't recommend it enough."
—Leo Friedman, CEO, iPromo
Frequently Asked Questions (FAQs)
What should be included in a web banner?
Every web banner ad should include a CTA button—if it is not designed for brand awareness—your business name or logo, and an advertising message. The banner should also be visually appealing with attractive images or striking colors to capture readers' attention and to drive clicks.
How do I create a web banner online?
There are many platforms online where you can build a web banner. One of the easiest is Canva, a drag-and-drop graphic design platform designed for those without graphic design skills. Those looking to hire a professional, however, should consider Fiverr. There, you can find hundreds of expert graphic designers offering their web banner design skills for as little as $5 per project.
Are web banners effective?
Web banner ads can be an effective type of digital advertising. Although banner ads have lower click-through rates than other digital ad-types, such as paid search ads, the average cost-per-click is much lower, and advertisers only pay when a user clicks their ad. Learn more about pay-per-click (PPC) campaigns.
Bottom Line: What Is a Web Banner
Web banners are a type of image or video-based digital advertisement created on advertising platforms like Google, Microsoft, or Facebook, then displayed on the platform's partner sites. Web banner ads are affordable with low CPCs that average around 46 cents per click across all major display advertising platforms. Businesses looking for a low-cost way to build brand awareness online or begin affordable marketing campaigns should consider web banner ads.
Don't risk wasting your time by using a poorly designed web banner or one that does not meet your advertising platform's web banner specs. Hire a professional graphic designer from Fiverr for as little as $5 to ensure your web banner looks great and is the correct size. Find a design pro today.