Grocery stores require specialized hardware and software tools on top of standard point-of-sale (POS) software features, such as scale and scanner integrations, online grocery sales, self-checkout options, and lot and expiration date tracking. These extras typically come at a higher cost, but small grocers still have affordable POS options.
Based on our evaluations, the best grocery POS systems are:
Grocery Store POS Systems Compared
Software Monthly Fee

Hardware Cost

Additional Register Cost

Built-in Payment Processor

Third-party Integrated Payments

$99

$199–$1,999*

$99 (Software)

✕

$99

$149–$1,568*

$99

✓

$99

$1,999*

$99

✓

Custom rates

✕

$0—$60

$49–$799+

$60 (plan upgrade)

2.6% + 10 cents

✕

$0—$39.99

$69* or starting at $1,099

$39.99

2.5% + 10 cents

✓
*Bundled with software
Software Monthly Fee

Online Store or Delivery Integrations

Self-checkout

Customer- facing Display

Scale and Scanner Integration

✓

✓

✓

✓

✓

✓

✕

✕

✓

✓

✓

✓

✓

✓

✓

✓

✓

✓

✓

✓

✓

✓

✕

✓

✓
IT Retail: Best Overall Grocery Store POS System

Pros
Multiple ecommerce integration options
Flexible pricing
Supports bottled deposits and ID scans
Variety of online grocery platforms and click-and-collect orders integrations
Cons
Locked into IT Retail for payment
May be too large a system for a small, single-lane market
Expensive payment gateway fee
What we like:
IT Retail's POS is tailor-made for independent groceries and markets of all sizes. It also regularly appears as one of our top choices for a small business POS system, providing all the standard grocery-specific features that other systems lack or offer as a paid add-on—multiple-scale integration, bottle deposit management, marketing tools, and loyalty programs.
How it scored:
IT Retail earned a score of 4.23 out of 5, earning a perfect score for hardware and basic POS functions and a near-perfect score for grocery features.
Its biggest setback was the price: You can custom-build (our quote for two lanes was nearly $3,000 upfront and $99 per month after) or take advantage of monthly plans starting at $199 that include hardware and software.
IT Retail also lost some ground due to the cost of adding an online grocery store (setup will set you back $149, and the payment gateway is $250 monthly).
2023 Pricing Updates: IT Retail's pricing has increased, and not all prices are listed in its build-and-price tool.
IT Retail is a cloud-based, serverless setup. This enables it to offer its POS for a much lower price than traditional, locally installed systems. Software cost starts at $99 per month for small shops. For multiple locations and supermarket POS, you will need to request custom pricing. Your IT Retail terminals will arrive preprogrammed and ready to install. But if you prefer to leave the installation to the professionals, you can request in-person installation for a custom-quoted fee.
Monthly Plans
IT Retail offers standard monthly plans that include equipment, software, support, warranty, and payment processing. All plans include an IT retail processing agreement.
IT Retail Flex ($199/month): Touch PC, thermal receipt printer, barcode laser scanner, cash drawer, pin pad, customer display, software, 24/7 support and limited training, lifetime warranty.
IT Retail Freedom Standard ($1,499 upfront): Flex plan + 2-year hardware warranty, free pinpad and stand, no long-term contracts
IT Retail Freedom Premium ($1,999 upfront): Freedom Standard + improved customer display, built for multi-lane grocery stores.
Custom Build Pricings
We did a build for two lanes with an ecommerce solution and received a quote for $2,998 upfront and $99 per month for the software, $250 per month for the payment gateway, and $39 per month for support.
We also got a quote on extra equipment, and the prices seemed competitive, although we found cheaper options via Google search.
Software for custom-built subscription: $99/month.
Hardware costs: Custom-quoted or from $149/month.
Some examples:
Dot-matrix customer display: $159
Ingenico Lane 7000 pin pad: $849
Mobile label printer: $749

One-time installation fee: Custom-quoted; small grocers may be able to self-install
Monthly support: Starting at $39 per month
Processing fees: Built-in and custom-quoted
Ecommerce:

Setup: $149
Payment Gateway: $250/month
---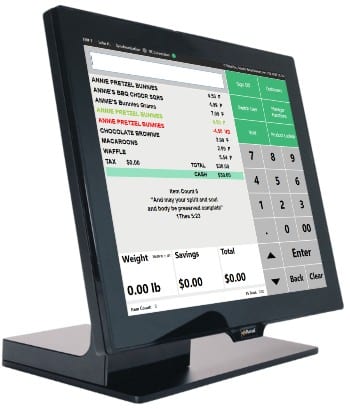 ---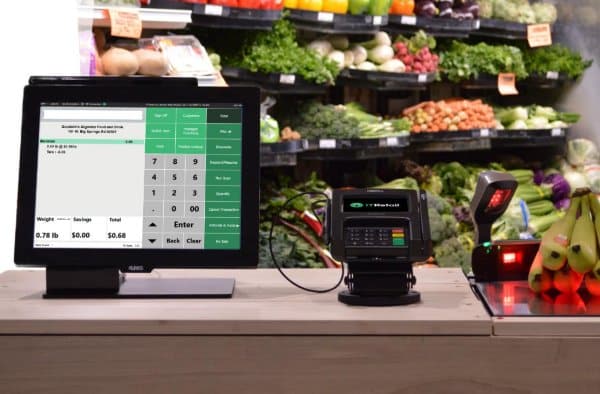 ---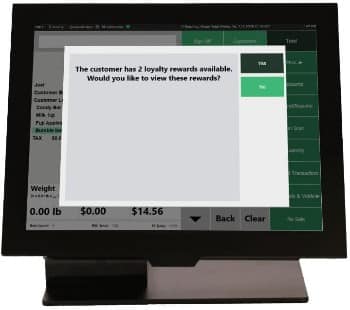 ---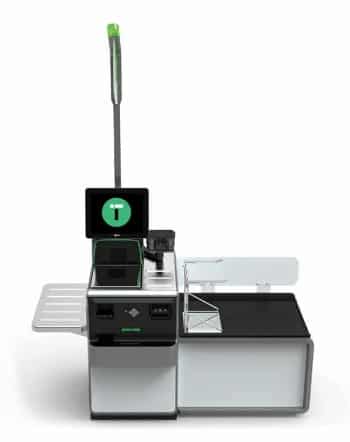 ---
IT Retail's standout features include:
Online grocery: IT Retail integrates directly with industry-leading online grocery ordering and delivery platforms like Instacart, so your store can meet customers where they prefer to shop. Note, however, that setting up an online store can be expensive. For a cheaper option, consider Square.
Employee productivity: In addition to supporting customized user permissions and tracking employee time, IT Retail also tracks your cashiers' performance. The system logs activities like voids, refunds, and discounts and allows you to compare an individual staff member's performance to store averages. These reports can illustrate underperforming staff members or alert you to potential theft. It's one of the most comprehensive on our list.
Customer loyalty: IT Retail lets you engage with customers through a customizable rewards program. You can reward loyalty points for every purchase, which customers can later redeem as a dollar amount or a percentage discount. There is no chance your customers will miss a chance at redemption; before finalizing payment, the IT Retail POS alerts your cashier when a customer has unused loyalty points. The others on our list also offer loyalty programs, although Square charges extra.
Comprehensive inventory: Like others on our list, IT Retail's inventory tracks your products in real time. It also includes tools for lot tracking and expiration date tracking to keep your market compliant with FDA tracking regulations for perishable items.
Bottle deposits and ID scans: This system seamlessly handles tax-free bottles and can deposits in states that require it. The system also prompts for ID scans for age-restricted products, so your cashiers will never forget to check. Square and eHopper lack these tools.
---
POS Nation: Best for Growing Independent Grocers & Markets

Pros
Month-to-month and upfront options
No long-term contracts
Supports multiple payment processors
Supports bottle deposits and ID scans
Cons
Does not support self-checkout
Inventory does not include lot tracking or expiration date tracking tools
What we like:
POS Nation is a sister site to IT Retail, and it offers similar tools. We liked its versatility and wide range of reports, as well as the coupon tool. In addition, it has excellent bottle deposit and ID verification tools. The ability to build your own package and unlimited training make it a sound choice for growing grocery stores.
How it scored:
Overall, POS Nation earned a 4.18 out of 5 on our grocery ranking. This user-friendly POS for grocery stores earned high marks for ease of use from our experts. On the other hand, its high software fees hurt its pricing score. It also lost points for not supporting self-service kiosks and lacking expiration date tracking in the inventory module. If these tools are important to you, consider IT Retail.
You can purchase a monthly plan, get a standard upfront plan, or build your own custom plan and get a quote. As your business grows, you can simply add more terminals for a simple monthly or one-time fee. Like IT Retail, you can pay a monthly fee for a prebuilt, all-in-one plan—this ranges from $149 to $1,558—or apply for a custom-build subscription. Both require using POS Nation Payments as your payment processor, but you can also cancel at any time.
Pricing Plans
Grocery Flex Monthly ($149/month): Grocery store POS software, touch PC, receipt printer, scanner, cash drawer, chip card reader, 24/7 unlimited support and training, lifetime warranty, requires a POS Nation payment processing agreement.
Freedom ($1,568 upfront): Same as Flex, but with a two-year warranty and you own the POS hardware. Use your own payment processor or POS Nation.
Custom Pricing
The POS Nation custom quote builder looks almost exactly like IT Retail's, although the offerings are different. However, it did not offer an option for ecommerce for grocery stores—only for liquor, tobacco, and retail. You may be able to request it, however.
Subscription fee: $99
Hardware costs: Starting at $1,499 for a complete POS setup
One-time installation fee: Included in total software quote; starting at $99 for setup and $399 for onsite installation
Processing fees: Built-in (custom quoted) and third-party integration
Ecommerce: In this update, we did not find an online store add-on for POS Nation for grocery stores. However, it includes it free for liquor and retail plans, so you may be able to get ecommerce for your grocery store as well.
Payment Processing
POS Nation allows you to choose your own payment processor or use its in-house solution. It does not list its rates online. However, like eHopper, it offers US merchants the opportunity to use its "cash discounting" program to pass the card processing fees to your customers as a surcharge (which is then offered as a discount if they pay cash.) This is a legal practice in the US, but not one we necessarily promote.
---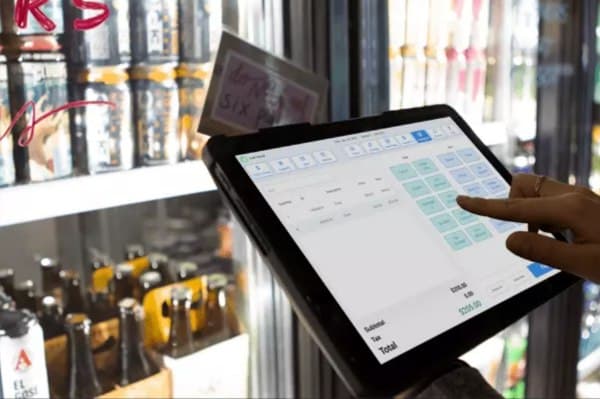 ---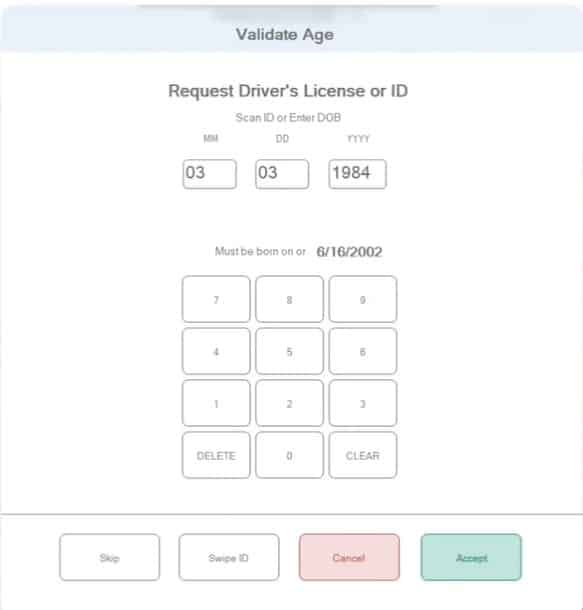 ---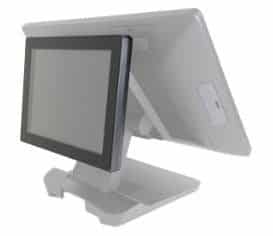 ---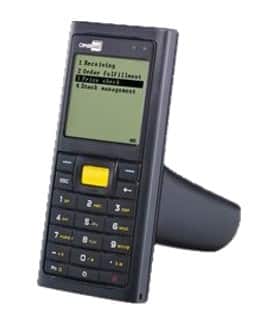 ---
Users love POS Nation and rave about its supportive 24/7, US-based customer service. The system also arrives at your location preconfigured with the POS for grocery store software, so all you need to do is plug in the components. In-person installation is available; prices will vary based on the complexity of your configuration, though.
If your market sells alcohol or tobacco products, you can prompt cashiers to scan IDs. And if your state requires grocers to collect and refund non-taxed bottle deposits, POS Nation can handle these automatically.
Since Our Last Update: There's no information on the POS Nation website about ecommerce integrations, and it does not offer a webstore for the grocery POS system. If you need ecommerce, we suggest IT Retail or Square.
POS Nation's standout features include:
Mobile POS option: POS Nation operates on stationary touch-screen terminals or mobile tablets. You can use these mobile devices to run sales at a satellite location, like a pop-up tent in your parking lot, or even add or count inventory items. (Square is also excellent for mobile.)
US-based customer support: While many POS brands outsource their technical support to call centers outside the US, POS Nation's 24/7 support representatives are US-based. They are also reviewed highly by POS Nation users. Nearly every positive review of this system mentions the friendly and knowledgeable support team.
Strong inventory tools: POS Nation's built-in inventory tracking supports unlimited products. You can create multiple pricing levels for cases or packs of items or build mix-and-match product combos with pricing that updates as included items are added to the sale. We found it a more comprehensive system than Square or eHopper.
Create your own coupons: While others on our list offer loyalty programs for discounts, POS Nation goes a step further by letting you create your own coupons, even on the fly while checking someone out, a great tool when selling a slightly damaged item.
55 pre-made reports: POS Nation offers a huge number of pre-made reports with customizations to make sure you can access the information you need to make smart business decisions.
---
Comcash: Best for High-volume Grocers Using Existing Hardware

Pros
Operates on Windows-based hardware
Built-in ecommerce site
Digital receipt options
Detailed forecasting tools
Cons
Locked into IT Retail for payment processing
Customer support is not 24/7
Webstore pricing no longer listed
What we like:
Comcash works on Windows-based hardware, so it's a versatile system that you can use with just about any device. However, it also has all the grocery-store functions you need, from bottle deposits to loyalty programs that don't require cards or special member numbers. Its online store is powerful and fully integrates with the in-house POS system.
This POS also includes granular features that high-volume grocers need: bottle deposit processing, ID scanning, expiration date tracking, and more.
How it scored:
As part of the IT Retail family (along with POS Nation), it's little wonder that Comcash ranks high with its sister products. It earned an overall score of 3.89 out of 5, with perfect marks for hardware and basic functions and 4.75 out of 5 for grocery store functions.
It has a strong webstore, although it no longer lists this capability in the build-and-price; you'll need to call for a quote. It lost points on pricing because it offers only a single plan, and its quote was more expensive than IT Retail and POS Nation.
Comcash has a build-and-price system similar to IT Retail and POS Nation, as well as a single bundled plan.
Custom Pricing
We got a quote for a two-lane grocery with an additional pin pad and remote configuration. We were quoted upfront charges of $3,998 and monthly subscription fees of $99.
Here are some other prices we found:
Software: $99 per month
Hardware costs: From $159, payment terminals from $599 to $749
One-time installation fees: Custom-quoted
Processing fees: Custom-quoted
Ecommerce: Custom-quoted
Pricing Plans
Comcash has a single bundled program for $1,999. It includes a touch PC, receipt printer, barcode scanner, cash drawer, customer display, grocery store POS software, and a 2-year hardware warranty. It requires an IT Retail payment processing agreement and includes a pin pad.
---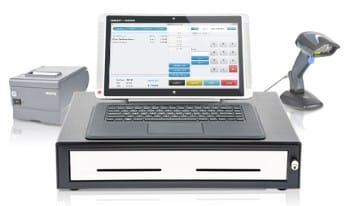 ---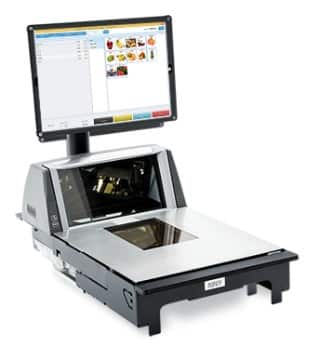 ---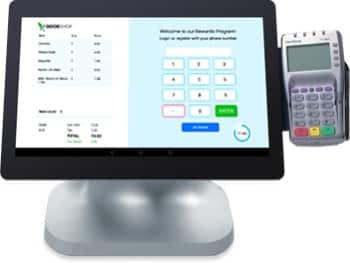 ---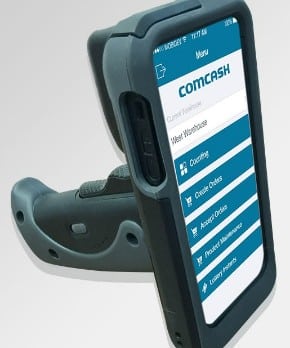 ---
Comcash comes with several features that help you manage a high-volume market with ease. You can quickly process bottle deposits and redemptions, scan IDs for age-restricted purchases, and track expiration dates on perishable products. It also offers an integrated online store and robust loyalty tools.
Comcash's standout features include:
Marketing and loyalty: Customers can earn points for purchases, and you can also use the loyalty system to send targeted emails and coupons or promote new items. They enroll using a phone number; there are no cards required and no specialized loyalty number to remember. You'll find similar loyalty systems with POS Nation. Others also have loyalty tools, although Square charges for its loyalty program.
Integrated online store: Comcash offers an integrated online store. This store syncs seamlessly with your in-store inventory and loyalty program. It also tracks stock in real time, lets customers search for items by kind or brand, schedule in-store pickups, and even lets you deal with support issues in-app. You'll need to call for a quote, as it's not included in the build-and-price or bundled plans. (Square's webstore is free and included.)
Flexible hardware: You can operate your Comcash POS on low-profile touch-screen Windows tablets or opt for industry-grade Elo Touch screens with integrated scanners and scales. Self-checkout terminals are also an option, as are handheld inventory scanners that speed order receiving and inventory counts.
Customer display: You can run advertising or messages for the checkout customer until the time of sale. Then, it will prompt a customer for their loyalty or to enroll with just the phone number. It also lets customers see their loyalty account and information, so they can check points or update if needed. Next, it asks for their satisfaction, and if it is less than 4 stars, it sends a text to the manager. This gives you a chance to tackle problems quickly. It remembers customer preferences, like where to send receipts. This is the most complete customer display system we've seen.
---
Square for Retail: Best for Small, Single-lane Markets Needing a Free POS & Online Store

Pros
No long-term contracts
Can use existing hardware
Includes free, integrated online store
Baseline POS is free
Cons
Square is the only payment processor
Age verification tools are not strong
Customer service is not 24/7 for free users
No self-checkout, scales, or other grocery-specific hardware
What we like:
Square for Retail is super easy to set up and use, and it has free ecommerce tools for setting up an online grocery store. There's a free plan if your needs are simple, but the paid plan includes inventory with stock forecasting, vendor management, and more. It's not as complete as other grocery POS on our list but offers a lot of functionality for a good price, and it works on mobile. Finally, the Square ecosystem includes add-ons from scheduling to payroll and even banking.
How it Scored:
Square earned an overall score of 3.8 out of 5 on our grocery store POS criteria, primarily for expert score and ease of use. It didn't get a perfect score in our pricing category because you must use the built-in payment processing. Additionally, it lost points because it does not have a lot of grocer-specific features. Square cannot process bottle deposits and does not have any age-restricting tools for alcohol or tobacco sales. Getting expiration date tracking and EBT payments requires a third-party inventory integration, and most of the self-service kiosk integrations are geared toward restaurants.
Software
Free: Basic retail POS app, online store, basic inventory for unlimited items

In-person payment processing: 2.6% + 10 cents
Online payment processing: 2.9% + 30 cents

Plus ($60 per month): Free plan features plus advanced inventory, advanced reports, team management

In-person payment processing: 2.5% + 10 cents
Online payment processing: 2.9% + 30 cents

Premium (Custom-quoted): Plus Plan plus payroll, loyalty, marketing, and account management

Custom payment processing
Hardware
Square works with iOS tablets and smartphones, but it also has its own line of POS hardware. Prices are cheaper than others on our list, but also simpler. Here are a few examples.
POS systems: Starting at $799
Stands: $149 (Need your own tablet)
Terminals: Starting at $299
Chip readers: Starting at $49; first stripe and chip reader for mobile is free
Add-ons
Square offers multiple add-on plans, something not found with the other supermarket POS systems on our list.
Ecommerce: $0–$72
Payroll: Starting at $35 per month + $5 per person monthly
Invoices: $0–$20
Email Marketing: Starting at $15 per month
Text Message Marketing: Starting at $10 per month
Virtual Terminal: $0, with processing fees of 3.5% + 15 cents for remote processing
Buy now, pay later: $0 with processing fees of 6% + 30 cents (remote or in-person)
Gift cards: Starting at $2 for a pack
Loyalty: Starting at $45 per month
Team Management: $0–$35 per month for scheduling and time tracking
Square also offers checking accounts, saving accounts, and business loans up to $250K.
---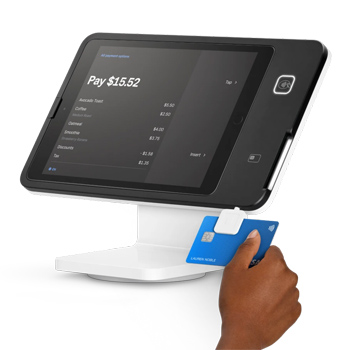 ---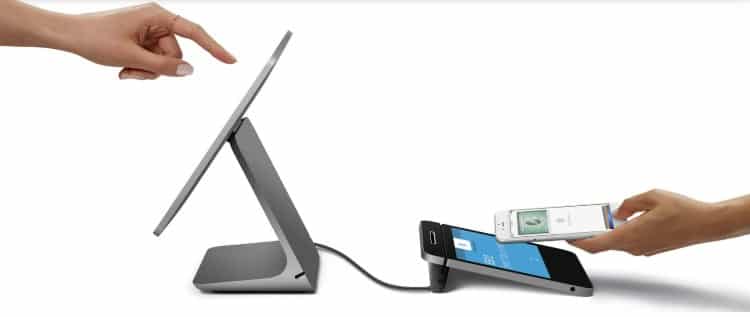 ---
If you are a small market upgrading from a cash register or a micro-market with a single lane, this POS is a great fit. It includes payment processing at a reasonable flat rate, is easy to use, and is so popular, your employees may already be familiar with it. The lack of a long-term contract lets you use Square as long as it suits you, then upgrade or move to a new system if your needs change.
Square for Retail's standout features include:
Free POS system: Square's free POS system is basic, but hearty, with unlimited products and modifications, general inventory tools, customer management, discounts, and more. Only eHopper on our list had a free plan, and while it has more grocery-specific features, it limits you to 50 products.
Bring your own hardware: Square for Retail can run on iPads that you already own. All you need is a card reader and a Square account. You can get started with the system in a single afternoon. Of course, you can purchase additional hardware from Square to customize your system. If you need barcode scanners, integrated scales, customer-facing displays, or additional card readers, Square has you covered.
Free online store: Beyond being free, the Square Online Store offers a lot of great features. You can highlight top-selling items, new products, discounts, or deals on your site. Your site will also integrate seamlessly with Instagram, Facebook, and Google product listings. So if a customer is looking for a nearby store that sells what they need, your Square Online Store can put your market at the top of their list.
Inventory integration: Square for Retail includes product tracking inventory that updates in real time and includes bulk inventory intake and smart forecasting tools. If your market sells mostly shelf-stable products, this may be all you need. But if you need to track expiration dates for perishable items or lot numbers for meats, seafood, and other products that are prone to food-borne illness or recalls, you'll want to add the Finale Inventory integration. Finale's software fees start at $75 per month; consider IT Retail if you don't want to pay extra for this tool.
Workforce management: Square's Premium and Plus plans include team management tools to manage your employee hours, scheduling, and payroll. Only eHopper offers time clocks but not scheduling. Further, Square also has a Payroll app that you can add; none of the others do.
---
eHopper: Best for Cash Discounting & Multilingual Stores

Pros
Even free version has excellent grocery store tools
Sell items by weight
Track perishable items
Multiple options for currency, units of measure, language, and hardware
Cons
Free version limited to 50 products, 300 transactions per month
Limited integrations
Offline mode only works for cash transactions
What we like:
eHopper is an inexpensive yet powerful POS system for grocery stores that works well for small markets. Its free plan is limited, but the paid plan lets you run two registers for under $40 per month.
Its market-specific tools include expiration date tracking, a user-friendly checkout with images, customizations, and even employee-specific language settings. It accepts EBT and has cash discount capabilities (eHopper refers to this as "free processing"*). It works on tablets (Android and iOS) or on POS terminals.
How it scored:
eHopper rated 3.75 out of 5 on our evaluation. It earned the best score for price and did well for hardware and basic features, but lost points for grocery-specific tools since it lacks bottle deposit and ID check features.
This POS only earned a 3.25 for ease of use because phone, email, and chat support are only available for paid plans. Users didn't rate it as highly as others on the list, which hurt its overall score as well.
Software
Essential (Free): 50 products, 300 transactions per month, integrated merchant services, free processing (US customers only)*, inventory management, customer management, basic reports; put software on Android tablets or iPads
OmniChannel ($39.99/month): 2 licenses, unlimited products and transactions, Free plan plus ecommerce, loyalty, EBT, time clock, save order to pay later, inventory adjustments, ingredient management, self-service kiosk, low stock alerts, implementation and training, support by phone, email or chat, ability to put software on the Poynt terminal
eHopper payment processing fees: 2.5% + 10 cents, $20 per month minimum; comes with a Pax S3000 payment terminal
Hardware
eHopper's choice of hardware is more limited than IT Retail or POS Nation but does cover the basics, and at competitive prices.
Bundle OmniChannel plan and Poynt Smart Terminal: $69 per month
Hardware bundles: Starting at $1,099
Card terminals: Starting at $329
---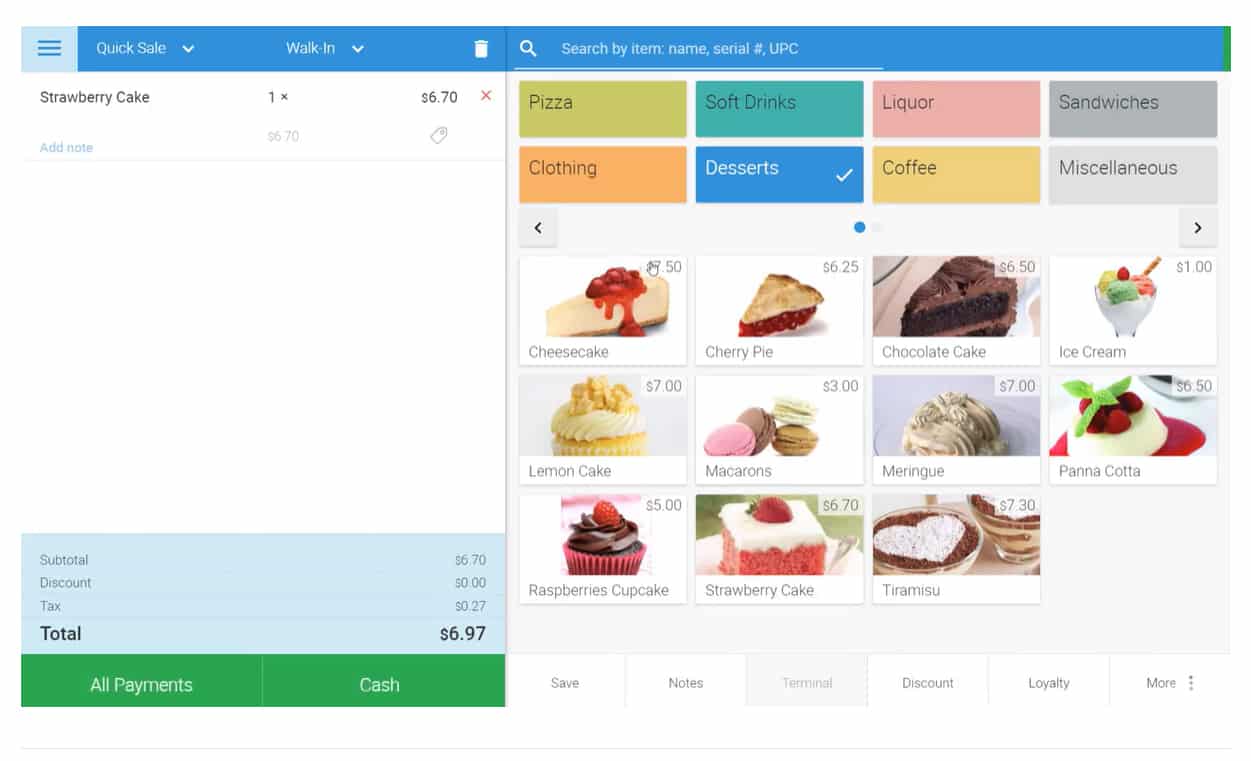 ---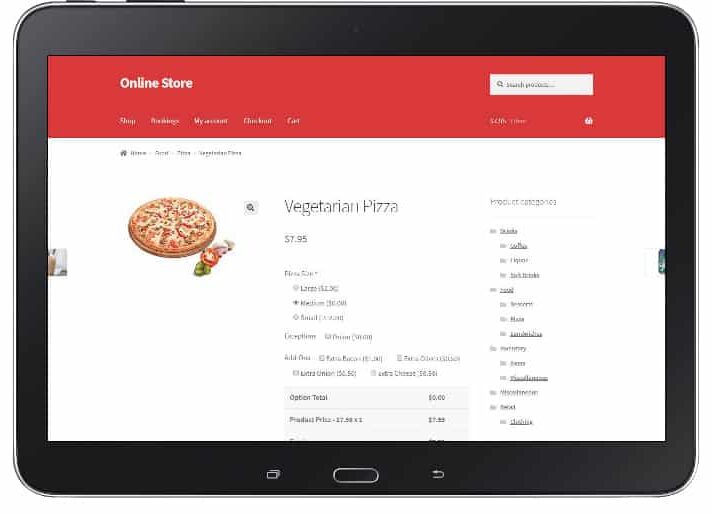 ---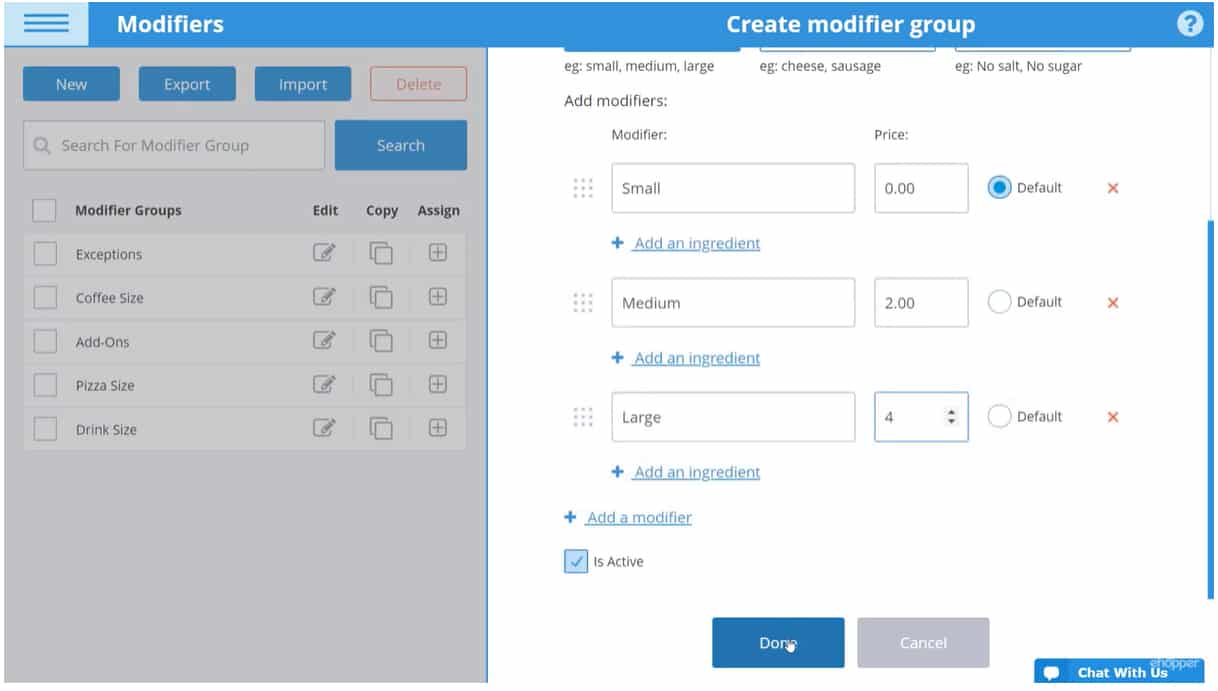 ---

---
While eHopper has a more grocery-centric free POS system than Square, it limits the products and transactions severely. The paid plan is the cheapest on our list, however, and includes an excellent feature set including loyalty, inventory, time clocks, and more. You can put it on POS hardware (it offers Poynt terminals) or use tablets like Square does.
Some of the standout features of eHopper include:
Multilingual on the same register: Have a foreign employee who isn't fluent in English yet? You can set a language specific to each employee. No one else had this feature, which makes it great for border towns, tourist areas, and anywhere you have a diverse labor force.
Multi-terminal flexibility: First, eHopper's paid plan comes with two licenses, which makes the price the cheapest of our paid plans. In addition, the registers share information, so if Lane 1 rings up the last kumquat, Lane 2 knows you're out of stock. It has an offline mode but only for cash transactions. It can also save a transaction to pay later—a great tool for when someone discovers at the register that they left their wallet in the car.
Inventory: eHopper's inventory is competitive—better than Square's in that it has expiration-date tracking—but not as in-depth as IT Retail's. Even so, you can set low-stock alerts, manage store transfers, adjust inventory, and manage vendors and purchase orders.
Time clock: Like Square, eHopper has a time clock. Use it to track hours and export the information for use elsewhere. Unlike Square, it does not have scheduling, however.
*"Free processing" essentially means integrating the fees for credit card purchases as a surcharge, and offering it as a discount if the customer pays cash instead. It is legal in the US, but not what we recommend as a best practice. Learn more about "free" credit card processing.
---
How to Choose a Point-of-Sale System for a Grocery Store
Step 1: Have a Budget
Naturally, you need to consider costs. We found POS systems for grocery stores that were as low as $39 a month and as high as $18,000 to start. Those considered on our list are generally under $4,000 for two lanes.
Step 2: Choose Your Must-have Features
For grocery store POS software, be sure to look for the following:
Advanced inventory management systems that can track expiration dates, bottle deposits, and case breaks
Reports for sales, inventory, and employee hours
Easy item lookup or photos (especially for produce)
Ability to take EBT payments as well as cash and credit
Employee time clock and register close out functions
Ability to take coupons or create discounts
ID check reminders or verification tools (if you sell age-restricted products)
Loyalty programs that are easy to use, such as ID by phone number
Scanner and scale integrations
It's also useful to have the ability to capture email addresses for marketing and other CRM functions.
For hardware, consider how many checkout lanes you need for your grocery store. Barcode scanners make taking inventory and ringing up sales easier, and scales are vital for items like produce, cheeses, or deli meats. Larger establishments like supermarkets might need self-checkout kiosks to manage long queues.
Integrated payment processing is also important to easily reconcile sales, loyalty rewards, and inventory without having to use multiple platforms.
Consider whether you want an online store, even if only for the ability to order ahead and pick up in-store.
Finally, choose a POS for your grocery store that is easy to use, not only for your cashiers and managers, but also for your customers.
Step 3: Make a Shortlist
Have a list of the top POS systems you are considering. Make sure they each have your must-have features. Note any other standout features or drawbacks that they have. Being able to look at your contenders side-by-side will help make your final decision easier.
Tip: Check user reviews and talk with other business owners to get firsthand feedback on the POS systems you are considering. Some systems check all of the boxes on paper, but are tricky to use, glitchy, or unhelpful customer support, which can all be difficult to detect from the website or even product demos.
Step 4: Compare Specific Quotes & Product Demos
Once you have your choice narrowed down to a few options, reach out to each company directly for a custom quote and a demo.
During the product demo, ask to walk through all of the major tasks both management and associates will need to complete each day so that you get a sense of the workflows. Also ask about the installation process and fees, setup time, and whether or not you will be eligible for dedicated customer support.
Having your top choices laid out side-by-side will also help you negotiate lower rates—some POS companies will match competitor pricing. It will also make it easier for you to ask questions about missing or lackluster features.
Tip: Ask if you can record the demo or get access to a trial account to reference later.
Step 5: Get Staff Feedback
When your list is finalized, get feedback from key staff members like your store manager, department managers, and lead cashiers. If you have a trial or a recording of product demos, give them access.
Since your staff will be the ones using your POS system the most on a day-to-day basis, they can likely provide nuanced feedback. And, rolling out your system will go a lot smoother if you have buy-in from your employees.
How We Evaluated Grocery POS
Grocery stores need a POS system that can handle large volumes of perishable inventory, track and manage employees, and build shopper loyalty with customer relationship management (CRM) features. It also needs durable and industry-specific hardware, including options for scale and scanner integrations. With increasing customer demand for online ordering, ecommerce tools are quickly becoming a must-have feature too.
IT Retail emerged as the best grocery store POS for markets of all sizes. The software received the highest overall score based on our criteria, earning a 4.28 out of 5 for its affordable monthly cost, self-checkout option, SNAP EBT payments, FIFO and perishable inventory tracking, tools for online grocery sales, and a robust CRM feature set.
Click through the tabs below for our full evaluation criteria:
20%
Hardware & Basic Functions
30%
Niche Grocery Features
20% of Overall Score
Groceries and small markets operate with tight margins. So first, we considered each system's overall cost. We looked for integrated payment processing and awarded the highest points to systems that integrate with multiple processors so users can shop for the best processing rates. eHopper took first place here, although its score was still only 3.75 out of 5.
20% of Overall Score
We looked for systems that use durable, market-specific hardware like scales, scanners, self-checkout tools, and EBT payment processing. Because markets typically have a roster of staff to manage, we awarded points to systems that go beyond basic timekeeping and support employee scheduling as well. All did well, but Comcash and IT Retail earned perfect scores.
30% of Overall Score
Groceries have tens of thousands of products, so we looked at systems that have robust inventory management tools and can account for variables like expiration dates and first-in, first-out (FIFO) schedules. Since several states require grocers to collect and distribute non-taxed bottle deposits, we looked for systems that handle this fluently. For markets that also sell age-restricted products like alcohol and tobacco products, we looked for age-verification tools. We also examined what CRM features—such as loyalty programs, custom coupons, and marketing tools—and ecommerce tools are included. IT Retail earned 4.75 out of 5, putting it ahead of the pack.
10% of Overall Score
We prioritized systems that include 24/7 customer support. We also considered what type of support is available—via phone or only email. And since service slowdowns can negatively impact a grocer's bottom line, we also looked for systems that are cloud-based with hybrid installation or a robust offline mode. POS Nation and IT Retail got the highest scores.
*Percentages of overall score
Grocery Store POS Systems Frequently Asked Questions (FAQs)
Do you have to pay monthly for a grocery POS system?
Typically, yes. Most modern POS systems, and the ones we usually recommend, are cloud-based or hybrid installation POS. These operate on a software-as-a-service (SaaS) model that typically requires a monthly fee.
How much does a grocery POS system cost?
The cost of setting up a grocery POS system depends on your requirements. Expect to spend $1,000+ per terminal, and more if you need kiosks, self-checkout, or industry-grade scales or scanners. Software will average $100 per month per terminal.
Should I put my grocery store online?
If you can sell groceries online without sacrificing your margins to the point of not being profitable, you should absolutely sell online. US online grocery sales reach over $8 billion every month, and it's a growing market.
Bottom Line
IT Retail has all the tools an independent grocer needs. This user-friendly system arrives preprogrammed and includes robust customer loyalty tools, detailed inventory management, and the ability to scan IDs and process bottle deposits. With an affordable baseline price and customizable hardware, this POS can support small markets or expand as your business grows. To see if this POS is the right fit for your grocery operation, visit IT Retail for a demo.