6 Best Grocery POS Systems for 2023
This article is part of a larger series on POS Systems.
Grocery stores require specialized hardware and software tools on top of standard point-of-sale (POS) software features such as scale and scanner integrations, online grocery sales, self-checkout options, and lot and expiration date tracking. These extras typically come at a higher cost, but small grocers still have affordable POS options. We evaluated dozens of solutions to find the best-value grocery store POS systems for independent markets and grocers.
Based on our evaluations, the best grocery POS systems are:
Top Grocery Store POS Compared
Software Monthly Fee

Hardware Cost

Additional Register Cost

Built-in Payment Processor

Third-party Integrated Payments

$99

$149–$1,999 (Bundled w/ Software)

$99 (Software)

✓

Custom rates

✕

$99 (minimum 2 terminals)

Custom quote

$99

TSYS, Worldpay, Chase, and more

Not disclosed

$149–$1,499 (Bundled w/ Software)

Not disclosed

✕

Worldpay, Heartland EVO, and more

$125

Windows (use your own); or Comcash from $159–$749

$125

✕

Custom-quote

Custom-quote

Custom-quote

✕

$0

$49–$1,269

$60 (plan upgrade)

✓

Flat rates

✕
Software Monthly Fee

Hardware Cost

Additional Register Cost

Built-in Payment Processor

Third-party Integrated Payments

✓

Local Express, Mercato, Freshop, My Cloud Grocer, and Instacart Integration

✓

✓

✓

Advanced Tracking only

Revel Online Ordering, Shopify integration

✓

✓

✓

Advanced Tracking only

Integrates with your existing site for a $15 monthly fee

✕

✓

✓

✓

Comcash eStore

✓

✓

✓

✓

Catapult Webcart

✓

✓

✓

✓

Square Online Store

✓

✓

✓
IT Retail: Best Overall Grocery POS

Pros
Multiple ecommerce integration options
Flexible pricing
Supports bottled deposits and ID scans
Variety of online grocery platforms and click-and-collect orders integrations
Cons
Locked into IT Retail for payment
May be too large a system for a small, single-lane market
IT Retail Pricing
Subscription fee:

Software for custom-built subscription: $99/month.
Prebuilt hardware and software plan: from $149/month.

Hardware costs: Custom-quoted or from $149/month.
One-time installation fees: Custom-quoted; small grocers may be able to self-install
Processing fees: Built-in and custom-quoted
Ecommerce:

Setup: $149
Payment Gateway: $250/month.
IT Retail's POS is tailor-made for independent groceries and markets of all sizes. It also regularly appears as one of our top choices for a small business POS system, providing all the standard grocery-specific features that other systems lack or offer as a paid add-on such as multiple-scale integration, bottle deposit management, marketing tools, and loyalty programs.
For this update, IT Retail earned a score of 4.28 out of 5, earning a perfect score for hardware and basic POS functions. It lost some ground due to the cost of adding an online grocery store (setup will set you back $149 and the payment gateway is $250 monthly). Recent pricing changes replaced basic software plans with pre-built, all-in-one solutions that start at $149 per month. Custom-built plans are now available with software costing $99 per month.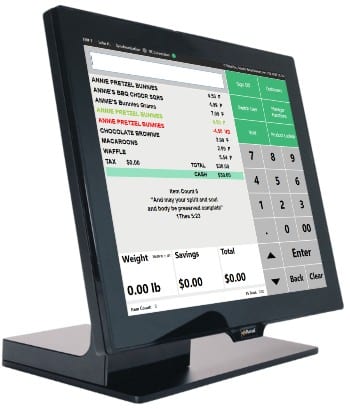 ---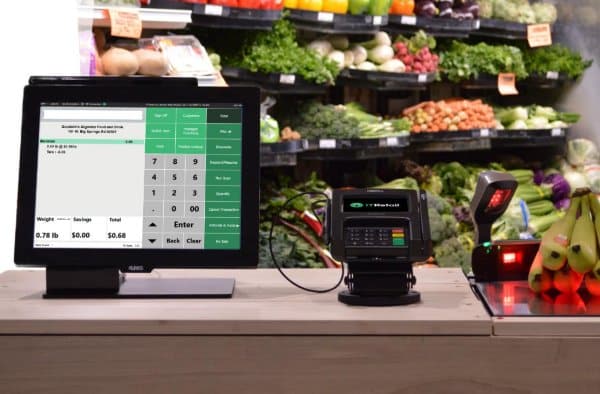 ---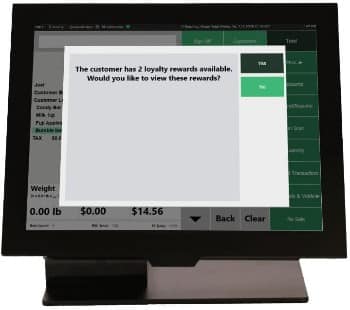 ---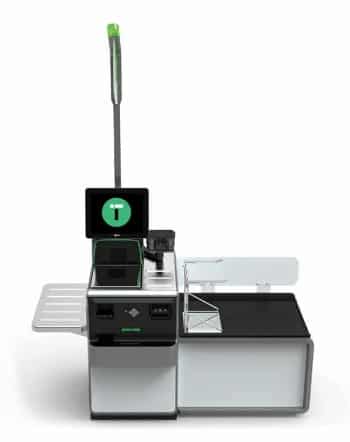 ---
IT Retail is a cloud-based, serverless setup. This enables it to offer its POS for a much lower price than traditional, locally installed systems. Software cost starts at $99 per month for small shops. Larger supermarket-style stores and multilocation markets will need to request custom pricing. Your IT Retail terminals will arrive preprogrammed and ready to install. But if you prefer to leave the installation to the professionals, you can request in-person installation for a custom-quoted fee.
IT Retail's standout features include:
Online grocery: A recent survey reports that US online grocery sales for November 2022 were $7.7 billion. IT Retail integrates directly with industry-leading online grocery ordering and delivery platforms like Instacart, so your store can meet customers where they prefer to shop. Note, however, that setting up an online store can be expensive.
Employee productivity: In addition to supporting customized user permissions and tracking employee time, IT Retail also tracks your cashiers' performance. The system logs activities like voids, refunds, and discounts and allows you to compare an individual staff member's performance to store averages. These reports can illustrate underperforming staff members or alert you to potential theft.
Customer loyalty: IT Retail lets you engage with customers through a customizable rewards program. You can reward loyalty points for every purchase, which customers can later redeem as a dollar amount or a percentage discount. There is no chance your customers will miss a chance at redemption; before finalizing payment the IT Retail POS alerts your cashier when a customer has unused loyalty points.
Comprehensive inventory: IT Retail's inventory tracks your products in real time. It also includes tools for lot tracking and expiration date tracking to keep your market compliant with FDA tracking regulations for perishable items.
Bottle deposits and ID scans: This system seamlessly handles tax-free bottle and can deposits in states that require it. The system also prompts for ID scans for age-restricted products, so your cashiers will never forget to check.
---
For more information on IT Retail's dedicated grocery store POS features, read our full IT Retail review.
Revel Systems: Best for Small to Mid-volume Markets

Pros
Supports multiple payment processors
Myriad hardware peripherals
Cost-effective iPad based terminals
Supports lot and expiration date tracking
Cons
Third-party integration for expiration date tracking
Pricey add-ons and hardware
Revel Systems Pricing
Software subscription fee: $99 per terminal per month
Hardware costs: Custom-quoted
One-time installation fees: Starting at $674
Processing fees: Varies by processor
Ecommerce: Third-party integration for SMBs (pricing varies), native online and mobile ordering for Enterprise
Revel Systems is a cloud-based POS system that offers a highly customizable system for customer-facing displays, online ordering, and self-order kiosks. Although a popular choice for restaurants with multiple locations, this software also provides niche grocery store features like bottle deposit processing and robust customer management functionalities.
It earned a 4.19 out of 5, scoring points for its 24/7 customer support and wealth of grocery-supporting features. However, it lost some ground because expiration date tracking requires a third-party inventory integration. Small to mid-volume markets will find all the tools they need at a reasonable price. High-volume markets, though, may prefer a system that operates on industry-grade hardware like IT Retail or ECRS Catapult.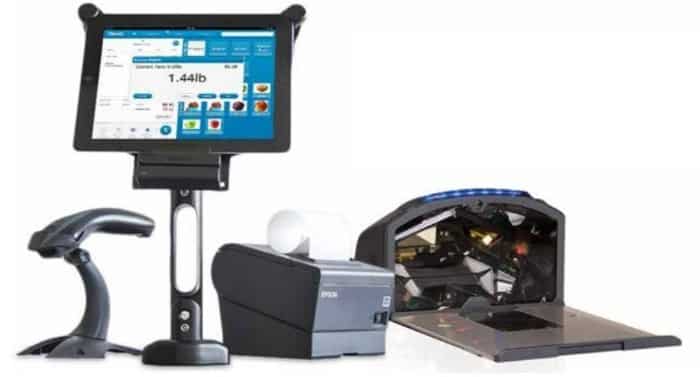 ---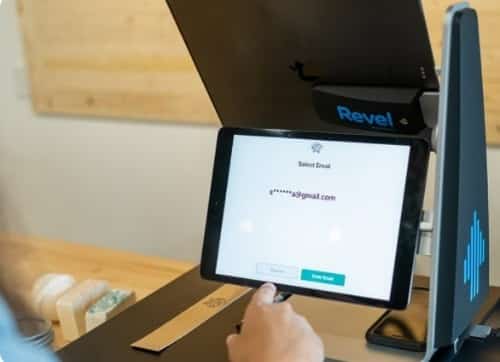 ---
---
Revel uses iPads as the foundation for its cloud-networked retail POS system, just like competitor Square for Retail does. Revel, however, is backed up to a local server, which gives it stronger offline functionality and ensures that you can process payments even if you lose internet access. Though this consumer-grade hardware is likely less expensive than purpose-built hardware, you'll need to contact Revel for a custom quote.
Revel Systems' standout features include:
Inventory management: With the ability to manage complex matrix inventories, you can organize items into categories, monitor stock counts in real time, send automatic low-stock alerts, and generate purchase orders. Aside from its barcode scanner, you can use your phone to scan items, and the activity will be synced from the app to your dashboard seamlessly. If you need first-in, first-out (FIFO) or lot tracking, however, you'll need to add the Yellow Dog inventory integration.
iPad-based self-checkout: With self-checkout stations built on iPads, Revel users can get self-service tools for a fraction of the cost of a custom kiosk build.
Loyalty program and CRM: Create your own loyalty program depending on how your customers want to earn—like earning points per transaction, for buying specific items, or based on the purchase amount. You can generate insights from the app's management console to develop a rewards program (e.g., exclusive discounts and promos) that will boost customer satisfaction.
Employee management: Set up administrator permissions, assign roles and wages, monitor timecards, and manage payroll. The system also allows you to create staff schedules and standardize time sheet rules according to local laws.
Payment processing: Revel Systems' management console lets you view credit card transactions throughout a particular period and check on deposited funds. It is also EMV-compliant and integrates with QuickBooks for seamless accounting processes.
---
POS Nation: Best for Growing Independent Grocers & Markets

Pros
Month-to-month and upfront options
No long-term contracts
Supports multiple payment processors
Supports bottle deposits and ID scans
Cons
Does not support self-checkout
Inventory does not include lot tracking or expiration date tracking tools
POS Nation Pricing
Subscription fee:

Software for custom-built subscription: Not disclosed
Custom-built hardware and software plan: Custom-quoted
Prebuilt hardware and software plan: From $149/month.

Hardware costs: Custom-quoted or from $149/month.
One-time installation fees: Included in total software quote
Processing fees: Built-in (custom quoted) and third-party integration
Ecommerce: $15/month.
POS Nation is a cloud-based retail POS that offers scalable features for small markets planning to expand in the future. As your business grows, you can simply add more terminals for a simple monthly or one-time fee. Recent updates to its pricing plans show that it now offers a very similar pricing structure as IT Retail, letting you choose between paying a monthly fee of $149 for a pre-built, all-in-one plan, or apply for a custom-build subscription. Both require using POS Nation Payments as your payment processor, but you can also cancel at any time.
Overall, POS Nation earned a 4.05 out of 5 on our grocery ranking. This user-friendly system earned high marks for ease of use and from our experts. On the other hand, the new pricing scheme no longer includes an affordable option, which negatively affected POS Nation's score. It could have also scored higher if it supported self-service kiosks and included expiration date tracking in the inventory module. If these tools are important to you, consider IT Retail, Revel, or ECRS Catapult (depending on your budget).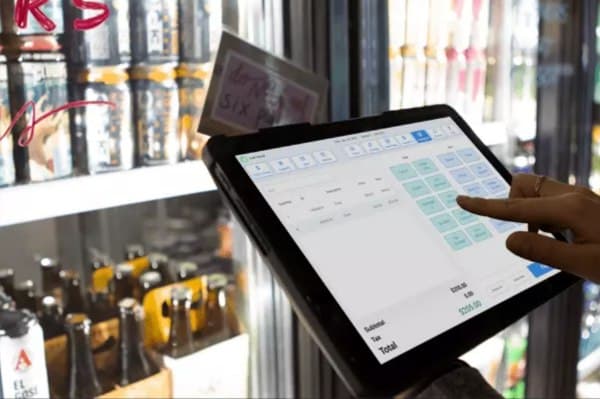 ---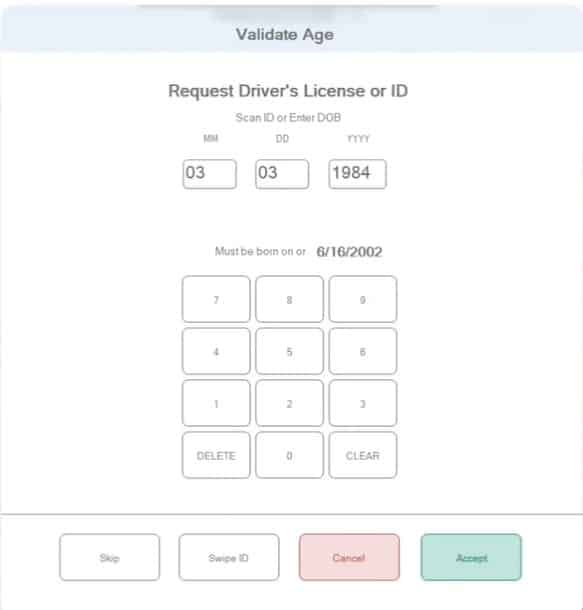 ---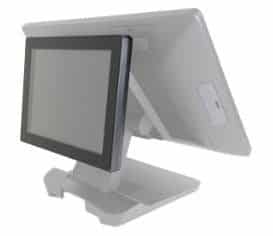 ---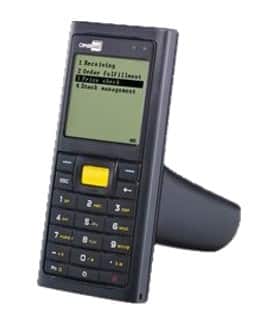 ---
Users love POS Nation and rave about its supportive 24/7, US-based customer service. The system also arrives at your location preconfigured with the POS Nation software, so all you need to do is plug in the components. In-person installation is available; prices will vary based on the complexity of your configuration, though. If your market sells alcohol or tobacco products you can prompt cashiers to scan IDs. And if your state requires grocers to collect and refund non taxed bottle deposits, POS Nation can handle these automatically.
POS Nation's standout features include:
Flexible ecommerce integration: Users are not tied to a built-in platform; if you already have a website that works for you, you won't need to move to a POS Nation-built tool. For a fee of $15 per month you can integrate your web store with POS Nation. This is great if you already have a plan for ecommerce sales. If you want a built-in ecommerce site, however, you'll prefer IT Retail or Square for Retail.
Mobile POS option: POS Nation operates on stationary touch-screen terminals or mobile tablets. You can use these mobile devices to run sales at a satellite location like a pop-up tent in your parking lot, or even add or count inventory items.
US-based customer support: While many POS brands outsource their technical support to call centers outside the US, POS Nation's 24/7 support representatives are US-based. They are also reviewed highly by POS Nation users. Nearly every positive review of this system mentions the friendly and knowledgeable support team.
Strong inventory tools: POS Nation's built-in inventory tracking supports unlimited products. You can create multiple pricing levels for cases or packs of items, or build mix and match product combos with pricing that updates as included items are added to the sale.
---
Comcash: Best for High-volume Grocers Using Existing Hardware

Pros
Operates on Windows-based hardware
Built-in ecommerce site
Digital receipt options
Detailed forecasting tools
Cons
Locked into Comcash for payment processing
Customer support is not 24/7
Comcash Pricing
Subscription fee:
Hardware costs: From $159, payment terminals from $599 to $749
One-time installation fees: Custom-quoted
Processing fees: Custom-quoted
Ecommerce:

Web store: $250/month
Web administrator portal: $125/month
Comcash is a cloud-based retail POS that operates on Windows hardware. This means you can use compatible tablets that you already own or purchase Elo Touch tablets from Comcash. This POS also includes granular features that high-volume grocers need: bottle deposit processing, ID scanning, expiration date tracking, and more.
It earned an overall score of 3.93 out of 5, earning high marks for its basic functions and affordable hardware. And while it offers integrated ecommerce tools, setting up a Comcash ecommerce store can be quite expensive (like IT Retail). Comcash also lost points because it locks you into quoted rates and its customer support is not 24/7. If shopping for the best rates is important to you, check out Revel Systems or POS Nation.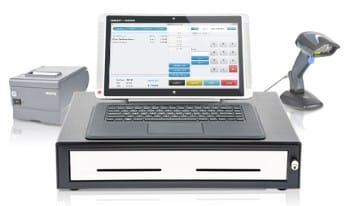 ---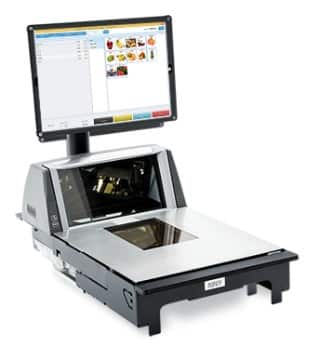 ---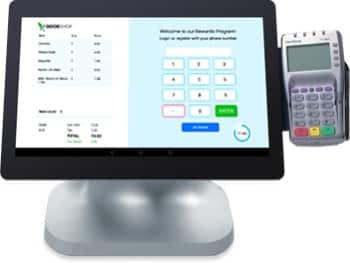 ---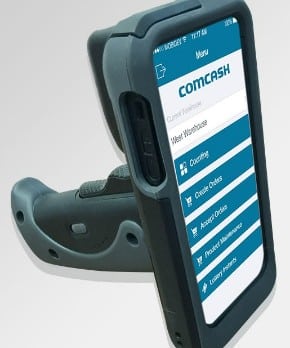 ---
Comcash comes with several features that help you manage a high-volume market with ease. You can quickly process bottle deposits and redemptions, scan IDs for age-restricted purchases, and track expiration dates on perishable products. The system also includes an integrated online store and robust loyalty tools.
Comcash's standout features include:
Marketing and loyalty: Your Comcash system prompts for e-receipts for every order (they aren't kidding about trying to eliminate paper waste). These emails are the foundation of a customer profile. Customers can also enroll using a phone number; there are no cards required and no specialized loyalty number to remember. Additionally, they can earn points for purchases, and you can also use the loyalty system to send targeted emails and coupons or promote new items.
Integrated online store: Like Square for Retail, Comcash includes an integrated online store. This store syncs seamlessly with your in-store inventory and loyalty program. So, you will never sell an item online that you don't have in stock, and customers can apply loyalty points or promotions just as they would if they visited in person.
Flexible hardware: You can operate your Comcash POS on low-profile touch-screen Windows tablets or opt for industry-grade Elo Touch screens with integrated scanners and scales. Self-checkout terminals are also an option, as are handheld inventory scanners that speed order receiving and inventory counts.
Unified customer experience: Since the loyalty and ecommerce site are built into your Comcash POS, your customers receive a unified customer experience. They will see the same logos, branding, and user interface whether they purchase in-store or online. They can apply the same coupons and rewards across channels, and even retain copies of all their past purchases so they never forget a product that they loved.
---
ECRS Catapult: Best for Self-checkout Options

Pros
Includes built-in online store
Robust inventory with vendor management and expiration date tracking
24/7 US-based customer support
Flexible hardware options
Cons
Pricing is all custom-quoted
Cloud access requires VPN connection
More tools than low-volume markets need
ECRS Catapult Pricing
Software subscription fee: Custom-quoted
Hardware costs: Custom-quoted
One-time Installation fees: Custom-quoted
Processing fees: Custom-quoted
Ecommerce: Custom-quoted
ECRS Catapult is a cloud-based POS that operates within the greater ECRS retail management ecosystem. Features include a wide range of self-checkout configurations and business management tools. All components are built into the Catapult POS, so no matter how large or complex your market, there is no need for third-party integrations. If you are struggling to keep your shop staffed or simply want to meet customer demand for self-checkout, you should definitely explore Catapult.
It earned a 3.88 out of 5, scoring incredibly well for its basic POS and niche grocery functions. ECRS Catapult also offers the widest range of self-checkout kiosk configurations of any system on this list. But the system slipped when it comes to cost. All software, hardware, and payment processing fees require a custom quote, so it can be hard to tell if you're getting the best deal. Small grocers may want to explore a smaller system like IT Retail or Revel first. Catapult may simply have more bells and whistles than they need.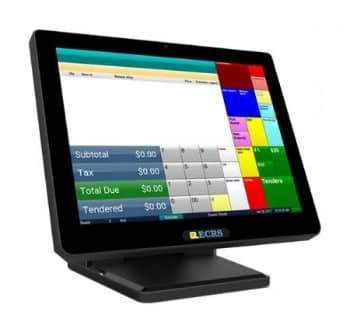 ---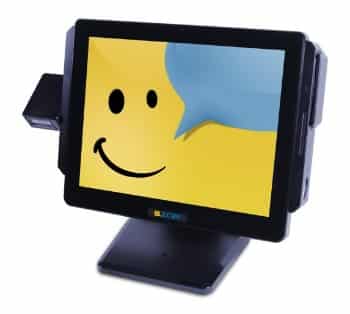 ---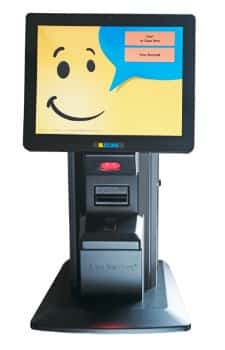 ---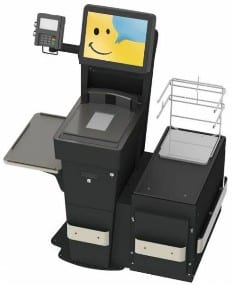 ---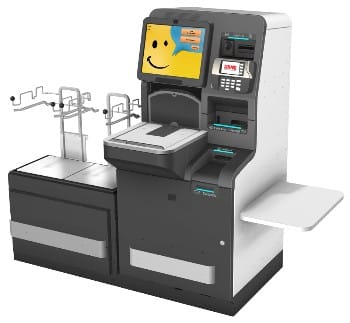 ---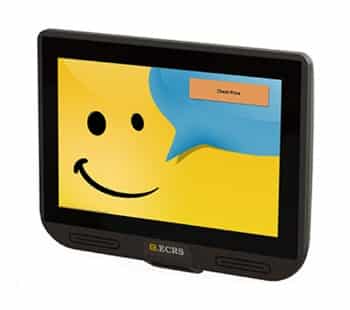 ---
Catapult is a complete retail management solution that can streamline a busy local market or help a regional brand compete with Kroger and Whole Foods. With all the software tools under the ECRS umbrella, you won't need to daisy chain third-party integrations to add needed functions. All of your reporting and analytics are also compiled on a single dashboard, which will save you administrative time.
Catapult's standout features include:
Myriad self-checkout configurations: Catapult has the widest range of self-checkout options of any system on this list. Small shops can use small-footprint terminals with a card reader, and large markets can expand with scales, scanners, and change dispensers. The self-checkout is guided and intuitive, and handles many everyday issues on its own. For example, if a Catapult self-checkout stand runs out of change, it will print a barcoded receipt that the customer can scan at another stand to receive their change.
Marketing and loyalty: All the systems on this list include marketing and loyalty tools. Catapult's tools go a bit further than most. Beyond simply rewarding customers for purchases, you can also reward them when they share your store's events and promotions on social media. You can also offer targeted promotions for birthdays, holidays, or other custom events.
Inventory with Universal Product Database: Catapult's inventory includes robust tools for tracking expiration dates. It communicates directly to your largest suppliers via an EDI connection so you can place orders with a few clicks and manage invoices in the cloud. The system also contains a Universal Product Database (UPD), which contains images, ingredients, ordering information, barcodes, and descriptors for hundreds of thousands of products. This reduces your labor cost for entering items into your inventory and helps you identify new products.
Comprehensive online learning center: All the systems on this list have customer support and training resources, but Catapult's online learning center truly stands out. This portal includes comprehensive classes to teach you and your staff how to use every nook and cranny of the system. The Catapult team also regularly hosts webinars to help independent grocers and other retailers meet new business challenges.
---
Square for Retail: Best for Small, Single-lane Markets Needing a Free POS & Online Store

Pros
No long-term contracts
Can use existing hardware
Includes free, integrated online store
Baseline POS is free
Cons
Square is the only payment processor
Age verification tools are not strong
Customer service is not 24/7 for free users
Square for Retail Pricing
Software subscription fee:

Free: $0
Plus: $60 per month
Premium: Custom-quoted

Hardware costs: From $49 for a chip reader to $1,269 for a full POS hardware kit
One-time installation fees: None. This system is self-installed.
Processing fees: 2.6% + 10 cents for in-person; 2.9% + 30 cents for online payments
Ecommerce: Built-in free plan (upgrade available $72/mo)
Square for Retail is a small but mighty cloud-based POS that operates on iPads. Unlike Revel Systems—which works best on iPads you purchase from the POS company directly—Square for Retail works just fine on iPads you already own. Square for Retail has a small footprint that is perfect for small markets. This baseline POS is free to use, and comes with a free, integrated online store. If your market is small and your budget is tight, Square for Retail is an inexpensive way to move beyond a basic cash register.
It earned an overall score of 3.8 out of 5 on our grocery store POS criteria, primarily for expert score and for ease of use. The free, integrated online store also received high marks (it didn't get a perfect score in our pricing category because you must use the built-in payment processing). Square lost some ground with niche grocery features though. It cannot process bottle deposits and does not have any age restricting tools for alcohol or tobacco sales. Getting expiration date tracking and EBT payments requires a third-party inventory integration, and most of the self-service kiosk integrations are geared toward restaurants.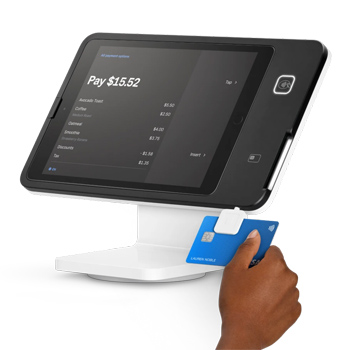 ---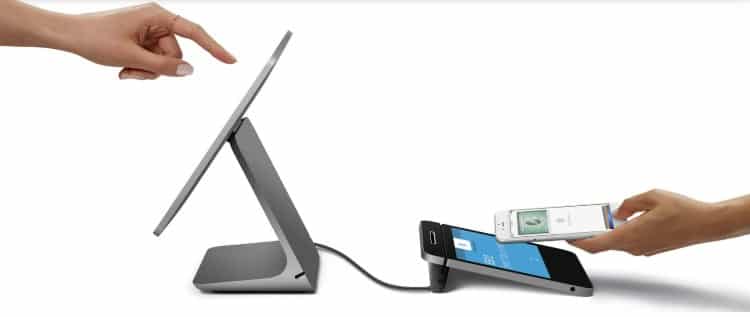 ---
Like third-placer POS Nation, Square does not require long-term contracts. Square also comes with built-in payment processing, so if you are a small market upgrading from a cash register or a micro-market with a single lane, this POS is a great fit. This system is so popular with small businesses of all types that your employees will likely already be familiar with it. The lack of a long-term contract lets you use Square as long as it suits, then upgrade or move to a new system if your needs change.
Square for Retail's standout features include:
Bring your own hardware: Square for Retail can run on iPads that you already own. All you need is a card reader and a Square account. You can get started with the system in a single afternoon. Of course you can purchase additional hardware from Square to customize your system. If you need barcode scanners, integrated scales, customer-facing displays, or additional card readers, Square has you covered.
Free online store: Beyond being free, the Square Online Store offers a lot of great features. You can highlight top selling items, new products, discounts, or deals on your site. Your site will also integrate seamlessly with Instagram, Facebook, and Google product listings. So if a customer is looking for a nearby store that sells what they need, your Square Online Store can put your market at the top of their list.
Inventory integration: Square for Retail includes product tracking inventory that updates in real time and includes bulk inventory intake and smart forecasting tools. If your market sells mostly shelf stable products, this may be all you need. But if you need to track expiration dates for perishable items or lot numbers for meats, seafood, and other products that are prone to food-borne illness or recalls, you'll want to add the Finale Inventory integration. This will increase your operating costs; Finale's software fees start at $75 to $799 per month. But considering all you're saving on your Square hardware and software, this shouldn't break the bank.
Workforce management: Square offers built-in employee management tools to manage your employee hours, scheduling, and payroll. These features are included in Plus and Premium packages; Free subscribers will need to pay an additional $35 per month.
EBT payments: If you need to accept EBT, or WIC payments, you can add the TotilPay integration for $49.95 per month.
---
How We Evaluated Grocery POS
Grocery stores need a POS system that can handle large volumes of perishable inventory, track and manage employees, and build shopper loyalty with customer relationship management (CRM) features. It also needs durable and industry-specific hardware, including options for scale and scanner integrations. With increasing customer demand for online ordering, ecommerce tools are quickly becoming a must-have feature too.
IT Retail emerged as the best grocery store POS for markets of all sizes. The software received the highest overall score based on our criteria, earning a 4.28 out of 5 for its affordable monthly cost, self-checkout option, SNAP EBT payments, FIFO and perishable inventory tracking, tools for online grocery sales, and a robust CRM feature set.
Click through the tabs below for our full evaluation criteria:
20%
Hardware & Basic Functions
30%
Niche Grocery Features
20% of Overall Score
Groceries and small markets operate with tight margins. So first, we considered each system's overall cost. We looked for integrated payment processing and awarded the highest points to systems that integrate with multiple processors so users can shop for the best processing rates.
20% of Overall Score
We looked for systems that use durable, market-specific hardware like scales, scanners, self-checkout tools, and EBT payment processing. Because markets typically have a roster of staff to manage, we awarded points to systems that go beyond basic timekeeping and support employee scheduling as well.
30% of Overall Score
Groceries have tens of thousands of products, so we looked at systems that have robust inventory management tools and can account for variables like expiration dates and first-in, first-out (FIFO) schedules. Since several states require grocers to collect and distribute nontaxed bottle deposits, we looked for systems that handle this fluently. For markets that also sell age-restricted products like alcohol and tobacco products, we looked for age verification tools. We also examined what CRM features—such as loyalty programs, custom coupons, and marketing tools—and ecommerce tools are included.
10% of Overall Score
We prioritized systems that include 24/7 customer support. We also considered what type of support is available—via phone or only email. And since service slowdowns can negatively impact a grocer's bottom line, we also looked for systems that are cloud-based with hybrid installation or a robust offline mode.
*Percentages of overall score
Grocery Store POS Systems Frequently Asked Questions (FAQs)
What are the most important factors to consider in choosing a POS system for my grocery store?
In general, all grocery stores need advanced inventory management systems that can track expiration dates, bottle deposits, and case breaks. It is also important to have affordable scanner and scale integrations, along with efficient marketing and CRM functions.
For hardware, consider how many checkout lanes you need for your grocery store. Larger establishments like supermarkets might need self-checkout kiosks to manage long queues.
Integrated payments processing is also important to easily reconcile sales, loyalty rewards, and inventory without having to use multiple platforms.
If you need general retail POS features, consider our list of top retail POS systems instead.
Do you have to pay monthly for a grocery POS system?
Typically, yes. Most modern POS systems, and the ones we usually recommend, are cloud-based or hybrid installation POS. These operate on a software-as-a-service (SaaS) model that typically requires a monthly fee.
Some legacy POS systems will charge a one-time (upfront) payment for a locally installed system. These setups won't require monthly software fees unless you opt for add-one services
Additionally, very small grocers can choose a free POS system like Square for Retail.
Some grocery POS systems also offer financing options for hardware, which is typically bundled into your normal monthly payment.
How much does a grocery POS system cost?
The cost of setting up a grocery POS system depends on your requirements.
For startup, single-lane grocery stores, you can get software from $0–$60 a month plus hardware which you can pay on installment from $14/month (Read our Square for Retail review).
For growing grocery stores with more advanced requirements, software subscription starts at $99/month or get an all-in-one bundled subscription (software, hardware, payments processing) from $149/month. (See our IT Retail review.)
Bottom Line
IT Retail has all the tools an independent grocer needs. This user-friendly system arrives preprogrammed and includes robust customer loyalty tools, detailed inventory management, and the ability to scan IDs and process bottle deposits. With an affordable baseline price and customizable hardware, this POS can support small markets or expand as your business grows. To see if this POS is the right fit for your grocery operation, visit IT Retail for a demo.