Clover POS Review: User-friendly Square Alternative
This article is part of a larger series on POS Systems.
Clover POS is a popular hardware and software bundle used by small businesses—including retailers, restaurants, and service businesses. Inconsistency in pricing, contracts, and limitations in Clover's management features prevent it from earning a spot on our list of the best POS systems.
However, Clover's combination of software and hardware is adaptable, easy to use, and highly versatile, earning a respectable 3.78 out of 5 in our evaluation.
Clover is owned by Fiserv (formerly First Data) but allows third-party resellers to program other payment services into the system. This makes Clover unique because businesses that already have a merchant account they like, or want to shop around for the lowest processing rates can purchase Clover POS from their preferred merchant account.
Clover POS

What We Like
Can be programmed to integrate with other payment processing service
Affordable plans with access to proprietary hardware
Can process card payments while offline
What's Missing
No built-in vendor management tools
Hardware tied to the merchant account (Cannot be reprogrammed)
Little oversight of third-party resellers means contracts vary in quality
When to Use Clover
If you need a:
When to Use an Alternative:
Fiserv, which owns Clover and is the direct seller, does not have a very favorable reputation when it comes to providing merchant services to small businesses (learn more about that in our Fiserv review).
If you are considering the Clover POS system and do not already have a compatible merchant account, we recommend that you look into the following resellers:
Each of the processors above offers competitive rates, transparent pricing, and decent customer service.
Clover POS Deciding Factors
Supported Business Types

Retail stores, full-service and quick-service restaurants, and personal and professional services

Standout Features

Inventory management, including bulk editing, enhanced filtering, and multilocation stock transfers
Range of proprietary hardware for all types of businesses
Ecommerce features with a website builder and seamless integration to popular web service platforms
Virtual terminal that includes invoicing services
Omnichannel features that support online ordering and expanded fulfillment methods such as buy online, pick-up in-store (BOPIS) and delivery
Free customer-facing loyalty app

Compatible Hardware

Clover proprietary hardware

Monthly Software Fees

Very Competitive

$0–$44.95 per month (retail)

$0–$74.95 per month (restaurants)

Setup and Installation

DIY installation or personalized setup also available for a fee

Contract Length

Month-to-month

Payment Processing Options

Comes with Fiserv payment processing by default but resellers can reprogram the system to support other merchant service providers

Payment Processing Fees

Varies depending on merchant service provider

Fiserv: 2.3%–2.6% + 10 cents (card-present), 3.5% + 10 cents (keyed-in)

Customer Support

24/7 customer support by phone or email
Personalized setup support
Concierge-level setup available
Clover POS Alternatives
| | | | |
| --- | --- | --- | --- |
| | | | |
| Best for: Businesses with large-volume inventory | Best for: Businesses needing mobile and in-store POS | Best for: Restaurants | Best for: Small hybrid restaurants |
| Monthly fee from: $69 | Base monthly fee: $0 | Monthly fee from: $0–custom | Monthly fee from: $0 plus $0–$25 add-ons |
| Hardware kit from: $500 | Hardware from: $49 | Hardware from: $0– custom | Hardware: Varies |
| | | | |
If you're not sure which POS is right for you, check out our reviews of the top Clover alternatives.
What affected our evaluation of Clover's pricing overall is clarity. While the basic subscription plan is quite attractive, missing features that require add-on costs, and flat-rate transaction fees can quickly eat away at your revenue. Also, note that Clover has little control over how resellers price and set terms of use so these many options can be overwhelming for those who are not familiar with Clover.
Its subscription plans will differ based on your business type and the Clover hardware you use. And, within each subscription plan is a different set of software plans whose available functionalities vary depending on the hardware as well. Thus, the price of your system will be a combination of these factors, which can easily get confusing.
We took a step-by-step approach to help you find which Clover setup is best for you. The first thing to do would be to choose your business type.
Retail & Services
Subscription Plan

Starter

Standard

Advanced

Monthly Fee

$0

$14.95

$44.95

Software Plan

Payments

Essential

Register

Card-present

2.6% + 10 cents

2.6% + 10 cents

2.3% + 10 cents

Card-not-present

3.5% + 10 cents

3.5% + 10 cents

3.5% + 10 cents

Available Hardware

Clover Go
Clover Flex
Clover Mini
Virtual Terminal

Clover Flex
Clover Mini
Station Solo
Station Duo
| Subscription Plan | Quick-Service Dining | Full-Service Dining |
| --- | --- | --- |
| Monthly Fee | $44.95 | $74.95 |
| Software Plan | Counter Service Restaurants | Table Service Restaurants |
| Card-present | 2.3% + 10 cents | 2.3% + 10 cents |
| Card-not-present | 3.5% + 10 cents | 3.5% + 10 cents |
| Available Hardware | | |
Notice that the monthly subscription plan determines the software plan and payment processing rates. Choose a monthly subscription and note the available hardware for each before moving to the next table.
Clover Cash Registers & Hardware
The next step would be to click on the tab below for the available hardware in your chosen subscription plan. This will provide you with the software features included in each plan for the particular hardware.
You can purchase Clover hardware from Fiserv, Amazon, or any of over 3,000 resellers—that may give you a better price. Some may even lease the hardware, though we do not recommend this.
However, beware! Clover does not dictate leasing terms or prices for third-party vendors, so check reviews to make sure you are dealing with an ethical vendor. Most Clover complaints concern merchant account fees or termination fees, for example.
Further, you are tied to whatever merchant account you purchased the hardware from. As of 2019, Clover cannot be reprogrammed if you change your merchant account. So, for example, if you purchased your Clover system from Dharma Merchant Services, it will work only with Dharma.
Clover Payment Processing
Fiserv, one of the largest merchant services companies in the world, owns Clover. However, it allows other merchant services to resell the POS system. It lists 65 approved resellers on its website, but you can find Clover systems elsewhere, even on Amazon. They all use Fiserv as their backend payment processor but can impose their own terms and pricing.
This means you may be able to find more equitable payment processing rates and cheaper hardware—or you may find yourself in a bad deal. Fiserv has a list of trusted resellers but does not monitor them all. Do your research to find the most reputable merchant service.
Regardless, the software remains the same. As long as your reseller can process the payments, you can accept credit, debit, gift cards, and contactless payments like Apple Pay
That said, Clover's default payment processing fees (with Fiserv) are listed as follows:
For Retail and Services: 2.3% + 10 cents to 2.6% + 10 cents per card-present transaction and 3.5% + 10 cents per card-not-present transaction
For Restaurants: 2.3% + 10 cents per card-present transaction and 3.5% + 10 cents per card-not-present transaction
Setup & Application
Regardless of whether you sign up directly with Clover/Fiserv, or with a reseller, the first thing you need to do is to choose a hardware to purchase. If you sign up with a partner, they will link your merchant account with Clover in the background and you will have access to a Clover account for customer support and software management.
Similarly, if you sign up directly with Clover, you will also be directed to first choose a hardware. The process will include a step where you will be asked to fill up information for a merchant account before completing your purchase.
Signing Up via the Clover Website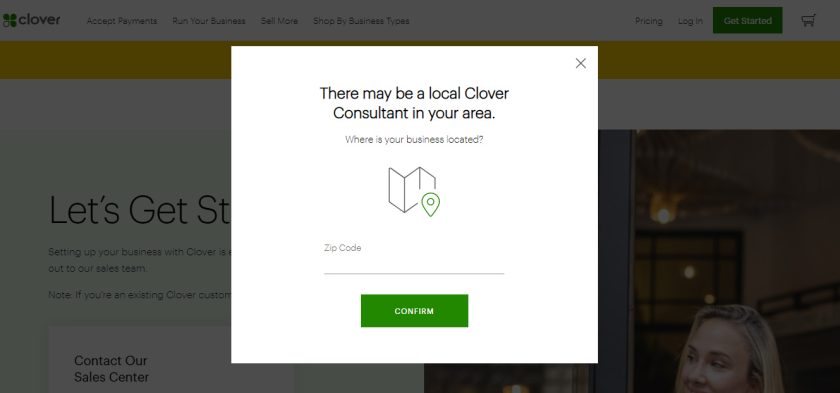 ---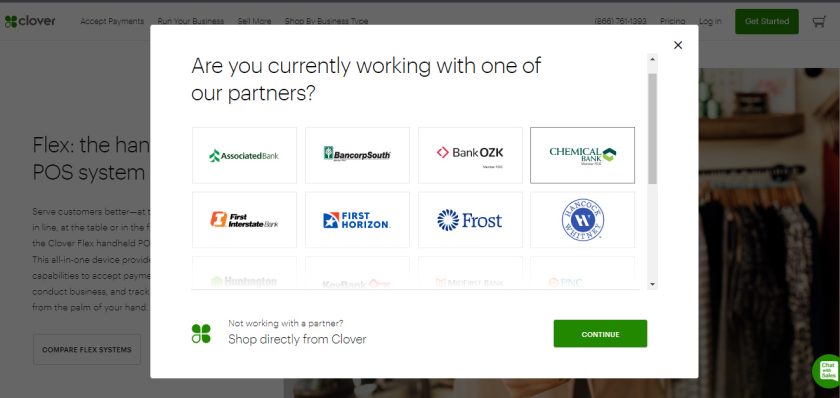 ---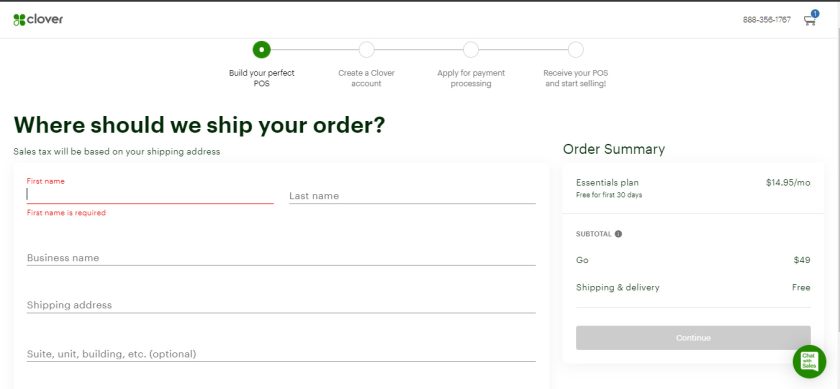 ---
Signing Up via a Reseller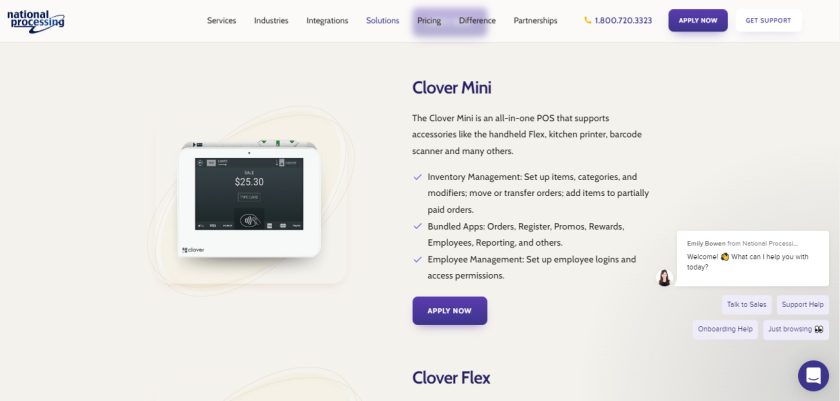 ---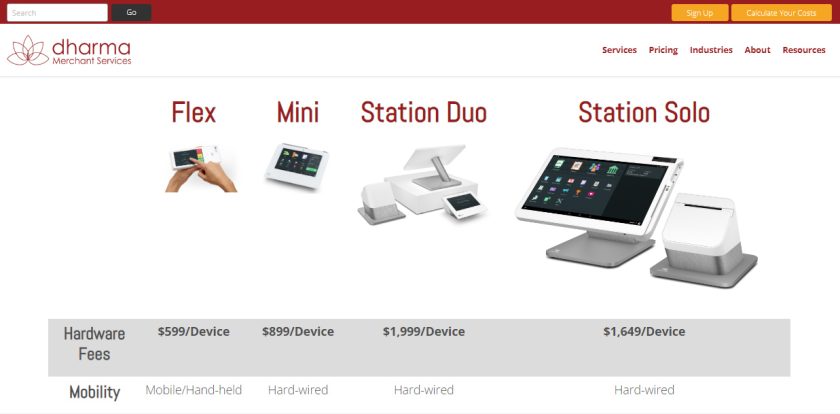 ---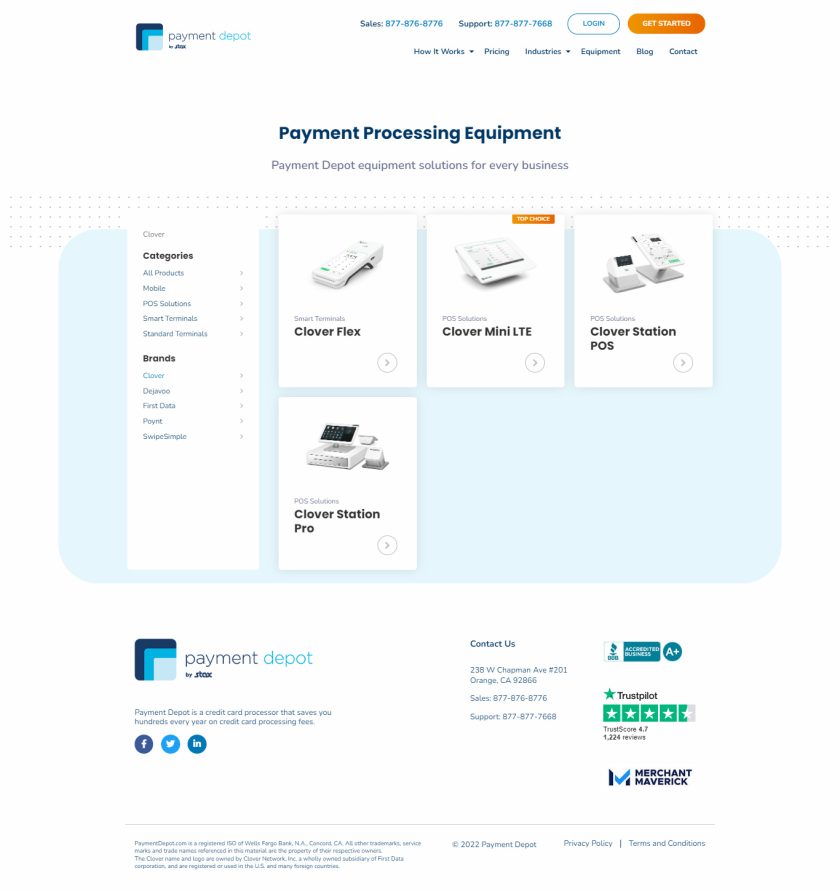 ---
Once you receive your Clover hardware, you also get an instruction packet and manual to help set up your device. Your Clover device is payment-ready and will automatically connect to your wireless network to update its software.
Contract & Terms of Service (TOS)
Your terms of service for using payment processing with Clover will depend on your chosen merchant service provider. Because Clover partners with over 30,000 resellers, it's important to ensure that you're getting the best deal.
To give you an idea, here is a brief overview of our recommended Clover partners' merchant services terms:
| | Payment Depot | Dharma Merchant Services | National Processing |
| --- | --- | --- | --- |
| Contract Length | Month-to-month | Month-to-month | Month-to-month to two years |
| Pricing Method | Interchange-plus | Interchange-plus | Interchange-plus |
While Fiserv does advertise Clover POS system on its website, it does not disclose any of its terms and conditions. Clover general TOS also does not say much about fees and contract length. Therefore it's important to go over the merchant agreement with a Clover account manager.
Virtual Terminal
If you prefer not to use Clover hardware, you can sign up for a Clover merchant account and use the virtual terminal to start accepting payments over the phone, in person, or with an invoice. It comes with end-to-end encryption to meet PCI compliance and is preloaded with your Clover dashboard.
Clover Virtual Terminal monthly fee: $14.95/month, 3.5% + 10 cents keyed-in rate (Fiserv)
Overall, Clover is an intuitive, versatile, and feature-rich system, offering several configurations and add-ons to quickly streamline your checkout process and improve customer experience. It allows you to ring up sales, run taxes automatically, input (or suggest) gratuities, program discounts by the hour or time of day (e.g., Happy Hour), and apply service or delivery charges automatically.
Many of these features are available with the basic paid plan ($14.95), but note that some features, like the website builder function, are paid add-ons. These add-on costs prevented Clover from scoring higher.
Other POS, like Square, offer these features with their free plan.
Here are a few things you can do with a Clover register:
Accept swipe, dip, or tap payments using credit and debit cards, as well as contactless payments like Apple Pay, Google Pay, PayPal, and Venmo
Process expanded payment methods such as scan-to-pay, store credits, layaways, gift cards, and Buy-Now-Pay-Later options
Add mobility with Clover Flex handheld device, and Clover Go mobile card reader
Print or email receipts—or with Scan and Pay, add a QR code to allow customers to pay with their phones. You can include feedback coupons as well.
Customer Management
Clover's customer management tools let you set up customer profiles automatically from credit card sales. It enables you to garner sales histories, names, and birthdays and to save photos so that your employees can recognize and greet customers by name. Also, tracking contact and marketing preferences is easy.
Create a data-driven rewards and loyalty program and promote it to customers and your social media. Send promotions via email, text, or social media. Develop segmented lists to focus on customer preferences, track customers who have not been back in a while, and tempt them in with a special deal. Finally, request customer feedback on receipts and set up a coupon reward. There's also a reply function for following through on customer feedback.
---
Online Ordering
With online ordering, you can design an online menu and let customers order, pay for their purchase, and arrange for a delivery or pick-up. You can also set it up so that even your dine-in customers can order and pay through their mobile devices. Clover's omnichannel feature ensures that you get alerted to your online orders directly on your Clover terminal and that inventory is always updated for both your online and in-person orders.
---
Ecommerce
Clover can easily integrate with your existing website, or Clover can help you create one through its partner ecommerce platform, BigCommerce. It updates your inventory data in real time as transactions happen both in-store and online, letting you manage everything from a single platform.
You can also find other ecommerce platforms such as WooCommerce, Shopify, and appointment scheduler apps for service-based businesses. Developer tools are also available for those who want a highly customized website.
---
While not the best in class, Clover's business management tools are robust enough to handle fast-growing businesses, particularly restaurants. You can track ingredients, items, and variants, manage employee access and shift schedules, create and track invoices, and generate detailed reports.
However, Clover does not have built-in vendor management tools. Also, most of the advanced features are gated in its higher subscription plan. And, while this is still within a competitive price range ($14.95–$74.95), adding more third-party integration fees can quickly increase your monthly cost.
Inventory Management
Clover's inventory management feature includes bulk editing, stock tracking, enhanced filtering, multi-location stock transfers, and itemized order creation for special work orders. It also automatically adjusts stock levels when processing returns and exchanges. For restaurants, Clover supports color-coded categories, marking "sold out" by item, and item modifiers and labels.
However, one black mark on Clover is that it does not hold images for items like so many POS software. This is a much-requested feature by Clover customers.
---
Invoice Management
Clover now has an invoice management function that comes with the virtual terminal. This feature lets you create simple, professional-looking invoices with pay now buttons for frictionless payment. You can send via email and track the status until it gets paid. You can also automate sending of recurring payments, client notifications, and payment receipts.
---
Employee Management
Clover allows you to have unlimited employees on a single console and set permissions to limit access to what each worker needs for their job. It also links with apps—some free and some for an extra charge—to help you manage employees.
Clover offers the free app, Time Clock by Homebase. However, with a paid Homebase account (which starts at $20/month), you can also manage performance, get health and safety screening, job costing, and even dedicated HR advisers. Homebase is one of our recommended free employee scheduling apps.
---
Reporting & Analytics
Clover's cloud-based reporting dashboard can be accessed on any desktop or a mobile device. The dashboard features a quick summary of overall business performance including end-of-day reports and inventory analysis. Most Clover reports are available only for paid plans. This includes real-time sales tracking, inventory movement, employee performance, and tax reporting tools. You can also build customized reports to match your growth goals.
---
24/7 customer support by phone/email
Personalized setup support
Concierge-level setup available
Over 200 third-party integrations
One advantage of the Clover system is that it comes with all the tools you need, and as you grow, you can add features from its list of apps. You can also get support in setting up your business, including a concierge-level setup.
The software itself gets above-average points for this category. Its interface is clear-cut; click on what you need to do in the menu bar, then follow the directions. When inputting inventory, you can create it for online ordering and for the console. You can also import inventory from a spreadsheet rather than adding items individually.
Two things detract from its ease of use: one, the lack of images, which can make finding an item faster, and two, the lack of low-inventory alerts, which means you need to keep track of when to reorder items.
Overall, we find Clover a solid POS with sophisticated features to run a busy retail or restaurant business. Subscription plans advertised on its website are within reason and user feedback of the system is generally positive.
However, given that you need to have the right merchant account to maximize Clover's potential as a POS system, it may not be the best software for new, small business owners with no preferred merchant services provider to start with.
Additionally, the price structure can be confusing. It has also been mentioned more than once in the user reviews that they had to sign up for a few third-party integrations to access additional tools—something that could easily alarm anyone working on a budget.
What Users Think of Clover POS
It's surprising to see that given how widely distributed Clover is (through over 3,000 partners), there are still not a lot of user reviews. Since our last update, only a handful contributed their opinion about Clover and the overall score even slightly went down. That said, most of the new feedback is positive but since the number of reviews are low, a couple of poor scores easily affected the results.
Overall Clover POS User Ratings:
Meanwhile there are a lot of new Clover app reviews from Apple users, raising the score to 4.8 out of 5 from over 7,000 reviews. Android users, on the other hand, rated it at 4.1. Finances Online's Customer Satisfaction Algorithm that gathers reviews, comments, and opinions from users still maintains a 99% user satisfaction rating for Clover POS.
These are some of the trends we noticed when reading through Clover's reviews:
| Users Like | Users Don't Like |
| --- | --- |
| Proprietary hardware (particularly the portable hardware) | Requires use of third-party apps that drive up their monthly fees |
| Hardware is simple to set up and easy to configure | Poor customer service for set up and billing issues |
| Easy-to-use once it's set up | Lacks inventory photos and low-inventory alerts |
| Reports are easy to generate and use | Expensive hardware |
Methodology – How We Evaluated Clover POS
To evaluate Clover, and all POS systems, we test each system ourselves. We start by looking at affordability along with a core set of features every POS should have, including easy transaction and order management, robust and flexible payment processing tools so you can affordably accept your customers preferred payment method, along with core business management features like inventory tracking, sales reports, and team management.
Of course, each system also needs to be easy to use, offer good value, and be able to grow with your business.
We use these criteria to examine the best overall POS systems. However, when looking at specific use cases, such as for retailers, complex inventory management, or mobile POS, we adjust the criteria to match the needs of those business types, which is why every POS has multiple scores across our site depending on the use case you are looking for.
Click through the tabs below for our retail POS evaluation criteria:
15% of Overall Score
We award points for systems with a starter plan with monthly fees less than $75 (extra points for free plans) and transparent payment processing fees including negotiable or volume discount rates. We also dock points for caps on the number of users, products, transactions, or sales you can process without upgrading plans. Clover earned above-average marks here.
20% of Overall Score
We look for customizable hotkeys and easy product lookup, return management, mobility to ring sales curbside or on the sales floor, flexible payment tools like contactless, gift card, store credit, layaway, and order-ahead options. Finally, we considered whether the system can process custom, work, or service orders such as repairs. Clover scored better here, only missing out on points for having to upgrade to higher plans for some features.
35% of Overall Score
For retail POS, our main focus is on inventory management—low-stock alerts, matrix inventory, and purchase orders, plus easy stock counts and shipment receiving. We also consider CRM tools, marketing, employee management features, omnichannel management for creating an online store, and reporting capabilities. Clover struggled in this section with almost all of the features requiring additional fees.
15% of Overall Score
We look for easy installation, detailed training materials, and 24/7 customer support. We also consider whether the system is a hybrid installation or otherwise offers an offline mode so you can still operate if the internet goes down.
We also favor software that can run on various hardware so retailers can choose their preferred devices. Finally, we took our own experience using the software into account, examining how features performed in practice. Clover fared well in this category, with most of the points missed were for lack of better customer support and flexible hardware options.
15% of Overall Score
In this section, we evaluated Clover by its full feature set (including any standout tools), the value it offers for the price, popularity, user reviews, whether or not the system experiences a lot of downtimes, and the overall experience of navigating the system's interface. Again, above-average marks here for Clover, getting near-perfect scores for each subcategory in this section.
*Percentages of overall score
Bottom Line
With a customized software and hardware package designed specifically for your business, it's hard to find something not to like about Clover. For savvy retail and restaurant business owners, it's worth checking out. However, note that Clover can be purchased from thousands of resellers, and the system cannot be reprogrammed so it can get tricky if you have not worked with a merchant account before. Our suggestion: find the best merchant service for you, then ask about Clover. Alternatively, you can also go straight to Clover and ask for a demo today.