POS Nation Review: Best for Convenience & Liquor Stores
This article is part of a larger series on POS Systems.
In our evaluation of the best POS systems for small businesses, POS Nation scored 3.66 out of 5 (based on a review of 31 data points). Although it just missed making our overall guide for small businesses, its industry-specific features make it a top point-of-sale (POS) pick for industries such as liquor and grocery stores. It also leads the pack of POS systems we recommend for convenience stores.

What We Like
Includes hardware
Customizable user interface
Monthly plan has 24/7 support and training
Built-in ID scans for age-verification
Robust, highly customizable system
What's Missing
Needs Worldpay processing agreement
Lacks email marketing features
Expensive; 24/7 tech support costs $39.99/month extra (for purchase vs monthly plan) after first three months
Steep learning curve
When To Use POS Nation
When To Use an Alternative
Restaurant businesses: POS Nation is designed for retail. Read our reviews of the best restaurant POS systems.
Retailers with online sales: Some users say the software lacks connectivity to their online stores. Instead, we suggest a multichannel POS system.
We have researched dozens of POS software and can say that for specific industries, POS Nation leads the pack. While pricier, it offers excellent features that make it a good choice for many retailers, specifically for convenience, liquor, and grocery stores.
For example, it is ideal for these industries because of its lottery ticket management, shrinkage detection, employee shift tracking, robust inventory features, and reporting for specific state regulations. It also has perishable inventory tracking, mix-and-match pricing, case-break inventory tracking, and detailed vendor management—along with options for integrated self-checkout, scales, and scanners.
Since POS Nation is designed for retailers, it lacks features specific to food-based businesses such as reservations or bar tabs. It also needs customization to be able to take online and phone orders, so if you need that, consider a multichannel POS system.
POS Nation Deciding Factors
Supported Business Types

Retail

Convenience, liquor, and grocery stores

Standout Features

Industry-specific features for convenience, liquor, and grocery stores, such as:

Lottery ticket management
Built-in age-verification tools
Perishable and case-break inventory tracking
Options for integrated self-checkout, scales, and scanners

Monthly Software Fees

Average

$99 per month, per terminal or $999 per terminal; one-time fee

Setup and Installation Fees

$0

Contract Length

No vendor lock-in

Payment Processing Options

Limited; Third-party required

First American, Heartland, EVO, and Swipely

Worldpay for monthly subscribers

Payment Processing Fees

Depends on payment provider

Customer Support

Limited

Phone and email

During the first month of purchase: Phone support, weekdays from 8 a.m. to 8 p.m. Eastern time

After three months of purchase: $39.99 per month for 24/7 technical support and unlimited one-on-one training
POS Nation Alternatives
Best for

Base Monthly Fee from

Hardware From

Full Review

Security-minded retailers in grocery or convenience stores that want a lower-cost system

$79

Custom quote

Businesses that need mobile and in-store POS

$0

$48

Small retailers, restaurants, and service providers that require an all-in-one system

$9.95

$99

Convenience stores without gas sales

$59 per terminal

$120
POS Nation has two basic plans: one with a monthly subscription and another for a one-time fee. There's also a custom-build plan that offers more flexibility; you can choose your own processor (the other plans require a Worldpay agreement) and pick only the features you need without any long-term contracts.
POS Nation earned high marks for its affordable hardware options and zero installation fees. The lack of a free plan and third-party payment options prevented it from getting a perfect score. It is also worth noting that its subscription fees are higher than many other POS systems we have reviewed.
One thing POS Nation does a little differently is that basic hardware is included in your POS plan.
Flex Monthly POS

Freedom POS

Custom-build POS

Fees

$99 per month, per terminal (covers monthly payment for software and hardware)

$999 per terminal, one-time fee

Based on custom build

Hardware Inclusions

POS software, touch PC, receipt printer, scanner, cash drawer, and chip card reader

POS software, touch PC, receipt printer, scanner, cash drawer, and chip card reader

Custom build

Notable Inclusions

24/7 support and unlimited training
Requires Worldpay payment processor
Cancel at anytime
Lifetime warranty

90 days free business hours support
Two-year warranty
Free POS software and chip card reader with WorldPay Processing Agreement

Multipayment options
One-time discount
No long-term contracts
No hidden fees
On top of that, integrations can be purchased to upgrade your POS system:
Ecommerce integration: $15 per month
QuickBooks integration: $15 per month
Remote back office: $20 per month
Cloud backup: $12 per month
---
Payment Card Industry (PCI)-compliant
Works with several payment processors
Cash discount program
POS Nation can connect you to several payment processors, including First American, Heartland, EVO, and Swipely. However, for the monthly plan, you must use Worldpay. Whichever you select, POS Nation Merchant Services offers integrated payment processing.
Payment processing includes gift card, debit card, credit card, and check processing. It also has a cash discounting program so that you can pass the cost of credit card processing to your customers or reward customers for using cash.
---
Like Clover, POS Nation has its own hardware into which it builds the software before delivery. POS Nation offers an interactive guide to help you build and price your own system and a general guide on the different types of hardware provided and their uses.
In addition to the basic package included with the plans, you can purchase extra items. POS Nation offers a variety of options in terms of pricing and features. For example, scales run from simple on-counter weighing devices to labeling scales to in-counter scanners scales:
Tablets with charging docks: $1,499 (extra docks $179 to $299)
Printers (barcode, thermal, and receipts): $199 to $749
Barcode scanners: $119 to $569
Card readers: $79 to $109
Pin Pads: $49 to $999
Customer displays: $159 to $249
Scales: $499 to $2,695
Mobile inventory device: $589 to $1,449
One-touch PCs: $999 to $1,499
---
Since our last update:
The software has made notable improvements to its platform, including:
POS Nation launched its new in-house product, CAP Retail 9.5, which includes a cloud-accessible back office and modern, clean design.
It implemented a direct integration with the tobacco industry's scan data program, allowing users to recoup rebates from their vendors.
Cash discounting directly through the POS is now available.
POS Nation has great register and checkout features. Based on our evaluation, it earned perfect marks for its speedy checkout tools, transaction management features, customer management, and available loyalty program feature. However, it got docked points for lacking online ordering tools like ecommerce and order ahead.
Unlike most POS systems, POS Nation has multiple interface options. Clerks and cashiers can easily find an item to see its stock keeping unit (SKU), price, availability, and more. You can set discounts, bulk pricing, and time-based rates. Scales and scanners make it a great option for delis and grocery stores. Customers can also check themselves out or you can check them out with a mobile option. If you have age-restricted items, the ID scanning makes it easy for cashiers to verify ages.
This software is feature-rich, and even better, POS Nation customizes the software before installing it on the hardware. This makes it very convenient and, if afterward, you find you need something else, you can call POS Nation about adding it.
In our evaluation, POS Nation earned perfect marks except for marketing tools and multilocation management. It offers these features but they pale in comparison or are paid features compared to other POS systems.
You can track inventory—including perishables, case breaks, and carton packs—set low-stock alerts, and reorder quickly from the software. The program can generate purchase orders (POs), manage vendors, and record inventory receipts. Additional features include a mix-and-match pricing tool.
---
Employees can clock in and out, with the system tracking not only work hours but also breaks. The system does not manage payroll but does have a payroll report that lets in-house employee charges be deducted from payroll.
POS Nation also has tools specifically to help increase employee security. Permissions restrict what an employee can access on the system. Cash drawer counts force employees to check the drawer at the start and end of each shift. You can also set blind counts so that the employee doesn't know how much cash should be in the drawer at a given time.
---
POS Nation has a built-in customer management program. It lets you record contact data, billing information, and loyalty plans. It also holds the purchase history so that you can look up items a customer has previously bought. In addition to the loyalty program, you can customize receipts, such as with a discount on the next order or transaction.
---
POS Nation is a versatile system, and its team can customize tools for specific industries. Here are a few unique features that serve various industries.
In the news: In April 2022, POS Nation acquired Bottle POS to improve its liquor POS solution.
Liquor stores and those that sell alcohol will benefit from the ID scanning, case-break inventory, mix-and-match bottle pricing, and REV-1014 reporting for Pennsylvania beer distributors.
Tobacco stores can take advantage of special cigar label printing and kit building for vape.
Grocery stores can include scales and electronic benefit transfer (EBT) payment processing.
Lawn and garden stores can benefit from POS Nation's special features like custom tree tags, equipment rental functions, and weather-resistant barcodes plus mobile tablet systems for taking payments in the garden center and at the counter.
Hardware store customizations include shelf tag printing, bulk pricing, accounts receivable (A/R) tracking, and layaway.
---
24/7 customer support and training with the monthly plan
Arrives with software customized and installed
Large, bright buttons and good workflow
Fee for customer support after first three months
POS Nation customizes your software to your industry and your particular business before sending it to you so that you can hit the ground running. This software has a clean interface, and you can customize workflows with hot buttons to make ringing up a customer faster.
In addition to how-to guides and demo videos, POS Nation offers blogs, guides, and videos on industry topics, from Black Friday sales to how to choose and use POS systems―even its competitors.
Its onboarding process also stands out. You are assigned a customer success manager upon subscribing, and they will help set up your POS hardware as well as train you and your employees on the software. If needed, he can even help you import all your inventory.
When it comes to technical support, you have access to 24/7 technical support in the first month of subscription but would need to pay an additional $39 a month if you wish to retain the same level of support after three months.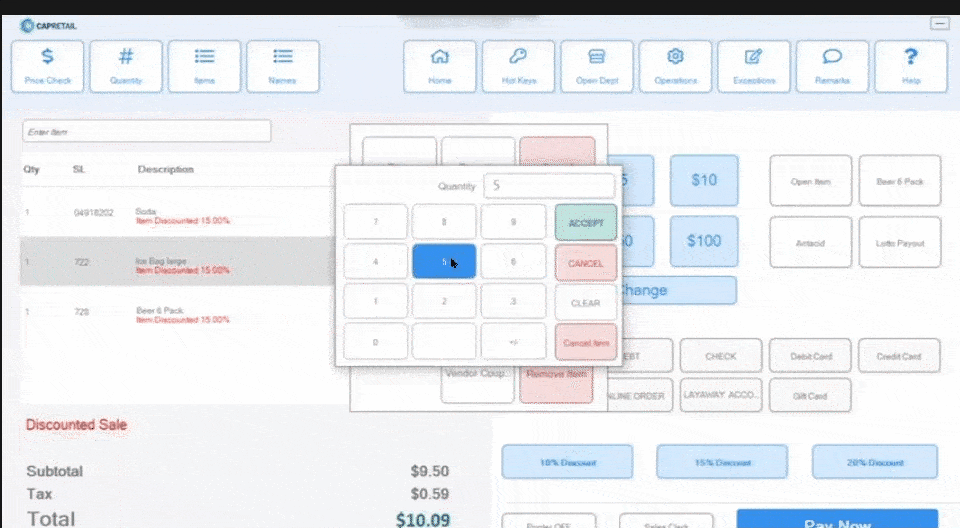 Ultimately, we like POS Nation's wide range and industry-specific POS features and high-level of support available, but find its pricing plans a bit on the expensive side compared to other POS systems we have evaluated and tested. We also noticed that 24/7 technical support can only be extended to users that are willing to pay extra for it monthly.
It remains a very popular software among retailers and, all things considered, we recommend POS Nation for retailers that need its specific features (especially convenience stores). Those on a budget should check out an alternative like Square for Retail.
POS Nation User Reviews
Overall, users say POS Nation is intuitive, fast, and easy to maintain. Managers praise the reporting, inventory, and customer management functions. Users also give the POS Nation support staff high marks, calling them professional, knowledgeable, kind, and genius.
Complaints were few. Most involved the desire for specific features and complaints about customer support—these were well outnumbered by praise, however. The one consistent complaint was about the system lagging and crashing.
Overall POS Nation User Ratings:
The mixed reviews are also reflected in Finances Online's customer satisfaction algorithm, with the software garnering a 77% user satisfaction rating based on reviews, comments, and opinions from POS Nation users.
It is worth noting that GetApp ranked POS Nation No. 1 in the POS software category and the retail management systems category in 2021. It is also listed as one of the 2021 FrontRunners for top retail inventory software in North America by Software Advice.
PROS

CONS

Intuitive user interface (UI)
Occasional lags and crashes
Specialized reporting
Learning curve on some features
Easy to learn, train others
Lacked specific features, such as online store connectivity and mass email capability
Great customer service
Methodology: How We Evaluated POS Nation
To evaluate POS Nation and other POS systems, we looked for software that is affordable for independent business owners and included basic POS functions like check and order management, the ability to process multiple forms of payment, and inventory tracking. To find the best, we also looked for systems that support multiple business types or that dominate in the industry they serve.
Click through the tabs below to see the full evaluation criteria:
30% of Overall Score
We prioritized POS systems that include a free plan or free trial, affordable subscriptions, and additional plans so that you won't grow out of the system. We also awarded points to systems with affordable integrated payment processing, flexible hardware options, and no restrictions on the number of users, inventory, and transactions. Finally, we penalized systems that require long-term contracts and hefty installation fees.
15% of Overall Score
Businesses need speedy and customizable checkout tools, easy customer management, mobility to sell anywhere, a process to track orders, and a way to process online orders. Because the way businesses operate has changed so much in recent years, we also considered contactless payments, integrated online ordering, and online store features.
15% of Overall Score
The most important feature we considered was inventory tracking. We also considered how sophisticated and user-friendly the reporting dashboard of each system is and what marketing and employee management tools are available.
20% of Overall Score
We prioritized POS systems with 24/7 phone support. We also considered help tickets and email or chat support, installation processes, and whether the system has an offline mode or hybrid installation so that you can continue operations when you lose internet access. Finally, we considered if the system has an online knowledge base, training videos, or a training mode to help bring new employees up to speed.
20% of Overall Score
We considered the overall quality of each system's features, along with system stability and security. We evaluated whether it offers a good value for its price point and standout features. Finally, we accounted for our experts' personal experience using each system and interacting with customer service representatives, its reviews, and the personal experience of other small business owners.
*Percentages of overall score
POS Nation Frequently Asked Questions (FAQs)
In our evaluation of the best POS retail systems, Square for Retail earned the highest ratings. It is perfect for new retailers with growth plans, businesses on a small budget, and those switching over from cash registers because it has a forever-free plan and advanced plans ideal for growth. Shopify POS, Lightspeed Retail, and Vend by Lightspeed round out our top recommendations.
---
Square is the best POS system for most small businesses because of its affordable price point and easy-to-use software. The POS software is designed specifically for general purpose, retail, restaurants, and appointment-based businesses.
---
Bottom Line
If you are looking for POS software that is customized to your needs, POS Nation is well worth considering. It offers software and hardware combinations that are especially suited for businesses in the grocery and liquor store industries and also those in retail. The software comes installed into the hardware, and you get 24/7 support and training during your first month. Call POS Nation to get started.