IT Retail Review 2023: Is the POS System Right for Your Business?
This article is part of a larger series on POS Systems.
IT Retail is a point-of-sale (POS) system by grocers for grocers. It has been around for nearly 30 years and is used by thousands of groceries, markets, butcher shops, general stores, and specialty retailers nationwide. The system earned an overall score of 3.61 out of 5 in our evaluation of best POS systems, with software designed for optimal checkout flows and a selection of hardware built for speed and convenience.
We recommend IT Retail for growing food-based retailers like markets, grocers, specialty food stores, general, and convenience stores.

Pros
All-in-one POS solution
Supports bottle deposits and ID scans
Advanced grocery inventory management features
Click-and-collect orders integrations
Cons
Locked into IT Retail for payment
Steep add-on fees for Ecommerce
All-in-one POS can be expensive
When to Use IT Retail
When to Use an Alternative
We've examined dozens of POS software for many businesses, such as dress shops, hairdressers, gas stations, and restaurants. IT Retail is one of the few with such a dedicated focus—in this case, grocery stores and markets.
IT Retail offers excellent functions for tracking perishable inventory and managing multiple checkout lanes. It's also one of the few grocery POS systems with integrated online sales features. Additionally, IT Retail supports built-in employee scheduling and theft detection features for convenience stores while age verification tools and solid inventory management features to track by case, six-pack, or bottle also make it a good fit for liquor stores.
Meanwhile, IT Retail does not have the matrix product inventory and back-office tools needed by restaurants and nonfood-based retailers. It also lacks scheduling tools that salons, hotels, and repair and handyperson businesses need. IT Retail is also best suited for stationary checkout lanes. Although it has an integration with FutureProof Retail for in-store self-service mobile checkouts, this feature is meant for in-store mobility.
IT Retail Deciding Factors
Supported Business Types

Retail

Small but growing grocery, market, and specialty food stores

Standout Features

Multiple multichannel integrations
Built-in team management
Customizable rewards program
Advanced grocery inventory management
Bottle deposits
Age verification

Monthly Software Fees

Somewhat Expensive

Prebuilt all-in-one from $149
Custom from $99 (for software) and $149 (with hardware)

Setup and Installation Fees

Varies

From $0 for self-install, $149 for ecommerce, and $300 for hardware

Contract Length

Short-term and long-term available depending on subscription.

Payment Processing Options

Built-in

Locked into IT Retail's payment processor

Payment Processing Fees

Varies

Custom rates

Customer Support

Average

24/7 technical support for setup

Extended business hours for regular customer service

Online tutorials
IT Retail POS Alternatives
| | | | |
| --- | --- | --- | --- |
| | | | |
| | | | |
| Best for | Small businesses on a budget | Growing markets | High-risk retail or food and beverage retail |
| Monthly fee | From $0 | From $99 | From $59 |
| Hardware cost | From $49 | From $149 | From $120 |
| Integrated Payments | Square Payments | Third party | Third party |
| Built-in inventory | Limited | Extensive | Extensive with upgraded plans |
| Built-in ecommerce | Included | Third party | Third party |
| | | | |
Not sure if IT Retail is right for you? See how it compares with our top POS inventory systems and leading retail POS systems.
IT Retail struggled in this section because the base subscription for its POS software and hardware plans fell below our criteria. The system also imposes expensive add-on fees like installation and integrations that top competitors would charge less for or even offer free.
While the IT Retail system is compatible with third-party hardware, it works best with more rugged hardware options designed to last in high-volume businesses like grocery stores—unlike more generic POS systems that run on iPads.
Since our last update: IT Retail no longer offers a software-only plan; instead, its website now displays custom and one prebuilt all-in-one subscription option. The other alternatives are to purchase the hardware outright.
The prebuilt plans differ in terms of how the POS hardware is purchased. A monthly basic subscription costs $149, which includes POS software, hardware, payment processing, and unlimited customer support. The other two provide the option to purchase the hardware outright while paying monthly for POS software, payment processing, and support.
IT Retail Flex Monthly

$149 per Month

IT Retail Freedom Standard

$1,499

IT Retail Freedom Premium

$1,999

Best for startup grocery on a budget

 

Includes:

Monthly POS hardware fee
Monthly POS software fee
Built-in payment processing
Lifetime hardware warranty
24/7 support and unlimited training
Likely long-term contract

Best for single-lane grocery stores

 

Includes:

One-time hardware fee
Built-in payment processing
Free payment processing hardware
2-year hardware warranty
Short-term contract

Additional monthly fee:

Monthly POS software
Monthly technical support

Best for multilane grocery stores

 

Includes:

One-time premium hardware fee
Built-in payment processing
Free payment processing hardware
2-year hardware warranty
Short-term contract

Additional monthly fee:

Monthly POS software
Monthly technical support
To get a general idea of its products and services, the IT Retail website can generate a POS setup recommendation by providing the numbers of checkout lanes and stores you run. This is a sample quotation for a single-lane and two-lane grocery POS setup.
Single-lane Grocery Setup

Two-lane Grocery Setup

Estimated upfront price: $1,499

 

Includes:

POS grocery software
Built-in payment processing
24/7 unlimited support and training (during setup)
Short-term contract
Ecommerce setup (Add-on)

Estimated monthly price:

$349 Includes:

Payment gateway (add-on)
IT Retail Bundle* (add-on)

Estimated upfront price: $2,998

 

Includes:

POS grocery software
Built-in payment processing
24/7 unlimited support and training (during setup)
Short-term contract
Ecommerce setup (add-on)
Remote configuration (add-on) x2

Estimated monthly price:

$737 Includes:

Payment gateway (add-on) x2
IT Retail Bundle* (add-on) x2
Monthly customer support** (add-on)
*Includes Grocery POS software, inventory management, customer loyalty, employee time clock ― cloud reporting
**Standard phone support 8 a.m. to 5 p.m. Pacific time and emergency 24/7 support
Other custom pricing includes:
Online hardware setup: $300 per lane
IT Retail software as a service (SaaS): $99 per month, per terminal
Customer support: $39 per month
Ecommerce setup: $149
Payment gateway: $250 per month, per terminal
Remote configuration: $699
---
IT Retail offers its own payment processing solution to simplify payment processing management. A built-in processor means using one software for accepting payments, and your transactions, inventory, and sales are updated in real time. Again, the pricing is customized so there is no information on its website, but we reached out to an IT Retail representative and confirmed that there is no monthly fee.
They also offer both fixed rate and interchange plus, depending on your preference (most payment processing software for small businesses usually offer only fixed-rate fees). Higher custom and prebuilt plans include payment processing hardware (PIN pad with stand). Otherwise, you will likely be able to use (or purchase separately) your own. Its website also says it can offer better rates than its competitors, so contact IT Retail for more information.
To get the lowest rates, shop around and get a few quotes from merchant service providers ahead of time and see if IT Retail can match or beat the lowest ones. Note that IT Retail now offers current clients its payment processing service and offers a complete review of your present merchant services to match, plus a $50 credit to your first bill. Visit IT Retail.
---
Since our last update: POS Hardware is now included in every prebuilt and custom-built IT Retail plan. Payment terminals are available for free in higher subscription bundles.
Prebuilt IT Retail plans are inclusive of hardware. The monthly and Freedom Standard bundle comes with the basic hardware setup while the Freedom Premium bundle comes with upgraded hardware.
IT Retail Flex Monthly

$149/month

IT Retail Freedom Standard

$1,499

IT Retail Freedom Premium

1,999

Best for startup grocery on a budget

 

Included POS Hardware:

Widescreen touch PC
Thermal receipt printer
Barcode laser scanner
16-inch cash drawer
Ingenico Lane PIN Pad With Stand
8.4-inch LCD customer display

Best for single-lane grocery stores

 

Included POS Hardware:

Widescreen touch PC
Thermal receipt printer
Barcode laser scanner
8.4-inch LCD customer display
Free PIN pad with stand

Best for multilane grocery stores

Included POS Hardware:

Premium widescreen touch PC
Thermal receipt printer
Barcode laser scanner
LCD customer display with dual arm mount
Free PIN pad with stand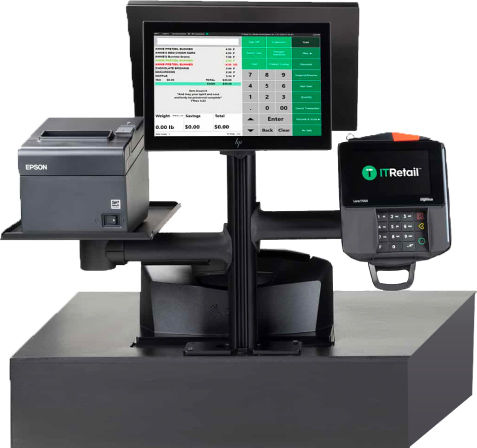 ---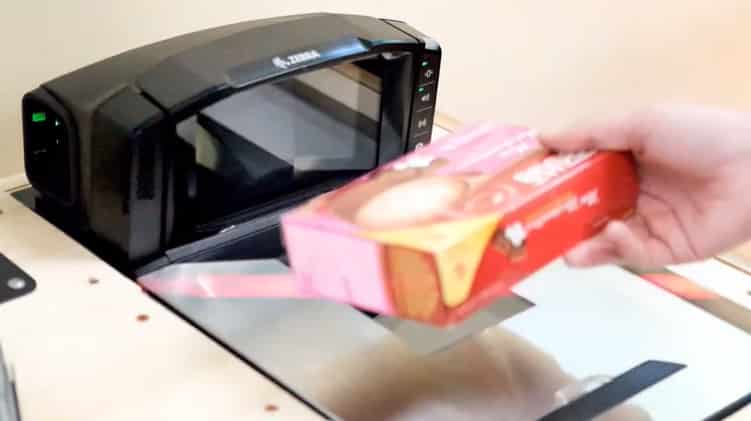 ---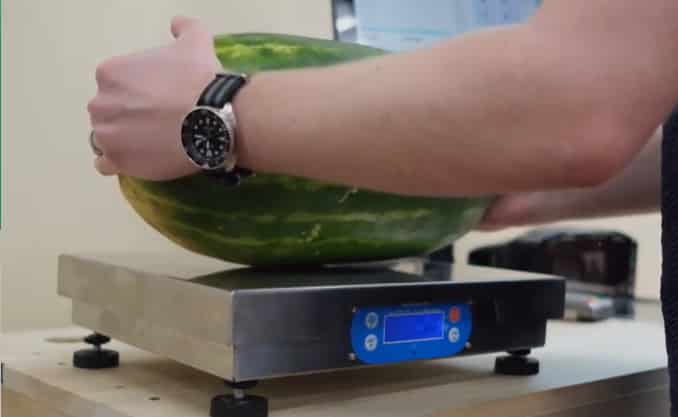 ---
Custom-build allows you to choose your own hardware. IT Retail sells registers, scanners (including scanner scales), PIN pads, customer display, and self-checkout kiosks. You can also use its mobile app to manage inventory through your smartphone. These tools were all designed to work with the software and be quick, reliable, and ergonomically optimized for cashiers. However, you will need to contact IT Retail to request a quote.
Note that you can opt for self-installation, but on-site installation is also available for a fee.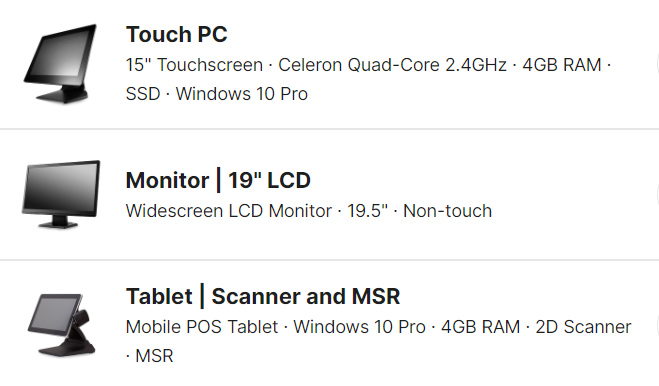 ---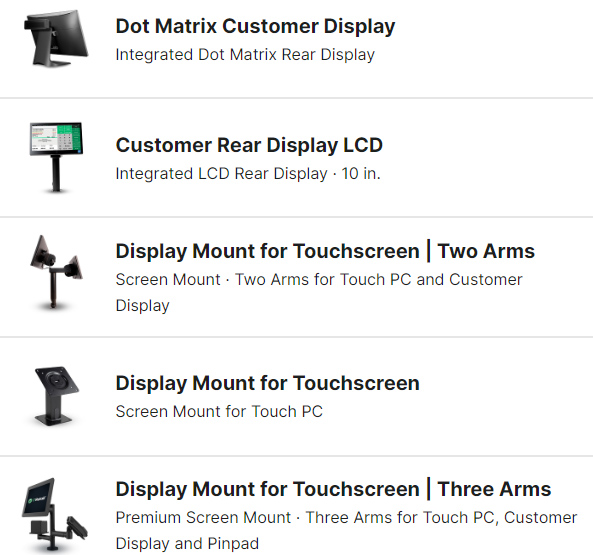 ---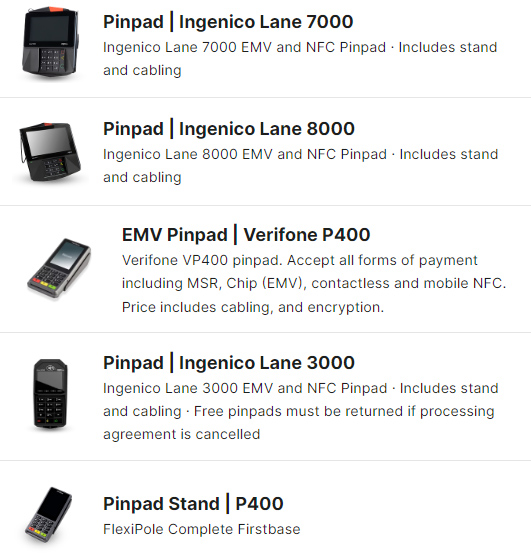 ---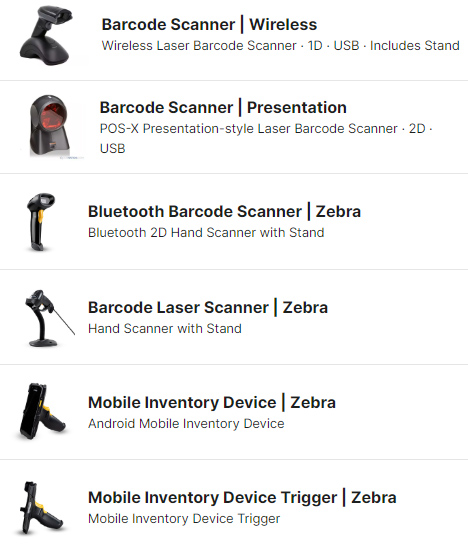 ---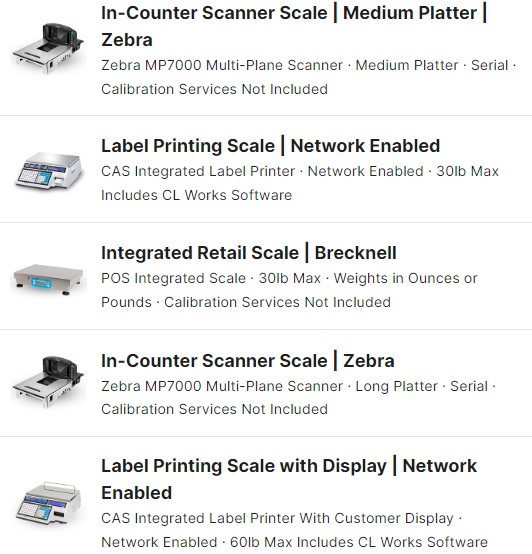 ---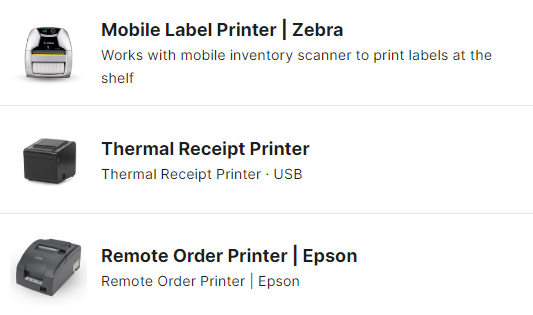 ---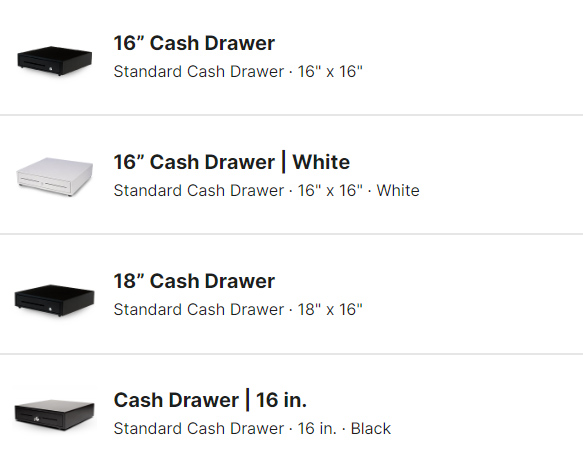 ---
---
IT Retail offers an extensive suite of register and checkout tools for a wide range of food-based retailers. The system particularly excels in grocery and convenience store features with payment processing, age verification, click-and-collect ordering, and mobile checkout options. Note, however, that IT Retail charges add-on fees (some particularly expensive) for software integrations and hardware accessory setup.
With an organized screen that includes buttons, pop-up menus, and a search bar, IT Retail makes it easy for cashiers to sign in, run transactions, handle loyalty programs or layaway/tabs, and even put a transaction on hold so they can ring up a different customer. The POS system is designed to accommodate the fast pace of a busy grocery store.
Other functions include:
EMV, near-field communication (NFC), gift cards, eWIC, and electronic benefits transfer (EBT) payments
Cash, credit, check, and contactless payments
Offline mode, so you can keep selling even when the internet is down
Integration with the latest scanner/scales from Zebra and Datalogic
Price overrides
Discounts
Programmable in-store charge limits
Safe drops
Product editing or addition on the front end
Customer displays
Integration with other apps for coupon optimization and more
The loyalty program is highly customizable with discount settings that let you offer rewards by product, percentage, and days of the week. You can set up points earned per dollar, as well. The rewards program is easily accessible from the front end. In addition, IT Retail integrates with AppCard, which can learn your customer's buying habits and deliver marketing messages to increase return visits.
---
IT Retail is good for many kinds of retail stores, but it offers tools designed with groceries in mind such as self-checkout kiosks, customer-facing displays, and the ability to switch a lane from self-checkout to cashier-assisted checkouts.
Other useful tools include:
Calculating by weight or quantity
Product lookup
Gesture controlled scrolling
Multiple-scale integration
Bottle deposit
WIC considerations
---
In 2020, FutureProof Retail announced its partnership with IT Retail to provide a digitized in-person shopping solution in response to the COVID-19 pandemic. The software includes line-free mobile checkout and order-ahead features for businesses in the grocery industry. This is an optional add-on, which, according to FutureProof, does not require a long-term contract and offers customized pricing.
---
The pandemic has made online grocery shopping more than just a convenience, and stores that can accommodate it see increased sales and customer satisfaction. IT Retail has joined with several online grocery and delivery services to help you process orders.
For example, by using Mercato via IT Retail, you can offer products like specialty, fresh, and branded items. Mercato monitors orders and deliveries and manages payments and refunds. IT Retail also integrates with Local Express, Freshop, My Cloud, and Instacart.
---
IT Retail offers a suite of back-office management tools, which includes advanced inventory tracking, reporting, and employee management features. The system did well in this category. However, it's important to note that most of its key functionalities will require you to pay an add-on fee while other features, such as CRM and ecommerce, require integrations. Third-party tools are also very limited.
You can add products individually or in bulk on the back end or add them at the register from the manager dashboard. You can also make batch changes, such as to price. The software has low stock alerts as it tracks inventory counts in real time, so cashiers know if they are low on an item. The platform also enables you to generate purchase orders and receive against an order or on the fly.
One of IT Retail's best inventory features is the mobile scanner app. Employees and managers can use this app to receive stock, perform inventory counts, add and change products on the fly, adjust pricing in batches (for sales), generate and send purchase orders, and compile lists of shelf tags to print.
---
You can set employee permissions for the back or front end. Employees clock in and out directly from the register, and the software creates timecards and tracks their activities. In the reports section, you can use this data to see your top performers, compare employees against an average, and even identify suspicious activity. It also offers rapid onboarding for multiple employees.
---
The sales dashboard offers real-time data of your business' performance with reports that include visual graphs or spreadsheet listings so that you can explore the information in a way that's best for your needs. You can examine data by stores, departments, and individual sellers. Get high-level analysis like how price changes affected sales or profits, or drill down to specific transactions by viewing the original receipt. IT Retail's data downloads directly to Excel or QuickBooks for accounting or deeper analysis.
Other IT Retail's back-end reports and analytics features include:
Cloud-based data storage: Access your business data remotely from any computer or mobile device.
Mobile optimization: The reporting dashboard is optimized for mobile with a simple interface compatible with both iOS and Android devices.
Machine learning (ML) algorithms: IT Retail's analytics uses machine learning algorithms to create insightful reports from sales data to employee performance.
---
Plug-and-play installation for small stores
Remote installation available
Optional on-site hardware installation for larger markets
24/7 customer support during new setups
Optional paid customer support
Hybrid installation available
Limited third-party integrations
Video tutorials available on YouTube
IT Retail is so dedicated to ensuring a smooth checkout experience for grocery stores that its hiring process includes making new employees work in a grocery store for a day to understand the challenges. It's built for speed and reliability, so you don't lose customers because of slow or glitchy systems. Third-party software integration is limited but includes QuickBooks plus a range of CRM, marketing, and ecommerce tools
In addition to 24/7 technical support, IT Retail offers on-site training during the product rollout, as well as through a library of videos. There's an emergency number posted on its website—not something we've seen for other software companies. Regular support hours are extended from Monday to Friday, 5 a.m. to 5 p.m. Pacific time
We gave IT Retail an above-average score for this category primarily for its breadth of versatile features that you won't often see with niche POS software providers. IT Retail is also a good fit for thrift and dollar stores. With quick scanning, employee anti-theft tools, and detailed inventory functions, it meets the needs of Dollar Store-modeled businesses.
IT Retail's industry-grade hardware is both scalable and reliable. It also offers free use of its payment processing with the added flexibility of being able to choose your preferred fee structure. While its average cost to set up and scale is more than what most popular POS systems would charge, IT Retail's proprietary software and hardware offer functionalities like advanced self-checkouts and inventory management that bring true value for money.
We need to consider IT Retail's pricing and its impact on small business owners. At $149 per month, it is a tough sell, especially if you have providers like Square that also offer all-in-one POS solutions at a significantly lower monthly cost. However, it is not uncommon for specialized software and equipment to be more expensive, and grocery and convenience store owners who are growing their business actively should find IT Retail a sustainable option.
What Users Say in IT Retail Reviews
User reviews across multiple sites like the software in general, with significant improvement in Trust Pilot reviews. While some said it was more than they had wanted to spend on the system, they also noted that it was worth the price. Most praised the ease of use and the grocery store features, although a few mentioned that they had some glitches in the back end.
Those who loved its customer service said that they had developed a strong relationship with them. However, customer service also had the most complaints with those not liking it, primarily because they were slow to respond. One user expressed that they could not find an operating manual.
Here's how IT Retail scores across popular review sites:
Capterra: 4.9 out of 5 stars based on about 10 reviews
Trustpilot: 4.2 out of 5 stars based on around 25 reviews
Users Like

Users Don't Like

Designed especially for grocers
Glitchy back end
Easy to use and works offline
Expensive
Strong relationship with customer support
Complicated to set up
Methodology: How We Evaluated IT Retail POS
We test every POS software ourselves when evaluating small business POS systems. We gauged each one for affordability and value-for-money features that not only include, but also go beyond, basic POS functions, such as the ability to handle complicated inventory, multiple payment methods, and multichannel features. We also evaluated each system's scalability and flexibility ideal for small businesses.
Overall, IT Retail performed decently in our evaluation, standing out for its versatile hardware, flexible payment processing, and advanced niche features.
Click through the tabs below to see the full evaluation criteria.
30% of Overall Score
We prioritized POS systems that include a free plan or free trial, affordable subscriptions, and additional plans that grow with your business. We also gave premium points to systems with affordable integrated payment processing, flexible hardware options, and unlimited number of users, inventory, and transactions. Points were docked for systems that require long-term contracts and hefty installation fees.
15% of Overall Score
Fast and easy checkouts require customizable checkout tools, detailed order tracking, customer management, mobility to sell anywhere, and multichannel tools. We also looked for systems that offer a wide range of payment methods, including contactless payments and integrated online ordering.
15% of Overall Score
A major consideration for this criterion is the level of inventory management and tracking features. We also took into consideration each system's available employee management, reporting, and marketing tools.
20% of Overall Score
We prioritized POS systems with 24/7 customer support. We also looked for easy installation and offline mode or hybrid installation so that you can continue operations when you lose internet access. Lastly, we gave premium points for providers that offer extensive system guides and knowledge bases or training modes available to help bring new employees up to speed.
20% of Overall Score
For this criteria, we considered the overall quality of each system's features, along with system stability, and security. We evaluated whether it offers a good value for its price point and standout features. Finally, we accounted for our experts' personal experience using each system and interacting with customer service representatives, its reviews, and the personal experience of other small business owners.
*Percentages of overall score
IT Retail Frequently Asked Questions (FAQs)
Is IT Retail good for small business?
IT Retail's price point can be challenging for small businesses. However, any actively growing food-based retail stores, such as busy convenience stores and grocers, will find this system sustainable and easy to scale.
What are the benefits of using IT Retail?
Food-based retailers can benefit from IT Retail's all-in-one, scalable, POS solution, advanced niche grocery POS software, industry-grade hardware, and flexible payment processing fee structure.
How much does IT Retail cost?
IT Retail offers all-in-one plans that start with a single POS terminal:
Prebuilt plans: Monthly subscriptions for small retailers on a budget from $149 per month
Custom-built plans: Upfront cost that starts at $1,350 (plus monthly fee for optional add-on software and features)
Bottom Line
If speedy transactions are a priority, IT Retail is worth looking into. Designed for busy grocery stores, IT Retail's optimized hardware and software create the most efficient workflows, whether for cashiers or customers at a self-serve kiosk—and especially for markets with multiple checkout lanes. Real-world users say that the interface is smooth and easy and generally praise customer support. Contact IT Retail for a demo today.