Helcim vs Square: Which Payment Processor Is Best in 2023?
This article is part of a larger series on Payments.
Helcim and Square are both excellent merchant accounts that often place high on our evaluations for multiple uses. Helcim is best known for its affordable interchange-plus rates, no monthly fees, and invoicing, point of sale, and ecommerce tools.
Square has fixed-rate pricing but a premium POS system, top-notch free ecommerce and invoicing, and a whole range of additional tools to grow with you.
We compare Square vs Helcim in multiple categories, but for use cases, we suggest the following:
Helcim: Best for midsize to large businesses with high volume or B2B sales that want a strong payment processor with excellent rates
Square: Best for startups and small businesses needing a strong POS and all-in-one solution for multiple business needs
Helcim VS Square Quick Comparison
Best for

Midsize to large and international businesses, B2B

Small businesses

Monthly fee

$0

$0

Card-present payment processing

Interchange plus 0.10% + 5 cents to 0.3% + 8 cents

2.6% + 10 cents

Keyed-in or online payment processing

Interchange plus 0.20% + 10 cents to 0.50% + 25 cents

3.5% + 15 cents (keyed)

2.9% + 30 cents (online)

Invoice payment processing

Depends on payment type

2.6% + 10 cents (in person)

3.3% + 30 cents (online)

ACH/eCheck fees

0.5% + 25 cents, $5 return fee (ACH, domestic wire transfers)

1%, min. $1 (ACH)

Chargeback fees

$15

Waived up to $250/month

POS monthly fees

$0

$0–$60

Deposit times

2 business days

1–2 business days, or same-day for 1.5% fee

Integrations/extensions

Limited; QuickBooks, some ecommerce

100+ for accounting, scheduling, delivery, ecommerce, forms, healthcare, invoicing, inventory, marketing, restaurants, team management, events, and more

Additional business tools

None

Business loans, savings and checking accounts, product photography, business events

Customer support

24/7

Extended hours

Fit Small Business score

4.33

4.43

Real-world user score*

4.26 out of 5

4.69 out of 5
*User scores are averaged from multiple third-party user review sites.
You'll find both Helcim and Square in our lists for:

Pros
No monthly fee or long-term contracts
Interchange-plus pricing, with automatic volume discounts
Includes tools for an online store and recurrent billing
24/7 customer support
Cons
Not for high-risk merchants or startups
Limited business integrations
Strict approval process
Lacks option for same- and next-day funding
Helcim is Best For:
Midsize to large businesses: Anyone can apply for Square, while Helcim has an application process. Thus, it's not as quick to start, and startups may not qualify, but it has far fewer complaints for held funds. Combined with interchange-plus rates, it's a better choice for larger businesses.
High-volume sales: Helcim's interchange-plus pricing and automatic volume discounts mean you pay less than you would with Square.
International businesses: Helcim can accept credit cards from all over the world, including cross-border transactions. It's on our list of best international merchant accounts.
B2B sales: With free invoicing and online payment pages plus interchange-plus pricing, it's one of our top payment solutions for B2B sales.

Pros
Free POS and online store
Easy-to-use, intuitive system
High customer satisfaction rate
Multiple business add-ons, including payroll and banking
Cons
Limited support hours
Limited customization options
Some account stability issues
Not for high-risk businesses
Square is Best For:
Mobile payments: We rated Square No. 1 for best mobile credit card processors because it offers affordable and high-tech mobile card readers and feature-rich payment apps.
Restaurants and service businesses: Unlike Helcim, Square offers specialized POS systems for restaurants and has an appointment-based POS system. It's on our list of leading restaurant POS systems.
New and small businesses: Square works great for any size business, but it's especially good for small companies or startups. First, it's the best overall free merchant account. Second, with no startup costs or application process, you can start using Square immediately.
Alternatives
Best For

Online payment processing

Surcharge and recurring bills

High-risk merchants

Monthly Software Fees

$0

$99+

$0–$45

Payment Processing Fees

2.7% + 5 cents to 3.4% + 30 cents

Interchange + 8 cents to interchange +18 cents

2%–4.3%

Interchange rates available

International Payment Processing

135 currencies

2 currencies

Charges 1% to 2% for cross-border payments

Integrations

1,000+

15+

1,000+
Best for Pricing & Contract Terms: Square
4.38 out of 5

4.63 out of 5

Monthly fee

$0

$0

Card-present payment processing

Interchange plus 0.10% + 5 cents to 0.3% + 8 cents

2.6% + 10 cents

Keyed-in or online payment processing

Interchange plus 0.20% + 10 cents to 0.50% + 25 cents

3.5% + 15 cents (keyed)

2.9% + 30 cents (online)

Invoice payment processing

Depends on payment type

3.3% + 30 cents (cards)

1%, min. $1 (ACH)

ACH/eCheck fees

0.5% + 25 cents, $5 return fee (ACH, domestic wire transfers)

1%, min. $1 (ACH)

QR codes for contactless payments

Interchange plus 0.20% + 10 cents to 0.50% + 25 cents

2.9% + 10 cents per transaction

Chargeback fees

$15

Waived up to $250/month

POS monthly fees

$0

$0–$60

Card reader pricing

$109

First magstripe reader free, $49 for chip and contactless reader

Hardware prices

$349+

$299–$799
Helcim says that its average rates are 1.8% + 8 cents for in-person processing and 2.4% + 25 cents for online. Like Square, it offers free POS, online tools, and invoicing, but its interchange-plus pricing is generally cheaper. It also reduces rates as your volume increases, making it even more affordable as you do more business.
While Helcim's fees are lower than Square's, Square rated better overall for pricing because its hardware is less expensive—in fact, the first card reader is free. Square also offers POS systems that are cheaper, while Helcim requires a computer or tablet. Finally, Square does not charge for chargebacks up to $250 per month, which is generally sufficient for small businesses.
Most Supported Payment Types: Helcim
5 out of 5

4.75 out of 5

Payment types

ACH payments, card-on-file transactions, virtual terminal, invoicing, recurring payments, payment links, hosted checkout, buy buttons, buy now pay later, Tap to Pay for iPhone

ACH payments, card-on-file transactions, virtual terminal, invoicing, recurring payments, payment links, hosted checkout, buy buttons, buy now pay later, Tap to Pay for iPhone

Mobile payment

✓

✓

B2B

✓

✕

International payments

US and Canada; accepts cross-border payments

US, Canada, Australia, Japan, the United Kingdom, Republic of Ireland, France, and Spain only

 

Does NOT accept cross-border payments

Marketplaces (eBay, Amazon)

✓

✕

Social selling

✓

✓

Subscriptions/Recurring bills

✓

✓

Buy Now Pay Later (BNPL)

✕

✓

Ecommerce integrations

3 shopping carts, 1 billing system

32 ecommerce, 35 delivery, 21 invoicing, 9 ticketing and events
Helcim earned a perfect score for payment types, offering everything on our list. Of particular note is the Level 2 and 3 payment processing, which makes it a superior choice to Square for B2B merchants. It also handles cross-border payments, which makes it a better choice if you are selling in a different country, such as at an international trade show.
One area where Square has an advantage over Helcim is that it supports buy now, pay later sales through Afterpay. While the fees are higher than regular transaction fees, it's a great incentive for retailers to encourage patrons to spend more. Square also features greater ecommerce integrations than Helcim and is offered in more countries. However, it does not have cross-border payment functionality. You can only accept payments in your home country—including international payments, if needed.
Best Features: Square
3.44 out of 5

3.88 out of 5

Deposit speed

2 business days for credit card
3–4 days for ACH payments

1–2 business days
Immediately to Square Checking
Instant to bank/card for 1.75% fee

Chargeback protection

Dispute management dashboard, Helcim refunds the charge for disputes settled in your favor

Waived up to $250/month

Fraud prevention

Secure card vault with tokenization, dispute management, Fraud Defender (risk estimation tools)

Machine learning, dispute management, risk manager program

POS systems

Free, general use

Free, general use; specialized advanced plans for retail, appointment/service, restaurant

POS hardware

Card reader, handheld; can use on mobile, computer, laptop, or tablet for counter POS

Free magstripe reader; card readers, handheld, full counter POS system with some accessories (like kitchen display); can use on tablets or mobile

Offline mode

✕

✓

Virtual terminal

✓

✓

Mobile app scores

2.6 out of 5 stars on iOS

2.9 out of 5 stars on Android

4.8 out of 5 stars on iOS

4.8 out of 5 stars on Android

Subscriptions/recurring bills

✓

✓

Customer survey

✕

✓

Add-on features

None

Advanced POS, Loyalty, Team Management, Marketing, Payroll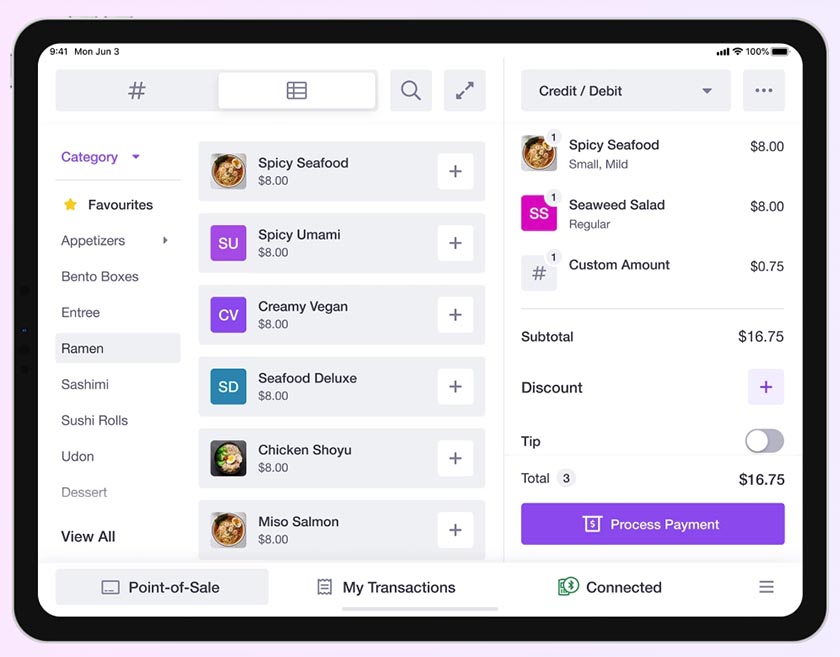 ---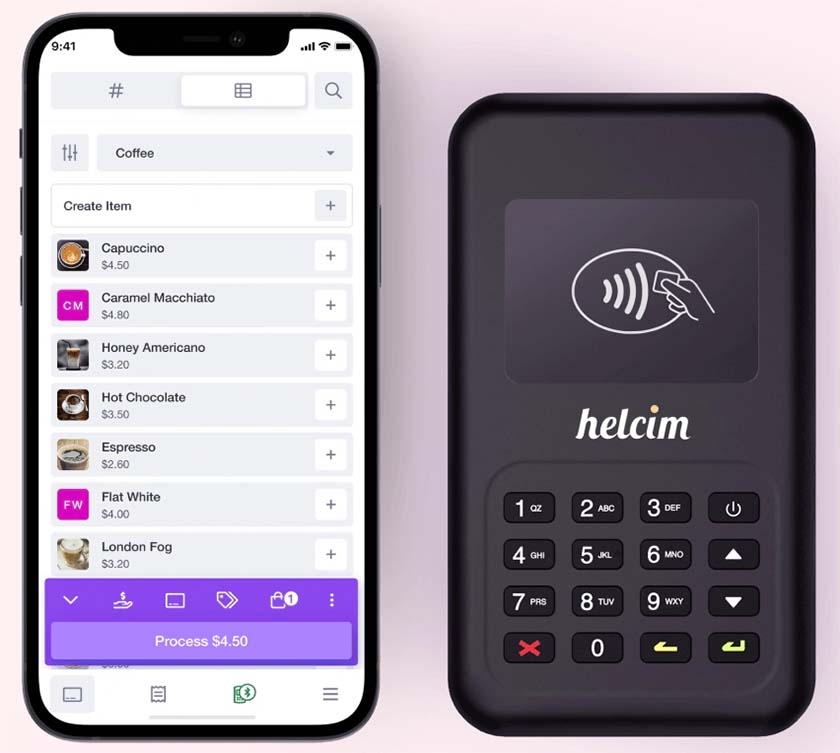 ---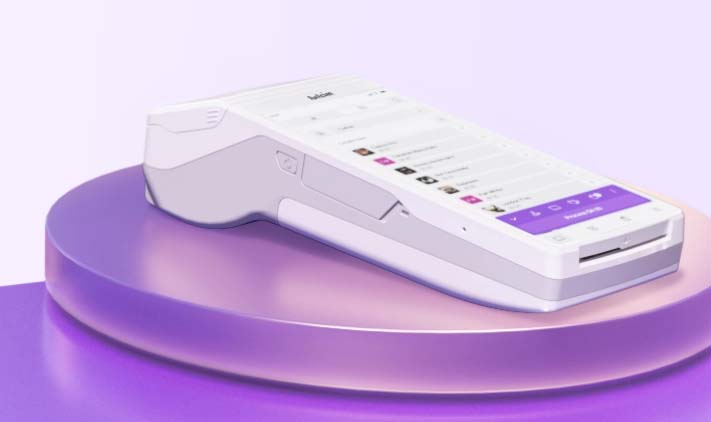 ---
Helcim offers a free POS system that comes with basic inventory, stores customer information, tracks sales history, and manages employees. It does not have time-tracking or loyalty tools, however. Thus, it's better for high-volume businesses that don't need a lot of POS tools or that are getting additional functions through other programs.
The hardware is likewise basic. Designed to work on the cloud, Helcim's POS system can be used on a computer or laptop as well as mobile. It also offers a handheld system and a mobile card reader, but they are both more expensive than Square's. It should also be noted that the Helcim app has low customer scores, especially when compared to Square.
Helcim has strong protection with its Fraud Defender program. Fraud Defender evaluates each transaction based on data like IP address, shipping and billing location, and card security code, and scores it by risk. With automatic protection settings, it can void transactions that don't meet your set acceptable risk score.
By comparison, Square has a Risk Manager program that lets you set rules for accepting or rejecting a transaction, but it's only for online and eGift card transactions.
Unlike Square, Helcim has 24/7 customer support by phone or email. In addition, it has a comprehensive help section that includes video demos. (Square's help section is excellent as well.)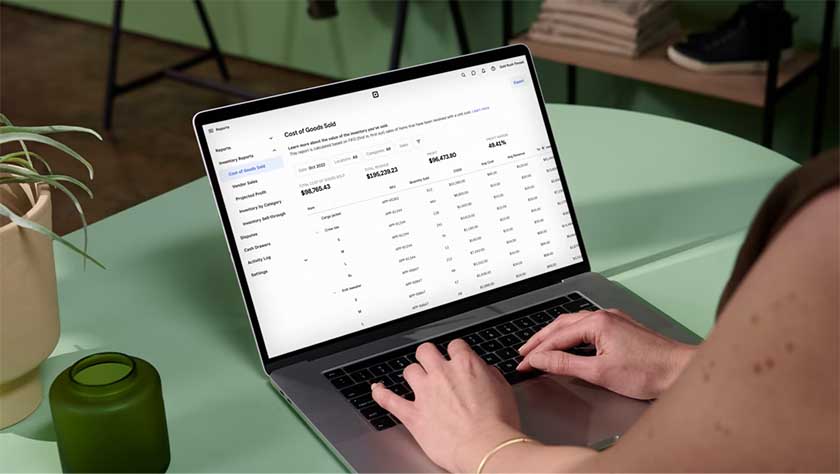 ---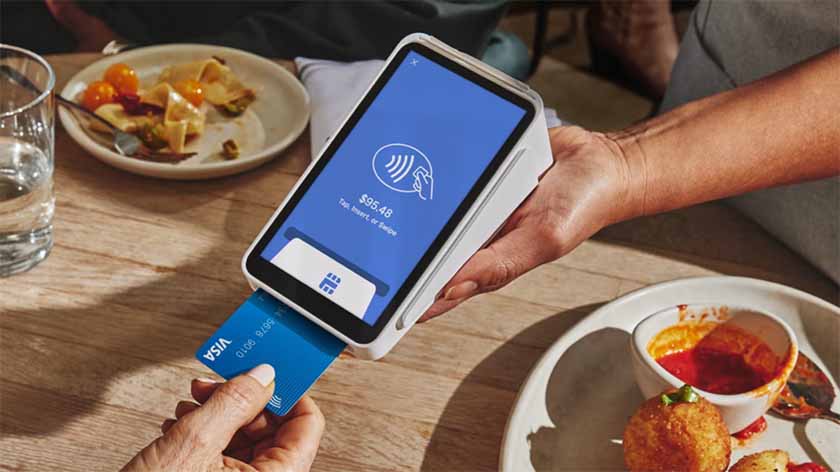 ---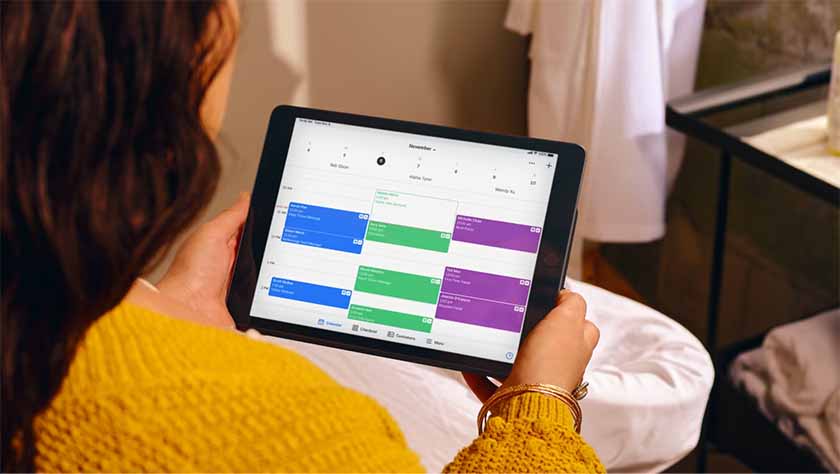 ---
Point-of-sale systems is where Square really shines. Its POS ranks high on most of our POS evaluations because the free plan offers all the most important tools you need, from register to inventory, yet it also offers advanced plans for restaurants and appointments. For example, Square for Restaurants can integrate with delivery apps like Postmates and works with kitchen display systems.
It can handle multiple locations, and while it has handheld and countertop hardware, you can easily use it on its high-ranking mobile app. If you need loyalty, marketing, time clocks, or even payroll tools, Square has you covered.
Helcim has a more robust fraud protection program, but for online transactions, including eGift cards, Square has Risk Defender. This program lets you set up rules for sending risk alerts, such as Square's own risk evaluation, AVS mismatch, invalid CVV, or suspicious transaction amounts.
In addition, Square does not charge for chargebacks up to $250 per month. Helcim charges $15 per chargeback.
Unlike Helcim, Square offers services that go beyond payment processing. These, of course, have their own pricing, but you can use Square to manage your payroll; secure employee benefits that include workers' compensation, health insurance, and 401(k); or run time tracking and scheduling. You can get a checking or savings account and apply for loans. Everything integrates with Square to make things faster and easier to run.
Helcim vs Square Expert Score: Tied
We determined the expert score based on our own experience of ease of use, affordability, and transparency of pricing—all of which both Helcim and Square did well on. We also considered the number and ease of integrations and what real-world users had to say about the services as recorded in third-party user review sites like Capterra and G2.
Helcim, like Square, earned a perfect mark for pricing and transparency. Unlike other interchange-plus merchant services, Helcim does not charge a monthly fee nor does it require a contract. We found the software overall very easy to use, and Helcim has remarkably few complaints for issues like held funds.
It does not offer many integrations, particularly when compared to Square, but it has a strong API for creating your own, and it offers excellent ready-made tools for accepting payments.
Helcim also fell behind Square in popularity because it does have an approval process (one reason why it has fewer held-fund issues), which means it has fewer users.
Its user-review score is slightly lower than Square's (4.29 vs 4.69 out of 5). People complained about the card terminal, and one customer mentioned a steep learning curve for the software. However, most people praised the customer support and overall product.
Square's easy-to-use POS and ecommerce tools and transparent pricing make it a favorite with us as well as with small business owners. You'll find it on many of our best-of lists. Real-world users gave it 4.69 out of 5 averages over multiple review sites. They praise the ease of use and flexibility of the system.
Square also has a plethora of integrations for all aspects of business, although its score, like Helcim's, was not perfect here because other merchant services (like Stripe) are far better for integrating with other software.
Square lost points because it has a higher number of complaints about held funds and similar issues. Unlike Helcim, it does not vet new customers, so this can lead to issues in the early months or if there are sudden changes in your sales.
Methodology: How We Compared Helcim and Square
Helcim and Square both underwent extensive testing for our list of best merchant services providers. For that list, we evaluate each product for what it offers, ease of use, real-world user response, and more. We compare pricing for methods, fees, terms, and rates. Then, we consider how different products work for individual use cases and types of merchants.
Click through the tabs below for our overall merchant account evaluation criteria:
25% of Overall Score
For pricing and contract, Square scored higher with 4.63 out of 5, while Helcim earned 4.38. They both have monthly pricing and reasonable rates, but Helcim's hardware pricing and chargeback fee placed it below Square.
30% of Overall Score
We looked at the variety of payment types each account accepted. This included not only POS and mobile payments from swipe to tap, but also ecommerce transactions, ACH and echeck payments, and free virtual terminal and invoicing solutions for phone orders, recurring billing, and card-on-file payments.
Here, Helcim took the lead with a perfect 5 out of 5, with Square earning 4.75 out of 5. Helcim works with B2B payments and cross-border payments, while Square does not.
25% of Overall Score
We prioritized merchant accounts with free 24/7 phone and email support. Free same-day or next-day funding earned bonus points. We also looked for affordable and flexible hardware options as well as business management tools, like dispute and chargeback management, reporting, or customer management.
Square again took the lead with 3.88 out of 5, while Helcim earned 3.44 out of 5. Deposit speed and available hardware gave Square the edge over Helcim, although Helcim has 24/7 support while Square is limited to extended hours.
20% of Overall Score
We judged each system based on four items: pricing and advertising transparency, ease of use (including account stability), popularity and reputation, and how well each system works with other popular small business software, such as accounting, POS, and ecommerce solutions.
Helcim and Square tie here with 4.38 out of 5. However, Helcim earned a higher score for ease of use, while Square is more popular.
*Percentages of overall score
Helcim vs Square Frequently Asked Questions (FAQs)
Helcim differs from Square in that it offers interchange-plus pricing instead of a flat rate. Interchange-plus pricing takes what credit bureaus like Mastercard or American Express charge for processing, then adds a small amount to it, usually an additional percentage or a few cents per transaction. This means how much you pay per transaction can vary, even by type of card, but it is usually cheaper than a flat rate like Square charges.
---
The interchange-plus pricing definitely puts Helcim ahead of Square if you do high-volume sales and if you don't need the extra tools Square offers (like a restaurant POS system). Helcim also handles Level 2 and 3 credit card processing. These are special rates for businesses and government agencies, which are even lower than standard commercial interchange rates.
---
Square strives to be a complete business finance institution. As such, in addition to powerful payment processing tools like multi-use POS systems and ecommerce, it has payroll, savings accounts, and loans. It also has staffing solutions like scheduling and benefits.
---
Bottom Line
When it comes to Helcim vs Square, the real issue is what you need. Helcim has a reasonably strong toolset for sales and interchange rates that are generally lower than what you'll get from Square. It's best for high-volume sales and medium and large companies. Square, on the other hand, has somewhat higher fees, but a first-rate POS system with lots of integrations and additions, from appointments to payroll, that make it great for the small business wanting a complete package.