Most small businesses have 6 or 7 paid holidays per year built into their calendars. However, you may be wondering if you have to pay for these holidays or provide them as days off by law.
Using a digital system like Zoho People can help you stay organized with online time off policies stored all in one place for your employees to see. Click here to get started for free.
For more about paid time off (PTO) as a whole and how to provide it, you'll want to see our full detailed guide, which covers vacation, sick leave, holidays, bereavement, and more.
What are the Typical Paid Holidays?
For small businesses with full time employees, there are about 6 holidays that are generally considered paid holidays where the doors are closed and people are given the day off.
Below, we've listed these 6 holidays. We've also shown the percentages of US employers which, according to the Society for Human Resource Management (SHRM), provide these days off (although not necessarily paid).
New Year's Day (January 1st) – 95% of employers provide this day off
Memorial Day (3rd Monday in May) – 94%
Independence Day (July 4th) – 76%
Labor Day (1st Monday in September) – 95%
Thanksgiving Day (4th Thursday in November) – 97%
Christmas Day (December 25th) – 97%
Since most of these holidays are clustered in the summer and early winter, adding some in the spring and fall can help even out breaks and keep morale and productivity up. Here are some additional holidays many small businesses observe:
Martin Luther King Jr Day (3rd Monday in Jan)
President's Day (3rd Monday in Feb)
Columbus Day (2nd Monday in Oct)
Veterans Day (Nov 11)
Day After Thanksgiving
Christmas Eve (½ day or full day)
If you have a lot of employees with school-aged children, please note that most schools observe all of the holidays we list above and you might want to consider flexible arrangements on those days even if you don't want to give them as paid holidays.
Here's an infographic to summarize: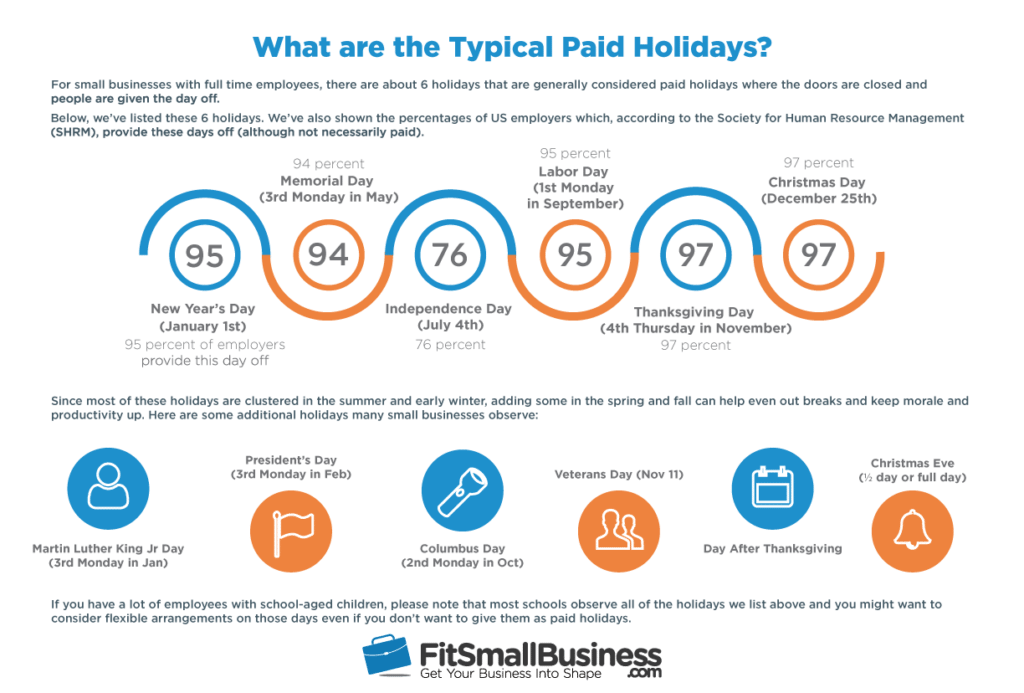 What About Businesses with Hourly Employees?
Businesses with hourly employees don't always provide paid holidays or paid vacation, but this doesn't mean that they shouldn't. If your retail store or cafe offers paid holidays or vacation, you can attract top talent for open positions and reduce turnover.
Even if you have a business that must stay open for financial or other reasons on the holidays, there are ways to do so, such as offering a floating holiday, while being fair to employees. See our template below on a Sample Holiday Pay Policy for Businesses that Remain Open on Holidays.
Don't believe that providing a day off or a paid day off might benefit your business? Check out what our sources say about how to increase employee engagement. Or perhaps you want to have a holiday party instead?
What About Paid Vacation Time In General?
In addition to paid holidays, it's worth mentioning that having 2 weeks (10 business days or 80 hours) of paid vacation time is standard in salaried roles. That standard is also worth considering for hourly roles if you want to attract a higher level of talent. If you want to easily manage time off requests and approvals, check out Zoho People – it's less than $1/month per employee.
A Sample Holiday Pay Policy
Below is a sample holiday pay policy for an employer who is going to provide paid holidays. Feel free to add or customize the policy to your needs.
ABC Company Holiday Policy
ABC Company currently recognizes the following holidays as paid holidays and honors the day off for all of its employees. If a holiday falls on a weekend, the management will announce the preceding Friday or following Monday as a holiday in lieu at least 4 weeks in advance.
New Year's Day
President's Day
Memorial Day
4th of July
Labor Day
Thanksgiving Day & Day after Thanksgiving Day
Christmas Eve and Christmas Day
What if My Business Doesn't Close on Holidays?
If you own a restaurant, a cafe, a small theater business… any number of reasons could be why you might not close on a "usual" holiday and you may be open for business. If this is the case, you will want to instead establish a holiday pay policy around:
Which holidays are you open and what will be the hours/shifts open?
Will you pay a bonus or overtime for people who work those days?
Then, you will want to establish a holiday pay policy and holiday work policy from there. Here is an example from a restaurant I used to work at when I was younger (with the name changed):
Sample Holiday Policy for Businesses that Remain Open on Holidays
John's Restaurant prides itself that it stays open 365 days per year, every year. However, we recognize that employees may want to celebrate holidays with their families and loved ones and we have established the following policy:
4 weeks prior to a holiday, we will ask for volunteers to work the shifts we have open (which are usually limited, such as 9 am-3 pm). If the shifts are full, we will establish 1-2 employees to be on call in case another employee who was signed up falls ill.
If there are still open shifts, we will discuss as a team a fair system. For example, if Suzie wants Thanksgiving Day off, but will work New Year's Day, we will try to make that work. We have found that if we communicate as a group at a team meeting, we can generally cover the shifts.
If there are still open shifts, we will consider hiring temporary employees for the shifts. We would prefer a temporary employee be a referral from a current employee- maybe you have a friend who wants to work for 1 month over the Christmas holiday season? Tell us!
On the day of the holiday in question, we will do our best to dismiss employees early if possible and if the clientele allows us.
Team members will receive a $100 bonus for working their entire shift (as deemed by management) on the following holidays:
New Year's Day
Memorial Day
4th of July
Labor Day
Thanksgiving Day
Christmas Eve and Christmas Day
Company Types & Standard Time Off Policies
In certain business settings, like a law office with salaried employees, employees expect to receive paid holidays. In other settings, such as a restaurant or retail shop with hourly employees, it's not typical.
In the table below, we outline the typical holiday and leave policies based on types of employees.
| Types of Employees You Have | Typically Provide Paid Holidays? | Typically Provide Vacation Time? | Typically Provide Sick Leave? | Comments |
| --- | --- | --- | --- | --- |
| All Salaried | Yes | Yes | Maybe* | Paid holidays and PTO are standard for salaried roles. |
| All Hourly | Maybe | No | Maybe* | Paid holidays and PTO will attract talent if you have hourly employees. |
| Combination Hourly & Salary | Yes | Maybe | Maybe* | Be careful here about being fair- your employees will talk to each other. Should hourly and salaried employees be on a similar or different policy? |
| All Independent Contractors | No | No | No | Offering paid holidays, vacation, and sick leave is not necessary for independent contractors. |
*Check your city and state laws regarding paid sick leave to ensure compliance.
Federal Law, State Law, and Holiday Pay
You do not need to provide any paid or unpaid holidays for your employees, either by state or federal law. You also do not need to provide vacation time (although you may need to provide paid sick leave if your business is located in certain states or cities – you'll want to check our table in this article here).
Even if not required, providing paid holidays and vacation time can be an important component to recruiting and retaining talent. In addition, providing paid time off can increase morale and improve productivity.
5 Tips to Deal With Holidays at Your Business
As a business owner, the term "the holidays" might bring up less than cheery thoughts. We've got 5 strategies that you can use to deal with the holidays at your business and to help you create a holiday pay policy.
Tip 1: Get software to track your PTO or time off requests.
Are you properly tracking vacation time, holidays, and paid time off? One in three companies doesn't and may be subject to large fines from the Department of Labor or state agencies. Zoho People is a tool that can can help you accurately manage time off requests and approvals and avoid the hassle of tedious audits. Click here for a free demo.
Here are some other software options that may help as well:
Tip 2: Plan ahead and announce holiday schedules 4 weeks in advance.
Think your employees know the holidays are coming and they should tell you their schedule? Guess what? They probably don't and they might assume that they have the day off. Communicate with them and remind them, repeatedly, to get you their schedules and that the rules for PTO requests still apply.
Tip 3: Consider hiring some temporary employees to cover shifts.
If you are a restaurant, retail store, medical office, or other business that stays open during the holidays, you might want to evaluate using some temporary employees to cover open shifts. You can look at some information we have here on working with a staffing agency as a co-employer to hire temps.
Tip 4: Consider the cost/benefit of closing the operation for the day, versus staying open.
If you are a restaurant and no one can work on Christmas… well, should you close or should you try to find temporary staff? Try to think of the cost/benefit analysis of having the doors shuttered for the holiday or staying open. Temps might be costly, but so might be losing your team members if they start looking for other jobs that provide holidays off. You'll want to look at the whole picture, including year's past data on what staying open on a holiday did for revenue for you.
Tip 5: Remind yourself that it's the holidays.
Take a deep breath; the holidays in the US are few and far between, and you can be prepared for the crazy Thanksgiving/Christmas/New Years holiday flurry if you plan properly. Remind yourself that holidays are important to people, and that it is a chance to really build your company culture around something important.
The Bottom Line
Holiday pay policy can seem like just another thing to consider for an already tight-strapped small business owner, but consider the benefits of it for your employees and your brand. Having a few paid holidays, or paying people a little extra to work on a traditional holiday, can help build your business in a great way and keep your employees happy.
Don't forget to check out Zoho People, an intuitive tool that can help you manage holidays and time off requests. Click here to get started for free.