Business credit cards are typically the first financing product small businesses get and they can help all business owners, even new startups. Typical rates fall in the 12 percent to 29 percent range and many cards offer rewards. The application process takes, minutes you can receive your card within seven days, and you might not even need a TIN/EIN.
If you're still looking for the right card to apply for, our recommended cash back rewards card is the Chase Ink Business CashSM card. You can earn up to 5 percent cash back and a bonus $500 when you spend $3,000 in the first three months of opening an account. Plus, the card offers an introductory 0 percent annual percentage rate (APR). You can apply online and get approved within a few minutes.
The five steps to getting a business credit card are:
1. Research Your Credit Card Options
Before you can apply for a business credit card you should do your research to find the card that will fit your business's needs. The three most important things that differentiate business credit cards are:
Rewards program
APR on balances that you carry
Annual fee that you pay
Let's take a look at each one in more depth.
Rewards Program
The rewards vary widely from card to card and are typically either cash back or points. For example, some cards will give you five points per dollar you spend on airline tickets while others will give you 5 percent cash back when you purchase office supplies.
Clearly, some cards reward better than others, but you'll usually want to choose your card based on the purchases you make and the rewards you want to earn. For example, if you spend a lot of money on office supplies, you might want to get a cash back card that gives you 5 percent back on office supply expenses. This will be the first thing — and probably the most important — that will determine the card you're going to want to apply for.
For more information on the various rewards programs available, check out our article on cash back vs. points. For example, if you drive often or operate a fleet of vehicles, you can benefit from a  card that gives cash back or allows you to earn points based on the money you spend at gas stations.
Annual Percentage Rate
Another factor in your credit card research should be the total APR the card offers. Most business credit cards will give you a rate based on your credit profile in the range of 12 percent to 29 percent while some companies offer a 0 percent introductory period. This could be an ideal fit for borrowers wanting to make a large purchase and spread out the payment across several months without paying interest. You may also be interested in the variety of fees charged for balance transfers.
For more information on the top 0 percent APR cards available, check out our article on the best zero percent interest business cards.
Annual Fees
The third factor is how much you're going to be charged an annual fee. These can range greatly, from $0 to $450 or more. Generally, the larger the annual fee you pay the larger, the reward payouts can become. However, this isn't always the case. You'll likely only want to lock your business into paying an annual fee if you're confident you'll make more than that back in rewards from using the card.
It could take a long time to find the right business credit card for you, but you need to make sure you're making the right decision before you apply. Applying for too many cards all at once could impact your personal credit, so you only want to apply for the right one, if possible. You can read our guide to the top business credit cards to help you find the right card for your business more quickly.
If you're looking for a cash back rewards card, we recommend the Chase Ink Business CashSM card. This card offers a 0 percent introductory APR that you can take advantage of immediately, plus you can earn a bonus of $500 if you spend $3,000 or more on the card in the first three months. Applying can be done online and only takes a few minutes.
2. Determine Your Business Credit Card Eligibility
Credit cards are often the first type of financing your business will qualify for because the main information used for qualification is your personal credit score. Many lenders will also look at your business revenue, the industry your business is in as well as what your monthly expenses are as indicators of your ability to repay your credit line. These other indicators are important but they're a secondary consideration compared to your personal credit score.
The personal credit score requirements are as follows:
Minimum credit score: 640-plus
Score for the best rates and rewards: 700-plus
This may sound difficult, but according to Consumer Finance's 2017 report, more than 73 percent of the U.S. population meets the minimum qualification of a 640 credit score. However, being a prime borrower is best for your approval chances and having a 700-plus score is ideal to get approved for most cards.
You should check the minimum qualifications for any card you're considering applying for and make sure you know your credit score beforehand so you apply to the right ones. To get ahead of the process, you can check your personal and business credit for free.
Check Your Credit Score for Free
3. Apply Online
Once you've found the right card for your business and you're confident you'll qualify, it's time to fill out an application. Pretty much every major credit card today has an online application for you to fill out where you can get a quick approval decision. You'll typically fill out the application, containing basic personal and business information, and then hit submit. The entire process can typically be completed online within minutes.
The basic information you'll be asked to fill out includes:
Name and business name
Mailing address
Industry
Legal entity or type of business
Tax identification number (both your Social Security number and the business's employer identification number)
Annual business revenue
Years in business
Monthly business expenses
Personal income information
This process can ding your personal credit by three to five points with some credit card companies because it's a hard credit pull, so beware of applying for too many at a time. Sometimes, the online approval system won't be able to give you a definitive approval or rejection immediately. Instead, your application is flagged for a review by an employee of the credit card company. Under these circumstances, you won't know if you're approved for up to 10 days.
If you're concerned you might not get approved, we recommend checking out our article on the top credit cards for startup businesses. This article outlines the best business credit cards for your new company.
However, if you're ready to apply for a business credit card, we recommend the easy application process of the Chase Ink Business CashSM card. You can apply entirely online and get approved within a few minutes. As soon as you receive your card you'll be ready to start spending with a 0 percent introductory APR. and you can earn a bonus of $500 if you spend $3,000 or more in the first three months.
4. Wait for Your Card in the Mail
Once you've received notification of your approval, the next step is to receive your card in the mail so you can start using the credit on your account. The time it takes to receive the card varies by credit card company but typically falls into the two- to 12-day range. However, a good rule of thumb is that it will take at least one week.
These cards are just like personal credit cards where you'll have to call to activate them before you can use your credit line. Some credit card companies will give you virtual access to your card before you receive it in the mail which allows you to make online purchases earlier. However, this isn't always the case.
5. Start Using Your Card & Earning Rewards
Now that you've received your card and you've activated it, you can start using your card wherever they're accepted. Most business credit cards are Visa, Mastercard or American Express. All of these cards are accepted in most retail locations and almost anywhere online.
You'll typically earn a certain amount of points or cash back based on how much you spend, depending on the spending category. For instance, you could earn five points for every $1 you spend on fuel but only one point for every $1 you spend on everything else. You should make sure you carefully read the rewards of your card so you know how to best maximize your rewards.
If you're ready to get started with a business credit card, we recommend trying the Chase Ink Business CashSM card. You'll receive up to 5 percent cash back on office supplies and a bonus $500 cash back if you spend $3,000 in your first three months. The card also offers an introductory APR of 0 percent for the first 12 months. You can apply online and get approved within minutes.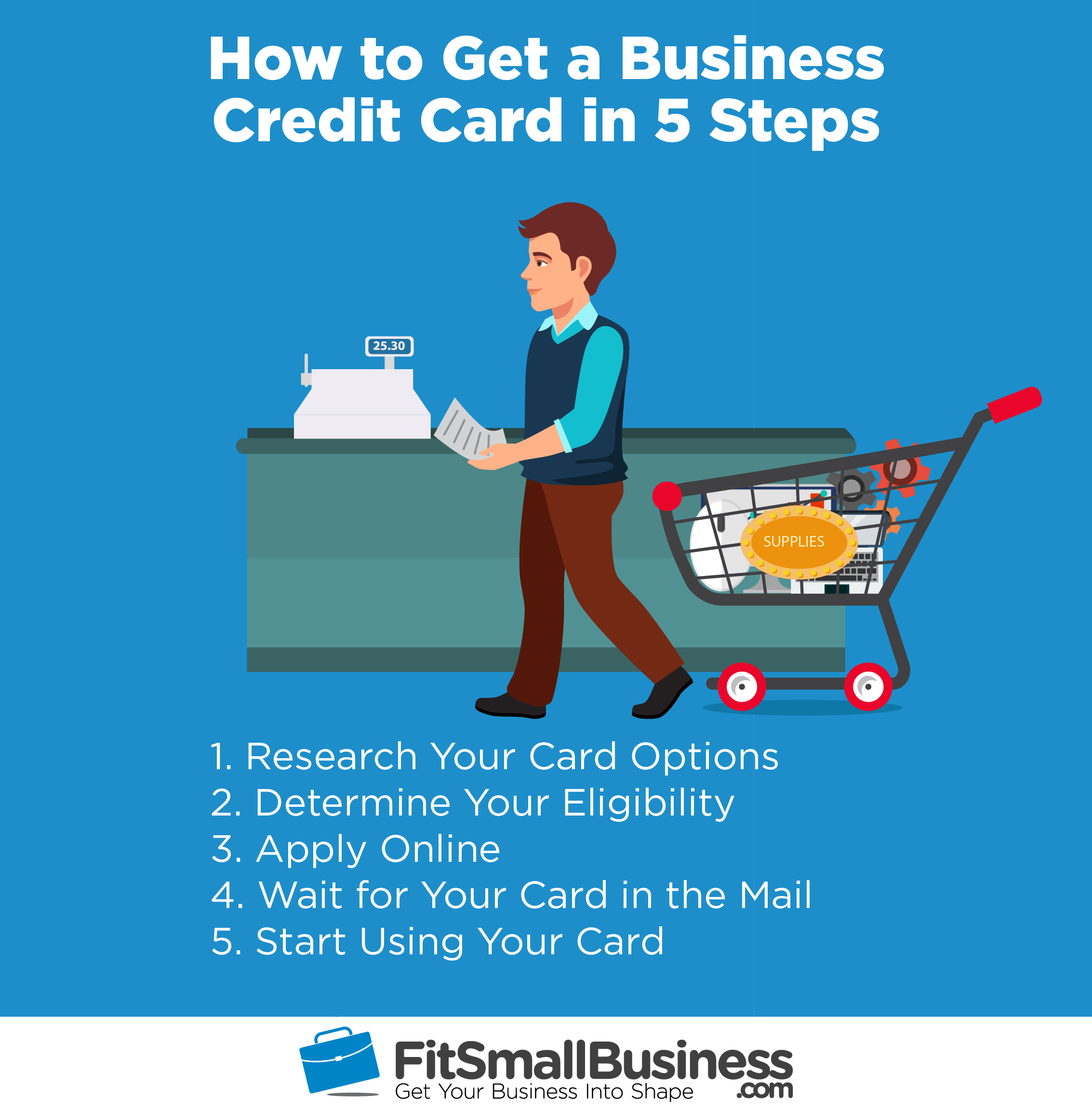 How to Increase Your Chances of Approval
Getting approved for a business credit card typically comes down to your credit score and business revenue. Some lenders will also want to know what your expenses are and what industry you're in to determine how strong of a borrower you'll be if approved. You may want to improve these aspects of your application before you apply in order to qualify for the card you really want.
The best ways to increase your business credit card approval chances are:
Improve Your Credit
If your credit score is below 640, then you'll likely need to improve it before you apply so that you can qualify for the best business credit cards. There are two different ways to raise your credit score. You can work to build your credit or you can work with professionals to repair your score if it's in really bad shape. You can read our article to learn how to check your personal credit score for free.
Grow Your Business Revenue
No matter how good your credit is you'll find it difficult to get a large credit line — or approved at all — if you don't have much business revenue. You can increase your chances for approval by finding ways to improve your business revenue before you apply. Even signing one large new customer might increase your revenue enough to improve your chances of getting the card you want.
Reduce Your Expenses
Some business credit card applications ask you to list your monthly expenses to help the lender understand how much debt you can afford to make payments on every month. For many cards, reducing those expenses before you apply may not increase your chances of getting funded, but it can help you increase your overall credit line amount. Ultimately, if you're taking on extra debt, then it's a good idea to reduce these business costs regardless of how much it could help.
Separate Your Personal & Business Finances
Separating your personal and business finances is important in establishing and maximizing both credit scores. You don't want a negative credit mark on one report impacting the credit report of the other. You also want to make it easy for a potential credit card company to know what your business is earning and which debts belong to you personally.
If you're ready to separate the two, we recommend reading our article on the best business checking accounts.
Frequently Asked Questions (FAQ)
What is the Best Small Business Credit Card?
The best small business credit card really depends on you and your business. The best one for you will be one that you qualify for and one that gives you the best rewards for the type of purchases you plan on making. We've done hours of research and put together a list of the best small business credit cards, which can give you a good starting place to finding the right one for you.
Can Anyone Apply for a Small Business Credit Card?
No one is restricted from applying for a small business credit card but you need to be operating a business. The application asks specifically for the annual revenue of your business, which makes having a business a qualification requirement.
You can apply with your own Social Security number if you don't have a federal tax ID number (EIN) for your business. We also recommend only applying if you have a good chance of being approved because your credit might take a hit for the application.
Can I Use My Card Before I Receive It in the Mail?
Most credit card companies will make you wait to use your new card until you've received it and called to make it active. This prevents any theft that could happen by sharing specific card information on a website or via email. Some credit cards, like store cards, will allow you to use them the minute you're approved. In those situations, you'll receive a paper version of your card until you receive yours in the mail.
How Do You Check Your Credit Score for Free?
Each of the major credit bureaus offers you the opportunity to download one free version of your credit report for free every year. For other inquiries, however, you typically have to pay. If you need a quick overview of your credit or if you've already checked your credit through the bureaus for the year, we recommend checking your credit for free here.
What's the Difference Between a Soft Check and a Hard Check?
The main difference between the two is that the hard credit check impacts your score while the soft check does not. A hard check gives lenders your full credit report, including all of your personal data and past lending history. Every hard credit check can negatively impact your credit score by up to five points.
A soft credit check takes place during a pre-approval process or a background check, and it can be completed without your consent. A soft check provides a credit score and small snippet of your total credit history. To learn more you can read our in-depth article about soft vs. hard credit checks.
How Do I Build Credit for My LLC or Business?
Many businesses aren't sure where to begin to build business credit since so many small business credit cards rely on your personal credit to approve your application. You can build your credit score the same way you can your personal score. For example, opening credit accounts and making your payments on time.
To get started with your business credit you should get a D-U-N-S number (for Dun & Bradstreet credit report) and provide at least three trade references who can vouch for your frequent and timely payments. Other credit reporting bureaus like Experian and Equifax build a credit report on your company regardless of if you set one up or not.
You can learn more about the entire process by reading our ultimate guide to building business credit and improving your business credit score.
Can You Get a Business Credit Card With Bad Credit?
Most of the best business credit cards will ultimately deny your application if you have bad credit. You won't have an opportunity to receive many of the great rewards that other businesses can qualify for, but that doesn't mean you can't get a card.
Credit card companies offer secured cards for bad credit borrowers. These are credit cards that will let you use a credit line up to the amount you've provided in cash as collateral. To learn more, you can read our article on the best business secured credit cards.
Can I Choose My Due Date Every Month?
The answer to this question varies by credit card company because they all have different rules and processes. Most credit card companies are typically open to allowing you to choose the date of your payment, especially if you're just opening up an account, because they want to make sure you make your payment on time. You just need to ask your credit card company.
How Can I Get My Credit Limit Raised?
Many credit card companies will raise your credit limit after you've made timely payments for some predetermined period of time. These increases happen automatically and generally require you to be an active user from month to month. If you're a prime borrower and have made more than six on-time payments, then it's worth asking your credit card company to consider a limit increase.
Can I Use a Business Credit Card for Personal Use?
While there's nothing stopping you from using your business credit card for personal use, we strongly discourage this type of spending behavior. Not only should your personal and business financials be kept secret to protect you personally from business liability but you're also applying for a card saying you'll be using it for business purposes. Using the card for personal purchases just complicates all of these transactions and relationships.
How Do I Know if I Need a Personal or Business Credit Card?
The answer depends on what you plan on using the card to purchase. Many business owners use both business credit cards and personal credit cards as part of their financial strategy when their business is young. We recommend using a business credit card for your business purchases because it makes your accounting and bookkeeping easier and helps to shield you legally from business liability.
What is the Best Personal Credit Card for Small Business Owners?
If your business doesn't have any revenue then a personal credit card might be your only option to help get your business off the ground. You'll need strong credit to get these cards, and many of them carry a higher APR than a business credit card does. To find the best card for you, read our article on the best personal credit cards for business owners.
The Bottom Line
Learning how to apply for a business credit card isn't a difficult process but knowing how to navigate the application process can help improve your chances at either getting approved or at increasing your total credit line. The best card for you is going to be determined by the types of purchases you plan on making with your credit card, what your credit score is and your total annual business revenue.
We recommend the Chase Ink Business CashSM card as a good cash back card that most small businesses can benefit from. You can apply online within a few minutes and get qualified for a card that will reward you up to 5 percent cash back and that provides a 0 percent introductory APR.