Walmart has built a vast and varied marketplace to rival Amazon and has been accepting third-party ecommerce sellers since 2016. This guide walks you through selling on Walmart each step of the way, from application to set up to launch.
A word of caution: Walmart doesn't offer an in-house order fulfillment program, so you can lose money handling your own order fulfillment and shipping. Try outsourcing with ShipBob — an all-in-one fulfillment solution — without killing your profit margins. Its low rates, quick onboarding, and minimal startup costs are just some added benefits. Click below to speak with a fulfillment specialist for a free consultation.
You can sell on Walmart by following these 5 steps.
Step 1: Apply to Sell on Walmart
Sellers have to apply to start selling on the Walmart marketplace. The application isn't lengthy, but the wait is. After providing your basic business information and an overview of what and how you currently sell, be prepared to wait 2-3 weeks for a response.
If approved to sell on Walmart, you'll receive an email invite to set up a Walmart seller account. But, not everyone is approved, so let's see what type of online seller the Walmart marketplace is looking for.
Who's Eligible to Sell on the Walmart Marketplace
The Walmart marketplace only works with established online sellers. This is a major difference between Walmart and other major marketplaces like Amazon and eBay. If you're just getting started in online sales, Walmart isn't likely to approve your application. You'll first need to established online sales history on your own website, on Amazon and/or eBay, plus have a proven brand or product collection.
"There are some challenges to getting accepted on Walmart. It is not hard but you must have prior third party marketplace experience and know the answers to the questions that Walmart will ask. Walmart will research your sales history on Amazon and Ebay. Your feedback on other third-party marketplaces weighs heavily on Walmart's approval process."

— Jason DePietropaolo, CSO & Co-Founder, ChannelApe
What Types of Products are Best for the Walmart Marketplace
Walmart is pretty transparent in that they want to build a marketplace filled with a variety of items that span all categories at moderate prices. High-end luxury items and low-end imports aren't what they're looking for. If your collections bring value to shoppers at a moderate (think Walmart) price, you'll be a good match.
"One very important thing I would tell anyone looking to sell on Walmart's marketplace is to prepare for the battle of prices. Just like Amazon and eBay, sellers on Walmart are consistently slashing prices to get to the top of the sellers' list on each product page. It is a race to the bottom, so I would not recommend anyone to go in there selling a product with low margins."

— Mario Serna, CEO, WonderCostumes
What it Costs to Sell on Walmart
There are no account fees on Walmart, unlike Amazon which charges sellers $39.99/mo. Walmart only charges sellers a Referral Fee which ranges from 6% to 20% of your product's selling price, depending on the category.
If you sell on Amazon, Walmart's Referral Fees will be familiar. They're almost identical to Amazon's fees with one exception, there are no Minimum Referral Fees. You pay just a percentage of each product's selling price. That's it.
After You're Approved to Sell on Walmart
If you're the type of seller Walmart is looking for, they'll approve your application and send you an email invite, as shown below. This invite will have a link that leads you to a page where you proceed to Step 2 and set up your Walmart seller account.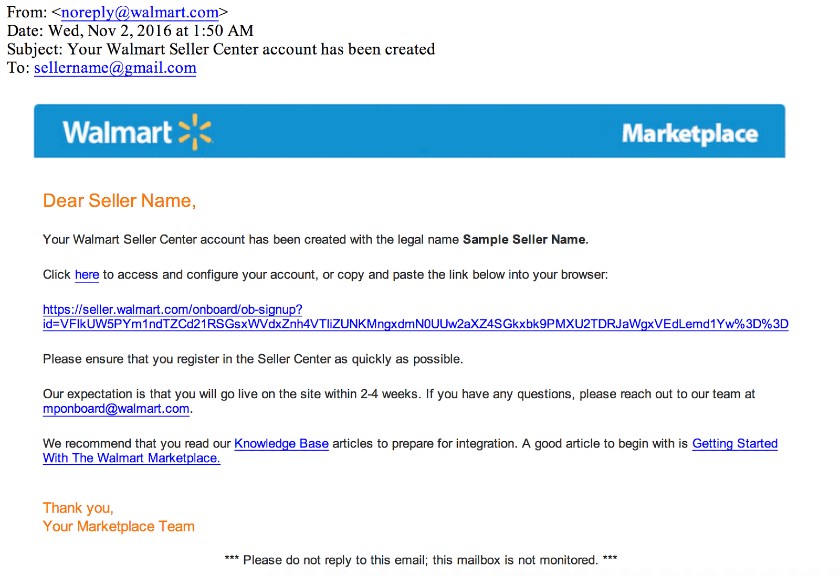 Step 2: Set Up Your Walmart Seller Account
After you receive your approval to sell on Walmart, their online partner portal walks you through each step in your account setup: from signup, through registration, to final launch of your products on the Walmart marketplace. The entire process is tracked on a Launch Checklist, which guides you through each step.
Follow the Signup Wizard
The first thing you'll see when you click on your email invite link is a registration Signup Wizard. Simply follow this wizard to enter your key business information. Be ready to provide these 3 pieces of information:
Your business's physical address
Your bank account information to receive payments from Walmart
A digital W-9 form. If you don't have this, the Signup Wizard includes a link to this form to download and fill out.
After completing the registration, you'll see it's marked off your Launch Checklist. This checklist guides you through every step of the setup process and triggers your account to Go Live when all steps are completed: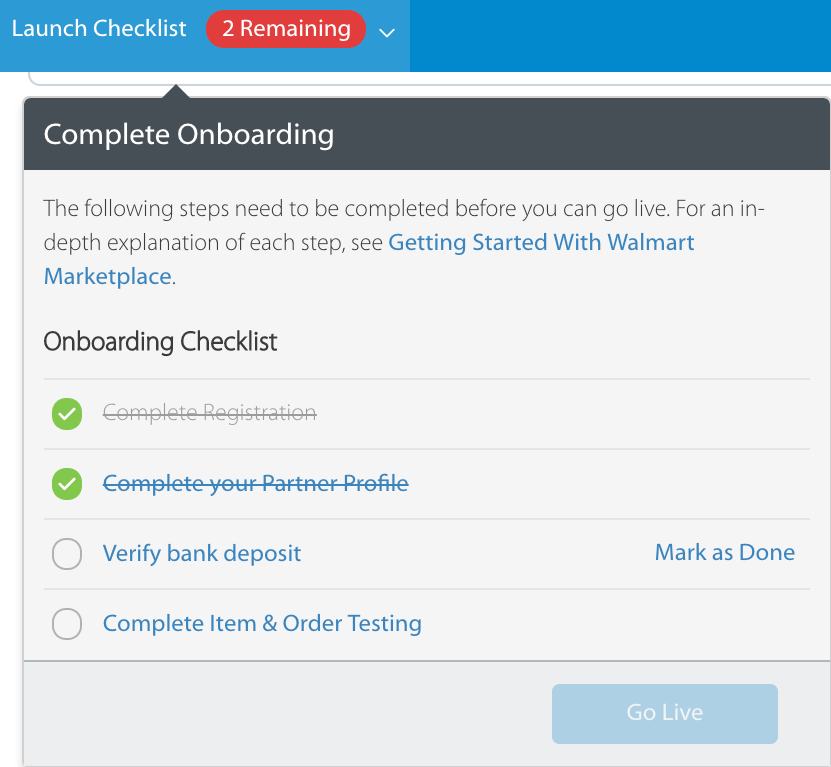 Complete Partner/Seller Profile
Next, you're ready to move on to the Partner/Seller Profile. For this, you'll need to provide the following. Note, this is what shoppers see when browsing your products on the Walmart marketplace, so be clear and concise when describing this information:
Here's a look at the Partner/Seller Profile dashboard you'll use in your Walmart Seller Center: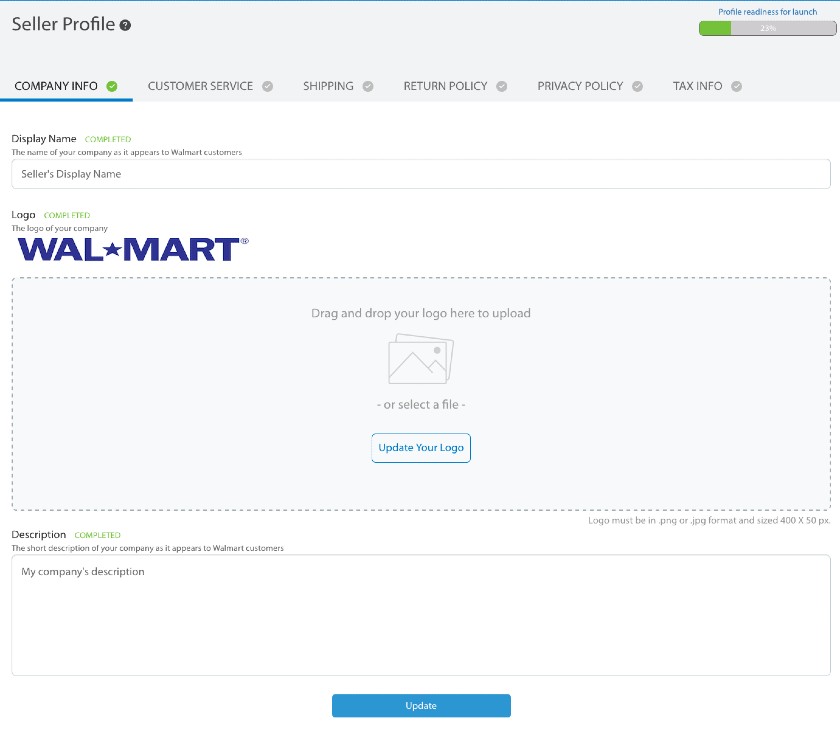 Verify Bank Deposit
Before moving on, you need to Verify Your Penny Deposit. This confirms that Walmart can communicate with your bank so you can get paid. After you entered your banking information in the Setup Wizard, Walmart deposited 1¢. This should appear in your account within one business day.
When you see this deposit on your account, mark this in your Launch Checklist: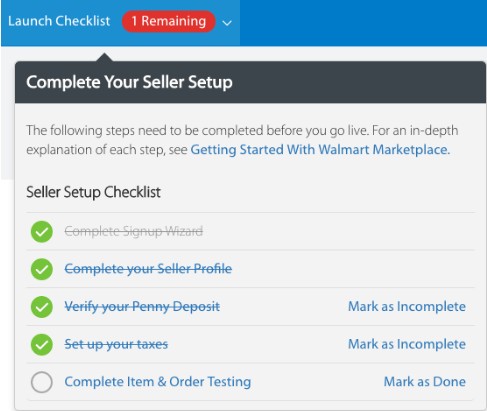 Now you're ready to move on to the real work of selling on the Walmart marketplace: Setting up your products following Walmart marketplace guidelines.
Step 3: Set Up Your Walmart Products
You can manually enter products into your Walmart product catalog, but if you are accepted to sell on Walmart, you likely sell in some volume. Manual entry isn't realistic for most Walmart sellers. So, you'll probably need to upload products to Walmart via bulk upload or a product feed. Here's how to do that.
Decide on an Upload Method
The first thing you need to do is decide how you'll send product data to Walmart. Here's a quick look at your 3 options, which we examine in detail below.
Product Feed Options for Walmart Marketplace Sellers
| Feed Option | Best for | Technical Skill | Cost |
| --- | --- | --- | --- |
| CSV File Bulk Upload | Sellers with small inventories | Low to Moderate | Free |
| API Connection | Sellers using enterprise systems | Moderate to High | Free unless outsourced |
| Integration Partner | Sellers using ecommerce order management platforms | Low to Moderate | $30/mo. & up |
"Once approved, Walmart makes fairly easy for sellers to upload products. While not optimal, they allow you to enter products through manual input, but the most efficient way is to make use of their CSV templates to import products from your database. Walmart doesn't directly have integration with major ecommerce platforms yet, but third-party partners like ChannelAdvisor can facilitate the integration process with various e-commerce platforms."

— Mario Serna, CEO, WonderCostumes
If you're not familiar with these methods, here's a quick overview of each, and you can learn more in the Walmart marketplace knowledge base.
1. CSV File Bulk Upload
You can create a CSV file upload using an Excel or Google Sheets spreadsheet, following Walmart's file upload guidelines. This works for sellers uploading a small collection of products to the Walmart marketplace. But for large collections, one of the following is a better integration method.
2. API Connection
If you know how to manage an API connection, you can connect Walmart's marketplace API to your ecommerce platform, inventory database, or order management system for free. This method does take some technical knowledge
3. Integration Partner
If you already operate a website on an ecommerce platform like Shopify, BigCommerce, WooCommerce, or other top options, an integration partner can link some or all of the products in your existing catalog directly to Walmart. This can be the easiest way to import products to the Walmart marketplace correctly. Integration partners know the product data fields that Walmart requires and manages the connection for you.
But this convenience comes at a cost. Based on your product and sales volume, this can start at around $30/mo. and reach $500/mo. or more. Here are some top Walmart integration partners and their costs:
Walmart Seller Integration Partners
| Walmart Seller Partner | Best for | Cost |
| --- | --- | --- |
| CED Commerce | Smaller sellers on BigCommerce, Shopify & many other platforms | Apps start at $360/yr. |
| | Other ecommerce sellers needing connections to Walmart | From $99/mo. |
| Channel Ape | Mid-volume sellers needing custom integrations | From $500/mo. |
| | High-volume sellers needing custom integrations | Per quote |
Understand Walmart Product Attributes
Once you've decided how to upload products, you need to build your product feed. If you're an experienced seller, you'll recognize most of Walmart's product attribute fields, such as item name, SKU, Brand, and Descriptions. But some attributes are exclusive to Walmart, like Shelf Description.
Here are the attributes you'll need to know when setting up your Walmart marketplace product feed, with explanations for the fields that you might not recognize. Note! If the following list seems daunting, using an integration partner can make the entire process smooth and ensure that your data is set up correctly.
Product Identification Attributes
Product Name
Product ID Type — This field is where you indicate which identifier you are using: GTIN, UPC, EAN, ISBN, or ISSN. For example, if you are using UPCs, put 'UPC' in this field.
Product ID — This is where you put the value for the product identifier you selected above. For example: 234567891012
SKU
Brand
Manufacturer, Manufacturer Part Number, and Model Number — are all optional identifiers that you can use
Description Attributes
Long Description — you have up to 4,000 characters to describe your product
Short Description — 1,000 characters to cover key selling points
Shelf Description — this is a short bulleted list of key features that shows up in several places, including Walmart search and the Buy Box
Image Attributes (some required)
Main Image URL
Main Image Alt Text — optional but good for Walmart search and SEO
Additional Asset URL — you have 3 additional image fields
Additional Asset Text — add descriptive terms to describe each image
Here are the image recommendations for Walmart marketplace sellers:
A main image is required for all products
Images should be on a white background to stand out. This isn't mandatory, but recommended
A front angle of the product is recommended, but appropriate alternate angles are acceptable
No borders, text overlays, watermarks, or promotional messages on images
Tax Attribute (required)
Product Tax Code — use to identify tax codes for products. This is required on all products, you can't publish a listing without it. Use Walmart's sales tax tutorial to find the right tax codes for your products
Price Attributes (required)
Price Currency — Dollars for US sellers
Price Amount — the product's selling price
Shipping Attributes (most are required)
Shipping Weight-Value — the weight of your product
Shipping Weight-Unit — Walmart uses pounds (lb)
Is Shipping Allowed — Y to enable shipping for your products and N to disable
Ship Method — this defines the different ways you ship orders
Ship Region — this defines the locations you ship to
Ship Price — these are the rates you charge for shipping
Variant Group-Related Attributes (optional)
If you have products with variations like color and/or size, you set up variations within the feed. Note! Walmart does not want you to send the parent products, so be sure to leave them out of the feed.
Variant Group ID — use this Unique ID for all items in a variant group. This is essentially your Parent SKU value.
Variant Attribute Name — this is the type of variant, like Size or Color
Swatch Variant Attribute — on Walmart.com, variations can display as a drop-down menu or swatch selection. Swatches are good for colors and patterns, and you can name that swatch variant, ie: Pattern or Color, to appear like this: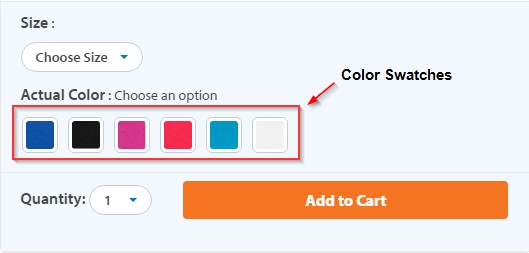 Category-Specific Attributes
Walmart has 24 universal categories outlined in their Categorization Guide. Items listed in certain categories and sub-categories can list additional attributes that are specific to certain products, such as items that use compliance attributes. For example, you are selling organic foods, you can use the GMO-Free Claim field that's available for products listed in the Food Category.
"Walmart is less restrictive right now in regards to seller performance metrics, and category restrictions. There are many categories on Amazon that are gated or closed, Walmart categories right now are all open, so there are more opportunities right now for additional revenue for third party sellers."

— Jason DePietropaolo, CSO & Co-Founder, ChannelApe
Once your Product Feed is ready to go, it's time to connect and test your feed and various order management functions.
Step 4. Test Your Product Feed & Order Management Functions
Walmart has you send a test feed for review and approval of your feed setup. After that's uploaded to your account, you'll need to set up and test your order management connection and features. This is the last series of setup steps before you can launch.
Set Up & Send Your Test Product Feed
If you have a small product collection, say under 1000 unique SKUs, you can send your entire product feed as the test. But, if you have a large product catalog, it's best to send just a portion, say just one brand or category.
Send your test products to Walmart for review and approval using your chosen integration method, or via upload if using a CSV file. After you submit your feed, you can check the status of the feed and check for any data errors under the Feed Status tab in your Seller Center dashboard.
Your test products will be listed in Stage status, which tells you they aren't live on the marketplace site, But, you can see what they will look like once live by going to Item Details and clicking Preview Item.
Set Up Your Order Management Method
While your product feed is being reviewed and approved, you need to set up your order management method. As a Walmart marketplace seller, you need to take care of all order processing, shipping, exchanges, returns, and customer service. For that, you need to access orders as they come in and update your shipment tracking information as orders are sent.
You have 3 options for retrieving Walmart marketplace orders and updating shipping status back to the orders you receive via Walmart. These are:
1. Manually Via the Seller Central Dashboard
If you don't sell in volume, you can access and process orders in the Order Management portal in your dashboard, following these Order Management instructions.
2. Using Excel for Bulk Order Download and Shipping Status Upload
If you need to download orders into a back-end order management and shipping system using a spreadsheet, set it up using Walmart's Order Download/Upload instructions.
3. Using an Order Integration Partner
Third-party integration partners can seamlessly connect your existing order management or ecommmerce platform to your Walmart seller account to manage orders, update order status, inventory, shipping information, returns, and cancellation, all from your main order management system.
Whichever method you choose, once you've set it up, it's time to test the connection and functionality.
Test Your Order Management Functions
To test your Walmart marketplace order management connection, you'll follow these 5 steps:
In your Seller Center dashboard, choose 2-3 items to use for your test orders.
Update the price and inventory for these items. Price should be under $20, and the inventory should be set to 1 for each test item.
Under Actions, select Publish Item. Note! These actually become available on Walmart marketplace when you do this.
Once each product is live, click Purchase Item under the Actions.
You'll be linked to the live product page to purchase. Do this for each item. This shows you how the checkout process works on Walmart, too.
Once you've completed the 3 purchases, you can use these test orders to run through each order management scenario in your Seller Center dashboard (for manual users) or in your integrated system (for Excel downloads or direct integration).
Order receipt — If using an integrated or Excel download, did the orders appear in your system? If not, check that your Excel upload fields match your management system, or contact your integration partner.
Order cancellation — Cancel an order and make sure it appears as canceled in the Seller Center dashboard.
Order shipping — To test shipping status updates, just insert a valid tracking number into your order management system for automatic or Excel updates.
Order refund — Refund each order that you placed in full to test the refund function. Note! Partial refunds are allowed in the Walmart marketplace, but not in on these test orders.
If all of the above functions smoothly, you can check this step off in your Launch Checklist and proceed to the final step: Go Live on the Walmart marketplace!
Step 5. Request Launch & Start Selling
After you check off Complete Item & Order Testing in your Seller Setup Checklist, a pop-up will appear asking if you're ready to launch. Click Yes.
The Walmart Integration team will make a full review your account setup, products, and settings, then make your listings live. Congratulations! You are now an official Walmart marketplace seller.
As an established online seller, you already have order management and fulfillment procedures in place, and your Walmart marketplace orders should fall into your normal workflow. But, as with any marketplace sales channel, you do need to monitor your Walmart seller account to:
Check that your product feed is clean, correct, and error-free
Ensure that all orders are being retrieved and updated correctly
That your pricing is on-target and that you're winning the Walmart Buy Box
The Bottom Line: Selling on Walmart
The Walmart marketplace is fast-growing and gaining more shoppers by the day. Walmart knows that third-party sellers bring variety to the mix and are actively seeking new participants, but not just anyone can set up and sell on Walmart. For third-party sellers, Walmart looks for:
Established online or marketplace sellers
Sellers with their own websites
Unique brands and collections
Sellers with mid-range pricing
If you meet these parameters, there's a good chance that Walmart will accept you as a marketplace seller. Plus, their setup and product feed requirements shouldn't be onerous since, as an established seller, you already have experience working with ecommerce systems. Once approved and selling, you'll enjoy increased orders and seller fees that are predictable, with no hidden costs.
Remember, unless you're a large ecommerce business, fulfillment and shipping costs can seriously eat into your profits. ShipBob offers packaging, warehousing, and transportation as well as free shipping to help small Walmart sellers save their profit margins. Click below to learn more and get a free quote today.