How to Sell on Etsy in 8 Simple Steps
Are you an artisan, studio artist, designer, or craft supplier interested in learning how to sell on Etsy? If so, then this guide is for you. After creating your account, selling on Etsy involves setting up your product listings, configuring payment methods, and designing your shop's landing page. You'll also need to understand how Etsy fees work to price your products.
Before you begin, make sure you read Etsy's seller and prohibited items policies. Then, follow the steps below to learn how to sell on Etsy:
1. Create an Etsy Account
Start by creating an Etsy account by clicking on the Sell on Etsy button on the homepage.
Enter your email address and then click Continue. Enter your name and a password, then click Register. Open your Etsy Shop to navigate to the Shop Manager.
Alternatively, you can create an Etsy account through your Google, Facebook or Apple account. If you already have an existing Etsy consumer account, then you can log in and click Open Your Etsy Shop to start creating your own store.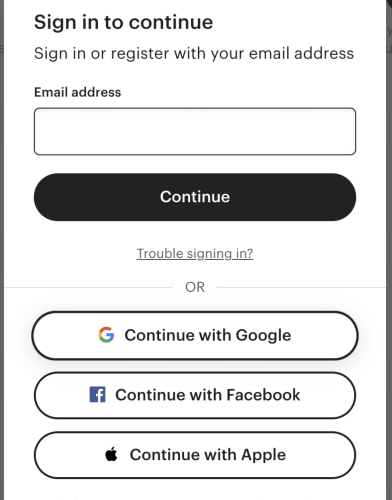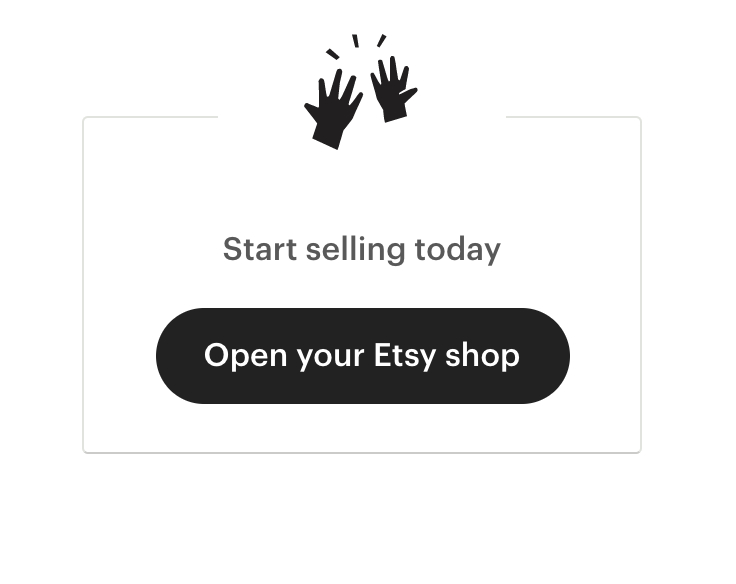 2. Set Up Shop Preferences
Once registered, you will be taken to your dashboard where you can set your shop preferences. This involves designating basic settings for your store. After filling in the details, click on Save and Continue.
Shop language: This field refers to the default language you'll use to describe your items. You cannot change this once you save it, so be careful. After opening your Etsy shop, you can choose to translate your page into other languages.
Shop country: This refers to the country where your shop is based. If you can't see your country in the dropdown list, it might not be available right now. You can read the explanation on this recent Etsy development.
Shop currency: This is the currency you'll use to price your items. Note that shoppers in other countries will automatically see prices in their local currency. If your bank currency is different from your shop currency, currency conversion fees (2.5% of the sale amount) apply.
Type of seller you are: This is a question that Etsy asks for its own purposes but doesn't affect your ability to start your Etsy shop.
3. Name Your Etsy Shop
It's time to give your Etsy shop a name! If you have not thought of this yet, make sure your shop's name is easy for customers to remember and is reflective of your brand.
Your Etsy shop name can be anything you'd like really, as long as it does not violate any of Etsy's guidelines. Your shop name should:
Be anywhere from four to 20 characters
Have no spaces or special characters
Not include profanities or a name already used by another Etsy seller
Have no trademark infringements
Before you open your Etsy shop, take your time to choose the right business name because after setting up your store, you can only change your shop name once.
Moreover, if you plan to eventually expand your Etsy shop to an ecommerce store and sell on Facebook or Instagram, then do additional research to make sure that you can acquire a business domain name or DBA (doing business as) that matches your shop's name.
4. Add Items to Your Shop
The next step would be adding product items to your shop. You can sell physical and digital goods on Etsy, but they have separate steps. We outline the process of listing physical items below. For digital items (like printable stationery, stickers, and gift tags), refer to Etsy's guide on how to add files to a digital listing.
Add Photos and Video
To upload photos, click Add a Photo to add files from your computer. You can add multiple photos at once. You can change the order of your images—click on a photo and drag it to the left or right.
Etsy recommends using at least five photos per item (maximum of 10 images) so that customers can see your product from various angles. Image sizes should be at least 1,000 pixels square. Learn about Etsy's guidelines and best practices for item images.
Additionally, you have the option to add variation photos (like colors or sizing) and a listing video to your post.
Buyers love video listings, according to Etsy's July 2020 analysis of over 5 million buyers that compared the purchasing behavior of those who were shown listing videos to those who were not. So, learn how to make videos that sell.
Choose Your Thumbnail Image
Your thumbnail is your product's headshot—it is the first image of your product that your customers see in your shop, via search, and elsewhere on Etsy.
When you upload images, the first photo on a listing becomes the thumbnail. If you want another photo in the listing to be the thumbnail, simply drag the photo you want to the first photo slot. Learn how to adjust your thumbnail image.
Add Listing Details
The listing details influence how your product listing will be categorized on Etsy and how it can be found in an Etsy search. Shoppers can get to your listing faster based on the details you add.
Here are the detail listings you need to add:
Title: Give your item a title that describes the product in as much detail as possible, considering your 140-character limit.
About this listing: This field involves three questions in a dropdown. Choose the appropriate answer under who made it, what is it, and when did you make it?.
Category: Think of this field as a blanket keyword for your product that customers will use to search.
Renewal options: By default, listings automatically renew after four months and you will be automatically charged the applicable listing fee. We will discuss this further when explaining Etsy fees below. If you'd rather renew expired listings yourself, or alternatively delete them, you can select "manual" here.
Description: Provide an in-depth description or a bulleted overview of the product. In the description field, you can preview your listing for a Google search result so that you can optimize for ecommerce SEO. Learn how to write product descriptions that sell.
Tags: Take advantage of all 13 tags available per item. Shoppers find your item by searching for keywords in the search bar—those keywords are what your tags should be.
Add Your Inventory and Pricing
Enter your product's price, sales tax (if applicable), quantity, SKU (if you have one), and variations. You can add variations (such as sizes, materials, and colors) and link respective photos to the variations.
Set Up Shipping
Include all the necessary shipping details: shipping services you will use, fees, country of origin, processing time, and your item's weight and size.
You can also choose for Etsy to calculate your shipping prices for you (which it recommends).


To make things easier, you have the option of setting shipping profiles after you have opened your Etsy shop so you can quickly update items with the same shipping costs.
Publish or Save Your Listing
Your listing won't be saved until you click Save as Draft or Publish.
Save as Draft
To save as a draft, enter at least one photo, a category, a price, quantity, shipping rates, and a title. You can always enter temporary info and then replace it before you publish. You can find your draft listing on your Listings page under Drafts.
Drafts never expire, and there is no limit on the number of drafts you may have. You also aren't charged the listing fee until the listing is published in your shop.
Publish
If you are ready to sell, click Publish to post your listing. The $0.20 USD listing fee will be added to your Payment account.
It may take up to 24 hours for listings to appear in Etsy search results and categories.
5. Choose Your Payment Preferences
Once you've set up your product listings, the next step would be to set up your Etsy payment preferences.
Currently, Etsy requires that eligible sellers (based on their location) use Etsy Payments. Etsy used to offer PayPal as a standalone payment option, but as of May 15, 2019, sellers in eligible countries, including the US, must use Etsy Payments with integrated PayPal. Etsy has a list of currencies supported for Etsy Payments.
6. Set Up Subscription Billing
When you're starting an Etsy shop, this step will depend on your country.
In certain countries, Etsy will require that you provide a credit card for identity validation and authorization purposes. You'll also need a card on file so that Etsy can charge you for selling fees (more on that below).
If you are based in the US, you have the option to enroll in auto-billing, and Etsy will automatically charge your credit card on file for the selling fees you incur.
7. Customize Your Shop
It isn't over yet! Now it's time to design the front end of your store. Your Etsy shop has its own landing page—similar to a one-page website where customers can view your products, learn more about you (or your company), read your store policies and updates, and find anything they want to know before checking out any of your items.
Here are a few sections you can fill out to help establish your Etsy shop's credibility:
Upload Store Banner and Featured Area for Products
The store banner spans the top of your homepage and is what will standout when shoppers visit, so ensure your design speaks to your brand. Meanwhile, the featured area is basically your store's display, and you can use it as an opportunity to showcase your best listings.
Add an About Section
Your About section is the main way an Etsy buyer gets to know you, the person behind the creative works. A well-developed About section should give the customer a window into who you are, not just what you produce.
This area also allows you to add the Members, Story, and Manufacturers sections. You can also access the About Your Shop tab from the Your Shop menu.
Story: You have 5,000 characters to tell customers your business's origin story. Include information pertaining to why you started your Etsy store and what you love about the creations you make or sell on the site.
Manufacturers: If you use any outside manufacturers to create your products, you can list them here with explanations on how each provider helps you.
Members: Add this section link to your user profile on Etsy and any Etsy profiles who work in or are connected to your shop.
You can also provide photos or a video of your studio space or creative process and add links to your store's social media profiles. This is a great way to let your customers get to know you better.
Set Shop Policies
In this section, you answer any questions your customers may have about your item production, order processing, shipping, and payment processes.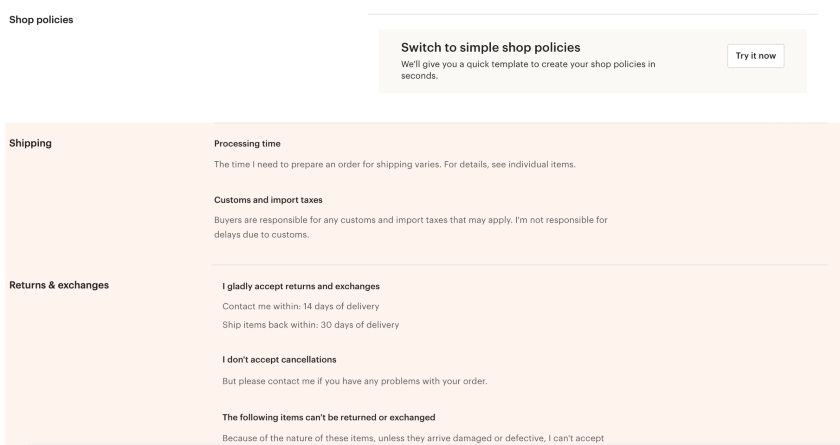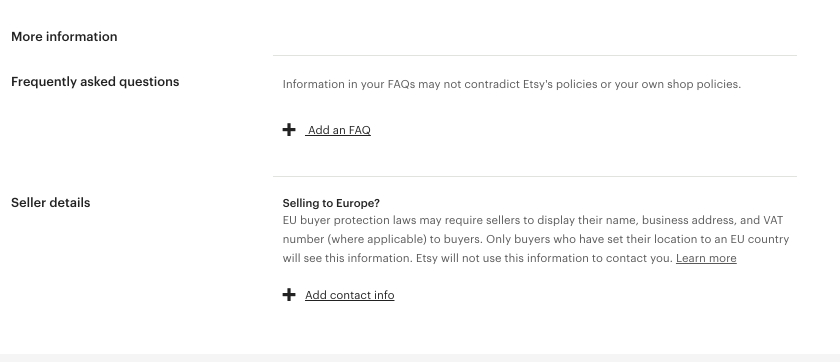 8. Open Your Shop
Once you click Open Your Shop, your store will be open and you can start receiving orders.
You can access your Etsy shop with the following URLs: https://www.etsy.com/shop/yourshopname and https://yourshopname.etsy.com.
Fees for Selling on Etsy
Similar to other online marketplaces, Etsy charges fees associated with listing and selling products. As mentioned earlier, you'll need to set up your payment preferences and billing information because these will be directly related to the Etsy fees you'll incur.
If you opt to use Etsy Payments, these fees will be deducted automatically from your sales funds. If at the end of the month you still owe additional fees, then you'll be responsible for paying them. If you're based in the US, Etsy will automatically charge the credit card you have on file. On the other hand, if you're operating in a country that does not have Etsy Payments yet, then you'll be responsible for manually paying your monthly bill on the platform.
Etsy charges three main types of seller fees: a listing fee, a transaction fee, and a payment processing fee. You can read more about Etsy's selling fees and taxes in its fees guide.
Type of Seller Fee

Cost

What It Is For

Listing Fee

20¢ per listing

Platform fee

Fee is added to your Payment account when an item is listed
Has to be paid regardless of resulting sales.
A listing expires after four months.

Transaction Fee

5% from each sale (item price + shipping fee)

Etsy's sales cut

Fee amount is converted to your payment account currency at the market rate where your listing and payment account currencies differ.

Payment Processing Fee (for those who use Etsy Payments)

3% plus 25¢ each sale (US)

Payment processing fees are charged on each transaction that uses Etsy Payments and

vary per country

. They are in addition to Etsy's transaction fees.
How to View Your Etsy Fees and Taxes
You can view your Etsy fees and taxes in your Payment account:
Sign in to Etsy.com and go to Shop Manager.
Go to Finances and then Payment account.
You can see fees and taxes owed under Recent activities and Fees & Taxes.
On the Sell on Etsy app, you can pay your statement and manage your Payment account under Finances.
Bottom line
If you're an artisan, you have a buying audience already shopping on Etsy, so learning how to sell on Etsy should be a part of your growth plan. Like any other business, selling on Etsy takes time to launch, and success requires effort. But Etsy makes many listing and selling products quite easy, especially compared to maintaining your own website. This leaves you more time to concentrate on your creative works.
It's after opening an Etsy shop that the real work begins. A great marketing strategy, quality unboxing experience, and consistent stellar customer service will give your Etsy shop the potential to receive five-star reviews. They also convey your credibility to potential customers, which will directly result in more sales.
However, remember that the Etsy community was built for creatives and artisans so, ultimately, excellent products are the biggest draw for new and returning customers.
You May Also Like …