Indeed and CareerBuilder are popular job posting sites with a wide international reach. Their job ads reach millions of job seekers, and both offer resume searches as well. While Indeed has a wider reach and is more popular among a broader audience of job hunters, CareerBuilder, with its monthly plans and stronger set of applicant tracking tools, is better for companies with higher-tier hiring needs.
Indeed: Best for free job posting, retail and hourly workers, teens, and starting positions
CareerBuilder: Best for degreed positions, plus companies that hire regularly and need to track employees from job post to onboarding
Neither a good fit? If you're looking for a recruiting solution that reaches out to more specific applicants, then consider ZipRecruiter. It boosts hiring activities through job aggregation—distributing your job ads to over 100 job boards with just one click. It, too, offers applicant tracking tools. Plans start at $16 per job post per day.
ZipRecruiter is best for growing companies with plans to scale and needing a wide job posting reach to find qualified candidates.
CareerBuilder vs Indeed at a Glance
Monthly plans

None to post;

$120–$300/month to contact passive job seekers

$349–$749 for full programs

Job posting

Unlimited

1-5 depending on the plan, or $425 a la carte

Resume search

Unlimited

500, all plans

Job ad promotion

25 cents–$5 each, $5 min a day

✕

# job seekers

250M

80M

# resumes

175M

145M

# countries

60+

9

Branded sales page

✓

Add-on

Newsletters to job seekers

✓

Standard and Pro Plans

AI candidate matching

✓

✓

Automated emails

Declines only

✓

Virtual interviews

✓

✓

Mobile app for job seekers

✓

✓

Applicant tracking

Limited

Add-on

Job description templates

✓

✓

 
Takeaway: Indeed is less expensive and has a broader reach, but CareerBuilder has more applicant tracking features.
Since Our Last Update
Both Indeed and CareerBuilder have increased pricing in their subscription packages:
Indeed added up to 20% on its monthly plans that allows users to contact passive candidates. Formerly $100–$250 per month, it is currently charging $120–$300 monthly.
CareerBuilder's monthly charges for full packages increased from $219–$599 monthly to $349–$749. Also, its pay-as-you-go option increased from $375 to $425.
When to Choose Indeed vs CareerBuilder
We recommend Indeed for budget-minded employers casting a wide net, or those that have intermittent or seasonal hires. Since Indeed is free to post and search resumes, you can use it as little or as much as you need without obligation and invest in job promotions only when needed. You can even use it in addition to other recruiting software. Even so, it reaches a huge international audience of job seekers who are motivated to find work in their fields.
PROS

CONS

Free
Costs to contact passive job seekers
Easy to use
Limited applicant tracking tools
Post unlimited jobs
Limited live support
Scan unlimited resumes
Does not allow internal job posting
250M job seekers
No applicant rating
Pay-per-click job promotion
No onboarding forms
International
Video interviewing through the app
If your company is in a hiring surge or large enough to need hires on a regular basis, we recommend CareerBuilder. It's also a better choice for higher-tier jobs, as it reaches a more college-educated audience (Indeed's wider net means there are a lot of unskilled and part-time workers looking on its site). CareerBuilder also has tools for businesses that are hiring employees for multiple locations or departments or host their own career fairs, making it a good choice for larger businesses.
PROS

CONS

Customizable job alert emails
Limited resume views
AI/machine learning finds qualified job seekers
No free plans
Pulls average 25 qualified job seekers per day
No live events for employers/applicants
80M job seekers
No video interviewing capability
Can import resumes you gather from other events
Mobile app not as highly rated at Indeed
Background and other screening available
Some features may cost extra
International
Onboarding forms library
Want to find other options apart from Indeed and CareerBuilder? Answer this three-question quiz and find one that best fits your business' needs.
Answer a few questions about your business, and we'll give you a personalized product match.
Most Affordable: Indeed
Monthly plans

None to post;

$120–$300/month to contact passive job seekers

$349–$749 for value programs; custom pricing for add-ons

Job posting

Unlimited

1–5 depending on the plan, or $425 a la carte

Resume search

Unlimited

500, all plans

Job ad promotion

25 cents–$5 per click, $5 min a day

✕
Takeaway: You can't beat Indeed's free job posting, and its pay-per-click promotions are reasonable too.
Why Indeed Is Best for Budget-minded Businesses
Not only is Indeed free for job posting but also for unlimited resume searches. It's top on our list of best free job posting sites. Indeed makes its money in two ways:
Contact through the app: If you want to contact passive job seekers (i.e., those you find through resume searches) and track them through the process, it costs $100/month for 30 messages and $250/month for 100 messages. You get two additional messages for each candidate who responds back that they are interested.
Job ad promotion: Indeed's pay-per-click ad promotion costs 25 cents–$5 per click with a minimum of $5 a day.
CareerBuilder Pricing
CareerBuilder offers more features than Indeed, but at a higher price. To post a single ad costs $425. This may be a good choice for infrequent users. The monthly plans run $349–$749 for additional job ad slots, although the number of resume searches stays at 500. CareerBuilder previously offered a 10% discount for annual plans but has removed such discounts. However, it now offers a five-day free trial. It has add-ons, but does not list prices. You can sign up for a demo.
Best for Job Postings: Indeed
| | | |
| --- | --- | --- |
|   | | |
| # job seekers | 250M | 80M |
| # resumes | 175M | 145M |
| # countries | 60+ | 9 |
| Internal job boards | ✕ | ✓ |
| Branded sales page | ✓ | Add-on |
| Newsletters to job seekers | ✓ | Standard and Pro Plans |
| Job description templates | Examples included | Can save those you create |
| Promoted job ads | ✓ | ✕ |
| Social posting | ✓ | ✓ |
| | | |
Takeaway: Indeed has the greater reach, plus extras to make your ad stand out, some of which are free.
Why Indeed Is Best for Job Posting
Reach: Indeed offers a greater reach than CareerBuilder, with over 250 million unique visitors each month. It operates in over 60 countries and in 28 languages. If you want to cast a wide net, this is the venue for it.
Newsletter outreach: Indeed sends newsletters to job seekers with new job alerts in the areas in which they are interested. People request these newsletters, so you know you are reaching an interested audience in your area. CareerBuilder lets you create your own, or you can pay to have them send out alerts.
Company page: You can create a company page with Indeed that lets job seekers learn more about your company and what it offers. Indeed also offers advanced customization plans that include reviews, Q&A response, rich media, and more.
Collaboration with Glassdoor: In July 2020, Glassdoor and Indeed joined forces—you can now post job ads to Glassdoor through Indeed while being able to access reviews and ratings from Glassdoor. CareerBuilder does not have this option.
When to Use CareerBuilder
Jobs requiring college degrees: While Indeed is used for all kinds of jobs, it does attract more job seekers who are teens, need part-time work, or don't have a college education. CareerBuilder, on the other hand, has a higher focus on positions that require advanced degrees.
Posting for multiple company profiles: CareerBuilder offers a "job skin," which lets you brand a job ad to a particular company profile. Indeed only offers a single company page. Different profiles let you highlight the advantages or unique aspects of different departments or locations—the manufacturing plant vs sales headquarters, for example.
Niche jobs: CareerBuilder can post to 10 niche networks, including EnergyJobSearch, eRecruit.com, Oil and Gas JobSearch, and international job boards.
Best for Resume Search: Indeed
| | | |
| --- | --- | --- |
|   | | |
| # resumes | 175M | 145M |
| # views/month | Unlimited | 500 |
| Contact candidates | Separate plan: $100–$250/month | Included in job posting plans ($219–$599/month) |
| AI-generated alerts | With paid plan | ✓ |
| Resume search filters | 25+ | 10+ |
| Resume match notifications | With paid plan | ✓ |
| Resumes from live events | ✕ | Add-on |
|   | | |
Takeaway: Indeed's paid plan competes well against CareerBuilder, but it also offers a free plan that may be enough for many users.
Why Indeed Is Best for Resume Search
Free search: Indeed has over 175 million resumes you can search, with over 6 million being updated or added each month. You can conduct as many searches as you like and as often as you like.
Excellent search tools: In addition to keyword search, you have over 25 filters to help you narrow down candidates, including a sliding scale for distance from the place of employment, as well as availability, experience, military service, and even how many Indeed assignments they've taken in the past. CareerBuilder's filters are not as numerous or simple.
Inexpensive advanced plan: At $250/month, Indeed's advanced plan is cheaper than CareerBuilder, but still lets you view unlimited resumes. It limits how many you can contact in the system, but if you only have a few positions to fill, 30 or 100 candidates may be plenty for your needs.
When to Use CareerBuilder
Higher-qualified candidates: CareerBuilder attracts higher-qualified candidates in terms of experience and degrees, and its AI learns your preferences to bring you better candidates. Even with the filters, Indeed has been said to bring up less-than-qualified candidates.
Drill down: Once you've searched for resumes, CareerBuilder guides you through narrowing down the results with suggested related keywords and location drill-downs. It will remember your preferences for future searches.
Talent Gather: This CareerBuilder add-on lets you take snapshots of resumes gathered at live recruiting events. It converts the information into searchable text so you can add it to your pool of talent.
Best for Applicant Tracking: CareerBuilder
| | | |
| --- | --- | --- |
|   | | |
| Contact applicants | ✓ | ✓ |
| Screening questions/criteria | ✓ | ✓ |
| Rate applicants | ✕ | ✓ |
| Applicant sorting | ✓ | ✓ |
| Make notes | ✓ | ✓ |
| Interview through app | ✓ | ✕ |
| Track through the interview process | ✓ | ✓ |
| Pre-employment tests | ✓ | ✓ |
| Pre-employment screening (background, drug, etc.) | ✕ | ✓ |
| Integrates with third-party ATS | ✓ | ✓ |
| OFCCP Reporting | ✓ | ✓ |
| Onboarding documents (W-4, etc.) | ✕ | ✓ |
|   | | |
Takeaway: CareerBuilder offers more applicant tracking tools and features, but it costs extra.
Why CareerBuilder Is Best for Applicant Tracking
Job posting and customized emails: You can send branded emails to applicants to invite them to interview, request background checks, and even invite passive job seekers to apply. You can send bulk emails too. Notices can also be sent to an applicant's mobile device, and the app allows them to respond, fill out forms, and sign documents on their phone. Indeed has some communications tools, but not as many.
Screening: While both Indeed and CareerBuilder have pre-screening questions, CareerBuilder's Employment Screening lets you order background checks or drug screening. Invites are sent to applicants who fill out state-specific forms that keep you on the right side of the law. You can track progress on these through the app or your integrated applicant tracking system (ATS).
Additional documents: CareerBuilder offers document management as part of its applicant tracking. It lets you create and save documents such as W4s, I-9s, offer letters, and other documents a candidate needs to review, fill out, or sign.
Note on cost: CareerBuilder's ATS is an add-on to its job posting tools. Contact CareerBuilder for a quote.
When to Use Indeed
Automated declines: To help you manage time and prevent applicants from slipping through the communications cracks, you can set Indeed to automatically decline candidates. You set a time frame, and if you've not taken action on the candidate after that time, Indeed sends a polite note to say that you are not interested in them at this time.
Skill assessments: While CareerBuilder has a wider range of assessments, Indeed's skills testing feature is more straightforward and easier to use. You can find skills assessments when editing a job. It recommends three topics based on the job or you can choose your own from its list. Each topic comes with questions to test the skill.
Best for Job Seekers: Indeed
| | | |
| --- | --- | --- |
|   | | |
| Salary Tools | ✓ | ✓ |
| Newsletters/job alerts | ✓ | ✓ |
| Search company profiles | ✓ | ✓ |
| Job application history | ✓ | ✓ |
| Mobile app reviews | | |
| Tips for job hunts | ✓ | ✓ |
|   | | |
Takeaway: While they both offer a great set of features for employees, Indeed has a broader range.
Why Indeed Is Best for Applicants
Multinational: Indeed is available in about 30 languages to reach a diverse, worldwide job-seeking audience. CareerBuilder is focused on nine nations.
Job tools: Indeed offers articles on the job market, salary analysis, career advice (including videos), and more. It has a section for certifications and schools for job seekers who want to better themselves. CareerBuilder has an advice site, mostly composed of articles.
Events: It also has live and webcast events that connect job seekers and employers. CareerBuilder does not have events.
Mobile app: Indeed has an extremely popular mobile app, with millions of users. It lets seekers search and apply for jobs, post resumes, follow companies, and even track the status of multiple applications.
When to Use CareerBuilder
Resume builder: CareerBuilder has a free resume builder for applicants, or they can upload their own.
Mobile: The mobile app on Android is not as highly rated or popular as Indeed's—but it is nonetheless easy to use. It lets applicants upload their resumes or use its resume builder, scan and save jobs, apply with a tap, create custom job alerts, and more. It does not have tracking but does alert the applicant when the application has been received.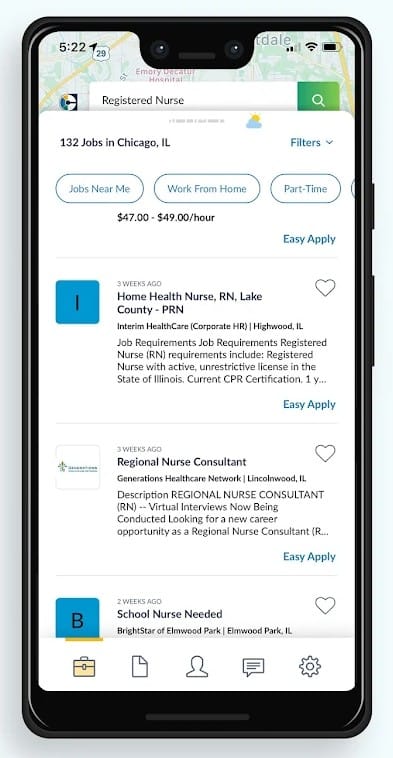 Best for Ease of Use: Indeed
| | | |
| --- | --- | --- |
|   | | |
| User-friendly interface | ✓ | ✓ |
| Online help articles | ✓ | ✓ |
| Searchable help section | ✓ | Exists, but does not work well |
| Help videos | ✓ | ✕ |
| Webinars | ✕ | ✓ |
| User groups | ✕ | ✓ |
| Contact Support | Mon.–Fri., 8 a.m. to 8 p.m. Eastern time | Mon.–Fri., 8:30 a.m. to 5 p.m. Eastern time |
| Real-world user score | | |
| | | |
Takeaway: Both services offer knowledge bases and live customer support. Both have good ratings from users, although Indeed scores slightly higher. Indeed also has a more easily navigable knowledge base and help videos.
Indeed Ease of Use
Interface: Indeed is extremely easy to use, making it a good tool for occasional users as well as those who have multiple jobs to post on a regular basis. While it discontinued its mobile app for employers in December 2020, the website is mobile-friendly, and you can easily post jobs on your phone.
Real-world user feedback: Real-world users on third-party review sites like Capterra rate it an average of 4.5 out of 5 and G2 users rate it 4.2 out of 5 at the time of this writing. Employers say the interface is easy to use (if sometimes simplistic) and offers a wide range of qualified candidates. Several say they've hired multiple employees through Indeed.
Live support: Indeed offers phone support during extended business hours, or you can submit a form. You can also contact Indeed Support via Twitter.
Knowledge base: Indeed's knowledge base is easily searchable. Its articles vary from simple text to how-tos illustrated with images or videos.
CareerBuilder Ease of Use
Interface: CareerBuilder has a bright, easy-to-use interface that works on mobile as well as desktop.
Real-world user feedback: Users rate CareerBuilder somewhat lower than Indeed at the time of this posting, with 4.2 out of 5 on Capterra and 3.7 out of 5 on G2. However, it earned high praise for its intuitive platform and customer support. Employers called out workflows and applicant tracking tools in particular.
Live support: You can contact live support during business hours. It also has some small user groups. Some are active, while others have not had postings in a couple of years. It offers some webinars for training and topics of interest.
Knowledgebase: We found CareerBuilder's knowledge base thorough yet problematic. The search system is simply broken, which makes it hard to find answers to specific questions. However, the articles themselves are illustrated and complete.
Bottom Line
Both Indeed and CareerBuilder are highly rated job posting and recruiting software solutions. They offer posts, alerts, resume searches, applicant tracking tools, and more. While Indeed has the greater breadth and is mostly free, CareerBuilder has stronger applicant tracking and focus on higher-tier jobs and more educated job seekers. Which you choose depends on your budget and goals.