Newspaper advertising is best for businesses that want to reach customers aged 35+ on a local, regional, and national scale. The average newspaper ad cost depends on the circulation of the paper, the size, day, and ink. A full-page ad can cost anywhere from $2,700 to over $163,000 depending on these factors, whereas small modular ads can cost as little as $50.
Print Newspaper Ad Costs
The cost of a newspaper ad depends on the publication's location and circulation size, as well as the color, frequency, and day of the week your ad is published. For example, a local paper may charge $12 per inch for a black-and-white ad, so a 4×10-inch ad would cost $480.
Here are some estimated prices for a full-page, black and white Sunday advertisement which shows how a paper's circulation size impacts cost:
Print Newspaper Advertising Cost Comparison
| Newspaper | Circulation | Price for Full Page Ad |
| --- | --- | --- |
| Washington Post | 551,360 | $163,422 |
| Milwaukee Journal Sentinel | 153,207 | $23,688 |
| Bozeman Daily Chronicle (Bozeman, MT) | 14,069 | $2,772 |
Keep in mind that while you can see that there's a direct connection between circulation and price, the majority of newspaper ads will cost a lot less than the prices above. This is because newspaper ads are typically a very small portion of a page, rather than a full page. In fact, it's not common to see newspapers that offer full-page advertisements.
Digital Newspaper Ad Costs
In addition to print ads, most papers also offer online ads that display on their website. In a digital age, more and more readers are turning to the web to access news instead of turning pages of a physical paper. Without printing costs, digital ads are typically much less costly than print ads. Pricing can range from as little as $50 for a local paper with a small circulation to thousands for a major publication, though some only offer print or print and digital advertising options.
Alternatively, another option is to use Google Display ads, which will appear similarly to newspaper ads but with differing audience targeting options and a different pricing structure.
Newspaper Ad Pricing Structures
Once you have decided that advertising in a newspaper is the right strategy for you, the next decision is your ad size and placement. The size of your ad is one of the primary factors affecting cost. Most business owners will decide on the size of their ad based on price. Ad size can be calculated based on price per column inch or modular pricing.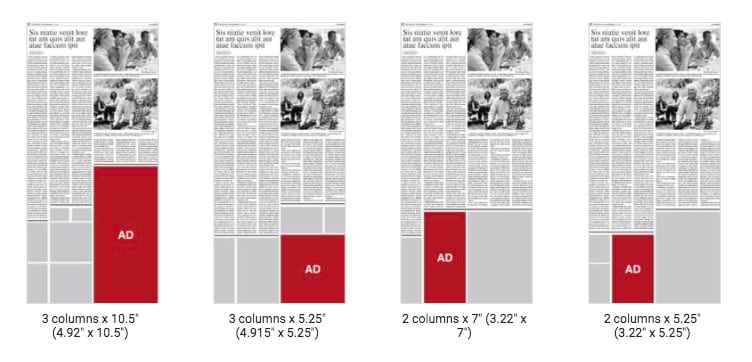 These are two standard newspaper ad pricing methods:
Price per column inch: A column inch is a unit of space one column wide by 1 inch high. For example, if a newspaper charges $12 per column inch, an ad measuring four columns wide by 10 inches deep would cost $480. This is calculated by four columns x 10 inches = 40 column inches x $12 per column inch = $480.
Modular pricing: With this type of pricing, newspapers charge based on set modules, such as full page, half page, quarter page, and eighth page. Although the modules can be also described in column inches, they are easier to understand as set shapes or sizes.
These two pricing methods are more or less the same in that advertisers pay based on the size of the ad. When looking to purchase newspaper ads, you will likely find that the majority of newspapers use modular pricing as it's generally easier and more straightforward.
Factors That Affect Newspaper Ad Costs
There are a variety of different factors that determine how much newspaper advertising costs. The leading factors include circulation and readership, ad placement and size, and ad frequency. Generally, businesses on a budget, or those just starting out, will find that local newspapers provide the best value while reaching a specific audience based on location.
These are the main factors that affect the pricing of newspaper ads:
Circulation of the newspaper: The higher the circulation, the more you will pay for an ad. Note that some newspapers will list its readership instead of circulation on the rate card. These two terms are not the same, as the readership number assumes that multiple people in a household will read the same paper. Usually, advertisers pay based on circulation.
Size and color of the ad: The bigger the ad, the more it will cost. You will also pay more for your ad to run in color.
Number of times your ad runs: If you run your ad multiple times, you will pay more overall but less for each individual ad.
Day of the week and section of the paper: Expect to pay the most for an ad that runs Sunday. You will also pay more to have your ad in the main section of the newspaper instead of the sports or travel section.
Of course, there are a number of other variables that can affect newspaper advertising rates. For example, some papers have more niche audiences that may yield higher rates, while others may have a seasonality that leads to pricing fluctuations by season or time of year.
Ways to Get a Discount on Newspaper Ads
The cost of newspaper advertising will vary significantly based on which publication you choose and the type of audience you can reach. No matter which publication you chose, there are a few ways you can lower the cost of your newspaper ad. To save money on your newspaper ads, you can increase the number of times you advertise, ask for price breaks, and try local instead of national papers.
Here are three ways to get a discount on newspaper ad costs:
Advertise multiple times: The number of times that you advertise in a newspaper—also known as frequency—will change how much you pay per column inch. These discounts should be listed in the newspaper's rate card and can be broken down by the amount you spend or the number of column inches you advertise in annually.
Ask for discounts: Introductory rates are often available for new advertisers. You can also ask for your ad to be featured in a seasonal or special insert for lower-than-average rates. Sometimes, newspapers offer a remnant space rate that can be discounted up to 80% off the list price.
Try local publications: If your business caters primarily to your local community, advertising in local or regional newspapers—instead of a national title—may actually yield better results for a lower cost. To find local papers, visit USNPL.
If you're finding that newspaper advertising isn't within your budget, consider more affordable advertising channels, such as Google Ads or Microsoft Ads, which are on a pay-per-click basis so you only pay when your audience interacts with your ad.
How to Create Effective Newspaper Ads That Yield a Return
You can have the best ad spot in the most widely read newspaper, but if your ad is not attention-grabbing, readers will skim over it. To make sure that your ads are ready to attract leads, start by choosing the right publication and ad placement. Then, write great ad copy that speaks to your audience and incites a response. Next, request a proof, submit your ad to the newspaper, and lastly, track your ad's performance.
Here's what's involved in creating a newspaper ad:
Choose a newspaper with a readership that fits your target audience.
Select placement and ad-size appropriate to your ad goals and budget.
Pinpoint your marketing message.
Design your ad (write copy, graphics, and so on).
Submit and request a proof.
Select dates and purchase ad placements.
Track ad performance.
If you plan to make newspaper advertising a consistent element in your marketing mix, plan to optimize your ad. While ad optimization is more synonymous with digital marketing, it's possible to optimize any form of advertising, and there's no reason not to try to continue to refine your message and fine-tune your ad.
Newspaper Advertising Pros & Cons
For decades, big and small businesses alike have reaped the benefits of newspaper advertising. You should carefully weigh the advantages and disadvantages of newspaper ads to make sure that you get the leads needed to justify your expenditure. Advantages include attracting a local audience and getting more brand exposure. However, newspaper ads have high competition and you may find that people often do not read your ad.

PROS

CONS

Reach a local audience
Difficult to measure ad performance
Attract new customers
Not every reader will actually read your ad
Target based on broad interests
Can be a challenge to make your ad stand out
Opportunity to use coupon ads
Not as affordable as PPC ads
Newspaper Advertising Alternatives
Newspaper advertising can provide businesses with a good way to distribute a marketing message to a wide audience. However, newspaper ads aren't for everyone and even if they are right for you, newspaper ads should only be one part of your business' overall marketing mix. In addition to newspaper ads, consider alternatives such as earned media, billboards, radio, television, pay-per-click (PPC) advertising such as paid search and social, and search engine optimization (SEO).
Here are the best newspaper advertising alternatives:
Earned media: Instead of paying for ads within a newspaper, you could try pitching article ideas in order to get free publicity. That's right. Free. Learn more about using press releases to get publicity.
Billboard advertising: Why wait for readers to open the paper? Instead, reach them on the road with billboards.
Radio advertising: In some cases, text-based ads aren't the best medium for delivering your marketing message. Radio ads can be a good alternative to newspaper ads, and pricing ranges from around $200 to $5,000 per week. Get more information on radio advertising.
Television advertising: Those with larger marketing budgets should also consider whether TV ads might be a good channel for promoting a video-based message to a wide audience. Learn more about TV advertising.
Paid search: People are actively searching for the products and services that your business offers. However, just because they search doesn't mean your site lands at the top of the search results. To boost your business to the top, use paid search ads.
Paid social: Like newspaper ads, paid social ads display to a specific audience, even though they're not actively seeking your product or service. However, social ads are generally one of the most affordable forms of pay-per-click advertising and can be highly effective for many businesses. Learn more about the cost to advertise on Facebook.
Search engine optimization: While paid search and social are good for short-term marketing, SEO is a great long-term marketing strategy. SEO will help your site get found in search engines organically, increasing your exposure at no cost to you.
In the process of marketing a new business? Learn more about how to create a winning marketing strategy for startups and new ventures.
Frequently Asked Questions (FAQs)
Are prices higher for premium ad space?
Ad prices are higher for premium space—like the front page—because the newspaper knows that more people read that section of the paper. These high-traffic areas also sometimes feature color advertising as opposed to just black-and-white ads.
Are there advantages to digital advertising instead of print?
While most people still associate newspaper advertising with print, you may have the option to advertise on your chosen newspaper's website. Major U.S. publications have experienced a spike in digital subscriptions, so putting an ad online—in addition to the print newspaper—is a good option for your small business.
Does the newspaper have an ad designer?
Newspapers usually have ad designers who can create an ad for your campaign. However, it is better to create your own ad or hire someone—like a freelancer at Fiverr—to design a newspaper ad for you because you will get an advertisement created specifically for your audience, brand, services, and products. Many ad designers at newspapers just use templates and plug in information without consideration for what works best for your campaign.
Bottom Line
Traditional newspaper advertising is a great way for small businesses to promote products and services to a wide audience, especially one aged 35 to 45. However, to make this advertising effective, you need to find the right place to advertise; research the cost, sizes, and placements of the ad; and design a professional-quality ad with the help of a freelancer or designer. If you need help designing your ad, consider hiring a professional at an affordable price from Fiverr.
You Might Also Like…