RingCentral vs Nextiva: Which Is Better for Small Businesses in 2022?
This article is part of a larger series on VoIP.
Both RingCentral and Nextiva are among the top cloud-based, voice-over-internet-protocol (VoIP) services with powerful features packaged under affordable plans. However, RingCentral offers more integrations and more robust call management for growing teams. Nextiva, on the other hand, has better pricing and support for established small businesses looking for a long-term partner.
Choosing the best one for your business depends on your needs and budget. Based on our analysis, the best use cases for RingCentral versus Nextiva are the following:
RingCentral: Best for scaling businesses that want an all-in-one communications solution for handling calls, texts, voicemails, and faxes that works from the startup phase to the enterprise stage
Nextiva: Best for small businesses that aren't planning to grow and want access to features like unlimited internet fax without upgrading to more expensive tiers
RingCentral vs Nextiva at a Glance
| | | |
| --- | --- | --- |
| | | |
| Monthly Rate* | Starts at $29.99 per user** | Starts at $28.95 per user*** |
| Free Trial | ✔ | ✔ |
| Annual Subscription Discount | ✔ | ✔ |
| Advanced Call Management Features | ✔ | N/A |
| Communication Channels | Voice, text messaging (SMS), video conferencing, team messaging, internet fax, voicemail | Voice, text messaging (SMS), video conferencing, team messaging, internet fax, voicemail |
| Video Conferencing | Up to 200 participants per meeting | Up to 250 participants per meeting |
| Monthly Toll-free Minutes | Up to 10,000 | Up to 12,500 |
| Reliability | 99.999% uptime | 99.999% uptime |
| Ease of Use | User-friendly | User-friendly |
| For More Information | | |
*Discounted prices are applicable for accounts with annual subscriptions. Fees are paid in full at the beginning of the billing cycle. More discounts are available depending on the number of users per account.
**Monthly fee displayed is for accounts with one user.
***Monthly rate shown is for accounts with one to four users.
How We Evaluated RingCentral vs Nextiva
RingCentral and Nextiva are both robust, cloud-based communications platforms for small businesses. It allows users to manage messages across channels like voice, texts, team messages, video conferences, and faxes.
However, some slight differences between the two providers can make one more suitable for small businesses. We analyzed their products based on some of the most critical criteria users are looking at, including price, customer support, and ease of use.
Here's a complete breakdown of these factors:
20%
Call Management Features
20% of Overall Score
We looked at the cost of each of Nextiva's and RingCentral's plans. We also dived into what is included in the subscription tiers, discounts available, and the scalability of these platforms.
20% of Overall Score
We deeply analyzed its call management features to determine which offers the most powerful features for basic to advanced needs.
15% of Overall Score
Nextiva and RingCentral provide video conferencing features, so we dug deeper to determine which offers higher meeting durations, in-meeting controls, and participant limits.
15% of Overall Score
We looked into its integrations with popular software and its ability to allow open application programming interface (API) connections.
10% of Overall Score
We compared the availability of customer support and knowledge base, support channels, and resources.
10% of Overall Score
We analyzed Nextiva's and RingCentral's desktop and mobile apps to determine which is easier to use for all types of users.
10% of Overall Score
We combined our expertise in VoIP providers and systems with our in-depth research on actual user experiences to find out which outperforms the other.
*Percentages of overall score
Best for Pricing: Nextiva
| | | |
| --- | --- | --- |
| | | |
| Tier 1 | Essentials: $29.99 per user, per month | Essential: $28.95 per user, per month |
| Tier 2 | Standard: $34.99 per user, per month | Professional: $33.95 per user, per month |
| Tier 3 | Premium: $44.99 per user, per month | Enterprise: $43.95 per user, per month |
| Tier 4 | Ultimate: $59.99 per user, per month | Ultimate: $73.95 per user, per month |
Fees displayed are based on annual subscriptions with one (RingCentral) user and one to four users (Nextiva).
Both providers have a lot of similarities in terms of their offered features in their four-tiered plans. However, it is hard to beat Nextiva's cheaper plans that come with the essentials—such as unlimited audio and video calling and 24/7 support—even at its entry-level tier. RingCentral also lacks unlimited internet fax in its base plan.
Other Nextiva pricing tiers include more essential features geared toward small businesses than RingCentral. For instance, it allows more video conferencing minutes and participants at the same tier level but at lower prices. Nextiva also offers more toll-free minutes than RingCentral.
When it comes to cost savings, Nextiva's rates are even cheaper for those willing to enter into long-term contracts. While RingCentral provides users monthly and annual options, Nextiva offers its lowest rates with 36-month contracts. A 24-month term is also available.
Winner: Nextiva is the more affordable VoIP service provider for the first three tiers. However, it isn't the cheapest option in the market. If you are looking for an alternative with lower-priced plans, read our guide on the best cheap VoIP services.
Best for Call Management Features: RingCentral
RingCentral and Nextiva share a lot of the same call management tools, such as multi-level auto-attendants, support for VoIP hardware, and call forwarding.
However, RingCentral has even more advanced features in this category, and why it earned a mention as one of the best business phone systems. It also offers developer tools that make its platform even more powerful. As a result, those who need these premium capabilities, like hotdesking, can find its higher prices worth it. However, Nextiva is not without its own unique functionality and offers its unique feature—Call Pop—that instantly shows important caller details on your screen before answering the phone.
Winner: While both providers have robust features, RingCentral steals the show in advanced call management tools for complete call control. Learn more about its capabilities through our extensive RingCentral review.
Best for Video Conferencing: Nextiva
Both Nextiva and RingCentral offer their video conferencing features at their more expensive plans. However, Nextiva provides unlimited meeting durations for up to 250 participants, beating RingCentral's 24-hour meetings with 200 attendees. Nextiva also has an unlimited peer-to-peer video calling inclusion in its entry-level plan.
On the other hand, RingCentral provides more video conferencing features, like breakout rooms. Those who don't mind breaking the bank may also find RingCentral's Large Meeting add-on worth considering as it lets users host an unlimited number of meetings for up to 500 participants. Rates aren't published on its websites and interested users may purchase licenses for this feature directly at your RingCentral Online account.
If affordability and just the basics are your priorities, then Nextiva is the one helpful for your small business.
Winner: Nextiva wins for offering more participants and duration cap at lower monthly fees. It also comes with basic video conferencing features like recording and screen sharing. Find out if it's a perfect match for your business through our Nextiva review.
Best for Integrations: RingCentral
Third-party app integrations allow users to connect their existing tools to another platform to streamline their work processes or add functionalities as needed. While Nextiva integrates with popular apps, like HubSpot, Zendesk, Salesforce, and Zoho, RingCentral is unbeatable in this area.
This is because RingCentral features an App Gallery that showcases all apps that its platform can integrate with. There are hundreds of third-party apps from various categories, such as productivity, analytics, and marketing automation. Moreover, it allows users to build products and systems on RingCentral through its APIs.
Winner: RingCentral clearly wins for offering extensive third-party integrations and powerful open APIs that can make your platform even more comprehensive.
Best for Customer Support: Nextiva
If you are eyeing the entry-level plan, you'll love that Nextiva provides 24/7 chat, email, and phone support in all its subscription tiers. RingCentral's 24/7 chat and phone support are only offered at the more expensive plans.
Both Nextiva and RingCentral have a comprehensive knowledge base with valuable guides. Meanwhile, RingCentral shares its social media channels and community for added support.
Winner: Nextiva is your best bet if you want peace of mind and prioritize the availability of a customer support team to have your back anytime.
Best for International Calling: RingCentral
RingCentral is a global company with headquarters across the U.S., Canada, Australia, Asia, and Europe, unlike Nextiva, which is purely U.S.-based. It offers toll-free and local phone numbers in over 100 countries, which Nextiva also lacks. However, both providers allow international outgoing calls at reasonable per-minute charges.
Winner: RingCentral is a better choice for those with a global presence as it provides international phone numbers and allows overseas outgoing calls at reasonable rates.
Best for Ease of Use: Tie
RingCentral's and Nextiva's apps have a clean and intuitive touch, making it simple to look for the tools you need. Their straightforward user interface (UI) design is consistent across computers and mobile devices.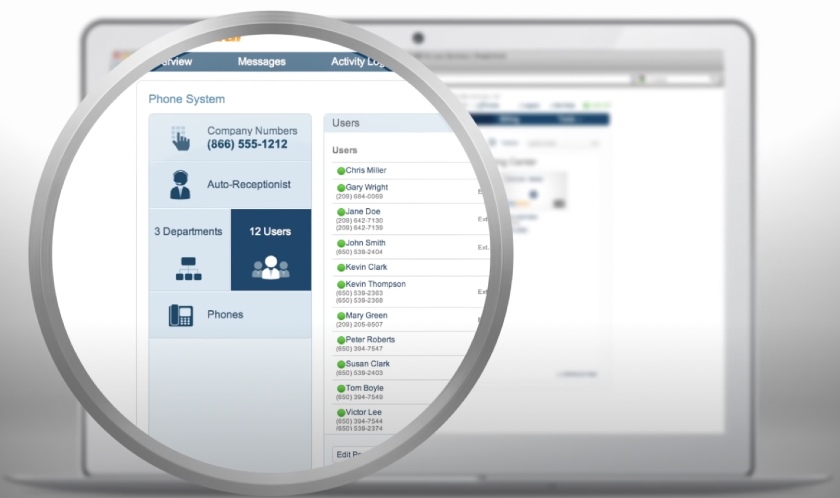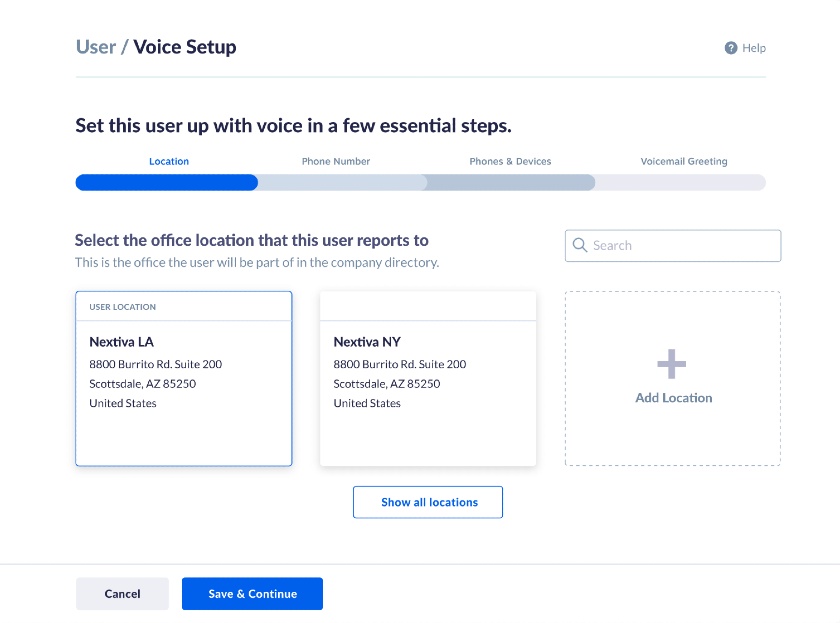 However, some can find RingCentral's extensive set of features overwhelming in the beginning. This comprehensiveness of tools can result in difficulty finding, navigating, or utilizing its tools, but this doesn't change the fact that its system is designed well.
Winner: Both Nextiva and RingCentral offer simple, easy-to-use platforms for mobile and desktop devices. Their hardware and devices are also preconfigured, allowing their users to use them without breaking a sweat.
Best Alternatives
While Nextiva and RingCentral offer excellent solutions for businesses of all sizes, it doesn't mean it fits your specific needs. A few other alternatives to consider include:
8×8: If you are looking for the best option for international calling, 8×8 is for you. It is a cost-effective provider for those with a global presence as it has phone number support in over 120 countries and provides unlimited international calls depending on your plan. Learn more about this alternative in our 8×8 review.
Grasshopper: Those looking for a budget-friendly, straightforward virtual phone system can check out Grasshopper. It is worth considering for solopreneurs, freelancers, and small business owners wanting to add a business number to their existing personal phone. It also comes with business phone features like custom greetings. Read our Grasshopper review to find out if it's the one for you.
Ooma: Ooma is a perfect choice for small businesses looking for an easy-to-set-up and simple VoIP solution. It also provides two uncomplicated pricing tiers, unlike most companies like RingCentral.
Frequently Asked Questions (FAQs)
On which devices can I utilize RingCentral & Nextiva's apps?
RingCentral and Nextiva's apps are compatible with Mac and Windows computers and iOS and Android devices.
Is a VoIP phone required to utilize RingCentral & Nextiva's services?
No. While RingCentral and Nextiva offer VoIP devices, users without one can still use its platform through a desktop or mobile phone.
Is RingCentral reliable?
RingCentral provides users with a 99.999% uptime service level agreement (SLA) that equates to no more than 26 seconds of downtime monthly. Its state-of-the-art data centers are also highly monitored, maintained, and secured electronically and physically.
Bottom Line
Both VoIP platforms are among the best small business phone systems and unified communications as a service (UCaaS) providers. Nextiva is an excellent choice for small businesses, especially for those looking to take advantage of its volume and long-term contract discounts. However, RingCentral grabs the top spot with its plans' value and the extensiveness of its capabilities. Its platform is best for scaling businesses that wish to move from the startup to enterprise stage.