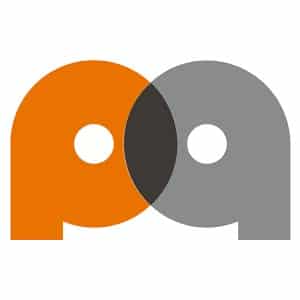 Payanywhere is a payment processor with solutions for online, in-person, and mobile transactions. The platform is a good choice for restaurants and food services because it has features for split payments, open tabs, and tips. Other features include recurring payments, invoicing, inventory and employee management, and a virtual terminal. You get your first card reader free, and processing rates are favorable for low order values.
When to Use Payanywhere
Payanywhere offers tools that are best suited for food businesses, merchants who sell inexpensive items, and small-scale mobile payment processing.
In particular, Payanywhere is best for:
Restaurants and food-based businesses: Payanywhere offers the ability to use split checks, open tabs, tips, and customer-facing touch-screen devices. It made our list of the best credit card payment apps, specifically for these restaurant-specific functions.
Businesses with a low average order value (AOV): Payanywhere's payment processing fees are especially affordable for merchants that sell inexpensive items and don't have a high AOV. This distinction makes Payanywhere one of the top credit card readers for small businesses.
Mobile payment processing: Payanywhere has a great iOS mobile payment app and card reader with offline functionality and full point-of-sale (POS) features.
When to Use an Alternative
Looking for something different? See our guide of the best merchant services for small businesses to find the solution that's right for you.
Payanywhere Overview
PROS

CONS

No chargeback fees
Confusing and expensive pricing structure for businesses processing over $10,000 monthly
Low fees on small transactions
High fees for keyed-in transactions
Next-day funding
Doesn't accept international credit cards
Free EMV chip card reader
Inactivity fee
Autopay for subscriptions and recurring payments
Platform is reportedly unstable and has frequent updates that interfere with performance
Open tabs, split payments, and tips
You need to create a Payanywhere account before you can apply with your business's federal tax identification number. You can do everything online. The process goes through six different screens, starting with selecting between a pay-as-you-go rate or custom rate and hardware, creating a login, and then applying for a merchant account. While the process is a little longer than something like Square or PayPal, it's still fairly quick and easy. However, there's no information on its website about account setup or migration assistance.
Payanywhere has two plans and custom pricing options for businesses that process more than $30,000/month. There's also an inactivity fee of $3.99/month after 12 months of not using your account, so you'll want to look at other options if you only sell occasionally. On the other hand, there are no monthly access or cancellation fees. Dispute management and chargebacks are also fee-free.
| | Pay As You Go | Standard |
| --- | --- | --- |
| Monthly Fee | $0 | $12.95 |
| Swipe, Dip, or Tap Transaction Fee | 2.69% | 1.69% (2.69% for commercial or rewards cards) |
| Keyed-in Transaction Fee | 3.49% + 19 cents | 3.69% + 19 cents |
| Monthly Processing Volume Limit | N/A | $79 minimum monthly volume fee applies when transactions are <$5,000 |
Payanywhere Alternatives and Fees Comparison
| | Fattmerchant | Square | PayPal |
| --- | --- | --- | --- |
| Best for | Businesses using billing, invoicing, and virtual terminals | Small businesses just starting out | Occasional in-person sales |
| Monthly fee | Starts at $99/month | Starts at $0/month | Starts at $0/month |
| Card-present transaction fee | Interchange + 8 cents | 2.6% + 10 cents | 2.7% |
| Keyed transaction fee | Interchange + 15 cents | 2.6% + 10 cents | 3.5% + 15 cents |
| Ecommerce transaction fee | Interchange + 15 cents | 2.9% + 30 cents | Starts at 3.4% + 30 cents |
| | | | |
Looking for the lowest rates? The payment processing rates you will pay can vary based on your business's size, type, and average order value. To find the most affordable option and compare multiple processing rates, read our guide on the cheapest credit card processing.
Payanywhere Features
Payment types: Payanywhere can process Visa, Mastercard, American Express, Discover, AliPay, and contactless payments like Apple Pay and Samsung Pay. Customers can also split tabs, pay via invoice, or sign up for recurring payments. You can't do e-checks with Payanywhere.
Payout time: Payanywhere defaults to next-day funding with a 10 p.m. cutoff time (Saturday and Sunday deposits will appear on Mondays). Businesses like restaurants or bars that have hours past 10 a.m. can elect a "same-day" funding option that has a 10:30 a.m. cutoff time, so your transactions from overnight will deposit later that day. Though calling it "same-day" funding is a bit of a stretch, it is a fast turnaround time and comes with no added fees.
Chargeback policy: Payanywhere sends merchants chargeback notification emails and offers an online portal where you can manage and dispute chargebacks. Unlike most credit card processing services, Payanywhere only charges a $25 fee if you lose the dispute—there are no automated fees.
Food-based features: Payanywhere allows customers to split checks, add tips, and open tabs. They can also place orders on customer-facing touch-screen displays.
POS app: With the Payanywhere mobile app, you can process payments from a compatible smartphone or tablet. You can email, text, or print receipts to a connected printer. The app works offline, so you can swipe credit cards without an internet connection.
Virtual terminal: Accept payments on your computer with its virtual terminal and cloud-based dashboard. You can also save and track customer information in the virtual terminal.
Analytics reporting: Like most payment processors, Payanywhere gives you insight into payment-related data. View trends and historic sales for volume, payment type, customers, employees, and inventory.
Payanywhere Hardware
Merchants get their first mobile card reader for free from Payanywhere.* With the free reader, you can process swipe and chip card payments. Beyond that, Payanywhere has additional readers, terminals, POS systems, and accessories (like a receipt printer, barcode scanner, cash drawer, and docking systems). Note that some hardware come with an associated monthly fee.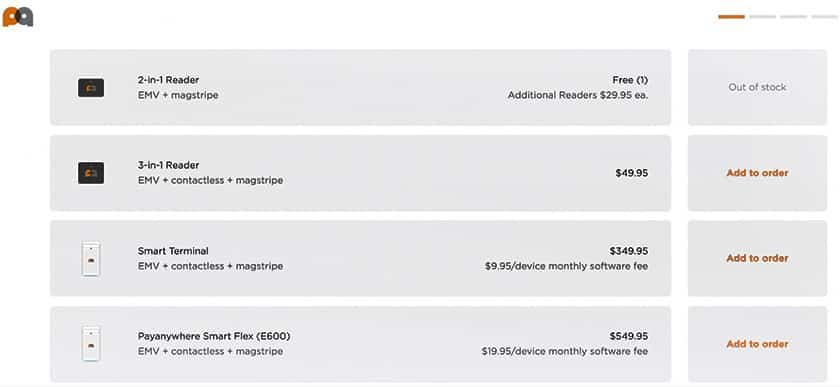 *When we went through the process of creating an account at the time of this review, the free card readers were marked as out of stock.
Payanywhere Ease of Use
Payanywhere is ideal for mobile and in-person transactions, offering a full suite of hardware to administer these payments. It's better-suited for frequent sellers with a low AOV—and merchants who don't need lots of bells and whistles when it comes to features. Payanywhere is a straightforward, simple system to learn. While that makes it easy to use, it also limits functionality. So, if you need more features to manage your business, you may look elsewhere.
There are also limited integration options as compared with other payment processors. That being said, you can connect Payanywhere with QuickBooks, Homebase, GRUBBRR, GiveHub, and others.
Some challenges include the inability to load photos, frequent software crashes and freezes, and other related glitches. This can create a negative checkout experience and a bad impression on your customers.
Payanywhere Customer Support
Payanywhere support reps are reachable via email, phone, or live chat. Some users report it takes a while for live chat techs to respond, but the option is there if that's your preference. Merchants can also turn to the extensive library of support content to troubleshoot issues themselves. There are articles and videos to walk you through different obstacles.
What Users Think of Payanywhere
While Payanywhere has fewer reviews than other platforms, users are pleased with the payment processor. Reviews highlight the simple yet effective software and integrations with popular POS systems like Square. In Google Play, Payanywhere has a 3.9 rating based on 4,191 reviews. In App Store, it scores a 3.5 based on 380 reviews.
Capterra: Three users reviewed Payanywhere on Capterra, giving it 4.7 out of 5 stars. Most like how it's easy to use and comes with affordable fees, though some have mentioned bugs with the software.
G2: Only one current user review ranks Payanywhere a favorable 5 out of 5 rating. Again, the user likes that it's easy to use and also comes with features for tracking inventory, taxes, and transactions. However, they find it difficult to accept various payment types.
Bottom Line
Payanywhere is a great payment processing option for in-person transactions and food-based businesses in particular. Processing rates are affordable for low order values, making it ideal for frequent sellers of inexpensive goods. Features like split tabs and the option to add tips are helpful for restaurants of all kinds.