Square is a free point-of-sale (POS) system and payment processor loved by many small businesses because it's an affordable, all-in-one solution. Though the company once dominated the market, many Square competitors now offer comparable products and services, some you could argue are better than Square. The best Square alternative depends on where you're taking payments and how much you're willing to spend for convenience.
The best Square alternatives are:
When to Use Square
| Square Pros | Square Cons |
| --- | --- |
| Free to get started | Some Square competitors have lower processing fees |
| Quick and easy setup | Limited customer support |
| Offline payments | Not very customizable |
| No monthly fee | |
Square is one of the best POS systems and best credit card processors, especially for new and small businesses. The first card reader is free, and it's also ideal for mobile businesses like merchants who sell at markets and events, food trucks, or pop-up shops. Square offers flat payment processing rates, so it's easy to predict costs.
Square also offers other business tools like marketing, payroll, and email marketing, plus industry-specific POS software for retail, restaurant, and appointment-based businesses with free and pro-level plans. So, to some extent, Square can grow with your business.
When to Use a Square Competitor
However, it's likely time to use a Square alternative once your business has started to grow and you're in it for the long haul. If you add permanent storefronts, more inventory, or a bigger ecommerce component to your business, you'll probably want to examine Square alternatives that are better suited to meet your growing needs. Additionally, if you sell high-ticket items, you might want to find an option with more affordable payment processing fees.
Clover: Best Overall Square Alternative

Clover is the best Square alternative because it offers a lot of the same features and benefits, except they're more advanced. Because of this, Clover also comes with a monthly fee that businesses should keep in mind when budget planning. Clover offers an advanced and all-in-one POS and payment processor plus customer loyalty programs, employee scheduling, and proprietary hardware.
| Clover Pros | Clover Cons |
| --- | --- |
| More affordable payment processing rates than Square | Requires a monthly fee |
| Advanced business management features | Tied to the Clover ecosystem |
| Customer loyalty program | Hardware is more costly than other Square alternatives |
| 24/7 customer support | |
Clover Pricing
Monthly software fee: $9.95–$69.95
Payment processing: 2.3%–2.7% + 10 cents
Hardware: $29–$1,699
Clover Features
Like Square, Clover is cloud-based and offers everything a standard POS does, including payment processing, inventory management, and analytics reporting. It also includes advanced customer loyalty, order management, and employee scheduling features, more comprehensive and integrated than what Square can offer. Other features include:
Credit card pre-authorization
Next-day deposits
Offline payment processing
Customer profiles and promotions
User permission
Read our side-by-side Clover vs Square comparison for more details on how Clover stacks up to Square.
Stripe: Best Square Alternative for Customizable Payments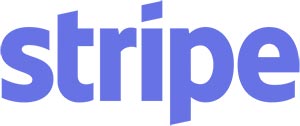 Stripe is a solid Square alternative to process online payments for businesses of all sizes. Stripe offers open API software that allows businesses with the technical resources to build and customize a branded checkout experience. Stripe started as an online-only platform but has since released Stripe Terminal to accommodate in-person payments as well.
| Stripe Pros | Stripe Cons |
| --- | --- |
| No monthly fee | Higher processing rates than Square |
| Fully customizable with open APIs | Fewer in-person payment options |
| Accepts many payment methods, including ACH and AliPay | Technical resources required to set up and maintain |
Stripe Pricing
Monthly software fee: $0
Payment processing: 2.7% + 5 cents for card transactions
Hardware: $59–$299
Stripe Features
Stripe is the best Square competitor for businesses with the resources needed to customize the checkout experience. With open APIs and no integrated hardware, Stripe is meant to seamlessly connect to your existing tech stack and process payments. As such, its POS features are extremely basic (pretty much non-existent when compared to most Square alternatives).
Specific Stripe features include:
Customizable in-app checkouts
Recurring billing, payment plans, subscriptions, and memberships
Receive funds from transactions on a two-day rolling basis
Choose from a weekly or monthly deposit schedule
Read our side-by-side Stripe vs Square comparison for more details on how Stripe compares to Square.
PayPal: Best Square Alternative With a Quick and Easy Setup

PayPal is another well-known Square alternative, offering secure in-person and online payment processing options at a flat rate and with no monthly fee. PayPal also integrates with several POS systems so merchants can use it in a retail environment. One differentiator for PayPal is that many consumers already have PayPal accounts, so it allows for easy one-click payments. Likewise, merchants with PayPal accounts can have instant access to their cash.
| PayPal Pros | PayPal Cons |
| --- | --- |
| Well-known and trusted payment processor | Limited POS features |
| Predictable and affordable flat processing rates | Inexplicably frozen funds |
| Easy setup without fees | Lacks offline payments |
PayPal Pricing
Monthly software fee: $0
Payment processing: 2.7%
Hardware: $19.99–$99.99
PayPal also offers discounted rates for qualifying nonprofit organizations.
PayPal Features
PayPal and Square are similar in cost, offering a free first card reader, no setup or monthly fees, and similar payment processing rates. Many know and trust PayPal because of its advanced security features and reliability. Both Square and PayPal have invoicing features and a companion mobile app, as well as the ability to accept a variety of payment types.
Other PayPal features include:
No transaction minimums
No application required for payment processing and merchant account services
Receive funds from transactions within minutes
Discounted rates and "donate now" button for nonprofits
Read our side-by-side Square vs PayPal comparison for more details on how PayPal compares to Square.
Shopify: Best Square Alternative for Ecommerce Selling

Shopify is the Square competitor with the most robust ecommerce offering. Small businesses can build and customize a complete online store and use Shopify's payment processing and POS tools to build a rounded out retail command center. Shopify also includes integrated social selling, local delivery, and curbside pickup options. In comparison to Square, Shopify offers more advanced and comprehensive features at a higher cost.
| Shopify Pros | Shopify Cons |
| --- | --- |
| Complete online store builder | More expensive than other Square alternatives |
| Integrates multi-channel selling | Checkout lacks customizability |
| Thousands of apps to choose from | |
Shopify Pricing
Monthly software fee: $29–$299
Payment processing: 2.4%–2.7%
Hardware: $19–$229
Shopify Features
Shopify and Square both offer tightly integrated online and in-person payment solutions, along with POS features including inventory management, customer profiles, and gift cards. You can also build automated cart abandonment emails, create custom promotions and discounts, and leverage Shopify's suite of shipping tools and services. It's a great way for retailers to get started on other channels.
Shopify's other features include:
Staff logins with secure PIN passcodes
Supports existing bar codes and can create new ones
Organize products by type, season, category, sale, and so on
Detailed retail analytics and reporting
Mobile dashboard app to track trends, manage inventory, and contact customers on the go
24/7 support via phone, email, and live chat
Full line of proprietary hardware and also integrates with third-party hardware
To learn more about how Shopify's POS, payment, and online store features compare to Square, read our full Square vs PayPal comparison.
Loyverse: Best Square Alternative Food-Based Businesses

Loyverse is a free POS and inventory management software dedicated to helping small food-based businesses like cafes and restaurants. Its built-in customer loyalty program sets it apart from Square, though other features are comparable, including order management, kitchen display systems (KDS), and cross-device compatibility. Loyverse also includes features dedicated to managing tickets, including split bills, saved tickets, and menu modifications.
| Loyverse Pros | Loyverse Cons |
| --- | --- |
| Free to use POS, KDS, customer display, and and analytics reporting | Limited third-party integrations |
| Free loyalty program | Most inventory tools cost extra |
Loyverse Pricing
Monthly software fee: $0
Payment processing: depends on processor
Hardware: no proprietary hardware
Optional add-ons that come with a fee include employee management and advanced inventory.
Loyverse Features
While Loyverse doesn't offer built-in payment processing—you'll need to shop around for the best compatible third-party partner—it does have powerful POS and inventory management features ideal for new and small food-based businesses. It's easy to get up and running with the mobile app. In minutes, you can be adding menu items, importing inventory, setting up employee accounts, and managing a customer directory.
More specific Loyverse features include:
Free POS app for iOS and Android
Bar code scanning
Create, save, and edit tickets
Import CSV files, low stock alerts, purchase orders, and inventory valuation reports
Employee level permissions, access rights, time cards, and more
To learn more about Loyverse's features, read our full Loyverse POS review. To see how Loyverse stacks up to Square and other free POS systems, read our guide on the best free POS systems.
Payment Depot: Best Square Alternative for Established Businesses
Payment Depot is one of the Square competitors on this list that uses a subscription-based membership model. Essentially, merchants pay a monthly fee in exchange for discounted wholesale payment processing rates. As such, Payment Depot offers some of the cheapest credit card processing for established businesses that process at least $10,000 in payments every month. Payment Depot doesn't offer a dedicated POS solution; like Stripe, it's dedicated to payment processing.
| Payment Depot Pros | Payment Depot Cons |
| --- | --- |
| Predictable fees | Requires monthly fee |
| No contracts or cancellation fees | Merchants must go through an application process |
| 24/7 customer support | Incompatible with high-risk businesses |
Payment Depot Pricing
Monthly software fee: $49–$199
Payment processing: 5–15 cents per transaction
Hardware: no proprietary hardware
Payment Depot Features
Because Payment Depot is a focused payment processor rather than a POS solution, it offers many advanced features for processing. This includes a variety of accepted payment methods, next-day deposits, and seemingly infinite integration options. Chargebacks are also included in your monthly subscription, so there are no added chargeback fees like those that other Square alternatives apply.
More Payment Depot features include:
Affordable processing rates
Month-to-month contracts
Flexible hardware integrations
Free virtual terminal when used with Authorize.net
Bottom Line: What Is the Best Square Alternative?
There are many Square competitors to choose from when it comes to selecting POS and payment processing solutions for your business. The first step is determining your main sales platform (online, in-person, multichannel) and which features are most important to you—inventory management, marketing, and employee management. From there, you should be able to narrow down your best options.
Our top choice for small business POS and payment processing solution is Square because it has no monthly fee, is easy to set up, and is super simple to use. It's a great fit for new businesses, mobile businesses, and businesses with small average transactions. Plus, businesses are never locked into any long-term contract.