Not every business needs a complex point-of-sale (POS) system. Credit card payment apps download to your smartphone or tablet and let you take credit card payments on the go or in-store. Most include checkout with taxes and receipts, inventory tracking, and a card reader. However, the best credit card payment apps can grow with you with add-ons and payments hardware.
We looked at over a dozen options to find the seven best credit card payment apps for 2021:
How We Chose the Credit Card Payment Apps
Our researchers have not only read about these systems but have used many of them. We took that expertise and combined it with reviews from real-world businesses to find the easiest to use, and then looked at other important factors for small businesses: price, versatility, and primary functions.
Square topped our list because of its ease of use and free POS. It's also on our list of best mobile POS apps, and best payment processors in general. It's a highly flexible program that works for the hobbyist or the full-time retailer with a store and an ecommerce website.
Click through the tabs below for our full evaluation criteria:
25%
Card Payment App-Specific Features
20% of Overall Score
The best credit card payment applications have low transaction fees with no monthly subscriptions, either for use or for a POS system. They also supply a free reader, even if only a dongle for your smartphone. No one met all our top standards, but Square and Payanywhere came closest, while Clover ranked last
25% of Overall Score
This criterion considered platform, transparency and simplicity of fees, and accepted payment types. All our products did well here, but PayPal Zettle earned a perfect score.
20% of Overall Score
We considered how fast you get paid, the chargeback policy and fees, integrations, and business functions related to payment and sales. Square topped this list with Payanywhere coming in a strong second.
15% of Overall Score
Ease of use is vital when accepting payments. We turned to user reviews for the impressions of those who have truly worked with the system over time. Shopify took the lead. Many, like Square, are easy to use but took a hit for limited customer service hours.
20% of Overall Score
This is a value score that takes into account features, pricing, popularity, and criteria like stability, options, and UX. Square took the lead with 5 out of 5, with Payanywhere and SumUp in last with 3.75 each.
*Percentages of overall score
Square: Best Overall Credit Card Payment App
Square

Overall Score:
4.41

OUT OF

5
i
Our score is based on a weighted evaluation of dozens of similar products and services conducted by our experts.
What We Like
Easy to use
Lots of integrations
Free card reader
Free POS
What's Missing
Limited support hours
Only uses Square for payment processing
Transaction fees are higher than many on the list
Square Pricing
Free basic POS system
Advanced POS system: $60/month
Card-present processing fee: 2.6% + 10¢ per transaction
Keyed-in processing fee: 3.5% + 15¢ per transaction
Card readers: From $49 (first one free)
Terminals: From $299
30-day free trial for Plus plans
Add Ons:
Team Plus: $35 per month
Payroll: $34 per month plus $5 per employee
Marketing: Starts at $15 per month
Loyalty program: Starts at $45 per month
Square started out as a payment processor and has continued to grow and add functionality—some free, some for extra charges. Nonetheless, that's why it consistently makes our lists of the top software for POS, payment processing, restaurants, salons, and more. It offers POS and inventory software with only payment processing fees, making it a good choice for the solopreneur or the hobbyist—something several of our credit card apps can claim. However, it has enough depth of toolset for small businesses and with its add-ons and integrations, can grow with you.
We gave Square 4.41 out of 5 stars, the highest score of those on the list, although it earned higher scores on other lists. It aced our expert score and earned 4 stars or higher on every other score. However, its transaction pricings are higher than most of those on our list, which took off points.
Square Pricing
POS: Square has no monthly fees, but if you want to add advanced point-of-sale functions, team management, loyalty plans, or payroll, there are monthly plans available. PayPal Zettle and SumUp are similarly free, without the "expansion packs." Compare this to Payanywhere, which has a free plan as well as custom pricing with monthly fees and lower transaction rates.
Payment Processing: The transaction fees are somewhat higher than those on our list. For example, SumUp, at 2.75% for in-person transactions, seems higher, but it does not have extra pennies attached, where Square adds 10 cents per transaction. Those dimes can add up, especially if you have low-dollar-value transactions. However, Square offers discounts for businesses doing over $250,000 a year in credit card processing.
Hardware: Start with a free card reader to accept swiped payments. (Only Payanywhere also offers a free reader, and its chip and swipe.) If you want more versatility, Square charges $49 for a chip reader. Full POS systems run from $299 to $799. (Shopify's are cheaper, while Payanywhere rents its systems for $10 to $40 per month.) However, you can run your POS system on your tablet if you prefer.
Square Features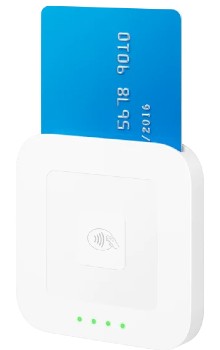 Payment Processing: While Square didn't earn perfect scores for its features, overall it did better than most of the others on our list. Square has a fully functioning register that works on smartphones, tablets, or POS devices, and includes inventory tracking, taxes, discounts, and more. It also has an integrated online store. Offline mode lets you keep selling even when the internet is down. Whether you only need a few tools or the whole works, Square provides solutions.
Specialty POS for retail, restaurants, and salons: Square has dedicated systems for retailers, restaurants and appointment-based industries like salons or spas, and it's on our list as the best for all of these. (If you want a free system with restaurant features, however, look at Payanywhere on this list.) The other processors on our list can also be used for different industries, but Square went out of its way to customize systems for you.
Mobile app: Square ranks No. 1 on our list of best free iPhone credit card readers and on our list of best mobile credit card readers, It's also No. 27 in the Apple App store, with a 4.8 out of 5 based on over 270,000 reviews. For Android, it has 4.4 stars and over 134,000 reviews. It's the best-ranked mobile POS application among users as well as the most popular by an order of magnitude.
Versatility: While Square's free POS and reasonable transaction rates make it great for the person who just wants to sell at the occasional farmers market or conference, it can also grow with the ambitious entrepreneur. Build out your POS system, add inventory, and build customer lists. As you grow, you can add other features, from loyalty to payroll, through Square, or add third-party applications like QuickBooks, Wix, BigCommerce, Zoho, and more.
Chargeback protection: Square is unique among the credit card processors on our list in that it waives up to $250 a month in chargeback fees. This should be sufficient for a small business or solopreneur. Most credit card app providers charge per unsuccessful transaction, although SumUp charges per dispute to pay the bank fees.
Ease of use: You don't have to take our word for it. Square has the most reviews and the highest user satisfaction score of those on our list: 4.68 out of 5 on third-party software review sites, and 4.67 on average for mobile. Ease of use, flexibility, and price are the most praised features.
Reasons Not to Consider Square
Exclusive to Square: One area in which it fails concerning versatility is that you can only use Square for payment processing on its POS system and online store—there's no option to connect an outside merchant account to Square's software. Also, if you want other POS hardware than what Square provides, you need a different payment processor. For more choices, check out Payanywhere or Clover.
Limited support: Square is very easy to use, but if you run into trouble, you can only reach support during extended business hours on weekdays. Shopify, Payanywhere, and Clover have 24/7 live support, while PayPal's 24/7 support is by email.
PayPal Zettle: Best for Social and Cross-Border Sales
PayPal Zettle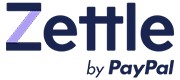 Overall Score:
4.19

OUT OF

5
i
Our score is based on a weighted evaluation of dozens of similar products and services conducted by our experts.
What We Like
More modern UX than PayPal Here
International payment processing
Very easy to use
Low transaction rates
What's Missing
Reputation for account freezes
No offline mode
No free card reader
Zettle Pricing
Free basic POS system
Card-present processing fee: 2.29% + 9¢ per transaction
Keyed-in processing fee: 3.49% + 9¢ per transaction
Card readers: From $29
Terminals: From $249
PayPal Zettle is the replacement for PayPal Here. (PayPal is continuing to service Here, but is bringing new users to Zettle.) This program has been highly popular and well-rated by European users. PayPal itself is a powerhouse for payment processing around the world, both for the solopreneur and the international business. You can add a PayPal button almost anywhere, making it a good choice for social selling. Plus, you can have PayPal payments alongside other payment types. That, combined with its free system and transaction-only fees, makes it a great choice for hobbyists or large businesses.
We gave Zettle 4.19 out of 5 stars. Lack of offline processing hurt it's score, as did the cost of card readers and the customer service. Users give Zettle software great reviews—PayPal itself, not so much.
PayPal Zettle Pricing
POS: Zettle's entire POS system is free with the use of PayPal's payment processing. There are no premium plans like Square.
Payment Processing: PayPal Zettle rates are 2.29% + 9 cents for card-present transactions, and 3.49% + 9 cents for keyed-in transactions. The rates are the cheapest on our list, although PayPal is changing its fees Aug. 2, 2021. Its rates are more complex than others, with different rates for online sales, virtual terminal sales, donations, and country. These are on its pricing page. (Zettle's prices as listed above are not changing.)
Hardware: Zettle card readers are $79, with the first one discounted to $29. Unlike Square or Payanywhere, it does not offer a free reader. Zettle has hardware POS kits that cost $249-$399, which makes them among the least expensive POS systems on our list. The kits include combinations of touch screen, receipt printer, and other peripherals.
PayPal Zettle Features
Online sales: PayPal works just about anywhere for accepting payments, and your customer does not need a PayPal account to use it. Thus, you can accept payments anywhere from your online store to an online chat with a customer. Zettle itself, however, only integrates with a few ecommerce solutions for syncing online sales. If this is something you need, consider Shopify or Payanywhere.
International Payment Processing: PayPal works in over 200 markets and 100 currencies, and Zettle got its start in Europe. Thus, with it, you can easily process sales in-store, across borders, and in different currencies.
Versatility and Scalability: Like Square, Zettle serves a wide range of use cases. Hobbyists and large corporations use the PayPal app, although Zettle is more suited for small businesses and solopreneurs.
Reasons Not to Consider PayPal Zettle
PayPal acquisition: Zettle earned high praise from customers before it was acquired by PayPal. The reviews since then have taken a dive and are mostly concerning PayPal practices—frozen accounts, for example—and poor customer support. Some of this may be growing pains as PayPal brings Zettle to the American market. For a surer credit card app, consider Square, or Shopify for online and social selling.
Offline processing: Zettle does not handle sales offline. Check Square or Payanywhere if you want a free POS with offline capabilities.
Shopify: Best for Online Stores Needing In-Person Sales
Shopify

Overall Score:
4.05

OUT OF

5
i
Our score is based on a weighted evaluation of dozens of similar products and services conducted by our experts.
What We Like
Reliable
Extensive inventory tools
Ecommerce focused
Multiple integrations
What's Missing
Charges extra for third-party processors
No free POS
No free card reader
Shopify Pricing
POS system: $29-$299/month
Card-present processing fee: 2.4%—2.7%
Keyed-in processing fee: starting at 2.4% + 30¢ per transaction
Card readers: From $29
Terminals: From $179
14-day free trial
If you do more selling online than in-person and need a fully-featured online store to go with your credit card processing, check out Shopify. It's one of the best ecommerce solutions today, and made our list of best virtual terminals and the best POS system for multichannel retailers. If you're not ready to give up your existing online store or just need a simple system, look at Square or Zettle, which offer their own store or integrate with other ecommerce software and have a free POS for in-person sales.
Shopify earned 4.05 out of 5 on our evaluation. We love its checkout features and multichannel sales tools. However, it took hits for charging to use a third-party merchant account (something Clover and Payanywhere do not do), for lacking a free card reader (like Square and Payanywhere), and for charging for chargebacks.
Shopify Pricing
POS: To use Shopify's credit card processing, you need to purchase its ecommerce software. Plans run from $29 to $299 per month, depending on the features you want. If this is more than you need, look at the other processors on our list.
Payment Processing: Your transaction fees depend on the plan you purchase—the more expensive plans have lower rates. You can use your own payment processor, but Shopify adds a fee to do this, which could negate the advantage. Only Shopify offers discounts in shipping. This chart explains the pricing:
| Plan | Monthly Fee | Online Rate | In-person rate | Fee for non-Shopify Payments | Shipping Discount |
| --- | --- | --- | --- | --- | --- |
| Basic Shopify | $29 | 2.9% + 30¢ | 2.7% | 2% | Up to 77% |
| Shopify | $79 | 2.6% + 30¢ | 2.5% | 1% | Up to 88% |
| Advanced Shopify | $299 | 2.4% + 30¢ | 2.4% | 0.5% | Up to 88% |
Hardware: Shopify's card readers start at $29 and come with a stand. The cheapest are chip and swipe, but it offers touchless for $49. Its POS hardware starts at $179 for a retail kit of touch screen and simple card reader. They are the least expensive on the list. (Clover is among the most expensive, but some Clover resellers give you hardware for free.)
Shopify Features
Multichannel sales: The more places you can sell your wares, the more opportunities for sales and loyal customers. Shopify makes it easy to integrate with channels like eBay, Facebook, and other social or online venues. Several of the apps on our list, like PayPal, let you add a buy button, but Square also allows full integration like this.
Dropshipping: Want to add a new source of income or expand your inventory? Shopify integrates with hundreds of dropshipping companies and has its own, Oberlo.
Shipping discounts: If you process mail orders, sell on eBay, or ship a lot of your products, then Shopify is worth considering for the shipping discounts alone. No other credit card processor on our list offers this, and depending on your volume, you may pay for the software in your savings.
Fraud protection: Small businesses are actually at greater risk for friendly and criminal credit card fraud than large corporations. Shopify's machine learning tools analyze transactions for suspicious charges and bring them to your attention. It's one of the best fraud prevention tools for POS. It does charge for chargebacks, however. If that's a concern, look at Square, which waives up to $250 in chargeback fees.
Mobile app: Shopify's iOS app earned 4.6 out of 5 based on over 7,000 reviews. For Android, it earned 4.1 stars and about 18,400 reviews. This app is either loved and works great or has one star reviews from people who cannot get it to work right.
Reasons Not to Consider Shopify
Charges to use of other merchant accounts: Unlike Square and PayPal, you can use other merchant accounts with Shopify, but you will pay extra. This is not the case with Clover.
Offline mode: You cannot use Shopify to process card payments without an internet connection. For that, consider Square or Payanywhere.
Payanywhere: Best for Restaurants, Bars, and Food Trucks
Payanywhere

Overall Score:
4.03

OUT OF

5
i
Our score is based on a weighted evaluation of dozens of similar products and services conducted by our experts.
What We Like
Free chip card reader
Great rates for low-ticket transactions
Employee scheduling, management
What's Missing
Complaints about hidden fees
Expensive hardware
Payanywhere Pricing
Card-present processing fee: 2.69%
Keyed-in processing fee: starting at 3.49% + 19¢ per transaction
Card readers: From $29.95 (first is free)
Terminals: From $9.95 per month
While Square has a restaurant system, Payanywhere's POS system offers great tools for food services from food trucks and hot dog stands to sit-down restaurants, like split payments and integrations to delivery services. Its card processing fee is competitive, especially for small-ticket items. Even better, it offers employee scheduling and time-tracking free.
We gave Payanywhere 4.03 out of 5, just falling behind Shopify, although if you are not interested in online features, Payanywhere might be a more useful choice. It offers faster payout times than most of the processors on our list and has 24/7 support via phone or chat. It takes hits in user reviews, in part because of surprise fees, but overall, users are satisfied with the service.
Payanywhere Pricing
Monthly fees: Payanywhere has a free plan, then custom pricing plans that you need to contact Sales about. The pay-as-you-go is free but has a higher swipe rate. It offers custom quotes with lower transaction rates, but monthly fees. We've seen monthly fees of $12.95.
Payment Processing: Transactions fees run 2.69% for card-present sales, and 3.49% + 19 cents per transaction. These are competitive, especially for low-ticket sales with card-present payment. You can also call for a custom quote. Depending on the volume of sales, it might be cheaper than most of the credit card apps on our list, although Clover, with its plethora of merchant services, may offer better rates.
Hardware: Your first card reader is free; subsequent card readers cost $29.95 or $49.95 if you want one that does contactless payments too. The handheld and countertop solutions are either rented or purchased outright. Rentals run $9.95 a month to $39.95 per month and may include a software fee as well. Purchase prices run from $249 to $1,000, plus software fees, a little steep compared to other systems on our list. Many Clover resellers also have rentals, and some systems like Square also have payment plans.
Payanywhere Features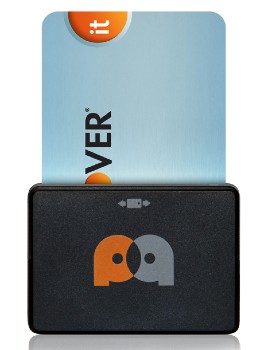 Cheaper for low-ticket sales: Payanywhere only charges 2.69% for card-present transactions. While this percentage is higher than other card processors on our list, when you add the flat cents fees, Payanywhere may be cheaper. If your transactions are generally around or below $110, Payanywhere is cheaper than Square. Compared to Zettle's current rates, Payanywhere is cheaper for transactions under $22.50.
Restaurant features: Payanywhere offers open tabs, split payments, and tip functions that make it a good choice for restaurants. It also integrates with delivery systems like GRUBBRR. It's a good alternative to Square for Restaurants, and if your tickets are smaller, like in food trucks, you may save money with Payanywhere. Offline mode means your restaurant doesn't shut down if the internet does, or that you can take your food stand anywhere.
Employee management: Unlike most of the credit card applications on our list, Payanywhere includes employee management tools through Homebase at no extra charge. This includes hiring tools, time clocks, and scheduling, as well as tracking employee sales. It's a great asset for a small business or a restaurant that deals with high staff turnover.
Next-day payout: Payanywhere has next-day funding with a 10 p.m. cutoff time. However, if you have later hours, you can get a "same-day" funding option that has a 10:30 a.m. cutoff time, so your transactions from overnight will deposit later that day. (Saturday and Sunday deposits will appear on Mondays). This is the fastest turnaround of the systems on our list and, even better, comes with no added fees. Need true same-day funding? Get it for an additional 1% per transaction.
Mobile app: Payanywhere has two apps on Android: an SDK app and a POS app. The POS app has 3.9 out of 5 stars with 4,241 votes total. (The SDK app has 3.7 stars and 9 votes.) In the Apple store, it has a POS app with 3.7 stars and 450 ratings. Its ratings are the lowest except for SumUp.
Reasons Not to Consider Payanywhere
Inactivity fee: Payanywhere charges $3.95 per month for accounts that are not active for 12 months. Thus, occasional sellers will do better with Square, Zettle, or SumUp.
Potential surprise fees: While Payanywhere says it has no hidden fees, there have been complaints of fees "showing up" on bills or being taken from accounts without notice. It has a second plan for $12.95 a month, and it could be that some users are put on this plan instead. Watch your transactions.
QuickBooks GoPayment: Best for QuickBooks Users and Freelancers Needing Accounting Software
QuickBooks GoPayment

Overall Score:
4.00

OUT OF

5
i
Our score is based on a weighted evaluation of dozens of similar products and services conducted by our experts.
What We Like
QuickBooks integrated
Invoicing included
Affordable plan for freelancers
What's Missing
Must have QuickBooks
Problematic help & support
No online store
GoPayment Pricing
Monthly fee: $15–$150 (for QuickBooks)
In-person processing fee: 2.4% + 25¢ per transaction
Keyed-in processing fee: starting at 3.4% + 25¢ per transaction
Discounted rates for high-volume
Card readers: From $49
Terminals: From $119 for stand (iPad not included)
30-day free trial
QuickBooks is one of the most popular accounting software for individuals and businesses. It has a payment processor, GoPayment, that you can download to your smartphone and use on your desktop. It's a good choice for freelancers, especially artists, writers, and those who may work for a business as well as produce items to sell themselves. Its invoicing and accounting tools make it easy to reconcile both sides of your freelance career.
GoPayment earned 4 out of 5 on our list. It's a good system overall. Through QuickBooks, you have a lot of functions, especially invoicing and accounting. However, like Square, GoPayment app does not work with any other payment processors, even though QuickBooks is eminently integratable.
QuickBooks GoPayment Pricing
Monthly Fee: You have to have QuickBooks to use QuickBooks Payments, which means you'll be paying at least $15 a month no matter how much you use the payment processing. Square, Zettle, Payanywhere, and SumUp don't have monthly charges. However, with GoPayment, you also get accounting software, along with POS and inventory.
Processing Fees: The transaction fees are competitive, although an additional quarter per transaction can add up if you do a lot of small tickets. Shopify, SumUp, and Payanywhere, by contrast, have flat percentage rates. If you charge more than $7,500 per month, QuickBooks can offer you a discount. Square, for example, also has discounts but at a much higher volume.
Hardware: QuickBooks runs on a tablet, so it only sells peripherals. Stands start at $119, pin-pad card readers at $389, and full sets at $900. It's more expensive than other POS systems on our list, and you may be better off finding compatible hardware elsewhere.
QuickBooks GoPayment Features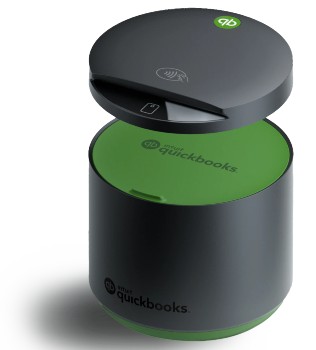 Accounting: QuickBooks tops our list for best accounting software, and with the freelancer plan at $15 per month, it's highly affordable. Plus, it is a good accounting system that integrates into a lot of programs, including most of those on our list.
Invoicing: Artists or writers who work on commission or contract as well as sell their physical creations will appreciate the ability to send invoices or set up recurring payments. You'll get notified when the invoice is viewed and paid. Square and Shopify also have invoice capability.
B2B: While we like QuickBooks for freelancers, it's also on our list of best B2B payment solutions. Invoicing that ties directly to QuickBooks, pricing that favors large-ticket items, and excellent rates for ACH transfers make it a strong choice here. (Square, for example, also takes ACH payments, but while it charges a minimum of $1 and no maximum, QuickBooks has no minimum and a $10 maximum.)
Choose your accounts: If you use multiple accounts to keep your finances straight, you can designate the accounts where specific payments go. No other payment system on our list has this kind of versatility.
Mobile app: The QuickBooks GoPayment app on Android has 4.2 out of 5 stars with about 7,300 votes. In the Apple store, users gave it 4.8 stars and nearly 6,000 ratings. It ties with Square as the best-rated mobile app for iOS on our list.
Reasons Not to Consider QuickBooks GoPayment
Customer support: While there is a lot of information and tutorials for QuickBooks, its help section is befuddling. I usually find it easier to Google the question, then follow that link to the appropriate article on QuickBooks' support page. Customer support is not product-specific, so it may not have a good answer on hand. It's one thing users complain about.
Free plan: While $15 per month for accounting software and payment processing is a pretty good deal, occasional sellers might find it cost-prohibitive. Square, PayPal Zettle, and SumUp all offer payment processing with no monthly fees for anything.
Online Store: QuickBooks integrates with many ecommerce solutions, but that does not mean you can use GoPayment as your payment processor. Further, it does not offer an online store like most of the services on our list. Certainly, Shopify is your best bet for ecommerce.
Clover: Best for Liquor Stores, CBD, Vape, and Other High-Risk Sellers
Clover

Overall Score:
3.72

OUT OF

5
i
Our score is based on a weighted evaluation of dozens of similar products and services conducted by our experts.
What We Like
Choose your payment provider
Offline mode
Internationally used
What's Missing
Does not police its resellers
Needs add-ons
Clover Pricing
POS system: $9.95-$39.95/month for first device ($69.95/month for first device for Table Service)
Card-present processing fee: 2.7% + 10¢ per transaction
Keyed-in processing fee: 3.5% + 10¢ per transaction
Card readers: From $99
Terminals: From $499
30-day free trial
Prices may vary by reseller.
Clover is one of the most popular POS systems in the world, in part because it lets hundreds of merchant services resell its POS system. As a result, if you work in a high-risk industry, you can find a payment processor that uses Clover for its credit card processing app. However, it's also an excellent system for general use, so don't rule it out if you sell more commonplace items.
Clover earned 3.72 out of 5 stars. The fact that it works with so many resellers affects the quality of the credit card processing agreements and chargeback policies. For the processor and POS software itself, it got high marks for features, although it does not handle some functions like subscriptions. Aside from the POS pricing, which is relatively cheap, the transaction rates and hardware fees, as quoted on Fiserv, make Clover one of the most expensive systems on our list with a pricing score of 2.5.
Clover Pricing
POS: Clover's POS pricing will depend on your payment processor. Fiserv charges $9.95 per register. This is the cheapest of the paid POS plans on our list, although most have a free version.
Payment Processing: If you purchase through Fiserv, you'll find its rates are among the highest on our list. However, Clover works with hundreds of merchant services, who may have better rates, including interchange-plus. (Keep in mind that high-risk industries have higher rates regardless.) Interchange-plus pricing may give you better rates for high-volume sales (one reason businesses turn from Square or Zettle), but may also lock you into a contract.
Beware! Resellers set their own rules, so read any contracts carefully to be sure what you are committing to. Check our list of best merchant services and best credit card processors. Fiserv itself is not one of our recommended merchant services, as it does not have a good reputation for working with small businesses. Read our Fiserv review for more details.
Hardware: Resellers can choose their own prices for Clover hardware, even giving it away if they choose. This makes it at once the cheapest and most expensive on our list. For example, Fiserv charges $499 for the Clover Flex handheld, and $1,649 for the complete Clover station that includes a touch screen, customer-facing display, and receipt printer. A portable card reader is $69.
Caution: Clover hardware is not reprogrammable to a new merchant service. Once you get the devices, you are locked to that payment provider.
Clover Features
Age-restricted product sales: Clover is popular among liquor stores, vape shops, and CBD stores, and specialty websites often include it in their list of recommended systems. Square usually makes these lists, too, although Square does not handle high-risk accounts. Its security features and add-ons (some specific for Clover) are most praised. In addition, the POS systems have a camera, so you can scan IDs without a barcode scanner.
Hardware syncs instantly: Clover hardware syncs instantly, so you can start a transaction on, say, your handheld, and continue it at the cash register. While other systems sync inventory and sales, few have this smooth transition.
Customizable receipts: While the other credit card processors on our list let you create and send digital receipts, Clover takes it further with customizations that include coupons, requests for feedback, and more.
Mobile: Clover is unique in that it has two POS systems: Clover Go G1, and Clover Go G2, which includes a dashboard as well as POS. Clover Go G2 does better on Apple, with an average user rating of 4.6 out of 5 and 10,800+ ratings. Clover is on our list of best free iPhone credit card readers. Meanwhile, on Android, G1 is better, with 4.5 out of 5 and 2,000+ reviews vs 3.4 and 425+ reviews for G2.
Reasons Not to Consider Clover
Potential for a bad merchant account: Because Clover does not police its resellers, there are payment providers that charge annual fees and hidden fees or have bad reputations for how they treat customers. Add termination fees and the fact that Clover hardware cannot be reprogrammed to a new merchant account, and Clover can be an expensive gamble. Do your research—a bad provider is not worth free hardware.
Microbusiness capability: The price and merchant account types make it more expensive and difficult than a solopreneur, hobbyist, or microbusiness may want to bother with. If all you want is a simple app, go to Square or SumUp.
SumUp: Best for Solopreneurs and Low-Volume Merchants
SumUp

Overall Score:
3.71

OUT OF

5
i
Our score is based on a weighted evaluation of dozens of similar products and services conducted by our experts.
What We Like
Social media links
Tips processing
Invoicing
What's Missing
No POS register hardware
Limited support
Limited integrations
SumUp Pricing
Monthly costs: $0
Card-present processing fee: 2.75%
Keyed-in processing fee: 3.25% + 15¢ per transaction
Card readers: From $19
Terminals: From $119
30-day money-back guarantee
If you need a simple payment processor with just the basics, then SumUp may be perfect. It's a reliable, straightforward credit card processor that takes stripe, chip, and contactless payments. The inventory is easy to set up if you wish, or you can simply process charges manually with notes. The price is good, especially for low-volume and low-ticket sales. As such, it's good for solopreneurs like hobbyists that sell on the side at farmers market or convention sales, or in small, low-volume kiosks.
We gave SumUp 3.71 out of 5. While it's nearly tied to Clover, it's on the other end of the spectrum for users—Clover is better for larger, busier merchants, while SumUp is focused on individuals. Its user scores are good, but not as high as most on our list, which hurt its ranking, as did the fact that you have to purchase your first card reader.
SumUp Pricing
Monthly fee: Like Zettle and Payanywhere, the only fees it charges are for payment processing.
Payment Processing: Its 2.75% card-present fee is a little more expensive than those on our list, but the flat percentage, as opposed to percentage-plus-cents makes it a better deal for low-ticket sales. In this way, it's like Shopify and Payanywhere, though they have lower rates.
Hardware: The card reader costs $19, which is cheaper than most on our list, especially considering it takes tap payments as well as chip and swipe. However, there's no free reader. There's also no POS hardware. There are handheld card readers, but for a register system, you need a tablet.
SumUp Features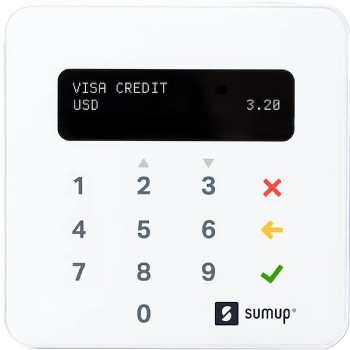 Easy to use: SumUp's straightforward system and easy card reader make it a handy tool for taking payments anywhere. Users on Capterra give 4.9 out of 5 stars for ease of use. They call the app "stylish and intuitive."
Stick to the basics: Not everyone needs a complex POS system. SumUp lets you input an inventory with categories and variants, program in taxes, and create customized receipts, but doesn't include a lot of bells and whistles that take memory on your device or time to learn. It has a few sales reports with the most important information for gauging profits and losses.
Cheaper for low-ticket sales: Like Payanywhere, it offers good rates for low-ticket sales. Compared to Square, your transactions are cheaper if the total is less than about $67. Compared to Zettle's current rates, SumUp is cheaper for transactions under $20.
Reasons Not to Consider SumUp
No POS hardware: If you are looking for a register system, check out Square, which is the closest competitor. Otherwise, you can use SumUp on a tablet.
Virtual terminal restricted: The virtual terminal is limited to qualifying merchants. You'll need to contact sales to see if you qualify. The rate for virtual terminal transactions is 3.25% + 15 cents. If you need this function, consider Square, which makes our list of the best virtual terminals.
No integrations: If you want to integrate SumUp, you'll need to use the developer API; it does not offer an app store for integrations with common third-party software. All the other credit card apps on our list do.
Bottom Line
Whether you are a brick-and-mortar business with an online store or an artist who sells their creations at the local flea market, credit card apps can make taking payments easy while helping you keep track of your sales. They can be as simple as SumUp, which takes payments and calls it a day, or as complex as Zettle, which handles social selling and international sales. Some, like Square, have extra programs for employee management, reservations, and even payroll.
Square is, in fact, our choice for the best credit card payment app because while it can handle a multitude of business functions beyond credit card processing, it also is simple enough for the hobbyist or solopreneur. The system is free, and you're only charged for processing transactions, so sign up for Square today.
You May Also Like …