A real estate agent bio is the summary of your skills and abilities as an agent, usually presented online or in print with a headshot. A strong real estate bio demonstrates your expertise and motivates potential clients to contact and hire you. We compiled 15 examples of bios with pro tips to help write your own.
Creating an attention-grabbing and informative real estate bio is the first step to getting quality leads. Zillow Premier Agent lets you create an agent bio and claim your listings to ensure you're the only agent who appears on each one; this dramatically increases your lead generation efforts. Click here to learn more.
Here are the top tips for what to include in your real estate agent bio with examples to help build your real estate brand:
1. Use Terms That Indicate a Local Connection
There are several online platforms to help buyers and sellers research potential homes or their worth. However, these tools are no substitute for the insights an experienced real estate can bring when evaluating neighborhoods. Your bio can help promote your familiarity with the community by using words and phrases that reference landmarks in the area or reinforce the fact that you don't just represent buyers and sellers in the area—you live there too.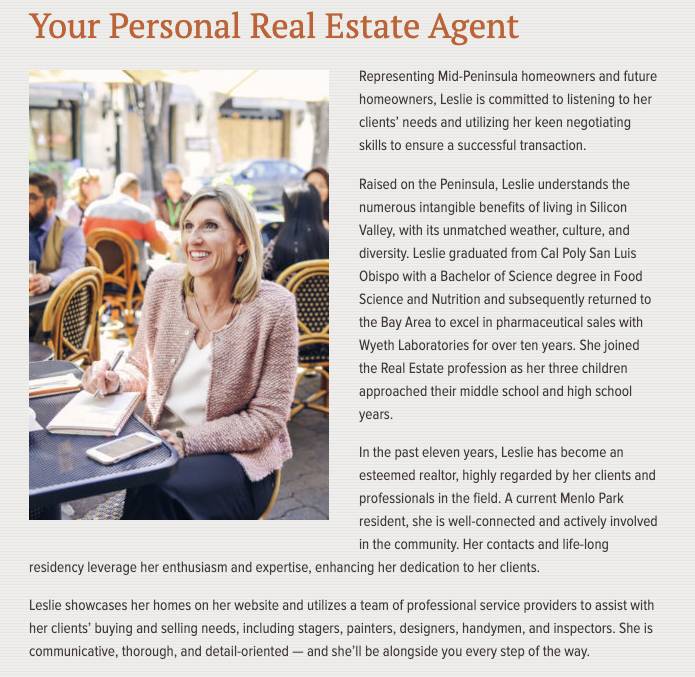 An example of this tip can be found in the real estate bio of Leslie Woods, Realtor, Sereno Group. Phrases like "raised on the peninsula" and "current resident" highlight her community connections and build the know, like, and trust factor. In addition, she gives potential clients a glimpse into her experience level and what it would be like to work with her by stating that she "utilizes a team of professional service providers."
2. Call Attention to Your Achievements
Buying or selling a home is a huge undertaking. Mentions of awards or other achievements in your bio is a great way to increase a potential client's confidence that you will be able to help them achieve the results they are looking for. However, it is also a good idea to only list awards that can be backed up with public information or specifics instead of making big generalized claims like "number one realtor," which can be disproved.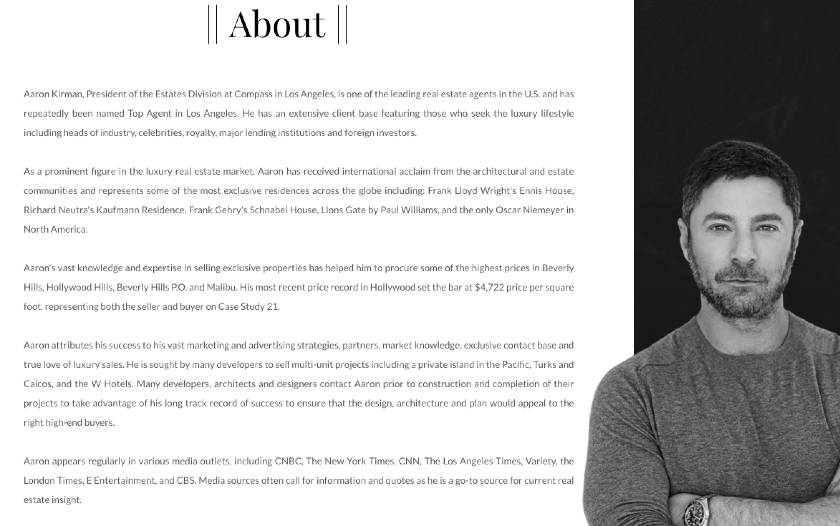 For example, Aaron Kirman, President of Aaroe Estates at John Aaroe Group, uses phrases like "named Top Agent in Los Angeles," "received international acclaim," and "sought by many developers" to bring attention to his achievements. He also sets a standard by giving specific numbers like "his most recent price record in Hollywood was $4,722 per square foot," and naming famous properties he's represented, which also serves to make his clientele clear.
Another way to do this is to list any designations or certifications you have received, like shown in the example of Maura Neill, Associate at RE/MAX: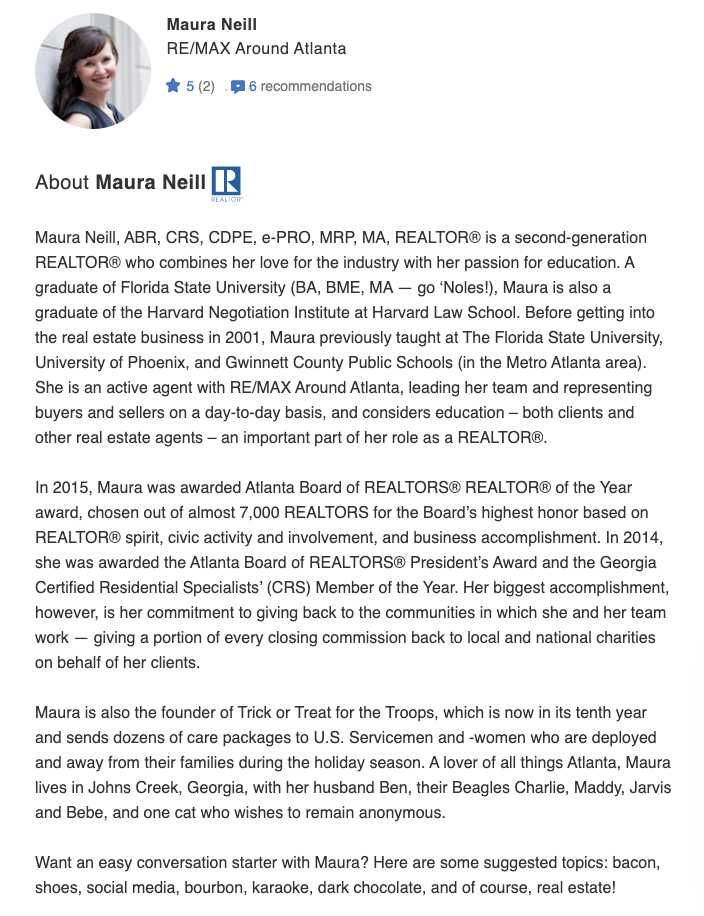 She starts her bio by listing of all her certifications, "ABR, CRS, CDPE, e-PRO, MRP, MA, REALTOR." She also names her awards and additional contributions to the community: "awarded 2015 Realtor of the Year award, chosen out of almost 7,000 Realtors," "awarded Georgia Certified Residential Specialists CRS Member of the Year," "the founder of Trick or Treat for the Troops."
3. Make Your Bio Scannable for Quick Readers
Potential clients don't want to spend hours reading through bios, and many will be researching agents on their phones. This is why it is important to structure information so that it is easy to digest. No matter what platform you are writing for, online readers get overwhelmed by large blocks of text. Make sure you break up your bio into short sections to make it easier to read, and include headings and bullet points when you can.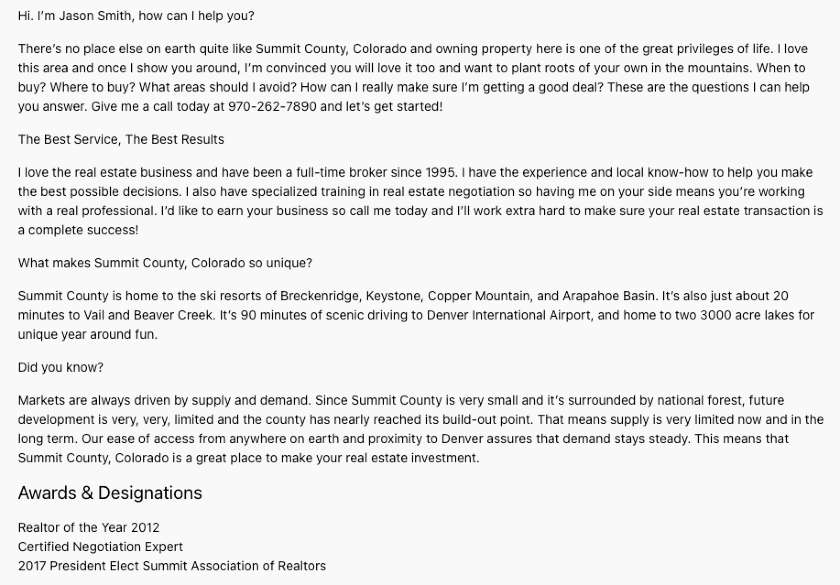 Jason J. Smith, President and Founding Partner of Colorado Real Estate, offers a highly scannable bio that makes use of subheadings for increased readability. He also keeps the language simple and conversational throughout and directly addresses FAQs. Finally, instead of writing paragraphs about his achievements, he lists them clearly at the bottom.
4. Articulate Your Value to Clients
While your bio is, on the surface, about you, it should really communicate the value you offer to clients to be effective. Uses of specific descriptions of personal qualities like "brings a strategic yet personable approach" or "refreshingly friendly customer care" can be used to differentiate you from other agents while also giving clients an idea of the softer benefits they can expect to gain from working with you.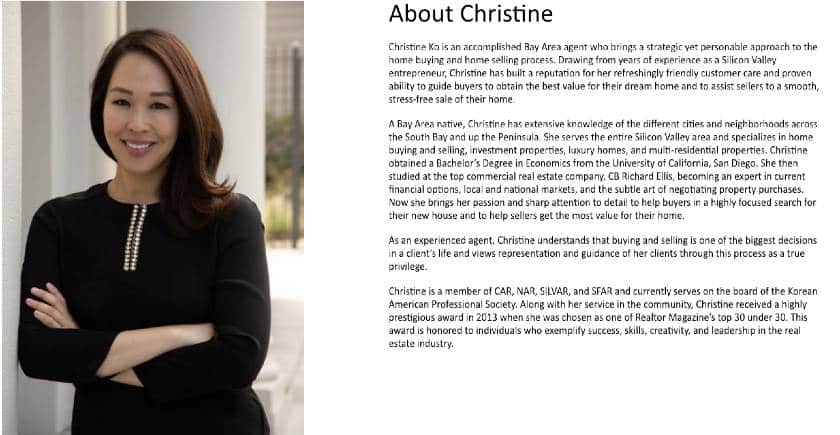 Christine Ko, Senior Sales Associate with Coldwell Banker, does this well in her bio by including descriptions about what she does for buyers and sellers, such as "guide buyers to obtain the best value for their dream home" and "assist sellers to a smooth, stress-free sale." In addition, her relevant education, experience, and accomplishments are also listed throughout the bio. Overall, her awards and achievements are balanced well with her relevance and personal qualities that clients look for in a real estate agent.
5. Include a Motto or Vision Statement
Building a memorable personal brand can help you gain new clients, but it can also help ensure you remain top of mind the next time someone is in need of a referral. This is why it is a great idea to include a short, catchy phrase in your bio that supports your brand-building by concisely reiterating your personal values.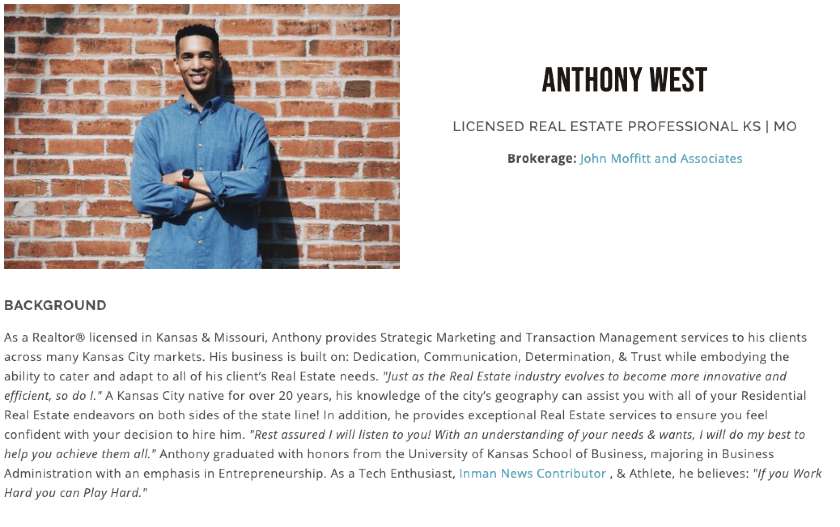 For example, Anthony West, Licensed Real Estate Professional with John Moffitt & Associates, uses the statement "his business is built on: Dedication, Communication, Determination, and Trust" to emphasize his values. This makes it easy to see what he considers most important in his business dealings.
6. Tailor Your Strengths to Your Ideal Client
While it may be tempting to list all of your strengths, accomplishments, and connections in your bio, you'll get better results by considering the priorities of your ideal client, and only include the information that is most impactful for them. This will help to ensure you only attract buyers and sellers who most closely resemble the type of client you serve best.
For instance, if your clients are celebrities and multimillion-dollar properties, then include information about publicity and experience with high-priced property deals. If your farm area is a small town of lower-priced homes, then you may want to highlight strengths in terms of personality traits and community involvement. If you live in an extremely competitive market, highlighting your negotiation skills will have the biggest impact.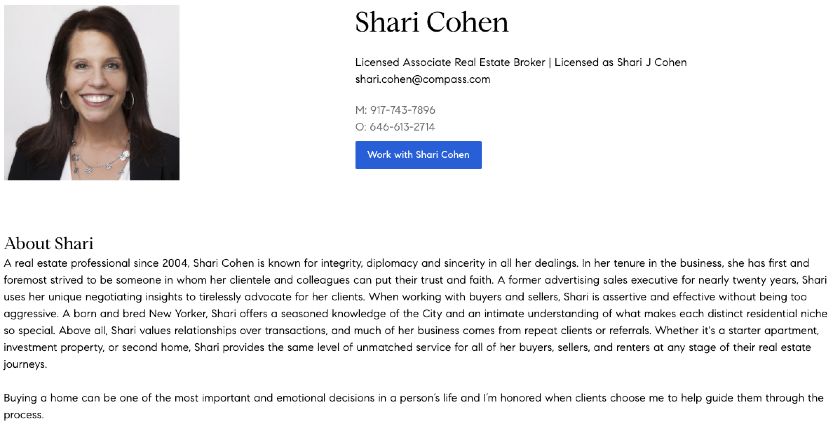 Shari Cohen, Real Estate Broker at Stribling, has a bio that highlights the broker's negotiation skills with statements like "negotiating insights to tirelessly advocate for her clients" and "Shari is assertive and effective without being too aggressive." In her case, she does not state any awards or achievements, but instead uses her real estate bio to focus specifically on what clients want in an agent.
7. List Your Niche Markets
A list of the markets you serve is another great way for potential clients with very specific real estate needs to find you. Mentioning that you understand the needs of first-time buyers or how to market and sell vacation rentals can give you an edge over other local agents with much more generic bios.
Forrest Gregg, Licensed Realtor with Compass Real Estate, uses the phrase "luxury sales to multi-unit developments" in his bio. Referencing more than one niche also tells potential clients that he has a wide range of skills and experience with working with complicated real estate deals.
8. Leverage Your Hobbies
Prospective clients are more likely to trust you if they know a little bit about you as a person, in addition to what you can do for them as an agent. This is why it is a good idea to include tidbits that can give a client a hint of your hobbies or passions outside of the world of real estate. However, use this tip sparingly. After all, the primary purpose of an effective real estate agent is to quickly detail how you can bring value to a prospective client.

Mark Blackwell, Licensed Real Estate Salesperson at Compass, does a good job of blending his value to clients with his past experience. He includes the statement "he loves buildings as much as paintings," which provides a unique, and effective way to connect his background and interests to the specific types of clients he helps.
9. Mention Related Expertise
Prospective clients want an agent who is able to do more than arrange for a showing or file paperwork. This is why it is a great idea to highlight any related expertise that might give you an edge in a prospective client's mind over a competing agent.

Courtney Behan, Broker at Corcoran Global Living, does this in her bio by noting her experience and knowledge of a variety of real estate industries. She includes the phrase "owner and lender to project manager and agent," and states her personal experience with rehabbing fixer-uppers, which can attract a similar clientele. In addition, she specifies how her skills will help her clients in more than one way: "her eye for design can help you visualize and execute improvements."
10. Highlight Your Publicity
Another way to build a prospective client's confidence is to show how you are considered an industry influencer or a trusted expert in the eyes of the media. This is especially beneficial if you are trying to market yourself as a luxury agent. You can do this by listing panels, speaking events, or features you've been mentioned in by well-known outlets.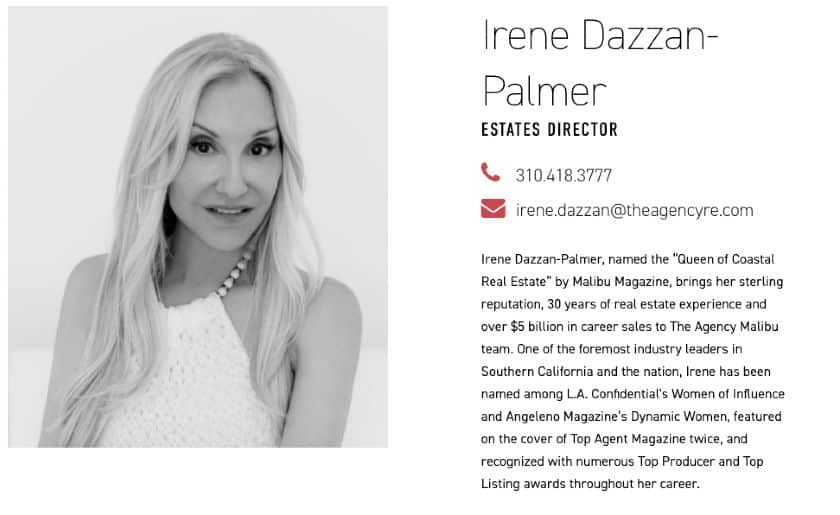 Irene Dazzan-Palmer, Agent with Coldwell Banker, uses her real estate bio to attract her ideal upscale client by highlighting her publicity, experience, and property prices. She states "often featured for insight in Forbes, the Wall Street Journal, the Los Angeles Times, and NBC's Today Show" and "her high-profile clients include entertainment figures, global business leaders, investors, and corporate executives."
In addition to well-placed name dropping, she shows clients what makes her valuable by saying "offering a blend of masterful marketing strategy, stellar negotiating skills, and unrivaled knowledge of the market."
11. Include Keywords Used in Search Engines
If your bio is on a branded webpage, like the kind you can create with Placester or posted in social media, it is searchable. Therefore, think about what your potential clients are typing into Google or LinkedIn when they are looking for an agent or broker, as this can help your bio get discovered. Clever or unique titles can be useful, but you don't want to miss an opportunity to be the answer when someone is actively searching for your help.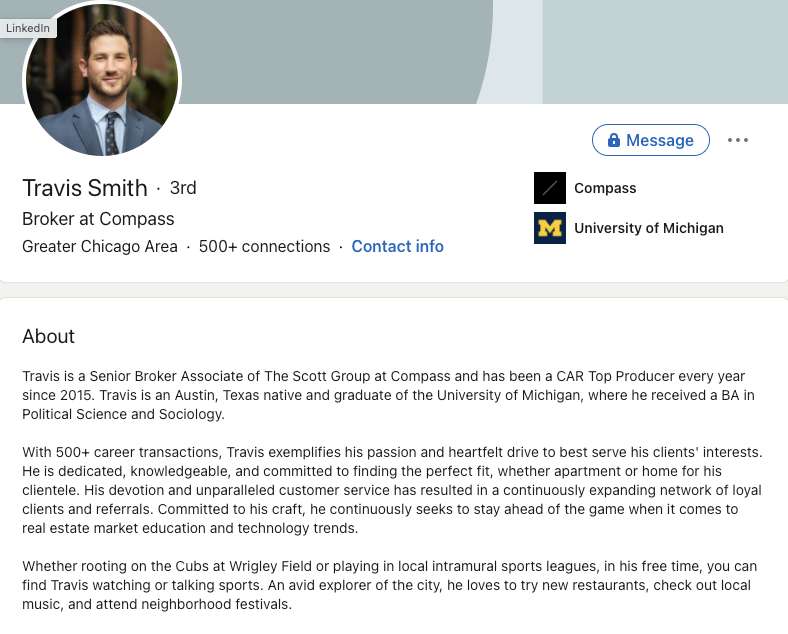 The LinkedIn bio for Travis Smith, Senior Broker Associate at Compass, is a good example of this tip as it uses a simple and direct title to increase chances of being found in LinkedIn as well as on other search engines. It also includes additional specific types of properties his clients are most likely looking for, such as "apartment or home for his clientele," which are other great keywords to target.
12. Keep It Concise
Your real estate bio is not an autobiography. Even though it is about you, the purpose and desired outcome of your bio is to create a connection that inspires readers to contact you, so be selective in what you choose to include. You don't have to mention everything. Whether you're creating a bio on your website, Zillow, Facebook, LinkedIn, or Instagram, think about what is most important for your clients to hear.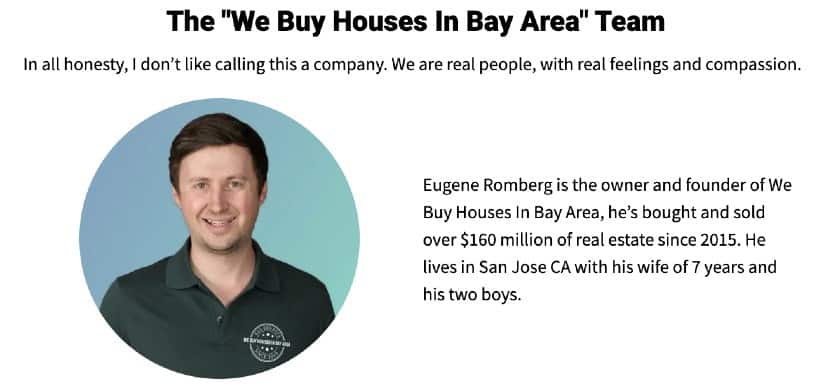 Eugene Romberg, Real Estate Investor at We Buy Houses in the Bay Area, uses a bio that is intentionally short, sweet, and to the point. However, it's still effective because readers can get a high-level understanding of his priorities, his connection to the area, and his expertise in just a few lines.
13. Tailor Your Bio to the Platform
The bio you use on your website does not have to match the bio you use on other online platforms. For example, Realtor.com has a separate area for displaying common information like areas served and years of experience beneath the bio. This gives real estate professionals more room to talk about what makes them unique. Social media platforms, on the other hand, often limit character count, meaning you have to get right to the point.
Realtor.com Bio Example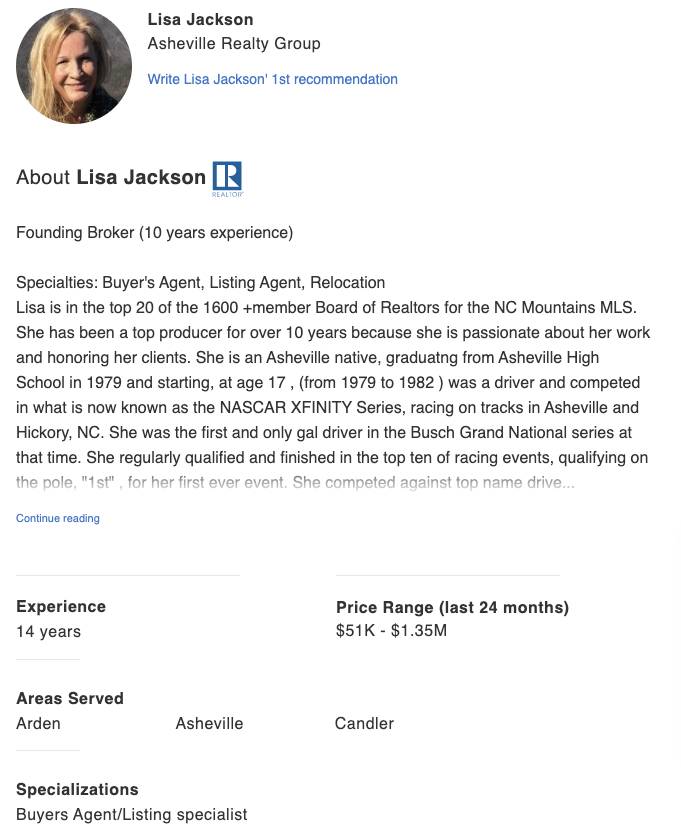 Lisa Jackson, Realtor with the Asheville Realty Group, took advantage of Realtor.com's format to great effect. She used the additional space to include interesting phrases like "the first and only gal driver" and sharing her unique story about being a NASCAR driver. This not only makes her more memorable, it also makes you want to reach out and ask her questions about her unique story.
Instagram Bio Example

Chris Bello, who introduces himself as Houston Real Estate Expert, is able to maximize his Instagram profile with a list filled with emoji bullet points. While he only uses a few characters, his audience knows exactly what result he can get for them—"increase productivity as a real estate agent"—and he even includes his contact information separate from his link by providing his email address.
Twitter Bio Example

Twitter limits the number of characters you can use to promote yourself even more than Instagram, but it can still be a great tool for getting discovered by new clients. Brad Le, Team Lead of the Elevate Group, has a one-sentence bio that includes his role, personal information, and a lighthearted joke that gives you an insight into his personality. He also intentionally uses a laid-back tone to better connect with other users on the platform.
14. Have a Clear Call to Action
No matter where you publish your real estate bio, it is important to always end it with an enticing call to action. This can be as simple as a statement telling prospective callers to click on a link to your website or sign up to schedule a listing appointment. However, it is worth noting that some prospective clients may be put off by a call to action that sounds too much like an aggressive sales pitch.


Julia Henson, Realtor with Murney Associates, instructs prospective clients to download more information about her services at the end of her bio. She recognizes that a client finding her on social media might still be on the fence about buying a new home, and might not yet be convinced that they are ready to sign with an agent. However, by downloading her guide, she is already building trust and confidence by providing them with a value.
15. Keep It Up to Date
As you grow in your career as a real estate professional, you will gain experience, and may find that your specialization changes over time. This is why it is important to periodically review and revise your real estate bio so that it reflects your most up-to-date knowledge and experience.
Cynthia Cummins, Founder and Realtor of Kindred SF Homes, wasn't afraid to revisit her real estate bio on a regular basis. She said, "I'm constantly revising and reviewing my bio on various platforms. I try them on for a while, then change them up like a new pair of boots (or sweatpants)."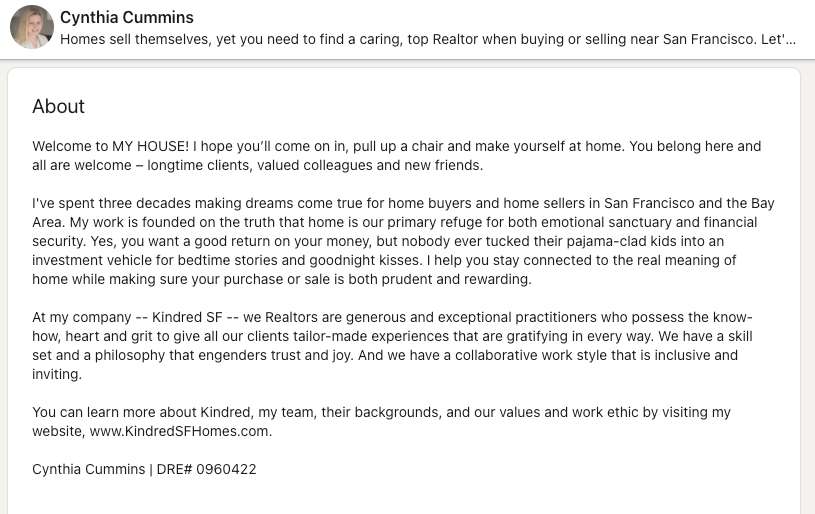 As a result, Cynthia's bio grabs attention and invites curiosity with an intriguing statement, "Homes sell themselves," while still including searchable keywords like "San Francisco Realtor." Then she uses descriptions, storytelling, and humor to draw in readers and build an authentic connection with phrases like "Welcome to my house!," "You belong here and all are welcome," and "Stay connected to the real meaning of home."
Real Estate Agent Bio Template
If you're still not sure where to begin, you can use the following template, which includes all the essential elements of an effective bio:
"[Agent Name] became a ________ after ____ years in [professional background]. A licensed real estate agent since [year], [Agent Name] offers clients extensive expertise as [description of relevant experience].
"Born and raised in [City/Market], [Agent Name] has [his/her/their] finger on the pulse of the local real estate market. In addition to being an enthusiastic resident of [City/Market], [Agent Name] is highly regarded by local residents and business owners and is dedicated to the success of the region.
"[Agent Name] is characterized by [values/personal strengths] and constantly strives to help clients achieve [goals]. [He/she/they] has/have been a top-performing agent at [Agency] and [other awards and achievements]. [Agent Name] specializes in [relocation, interior design, and so on].
"When [Agent Name] isn't helping buyers and sellers achieve their real estate goals, [he/she/they] enjoy[s] [list of hobbies or interests]."
If your real estate bio needs work but you don't have time to draft new content, check out Fiverr. The platform lets you search qualified freelancers who can help write a unique and attention-grabbing bio and update your professional persona across the web. Click here to hire a freelancer for as little as $5.
Bottom Line
An effective real estate bio can take many forms, but you should always tailor it to meet the needs of potential clients in your farm area and directly benefit your real estate marketing strategy. Using the real estate bio examples and template above, frame your expertise and experience uniquely in a way that best captures your real estate philosophy, personality, and approach to business.
Once you have a real estate bio you're happy with, be sure to include it online. For maximum engagement, create an agent account on Zillow Premier Agent and showcase your bio on your agent page. You can even pay to have your information listed on competitor listings in your area to increase real estate lead generation. Click here to get started.