15 Ways to Maximize Your Realtor Bio (+ Bio Template & Examples)
A realtor bio is a foundational piece of your overall marketing strategy. Your real estate agent bio summarizes your skills and abilities as an agent, expertise, successes, and niches or specializations. Ultimately, a strong realtor bio will motivate potential clients to contact and hire you. Download our free realtor bio template and use the 15 tips realtor bio tips and examples from the pros as you write and perfect your own bio.
Free Downloadable Realtor Bio Template With Writing Prompts
Writing your realtor bio can feel daunting if you don't know where to start. Use the bio writing prompts in our free realtor bio template to begin crafting your copy. Then read our top realtor bio tips and see examples from other real estate professionals for inspiration on how to optimize it to attract and convert leads.
If writing marketing copy makes your palms start sweating, don't hesitate to reach out for help. With Fiverr, you can find a freelancer who specializes in real estate and knows how to perfectly compile a real estate agent's bio. With pricing as low as $5, your bio could be perfected and ready to go in a matter of days.
Get the most out of your bio and examples of how to use it in action with these 15 tips from the pros:
1. Use Terms in Your Realtor Bio That Indicate a Local Connection
No matter how much online searching a client does, there is no substitute for your local experience. Even new real estate agents can create an effective bio by demonstrating their knowledge of local neighborhoods, towns, activities, and popular areas. Showcase your familiarity with the community by using words and phrases that reference landmarks in the area or reinforce the fact that you don't just represent buyers and sellers in the area—you live there too.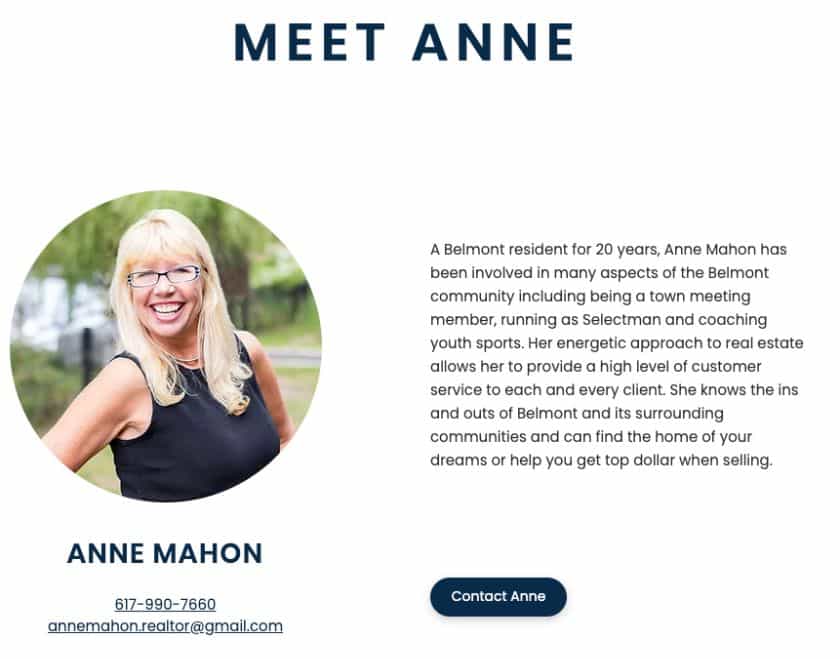 ​​An example of this tip can be found in Anne Mahon's real estate bio. She names a few specific roles she's played in her local community over the span of 20 years, like town meeting member and Selectman candidate. In addition, she gives potential clients a glimpse into her experience level and what it would be like to work with her by citing her "energetic approach to real estate."
2. Call Attention to Achievements & Statistics
Buying or selling a home is a huge undertaking, and representing clients well is just as complex. When you win awards or reach significant achievements, incorporate them into your professional bio to increase potential clients' trust and confidence in you. Limit the awards you name to those that can be backed up with public information or specifics instead of making claims like "number one realtor," which can be disproved.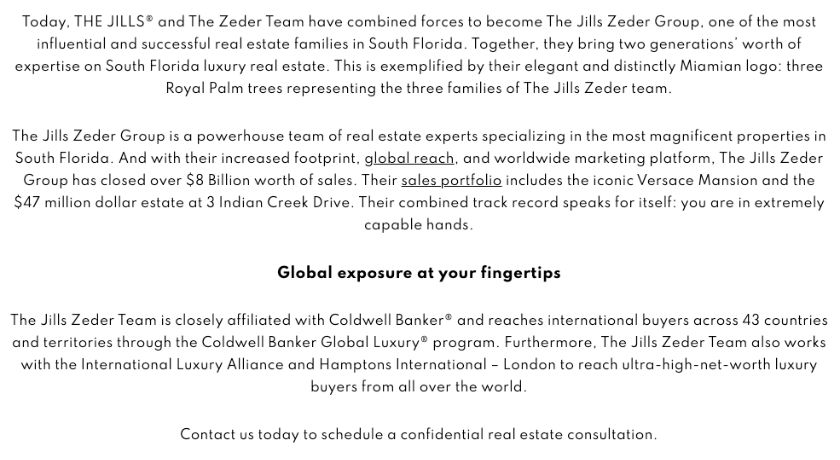 For example, the Jill Zeder Group has a perfect example of how to weave accomplishments and awards into a cohesive and powerful bio. In one short paragraph, they mention their worldwide reach and an extremely famous property sale. Instead of just claiming that they work with "the most magnificent properties," they prove the point.
Another way to highlight your experience is by listing your designations or certifications, like Maura Neill, an Associate at RE/MAX: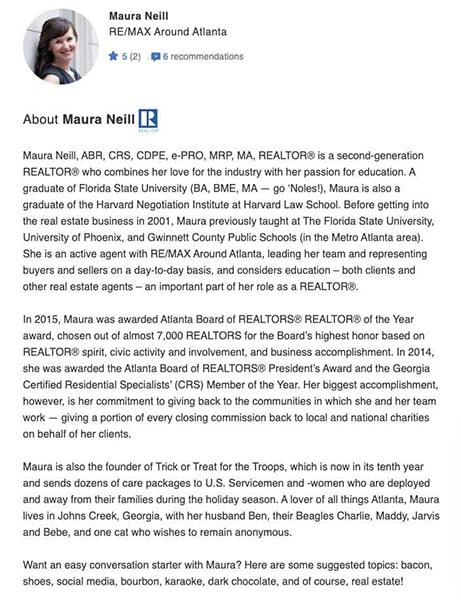 She starts her bio by listing all of her certifications, "ABR, CRS, CDPE, e-PRO, MRP, MA, REALTOR." She also names her awards and additional contributions to the community: "awarded 2015 Realtor of the Year award, chosen out of almost 7,000 Realtors," "awarded Georgia Certified Residential Specialists CRS Member of the Year," "the founder of Trick or Treat for the Troops." These accreditations showcase your value as a real estate agent to potential clients reading your profile.
3. Make Your Realtor Bio Scannable & Concise
Potential clients don't want to spend hours reading through realtor bios. In fact, many people searching for an agent do so on smartphones, so you don't want to overwhelm them with too much information. Instead, structure the information into easy-to-digest short sections that make it easier to read and include headings and bullet points when you can.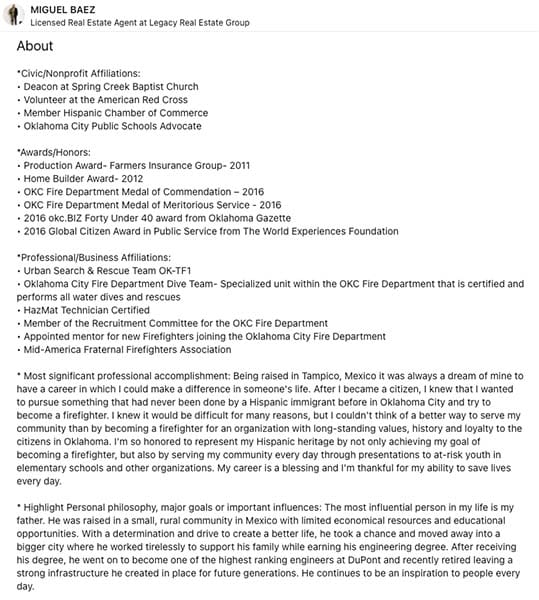 This is clearly shown in the realtor bio of Miguel Baez. His realtor bio is separated into bullet points, so readers can find everything they need to know about his various awards, honors, passions, affiliations, and personal philosophy. He also keeps the language simple and conversational throughout and shares personal information that helps make a connection with the prospect.
4. Articulate Your Value to Clients
While your bio is, on the surface, about you, it should ultimately communicate the value you bring to clients in a real estate transaction. Just like you write property descriptions with intentional real estate words, take the same care when crafting your bio. By describing a few specific personal qualities, you'll differentiate yourself from other agents while also giving clients an idea of the softer benefits they can expect when working with you.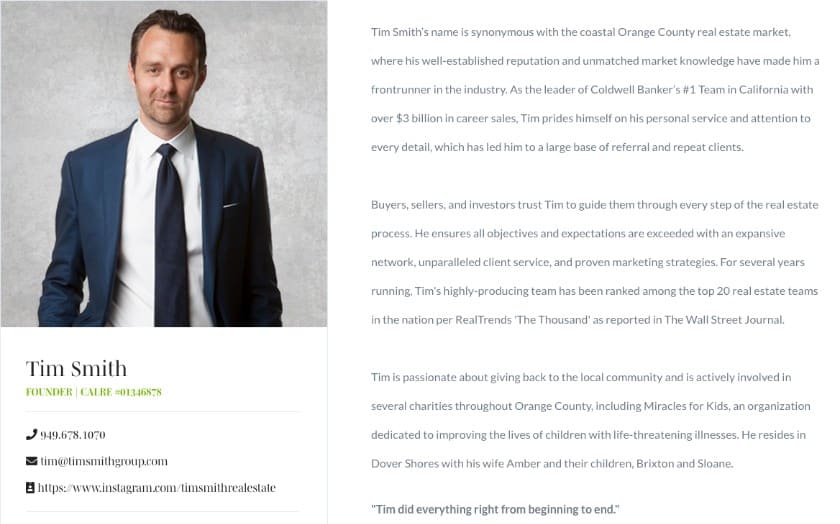 Tim Smith, the founder of the Smith Group, does this well in this real estate agent bio example by including descriptions of specific qualities he brings to clients, like trustworthiness, a large network, marketing strategies, and "personal service and attention to every detail." In addition, his major accomplishments are incorporated smoothly throughout the content and are balanced well with the personal qualities that clients need.
5. Include a Motto or Vision Statement
Building a memorable personal brand can help you gain new clients, but it can also help ensure you remain top of mind the next time someone needs a referral. This is one reason why many successful real estate agents use a short catchphrase or motto in their marketing content. It's a more memorable way to support your brand-building efforts.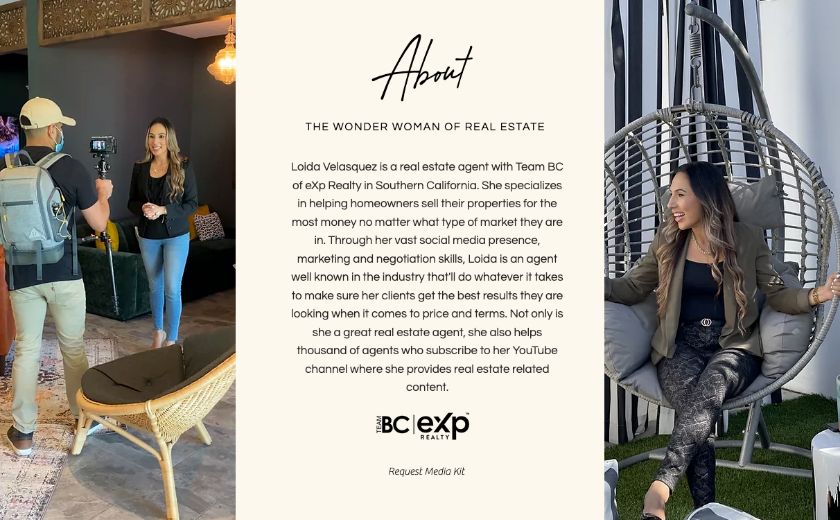 For example, Loida Velasquez uses the title, "the Wonder Woman of Real Estate" to communicate her expertise as an expert for sellers as well as a consultant for struggling agents. This is a memorable phrase that makes it easy to remember her ability to help multiple audiences.
6. List Strengths Appealing to Your Ideal Client Types
While it may be tempting to list all of your strengths, accomplishments, and connections in your real estate agent bio, you'll get better results by picking and choosing the most impactful information. Think about the problems and priorities of your ideal client and speak to the specific skills that meet those needs. This will help you generate real estate leads who most closely resemble the type of client you serve best.
For instance, if your clients are celebrities and multimillion-dollar properties, include information about publicity and experience with high-priced property deals. If your real estate farm area is a small town with lower-priced homes, you may want to highlight strengths in terms of personality traits and community involvement. If you live in an extremely competitive market, highlighting your negotiation skills could have the biggest impact, as demonstrated in the realtor bio example below.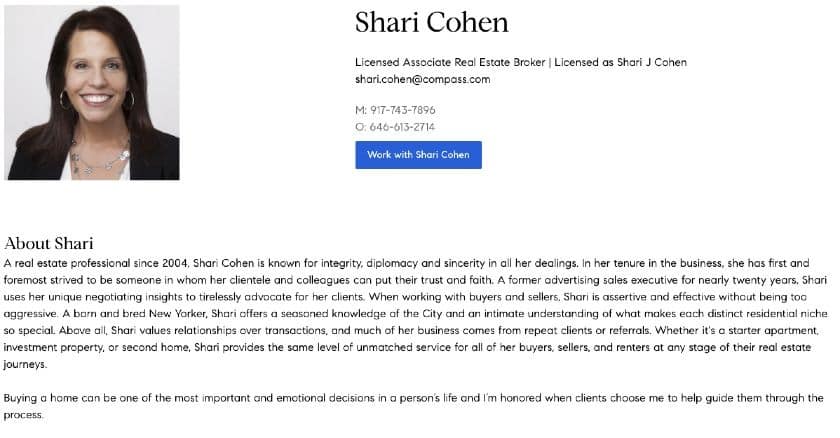 Shari Cohen, Real Estate Broker at Stribling, highlights her negotiation skills with statements like "negotiating insights to tirelessly advocate for her clients" and "Shari is assertive and effective without being too aggressive." Instead of focusing on her awards and achievements, she communicates exactly what clients want in an agent.
7. List Niche Markets in Your Real Estate Agent Bio
When homeowners or aspiring buyers have a specific need or face a unique obstacle, they look for an agent with specialized experience. That's why listing the real estate niches and specific markets you serve is an important part of your real estate branding. Mentioning that you understand the needs of first-time buyers or how to market and sell vacation rentals in your realtor bio can give you an edge over other local agents.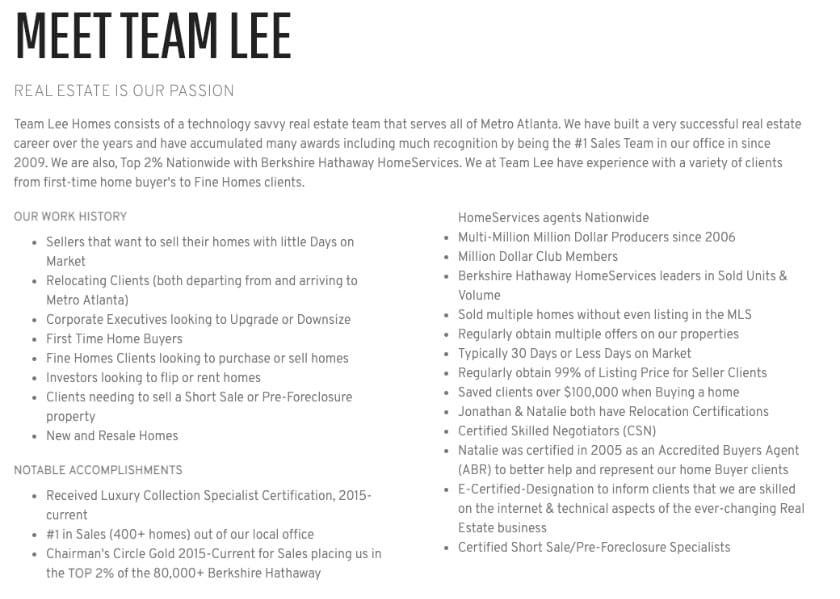 Team Lee Homes, a real estate team in Georgia, highlights their niche services in the first bulleted list in their bio. They list multiple areas, from relocating clients to preforeclosure properties, which shows potential clients that they have a wide range of skills and experience of working with complicated real estate deals.
8. Leverage Your Hobbies to Find Common Ground
Prospective clients are more likely to trust you if they know a little bit about you as a person, not just what you can do for them as an agent. This is why it is a great idea to include tidbits about your hobbies, interests, and passions outside of the world of real estate. However, use this tip sparingly. After all, the primary purpose of an effective real estate agent bio is to quickly detail how you can bring value to a prospective client.

Adam Hopkins, a real estate agent at Hopkins Real Estate Group, has a bio example that perfectly blends his extensive list of achievements with a personal feel. In addition to achievements, the bio expresses his service goal of excellence, technology, and streamlined systems for each client. It also brings up his children's activities and charities he's associated with, all of which can help prospective buyers and sellers feel a personal connection that prompts them to choose his services.
9. Mention Related Expertise in Your Realtor Bio
Prospective clients want an agent who can do more than simply schedule showings or file paperwork. That's why you should include any related experience or expertise you have that sets you apart from other agents. It doesn't matter whether it's a hard skill like a college degree or previous career, or soft skills like your local connections, negotiating expertise, or even social media results.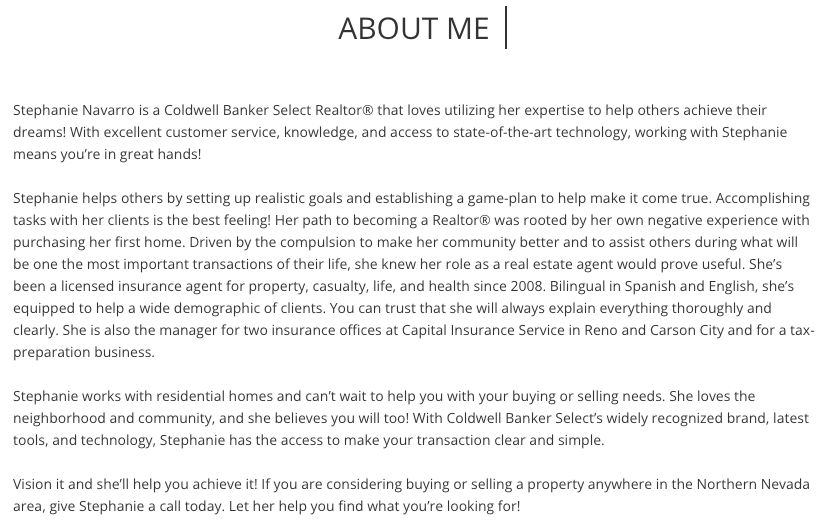 Stephanie Navarro, Realtor at Coldwell Banker, exemplifies this perfectly in this example by mentioning her negative experience with purchasing her first home as well as her previous career and certifications as an insurance agent. She also mentions that she is bilingual. This is not simply a fun addition to a bio—it's a strategic, intentional real estate marketing strategy to appeal to other bilingual or non-English speaking clients. Even small details like this can generate leads with people who want your exact skill set.
10. Highlight Your Publicity
Another way to build a prospective client's confidence is to show how you are considered an industry influencer or a trusted expert in the eyes of the media. This is especially beneficial if you are trying to break into the luxury real estate market. You can do this by listing panels, speaking events, or features you've been mentioned in by well-known outlets.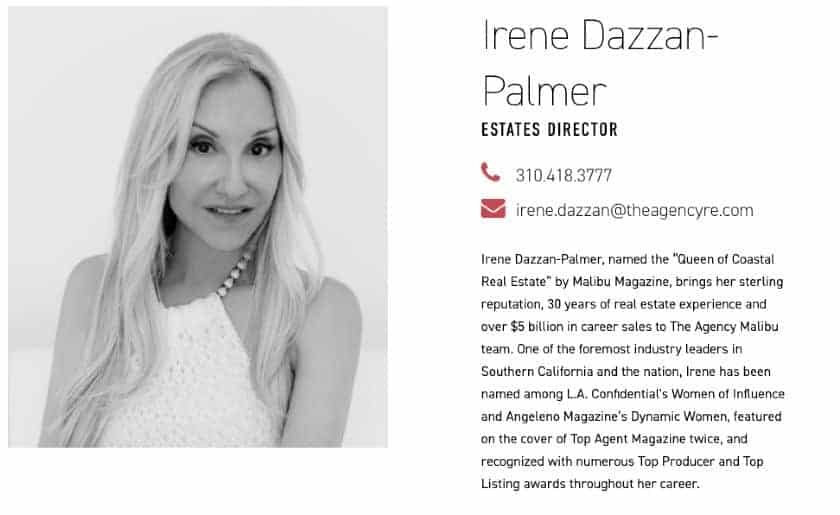 Irene Dazzan-Palmer, Agent with Coldwell Banker, uses her real estate bio to attract her ideal upscale client by highlighting her publicity, experience, and property prices. She states "often featured for insight in Forbes, The Wall Street Journal, the Los Angeles Times, and NBC's 'Today Show'" and "her high-profile clients include entertainment figures, global business leaders, investors, and corporate executives."
11. Use Keywords to Make Your Realtor Bio Search-friendly
Think about what your potential clients are typing into Google or social media pages when they are looking for help. These should become important real estate keywords that you use as part of your strategy within your bio, especially if your bio will be posted online. Although clever or unique titles can be fun, your priority should be on making sure you are findable to those who are searching.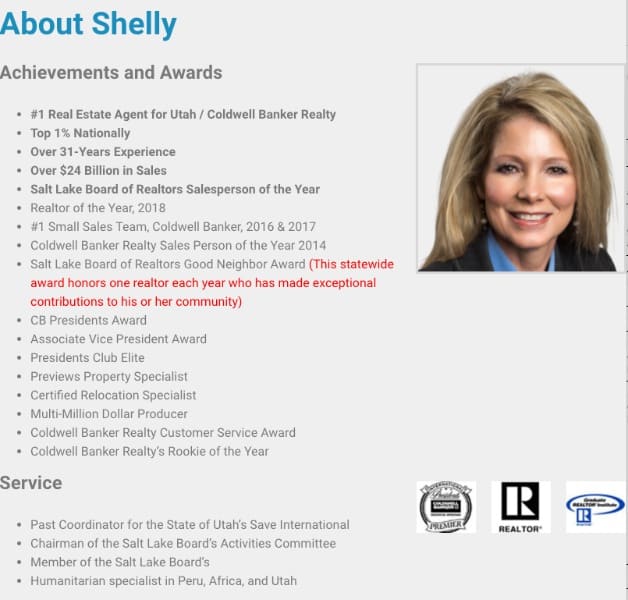 Shelly Tripp has a great example of this in her bio. Instead of sentences or paragraphs, it's full of bullet points. This accomplishes a few different things; it makes her bio scannable, easily communicates all of her experience and awards, and naturally compiles important keywords like "relocation specialist" and "Salt Lake Realtor of the Year."
12. Mention the Power of Your Brokerage
Since nearly every real estate agent is associated with a brokerage or team, it's an asset you should refer to within your real estate bio. Brokerages often provide additional opportunities for the agents or additional services for clients. Think about what your brokerage offers or stands for, and use your real estate bio to share what that means for your clients.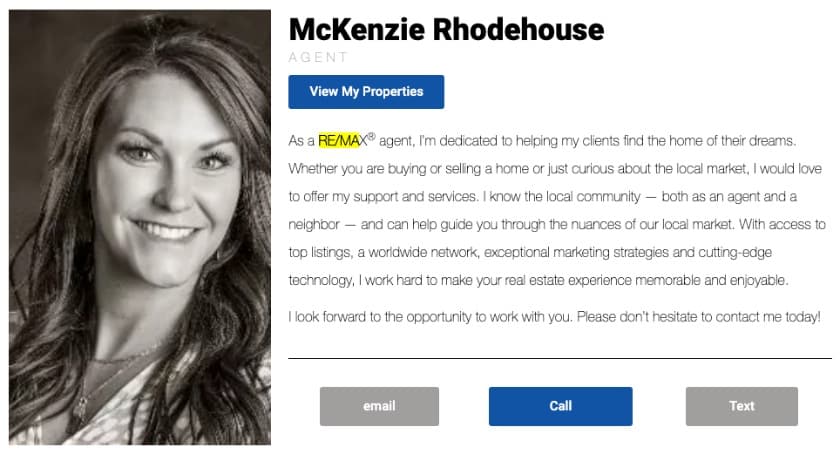 This example from McKenzie Rhodehouse of RE/MAX focuses on the power tools that come with a well-known brokerage. Instead of mentioning any individual accomplishments, she highlights her access to "a worldwide network, exceptional marketing strategies, and cutting-edge technology."
13. Tailor Your Bio to the Platform
The bio you use on your website does not have to match the one you use in print media, email, or social media. For example, Realtor.com has a separate area for displaying common information like areas served and years of experience beneath the bio. This gives real estate professionals more room to talk about what makes them unique. On the other hand, social media bios often limit character count, which forces you to shorten your bio into the most important bite-sized pieces.
Realtor.com Bio Example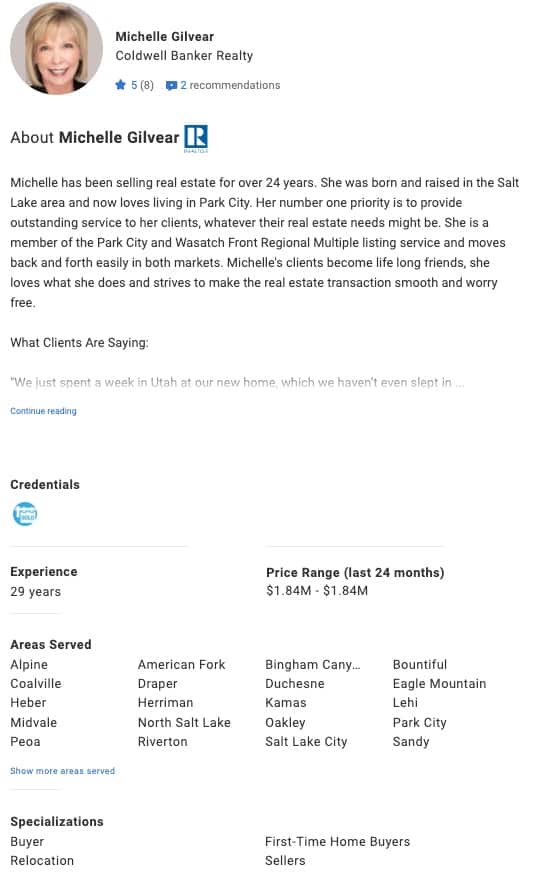 A strong example of a realtor bio doing this is from Michelle Gilvear, an agent with Coldwell Banker. Her biography is contained to a few simple sentences, and then she uses multiple client testimonials to show what other clients have said about her. She also takes advantage of Realtor.com's format by listing her credentials, specializations, and areas served. This simultaneously helps her with keywords that can help clients find her within the Realtor.com website.
Zillow Bio Example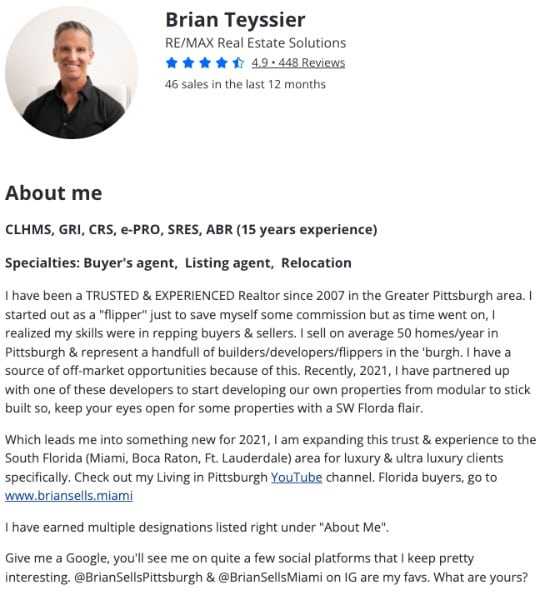 Since Zillow is the real estate platform with the highest amount of traffic, make sure to optimize your bio for this platform specifically. Zillow provides room for your full bio, title, years of experience, specializations, customer ratings and reviews, and even links to your website or social media platforms. It also shows your current and past listings. Fill out as much of this information as possible in order to be searchable and to stand out from other agents on the platform.
The best way to stand out on Zillow and generate leads who are ready to convert is by being a Zillow Premier Agent (ZPA). Premier Agents get priority placement not only on their listings but also on any additional local listings that aren't claimed. Your profile will show up for homebuyers when they find a property they're interested in, which puts you in touch with buyers at the exact time they most need your help.
Instagram Realtor Bio Example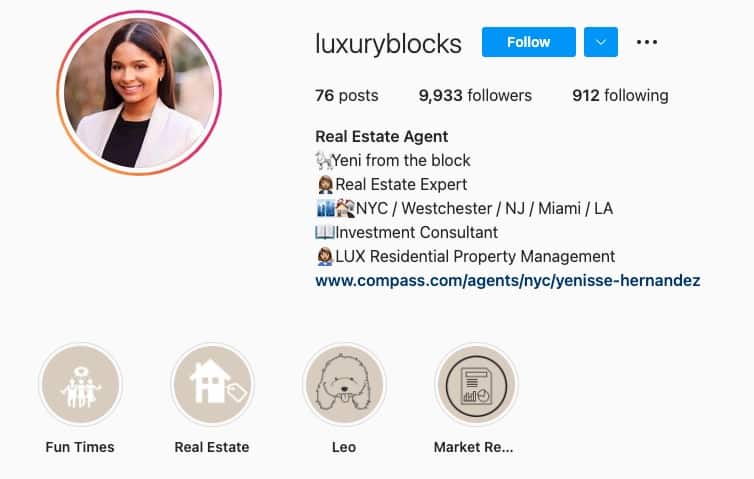 On Instagram, your bio is limited to 150 characters. One way to work around this, exemplified by Yenisse Hernandez, is by using emojis like bullet points. Instead of trying to weave a large bio into one sentence, use multiple lines to communicate how you serve clients. In addition, your name and website link are two additional lines you can use creatively. For example, Yenisse doesn't include her first and last name in her Instagram bio, but uses the space to use the keyword "real estate agent."
Twitter Real Estate Agent Bio Example
On Twitter, the character limit for your bio is 160 characters. However, this isn't the only element at your disposal on this platform. Similar to Instagram, there are additional spots to add a link and your name. Plus, you can also use a header image to creatively incorporate your branding and additional information.
You can see how one real estate agent, Gillian Cunningham, optimized her Twitter bio by adding a keyword to her name and customizing her header image with her contact information and a call to action. She also uses this section to focus on the way that she serves clients. This is a perfect example of how you can phrase your "about me" section to motivate potential clients to reach out to you.
Creating a header image for Twitter and other social networks doesn't have to be a big undertaking. Even if you have no graphic design experience, Canva's free online editing tool has an extremely easy-to-use interface and thousands of design options and elements. There are even premade social media header templates you can customize in a matter of minutes.
Facebook Real Estate Bio Example
On Facebook, your "about" description is limited to 255 characters and appears in Facebook search results. However, you can add up to 50,000 characters in "additional information." Setting up your Facebook page can be confusing, which is why many agents unfortunately aren't able to fully optimize their profile. To make sure that you don't miss out on potential clients, follow our steps to set up your real estate Facebook page.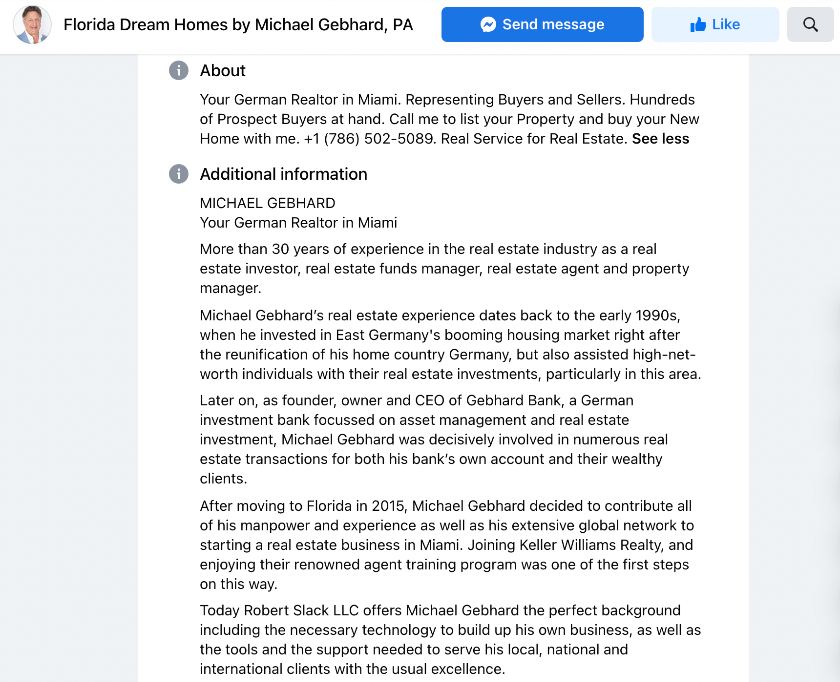 This example from Michael Gebhard, a Miami real estate agent, shows how you can take advantage of all available space to attract your ideal client. He uses keywords in his heading, "Florida Dream Homes," and establishes exactly who he is and what he serves in his Facebook bio. In the additional information section, he goes into further detail about his experience in real estate, finance, and business.
Using keywords in your real estate bio will help you generate more leads, but you shouldn't stop there. Including keywords in your real estate website can generate even more leads from search engines. With a website creator like Placester, you can get a real estate website up and running in a matter of hours. Placester also has built-in search engine optimization (SEO) tools like headings and meta descriptions so you can make the most of your selected keywords.
LinkedIn Bio Example
Two primary elements make up your LinkedIn bio: your actual profile, and the "about" section. Just like Twitter, LinkedIn allows you to upload a custom header, which opens the door for your branding. In addition, you can use your name and the headline to add keywords to help you attract and generate real estate leads on LinkedIn. The about section generally can be used for a longer and more typical realtor bio, where you can use all of the tips in this article to successfully weave your story and expertise together.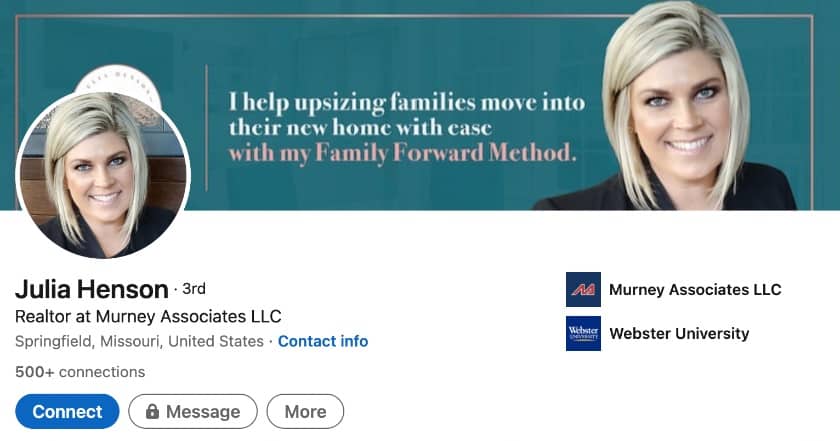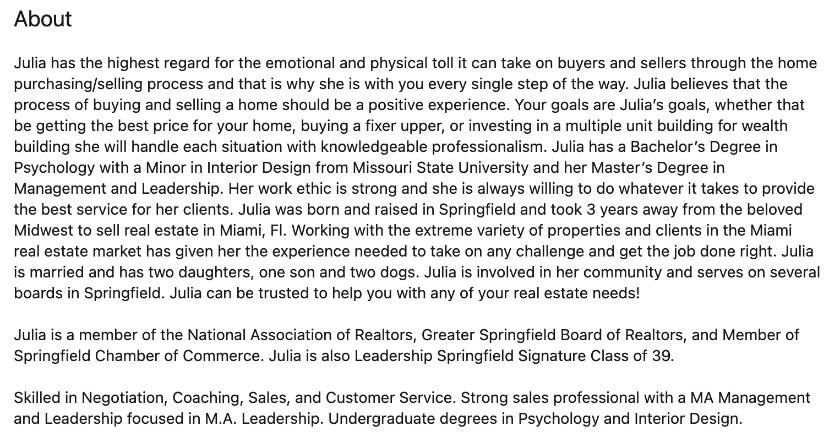 Julia Henson has an optimized profile that is easily searchable and speaks directly to her target audience, which is families who are upsizing to a home with room to grow. Her bio mentions her local expertise, ideal client, and hard and soft skills like her college minor in interior design, master's degree in management and leadership, and skills with negotiation, customer service, and local expertise. All of these elements help to establish her authority and trustworthiness as a real estate agent.
14. Have a Clear Call to Action
No matter where you publish your real estate bio, it is important to always include an enticing call to action or the next step for interested readers to take. This can be as simple as a statement telling prospective callers to click on a link to your website or sign up to schedule a listing appointment. However, it is worth noting that prospective clients may be put off if your call to action sounds too much like an aggressive sales pitch.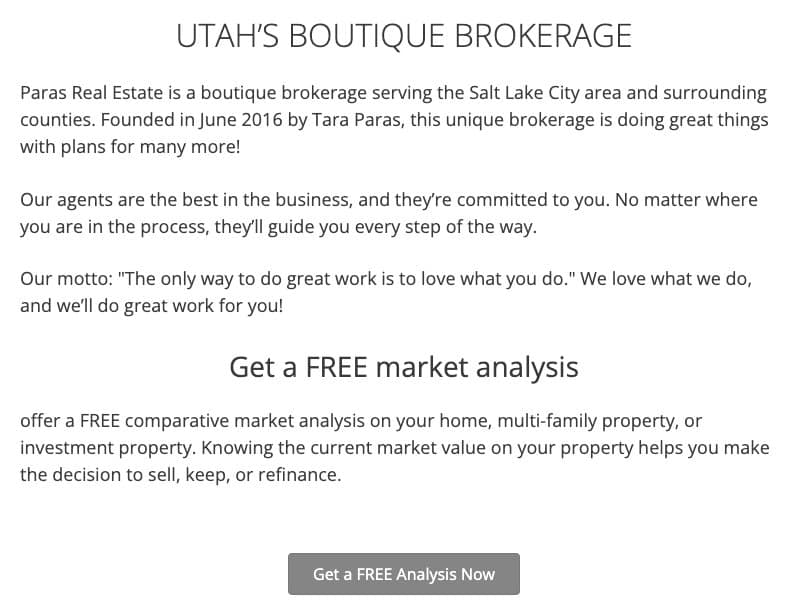 Paras Real Estate, a brokerage in Utah, offers a free resource instead of simply asking clients to call or click. By offering a free market analysis in exchange for an email address, the new lead feels like they are getting something of value to start the relationship. This is a classic and effective method of lead generation that can attract qualified clients.
15. Keep Your Realtor Bio Up to Date
As you grow in your career as a real estate professional, you will gain experience with a variety of clients and real estate sales. Over time, you may find that your specialization or ideal audience changes. This is why it is important to periodically review and revise your real estate bio so that it reflects your most up-to-date knowledge and experience.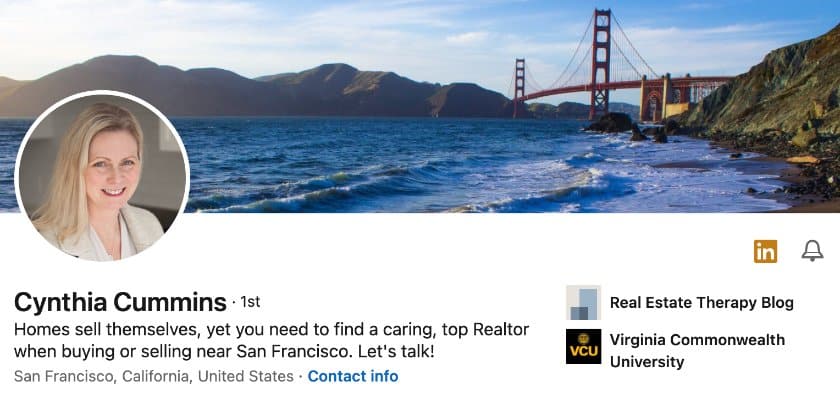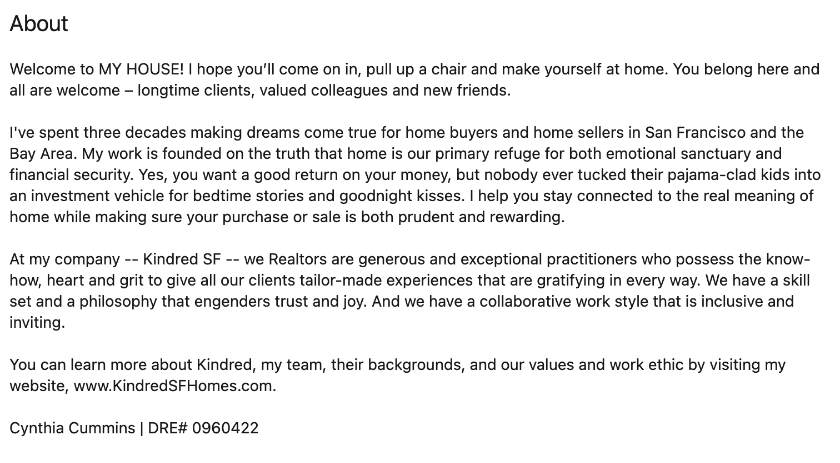 Cynthia Cummins, the founder of Kindred SF Homes, says, "I'm constantly revising and reviewing my bio on various platforms. I try them on for a while, then change them up like a new pair of boots (or sweatpants)."
As a result, Cynthia's bio grabs attention and invites curiosity with an intriguing statement, "Homes sell themselves," and includes searchable keywords like "San Francisco Realtor." She also uses descriptions, storytelling, and humor to draw in readers and build an authentic connection with phrases like "Welcome to my house!" as well as "You belong here and all are welcome" and "Stay connected to the real meaning of home."
Bottom Line
An effective real estate bio can take many forms, so yours doesn't have to look the same as other agents and brokers. For the best results, you should continually tailor it to meet the needs of potential clients in your farm area and complement your overall marketing strategy and branding. Using the real estate bio examples and template above, frame your expertise and experience uniquely in a way that best captures your real estate philosophy, personality, and approach to business.