14 Realtor Bio Tips (+ Examples & Free Template Download)
A realtor bio is a critical component of your overall marketing plan. It is the first thing potential clients see when searching for information about your expertise. The best way to share details in your bio is to include your professional headshot, expertise, strengths, hobbies, successes, and niches as an agent. A solid real estate bio will motivate potential clients to contact and hire you.
If writing your bio copy makes your palms sweat, don't hesitate to ask for help. With Fiverr, you can hire a freelancer specializing in real estate and an expert who perfectly compiles a real estate agent's bio. With a starting price of $5, you can have an excellent biography ready in a few days.
Download our free realtor profile bio template and use the bio writing prompts to get started. For ideas on optimizing your realtor bio to attract and convert prospects, continue reading for our top bio tips and examples.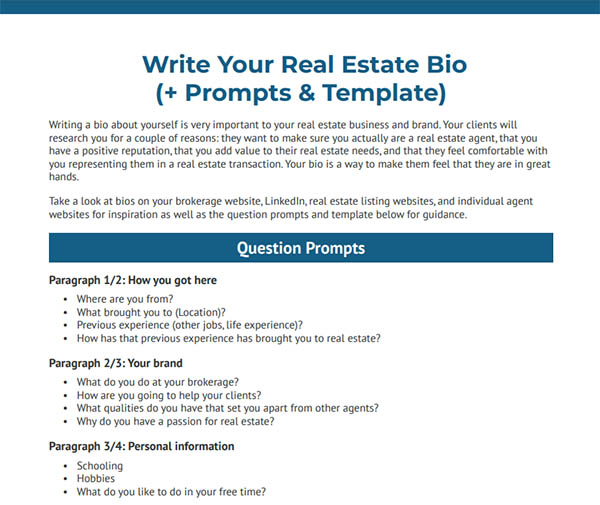 Thank you for downloading!
💡 Quick Tip:
Placester provides a variety of customizable real estate website templates to help you capture leads. It also has various do-it-yourself and done-for-you options to fit your budget and needs. Its pricing starts at $79 per month, billed annually.
Visit Placester
1. Choose a Professional Headshot
A realtor headshot is essential to establishing your business and personal brand, helping you portray credibility, confidence, and professionalism to attract more clients. Invest time and effort in hiring a professional photographer and preparing for the photo shoot with the appropriate attire, attitude, position, and smile. These are critical elements to ensure your bio photo turns out professional. Avoid using a selfie, choose a proper background, and ensure your head isn't cropped.
2. Tailor Your Bio to the Platform
The bio on your website doesn't have to be exactly the same as the one in print, email, or social media. Realtor.com, for example, includes a distinct section beneath the bio for presenting standard information, such as locations served and years of expertise. This provides real estate professionals more space to discuss what distinguishes them. On the other hand, social network biographies frequently have character limits, forcing you to condense your bio.
Michelle Gilvear, a Coldwell Banker agent, provides an excellent example of a real estate bio that does this tip. Her biography contains a collection of client testimonials—displaying client feedback. She also uses the format of Realtor.com to list her credentials, expertise, and areas served. This helps her with keywords that will assist clients in locating her on the Realtor.com website.
---
Because Zillow is the most popular real estate platform, tailor your bio to this platform. Zillow allows you to include a complete bio, title, years of experience, specialty, customer ratings and reviews, and links to your website or social networking sites. It also displays your current and previous listings. Fill out all the information, as much possible, so that you can be found and distinguished from other agents on the site.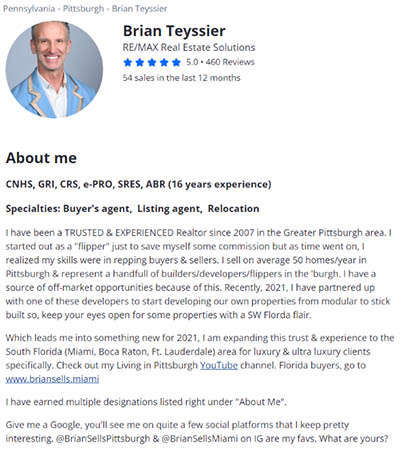 ---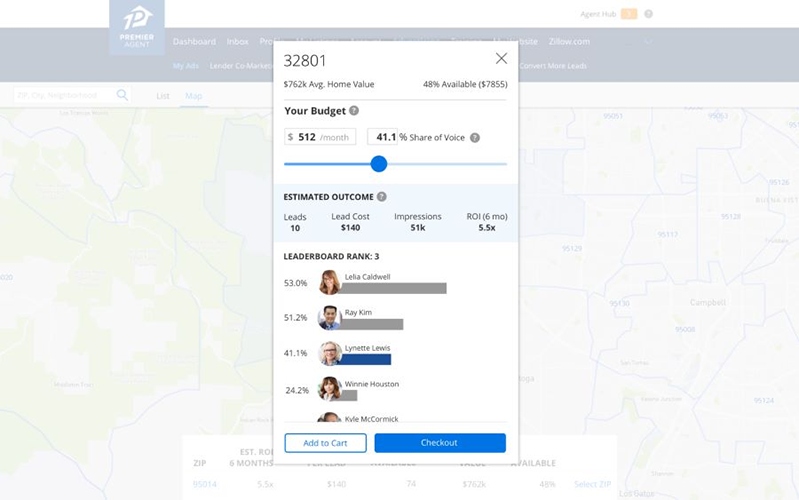 ---
Becoming a Zillow Premier Agent (ZPA) is the best method to stand out on Zillow and generate ready-to-convert leads. Premier Agents are given priority placement on their own listings and any extra local listings that are not claimed. Your profile will appear for homebuyers when they identify a property of interest, putting you in touch with buyers who are most in need of assistance.
---
Your bio on Instagram is restricted to 150 characters. As demonstrated by Jessica Marshall, one solution is to use emojis as bullet points. Instead of trying to fit a lengthy bio into a single sentence, break them into lines to explain how you support clients. Also, your name and website link are two additional lines that you can use creatively. Jessica, for example, includes her first and last name in her Instagram profile and uses the space to add the keywords "realtor" and "real estate agent."
---
Twitter's bio character limit is 160 characters. However, there's more than one feature available on this platform. Like Instagram, you can add your name and a link to specific spots. Use a header picture to creatively include your real estate branding and additional information.
A real estate agent, Gillian Cunningham, enhanced her Twitter bio by including a keyword in her name and personalizing her header image with her contact information and a call to action. She also uses this area to discuss how she assists clients. This is an excellent sample realtor bio of how to phrase your "about me" section to entice potential clients to contact you.
Making a header picture for Twitter or other social networks can be simple. Even if you have yet to gain experience with graphic design, Canva's free online editing tool provides a very user-friendly layout and thousands of customization options and elements. There are even preset social media header layouts that you can change quickly.
---
Your Facebook "About" description is restricted to 255 characters and displays in search results. But, in the "Additional Information" section, you can write up to 50,000 characters. Putting up your Facebook page might be complex, which is why many agents are unable to fully optimize their profiles. To ensure you avoid missing out on potential clients, read and follow our steps to set up your real estate Facebook page.
This example from Michael Gebhard, a Miami real estate agent, demonstrates how you can use all available space to attract your target client. He includes keywords in his name, "Florida Dream Homes," and explains who he is, what he does, and his experiences in real estate, finance, and business in his "about section."
Utilizing keywords in your real estate bio and website enables you to get more potential and search engine leads. With a website builder like Placester, you can have a real estate website up and running in hours. It includes search engine optimization (SEO) tools, such as headings and meta descriptions, to help you maximize your chosen keywords.
---
The LinkedIn bio comprises two major components: your profile and the "About" section. LinkedIn, like Twitter, enables you to upload a custom header, which helps you to brand yourself. Furthermore, you can add keywords to your name and title to attract and generate real estate leads on LinkedIn. The about section is typically used for a longer and more conventional realtor bio, where you may successfully tie your biography and experience together using all of the tips in this article.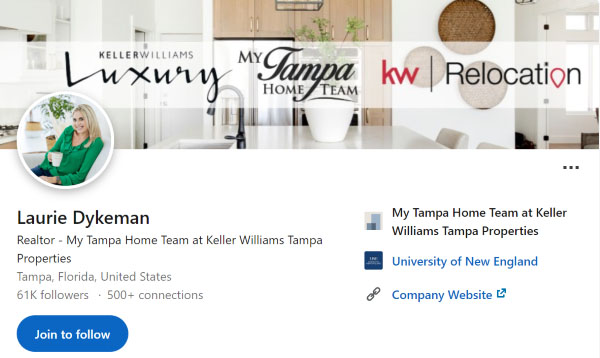 ---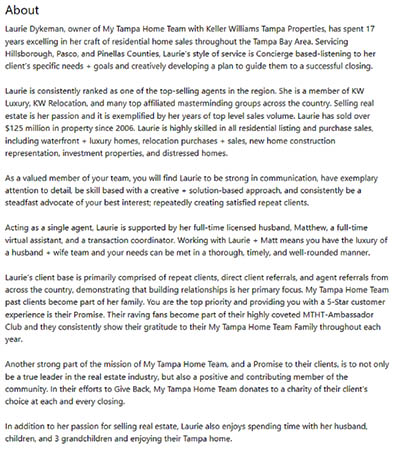 ---
Laurie Dykeman has a well-optimized profile that is easily accessible and speaks directly to her target demographic, which is families looking for homes in Tampa Bay Area, Servicing Hillsborough, Pasco, and Pinellas Counties. Her bio highlights her local expertise, ideal client, and hard and soft skills, such as strong communication skills, exemplary attention to detail, and being a skilled realtor with a creative and solution-based approach. These factors contribute to her authority and dependability as a real estate agent.
---
3. Make Your Realtor Bio Scannable & Concise
Structure your content into short, easy-to-digest sections to make it easier to read, and incorporate headings and bullet points whenever possible. For instance, Miguel Baez's realtor bio includes bullet points to help readers learn about his achievements, awards, hobbies, affiliations, and personal philosophy. He also uses straightforward, conversational language and gives personal information that helps him connect with prospects.
4. Use Keywords to Make Your Bio Search-friendly
Consider what potential clients are typing into Google or social media pages when seeking help. These should become important real estate keywords you can use as part of your strategy within your bio, especially if you will post your bio online. Although creative or unique titles can be fun, your priority should be ensuring you are findable to those searching.
Shelly Tripp's bio is a fantastic illustration of this. It's full of bullet points rather than phrases or paragraphs. This meets several goals: it makes her bio scannable, presents her experience and awards clearly, and organically aggregates important keywords like "Certified Relocation Specialist" and "Salt Lake Board of Realtors Salesperson of the Year."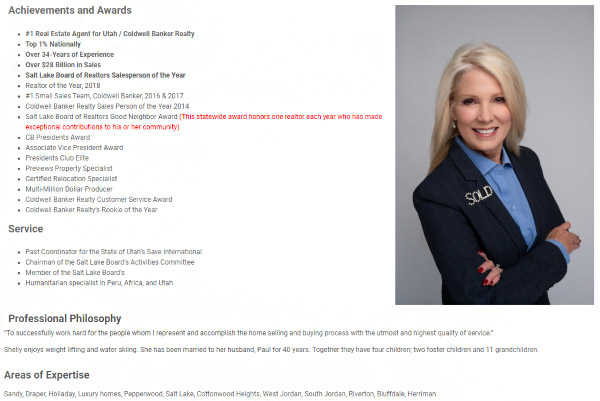 ---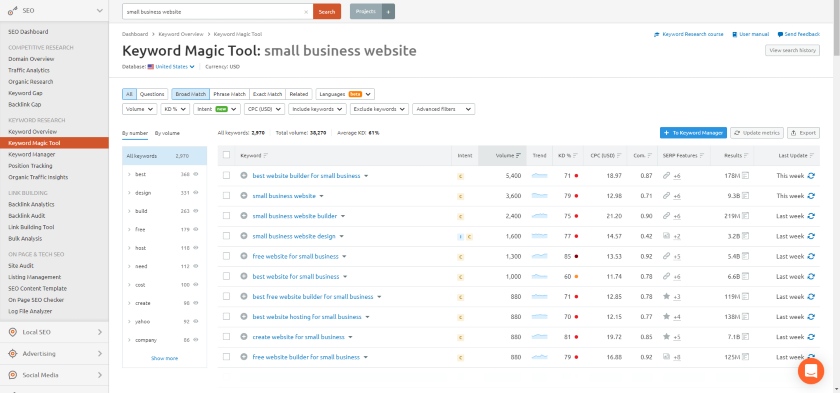 ---
To maximize your social media and Google pages, add the right keywords. If you need assistance selecting keywords, Semrush offers complete search engine optimization (SEO) research tools, including in-depth information on your competitor and search volume trends. Aside from these, it has an extensive keyword database and offers technical SEO tools and keyword research features for Google ads.
5. Include a Memorable Catchphrase, Motto, or Vision Statement
Many successful real estate brokers incorporate a short catchphrase or motto into their marketing materials. They create an impactful personal brand that can help you win new clients, stay top of mind when someone needs a referral, and strengthen your brand-building efforts. For example, Loida Velasquez utilizes the title "Wonder Woman of Real Estate" to convey her expertise as an expert for sellers and a consultant for struggling agents. This easy-to-recall phrase makes it easy to remember her ability to help multiple audiences.
6. Mention Related Expertise
Potential clients want an agent who is capable of doing more than just scheduling showings and filing paperwork. To differentiate yourself from other agents, highlight relevant experience or knowledge, such as a college degree, previous career, or a soft skill like your local connections, negotiating expertise, or social media results.
Michael Gebhard, who has been mentioned above as an example in a Facebook bio, exhibits this tip by sharing he has "more than 30 years of experience in the real estate industry as a real estate investor, real estate funds manager, real estate agent and property manager." He also reveals being multi-lingual—a deliberate real estate marketing strategy to attract additional multi-lingual or non-English speaking clients. Even minor details like these can produce leads from folks looking for your particular skill set.
7. Use Terms That Indicate Your Local Connection & Niche Markets
Real estate agents can create a compelling bio by presenting their knowledge of local neighborhoods, towns, activities, and popular areas. As a result, stating the real estate niches and particular areas you serve is critical to your real estate branding. Use words and phrases that allude to local landmarks or emphasize that you don't simply represent buyers and sellers in the area but also live there to demonstrate your connection with the neighborhood.
Team Lee Homes, a Georgia real estate team, emphasizes their niche services in the first bulleted list in their bio. They highlight a variety of sectors, from relocating clients to preforeclosure properties, demonstrating to potential clients that they possess various skills and expertise working with complex real estate transactions.
8. Draw Attention to Achievements & Statistics
When you win awards or accomplish notable achievements, include them in your professional bio to boost the trust and confidence of your potential clients. But remember to limit the awards you disclose to those you can back up with public information or credentials.
The first image below from the Jill Zeder Group is an excellent illustration of how to blend accomplishments and awards into a cohesive and powerful bio. They highlight their global reach and a well-known property sale in one short paragraph and prove it by adding a link.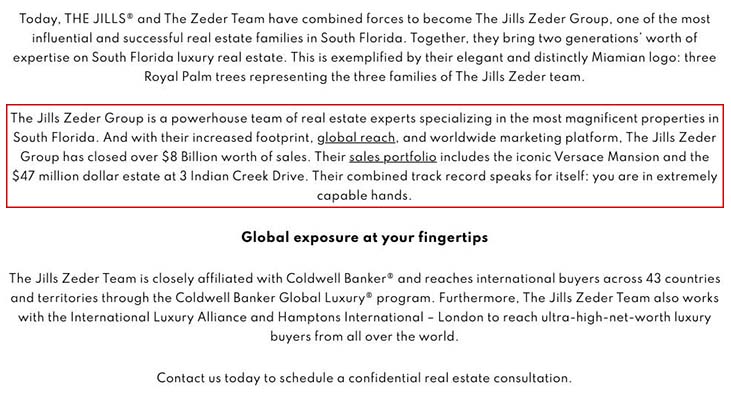 ---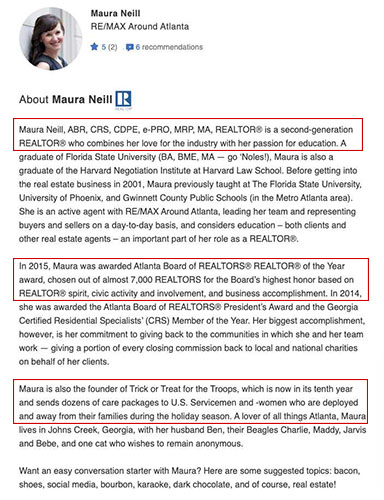 ---
Including designations is another method to highlight your experience, as these will demonstrate your value to potential clients reading your profile. For example, Maura Neill, an Associate with RE/MAX, begins her bio by listing her certifications: "ABR, CRS, CDPE, e-PRO, MRP, MA, REALTOR." She also mentions her awards: "awarded 2015 Realtor of the Year award, chosen out of almost 7,000 Realtors," "awarded Georgia Certified Residential Specialists CRS Member of the Year," and "the founder of Trick or Treat for the Troops."
9. List Strengths Appealing to Your Ideal Client Types
Only pick and choose the most impactful information for your real estate biography. Consider your ideal client's concerns and priorities, and then connect to specific skills that satisfy those demands. This will help you in generating real estate leads that are most similar to the type of client you best serve. For instance, highlighting your negotiation skills could have the most significant impact if you live in a highly competitive market, as demonstrated in the example below.
Shari Cohen, a real estate broker at Stribling, emphasizes her negotiation skills with statements like "negotiating insights to advocate for her clients tirelessly" and "Shari is assertive and effective without being too aggressive." Rather than focusing on her awards and achievements, she communicates what clients want in an agent.
10. Articulate Your Value to Clients
The value you provide to clients in a real estate transaction is what your biography should eventually convey. You can differentiate yourself from other agents by specifying your unique personal attributes while also providing clients with an indication of the softer benefits they may expect when dealing with you.
In this real estate agent bio example, Tim Smith, the founder of the Smith Group, does this well by including descriptions of specific qualities he brings to clients, such as trustworthiness, an extensive network, marketing strategies, and "personal service and attention to every detail." Furthermore, his notable achievements are integrated seamlessly throughout the content and well structured with the personal qualities clients require.
11. Leverage Your Hobbies to Find Common Ground
Gain potential clients' trust by intentionally sharing something about yourself and what you can accomplish as an agent. Adding information about your hobbies, interests, and passions outside real estate is a good idea.
For example, Ryan Ahmann, a Keller Williams real estate agent, has a bio that effectively balances his impressive list of accomplishments with a personal touch. Aside from his achievements, the biography expresses his hobbies, like "spending time with his family, kayaking, tending his garden, walking his dogs, woodworking and watching Iowa Football." These encourage potential clients to feel a personal connection and desire to use his services.
12. Highlight Your Publicity
Another tip to instill trust in a potential client is to demonstrate how you are regarded as an industry influencer or a trusted authority by the media. This is especially valuable if you want to break into the luxury real estate market. This can be accomplished by noting panels, speaking engagements, or features in well-known publications.
Irene Dazzan-Palmer, an agent at Coldwell Banker, attracts her ideal upscale client by referencing her publicity, experience, and property prices. She states in her bio that she is "often featured for insight in Forbes, The Wall Street Journal, the Los Angeles Times, and NBC's 'Today Show'" and "her high-profile clients include entertainment figures, global business leaders, investors, and corporate executives."
13. Mention the Power of Your Brokerage
Because almost every real estate agent is affiliated with a brokerage or team, it is an asset you should mention in your real estate bio. Brokerages frequently offer additional opportunities to agents and services to clients. Consider what your agency offers or represents, and use your real estate bio to explain what that means to your clients.
In this example, Adam Hopkins, a Hopkins Real Estate Group's real estate agent, focuses on exhibiting the power tools that come with a well-known real estate group. Instead of highlighting individual successes, he emphasizes the groups' latest marketing strategies, from professional home staging, professional photography, and videography to Matterport 3-D Home Tours.
14. Have a Clear Call to Action
Regardless of where you share your real estate bio, adding an intriguing call to action (CTA) or the next step for interested readers can leave a lasting impact. Come up with a simple statement telling prospective callers to visit your website or sign up for a listing appointment. However, prospective clients may be turned off if your CTA sounds too much like a sales pitch.
Paras Real Estate offers a free real estate resource instead of simply asking clients to call or click. By providing a free market analysis in exchange for an email address, the new potential lead feels like they get something of value to start the relationship. This classic and effective lead generation method can attract qualified clients.
Bottom Line
A great real estate bio can take many various forms, so yours does not have to look similar to those of other agents and brokers. For the best results, you should regularly alter it to reflect the needs of potential clients in your farm area and match your overall marketing plan and branding. Using the real estate bio samples and template provided above, structure your skills and experience to reflect best your real estate philosophy, attitude, and business strategy.