17 Real Estate Domain Name Examples & Ideas
A real estate domain name is the unique URL of your business website, e.g., realestatebusiness.com. Choosing the right real estate domain name for your site is important because it's a representation of your brand along with the products and services you provide. It should be easy to remember, catchy, appeal to your target audience, and have searchable keywords so clients can find you easily on the internet.
Unfortunately, your first domain choice may already be in use by someone else. Before you get too attached to a potential domain name, check to see if it's available using the tool below from domain.com.
Still need help deciding on the right domain name for your business' website? Here are 17 examples and ideas to help you choose an effective real estate domain name like these for your business:
1. Real Estate Domain Name Examples Focused on Property Type
Domain Name: https://www.cabinhomes.com/
| Keywords | Search Volume |
| --- | --- |
| Cabin homes | 1,600 |
| Log cabins | 13,000 |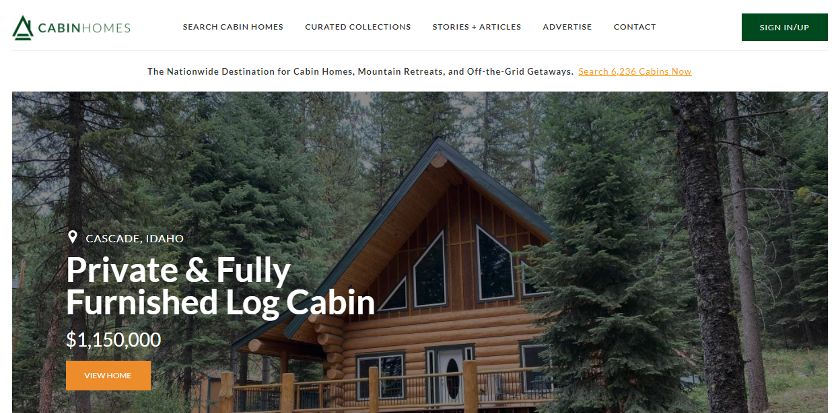 The domain name of Cabin Homes describes exactly what type of properties they're focused on, which makes it easily searchable by clients interested in this home type. Notice the keyword volume for both "cabin homes" and "log cabin" return high search volume.
This is a national website with properties from all around the country, so the location marker of each property is properly identified along with the price point. The type of client this website is attracting are clients looking for a non-traditional home, second home, or fully furnished home as a vacation home.
2. Use High-volume Keywords in Realtor Domain Names
Domain name: https://www.bhhsbeachpropertiesofflorida.com
| Keywords | Search Volume |
| --- | --- |
| Beach properties | 1,200 |
| Florida beach properties | 150 |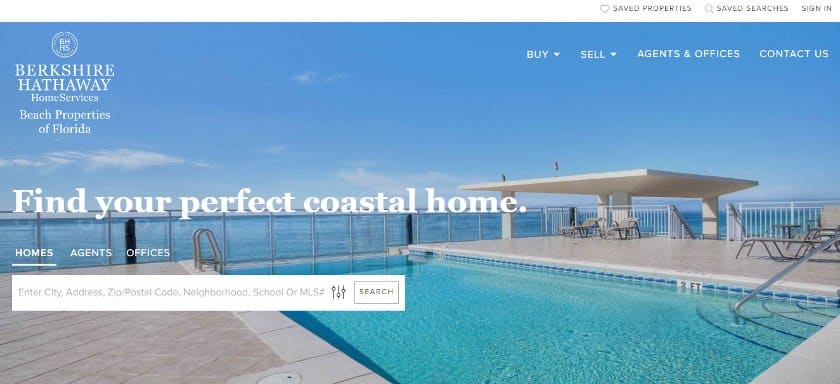 The domain of this website's name targets clients who may be searching for beach properties in Florida. However, the domain name used here is a redirect to a larger brokerage firm, Berkshire Hathaway Home Services. The strategy being used in this example is selecting a high search volume main keyword and a secondary keyword to use in a domain name.
By using "beach properties" as the primary keyword in the domain name, the brokerage is attracting 1,200 potential searches per month. In addition, including another keyword variation like "Florida beach properties" attracts fewer searches, but narrows the search field to a specific location. It creates a high probability that someone who is searching for those keywords will click on your website to increase prospective client leads.
3. Include Specific Cities or Regions
Domain name: http://www.mydallasrealestate.com/
| Keywords | Search Volume |
| --- | --- |
| Dallas real estate | 3,200 |
| Dallas texas real estate | 1,000 |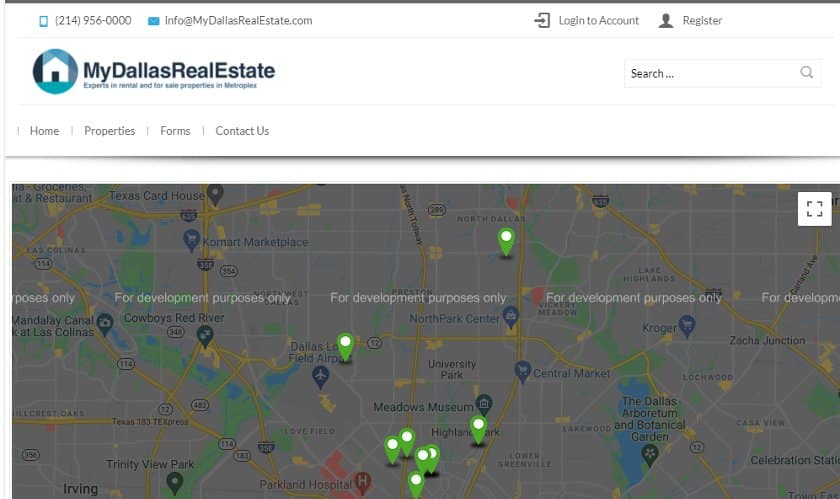 Using a specific location in your website's domain name will attract visitors within the area or those looking to move to the area to your site. The name of your real estate farming area could be ideal, but there are two general strategies when it comes to choosing which area name to use in your domain.
In this example, agents can capitalize on the name of a larger prominent city like Dallas to target website visitors. Notice that the real estate brokerage also includes Dallas in its title. Secondly, agents can focus on a micro-area within a larger city, like using Santa Monica instead of Los Angeles, to target clients looking at specific neighborhoods or suburbs, and thus drive more targeted lead generation.
For help creating a real estate website to reflect your brand and specialized domain name, use a lead generation company like Market Leader. Market Leader websites are easy to create with drop-and-drag customization, widgets to add content, internet data exchange (IDX)-enabled feeds, and more. Your site will also be search engine-friendly to increase the number of visitors to your site.
4. Attract Pet Owners With Your Realtor Domain Name
Domain name: https://petfriendlymanhattanrealestate.com/
| Keywords | Search Volume |
| --- | --- |
| Pet friendly apartments | 10,000 |
| Pet friendly apartments nyc | 150 |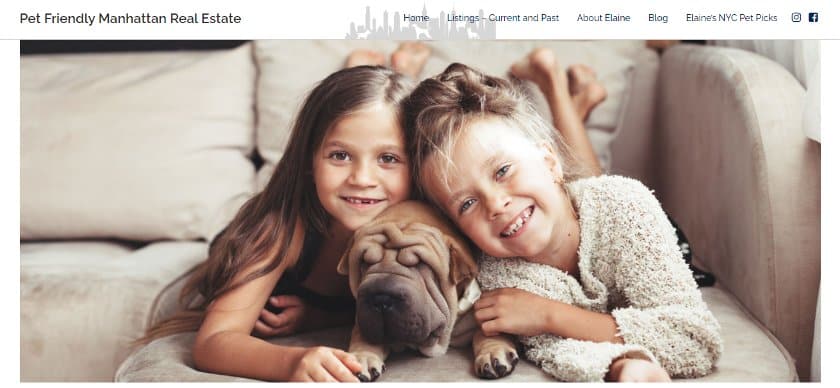 The domain name of this real estate website captures buyers and renters who are searching in a specific market and with a specific need. In cities with a higher number of multi-family buildings, pets and certain dog breeds are not welcome because of limitations set by landlords and insurance companies. This makes it difficult for clients with furry friends to find a home.
Pet Friendly Manhattan Real Estate targets both pet owners and the city of Manhattan to draw in prospective clients with over 10,000 search results per month. To further branding, the webpage has adorable pictures with animals that are meant to be a reflection of the desired clientele.
Pro tip: Access high-quality graphics for your real estate website from a provider like Envato. An Envato Elements subscription can provide all of the niche, audience-specific photos and graphics you'll need to successfully attract and convert leads through your website, social media, email marketing, and other real estate marketing materials.
5. Identify a Lifestyle Niche
Domain name: https://www.luxuryrealestate.com/
| Keywords | Search Volume |
| --- | --- |
| Luxury real estate | 5,700 |
| Luxury real estate california | 100 |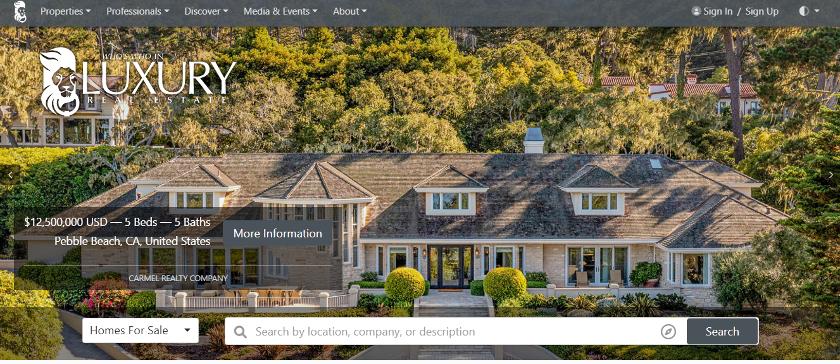 Clients look to purchase homes that fit the lifestyle they lead or which they aspire to. These homes contain unique features that contribute to a certain quality of life while also fitting within their budgets. For example, some clients may want to live a more extravagant lifestyle that comes with certain luxury amenities like full gyms, spa, daycare (for kids and/or pets), doorman, pools, and so on.
Using a keyword like "luxury real estate," with a search volume of 5,700 per month, will attract clients of this type and encourage them to explore your real estate website. In addition, a secondary keyword that includes a specific location like "luxury real estate California" will draw audiences in this area as well.
6. Take Advantage of Recognizable Real Estate Branding
Domain Name: https://www.serhant.com/
| Keywords | Search Volume |
| --- | --- |
| Serhant | 3,500 |
| Ryan Serhant | 31,000 |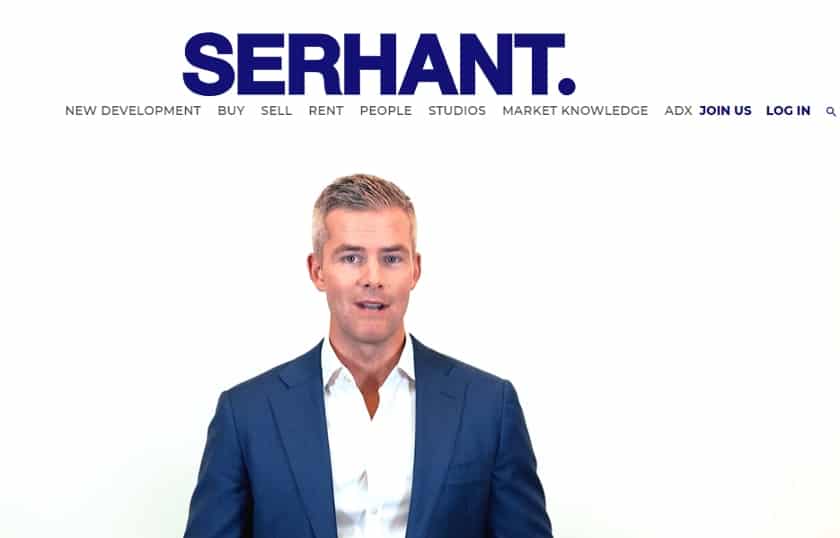 Using your own name as your domain taps into your personal branding power. Clients like to know who they're working with, and it allows you to build your brand as you become more successful in your real estate career. If you've developed enough brand power, prospective clients will seek you out to represent their transactions.
For example, Ryan Serhant is known as one of the best brokers in New York through television shows, social media, seminars, and books, and has sold billions of dollars in real estate throughout NYC. Clients seek Ryan for his celebrity status, but also because they know he understands New York luxury real estate.
7. Include Real Estate Terminology
Domain name: https://www.downtownapartmentcompany.com/
| Keywords | Search Volume |
| --- | --- |
| Downtown apartments | 8,100 |
| Downtown apartment company | 600 |
Using real estate words in a real estate domain name clearly identifies the product offering based on your target audience. While prospecting for leads, specific terminology assists with obtaining certain types of clientele.
For this real estate domain example, Downtown Apartment Company targets only clients seeking apartment rentals rather than buyers and sellers. Their domain and company name specify this audience and a nod to a city setting by using the term "downtown."
Additional keyword variations include "apartment rental Chicago" and "apartment rentals Chicago," with search volumes of 900 and 250, respectively. With all of these keywords available in the domain name and the homepage, there is a higher probability that clients searching for apartment rentals in Chicago will stumble across this page.
To understand more about search engine optimization (SEO) and improve your visitor traffic, SEMrush is a great tool to measure your marketing efforts. Uncover the best keywords for your website, audit your site for improvements, and track your content to see whether it's driving traffic among your target audience. If you aren't sure how to do this, they also have a large library of free educational articles and tutorials to help.
8. Appeal to Client Aspirations
Domain name: https://www.dreamtown.com/
| Keywords | Search Volume |
| --- | --- |
| Dream town | 3,100 |
| Dream town realty | 1,600 |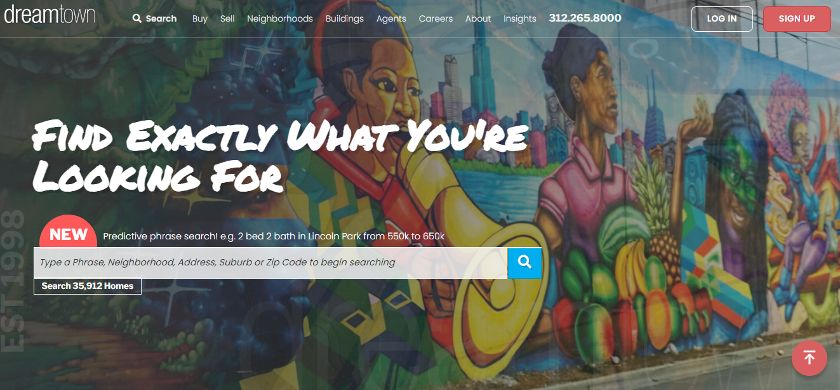 Many people aspire to live in large cities for the hustle and bustle, accessibility of employment, restaurants, transportation, and overall city lifestyle. This domain name connects to a prospective client's dream when it comes to living in a big city like Chicago. When creating your real estate domain name, appealing to a client's aspirations is an effective way to also target specific keywords that your client may be searching for.
In addition, when clients reach Dreamtown's small business website, the visuals are of brightly colored Chicago-based street art and artists. Having art-centric photos as the home page instead of stock photos of properties speaks to the brokerage's focus, which is their authenticity and the culture of their city.
9. Be Clever & Make It Memorable
Domain name: https://www.sherlockhomesaustin.com/
| Keywords | Search Volume |
| --- | --- |
| Sherlock Holmes | 148,000 |
| Sherlock holmes austin texas | 90 |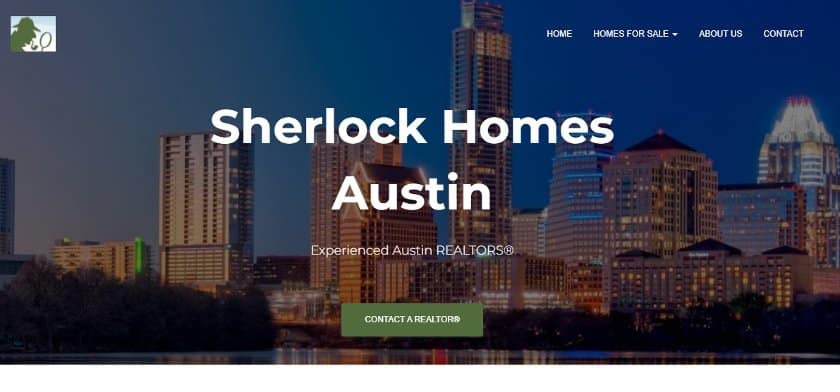 Creating a memorable real estate domain name has a lasting impression on prospective clients and helps them remember your brand. While Sherlock Holmes is a fictional character, the premise behind him being a detective who searches for your dream property is an effective analogy for real estate agents. Although catchy domain names may not be search engine optimized, aka SEO-friendly real estate keywords, if combined with strong on-page SEO efforts, you can still maximize traffic to your website.
For help optimizing your website, look to freelance experts you can hire through Fiverr. From SEO to site design, Fiverr can help you set up a search and site visitor-friendly real estate website in no time. Choose from hundreds of freelancers to make sure you are working with the expert who best understands your needs and real estate brand.
10. Concentrate on a Specific Demographic
Domain name: www.55places.com/
| Keywords | Search Volume |
| --- | --- |
| Over 55 communities | 3,600 |
| 55 places | 2,900 |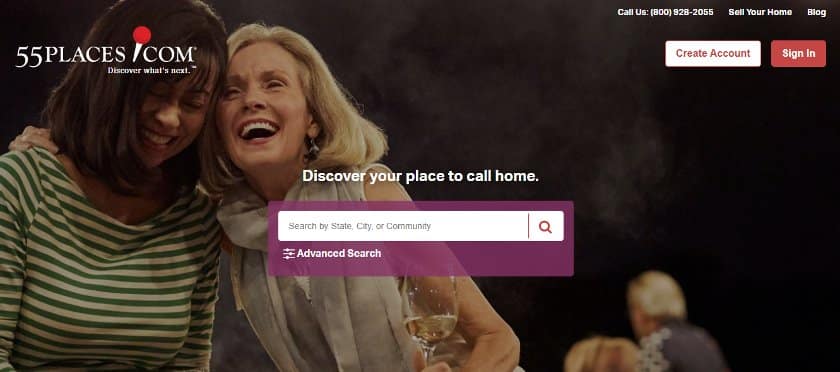 To attract a specific demographic, leverage characteristics of the demographic in your real estate domain name. Since 55-and-older is a very popular real estate niche, including the age in the domain will attract that specific demographic. The homepage in this example is also very simple in content to make it easy to search for properties. Alternatively, to connect with other generations, keywords associated with generations like Gen X, millennial, or Gen Y could be used.
11. Target Niche Home Types
Domain name: https://www.foreclosure.com/
| Keywords | Search Volume |
| --- | --- |
| Foreclosure homes | 31,000 |
| Foreclosure listings | 3,000 |
Some buyers are not looking for primary residences, but rather looking for affordability, quick deal flow, and a brokerage with knowledge of foreclosure transactions. Targeting keywords relevant to your real estate niche, like "foreclosure homes" and "foreclosure listings," is a great way to attract specific niche property buyers, investors, home flippers, and so on.
Other keywords that can be effective to capture investors are asset, blue chip, capital, profit, and so forth. These will appeal to the mindset of this niche clientele. Agents can also use keywords in their domain name to represent various types of distressed properties (e.g., REO Properties, short sales, preforeclosures, or auctions) to attract investors.
12. Add Your Area Code or ZIP Code
Domain name: https://901res.com/
| Keywords | Search Volume |
| --- | --- |
| 901 area code | 67,000 |
| 901 real estate | 20 |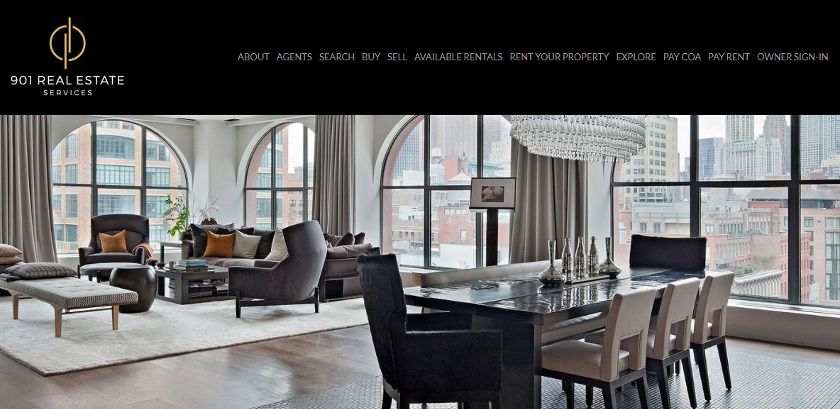 Using an area code in your domain identifies the area of expertise for your brokerage. This strategy works especially well for popular area codes or ZIP codes. For example, the ZIP code "90210" is commonly known as Beverly Hills, while "212" immediately brings New York City to mind. This strategy allows you to keep your realtor domain name short and easy to remember.
The example above has an area code followed by an acronym for the business. Having an area code in the domain name can even help your website rank higher on search engines for local searches.
13. Capitalize on Current Trends
Domain name: bitcoin-realestate.com
| Keywords | Search Volume |
| --- | --- |
| Bitcoin real estate | 170 |
| Crypto real estate | 700 |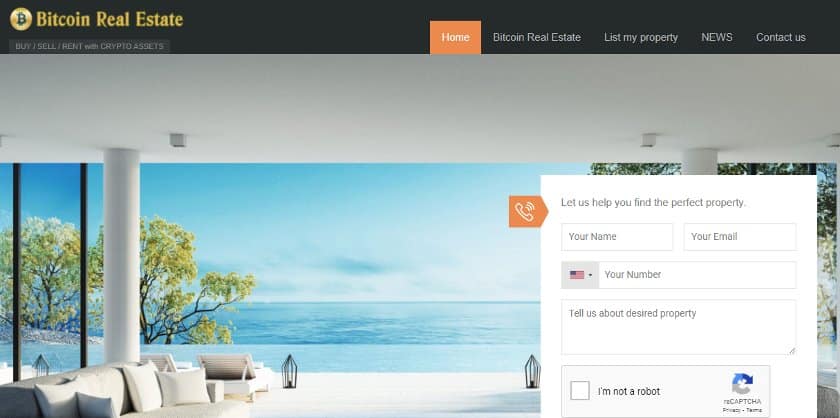 Currently, there is a large interest in cryptocurrencies, and the ability to use those funds to purchase properties is in high demand because it's not part of the traditional banking system. Having a domain name that identifies a currency or terminology associated with crypto will attract those who own crypto, and can help the domain show up in non-real estate-related crypto searches.
Agents who represent these properties must understand the nuances associated when purchasing homes with cryptocurrency, which is not highly adopted at the moment. While this is a newer keyword with a search volume of around 1,000 per month, it can be an excellent opportunity for agents who want to adopt this niche and get in on the ground floor.
14. List a Client Benefit
Domain name: https://movefastmovenow.com/
| Keywords | Search Volume |
| --- | --- |
| Buy home now | 500 |
| Sell home now | 60 |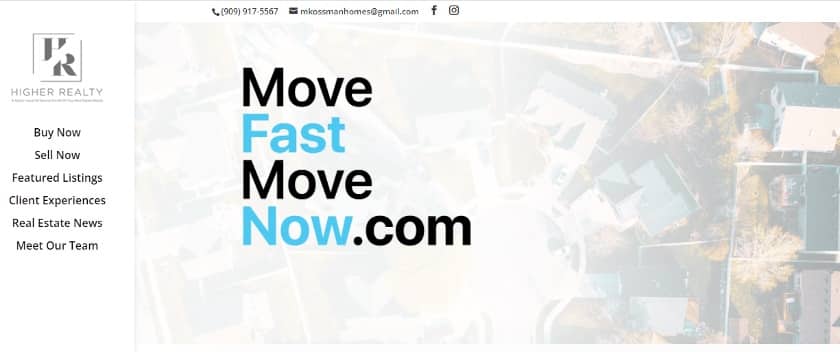 This particular real estate domain name example represents agents at the brokerage Higher Realty. They're looking to capture clients searching for tips on how to move as quickly as possible. The domain name is easy to remember, conveys meaning, and can be incorporated into many different types of real estate marketing ideas.
It speaks to the pace at which the agents work and the value that can be added to a client's real estate experience. As you are choosing a real estate domain name, leverage strengths that are appealing to prospective leads and make them want to work with you and your team. Some examples of this are quick closing, reduced fee, buyer representation, and so on.
15. Use Realtor Domain Names to Attract the Eco-conscious
Domain name: https://ecosmartre.com/
| Keywords | Search Volume |
| --- | --- |
| Eco homes | 800 |
| Eco friendly homes | 700 |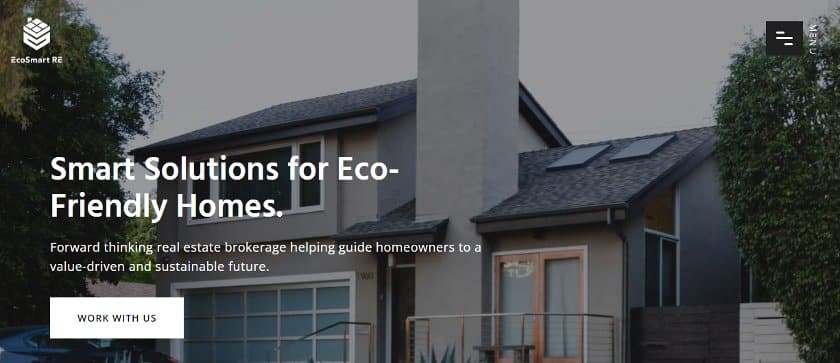 Some clients may be specifically looking for homes with environmentally friendly design features like solar panels, drought-resistant landscaping, or energy-efficient appliances as well as sustainable building materials. Agents can capture this market using eco-friendly terminology in their domain, as prospective clients would be searching for these terms in their real estate search.
16. Consider Synonyms for 'Home'
Domain name: https://www.nestrealty.com/
| Keywords | Search Volume |
| --- | --- |
| Nest realty | 3,700 |
| Nest realty Nest real estate | 590 |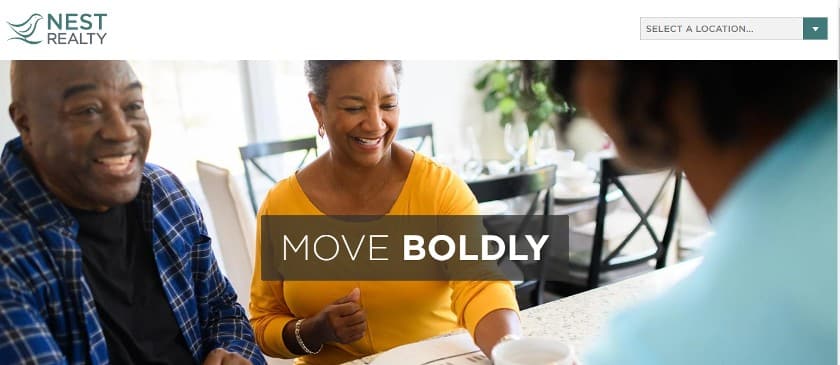 Synonyms of the word "home" are great for realtor domain names as they are extremely relevant and relatable to what people are looking for. Other synonyms to consider are condo, residence, living quarters, abode, pad, and so on, and some even help with your site's SEO. Since many common real estate terms are already taken, using a synonym in your domain name can be an effective way to convey meaning.
If you're having trouble finding the right keywords to use in your domain, Ahrefs is an all-in-one SEO tool that can help. Analyze your competitors, study your customers, and improve your rankings based on their keyword auditing tools. They also provide free training materials like tutorials and articles so you can become an SEO expert.
17. Use Acronyms to Keep It Short
Domain name: https://www.bhgre.com
| Keywords | Search Volume |
| --- | --- |
| Better homes and garden | 4,400 |
| Better homes and garden real estate | 2,700 |

Keep your domain name short, but be sure it's also easy for clients to remember in relation to your brand. In this example, Better Homes and Garden has an already established branding through its magazine and online presences, and they are therefore able to use acronyms to represent their real estate sector. They are targeting their already established clientele from the magazine who are already familiar with their brand.
What Your Real Estate Domain Name Should Include
When choosing a domain name, it's important that it accurately represents your business. You can create a domain that's simple or complex―as long as it's available. Although it may be easy to purchase and register domains, it's best to choose one that will work over the long term as it can be difficult to redirect website traffic and prospective clients if you want to change your domain name down the road.
Here are some things to consider when choosing a name for your business' website domain:
Does it identify what you're selling: "Home" is very generic, so specify the type of property you're selling instead. For example, use condo, co-op, apartments, land, new construction, single-family, new development, and so on.
Does it speak to your target location: Locations help with SEO, but also help those searching within a specific area or moving to that location. It helps clients immediately identify your service areas. You can use city name, area code, or ZIP code, to name a few.
Is it easy to remember: If your domain name is too long or too difficult to remember, clients will forget, which makes it harder for them to know how to get to your site. Make sure your domain name is memorable and easy to type into a search engine.
Does it create a barrier: Although you may want a creative real estate domain name, you also want to make sure clients don't have to try too hard to reach your website. For example, if you want to use "yourhome.com," don't want to try to be too creative with "urhome.com" or your site could produce fewer visitors or unintentionally send traffic to a domain with a similar name.
Does it use a .com extension: Some website hosting platforms allow .net, .realtor, and other extensions. The upside of these is that it might be easier to obtain your desired domain name, but the downside is they are harder for clients to remember since ".com" is a universal term for a website.
Is it engaging: Creative real estate domain names often come in the form of reflecting your personality or brand specialties. This can be highly engaging to prospects and make your domain name more memorable in the process.
Where to Get a Domain Name for Your Real Estate Website
Choosing a domain registrar is the initial step to obtaining one for your business. Each registrar provides different services, from the basics of registering a domain to a full-service platform with web design and tools to help you nurture website leads. The best domain registrars follow best practices to help reduce potential website issues and help protect your online brand presence long term. Some even provide additional features to help you make the most of your domain service.
For example, Domain.com also provides website hosting, website creation, and design services, and it's easy to transfer an existing realtor domain to domain.com. In terms of website costs, the affordable packages offered by Domain.com enable you to get your website online quickly, and 24/7 expert support means you'll have assistance when needed.
Alternatively, here are three more great options for registering and hosting your domain:
Company

Key Features

Mobile-ready websites
Available domain syndication
Lifetime product upgrades

Built-in SEO
Free privacy protection
New extensions for domains available

Real estate websites ready in as little as 3 days
Free trial available
Access to creative professionals

Starting Price per Month

$49.95

$9.99

$64.99

Read more
Bottom Line
There are thousands of real estate domain names available, but you must find one that matches your brand and services provided, and is highly memorable. Using real estate SEO terms will increase your chances of attracting new leads to your website each month. Be catchy, target a specific audience, and use appropriate keywords to make the most of your real estate domain name.