Having digital marketing strategies in place to grow your small business is more necessary than ever, as buyers have a computer in their pocket and shop online. From building your brand presence and boosting engagement to acquiring new leads and increasing conversions, there are digital marketing tactics that can benefit every stage of your marketing funnel. Read the list below to dive into dozens of creative digital marketing ideas for small businesses.
To fast-track your online marketing, partner with a digital marketing agency like WebFX. A team of digital marketing experts will work with you to build a solid strategy, put it in place, and give you the tools to track results to ensure you're getting the most out of your marketing budget.
Digital Marketing Ideas for Building Online Brand Presence
With so many of today's consumers discovering brands online, carving out a space for your brand is essential to establish and grow your brand presence online. The good news is, the online world offers many free and low-cost digital marketing ideas to spread the word about your business that won't break your budget, including those listed below.
1. Create a Small Business Website
The most crucial and foundational component of digital marketing for small businesses is to build a website. Besides making your brand more discoverable in online search, a website also boosts your credibility. It also allows more opportunities for growth, like selling online, generating leads through web forms, hosting landing pages to increase ad conversions, and much more.
Creating your website doesn't have to be complicated or expensive. Website builder platforms like Wix and Squarespace make it easy and affordable for anyone to create a cohesive, functional, and well-designed website easily—for about the cost of a lunch every month. Find the right site builder for you in our list of the best site builders for small businesses.
Once you've chosen a platform, learn how to make a small business website in a few easy steps.
2. Publish Search-optimized Blog Articles on Your Site
One of the most effective website marketing strategies is optimizing its content with search-friendly keywords, a key tactic for search engine optimization (SEO). An excellent way to do this is by regularly publishing blog posts discussing relevant topics in your industry, and including keywords and phrases your target audience will likely search for.
If your business relies on local customers, you'll need to add locale-based keywords to your web pages, blog posts, and general SEO keywords. Find out how in our guide on local SEO strategies.
Publishing blog articles is a fundamental SEO content marketing strategy. The more reader-relevant and search-optimized content you publish, the higher your chances of increasing online visibility and garnering website traffic.
All-in-one site builders like HubSpot and Wix make it easy to start blogging. They both have built-in AI content writers, plans starting for free, and both are top SEO site builders. To learn more about these apps or check out other options, read our list of the best blogging platforms for beginners.
Pro tip: If this sounds like more work than you want to take on or have the time for, get a la carte or a complete digital marketing solution from WebFX. You'll get access to experts, tools, and software you can use to fast-track your efforts to increase your brand's visibility online.
3. Create a Digital Press Kit
Press kits have long been a valuable tool for small businesses to promote themselves, even before the digital age. When creating your small business website, dedicate a news or media web page to host a digital press kit and any press releases you publish. Journalists look for new stories to post daily, and earning press coverage could substantially boost your brand presence.
Having a media kit right on your website allows journalists and bloggers to find all the critical information about your business and brand when they write stories about your company. Moreover, this lets you shape your media narrative and influence public brand perception. Learn how to create a press kit for your business in our guide, including a free downloadable press kit template.
4. Send Press Releases for Important Announcements
Gaining local press coverage is a guaranteed way of boosting your brand presence, and it's a cost-effective way to reach your target audience. Most journalists and bloggers write stories for targeted audiences with specific interests, so if you publish a press release on a related topic, it's highly probable that their audiences will also be interested in your story.
Getting published on verified media outlets also builds your credibility and makes for sound social proof, in turn boosting your customers' trust. The best way to get press coverage for your business is by sending a press release when you have important announcements that the public or your target audience would want to know.
This could be anything from opening a new location and launching a new collection to receiving significant awards. Learn more and see examples in our list of 12 different types of press releases to make sure you aren't missing out on opportunities to gain exposure for your small business.
Follow our guide on how to write a press release, and for the best chances of reaching journalists, use a professional press release distribution service like Newswire. Alternatively, use eReleases for combined expert press release writing and distribution. Or, for the cheapest press release writing and distribution combo, try a freelance public relations specialist on Fiverr starting at around $50.
5. Curate a Strong Digital Brand Identity
When it comes to digital marketing for small businesses, crafting a memorable brand identity can open many doors. A visually interesting logo, for example, could cause a user to pause scrolling on their phone and visit your website, while customers with shared brand values are up to 64% more likely to stick around.
Many elements go into building a robust digital brand identity, starting with your logo and the colors on your website. Other aspects are your brand voice (e.g., friendly and approachable vs formal and authoritative), graphics and styling for blog posts, social media posts, and email blasts, visual consistency across all of your digital marketing channels, and even small items like buttons, shapes, and other design choices.
Pro tip: Strong visual branding is an integral part of any marketing strategy. Create well-designed logos and other brand materials on sites for logo design like Canva, or hire a professional graphic designer to create one for you for as low as $5 via Fiverr.
6. List Your Business in Online Directories
Online business directories function much like digital phone books and are proven to boost online visibility and searchability. Because online business directories also list your business' relevant details, including your location, they also help you appear on search results for users in your area. Read through our list of the best online business directories to learn the must-have places to list your business.
Because there are potentially thousands of directories where you can list your business online, adding and maintaining them can become time-consuming. Using a service like BrightLocal enables you to add online listings (aka SEO citations) and monitor them in one place. Learn more about what local citations for SEO are and how to build them.
7. Set Up a Google Business Profile
When it comes to online business directories, none beat Google in terms of search visibility. To appear on Google search results and maps for businesses in your area, set up a Google Business profile for free. It's as easy as visiting Google's business page, claiming (or creating) your free profile, filling in your business details, and optimizing your profile. Our guide on setting up a Google Business profile details the process step-by-step.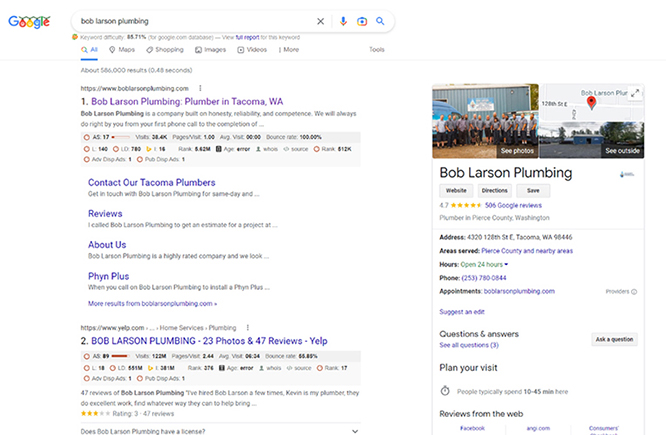 ---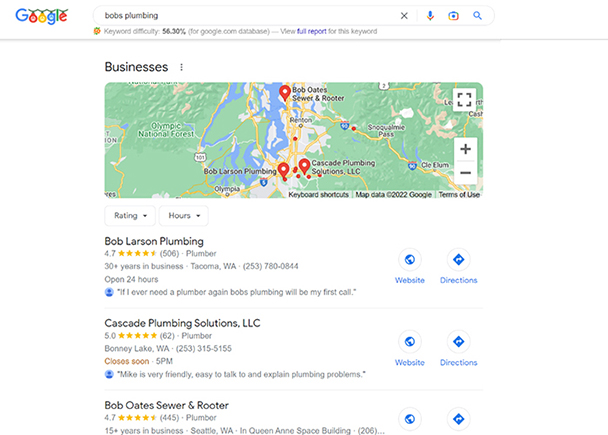 ---
8. Try Influencer Marketing
Growing a following on social channels can take a long time or require considerable investment in advertising. However, digital marketing strategies like influencer marketing can supercharge your efforts.
When done effectively, influencer marketing can be a cost-effective way to reach new audiences. For best results, choose influencers who create content about relevant subjects in your industry—their follower base will likely be interested in your business' offerings too.
Small Business Digital Marketing Tips for Boosting Engagement
Customer engagement is integral to every stage of the customer journey. Engagement is the first indicator that customers are interested in your business and can also let you know when a prospect needs additional information or is ready to buy. Below, we outline some of the best ways for small businesses to use digital marketing to increase engagement.
9. Develop a Social Media Marketing Strategy
Getting on social channels by creating profiles is only half the journey. To fully utilize social media tools for your business, you'll need to develop a social marketing plan designed to engage with your target consumers. From TikTok videos to Twitter polls, social media offers a wealth of features you can use to encourage engagement with targeted audiences.
Read our guide on social media marketing to plan your small business strategy, including which platforms to focus on first. If you already have a plan but want to take it to the next level, we recommend Sprout Social. You'll save time by streamlining posting, using social listening tools to find out when people are talking about your brand, and increasing engagement by getting all social mentions and messages in one place.
10. Share Your Blog Articles on Social Media
Publishing search-friendly blog articles on your website boosts your site's visibility on search engines, but social media adds another outlet for even more exposure and engagement. Unlike search engines, social channels offer features for engagement, such as reactions and comment sections.
Once you've published an article, share it on your social pages. Use each platform's audience targeting features and relevant hashtags in posts to reach more prospects. Then, test different posting times and dates to see which garners the best engagement. Finally, any time someone comments on your post or asks a question, reply to them in a professional and friendly way as quickly as possible.
11. Use Chatbots to Boost Website & Social Media Engagement
Direct communication with customers through chatbots, live chat, and messaging apps feels more personal and allows you to address specific needs, questions, or concerns. While this could quickly become too time-consuming for an entrepreneur or small business owner, chatbots are a handy solution for websites and social media using messaging apps like Facebook Messenger.
In fact, AI marketing stats show that business-to-business sellers can get 10-20% more leads using AI-powered chatbots. Not only can they help site visitors with basic answers or site navigation, but they also collect information and forward it to you so that you can take action. For social media, Facebook Creator Studio offers an automated message response feature for your business' Facebook Messenger account.
12. Hold Contests & Giveaways
Another way to quickly spark engagement on social media is by holding contests and giveaways that require engagement (such as following the brand, liking the post, sharing it, tagging someone, or adding a comment) as part of the contest's mechanics. In addition to contests requiring "like, comment, and share to win" engagement, other examples include photo contests with voting, hashtag-based contests, and trivia contests.
When running contests on social platforms as part of digital marketing for small businesses, always stay within legal boundaries. Read the list of Facebook policies and Twitter guidelines for running contests on the platforms. Also, to retain your engagement past your contest date, plan to incorporate contest campaigns as a regular part of your social media strategies, such as every month or quarter.
Pro tip: Give an extra contest entry to social media followers who sign up for email updates in addition to engagement-based requirements. This will grow your list more quickly and allow you to engage prospects on additional marketing channels. Email marketing software like HubSpot can be integrated into your social media profiles, making it easy for people to subscribe.
13. Conduct Social Media Polls
Social media polls are a win-win tool regarding digital marketing for small businesses. They're an easy way to gain both customer engagement and insight, and they usually only take a few clicks to make. Some examples of polls you can conduct on social media are ideas for new products, opinions on trending topics in your industry, and feedback for events, among others.
You can also tailor polls according to the strengths of each platform. For example, Twitter is best for short, easy questions, Facebook for longer questions and choices with images, and Instagram Stories work best for real-time polls, such as during live events.
Mailchimp makes it easy to create polls and embed them in Facebook posts to spark engagement with followers. You can generate responses through simple radio buttons, checkboxes, emojis, or open text fields. This can be a great way to gauge the top challenges your customers are facing, generate a list of "favorite products" for a blog article, or learn how followers first found out about your business or why they follow your brand online.
14. Conduct Email Surveys
While social media polls are great for gathering insight easily, you might want to conduct more in-depth surveys to know your customers better, such as collecting feedback after an event or purchase. Also, social media polls are answerable by anyone, whereas you can use email surveys to hone in on insights and feedback from your actual customers or people known to be members of your target audience.
In such cases, email surveys are your best bet—besides driving engagement, they're low-cost, easy to implement, and produce reliable data that can guide your business decisions. Constant Contact's email survey tool is easy to use and provides real-time analytics.
15. Launch a Digital Loyalty Program
Loyalty programs are an excellent strategy for customer retention and can influence consumers to spend up to 62% more. Along with retention, loyalty programs encourage customers to interact more with your brand.
Unlike traditional loyalty and rewards programs, digital loyalty programs are managed through smartphone apps, and nearly six out of 10 consumers say they'd use a loyalty app on their device. You can even let customers earn rewards by taking digital actions, like visiting a landing page with your current offers, watching product videos, completing online surveys, adding ratings or reviews to your product pages after buying something, and so on.
Incentives like points and rewards create positive experiences for customers and motivate them to engage with your brand more frequently, building stronger relationships in the long run. This is especially important for modern consumer behaviors, as consumers place a higher value on their relationships with brands when making purchase decisions.
Some loyalty programs you can start include points-based loyalty programs, tiered membership loyalty programs, and value-driven loyalty programs. Check out our list of the best loyalty program ideas for small businesses.
16. Leverage Video on Social Media
It's no secret that video is one of today's most effective marketing tools. This is especially true for engagement on social media, where they can increase shares by up to 1,200% more than text or images. When building your social media strategy, include video content relevant to your subject area. Whether it's an explainer video, an animated infographic, or interview testimonials, the possibilities for video are endless.
Finally, be sure to optimize your videos for each social media platform, e.g., TikTok for short-form snappy videos and YouTube for longer content.
Pro tip: Videos are essential to your social media strategy for 2023 and beyond. To easily create and edit professional-looking videos for free, try Animoto.
17. Go Live on Facebook or Instagram
Gone are the days when live broadcasts were limited to TV and radio, as tools like Facebook and Instagram Live enable brands to broadcast live videos at any place and time. They're effective for generating real-time engagement with followers and offer a more direct and authentic way to connect with customers, and also help showcase the human side of your business.
Primarily, what sets live videos apart from premade videos is their immediacy. Countless content ideas are possible with live broadcasts. Use them for product launch announcements, to interview notable personalities in your field, to host an impromptu tour of your facility, demo a product, or to host tutorials or Q&A sessions—anything is possible, as long as they follow your business goals.
18. Send Email Newsletters
While social media and search rankings are valuable channels for reaching customers, permission-based email marketing is better for relationship nurturing over the long term. For one, emails are a direct, personal, clutter-free way of communicating where your content isn't competing with dozens of others on their screen. And since recipients actively opt in to receive your emails, they're more likely to take time to read them and take action.
Email newsletters are versatile, and the best ones are informative and engaging, with high-quality content that matters to the audience. When making a newsletter, combine several sections to keep it interesting and engaging.
These can be helpful articles, images, infographics, videos, links to other valuable content, or even special deals or discounts with a call to action. Keep each section short, with links back to your website to read more, shop online, book an appointment, or take some other desired action. Learn more about what an email blast is and how to send one.
The best email marketing software platforms make designing and sending email newsletters easy, and some (like Mailchimp and HubSpot) even have free plans you can use to start with. All have intuitive, beginner-friendly visual editing tools and premade templates you can easily edit with your content. Plus, most have fairly robust reporting dashboards to see who engaged with your email and how, and you can get insights to improve future campaigns.
Ensure the success of your email marketing investment by letting the experts at WebFX plan, launch, and monitor your campaigns in plans starting as low as $300 per month.
Generating Leads via Small Business Digital Marketing
Leads are contacts who may be only a few steps away from converting into customers, and thus are often your most valuable prospects. While your search-optimized website and social media activity can generate brand awareness, acquiring new leads through digital marketing tactics takes some effort and know-how. Read the tips below for digital marketing strategies you can use to generate leads.
19. Run Google Search or Local Services Ads
Ranking in Google's search engine results page (SERP) organically can get you exposure and web traffic, including site visitors that become leads and customers, but it takes time. To generate leads on Google more quickly, use Google search display ads or Local Services Ads to put your brand on top of first-page search results.
These advertising options guarantee you a spot on top of Google's search results page when users search for your chosen keywords. When someone clicks your ad, users are prompted to take specific actions (e.g., visiting your website or landing page or calling your business), immediately generating new high-quality leads from people who are ready to buy.
Google Ads also support other campaign objectives, such as sales and brand awareness. Plus, Google Ads operates on a pay-per-click (PPC) basis, meaning you'll only pay when users click on your ads, and you can control your budget and ad spend.
Read our guide showing how to advertise on Google in a few simple steps. Alternatively, leverage high-return PPC advertising services through platforms like WebFX, even if your ad budget is only $100 per month.
20. Advertise on Social Channels
Like Google Ads, paid social offers budget-friendly targeted social media advertising tools for small businesses on Facebook, Instagram, Twitter, LinkedIn, and TikTok (among others). With the majority of today's consumers active on social media, the effectiveness of social ads is a given. They're also usually low-cost and bring measurable results when done the right way.
For best results, choose the one or two platforms where your target audience is most active and use advanced targeting tools to reach the right prospects. Set measurable goals for your campaigns and follow the best-use cases for each platform (e.g., TikTok for video ads and younger demographics, LinkedIn for business-to-business ads, and so on).
Social media is a great place to try generational marketing. With generational marketing, you can craft messages targeted at specific age groups, connect on a deeper level with your audience, and drive lead generation and sales.
21. Use an Email Finder App
An alternative way to generate high-quality leads is by using an email finder like Hunter.io and FindEmails. Email finders are particularly helpful for list-building for cold email outreach, but they can also be used to verify the quality of your email contact lists.
In other words, if you already have a database of contacts for sales and marketing email campaigns, chances are not all of them are active or high-quality, and list quality always decreases over time. The best email finders are the solution to that—they can verify email addresses and other contact details in your list and search for new ones based on their other information.
22. Send Prospecting Emails (& Save Time With Templates)
We often think of mass email marketing campaigns as the only role for an email in terms of digital marketing for small businesses. However, one-to-one business email campaigns are also a proven way to generate and nurture sales leads. For inspiration, tips, and premade scripts to get you started quickly, use our sales email templates for lead generation.
The software your business chooses for business email here also makes a difference. For example, Microsoft 365 (and Outlook) allows you to create templates that you can recall quickly for repeated use. Outlook also has a Quick Parts feature that stores portions of text often used in emails so that you can quickly reach out to leads with acquisition, nurturing, or conversion messaging.
Also, Outlook integrates easily with top customer relationship management (CRM) platforms, including HubSpot, which offers a free CRM plan you can start with. Learn more in our article detailing the best Outlook features for business email.
The two most popular business email apps are Gmail and Outlook, and each has unique features that might make one or the other better for your business. Read our head-to-head comparison of Gmail vs Outlook to learn more.
23. Leverage Gated Content
Gated content refers to any type of content website visitors need to pay for or provide information to access. It can be anything from published studies and worksheets to e-books, online courses, videos, tutorials, and webinars. Plus, it can tackle any relevant topic in your industry.
You can use gated content throughout the sales pipeline to build prospecting lists, nurture leads, or produce conversions. It can even become a revenue-producing product in and of itself. The key to success with gated content is ensuring that it is valuable and relevant enough for your readers to get them to provide the information or payment you require in exchange.
24. Host Webinars
Webinars are video-based events that are proven digital marketing tools for generating high-quality leads for businesses of any size. Like some of the other tools covered here, they can be used to build brand awareness, nurture leads, or produce conversions, depending on where the attendee is in your company's sales funnel.
Moreover, webinars are an excellent venue to show yourself as an expert in your field. Some best practices for creating successful webinars include marketing your webinar to a defined target audience and presenting valuable content. You can also make your webinar more engaging through question-and-answer sessions, chats, expert panels, polls, and the like.
All Microsoft 365 plans include the ability to host webinars with up to 300 participants for as little as $6 per month. This makes it a cost-effective solution for both business email and webinar hosting. Alternatively, select from our list of the best webinar software for small businesses, especially if you want niche or advanced features like interactive whiteboarding or pre- and post-event automated marketing.
Pro tip: Record your webinars so you can use them as video content on YouTube or as permanently gated video content on your website to continue driving lead acquisition.
Digital Marketing Ideas to Drive Conversions
Customer conversions are the final stage of the customer journey. While they are often considered sales, they can include other desired actions, such as scheduling a demo, starting a free trial, or booking a consultation. There are certain digital marketing strategies that work well to increase conversions—read up on some of them below.
25. Send Drip Email Marketing Campaigns
Sending a single email to a contact is an effective way to establish a connection, but drip email campaigns take the connection further. Drip email marketing campaigns are a series of emails sent to a prospect based on an action the lead took, such as downloading something from your website, attending a webinar, signing up for a free trial, and so on.
Over time, they give the prospect more and more information, building on what they know about your business and keeping your brand top of mind when they are ready to buy. Plus, they can be used in conjunction with personalized business emails from sales reps to nurture leads through to conversion. However, drip emails can also be used to recoup sales that might otherwise be lost.
For example, if a customer leaves an abandoned item in their shopping cart, a drip email campaign might send an email encouraging them to revisit the item. Since drip email campaigns are automated to follow specific conditions, they're also efficient marketing tools. Other examples of automated emails include welcome emails, thank-you emails, and lead nurturing emails.
When creating drip email campaigns, add a clear and compelling call to action (CTA). For best results, use an email marketing platform that includes drip campaigns with any plan, like Mailchimp, or SendX, if you have an extensive contact list and want the cheapest pricing. Both platforms include free landing pages, which can further improve your conversion rates.
Interested in more ways you can use email to grow your small business? Check out our list of the best email tools and apps for small businesses, which include low-cost, all-in-one solutions as well as tools with niche features your business might need.
26. Add a Custom Email Signature & CTA to Your Emails
Whether you use email marketing software to send emails in bulk or one-to-one business emails, your email signature can help produce conversions through standout design and a compelling call to action (CTA). For inspiration, check out dozens of effective email signature examples and learn why they work.
When you're ready to create one, turn to one of the best email signature generators, like WiseStamp. They make it easy for you to design a custom email signature for sales and marketing emails and have premade templates to speed up the process. They're also very affordable, including free plan options.
27. Use High-converting Landing Pages
Landing pages are dedicated pages on your website or a third-party platform like HubSpot. They are the online place where visitors "land" after clicking on an ad, email link, social media ad or post link, QR code (quick response code), or some other digital marketing campaign. They increase conversions by keeping the prospect focused directly on the next step you want them to take.
For example, a paid social campaign to promote a local dental practice could lead to a landing page where the site visitor sees a list of services and insurance providers. It could also have a special offer for new patients and a link to appointment booking software to schedule their first appointment. This streamlines the process of learning about the dental practice and makes it easy for the visitor to get an appointment on the books. To get an idea of how it works, read our article explaining how to create a landing page.
Check out over a dozen of the best landing page examples and learn why they work in our roundup article. Then, when you're ready, lean on platforms like HubSpot CMS, where you can create landing pages for free and integrate additional freemium tools, including their world-class CRM, website builder, and email marketing software.
28. Promote Limited-time Offers (LTOs)
Limited-time offers (aka LTOs) are a long-established marketing strategy thanks to their effectiveness in creating a sense of urgency to convert prospects into customers. In many cases, the difference between a user clicking a "complete purchase" button or abandoning their cart is a limited-time offer like a discount code, free gift with purchase, or a free shipping offer.
You can promote limited-time offers on any platform, including email, social media, and website pop-ups. Whichever channel you choose, use enticing and compelling language that emphasizes the soon-to-expire time limit. Plus, include a clear call to action button, leading to a landing page that allows you to track the success of your campaign.
29. Feature Customer Testimonials
Like the sense of urgency generated by limited-time offers, customer testimonials can also be a powerful tool to convince people to convert. Testimonials act as social proof, making your brand appear more authentic and credible to prospective customers. They can even lead them to take specific actions—sometimes even more so than any ad copy or call to action.
Some ways to highlight customer testimonials are by getting Google Reviews, creating a testimonial page on your website, posting on social media (usually with a specific hashtag), or producing interview videos. To speed up the process of getting positive reviews for your small business' digital marketing campaigns, try Podium.
Podium will automatically reach out and request reviews after someone buys from you, making it more likely for a customer to do so. It also allows you to manage all of your reviews in one place so you can better manage your brand's online reputation. Plus, it integrates with other apps, making it easy to showcase your company's top reviews on your website. Try it free for 14 days—and Fit Small Business readers also save 15% on annually billed plans.
30. Add Pop-ups to Your Website
Pop-ups can create instant engagement with site visitors and increase conversions, such as in the example above, where the site visitor can save 10% by providing an email address for marketing purposes. Pop-ups can also be used to prevent cart abandonment, get site visitors to pay or register for gated content, drive conversions for free trials and demos, promote limited-time offers, and much more.
31. Engage Customers with SMS Messaging
Short Message Service (SMS) marketing, also known as text message marketing, is increasingly being used to connect with customers. That's because bulk SMS marketing has a very high engagement rate, which means you're able to reach more customers and more directly with less effort. There are both free and paid tools you can use to build SMS campaigns, and learning how to create an effective SMS marketing effort is easy.
Our guide to SMS marketing will help you with the ins and outs of building your first campaign. Moreover, if you're looking for the right tools for your SMS campaign, we help you pick the best SMS marketing software, as well.
Frequently Asked Questions
What are the 7 P's of digital marketing?
The seven P's of digital marketing include the original four P's of marketing (product, price, place, and promotion) plus process, people, and physical evidence. Process is how customers experience your brand from start to finish. People involves how your staff interacts with customers. Finally, physical evidence is the tangible or visual elements that prove your brand's credibility, like a physical location, physical products (if applicable), and digital marketing entities like a well-designed, functional website.
How much should a small business spend on digital marketing?
How much a small business should spend on digital marketing depends on factors like available budget and the highest priority needs (e.g., lead generation, web traffic, appointment bookings, and so on). Total costs will include not only the digital marketing tools needed but also whether the work will need to be outsourced or can be accomplished with existing staff. Ultimately, the tactics you're using need to produce revenue in excess of their cost to justify any spending. To maximize the impact of your marketing efforts, you might consider choosing a marketing agency to help. Agencies specialize in building cost-effective and impactful campaigns.
What are the 3 C's of digital marketing?
The three C's of digital marketing are content, channels, and consistency. Content refers to the type and quality of content being produced, including its relevance to the intended audience. Channels (or correct channels) involve choosing the right channels to use to reach your audience, following best practices, and leveraging the best types of content for each one. Consistency not only refers to publishing regularly, regardless of channel, but also being consistent in brand voice and visual representations.
Bottom Line
When it comes to digital marketing for small businesses, the digital world offers countless tools to reach any business goal, from boosting your brand presence to increasing conversions. However, for the best chances at success, it's best to combine multiple strategies according to your overall business objectives and use them consistently over time.
If you're not getting the results you want from your digital marketing efforts, turn to WebFX. You'll have access to expert advice and help to build an effective strategy, a performance dashboard to monitor progress, and data-driven insights to take your marketing to the next level. Get started today with a free consultation.