144 Real Estate Words & Examples to Boost Your Property Listings
Creative and relevant real estate words like "move-in ready," "professionally decorated," or "perfectly priced" will make your property listings jump off the page and attract qualified leads. Property descriptions should include descriptive words, painting a picture of the property, neighborhood, and location, as well as the property's features, like the kitchen, living room, and bathroom. We've gathered the top 144 real estate descriptive words with examples to inspire your own property listing descriptions.
The better you can describe a home to potential buyers, the more likely you'll be to target the ideal audience for your property. To boost the effectiveness of your real estate words, consider using a search engine optimization (SEO) tool like Semrush. Semrush is an online marketing solution that assists you in determining national and local keywords with high search traffic and finding topics that resonate with your target audience. Check out its extensive tools and try Semrush today to improve your content marketing.
16 Real Estate Words for General Use
General real estate words are adjectives that can be used to describe the property itself or the features of the property. Keep in mind that you should use these descriptive real estate keywords sparingly, so you don't overwhelm the property description with broad or blanket statements.
For instance, "lovely remodeled coastal home" is a specific use of the words to describe the ambiance and condition of the home rather than "lovely home," which leaves little detail of the property. Or using "breathtaking fireplace" is preferable to promoting the "breathtaking house," as there are too many features in a house to make a blanket statement about it being "breathtaking."
These are 16 words that can be used to describe the property or property features:
| | | | |
| --- | --- | --- | --- |
| alluring | captivating | beautiful | striking |
| pristine | spacious | refreshing | must-see |
| breathtaking | bright | one-of-a-kind | move-in-ready |
| detailed | storybook | desirable | prime |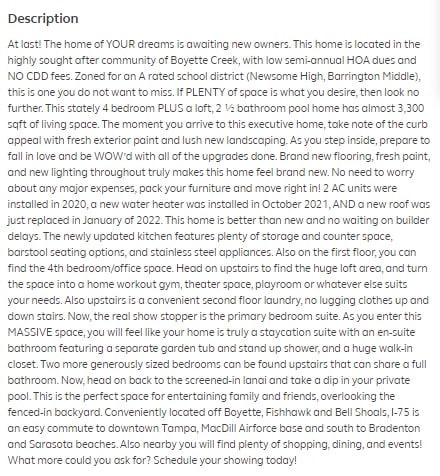 ---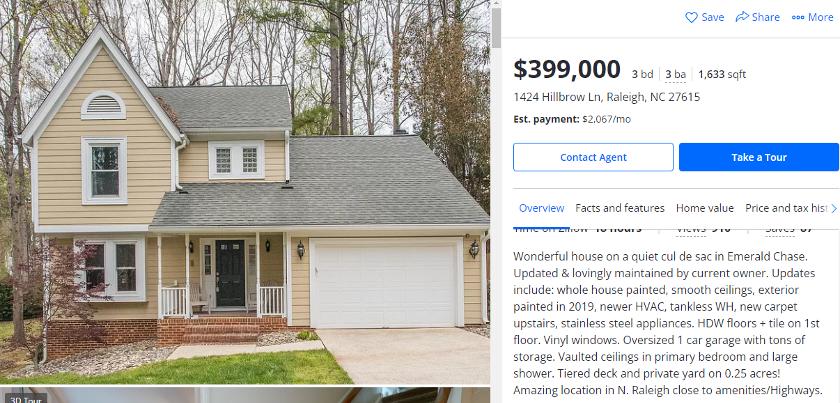 ---
Pro tip: if you know details like the HOA fees, age of appliances, and dates of renovations or upgrades, use them in your property description to target your audience and entice buyers who would be ideal for this property.
20 Landscape & Exterior Real Estate Words
Typically, the first photo of your property listing will be the front exterior of the home. Therefore, your description will start there. Landscape and exterior real estate words describe the immediate surroundings of the home and yard. They should set the tone for what a buyer will see when they first approach the property.
Describe the immediate location of the home using phrases to describe the street, like "tree-lined street" or "cul-de-sac." If the property has an updated exterior, a great view, or special yard feature, then mentioning the "beachfront" or "skyline view" will add to the appeal.
In addition, many owners like to spend just as much time on the inside of their home as the outside, especially in climates that are warm the majority of the year. So if you have a property listing with outstanding backyard or outdoor features, you should flaunt them in your description as well. This could be a "heated in-ground pool with luxury spa" or "oversized private deck for BBQing and entertaining."
Here are 20 of the best words to use in real estate listings to describe the landscape and exterior of a property:
| | | | |
| --- | --- | --- | --- |
| backyard paradise | [#] car garage | landscaping | manicured lawn |
| beachfront | curb appeal | fenced-in | [type of] siding |
| new roof | skyline views | deck | cul-de-sac |
| porch | oasis | in-ground pool | lanai |
| outdoor bar/kitchen | barbecue ready | solar panels | balcony |

---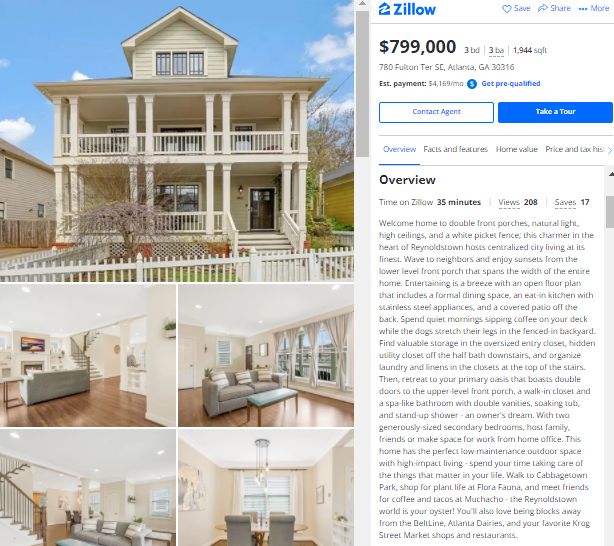 ---
In 2021, Zillow had about 36 million unique monthly visitors, making it the most visited property listing website. Become a Zillow member to guarantee your property listings get seen by as many potential buyers as possible. As a Zillow Premier Agent, you can also claim your listings to gain exclusive leads and appear in search results under other property listings in your area. Start generating leads for your real estate business today with a free Zillow account.
16 Neighborhood & Location-centric Real Estate Words
One of the top preferences of homebuyers is location, which is why the age old saying "location, location, location" reigns supreme in the real estate industry. Although the ideal neighborhood could range from a quiet, rural area to a busy, metropolitan city, clients typically want a location that fits their lifestyle needs.
Include noteworthy historic landmarks, local establishments, and distance—from the property listing to transportation and other important services. For example, if there is a park nearby, you can add "3 blocks from a tree-lined local park that hosts community activities" or "centrally located to shopping centers for convenience to groceries, clothing, and restaurants."
Here are an additional 16 real estate buzz words you can use:
| | | | |
| --- | --- | --- | --- |
| close to town | tree-lined | picturesque | close to public transportation |
| centrally located | inviting | local parks | [insert #] miles to [location] |
| historic | gated | upscale | [insert #] blocks to [insert location] |
| nearby | prestigious | downtown | accessible to [location] |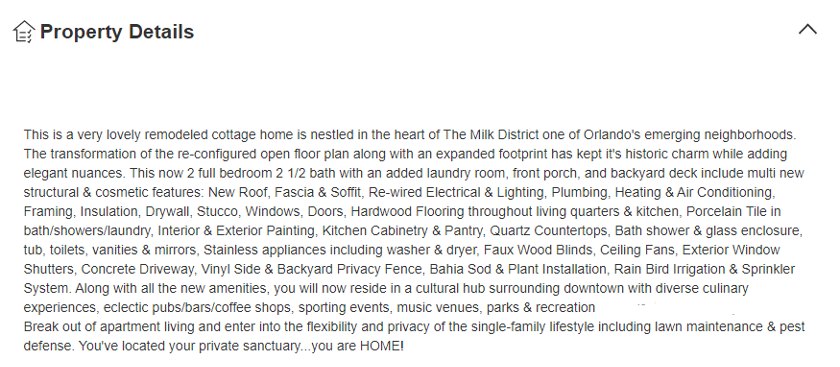 ---

---
If you're not much of a writer yourself, consider using a freelancer from Fiverr to help you cultivate your property listing descriptions. For as low as $5, hire a vetted Fiverr freelancer to assist with your writing and other projects like graphic design for logos. They can also help design your real estate website or create print marketing materials.
12 Real Estate Descriptive Words Related to Price
Some of the best words to use in real estate listings are related to price, as that is a huge factor in a homebuyer's purchase decision. While you want to stay away from words like "cheap" or "expensive," you can be more subtle in your word choice to convey the affordability of the listing. Get creative in explaining the seller's price point without being offensive or off-putting.
Try using words like "perfectly priced for the current market" to express that the property is priced higher than it normally would be. Or "motivated seller" to let buyers know that the seller is open to offers and it's priced lower than it typically would be because the seller is ready to move on.
In addition, you can use price-related words to target your intended audience. For instance, if you'd like to attract investors or home-flippers, you can include "Bring your design ideas and make this home your own" or "improvements needed" to show that buyers will need to invest money into the property, but that is reflected in the lower price. Or you can mention there are "tenants currently in the property" to signify to buyers or investors that the property has money-making potential.
Here are 12 other price-related word options:
| | | | |
| --- | --- | --- | --- |
| affordable | priced to move | perfectly priced | well-priced |
| priced under value | valuable | priced to sell | motivated seller |
| reasonably priced | energy-efficient | state-of-the-art | investment |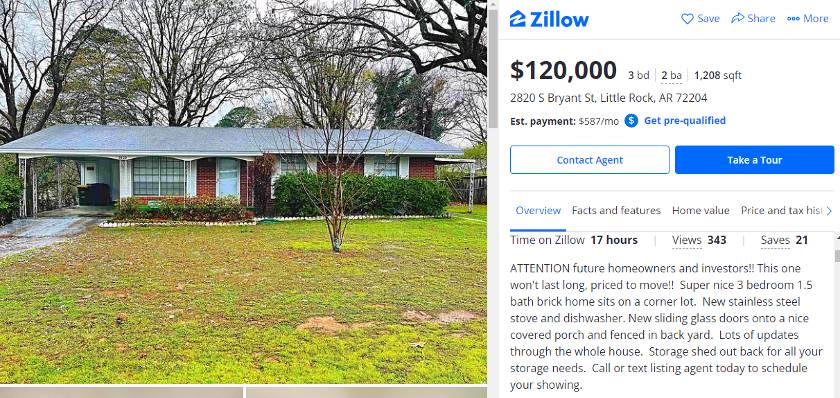 ---

---
16 Interior Design Real Estate Words
In today's HGTV-crazed world, savvy homebuyers are looking for homes specific to their tastes. Hence, agents should describe the home's interior to appeal to specific buyers. Clients will be looking for features that speak to them like "archways," "floor-to-ceiling windows," and specific architectural styles or themes. These styles can include southwestern, farmhouse, colonial, or Cape Cods. Each style has particular interior features that fit the motif and make the house stand apart from others.
While not all interior design elements are worthy of highlighting in your listing, it is worth mentioning particularly unique, attractive, or desirable aspects of the home. There are more general descriptive words like "modern" or "recently renovated," but if you can use those words in combination with some of the below descriptors, you will be able to attract a target audience to your property listing.
Here are 16 word to use to describe the interior or a home:
| | | | |
| --- | --- | --- | --- |
| remodeled | sun-filled | coastal | laminate flooring |
| modern | clean | rustic | professionally decorated |
| classic | minimalist | farmhouse | floor-to-ceiling windows |
| archways | ranch | contemporary | wall-to-wall carpeting(or)hardwood |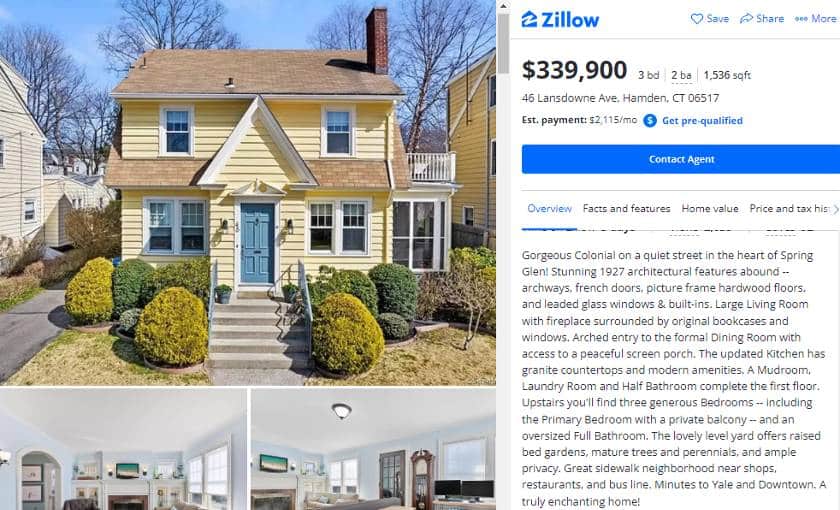 ---
---
Along with advertising properties on listing websites like Zillow, Realtor.com, and Trulia, it's important to use other real estate marketing methods. Posting on social media platforms will increase your exposure and generate additional leads for a successful real estate business. Outsource your posting efforts by using a digital marketing service like Artur'In. Artur'In will manage your accounts on Facebook, Google My Business, LinkedIn, and Twitter to raise brand awareness, post relevant information, and improve your local presence.
12 Living Room Real Estate Words
The living room is the home's focal point because it's where people gather for parties, sports games, holidays, and various special occasions. It should be a comfortable and inviting place to draw homebuyers to the listing. Also, it is oftentimes the largest room and first impression when you walk into a home. Adding words like "vaulted ceiling" or "custom hearth fireplace" highlights details of the living room to convey space, togetherness, and comfort.
Use language that describes the space architecturally and include an idea of the furniture that can fit in the room to give buyers spatial recognition of the size. For example, "the living room can comfortably accommodate a sectional couch, entertainment unit, coffee table, and end tables." This will give the buyer a mental picture of the space rather than just the square footage of the room, which is hard to visualize.
Twelve other real estate words you can utilize are:
| | | | |
| --- | --- | --- | --- |
| rec room | well-lit | beamed wood ceilings | designed for entertaining |
| sun porch | den | brick fireplace | host parties/get togethers |
| spacious | great room | vaulted ceiling | Large enough for [furniture] |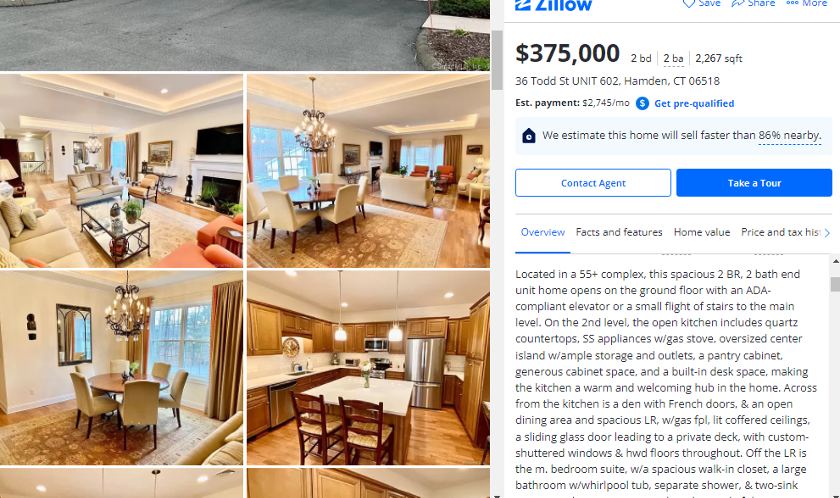 ---

---
20 Kitchen Real Estate Words
Along with the living room, the kitchen is a place of togetherness where people cook, store appliances, gather for holidays, and have workable space. Therefore, describing a kitchen in real estate listings is all about highlighting standout features that showcase function, space, high-quality design, and upscale amenities. Also, since a kitchen is one of the more expensive rooms in a home to rebuild or renovate, it's in a homebuyer's best interest if the kitchen is in decent to upgraded shape when they move in.
Use real estate terminologies like "custom cabinets" and "marble island" to express both space and design quality. Identify whether the kitchen runs on gas or electric, and which appliances will be included in the purchase. Highlight any special features not typical in every kitchen, like a "wine refrigerator" or "cabinet underlighting."
Be sure to use combinations of the 20 words below to reflect these elements and entice buyers who love to cook:

| | | | |
| --- | --- | --- | --- |
| stainless steel | gas stovetop | gourmet | dry bar |
| double-oven | dry bar | island | breakfast bar |
| granite | maple | custom-built | innovative |
| upgraded | ultra-modern | eat-in kitchen | chef-grade appliances |
| marble countertops | pantry | galley kitchen | beverage fridge |

---

---
Pro tip: If you know the brand name of an appliance or type of materials used in the kitchen, add them in your description. For example, being specific with "1-year-old Samsung Chef Collection stainless steel appliances" or "quartz Caesarstone countertops" will include details to entice buyers.
16 Bedroom Real Estate Words
Since each bedroom is the private space of the person who occupies it, you want to describe the room as one of relaxation and comfort. For example, descriptive real estate words for the guest room might include "cozy" to show comfort, while the primary bedroom might be portrayed as a "retreat" to convey both luxury and a sense of privacy.
Similar to the living room, you should use descriptive language that gives the reader a sense of each bedroom's size. For instance, including "can fit a queen or king size bed comfortably" or "perfect for bunk beds or a twin bed." These additional descriptive features will allow buyers to understand the space they are working with and know whether the home is a good fit for themselves, their families, or guests.
Many homebuyers may also want to turn a guest room into an office, library, play room, storage, or other space to fit their needs. So if you have a room that can function as something else, or may be a bit small to fit a full bedroom, feel free to mention other options in your description to be inclusive.
An additional 16 bedroom words associated with real estate are:
| | | | |
| --- | --- | --- | --- |
| retreat | sanctuary | private | ensuite bathroom |
| terrace | sunlight | fireplace | primary bedroom |
| suite | intimate | walk-in closet | hardwood (or) carpeting |
| peaceful | quiet | guest bedroom | fit for a [bed size] bed |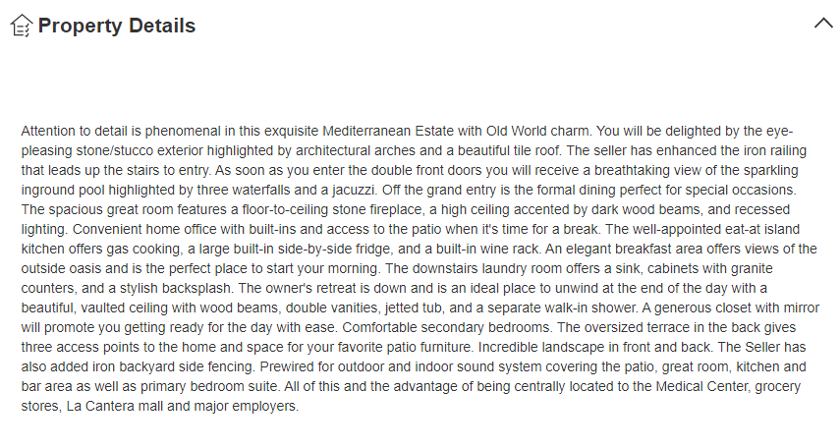 ---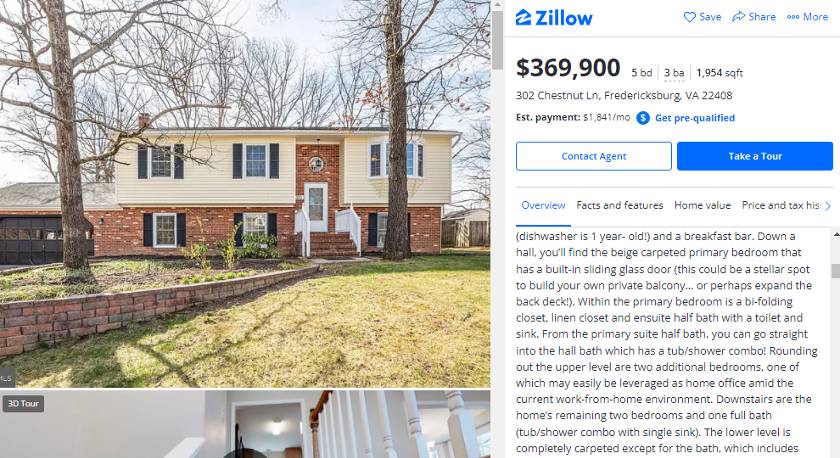 ---
To further showcase your listings, consider creating single-property listing websites or your own personal real estate agent website that houses all of your listings. Purchase a real estate sales and marketing solution like Real Geeks to help you create websites with custom domain names for your business. Real Geeks creates fully optimized websites with an IDX feed and landing pages that are fully customizable. Collect visitor contact information directly from your website and start converting real estate leads today.
16 Bathroom Real Estate Words
Bathrooms are a homebuyer's private space for cleanliness and self-care and should be described as such. There should also be a level of functionality applied to bathroom descriptions for storage of products, linens, and so forth. To capture this effectively, use words that signify luxury, personal space, and cleanliness. For example, you can mention a "copper-gilded double vanity" or a "spa-like bath."
Also, multiple bathrooms is always a plus, even if it is just a half bath that contains a sink and toilet. Make sure to mention the number of bathrooms in your description as well as the location of these bathrooms. For instance, if one bathroom is in the primary bedroom and the other by the living room, you can describe it as "two full bathrooms: one is an ensuite attached to the primary bedroom and the second attached to the living room perfect for use when you have guests visiting."
Check out these 16 bathroom words to elevate your language:
| | | | |
| --- | --- | --- | --- |
| spa | private | updated | spacious |
| double vanity | marble bath | linen closet | remodeled |
| guest bath | half bath | powder room | elegant fixtures |
| waterfall showerhead | sauna | clawfoot tub | ensuite |

---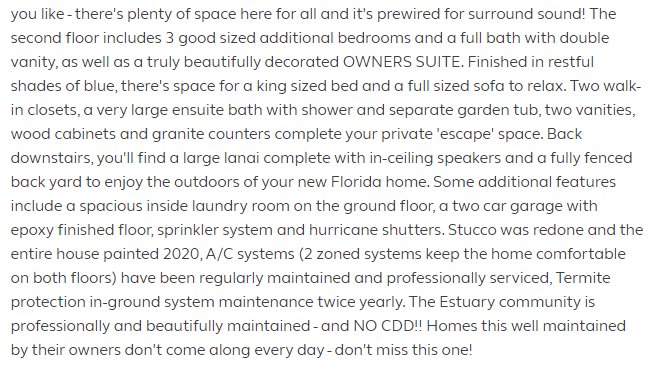 ---
Tips for Listings Descriptions With Real Estate Words
Now that you've got a list of real estate descriptive words to choose from and looked at listing description examples, it's time to write your own. In addition to the above resources, here are some extra tips you can use to generate more leads for your properties:
Write to a target audience: Identifying a target audience will help you write words and examples that resonate with the right people. Research your listing area to learn about the demographics so you can target the correct audience and use descriptive words that fit the profile.
Use clear and simple language: Simple language is best as readers will be skimming through the description to get the main gist of the home. You can also break up text to include bullet lists so it is easily scannable, but still descriptive. Also, stay away from abbreviations and real estate jargon that potential buyers might not understand.
Determine all positive features: Before writing your listing description, catalog all of the home's best features. Then, while you are writing, make sure to include each of those features using real estate words, enhancing the feature's narrative.
Be accurate and don't exaggerate: While you want to highlight details of the home, do not exploit or exaggerate them to where the potential buyer will be deterred or disappointed when they see the home in person. Use accurate depictions in order to encourage the best leads. Overexaggerating a property is the quickest way to lose trust and waste both your and your clients' precious time.
Incorporate examples that resonate: Clients want features, but they buy benefits. Instead of stating that a home has a 500-square-foot kitchen, you could say "the spacious kitchen has plenty of room to cook with guests." Make it easy for people to picture themselves living in the home by using specific lifestyle examples.
Strategically select your descriptive words: Consider the positive and negative connotations of each word, as well as your target audience, to create the most appealing listing description. For example, a common adjective for a smaller home or room is "cozy," but it can also read as small or cramped.
Provide important details: Use your listing description to give more details, like homeowner association (HOA) fees, amenities, storage space, and the inclusion of a basement or garage. The easier you make it for buyers to find important information, the more likely they will take action and schedule a viewing.
Minimize punctuation: Don't overuse exclamation points or capital letters. People tend to skip over sentences written in capital letters, and excessive punctuation often feels unprofessional. Instead, strategically use the format of your listing as well as descriptive words to communicate enthusiasm about the property.
Get inspired by similar listings: Look up similar listings in your location to see what other agents are writing about their properties. Write down words you find to be impactful and enticing to potential buyers and work them into your descriptions in your own words.
Writing an effective listing is only one small part of the sales process. Once you have a compelling listing, you also need to secure leads with advertising, manage contacts, and create ongoing marketing campaigns. Fortunately, Real Geeks can do all of that, freeing up time for you to spend on showing homes and meeting with clients. Learn more about how you can use Real Geeks' real estate lead generation and marketing features today.
Bottom Line
Using the most impactful words to market and advertise your listings is quintessential in drawing an audience to your properties. It's important to be creative and include words that highlight the best features of your listing as well as provide a full picture of the home to prospective clients. The more effort you put into your description, the more qualified leads you'll bring to your listing and be able to sell the property more quickly for your clients.