RingCentral and 8×8 are not only two of the top VoIP phone service providers for small businesses, but they are two of the best for third-party integrations. You can take advantage of their integrations with programs like Outlook, Gmail, Salesforce, ZenDesk, and others to make calls, access customer information, and generate reports from call logs. In this guide, we'll compare RingCentral vs 8×8 including their price, features, ease of use, and customer support.
If you're looking for a comparison of even more alternatives to RingCentral, check out our guide here.
RingCentral vs 8×8: Who Wins?
We recommend RingCentral because of their comprehensive list of standard features and relatively competitive per user pricing, but with the caveat that 8×8 might work out to be more cost effective for your business if you make a lot of international calls.
RingCentral vs 8×8 VoIP Phone Provider Summary Table
RingCentral

8x8

Best For
Small businesses who need a full-featured service, including a toll-free number, and whose calling needs exceed 250 minutes/month
Small businesses who use a lot of long distance minutes in a month to those countries included in 8x8's top two pricing tier packages
Ease of Setup and Use

Learn More
Easy
Easy
Differentiating Features

Learn More

1,000 toll-free minutes
Unlimited video meetings with screen sharing
Integrations with Microsoft, Google Box, and Dropbox

Call recording
International calling to select countries is included in top two pricing tiers

Mobile App
iOS and Android
iOS and Android
Customer Support

Learn More

Online knowledge base
Phone from 8am to 9pm EST
Online chat 24/7
Ticket requests

Online knowledge base
User guides
Setup guides
Online chat
Phone-based support
Online Q&A with other 8x8-selected power users
Pricing
RingCentral

8x8

Pricing
No activation fee

From,

$34.99/month per user for 1 user
$24.99/month per user for 2-19 users
$21.99/month per user for 20-99 users
$19.99/month per user for 100-999 users

Paid annually
$39.99 activation fee

From,

$24.99/month per user for 250 outbound minutes to the US and Canada; $0.029/minute thereafter
$39.99/month per user for unlimited minutes to the US, Canada, Puerto Rico, US Virgin Islands and Guam and calls to landlines in France, Italy, Ireland, Spain and the UK
$79.99/month per user for unlimited minutes to 8x8's top 40 calling countries

International rates from $0.034/minute
Free Trial
Yes, 15 days for up to 5 users and 50 minutes of use
30 days
When RingCentral Beats 8×8

RingCentral is an industry leader in VoIP phone service for small businesses. Many of the features that come standard with RingCentral are also available from 8×8, but added features like unlimited video meetings, the range of available third-party app integrations, and unlimited calling within North America included with all pricing packages make RingCentral our recommendation over 8×8 for most small businesses.
However, for businesses who make a lot of international calls, 8×8 may add up to be the more cost effective service because of the countries they include in their top two tiers of pricing packages. With RingCentral's international rates starting at $0.039/minute, call time can quickly add up.
When 8×8 Beats RingCentral

For businesses who make a lot of calls outside of North America, 8×8's service may prove to be more cost efficient vs. RingCentral despite higher per user fees. Their top two pricing tier packages, Unlimited and Global, include unlimited calls to either nine or 40 of their top destination countries, respectively.
For international calls outside of these destinations, 8×8's rates are more cost effective as well — starting at $0.034 per minute versus $0.039 for RingCentral.
8×8 is also compliant with federal data collection and storage regulations like HIPAA, PCI, and FISMA, making it suitable for industries like healthcare and ecommerce where this is required.
In-Depth Review: RingCentral vs 8×8
Ease of Setup/Use
Because RingCentral and 8×8 are cloud-based VoIP services, they are hosted by the provider. This means that there's no costly or complex PBX hardware for your business to invest in or manage; all you need is high-speed internet access and your VoIP phones to get the service running.
After you connect your phones to your network, a web-based administration tool will guide you through the rest of the setup process. Because the administration is centralized and in the cloud, you can access it remotely to monitor, manage, and make any adjustments to your business' phone service on the fly. Assign extensions to your employees, manage your auto-attendant, record an updated greeting, or configure any of your service's other features from anywhere with an internet connection.
Your employees will have remote access to the tools that are made available to them as well, so they can use their softphone (software that enables you to use your computer as a phone) or check their voicemail on the road.
Both RingCentral and 8×8 offer personal assistance and online resources to help guide you through the setup process. We'll discuss some of those options below.
RingCentral has a condensed and easy-to-follow user portal. The graphical interface makes it easy to navigate and complete tasks like setting up the auto attendant (pictured below). We also liked that you can watch "how to" videos directly from the interface, so you don't have to sift through support articles on their website as you're setting everything up.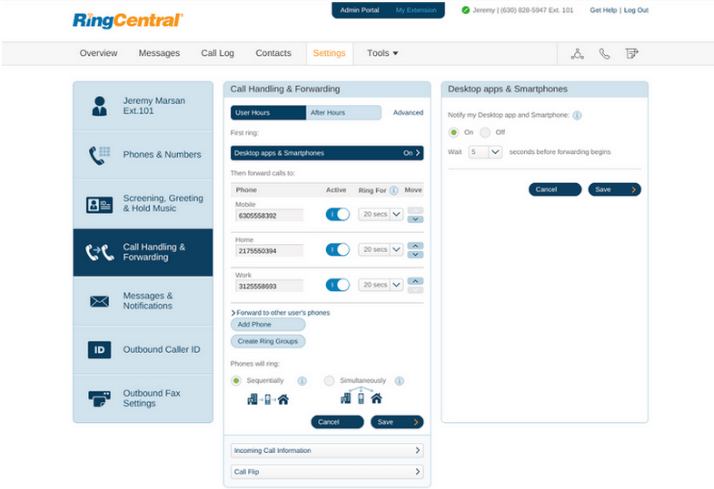 8×8's partnership with your business begins with a 30-60 minute phone call to introduce you to their service, its features, and to help you to configure them to maximize how your business uses them.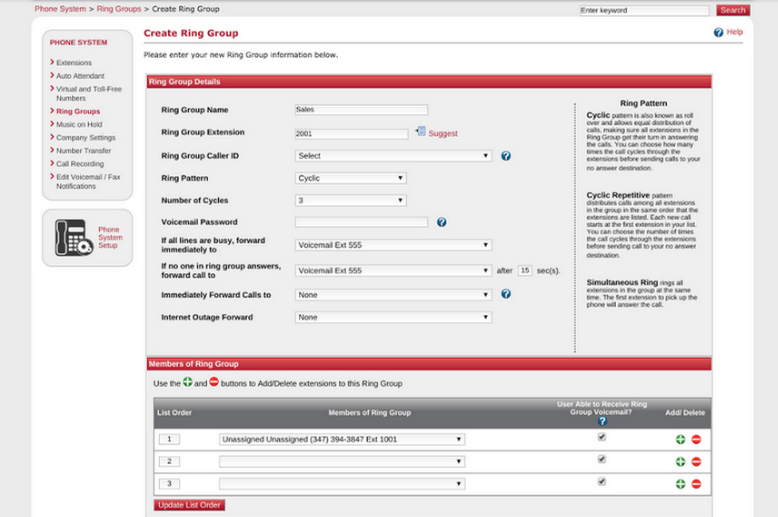 Customer support representatives are also available to assist you should you have any issues during the setup process, or you can find video setup guides in their comprehensive online knowledge base.
Features
RingCentral and 8×8 both offer most of the same call management features that will help the day-to-day operations of your small business. Many of these features used to only be available to businesses who invested in an enterprise-level PBX system, but the advancements of VoIP technology have made them more accessible to smaller businesses.
Some of these standard features include:
Web-based system administration
Auto-attendant
Hold music
Call forwarding
Conference bridge
Caller ID
Call blocking
Call waiting
Call transfer
Ring groups
Share one line on multiple phones or devices
Voicemail to email (audio file)
Another feature RingCentral and 8×8 both specialize in is third-party integrations. Both services can integrate with Outlook, Salesforce, and ZenDesk, for example, so you can make or receive calls using a widget straight from the program. The widget will even scan Salesforce or Zendesk for client information as you make or receive a call.
RingCentral also integrates with Gmail, Office365, Desk.com, and Dropbox among others.
8×8 also integrates with Zoho, Insightly, Netsuite, and eAgent among others.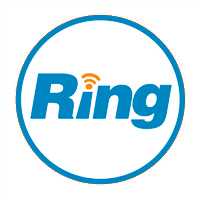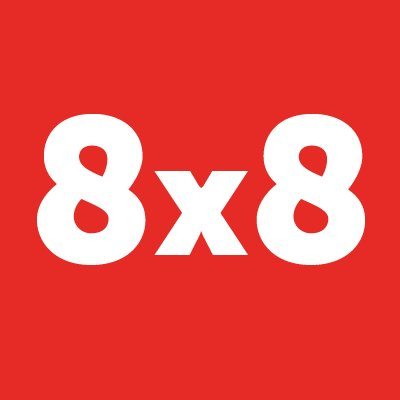 Customer Support
For the small business owner who won't have the time or resources to dedicate to setting up, managing, or troubleshooting their virtual phone system, it just has to work. And when it doesn't, a resolution needs to be within easy reach.
Both services offer some form of an online knowledge base for more self-sufficient users as well as multiple channels to connect with them through for issues that require more individual attention.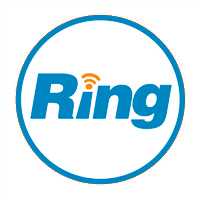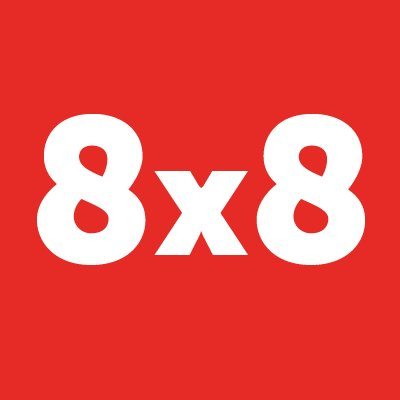 The Bottom Line
RingCentral is one of the top VoIP phone service providers for business, small and large, and is our recommendation over 8×8 for most small businesses.
However, this should be weighed against 8×8's unlimited international calling to select countries and RingCentral's tiered customer support model where smaller businesses may receive less personal care and/or only be able to access offshore support.
That said, their per user pricing is relatively competitive with 8×8 and their service delivers a comprehensive suite of features for the price.