Top RingCentral Integrations
This article is part of a larger series on VoIP.
RingCentral is a voice-over-internet-protocol (VoIP) system that integrates with various business apps and software, such as Gmail, Salesforce, and Microsoft Teams. These integrations allow seamless data exchange and expanded software functionalities for call management, productivity, and organization. RingCentral houses over 200 plug-and-play applications and features an open application programming interface (API) that allows for custom development.
Let's take a deeper look at these nine top RingCentral integrations to determine how you can maximize your time and investment.
Best RingCentral Integrations for VoIP Call Management Features
RingCentral is a full-featured VoIP solution offering reliable, scalable business communication solutions. Even with several channels for communication available, most customers still prefer to call in and speak to agents about their concerns. With the help of third-party apps, users connect business tools like customer relationship management (CRM) software to strengthen phone systems and improve customer satisfaction.
RingCentral's app integration enhances your business phone's voice calling and short messaging service (SMS) capabilities with superior communication features, such as professional recordings, CRM integration, and smart recording. Make calls directly from your RingCentral app and enjoy customer data tracking and call management functionality without sacrificing efficiency.
Click on the dropdown menu below to discover the top RingCentral phone and call management integrations:
Snap Recording is a professional voice-over and audio messaging service that allows you to manage all your greetings, prompts, music, and messages on hold. Its audio products come with artificial intelligence (AI)-powered voiceovers, multilingual voice talents, bulk audio uploads, and unlimited pre-license music. This integration lets you quickly install recordings directly into your RingCentral phone system with a few clicks.
---
The RingCentral-HubSpot integration embeds RingCentral capabilities into your HubSpot CRM account. It allows for real-time data and contacts syncing between the two applications and generates insights into team performance. Calls are automatically set up in HubSpot CRM, eliminating the need to dial or enter information manually. It allows for click-to-call and click-to-SMS directly from your browser or RingCentral Chrome extension.
---
Salesforce's integration with RingCentral enhances your CRM software by increasing call efficiency and customer satisfaction through in-app click-to-call functionality. Schedule video meetings and reach out to customers by calling or texting from the Salesforce app. Like HubSpot, incoming calls trigger screen pops with caller information for efficient conversations. This real-time synchronization streamlines customer updates and historical tracking.
For more information on how the RingCentral-Salesforce integrations work, click on the videos below:
---
Best RingCentral Integrations for Team Collaboration & Productivity
Through third-party applications, RingCentral users capitalize on complementary features, such as file sharing and team messaging for improved productivity. Integration with productivity services, such as Google Workspace and Slack gives users productivity tools to manage tasks, share files, schedule events, and make and receive calls from a single place.
Click on the dropdown menu below to find examples of collaboration and productivity integrations:
This integration makes it easier to use RingCentral Office features within Google Workspace. Using the RingCentral softphone within Chrome allows users to check voicemails, click a phone number, and make secure calls or send SMS texts straight from the browser. RingCentral virtual meetings are quickly scheduled on Google Calendar, and contacts from both platforms may be combined for easy data entry.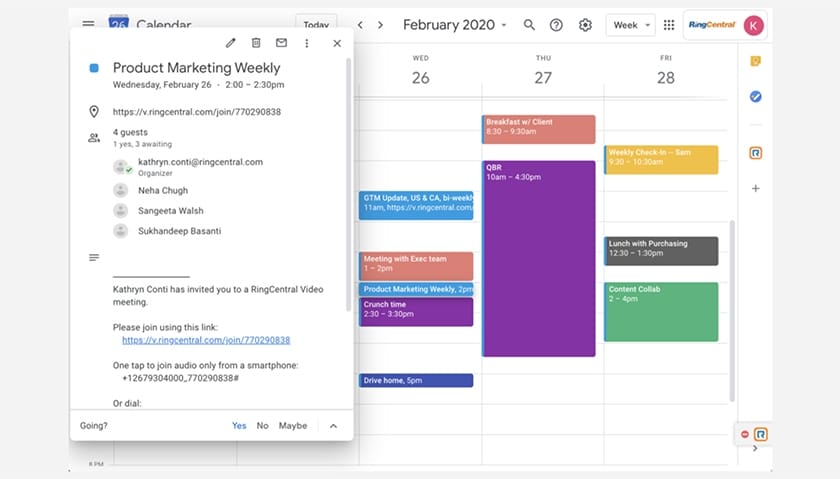 ---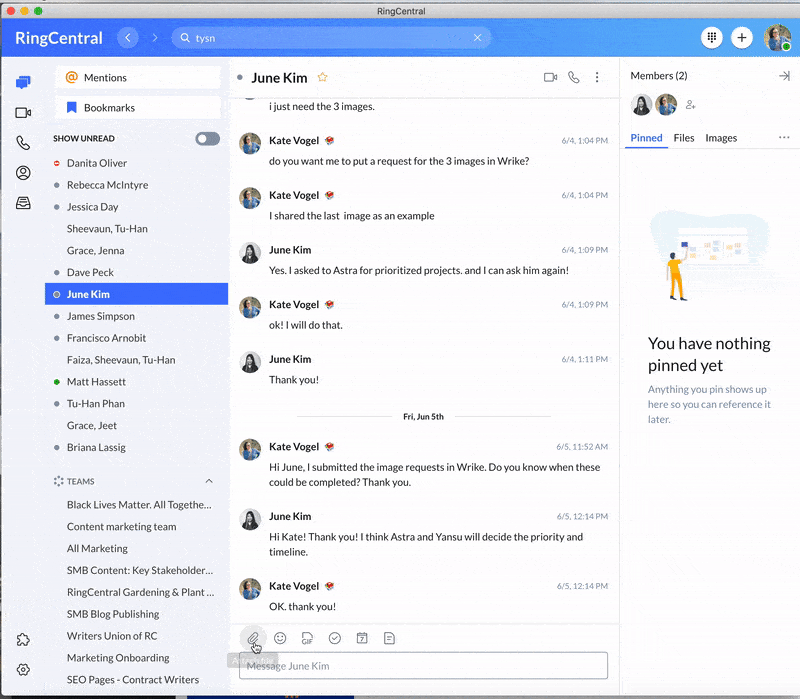 ---
---
The RingCentral and Slack integration is available to RingCentral MVP accounts, enabling users to jump into a video meeting or audio conference straight from the Slack textbox. Easily connect with colleagues using simple slash-comments and reduce the need to switch between applications when coordinating within teams.
---
Chrorus.ai enhances your RingCentral experience by adding call recording, transcription, and real-time analytics solutions to your meetings. Once integrated, Chorus.ai will join your RingCentral meetings on your calendar and record your session. With AI capabilities, it pinpoints actionable insights, detects new themes based on business-sales language, and offers insights within minutes.
---
Best RingCentral Integrations for Storage & Organization
Integrating RingCentral with secure data applications enables you to unload your RingCentral storage and keep files in a centralized, yet easily accessible location. RingCentral's integration with storage and organization apps equips your business with cloud solutions that store and back up your communication data.
Click on the examples of storage and organization integrations below:
Combine the capabilities of your Microsoft 365 tools with your RingCentral system and make secure, high-definition (HD) calls on Teams. This integration also allows you to schedule meetings from Outlook. Gain active call controls for Microsoft that enable you to hold, flip, and multi-party calls for efficient coordination.
For heavy Microsoft users, the OneDrive for RingCentral makes file sharing from the cloud a breeze. Once OneDrive storage is integrated into the RingCentral ecosystem, quickly share documents and collaborate with co-workers in real time on shared files. With a click of the file icon, share files with your team within the RingCentral app. Maximize data transfer, reduce email overload, and centralize files within your team's messaging workspace.
---
Dropbox file sharing for RingCentral comes pre-installed with RingCentral accounts. Integrating Dropbox into the RingCentral app allows you to share any Dropbox file—a document, image, video, or presentation—right into your RingCentral team messages without leaving the application.
---
If you're looking for an efficient app to back up your communications data, RingCentral Archiver integrates with your cloud storage provider to automatically archive your RingCentral video meeting recordings, voicemail, and text messages. An administrative portal makes it search and retrieve the archived data.
---
Top Benefits of Using Third-party Integrations
RingCentral's extensive third-party integration provides a range of advantages for small businesses that want to maximize existing software subscriptions. Nowadays, companies are constantly looking for ways to streamline operations through app integrations. Below are some of the benefits you stand to gain:
Integrating your CRM data and phone system makes your customer data readily available during customer interactions. Agents have updated customer profiles at their fingertips, giving them the tools to provide better customer service. Real-time calling data gives your team a better understanding of nurturing a particular lead or addressing client concerns.
---
Merging your business tools with your RingCentral communication system minimizes the need for manual data transfer. It also saves time because entries automatically update both software solutions, reducing workloads. Activate click-to-call or click-to-message features for immediate coordination and customer engagement. You will be able to create automated trigger messages, freeing your agents to focus on customer calls.
---
With integrated analytics and AI-powered features, collect data from third-party applications that track actions taken to understand how each agent performs. Evaluate call statistics and assess notes and recordings to identify productive employees and provide feedback to those with areas for improvement.
---
Integrating your different systems maximizes their features and eliminates the need to jump between several programs to manage a task or project. For example, integrating sales and marketing tools with your phone system automatically syncs contact information or generates and sends invoices to customers for orders made.
---
Frequently Asked Questions (FAQs)
Are RingCentral integrations free?
Yes. All RingCentral integration apps are free for those in the Premium or Ultimate plan. However, you must have an account with both RingCentral and the other software provider—let's say, Salesforce—to use an app to integrate both platforms.
How long will software integration take?
Suppose you're already a user of both RingCentral and the third-party app you're integrating; then the download and installation should take minutes. You'll need to download the application or plugin, install the applications, log in, and then begin familiarizing yourself with the expanded functionalities. RingCentral and its partners have demo videos readily available online.
Can anyone use the RingCentral applications?
No. To use RingCentral apps, you must have an active RingCentral subscription and an active account with the third-party provider. For example, to use the RingCentral for Slack app, you need to be a RingCentral Office customer and have an active Slack account. Each application details user requirements, including specific equipment or software for compatibility and optimal use.
Bottom Line
Phone system integrations with third-party applications optimize your business process through efficient data access across different platforms. It minimizes expenses by upgrading your IT infrastructure without needing new software. When browsing through third-party applications, evaluate the beneficial and unique features it offers and review the technical components to see if they will be compatible with your system.
You May Also Like…