9 SMS Marketing Best Practices (+ Do's & Don'ts)
SMS (text message) marketing can be used for everything from growing brand awareness to getting sales. It's also low-cost and effective, with far less competition than alternatives like social or email marketing. In other words, it's a great addition to your marketing strategy—but success hinges on following SMS marketing best practices, including knowing what to do (and not to do). With that in mind, here are nine best practices to fuel your SMS marketing strategy.
If you're new to SMS marketing, you might benefit from reviewing our article on how to do SMS marketing, complete with our list of do's and don'ts.
1. Focus on One Objective & CTA per Text Message
Text messaging is a condensed medium, with each message limited to a few hundred characters, so you want recipients to be able to understand your message as quickly and easily as possible. Therefore, when crafting your content, one of the most important SMS marketing best practices is to stick to one objective and call to action (CTA).
Don't combine multiple objectives and CTAs in one message. For example, if you're announcing the opening of a new store location, don't offer a limited-time promotion that applies to other locations in the same text—it diminishes the impact of your announcement and can suppress conversions. SMS marketing is most effective when it's clear, concise, and straight to the point.
2. Segment Recipients for Better Targeting
In marketing, targeting is everything, and that's probably even more crucial for your SMS marketing strategies. One of the best benefits of SMS campaigns over other platforms is that they're more personal—when customers read your text message, it's not competing with other content and ads on their screens. To best benefit from this, segment your text recipient list so your messages are targeted more precisely, and are therefore more effective.
For example, if you're sending a text campaign announcing the launch of a new store, segment your list by location, such as a radius based on the reasonable distance a customer would travel. Other ways to segment recipients are by prior purchases, loyalty club membership, inactive customers, lead sources, interests, sales pipeline stages, and so on.
Segmenting your audience helps make each message count. It reduces wasted spend, decreases opt-outs, and increases metrics like opens, clicks, and purchases.
3. Personalize SMS Text Messages
An easy way to leverage SMS one-on-one quality is to personalize messages—which is why one of the best text message marketing tips is to address recipients by name. Many SMS marketing platforms have this feature built in, and it's a proven way of increasing your campaigns' effectiveness. In fact, studies found that 70% of customers only engage with personalized text messages.
It's not hard to see why. Personalized messages make your customers feel special and valued by your brand—even more so in the hyper-focused medium of text messages. When finding an SMS platform to use, choose one that supports personalization. It's a small adjustment that can potentially bring much higher returns.
4. Send Messages at Optimal Times
Similar to permission-based email marketing, another best practice for SMS marketing is sending campaigns when they're more likely to be opened, read, and clicked on by recipients. According to text marketing best practices from Textedly, the best time to send marketing texts is from 9 a.m. to 12 p.m. and from 5 p.m. to 9 p.m. on weekdays and from 10 a.m. to 12 p.m. on weekends and 4 p.m. to 7 p.m. on Sundays specifically.
While there is no 100% guarantee on the effectiveness of these sending times for every SMS campaign type, they're a good starting point. Plus, you can continue testing different campaign types to pinpoint which ones work best for your business. Learn more about how to do SMS marketing the right way to increase your chances at success.
5. Plan Your Mass SMS Campaigns
Besides sending your messages at optimal times, an even better bulk SMS marketing strategy is to plan your entire campaign in advance. This is so all your messages are strategic and not just shots in the dark. Especially for mass campaigns like brand awareness or sales announcements (that is, not targeted or drip campaigns), a scheduled plan is your main guide.
Good timing is crucial to any marketing campaign, and having a prepared SMS campaign plan eliminates risks like sending too many messages (a common mistake that can easily cost an "unsubscribe") or sending so sporadically that you are automatically ignored. All SMS marketing platforms come with scheduling features—use them to your advantage to create well-timed campaigns.
Your SMS campaign plan doesn't have to be too complicated. Similar to social media plans, start by identifying your objective and define your target recipients and messaging direction. Then plan out the days and times you'll send out your SMS campaign on any document or spreadsheet.
Pro tip: For best results, SMS campaigns should only be one tactic in your overall strategy to grow brand presence for your small business. Use SMS campaigns in tandem with strategies like email marketing, social media, content marketing, and more.
6. Offer Exclusive Incentives
Direct messaging offers many opportunities for marketing your business, one of the biggest of which is exclusivity. You can't get more personal in marketing than text messages, which is why it's one of the best avenues for offering exclusive incentives to specific recipients—for example, your most frequent customers.
Alternatively, it's also a personal way to reach out and re-engage lapsed customers. Whether you're offering exclusive discounts or recruiting customers into a membership club, exclusive incentives are a proven and tested way to foster brand loyalty, and there are few better channels for doing that than via SMS campaigns.
7. Have a Dedicated Landing Page for SMS Campaigns
Just as segmentation and personalization can increase campaign opens and clicks, landing pages can increase conversions. While it's perfectly acceptable to lead your recipients to your site's home page, there's a palpable difference if they're greeted with a custom landing page tailored to get recipients to take specific actions (e.g., sign up, book now, buy, and so on).
Your SMS recipients purposely opted in to receive your marketing messages. Reward them with custom experiences to keep them staying loyal. Plus, a dedicated landing page also makes it easy to track your conversions and measure your campaign's overall effectiveness.
8. Have Multiple Channels for Collecting Opt-ins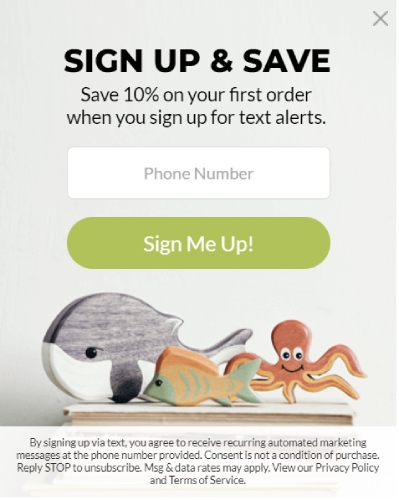 ---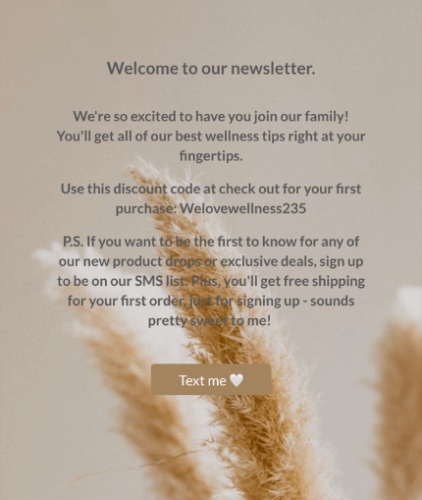 ---
Growing your subscriber base is one of the most important objectives (and metrics of success) in any SMS marketing strategy. One of the best ways to do it is to give customers multiple ways to opt in to your marketing text messages.
From pop-up forms on your website to QR codes in your physical store to a call to action on your email newsletters, spread your opt-in collection avenues across your public-facing assets. You can even add value to your opt-ins by offering welcome discounts or exclusive subscriber-only perks.
Sending SMS campaigns to people who haven't opted to receive them violates TCPA law. Be sure to follow SMS opt-in laws and best practices by clearly indicating when customers are opting in (such as at the point of sale). Clearly indicate in web forms how people can subscribe (for example, a statement with a check box). And always include an option to opt out.
9. Use AI Tools to Streamline Your SMS Marketing Strategy
Artificial intelligence (AI) tools in marketing are developing every day, and you can use them in various ways in SMS marketing campaigns. For example, when crafting campaign content, you can use an AI content writer like WriteSonic or Copy.ai to help generate SMS copy or polish existing drafts. These tools can be especially helpful for keeping your copies at 160 characters—the standard for text messages—while staying on-brand and impactful.
Meanwhile, there are also AI tools specifically for SMS marketing, such as the AI-powered SMS platform Attentive. It uses AI to send messages to your recipients at optimal times and to automate message replies, among other things.
If you're sending MMS messages (media messages), Canva also has a free AI image generator to help you out. The possibilities with AI are nearly endless, and can help streamline your text marketing strategy.
SMS Text Marketing Do's & Don'ts
SMS marketing is unique in that it's personal, immediate, and text-based—more so than most other marketing channels. Therefore, there are certain text message marketing best practices to follow for maximum results. Here are six important SMS best practices and do's and don'ts:
SMS Marketing Do's

SMS Marketing Don'ts

Be friendly and conversational
Don't send without permission
Shorten links
Don't bombard recipients
Track and measure campaigns
Don't leave out the opt-out option
Do use friendly, conversational language: Personalization and exclusivity are some of text marketing's best assets, so naturally, it's best to use conversational and friendly language in your campaign—the same language you'd use to text a friend. The key is to make your campaigns feel less like campaigns and more like friendly updates.
Do shorten your links: Lengthy links not only take up character space, they also make your messages look like spam. One of the most crucial SMS marketing best practices is to shorten your campaign links, if you have them. Many free link shorteners are available online (e.g., bit.ly or TinyURL) and many SMS marketing platforms automatically shorten your links.
Do track and measure campaigns: Like any other marketing campaign, your SMS campaigns should improve over time. The best way to do this is to track and measure your campaign analytics and use the data to build even better ones in future. Most SMS platforms also have campaign analytics built in to help you track results easily.
Don't send campaigns to people outside your subscriber base: The first rule of any SMS marketing best practices list is to always be sure that you only send SMS campaigns to those who consent to receive them. Doing otherwise risks violation of TCPA guidelines and can lead to hefty fines.
Don't send too many campaigns at once: The last thing you want is to get an "unsubscribe" when sending a campaign, and a surefire way of making that happen is by sending too many SMS messages. Text marketing shouldn't be your only marketing strategy—use it alongside other channels so you have a variety of touchpoints with your customers.
Don't forget opt-out options: Finally, as with any permission-based marketing, don't forget to include the option to unsubscribe from your promotional messages. You don't have to include opt-out instructions in every message, but do send them regularly. For example, for every five promo messages, send one with opt-out instructions. And when people opt out, honor their choice.
Benefits of SMS Marketing for Small Businesses
Why use SMS marketing at all? The simple answer: It's relatively inexpensive and easy to set up—and it's effective. For instance, because text messages are so personal and immediate, they have a much higher chance of being read by recipients than marketing emails.
But that isn't all. Keep reading to learn the best benefits of SMS marketing for small businesses:
Top SMS Marketing Tools to Try
Now that you know the essential SMS marketing best practices for building successful campaigns, another crucial part of effective text message marketing is choosing the right SMS tools and platforms. There are many tools available that can do the bulk of the campaign work for you, from collecting opt-ins to creating SMS automations. Check out some of the best ones below.
Beginner-friendly SMS marketing platform
All-in-one platform for collecting opt-ins, sending mass texts, and analyzing results
Has extras like text personalization, drip campaigns, and more

Automatically integrates with your email marketing
Has helpful tools like a link shortener and an AI content writer
Also has campaign analytics and opt-in features

Has tools for sending MMS messages, including an image editor
Supports contact segmenting, two-way messaging, and opt-in collections
Beginner-friendly platform

Starting from $26 monthly

Starting from $10 monthly

Starting from $20
Using SMS and email marketing in tandem can increase the effectiveness of both types of campaigns. Check out our guide of the best email marketing software platforms to see which include the ability to send both marketing texts and emails.
Frequently Asked Questions
The medium (smartphones, usually) is small, so most bulk SMS marketing messages are limited to 160 characters. While longer text messages are possible with some SMS platforms, they're less likely to hold your recipients' attention and can be overwhelming. For best results, think short, but impactful. Keep your texts within one to three short sentences, but use engaging and friendly language.
---
To run a successful SMS campaign, follow the proper procedure for building one. First, define your objective and build your recipient list (make sure all your recipients have opted in to your campaigns). Then, choose an SMS marketing platform and craft your campaign content. Set up and send your campaign on your chosen platform and track your campaign results. Read more in our complete how-to guide on SMS marketing.
---
Measuring success with text marketing includes campaign analytics like link clicks, open and conversion rates, opt-outs, forwards, and your campaign's specific objectives. For example, if your campaign's objective is to increase traffic to a landing page, some important metrics to measure your success are the change in your landing page's traffic, the number of link clicks your messages generated, and so on.
---
You can build an SMS marketing contact list by first collecting opt-ins to your SMS campaigns, which you do via sign-up forms on your website, QR codes, physical forms, and more. Once you've collected opt-ins to your campaigns, compile them into a list, where you can also add extra info like demographics, interests, and other helpful data points. This list can then be uploaded onto a text marketing platform to send your campaigns.
---
Bottom Line
Text marketing offers plenty of opportunities for reaching your customers in more personal and immediate ways, and in effect help grow your brand presence. Plus, it's affordable, easy to set up, and potentially very effective, especially with the right SMS marketing strategy, such as those listed above. Strengthen your overall marketing mix by building a text marketing strategy for your business, using these SMS marketing best practices as a guide.