What Is CRM Automation? Benefits & Examples
This article is part of a larger series on CRM.
Customer relationship management (CRM) automation allows teams to better manage and complete sales activities by minimizing manual processes. It does this through a CRM system configuration that triggers certain actions based on preset conditions. In this article, we'll discuss workflow automation, learn why you should use a sales automation CRM, and explore the main functions you can automate in your CRM—along with how to construct them.
Gain a comprehensive understanding of CRM systems by downloading our CRM e-book. In this robust technology guide, explore insights on the value of CRMs, the features they offer, and how to select the right product for your small business. You'll even learn how to create a CRM strategy and properly implement a CRM into your operations.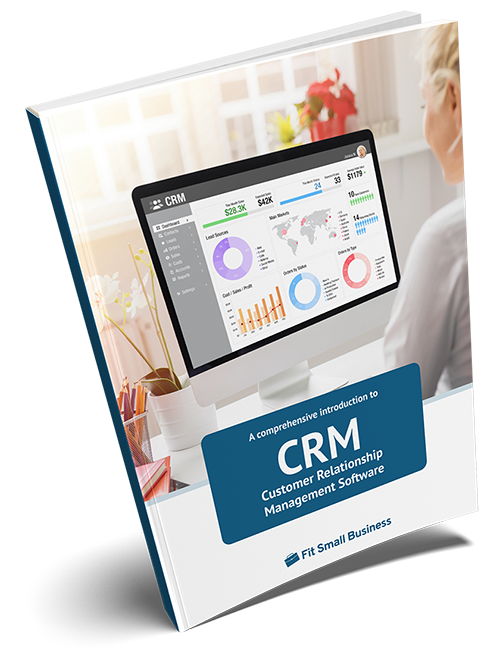 The Expert's Guide to Customer Relationship Management
Small Business Use Cases + Pro Tips
Top CRM Functions to Automate
CRM software offers tons of capabilities for managing and organizing data, interacting with leads, tracking opportunities on the sales pipeline, and collaborating on tasks. Many of these CRM functions don't need to be done manually—users can facilitate or complete them through automation. Here are the top processes you can automate in your CRM as well as how to set the workflows up.
Contact record management refers to creating, editing, and organizing sales data within the CRM database. This includes leads, accounts, customers, partners, and any other entities in which you'd store identifiable information such as names, organizations, and addresses as well as phone numbers, email addresses, social media accounts, etc.
Automating this particular function lets you avoid manual data entry by having the system take care of it for you. When it comes to the specific workflow, there are two ways automation plays a role—record creation and data enrichment. Automated record creation lets you add lead data from one source to the CRM. For example, in Zoho CRM, you can run lead-generating Facebook Ads and import submission data directly to the CRM as a new record.
Additionally, the process of keeping records up to date can be automated using CRM data enrichment features. In Zoho CRM, for instance, you can use Zia, the platform's artificial intelligence (AI) tool, to spot records that might need updated information based on social media profiles and online web sources. Once new information is found, auto-update the records with the one-click update button.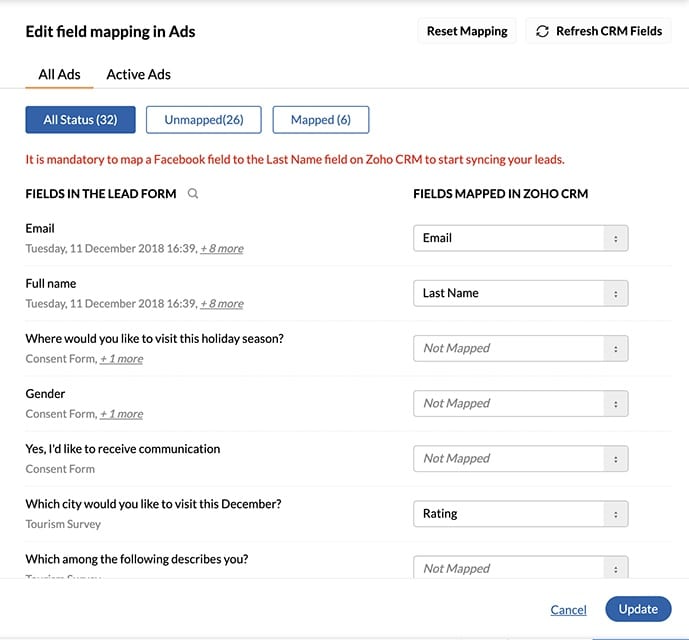 ---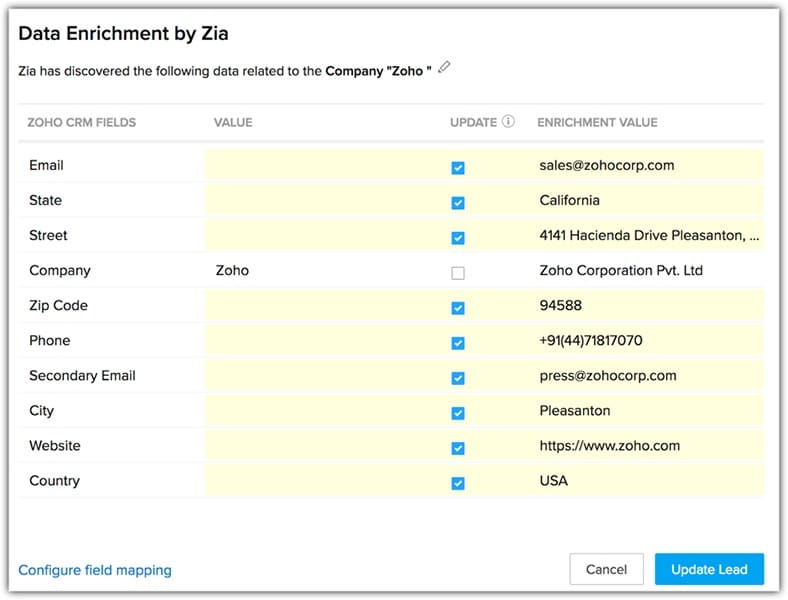 ---
---
After the initial lead generation phase, your prospects need to be contacted and managed by a specific sales rep to start their sales process journey—requiring an initial lead or deal assignment. Automated lead assignment and routing ensure no opportunity goes untouched and someone is held accountable for closing the deal.
To facilitate this CRM automation, configure assignment rules to route contacts, accounts, or deals to each rep after a new record is generated. You can use a round-robin system or one based on territory management rules like in automatic CRMs such as Freshsales. Reps can be assigned leads based on product, geographic location, or potential deal size. As leads come in and their information is processed, the correct rep will be notified for follow-up and assignment.
---
Throughout the sales process, reps are often tasked with creating and sending documents to prospects, such as quotes, contracts, invoices, or purchase orders. Because every lead has different identifiable customer data and product needs, each document needs tailoring for every deal and opportunity. Automating document management processes lets users avoid manual document generation as well as the need to manually send the file.
To use this automation, enable a CRM tool that allows automated data insertion, such as Pipedrive's Smart Docs feature. Once it's ready, take your premade templates for documents like quotes or proposals, and pull data from Pipedrive's system, such as contact names, addresses, and products. The software auto-fills the document and can send it to the recipient for a digital signature.
Similarly, this process can be configured to automatically send recurring invoices each month rather than doing so manually. To enable the feature in a product like HubSpot, simply access the payments module and decide the frequency, recipient, and billing terms of your invoice, and the system will handle the rest for you.
---
Because CRMs serve as an elaborate database, all of their stored information on deals, sales activity, leads, and performance can accumulate into reports and insights. This is the ideal alternative rather than trying to search through data, copy and paste models, and run your own calculations.
Many types of CRMs like HubSpot provide you with reporting features, where you can select the type of data you want to be shown, such as calls made, deals closed, or revenue generated, and then the chart types you want used to visualize it. Afterward, you can filter out information by time period or territory and organize it based on what you want to see, such as individual, team, or organizational performance.
Analysis of the information can then let users gain actionable insights into their CRM data. Once enabled, artificial intelligence (AI) tools such as Freshsales' Freddy AI feature will automate suggestions for sales reps rather than them trying to interpret what the information means themselves. For instance, a user may not realize that the rate of recent email replies indicates interest by a lead—in which Freddy will tell you to quickly call them to finalize the deal.
---
Task management features in a CRM let sales reps create, view, assign, and monitor things they need to complete relating to sales activity, such as sending an email to a lead or generating a proposal. By automating task workflows, users can be assigned tasks from the CRM based on conditions, without needing to remind themselves or remember to create the to-do item.
One of the best examples of task automation is based on deal stage changes in the sales pipeline. For instance, if a deal moves from "Delivering Sales Presentation" to "Sending Quotes," a rep would have a task added to their user dashboard or to-do list to generate and email the prospect with a proposal.
To run this automation in a system like HubSpot, for example, enable pipeline automation in the deals module and create a workflow for whichever pipeline stages you want. Once you've selected the stage, create the task with details such as title, task owner, due date, notification settings, type, priority level, and association with any other records.
---
Data syncing between two platforms allows information to be updated automatically through a CRM integration rather than updating your CRM and then manually entering data into a third-party tool such as a project management or accounting system. For instance, you might send invoices through Zoho and need the data on revenue amount, invoice number, and the client forwarded to QuickBooks to keep the books accurate.
Running data syncs typically is a default function that comes with integrating an external application with your CRM system. Once they're connected, you have the option to push certain information, such as invoice data, from one application to another, so you don't have to navigate between two interfaces.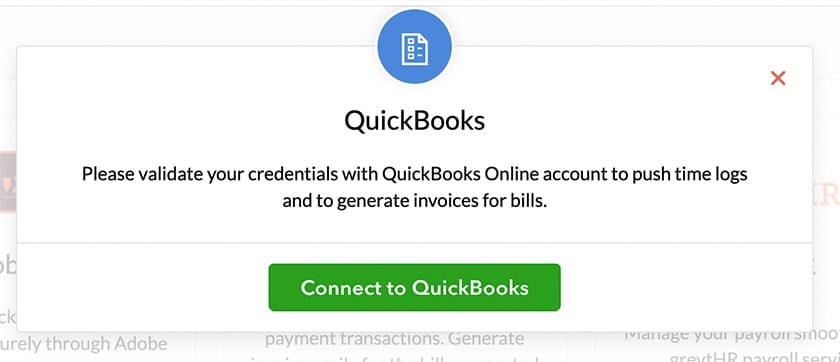 ---

---
---
Marketing Automation vs CRM Sales Automation
Marketing automation is used for managing leads early in their customer journey while CRM sales automation helps manage tasks once they've expressed interest and entered the sales process. CRM and marketing automation are often used simultaneously and as separate meanings—both of which are technically correct.
The reality is, you can run marketing automation in certain CRM products, such as automated email deployment, ad retargeting, and search engine optimization (SEO) analysis. HubSpot, for instance, has a CRM with marketing automation sequences like running email and ad campaigns and managing content.
Defined as separate meanings, however, refers to how CRM vs marketing automation is used. Marketing teams typically use workflows for leads not yet qualified as sales-ready—demanding nurturing and brand awareness campaigns through website content, mass emails, online ads, and social media content.
After a lead expresses interest and is sales-qualified, they officially enter the sales pipeline. This requires sales-specific tasks like cold calls and emails by reps, presentations or product demos, and quote proposals. Managing those types of tasks and data is where CRM automation comes into play to help streamline and organize sales rep activities.
Why Use CRM Workflow Automation?
Automating CRM workflows allows teams to be more productive because they don't have to complete repetitive tasks like data entry or lead follow-up manually. In fact, teams that adopt automation tools report a 14.5% average sales productivity increase. This allows reps to focus more on building relationships with leads and getting deals through the pipeline.
Sales automation CRMs are also vital for mitigating user errors and ensuring lead management activity doesn't go uncompleted. By having an advanced system create, track, assign, and complete specific tasks, sales teams ensure all activities necessary to complete an entire sales process are not forgotten. This results in higher pipeline efficiency rates, including a 77% average lead conversion rate increase due to automation software.
Bottom Line
CRM automation allows users to save time by completing sales tasks or processing information automatically without requiring manual data entry, task assignment, or information transfer. Automation ultimately makes teams more productive and organized—allowing them to finalize deals more efficiently. Though you can use a CRM with marketing automation, one is often used for sales activities while marketing campaign automation applies to leads not yet sales-qualified.