15 Top Ecommerce Trends in 2023
The ecommerce industry is continually evolving and changing, and we have identified 15 ecommerce trends retailers should watch out for this year and beyond. The top trends in ecommerce include:
Mobile shopping
Social commerce
AI for personalization
Voice search
Augmented reality
Conversational marketing subscriptions
Concerns about zero-party data and sustainability
We outline all current trends in ecommerce below, along with supporting statistics, examples of brands embracing them, and useful tips to leverage the trend and put it into action.
1. Mobile shopping advances in user adoption and sales
Mobile commerce (mcommerce) is expected to accelerate further into 2023 and beyond, as mobile buyers (14 years and above) make up around 65% of the population and are expected to grow to 70% in 2026.
If user adoption doesn't motivate you enough to prioritize your online store's mobile readiness, consider this: Mobile commerce is expected to account for 40% of US ecommerce sales by 2024. Mcommerce revenue surpassed $400 billion in 2022, and forecasts show that by 2024, mcommerce sales should reach $534 billion.
What You Can Do:
2. AR and VR enhance the consumer's online shopping journey
"Try before you buy" can now be done online, thanks to augmented and virtual reality. These technologies utilize 3D mapping to enable customers to try products or preview experiences before buying, and the result has been positive.
Seventy-one percent of survey respondents say they would shop more if a business used AR. Another study shows that brands with AR/VR content have a 94% higher conversion rate. Employing these technologies also boosts post-purchase satisfaction and minimizes returns.
In Action:
Take a look at these pioneering retail brands that have implemented AR and VR technologies to their ecommerce platforms: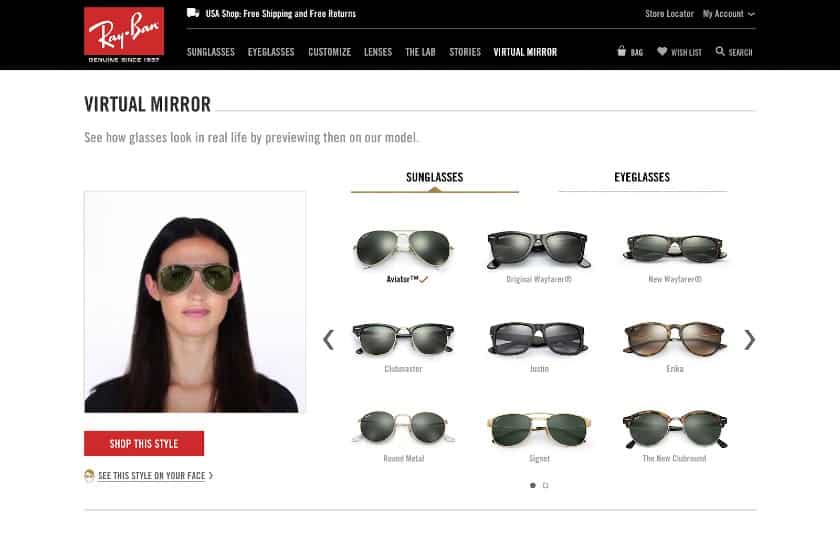 ---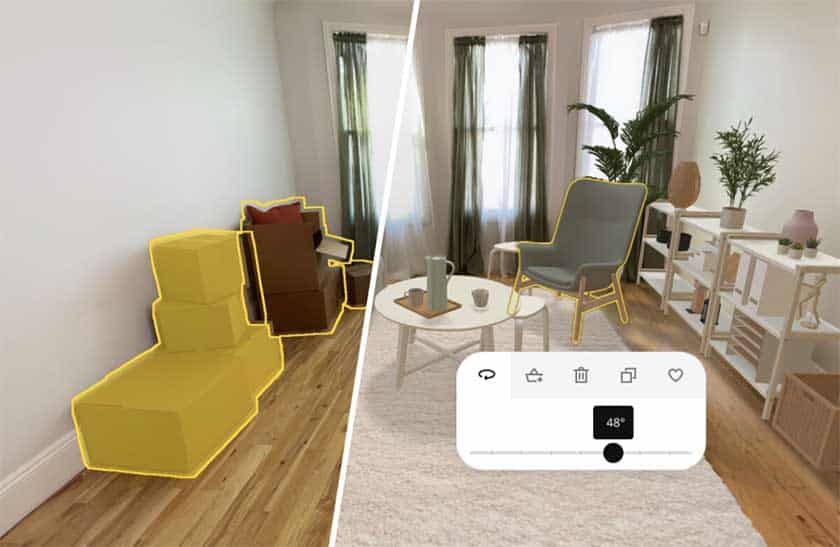 ---
Fifty-nine percent of consumers say that they are more likely to buy a product they've been able to engage with via AR/VR.
What You Can Do:
Invest in AR/VR features such as virtual fitting rooms.
Create filters in social media such as Instagram, TikTok, and Snapchat that employ using products to help consumers "see" how your products look on them.
3. Voice search is growing in popularity
Voice shopping experienced more than 100% growth in 2021, owing to the fact that more people own smart speakers these days and rely on voice assistants for daily tasks. Forecasts show that 75% of US households will own a smart speaker by 2025. As such, more consumers will use voice search to shop online.
Consumers have responded to this technology very positively, with 47% of shoppers using voice commands to do online shopping and 58% of them being satisfied with their experience. Sixty-one percent of surveyed shoppers said they even use it to repurchase saved orders.
This creates an opportunity for ecommerce brands in terms of keywords and content because you can optimize your online store for this budding search technology.
What You Can Do:
Optimize voice search for your ecommerce store by using traditional SEO (search engine optimization) with a focus on semantic strategy. This means building more human-focused meaning and depth into your content with techniques like including synonyms and related words.
Prioritize creating engaging features for your store, such as product and review videos as well as a smooth buying experience. Remember, voice assistants typically crawl Google to generate customer suggestions, so it's crucial to appeal to shoppers and search engines alike.
4. Social commerce continues to be a big force in ecommerce sales
In 2022, worldwide social commerce sales amounted to $728 billion and are projected to reach $6.2 trillion by 2030. This isn't surprising, considering younger generations are already making online purchases via social media. An eMarketer study shows that the number of social buyers in the US is expected to rise from 60.6 million in 2019 to 108 million in 2025—a more than 75% increase over just a few years.
If that doesn't make you jump on social media, consider these facts: 77% of consumers prioritize brands with a social media presence, and 78% of Gen-Z'ers discover new brands or products via social media as well.
Social platforms have made it easier for retailers to establish ecommerce capabilities in user social accounts. TikTok, Instagram, Facebook, and Pinterest have in-app shopping that lets shoppers buy directly from their platforms.
What You Can Do:
Meet your customers where they are. Identify which social platforms your target customers are more active and engaged in and focus your marketing efforts there.
Enable in-app shopping for your social channels. Check out these guides to get started:
Lure first-time buyers and window shoppers with an exclusive channel-specific discount or limited-time offer.
5. AI is being used to create a preferred shopping experience
Artificial intelligence (AI) in retail helps brands collect consumer shopping data and map out the buying journey. This usually includes how customers shop, their preferences when browsing, and the time of purchase. Brands typically use this data to offer a personalized shopping experience and refine their marketing efforts.
Personalization is the key to creating a preferred shopping experience. Almost half (49%) of consumers say they are more likely to become a repeat buyer after a personalized shopping experience with a brand. And while brands are aware of this preference, 71% of brands believe they excel in personalization, while only 34% of consumers agree.
There is a lot to improve on when it comes to delivering a personalized shopping experience for the online consumer—but it is worth it. Sailthru reports two-thirds (71%) of consumers they surveyed said they will shop more often with companies that personalize the experience.
What You Can Do:
Research, experiment, and pay attention to industry news, use cases, and available AI tools for ecommerce.
Invest in solutions like an AI Assist feature that can build listening capabilities and identify emerging customer preferences.
Personalize, personalize, personalize! Even without AI, you can personalize your customer's online shopping experience by adding features in your ecommerce platform, such as product recommendations, offers, and discounts. Email marketing segmentation can also go a long way in personalization.
Create an omnichannel experience for your customers. More than half of consumers look at a product online and buy in-store and vice versa. In today's shopping landscape, it is imperative to give a seamless shopping experience for customers.
6. Zero-party data and privacy are as important as personalization for customers
While Sprout Social's Pulse survey revealed over half (55%) of consumers are OK with brands using their personal information for tailored content and offers, data privacy is still extremely important to them.
In fact, a Cisco survey shows that 86% of consumers care about data privacy and demand transparency and control over how businesses use their data. Forty-seven percent of respondents from the survey shared that they even switched companies due to poor data policies and practices.
In Action:
Take a cue from big technology companies like Apple and Google. Apple has an app tracking transparency feature that lets users opt out of data tracking for affiliate marketing or Facebook advertising purposes. Google Chrome will also end its support for third-party cookies starting in mid-2023 and finishing in late 2023.
What You Can Do:
Consider adopting zero-party data, which is information collected directly from relevant, consenting customers, and collect customer data in-house.
Use quizzes, polls, and registration to collect zero-party data. Since they require a more participatory customer experience, zero-party data can also help you improve engagement.
Implement security and privacy protocols for customer data protection and be transparent about how your brand collects, stores, and uses customer data.
7. Subscriptions help retain and reward loyal customers
Offering subscriptions has become a trend for ecommerce businesses because it benefits both parties. The convenience and rewards attract and satisfy returning and loyal customers, and ecommerce brands are guaranteed locked-in monthly sales and can plan for inventory better. This is why it is no surprise that the subscription market is growing at a 71% CAGR and is estimated to surge over $2 trillion by 2028.
In Action:
Most direct-to-consumer (D2C) brands market their subscriptions to help customers save money and get registration incentives. Gated membership communities like Lululemon, meanwhile, use marketing that inspires FOMO (fear of missing out), offering members VIP-style treatment and exclusive access to products and events.
What You Can Do:
8. Sustainability is a consumer priority
Sustainability is becoming increasingly important among shoppers. A 2022 survey showed 58% of consumers are willing to pay more for sustainable products. Nearly 80% of customers look at the sustainability of brands and their products when making purchases.
There is an increasing call for green commerce in ecommerce or online shopping, mainly on how orders are packaged and delivered, with 64% of US and UK consumers demanding that fashion brands use less packaging.
In Action:
Puma introduced its "Clever Little Bag" concept, significantly cutting down the use of cardboard by 65% compared to its original packaging. The new packaging does not require assembly and reduces use of paper, electricity, water, and CO2 emissions.
What You Can Do:
Evaluate how your brand can adapt more sustainable practices, especially with packaging.
Make your products more eco-friendly.
9. Consumers are choosing brands that align with their beliefs
A study revealed that 82% of shoppers want a brand's values to align with their own and are willing to act on this, with three-quarters of the surveyed shoppers parting ways with a brand over a conflict in values.
In fact, 77% of consumers are more likely to increase their spending with brands they feel connected to—a sharp increase from 57% in 2018.
In Action:
TOMS has a "One for One" business model, which is a testament to its core brand value: improving lives. For every pair of shoes purchased, TOMS donates a pair of shoes to someone in need. Their newest mission is donating one-third of their profits in support of grassroots operations focused on creating more equity at a local level. The brand's sense of social responsibility captures consumers who value conscious consumerism.
What You Can Do:
Showcase your brand values across your website and social channels. Ensure your messaging reflects your values and stays consistent throughout.
Create values-centric content, especially in social media.
Choose to work with people that have the same values, whether it be for collaboration or a retail promotion. Try running a promo in which you donate a portion of your sales to a charity that aligns with your values.
10. Livestream shopping is the latest revolution in ecommerce
If you haven't seen a livestream shopping event recently, you must have been living under a rock. Fifty-five percent of businesses have been using Facebook to livestream shopping events, with encouraging results. Nearly 60% of livestream viewers usually buy during or after the event.
To further motivate you to get in on the trend, livestream shopping conversion rates have the ability to go to 10x higher than the average ecommerce conversion rate, with luxury goods livestream shopping having as much as 70% conversion.
So popular is livestream shopping that even the usual TV shopping networks like QVC are embracing it. Viewers can tune in via Facebook, YouTube and the QVC streaming app.
What You Can Do:
Get in on the trend by hosting your own livestream shopping events. According to Sprout Social's Q1 2023 Sprout Pulse survey, around 49% of consumers plan on watching live streams in 2023.
11. Conversational marketing improves the online shopping experience
Chatbots have been proven to enhance the shopping experience. In response to the increased demand for instant interaction from consumers, many brands now utilize customer service chatbots to help streamline the customer journey from acquisition to retention. Forty-one percent of consumers prefer live chat over phone, email, and social media support because it offers immediate help with minimal effort.
What You Can Do:
Implement chatbots in your website and social channels' messaging platforms.
Focus on improving conversion rates by refining chatbot responses to common conversational topics.
Leverage AI and machine learning capabilities in your chatbots for personalized customer interaction. Be sure to look for AI-supported features when shopping for chatbot platform providers.
Monitor and assess chatbot interactions regularly to continually refine and improve the user experience.
12. Hybrid shopping is the new norm in retail
Consumers now expect a phygital shopping experience—a blend of online shopping and physical retail experiences. To accomplish this, ensure your ecommerce platform seamlessly integrates with multiple channels, including brick-and-mortar stores (if applicable) and various online platforms. This approach to hybrid commerce, often called omnichannel selling, has become the new standard in retail.
Let this fact motivate you: Shoppers tend to make additional purchases while picking up their items in-store, with 47% of online shoppers saying they always or often end up buying more products when picking up their orders in-store. Another 17% say they sometimes purchase additional items when picking up their orders in-store. Read 20 Buy Online, Pick Up In-store (BOPIS) Statistics to learn more.
What You Can Do:
Set up click-and-collect for your store.
Establish sales channels on other platforms, such as social media (social commerce) and marketplaces. Use these guides to get started:
13. Headless commerce unlocks innovation and seamless shopping
Headless commerce is an innovative ecommerce solution that lets you share your content across any platform or device by disconnecting the frontend (i.e., your ecommerce storefront) from the backend (i.e., your ecommerce tools and apps). With this method, customers can even browse and shop online using devices like smart speakers or smart fitness gadgets.
Using headless commerce will let your ecommerce store have a unified shopping experience and open sales opportunities. It is also easier to streamline omnichannel/hybrid shopping using this model because you can quickly integrate new online sales channels.
What You Can Do: Consider migrating to a headless content management system (CMS) or a headless ecommerce platform like Shopify Plus or BigCommerce. In a 2022 survey, 57% of business leaders across industries plan to implement the headless approach in the next two years.
14. Online businesses focus on conversion optimization
In the current economic landscape, where 70% of consumers are reducing their overall shopping activities, it's essential for businesses to shift their focus from multichannel marketing efforts to optimizing for conversion—particularly on social media platforms.
However, conversion strategies these days must be customer-centric. Online brands are focusing on discovering what attracts and prevents visitors from taking action, so they can optimize for the best user experience possible.
What You Can Do:
Prioritize customer care across your brand's channels, optimizing every customer touchpoint.
Conduct A/B testing on relevant website pages.
Always include a call to action link or button in online content.
15. Flexible payment options entice shoppers to spend more
Consumers now want more alternative and flexible payment methods because of security and convenience. For example, as mobile device usage is now nearly universal, mobile wallets are an expected payment method, especially for online purchases. In fact, mobile wallets are the most popular new payment method.
NFC or contactless payments and BNPL (buy now, pay later) are also popular payment alternatives. By providing more payment options for your customers, you don't lose out on a potential sale just because they don't see their preferred method of paying online.
What You Can Do:
Related:
Ecommerce Trends Frequently Asked Questions (FAQs)
Ecommerce is continually evolving and growing. Among the trends that will shape the future of ecommerce and eventually become the new normal for the industry are mobile shopping, social commerce, AR and VR technologies, AI, personalization, voice searches, subscription models, and sustainability.
---
Yes, most definitely. US ecommerce sales surpassed $1 trillion for the first time in 2022, and Statista forecasts it will make up 24% of all retail sales worldwide by 2026, up from 18.8% in 2021. That's equal to more than $8 trillion in expected ecommerce sales in 2026.
---
Today's consumers are more discerning when it comes to buying online because they have access to more information. Ecommerce has also given them access to products from around the world. As such, they are now more demanding in terms of quality, service, sustainability, and brand values. Ecommerce continues to change towards personalization, and AI is helping online merchants analyze more data to market better.
---
Bottom Line
Trends are always changing, and ecommerce growth trends vary from year to year. The current trends in ecommerce should serve as a guide for your online business to implement new strategies and features for your online store to ensure your business keeps growing and stays abreast of changing times and new technologies.
Choose from the actionable tips we have listed for each trend above what you can implement for your ecommerce business today.