Free Real Estate Marketing Plan Template & Strategy Guide
If you are determined to be successful as a real estate professional, you need a thorough, informed plan to market yourself efficiently and effectively. Creating a real estate marketing plan should include identifying goals, a budget, your target audience, competition, potential marketing strategies, and your unique selling proposition. With this information, you can implement a plan confidently and see results quickly.
As you read this guide, download our real estate marketing plan template for free and use it to outline your own goals and strategies.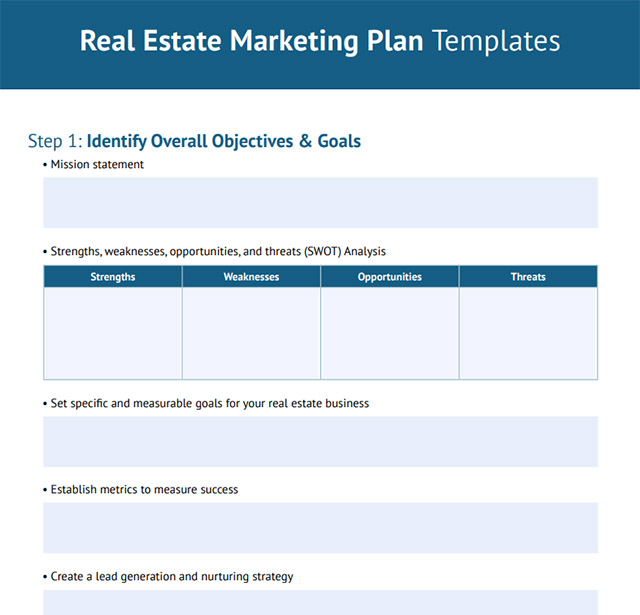 Thank you for downloading!
💡 Quick Tip:
Market Leader is a real estate marketing tool that provides exclusive buyer and seller leads, a CRM, and customizable websites.
It also includes in-depth marketing training, a content library for digital and print marketing, and automated marketing features. Try it today!
Visit Market Leader
1. Create a Business Plan Identifying Your Overall Objectives & Goals
Creating a marketing plan for real estate starts with a thorough business plan—specifying your unique objectives and goals. A major component of your plans, objectives, and goals is your income goal. According to ZipRecruiter, the national average salary for a first-year real estate agent is about $94,444, but actual amounts range from $21,500 to $170,000, depending on your location, median home prices, and the state of the real estate market.
Other than monetary goals, your business plan should include the following components:
Mission statement (e.g., Keller Williams Realty Inc.'s mission is to "empower communities where everyone belongs, and anyone can thrive")
Strengths, weaknesses, opportunities, and threats (SWOT) analysis
Specific and measurable goals for your real estate business
Metrics to measure or prove success
Marketing strategy and tactics
Lead generation and nurturing strategy
Income goal
Set times to measure progress, revisit, and adjust your plan
If you are new to the real estate industry, setting initial goals may seem difficult because you have no past experience or data to refer to. Ask a mentor or colleague for insight about their first year in real estate and their progress in closing deals, marketing, and generating leads. This will give you an idea of how to plan your goals while being realistic to the industry standards for first-year real estate agents.
On the other hand, if you've been in the industry for several years, review your previous year's goals to understand which strategies were successful, which goals you achieved, and the goals to adjust for the upcoming year. By understanding your goals and progress, you'll be able to make plans more accurately that move the needle and help you reach and surpass your goals.
If you have not yet written a business plan and calculated your income goal, don't hesitate. It can be a simple process with the right resources and tools, and it is a vital step to creating a successful real estate agent marketing plan. Start by reading our guide, How to Write a Real Estate Business Plan, and download the free business plan template to get off to the right start.
2. Pinpoint Marketing Goals
Now that you've laid the groundwork with your business plan, it's time to identify your general marketing goals for your real estate business. Successful marketing plans for real estate agents use a combination of platforms and strategies to maximize exposure to your business.
It's important to find a balance in your strategy so that you aren't spread too thin or dependent on a single marketing strategy. Start by splitting your potential marketing plans into categories, like print materials, online ads, email, and social media, so that you can be very specific with your goals and metrics.
Here are some of the real estate marketing mediums to include as you set your marketing goals:
Consider each potential marketing strategy, as well as recent real estate marketing statistics, to determine which mediums to focus on. Then create a measurable goal for each one, with each goal statement including how you plan to reach the goal and how you will measure your progress.
If you're a new agent, your goals can be a bit more general until you have a better understanding of your business. On the other hand, experienced agents can create goals based on progress made during previous years. Take a look at the examples below for inspiration:
Goals

How I'll Achieve It

How I Will Measure Achievement

Increase market awareness of my personal brand

Post consistently on social media
Run targeted Facebook ad campaigns

20 new posts per month
Track the number of new followers on social media
Track the number of leads converted from Facebook campaigns

Get more seller clients

Buy and convert leads from Offrs
Send targeted postcards to farm areas seeking seller leads

Calculate conversion rate from Offrs to determine the return on investment (ROI)
Design and schedule postcard campaign, calculate ROI of leads

Capture leads with landing pages

Purchase a landing page builder like Real Geeks
Create custom landing pages for buyers and sellers

Calculate conversion rate using customer relationship management (CRM) metrics
Do A/B testing to determine the success of various landing page lead capture forms
If you see multiple marketing channels that are likely to be effective, consider using an all-in-one tool like Real Geeks to streamline these tasks. Real Geeks includes a robust customer relationship manager (CRM), an IDX real estate website, lead generation landing pages, email and SMS marketing, automated market reports, and additional integrations. It helps you implement multiple marketing strategies and get a full marketing funnel up and running in a matter of hours.
3. Estimate Projected Marketing Budget
To market your business well, you'll have to spend money. Therefore, creating a marketing plan with a budget is essential for keeping your business profitable from the get-go. Most agents spend about 10% of their net income on marketing efforts. New agents who have not completed any deals may only be devoting $1,000—or even less to marketing strategies. As you become more experienced and begin to make more money, you can increase your marketing budget accordingly.
Your budget should account for all marketing strategies you are employing, including print marketing and online strategies like social media, Google ads, and email marketing. To maximize your budget, make sure you evaluate tools available for your needs according to their prices, features, and support. For example, here's a comparison of a few of the top real estate lead generation companies:
Software

Best For

Agents wanting a large volume of buyer leads who are more likely to be ready to purchase

Real estate professionals wanting a robust website for content marketing

Agents and teams wanting automated marketing tools for lead generation and nurturing

Key Features

Popular real estate platform
Includes a CRM
Run ads across Zillow, Trulia, and StreetEasy

Customizable website templates
Marketplace for a la carte website services
Built-in SEO tools

Exclusive leads
Customizable IDX website
Automated digital and print marketing campaigns

Starting Price

$20 to $60 per lead

$79 per month

$169 per month

Learn More
As you purchase the best real estate software and tools for your business, track your spending in the realtor marketing plan template and in our free real estate marketing budget template:
4. Know Your Farm Area Data & Identify Your Target Audience
A real estate farm area is the ZIP code, town, or city where you will focus the majority of your marketing efforts. For your marketing plan to be effective, use geographic and demographic data to guide your marketing strategies and attract your ideal audience.
Free data on your target farm area can be found on websites like Claritas.com or City-Data.com, where you can research specific ZIP codes to gain a complete understanding of the area and begin segmenting your audience. Creating segmented groups will increase response rates, differentiate your brand from the competition, attract your target clients, and increase brand loyalty.
For example, if your farm area is the East Village, you can segment your audience into what Claritas calls "Aspiring A-Listers" or "Young Digerati."
For "Aspiring A-Listers": Focus on roommates and newly graduated students relocating to the area for a job who are looking to rent rather than buy. Since they focus on their social lives, consider partnering with local bars, restaurants, and brand-name stores to attract this clientele.
For "Young Digerati": Focus on individuals who have lived and worked in New York City for several years and are ready to upgrade to a larger home. Since they are typically eco-friendly and tech-savvy, use quick response (aka QR) codes and digital ads over print ads, and focus your marketing efforts on trendy establishments.
The more data you have about your farm area, the more likely you are to attract clients successfully. Before diving into your marketing plan, make sure you research and understand other important factors about your location, like home prices, market trends, location demographics, and your ideal client types.
Knowing the home prices in your farm area is key to being able to speak with confidence to your target audience. Guide buyer and renter clients to the right location based on their purchasing power and assist sellers with listing their homes at appropriate prices so they can quickly sell their homes.
Staying informed and updated about local home prices is easy with free tools like Redfin, which has extensive reports that show trends in your area. See the example below for the East Village in Manhattan, New York City:
---
Knowing the demographics of your target area should inform the development of your marketing strategy and real estate branding, including your slogan, logo, and messaging. Having this information will solidify your position as the neighborhood expert.
For a more in-depth, data-based example, here are the demographics for the East Village, ZIP code 10009, from Point2:
For instance, knowing that the population in the East Village is equally split between men and women may help you decide not to invest in gender-based marketing. On the other hand, knowing that the median age is 34 can help you decide which social media or online marketing methods are most likely to appeal to this audience. Understanding who is in your audience can guide your messaging and outreach strategies.
---
With your audience demographics in hand, go even deeper by creating client personas to gain a full understanding of your ideal clients. A persona is a fictional character that represents the characteristics of your typical or ideal client. This will make it even easier to target a specific audience with real estate marketing materials that are relevant to their needs and capture their attention.
Developing client personas help you market specifically to your target audience's questions, concerns, and problems. In fact, studies show that 97% of marketers and business owners see significant growth in their marketing reach and conversions after creating strategies personalized for their customers.
Here are a few example client personas:
A couple originally from Boston is relocating to New York City (NYC) for their jobs. They are looking for a home large enough for one of them to work from home, and thinking of starting a family. They want to be close to parks and the subway to travel around NYC and commute to work. They want a building with pre-war characteristics and prefer to be on the second or third floor of the apartment building.
Location: Relocating to NYC
Age: 25 to 40
Combined income: $400,000
Homeselling experience: First-time buyers
Family size: Two, but possibly need space for children
Common interests: Restaurants, foodies, comedy clubs, charity volunteers, shopping
A retired man who lived in the East Village with his wife for decades, but was recently widowed. His children moved out of the home years ago, and he currently owns another property in Cape Cod, which he wants to move to full time. His apartment in the East Village has appreciated significantly over the past 40 years, and he wants to sell it for top dollar, although he is emotionally attached to the home.
Location: Has owned the apartment in the East Village for 40 years
Age: 60 to 70
Combined income: Retired, fixed income of $100,000
Homeselling experience: Owns several properties, first- or second-time seller
Family size: Widower; children no longer living at home
Common interests: Bird watching, reading, boating, antiques
Two young women who graduated from New York University—one starting a job as a server at a popular restaurant while attending graduate school, and the second is working at a marketing firm in Midtown East. After graduation, they decided to move in together in the East Village because they are familiar with the area after attending New York University. They cannot yet afford an apartment by themselves but are looking to live together in a two-bedroom close to transportation.
Location: From New Jersey and relocating to NYC for work and school
Age: 21 to 26
Combined income: $100,000
Homeselling experience: Never rented or purchased
Family size: 2
Common interests and hobbies: Nightlife, foodie, family-owned businesses, dogs, studying, music
---
To keep your client personas organized and segmented, it's ideal to use a real estate CRM like LionDesk. LionDesk allows you to categorize leads and create different pipelines to customize your marketing for each lead. Plus, it provides multi-channel marketing tools for emails, texts, and direct mail. Try LionDesk free for 14 days.
5. Analyze Market Competition
No matter where you become a real estate agent, you won't be the only sales agent marketing in your area. Every marketing plan in real estate should be made with an awareness of your competition, which helps you find the most effective and efficient methods to brand yourself uniquely.
Start gathering information about competing agents and brokerages in your area by:
Driving or biking through your farm area: Take note of signs, branding styles, and marketing materials used by specific brokerages and agents
Researching sponsored events: Find local events sponsored by real estate salespeople or companies and consider their audience and professional connections
Browsing social media platforms: Look at local real estate agents and brokerages who are active on Facebook, Instagram, TikTok, YouTube, Twitter, and LinkedIn
Searching on search engines: Using an incognito browser, search for keywords like "real estate agent East Village" or "houses for sale Milwaukee," and take note of the agents and website that appear at the top of the page
Looking through profiles on real estate platforms: Search for local agents on Zillow, Realtor, or HomeLight, and compare how the top-ranking profiles are written
Once you've collected a range of competing real estate professionals, dig even deeper into each brokerage and agent that offers a similar service. Here are some more details on what to evaluate within your real estate agent marketing plan template:
The brokerage an agent works with says a lot about their business. Research multiple brokerages in your area, and look specifically for the following information:
Average number of listings per month
Deals closed this year
Average listing price
Percentage of listings on MLS
Types of properties serviced
Their mission statement, values, and goals
How many real estate agents work at the brokerage
Brokerage niche
Reputation within the community
Once you have gathered this information, examine your brokerage's strengths and weaknesses in comparison with the others. Find the ways that your brokerage is different from others. For example, if there's a large brokerage in the area with 500 agents, and your brokerage is a boutique firm with 30 agents, that can be appealing to clients seeking individualized attention.
Pro tip: These steps are also important if you haven't chosen a brokerage to work with yet, or if you are considering a change. Make sure to read our guide on How to Choose a Real Estate Company for more specific tips and questions to make the right choice.
---
After you've compared brokerages, you also want to explore the activities and strategies of specific agents near you. Every agent has strengths and weaknesses, and evaluating those objectively can help you find new opportunities and learn from others' successes.
Be on the lookout for the following tactics:
Branding: Pay close attention to the branding your competitors use, including the colors, fonts, slogan, and taglines.
Websites: Examine your competitors' websites, looking at the design, structure, type of content included, and lead generation methods. Don't forget to watch for retargeting ads on other websites after you visit.
Listings: Review competitors' listings on the MLS, Zillow, Trulia, and Realtor.com. Consider how they set up their listings, the type of real estate words and images they use, and how and where they're promoting the listings.
Social media posts and ads: Explore other agents' social media profiles on Facebook, Instagram, Twitter, and Pinterest. See how frequently they post, the type of content they share (listings, walk-through videos, inspirational content, memes, etc.), and how they interact with followers.
Real estate Google ads: See which of your competitors are advertising on Google and which keywords they are targeting.
Print ads: Take a photo of any real estate competitor ads you see in print, and consider their target audience and results.
Signage and billboards: Pay attention to signs and billboards advertising real estate agents and brokerages, noting the design, messaging, and calls to action.
The more information you can gather about the marketing strategies your competitors use, the more accurately you can determine which methods to use for your business. You may notice that many agents use direct mail, and very few use online ads. Depending on your audience and competition, this can be a sign that print marketing is more effective with your local audience, or it can expose an opportunity to reach people through online methods with minimal competition.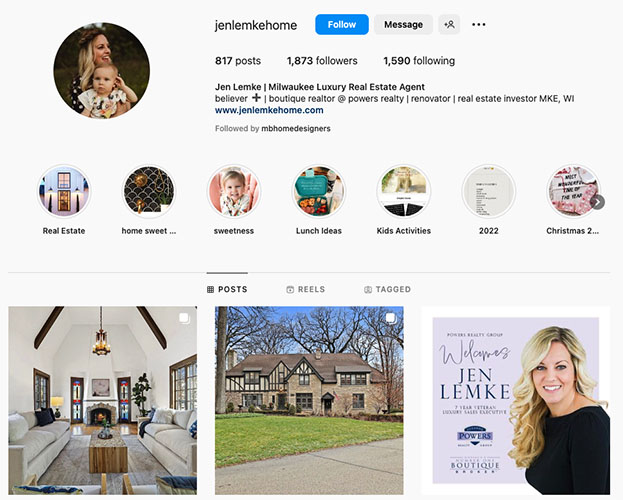 ---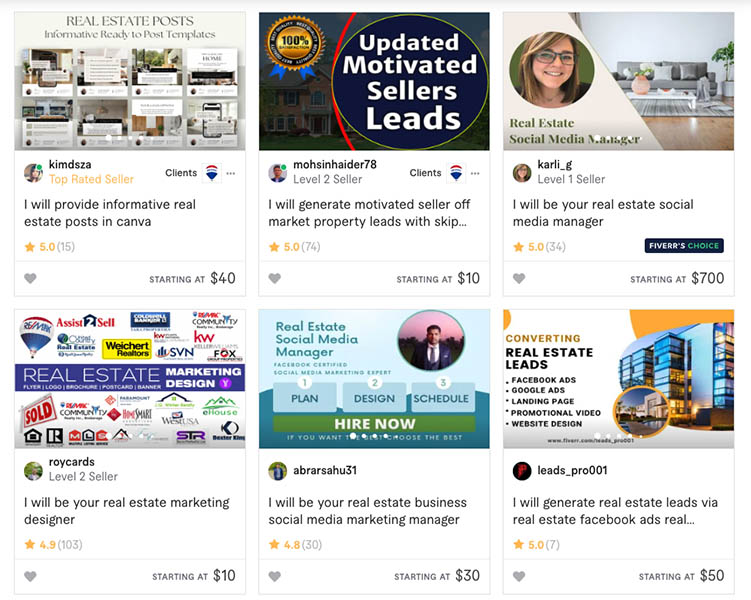 ---
If researching your competition makes you feel overwhelmed, one way to move forward is by finding a freelancer on Fiverr. There are thousands of freelancers and marketing specialists who can help you complete various parts of your marketing strategy—from determining your priorities, writing blog posts, and creating graphics, to creating a branding kit. Browse through the options for free, and get one step closer to successfully marketing your business.
---
6. Identify Your Unique Selling Proposition (USP)
With the appropriate research in hand about your audience and competition, you should have a solid understanding of the marketplace and the gaps you can fill. This information is critical for creating your unique selling proposition, which defines what separates you from other real estate professionals in your area.
For example, if you find that very few local agents use virtual tours of listings, including them in your real estate marketing plan can immediately differentiate you from other listing agents. Consider using Matterport to create interactive virtual tours and showcase them on your website or YouTube channel.
On the other hand, if there's a gap in the market for a certain home type or target audience, it may be an ideal opportunity for a real estate niche. For instance, if there aren't any agents who are educated on foreclosures listings, it may be an ideal area for you to invest your efforts and build a reputation as the go-to source for foreclosures.
One of the best tools for crafting both print and digital marketing materials is Market Leader. It's a lead generation platform that also provides an IDX website, CRM, and a variety of automated marketing functionality. It even includes a content library with branded postcards, flyers, business cards, and emails. Learn more about how Market Leader can be integral to your marketing strategy.
7. Establish a Timeline & Set Your Plan in Motion
Now that you have all the components to roll out an effective real estate marketing plan, it's time to implement your strategies. Even with the best plan, you won't reach success without staying organized and consistent. That's why it's important to create a marketing calendar and follow it to stay on track.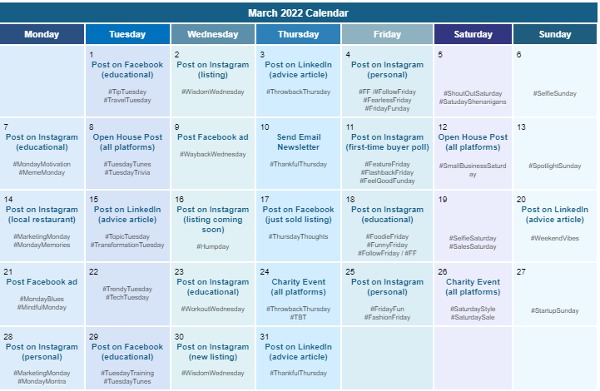 Your calendar should include tasks like social media posts, events, writing email newsletters, sending postcards, and anything else you use to generate and nurture leads. It's important to make realistic goals, so prioritize the tasks and strategies that you believe will be most effective in getting your name and brand out to the public. Use our free real estate marketing calendar example above that includes bonus hashtag inspiration.
Make sure also to take this into consideration as you choose which real estate marketing companies and tools you use. For instance, Pipedrive is a great real estate CRM that includes a calendar with reminders to schedule and manage tasks. This includes an activity tracker for all contacts, so you can track interactions with leads and clients across multiple communication channels. Learn more about how Pipedrive can enhance your marketing.
8. Track Your Progress & Readjust as Needed
Your real estate marketing plan is not a set-it-and-forget-it exercise; it should be a living document that continues to be adjusted over time. Reassess your plan at least once a quarter to track progress and make adjustments as needed. As the year goes by, if you feel that your goals are a bit too lofty, or not lofty enough, make sure to adapt and rearrange them to fit your real estate business.
If you aren't sure how to track your progress on a variety of platforms or if you don't have hours to gather data manually, HubSpot might be the right tool for you. HubSpot offers a free CRM as well as comprehensive and customizable packages for marketing and sales, and their reporting tools are incredibly detailed and easy to use.
HubSpot automatically tracks the customer lifecycle so you can clearly see how your interactions lead to revenue. You can also create a custom dashboard to see visual graphs of the most relevant data. Get started with HubSpot for free.
Bottom Line
To be successful in real estate, agents, teams, and brokerages need a comprehensive marketing plan. The best plans are built on thorough data, like audience demographics and competition. Your plan must also include specific, measurable goals and strategies to reach your intended audience, build your brand, and, ultimately, achieve your income goals. Download and complete our free real estate marketing plan example and template to get started and grow your business today.