Love it or hate it, Zillow has changed the real estate game. Since purchasing Trulia a few years back, Zillow websites now get over 160 million visitors per month.
In addition to being the largest place for real estate agents to advertise, Zillow also provides great value. We estimate that for every $1 you put into Zillow Premier Agent, you can get around $2.60 back in commissions. Read on and see why we think Zillow Premier Agent is worth every penny or talk to a Zillow representative today.
How Zillow Premier Agent Works
Zillow Premier Agent is Zillow's advertising platform for real estate agents. It allows you to promote your listings and connect with new clients, both buyers and sellers. Zillow Premier Agents get the benefit of being shown as the exclusive agent for a listing and are able to advertise on local Zillow listings.
While Zillow allows you to post listings for free, becoming a premier agent has two major benefits:
Exclusivity: On listings you submit to Zillow as the seller's agent, you get to be the exclusive agent promoted on the page. This increases your odds of getting the full commission. If you don't sign up for Zillow Premier Agent, other agents will appear on your listing.
Wider Reach: As a Zillow Premier Agent, you also get to advertise on the local listings provided by non-Zillow Premier Agents. This is a great way to generate buyer leads even if you don't have a listing of your own to advertise on Zillow.
Example
Let's take a look at the two types of listings on Zillow so you can see what I'm talking about.
First, here's a listing where the listing agent is not a Zillow Premier Agent. Note that her profile is listed first and labeled "Listing Agent" on the sidebar of the listing, but there are three other agents listed below her. The reason why those three agents show up is that they are Zillow Premier Agents, and the listing agent is not. That means some leads will contact the listing agent, and some will contact the other Premier Agents in the sidebar.
Also note that this is indeed an eight figure listing. Yes, this is a real listing, and it's really listed at $73 million+. Those Premier agents now have a chance at nabbing a client with a $70 million budget. Sure, multi-million dollar listings may not be common where you work (or even in Manhattan for that matter), but the selling point here is obvious.
Now let's check out a listing where the listing agent is a Zillow Premier Agent:
Note how there aren't any other agents listed in the sidebar here. The only agent listed here is the listing agent. That means leads will only be able to call or email the listing agent.
How Zillow Makes Money
Like all real estate portals, Zillow is free to use for home buyers and sellers. They also offer basic free services for real estate agents, MLSs, and brokerages to post their listings on the site. Zillow makes money, estimated to be north of $1 billion in revenue in 2017, by charging agents, teams, and brokerages for advertising to their audience of more than 73 million users per month.
In the next section, we'll discuss how those charges work in detail.
How Much Zillow Premier Agent Costs
Zillow charges agents based on two main factors:
The zip code(s) you're featured in
The number of times your ad is viewed (cost per impression or CPM, cost per 1,000 impressions)
When you sign up for Zillow Premier Agent, you'll be asked to pick a zip code (or zip codes) that you want to be featured in. Since different zip codes can have very different real estate markets, you'll pay a different monthly price based on what zip code you choose. For example, since homes sell for north of $5 Million in Malibu, you'll pay more to advertise there than you would in say, Charleston, South Carolina, where homes sell for an average of around $260,000.
In addition, the more people viewing your ad, the greater the chances of someone contacting you. As a result, this means more views = a higher monthly cost.
We spoke to a few agents to find out what they pay for Zillow Premier Agent. Below is a table summarizing the cost per thousand ad views (CPM) in their markets.
While the table can serve as a good rule of thumb for Zillow Premier Agent pricing, pricing in your market will vary depending on the market and competition. You should expect to pay from around $20 per thousand impressions (CPM) in a low end market to over $60 per thousand impressions in a high end market. In very high end markets (Manhattan, Beverly Hills, etc.), CPM will be even higher.
Sample Zillow Premier Agent Cost For Different Zip Codes
| | Median Listing Price | Zillow Market Temperature (hot = seller's market, cold = buyer's market.) | Average CPM (cost for 1,000 ad views) |
| --- | --- | --- | --- |
| 19808 - Wilmington DE | $228,700 | Warm | $61 |
| 19806 - Wilmington, DE | $255,000 | Cold (buyer's market) | $32 |
| 19803 - Fairfax, DE | $320,900 | Cold (buyer's market) | $25 |
| 19707 - Hockessin DE | $403,900 | Cold (buyer's market) | $62 |
| 19807 - Wilmington DE | $734,200 | Hot (seller's market) | $76 |
| 27870 - Roanoke Rapids, NC | $129,700 | No data | $20 |
| 27850 - Littleton, NC | $347,900 | No data | $30 |
| 27551 - Macon, NC | $299,900 | No data | $21 |
| 20878 - Gaithersburg, MD | $570,000 | Cold (buyer's market) | $43 |
NOTE: Don't see your area on this table? Contact a Zillow representative today to get up-to-date pricing for your zip code.
How to Calculate Your Zillow Costs
Zillow charges based on impressions, or views of your ad. The cost per impression varies widely depending on your zip code. Zillow uses median listing prices and market competition to determine pricing in each zip code. You may pay anywhere from 2 cents to 30 cents or even higher per impression. For this example, let's look at a zip code where Zillow charges 6 cents per impression, so $60 CPM.
Now, in most cases, you're going to be paying for at least 5,000 impressions per month. That means a monthly bill of $300, and a yearly bill of $3,600. Let's say it takes 500 impressions before a lead actually clicks on your name and sends you a message.
That means you should get roughly 10 leads per month, or 120 leads per year. Since you're spending $300 per month, that equates to $30 per lead.
Next, let's say your conversion rate between lead and transaction is somewhere between 3 and 5 percent. At the high end of 5%, you should be able to close 6 deals per year from Premier Agent leads. However, at $3,600 per year, you should be able to cover your yearly Zillow spend with just one or two closed deals.
Still with me? Okay, let's check out some real world examples:
Are Zillow Leads Worth Paying For? Two Real World Examples
Any experienced agent will tell you leads are only as "good" as the agent working them, regardless of what source the leads come from. That means you need a good system in place to convert Zillow leads into clients and clients into closed deals.
If you have that, you can potentially accomplish a lot with Zillow Premier Agent. We'll take a look at two real world examples of agents who successfully used Zillow.
Example 1
Baton Rouge realtor and Zillow Premier Agent Darren James, one of Real Trend's Top 250 Agents for 2015, told us that his team can attribute around 10% of their annual sales volume directly to Premier Agent:
"We spend around $3,000/month and receive 100-130 leads monthly from Zillow. In 2015, our total sales were 456 homes for gross sales of $75 million. Of these, we closed around 48 homes that we can directly attribute to Zillow leads. That's more than 10% of our annual sales."
Darren and his team have a closing ratio of slightly more than 10% on their Zillow leads. If you're a new or newer agent, yours might be lower. More on this in a minute. But, first let's dissect his numbers to see what kind of ROI they got from Zillow Premier Agent for 2015:
Total Zillow spend: $36,000
Number of leads: Approx. 1200
Price per lead: Approx. $30
Number of homes sold: 48
Sales volume: $7.5 million
GCI: $450,000
Gross Income: $225,000
ROI: +625% (Gross income / Total Zillow spend)
This is what a skilled team can get as a return with Zillow Premier Agent. Of course, since your local market, nurturing skills, and closing ratio are probably going to be different than Darren's team, your ROI might vary. With a lower spend per month, it's going to be much, much easier to see a return on your investment. For example, if you're spending $300 per month, you might be able to cover your entire year of Zillow Premier Agent with one good deal.
Example 2
Now, let's look at a realtor with a good ad and conversion strategy in a very different market. Washington DC based realtor Jessica Evans, who was recently named one of Realtor.com's "30 under 30," works in a much more competitive market, with higher average prices. Let's take a look at her numbers for Zillow Premier agent:
Total Zillow spend: $17,500
Number of leads: Approx. 144
Price per lead: Approx. $121
Number of homes sold: 8
Sales volume: $2.7 million
GCI: $164,000 (assuming 6 % commission)
Gross Income: ~$82,000 (assuming only one transaction side per deal)
ROI: +468% (Gross income / Total Zillow spend)
Note how her price per lead is much higher, but her ROI is a bit lower than Darren's.
Of course, what's not measured here is the long term ROI of Zillow for Darren or Jessica. Every closed deal means a former client who will give referrals, and that leads to more clients and closed deals. You may not see this return today, next week, or even this year, but if you did a good job, it will come. I like to call this the snowball effect. Here's how it works:
The Snowball Effect
If you're a new agent, you should write this down on a sticky note and stick it to your monitor right now.
"More leads = more closed deals = more leads and more closed deals"
Here's how it works in practice. The more leads you get, the higher your odds of closing a deal are. Once you close a deal, you now have a happy former client who will give you referrals. You'll also be able to add the deal, and hopefully a great review, to your Zillow profile, which will get you more leads. You'll also sharpen your skills over time, which will lead to a higher closing ratio, which will lead to more leads and closed deals, which will in turn get you more leads and closed deals…I think you get the idea!
The snowball effect is difficult to measure, but it means that even getting a few leads from Zillow can have a large positive impact on your bottom line.
How to Advertise on Zillow & Get the Best ROI in 5 Steps
Since you're going to be paying on Zillow based on how many people view your ad, you need to make sure as many people as possible will click on it and contact you. Remember, you're paying the same rate whether 10 people click on your ad or 100 people click on your ad. Here are some ways to get more clicks and make more money:
1. Pick The Right Zip Code(s)
Picking the right zip code or zip codes to advertise in is crucial for maximizing your ROI with ZIllow Premier Agent. While most realtors immediately gravitate toward the most expensive zip code near their office, this can be a big mistake.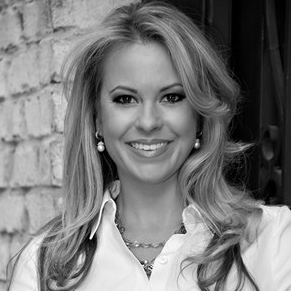 Instead, Atlanta based realtor Stacy Galan suggests picking your own zip code if you're just starting out. Sure you may not have any multi-million dollar homes in your own neighborhood, but you'll have something much, much better: local market knowledge.
At the end of the day, you need to pick a zip code where you can really serve your clients well. You're going to want to know the best blocks to live on, who makes the best sandwiches in town, where the best salon is, etc. Since you'll know the neighborhood like the back of your hand, clients will want to work with you. Everyone wants to work with a local market expert.
While being a local market expert is a huge advantage, there is another more important reason to avoid the big ticket zip codes when you're just starting out. You'll pay a MUCH higher price per lead to advertise on Zillow in that zip code. Worse, you might not get ANY leads at all. Think about it. Why would anyone contact you after looking at your profile and seeing all your past sales are in a totally different area? If you were the home shopper, wouldn't you pick someone with more closed sales in the area you want to buy in?
There's $$ Right Next to the Million Dollar Neighborhood
Another strategy new agents can try who are looking to make the jump toward working in an expensive area is picking a nearby zip code. The key is to find the "next best" neighborhood to the one you're targeting. For example, in New York City, the cost for advertising in Williamsburg, Brooklyn is VERY high. There's a good reason for this: apartments there tend to start at around $1 million. However, many people who are looking in Williamsburg will also consider looking in Bushwick, where the Zillow price and home price are much lower.
This doesn't sound like a great tradeoff until you realize that many people will start looking at the low end of the market in Williamsburg, then start looking at the high end of the market in Bushwick. Since Zillow is priced by median sales price (among other criteria), you just maximized your ROI.
2. Treat Your Zillow Agent Profile Like A Dating Profile
It sounds silly, but your Zillow profile, (including your picture, bio, and reviews) makes a strong impression on potential clients. Zillow visitors have the option of contacting many different agents in your area. Consciously or not, they'll choose the agent who seems like they'll provide the best service.
If you want to see what a great profile looks like, check out Adriana Trenev's profile. She has a great head shot, great reviews, and best of all video testimonials from happy former clients. If you were looking for a place in Silicon Valley, would you call her?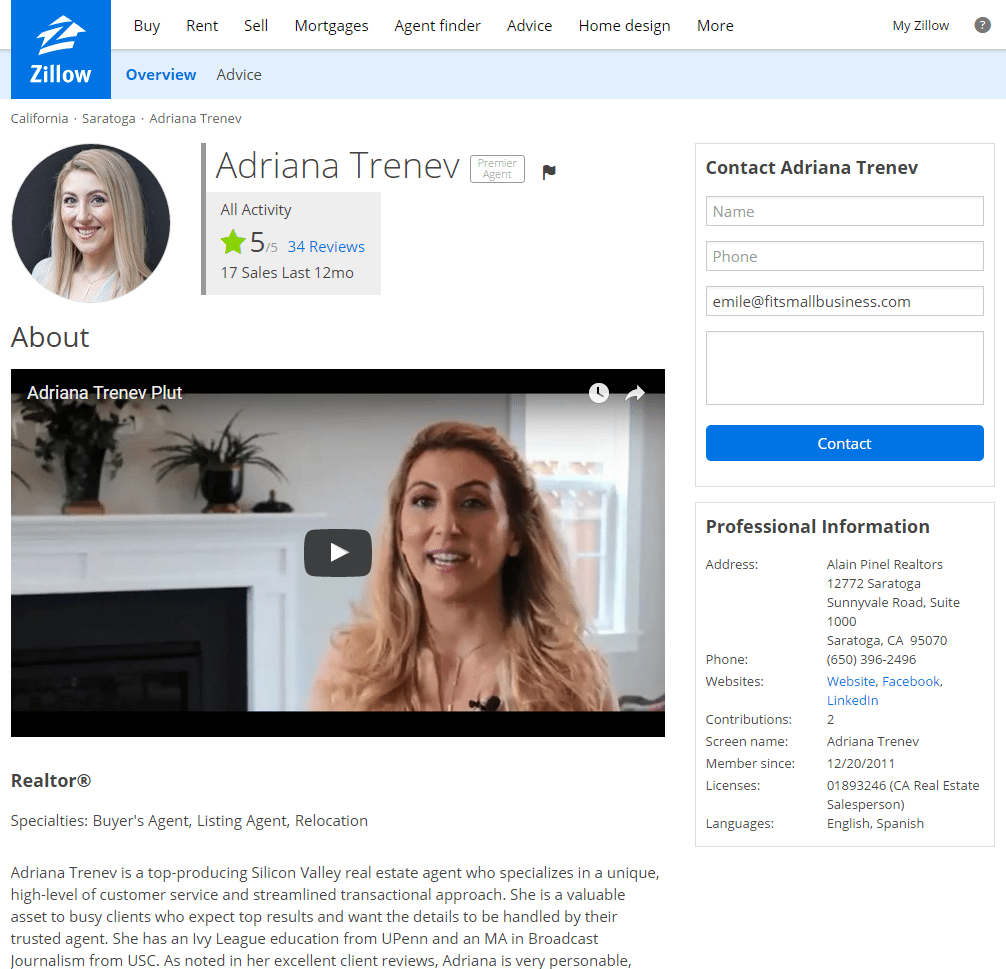 To improve your Zillow profile (and thus your chances of getting contacted), follow these tips:
Upload a great looking photo
This will appear fairly small on your Zillow page, so make sure you choose a photo that looks good in a small size. If you need help with your headshot, check out our in-depth guide on the perfect realtor headshot here.
Write a unique bio
Have you lived in the area for many years? Do you write for a local paper or volunteer at an organization? Do you have any specialties as an agent – say, condos, rehabbed lofts, starter homes, beachside mansions, etc. Your bio should highlight your expertise of the local area. It should also explain why a potential buyer or seller should hire you.
Need some help writing a great bio? Check out our in-depth guide to writing a bio including 10 tips and 15 examples from the pros here.
Consider adding an introductory video to your Zillow profile
Let's face it, personality sells. If you think you come across better in person than in writing, why not add a quick introductory video to your Zillow profile? If you can, get it shot professionally. If you want to see a great example of a Zillow introduction video, check out Billings Montana Realtor Nancy Brook's video:
By the way, Nancy is still a newer Realtor and attributes much of her success to Zillow Premier Agent:
"As a new agent, Zillow was instrumental in me building a six figure business in my first year of business. In my second year, I will be hitting nearly $300,000 in commission and Zillow has been a major reason for my success. Because of my sales volume, I was able to qualify for my broker's license and now have opened my own brokerage. For every dollar I invest in Zillow, I earn four dollars."
Add a prominent link to your personal website
While Zillow is great, getting someone on your personal website can be even better. They'll be able to learn more about you, as well as check out how seriously you take marketing. If you have a great site with lead capture pages, they'll be more likely to contact you.
3. Build Up Your Zillow Reviews
If you were a potential buyer, would you chose an agent who has zero ratings or bad ratings or multiple 5 star ratings? Here's an example. It should be pretty clear who most people would contact. I know I would go with the realtor who has more than 80 reviews and a 5 star rating over the agent who has none.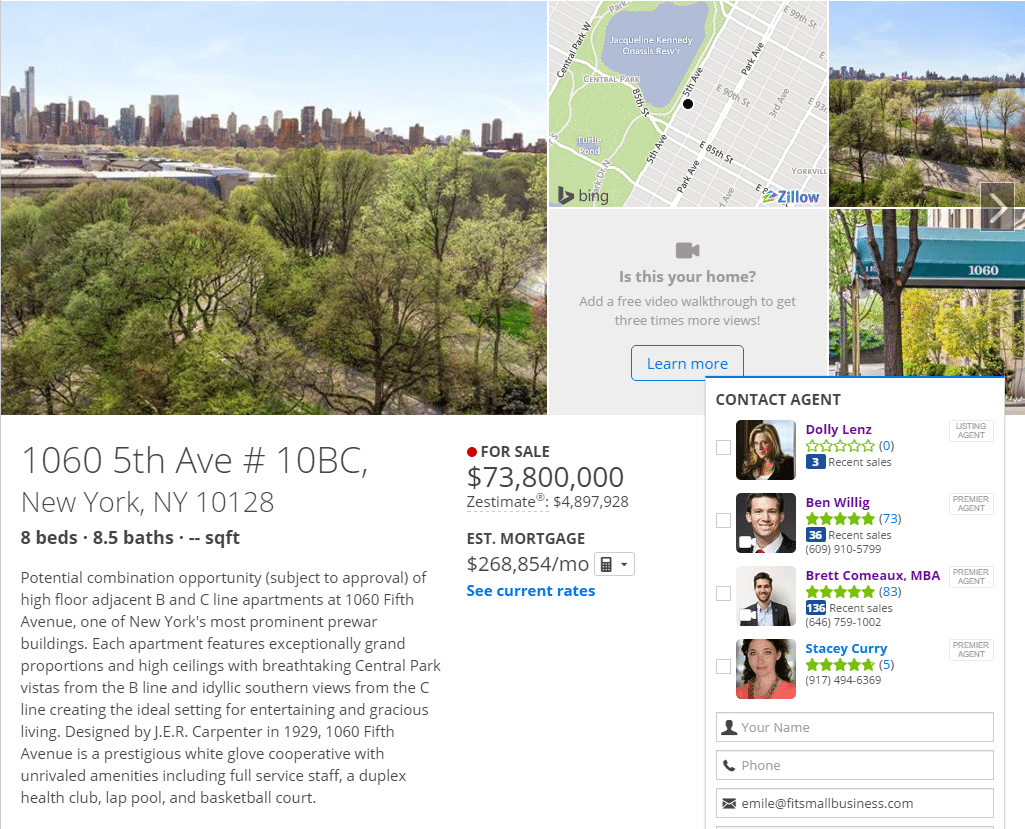 To start with a strong rating, identify 5-10 former clients that had great experiences working with you, and personally contact them to ask for a review. You should also get in the habit of asking any client you have a great experience with (whether they end up closing a deal or not) for a review on Zillow.
One important caveat here. Though you may be tempted, do not get fake reviews from friends or family. All Zillow reviews are moderated, and your fake reviews will be removed. If you continue to post fake reviews, you can get banned from Zillow entirely.
For more tips on building reviews, check out our full guide here.
For more tips on leveraging your free Zillow profile to get more leads, check out our 5 part course How to Crush it on Zillow in 2017.
4. Follow Up Immediately
Zillow visitors will often contact multiple agents in a sitting, so it's important to respond right away and beat out the competition. Many Zillow agents will use an auto-responder that sends a pre-written email or text as soon as the lead comes in. This is a short message that introduces you to the prospect and asks to setup an appointment:
"Hi, thank you for reaching out about 123 main Street. I'll be available shortly to touch-base. What's the best way to reach you?"
You can set up an auto-responder by using Zillow's free Premier Agent app, or by using a 3rd party program like Five Street, a CRM like Contactually, or with integrated solutions like Zurple, Boomtown or Real Geeks. Whatever way you go, make sure you set up push notifications from Zillow or your CRM so you can respond to leads no matter where you are.
It's also a good idea to send a personalized message as soon as you can. These days, consumers can recognize when a robot is talking to them – especially when the message comes 30 seconds after they fill out a form. Comment on the property they're interested in and point out similar listings. Ask them questions to further understand their preferences and to encourage a response.
This is why being a local market expert is such a huge advantage. If you know the listing (you should) you can confidently offer more information and answer questions right away. For example, if someone contacts you about a listing with an amazing yard that doesn't photograph well, you could reply with something like,
"Hi ____, thanks for contacting me about 123 Main Street. If you think the yard looks great in pictures, wait until you see it in person! How does this Saturday sound for a showing?"
5. Set Up A Lead Nurturing Plan
In order to close leads you get from Zillow Premier Agent, you're going to have to stay top of mind until they're ready to buy or sell. This could mean as little as a week, or six months or even longer.
Email marketing is one of the most effective ways to stay top of mind with your leads. You can set them up on an automated drip campaign that sends them emails once every week or so offering helpful market tips, new listings, or more information about the neighborhood. If you want to learn more about email marketing, check out our in-depth guide here.
Alternatively, you may want to try using software to help you keep on track. Zurple is a fully automated system that tracks what your Zillow leads are browsing for and sends them listing updates, offers to show properties, local area reports and more. To read more about Zurple, check out our full guide here.
Services like Happy Grasshopper will actually go a step further and have professional copywriters write and send an effective email campaign for you.
Other Zillow Premier Agent Features
Here are some other ways you can get the most out of Zillow Premier Agent.
Free Website, MLS Widget and More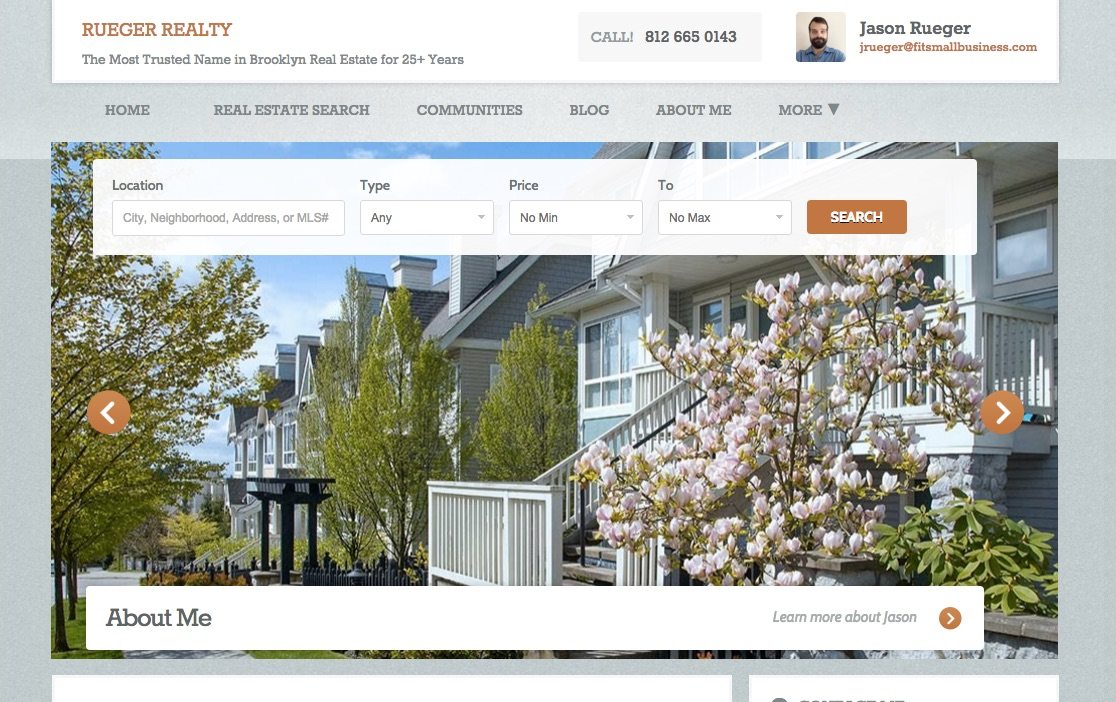 Real Estate Agent Websites are an additional feature available free to Zillow Premier Agents. You get a simple, customizable realty website with a custom domain. Zillow offers "widgets" you can choose from to add to your website. Among these are an IDX tool that lets visitors search your local MLS on your website, a mortgage calculator, lead capture forms, and a blog. There are also pre-written "community pages" that discuss local events, nearby schools, neighborhood walk scores, and more.
Ask a Zillow Premier Agent rep about getting your free website.
Team and Brokerage Features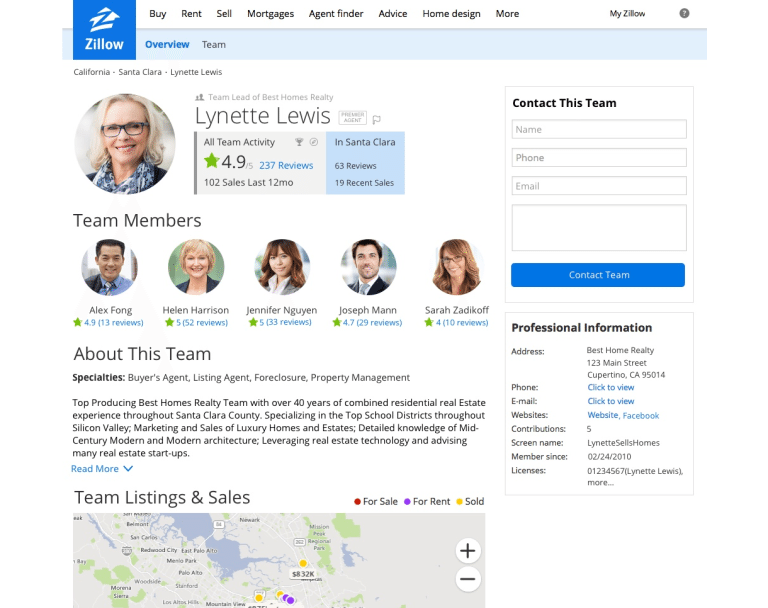 In addition to providing buyer and seller leads for agents, Zillow also has programs for teams and brokerages. Virginia based Realtor Pearson Smith built their brokerage from a team of 15 agents, to a brokerage of 657 agents in three years. Leads from Zillow Premier Agent were one of the primary ways they provided leads for the team. Here's founder Eric Pearson on the value of Zillow Premier Agent to growing his business:
"In the world of online leads, the Zillow Premier Agent program was a property specific platform that typically provides better quality online opportunities to our team members. The site has far more average daily and annual buyer and seller traffic and continually is adding value to their programs. Zillow Premier has been a cornerstone in building our team lead funnels."
There are three main team and brokerage features on Zillow:
Lead Routing
When a lead comes in via email, you can have it automatically assigned to members of your team based on two different variables: Home value or location. This lets you assign more valuable leads to experienced team members, or you can assign each team member a neighborhood/region.
Team Profiles
In addition to individual profiles, Zillow now lets you create team profiles for your entire agency. The team profile aggregates everybody's reviews, current listings, and lets you write a separate group bio.
Phone Lead Broadcast
Zillow posts your phone number next to your name on Premier Agent ads. A new tool allows you to route this phone number to call each of your agents in sequence. This prevents the lead from going to voicemail and losing interest (this can also be setup using Auto Attendant Software).
We received additional insight for this article from Realtors Michael Kelczewski, Jamie Flournoy, and Tom Waring. Thanks for the insight guys!
Zillow Premier Broker
The new Premier Broker program offers brokerages large and small better branding opportunities on Zillow sites. This includes custom branded brokerage profile pages, concierge services, lead routing options, lead conversion training and enhanced performance reporting capabilities.
Dotloop Integration
With their recent acquisition of transaction management powerhouse Dotloop, Zillow can now offer brokerages integration with the platform. If you already use Dotloop for transaction management, then the added Zillow integration makes this Premier Broker a lot more attractive.
Zillow Premier Agent: New & Improved Features for 2018
Since the online real estate space is fiercely competitive, sites like Realtor.com, Zillow, and Streeteasy are constantly innovating. Here are a few of the new features and programs Zillow is running in 2018.
Zillow Instant Offers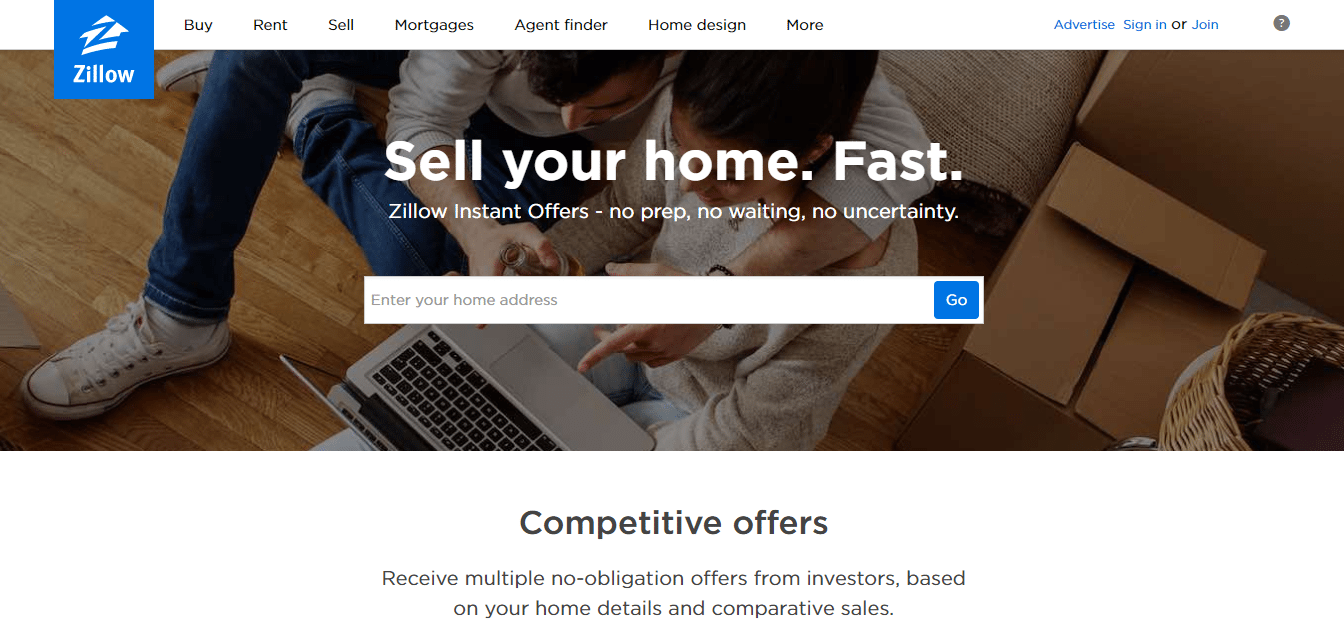 Announced in 2017, Zillow is now testing out an instant offer program that allows sellers to get an instant offer on their home from hand picked real estate investors. Once they accept an offer, they can close in a matter of weeks or even days instead of months. The pilot program is so far only operational in a few select markets.
While many Realtors view this new program as an attempt to replace agents, Premier Agents stand to gain a whole new stream of seller leads from the program. Here's why: Before Zillow presents a seller with an offer, they give them the option to consult a local Premier Agent. Though they promise to close quickly, real estate investors rely on purchasing homes below market value to stay profitable. They also charge relatively steep fees of 9% of the home's price.
That means many would be home sellers are not going to be thrilled with an investor's offer and may be looking for a second opinion from a Realtor.
Zillow Seller Boost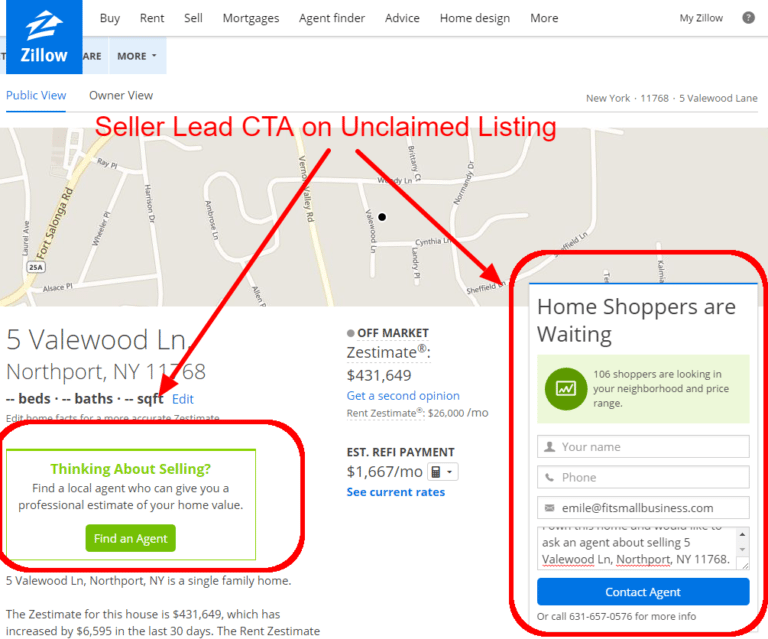 Zillow seller boost allows Premier Agents to land the holy grail of real estate lead generation: Seller leads! Here's how it works: when a homeowner is thinking of selling their home, one of the first things they do is try to figure out how much it's worth. These days, that means a quick Google search where Zillow dominates the top of the search results.
When they inevitably click on Zillow, they'll be encouraged to "claim" their home to get a more specific Zestimate. Once they do, Zillow includes lead capture forms encouraging them to consult with a Premier Agent. These leads are then routed to agents in the Seller Boost program.
Zillow Premier Agent Direct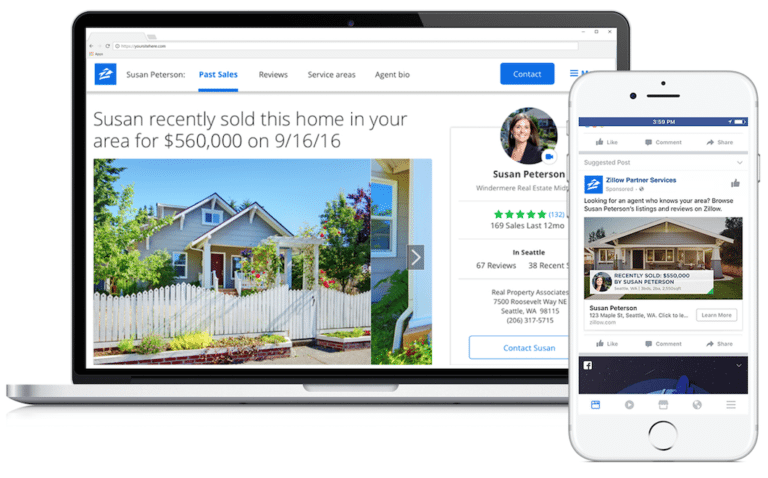 By partnering with Facebook, Zillow gives agents the ability to work with the most powerful name in real estate and the most powerful name in social media. Zillow Premier Agent Direct places carefully targeted ads on Facebook to get you more buyer and seller leads.
If you haven't worked with Facebook advertising before, the main draw here is granularity. Since Facebook stores all of our deepest darkest secrets, they allow advertisers to target people not only by age, income, and location, but even by how likely they are to move.
While the program isn't cheap, (plans start at around $1000 per month) they have the potential to pull in a ton of leads without you lifting a finger. Since this program isn't available in every market or to every agent, you need to call Zillow to see what's available in your farm area.
Bottom Line
As the largest real estate network on the internet, Zillow is the place to be. Whether you want to promote your own listings, get fresh buyer and seller leads, Premier Agent gives you the flexibility to advertise with whatever budget is within your means. Just remember – the more work you put into your profile, building reviews, and managing follow up, the more you'll get out of Zillow Premier Agent.