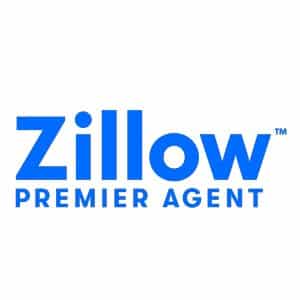 Zillow Premier Agent Overview: How It Works
Zillow Premier Agent provides increased exposure for agents in a few ways. If you're a Zillow Premier Agent and submit a listing, you will appear as the real estate agent next to the property details. For listings submitted by non-Premier Agents, you can appear as one of three Premier Agents beneath the actual listing agent, allowing you to capture leads for listings you didn't submit. Get more details on how to advertise on Zillow.
For agents who don't have the budget to pay for advertising, the Flex program may be a better choice. With Flex, Zillow connects you with homebuyers and you only pay a fee when you close a transaction. It is only available in select markets, but it is an incredible chance to use Zillow to generate leads without an upfront cost.
Pros & Cons of Advertising on Zillow Premier Agent

PROS

CONS

Exclusivity on your listings
Upfront costs
More visibility on unclaimed listings
Can be competitive
No fees taken out at closing
No guarantee that leads will convert to clients
Zillow Premier Agent Pricing: How Much Does It Cost?
Zillow is free to use for homebuyers and sellers. It also offers basic free services and multiple listing services (MLS) for real estate agents and brokerages to post their listings on the site. There are two paid services for real estate professionals to use Zillow to generate leads.
Advertising with Zillow Premier Agent: Leads cost between $20 and $60, depending on ZIP code sales, competition, and ad spend.
Flex: At no upfront cost, Zillow will connect you with homebuyers. You can nurture the lead and pay a percentage when you close a transaction.
While Zillow does not openly specify the fees and percentages, you can evaluate which lead generation method fits your business the best. Flex could be especially advantageous for new agents who need the connections to quality leads to start building referrals. On the other hand, advertising with ZPA could have a higher return on investment (ROI) for agents who have an established method of nurturing leads and maximizing conversions.
Sample Zillow Advertising Costs for Different ZIP Codes*
ZIP Codes

Median Listing Price

Zillow Market Temperature

Average CPM
(Cost per 1,000 Ad Views)

19808 - Wilmington DE

$281,024

Hot

$61

19806 - Wilmington, DE

$280,723

Warm

$32

19803 - Fairfax, DE

$377,250

Hot

$25

19707 - Hockessin DE

$452,641

Warm

$62

19807 - Wilmington DE

$765,413

Cold

$76

27870 - Roanoke Rapids, NC

$84,947

No data

$20

27850 - Littleton, NC

$279,087

$30

20878 - Gaithersburg, MD

$578,289

Hot

$43
*Disclaimer: The costing above is only a sample to show how pricing works for Zillow Premier Agent. Contact the company to register and request up-to-date pricing.
Zillow Premier Agent Features
In addition to buyer and seller lead programs for agents, Zillow Premier Agent also offers many other ways to boost your business beyond what is offered by other real estate lead generation companies. These include a free IDX website, Zillow Seller Boost, Premier Agent Direct, and Zillow 3D Homes.
The following features are also worth mentioning:
Lead routing: Allows you to designate certain leads to specific team members.
Team profiles: Write a group bio, aggregate reviews, and pool listings to show the experience and trustworthiness as a team to new leads.
Phone lead broadcast: This tool prevents leads from going to voicemail by routing their call to multiple agents.
Brokerage branding: Through the Premier Broker program, you can have a custom-branded profile and access enhanced reporting capabilities.
Brokerage Dotloop integration: In the Premier Broker program, you can integrate Dotloop to streamline every aspect of your real estate transactions.
Zillow instant offers: When Zillow offers sellers an instant offer for their home, they get the opportunity to consult with a local Premier Agent about selling their home. With ZPA, you will be the first in line to grab these highly motivated seller leads.
Free IDX Real Estate Website
Real estate agent websites are an additional feature available for free to Zillow Premier Agents. Through Zillow, you can get a simple, customizable real estate website with your own custom domain.
The website that Zillow offers to Premier Agents includes several widgets you can choose from to make your site more functional. Among the widgets are an internet data exchange (IDX) tool that lets visitors search your local MLS on your website, a mortgage calculator, lead capture forms, and a blog. Zillow Premier Agents also can access prewritten "community pages" that discuss local events, nearby schools, neighborhood walk scores, and more.
Zillow Seller Boost
The Seller Boost feature of ZPA connects potential sellers searching for home valuation with Premier Agents. When homeowners are thinking of selling their home, one of the first things they do is figure out how much it is worth, usually done by searching for home valuation on Google. Because it ranks highly on search results, Zillow is one of the first sites that appear.
When sellers click on Zillow from their Google search, they'll be encouraged to "claim" their home to get a more specific Zestimate (home value estimate computed using Zillow's proprietary formula). Once they do, Zillow includes lead capture forms encouraging them to consult with a Premier Agent. Seller leads generated from these Zillow forms are routed to agents in the Seller Boost program.
Zillow Premier Agent Direct
Zillow Premier Agent Direct places carefully targeted ads on Facebook to get you more buyer and seller leads. For agents who are not familiar with Facebook or pressed for time, Zillow gives agents the ability to work with both the most powerful name in real estate and the most powerful social media platform.
Since Facebook stores significant user information, it allows advertisers to target people not only by age, income, and location but even by how likely they are to move.
Zillow Premier Agent Direct has the potential to deliver many warm buyer and seller leads to a real estate agent. Because this program isn't available in every market or to every agent, you need to call Zillow Premier Agent to see if it's available in your farm area.
Zillow 3D Homes
Zillow Premier Agent 3D Home helps agents turn their listings into virtual walk-throughs to give buyers a sense of touring the property. With a smartphone and the free 3D Home™ app, agents can take a series of images that are stitched together to form an immersive experience for the buyer. It's as easy as turning on the app, giving it access to your phone camera, and snapping the images.
Alternatives to Zillow Premier Agent
| Alternative | Best For |
| --- | --- |
| | Real estate agents seeking ZIP code exclusivity for buyer or seller leads to lock out competition |
| | Agents and brokers who need to buy exclusive leads not resold to other real estate agents |
| | Agents who seek to generate buyer and seller leads with their own lead capture magnets |
| | Agents who seek lead generation with alerts for the best time to communicate with buyers |
| | Agents who want to get niche seller leads from FSBO, rental, or expired listings |
Bottom Line
As the largest real estate network on the internet, Zillow is an essential place for agents to target leads. Whether you want to promote your own listings or get fresh buyer and seller leads, Zillow Premier Agent gives you the flexibility to advertise within your means at about $20 to $60 per lead.
The more work you put into your profile, building reviews, and managing follow-up, the more you'll get out of what Zillow Premier Agent has to offer. With a robust free profile and website, agents can generate leads through participating in Zillow Premier Agent. Learn more about Zillow Premier Agent and how to add your profile to Zillow listings by visiting its website below.