Are you a small business owner trying to understand credit card processing fees, so you can choose a credit card processor? Or do you want to know if your current credit card processor is offering you a good rate? Read on to learn about how credit card fees are charged to your business, what different merchant account processors charge, and how to get a processing rate that fits your business's bottom line.
We recommend Square for most small businesses. They charge a simple flat rate of 2.75% and provide a free, easy-to-use POS system. If you're handling more than $10k/month, we recommend Payline Data. Their pricing is more complicated, which we'll dig into below. But if you're handling a lot of transactions, they're absolutely worth a look. In this article, we'll cover in detail:
Let's get started.
How Your Credit Card Processor Affects the Rate You Pay
When your customer swipes their credit card, there are 3 parties that can affect the credit card processing fees you are charged.
The credit card processing company, aka merchant account processor or merchant services provider (e.g. Square, PayPal, Payline)
The customer's bank
The credit card company (e.g. Visa, MasterCard)
Some processors like Square charge a flat rate per transaction, and customer bank fees and credit card company fees don't really come into play. Other processors like Payline charge a markup over what the credit card companies charge. Still others charge different fees depending on several variables, including exactly which type of card your customer uses.
Next, we'll dig into these different pricing models in more detail.
Types of Pricing Models: Flat Rate vs. Interchange Plus vs. Tiered Pricing
There are three main kinds of pricing models credit card processors use:
Flat rate
Interchange plus
Tiered
Here are examples and explanations of each of the three types.
Flat Rate Pricing
Flat rate pricing is the simplest pricing model and works just like it sounds. Your business pays a flat percentage rate and/or a per transaction rate for every card swipe. Square and PayPal are the two major providers that offer flat rate pricing.
Flat rate pricing is ideal for many types of small businesses because you know in advance exactly how much you're going to pay. There are no monthly fees, annual fees, or hidden fees to worry about. You pay the same rate for credit card sales no matter what type of card the customer uses.
What you give up in return for the simplicity of flat rate pricing is that you generally pay a higher rate than what you could negotiate through the other pricing models. For example, with Square, you pay a 2.75% fixed rate per transaction regardless of your transaction volume or the type of credit card that's used.
If you go with a traditional merchant services provider, you may be able to negotiate a rate that is .5% to 1% lower than this depending on the type of card used. If you are not doing a large dollar volume of transactions each month, then this is not going to make much of a difference, and it's probably best to go with the simplicity of flat rate. However, if you are doing more than $5K in credit card sales per month, then it may be worth the extra complication of going with another provider or fee arrangement.
Interchange Plus Pricing
The credit card processing fees charged by Visa, MasterCard, Discover, and other credit card companies are known as the interchange rate. When credit card processors charge a markup above this along with a fixed fee per fee per transaction, it's called "interchange plus" pricing.
Here are the current interchange rates for the different credit card companies:
Current Interchange Rates for Commonly Used Cards
| | |
| --- | --- |
| Visa Reward Card | 1.650 % + 10¢ |
| MasterCard Consumer Card | 1.580 % + 10¢ |
| Discover Retail Consumer Card (not reward, not premium) | 1.560 % + 10¢ |
*American Express does not participate in the Interchange program. They have their own program called OptBlue, where rates are based on industry and the size of the transaction. Generally speaking, AmEx rates are higher than Visa, MasterCard, and Discover. To find Amex rates, click here.
As you can see, interchange rates vary based on a number of different variables, such as whether the card is a rewards card, and whether the card is typed in manually or swiped. To see a full list of interchange rates, click here.
The markup above the interchange rate and the fixed per transaction fee depend on the company that you use, and sometimes the rate you negotiate with them. Payline, our recommended merchant account processor, charges Interchange plus 0.2 % and 10 cents for each in-store payment and Interchange plus 0.35 % and 10 cents for each online payment.
An interchange plus pricing model is the one I recommend using for your business if you're doing a high volume of business (over $5K in credit card sales per month). The merchant service provider adds up the interchange and card brand fees for a transaction and then adds their standard markup rate on top of that.
Tiered Pricing
Tiered pricing is the third type of pricing model. In this model, there can be vastly different rates charged depending on which type of card is used and even things like whether the card is a rewards card.
We generally do not recommend tiered pricing for small businesses. Most of the time, there is no easy way to find out what the rates actually are, or how they compare to rates charged by other merchant service providers. This means it is much easier for the provider to deceive you and hide costs. Here are examples of tiered pricing merchant processing statements.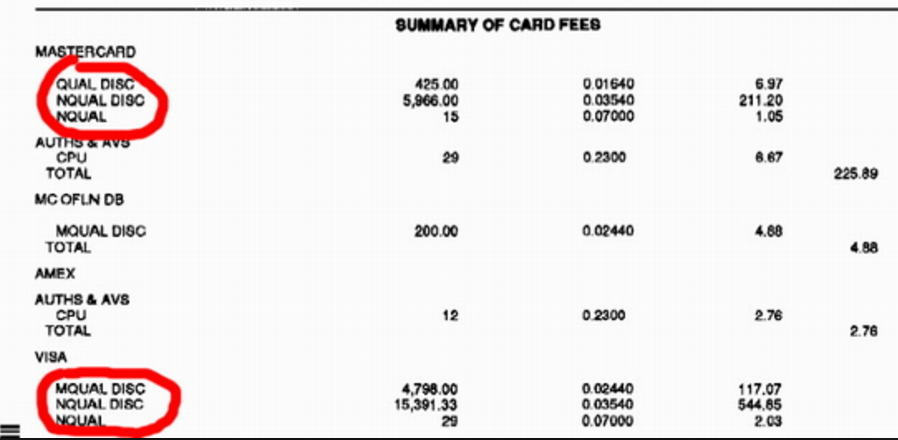 These tiered plans are going to vary widely by merchant payment processor. Notice the difference between the "Non Qual" rates on the two statements. These are the cards that have the highest risk for fraud and for which you'll be charged the most. One rate is 7% and the other is 3.6%. There are also significant differences for qualified (lower risk) and mid tier cards. Without knowing what cards fall in which buckets, you are playing Russian Roulette with your monthly payment charges. My advice is to avoid this type of pricing at all cost.
Negotiating Credit Card Processing Fees
If you are going with a provider that offers flat rate pricing, like Square or PayPal, there is no negotiation involved. The rates are what they are. If you choose a provider with interchange plus pricing, like Payline, you may be able to negotiate the fees.
With interchange plus, as mentioned above, you know you are going to pay a fixed percentage rate and fixed fee per transaction. So, when negotiating, you can either focus on getting the fixed percentage down, the per transaction fee down, or both.
If you are doing fewer but higher priced sales, then you want to focus on lowering the fixed percentage because that is what is really going to impact your bottom line. The difference between a 2% and 3% rate on, say, a jewelry purchase of $1,000 is big. However, a fixed fee of $.10 – $.30 is peanuts on a $1,000 payment.
On the other hand, if you are doing lots of lower priced sales, it is better to try to lower your fixed fee. 2.5% of $5 is around 1 cent, pretty minimal. But 10-15 cents on one thousand $5 sales begins to add up.
With Payline data, our recommended merchant services provider, you can negotiate rates when you reach a volume of 80K per year or more in credit card sales. Click here to learn more.
How You Are Processing the Card Affects Your Cost
There are three predominant ways that credit card payments are processed by businesses; in-store swipe, mobile swipe, and online. The amount you pay varies based on the risk each transaction has for fraud. In-store and mobile pose the lowest risk, so their rates are usually cheaper.
Online transactions use an online payment gateway or web form to enter and submit credit card transactions. They pose the highest risk for fraud, making them more expensive on a per transaction basis. You can expect to pay about 0.2% to 0.4% more per transaction to process online payments. If you do a high volume of online payments, it's best to find a merchant processor that specializes in online.
Based on how you accept payments and the provider that you use, you may also have other fees, such as upfront fees, monthly/annual fees, and hardware fees.
Upfront/Setup Fees
Square and PayPal don't charge any upfront or setup fees, which is one of the advantages of working with them. However, other credit card processors might charge the following upfront fees:
Training – Fee for the credit card processor to walk you through how to use the system or service you purchased.
Customization – If the credit card processor has to modify its software or systems to fit your business' specific needs, there may be a customization fees.
System Integration – There may also be a fee if you need to integrate a credit card processor's software with other software that you currently use for other functions (e.g. accounting).
To avoid any unpleasant surprises on your merchant account statement, make sure you ask the provider as much as you can about upfront fees in advance.
Monthly/Annual Credit Card Processing Fees
If you go with a flat rate card processor like Square or PayPal, there aren't any monthly or annual fees. Other credit card processors might charge the following monthly or annual fees:
Monthly processing fees – In addition to the per transaction percentage rate and fixed rate fees, some providers charge a monthly or annual fee. Payline charges $15 per month.
PCI compliance fees – This is a fee for compliance with Payment Card Industry (PCI) standards, which require merchants that accept credit cards to meet certain security standards. The cost is around $100 per month. It may be charged monthly or annually.
Customer service fees – There may be a fee for phone customer service support.
Fees can vary significantly based on your provider, so we encourage you to ask as many questions as you can before signing up for a provider's services.
Hardware Fees
Hardware fees may be charged for things like card readers, cash drawers, terminals, printers, and bar scanners.
Square and PayPal provide a free basic card reader for merchants, but there's an extra fee for EMV chip card readers. You'll also need to pay extra for other additions, like cash stands and docks. A full Payline system including hardware will cost in the neighborhood of $1,000 to $1,500 dollars initially, depending on what hardware you choose.
Credit Card Processing Fees – Comparison of Top Providers
Credit Card Processing Fees Comparison
| | In-Store Payments | Mobile Payments | Online Payments |
| --- | --- | --- | --- |
| Square | 2.75% per transaction (3.5% + 15¢ for manually entered cards) | 2.75% per transaction (3.5% + 15¢ for manually entered cards) | 2.9% + 30¢ per transaction |
| PayPal | 2.7% per transaction (3.5% + 15¢ for manually entered cards) | 2.7% per transaction (3.5% + 15¢ for manually entered cards) | 2.9% + 30¢ per transaction |
| Payline | Interchange + 0.2% + 10¢ per transaction | Interchange + 0.2% + 10¢ per transaction | Interchange + 0.35% + 10¢ per transaction |
| Heartland | Interchange + 0.3% to 0.8% + 5 to 15¢ per transaction | Interchange + 0.3% to 0.8% + 5 to 15 cents per transaction | Interchange + 0.5% to 0.8% + 25 to 30 cents per transaction |
Square's processing fee of 2.75% for in-store and mobile payments does not change based on credit card type or device. Also, the fees remain the same whether the payment is processed in-store or mobile. However, the fee does change to 3.5% + 15 cents when a card number is keyed in manually. This is because card information that is manually keyed in has a higher risk of fraud. Square also charges a higher rate (2.9% + 30 cents per transaction) for online payment processing. Otherwise, the fee is always 2.75% of transaction total. It has great back office features, and some other cool inventory features that make it worth paying a high cost per transaction. This is why Square is our recommended mobile credit card processor.
PayPal's fees of 2.7% for in-store and mobile payments do not change based on the kind of card type or device. However, like Square, their rate changes to 3.5% + 15 cents per transaction if the card information is keyed in. They also charge more for online payment processing at 2.9% + 30 cents per transaction. The back office features are lacking with PayPal Here compared to Square, but if you do a lot of business on PayPal, it could be a natural choice for a payment processor.
Payline offers consistent interchange plus pricing for all your needs, regardless how and where you're processing your payments. They are our top recommended traditional merchant services provider. For in-store and mobile payments, the markup over the interchange rate is 0.2% + 10 cents per transaction. For online payments, it's higher at 0.35% + 10 cents per transaction.
The drawback here is that you can't really negotiate lower rates until you reach $80K in sales per month. But, in terms of fairness and knowing that you are paying what your neighbor is paying, you can't beat Payline. They also integrate with Lightspeed, which is a business management/point of sale system (POS) rolled into one, for an additional monthly cost.
Heartland's rates will vary based on the interchange rate plus the deal you negotiate with them. In my experience, they are less concerned with the volume you do each month when they are negotiating rates and fees. This is typically because merchant payment processors like Heartland, use local sales representatives to interact with you. Their reps are not on commission and they get a one time fee for opening your merchant account, so they can basically undercut every competitor they have just to gain as many merchant accounts as possible.
The drawback with using one of these local merchant processors is that once they sign you to a contract, they usually disappear, or in my experience, are often too busy to answer your questions so they direct you to a 1-800 number where you spend hours waiting for answers.
A Merchant Statement Up Close
Whether you are a new business or have been around for a while, it can be confusing to understand all the fees you are charged for accepting credit card payments. Let's walk through a typical merchant statement so you better understand what you're paying and if you're paying too much.
There are two key parts of a merchant statement, and all the other sections are just fluff and information that you typically don't need as a business owner.
The two key areas are:
The Overview – Page 1 of the statement, with a Processing Fees Summary and a Fee Summary by Major Credit Card Type. This usually looks something like this: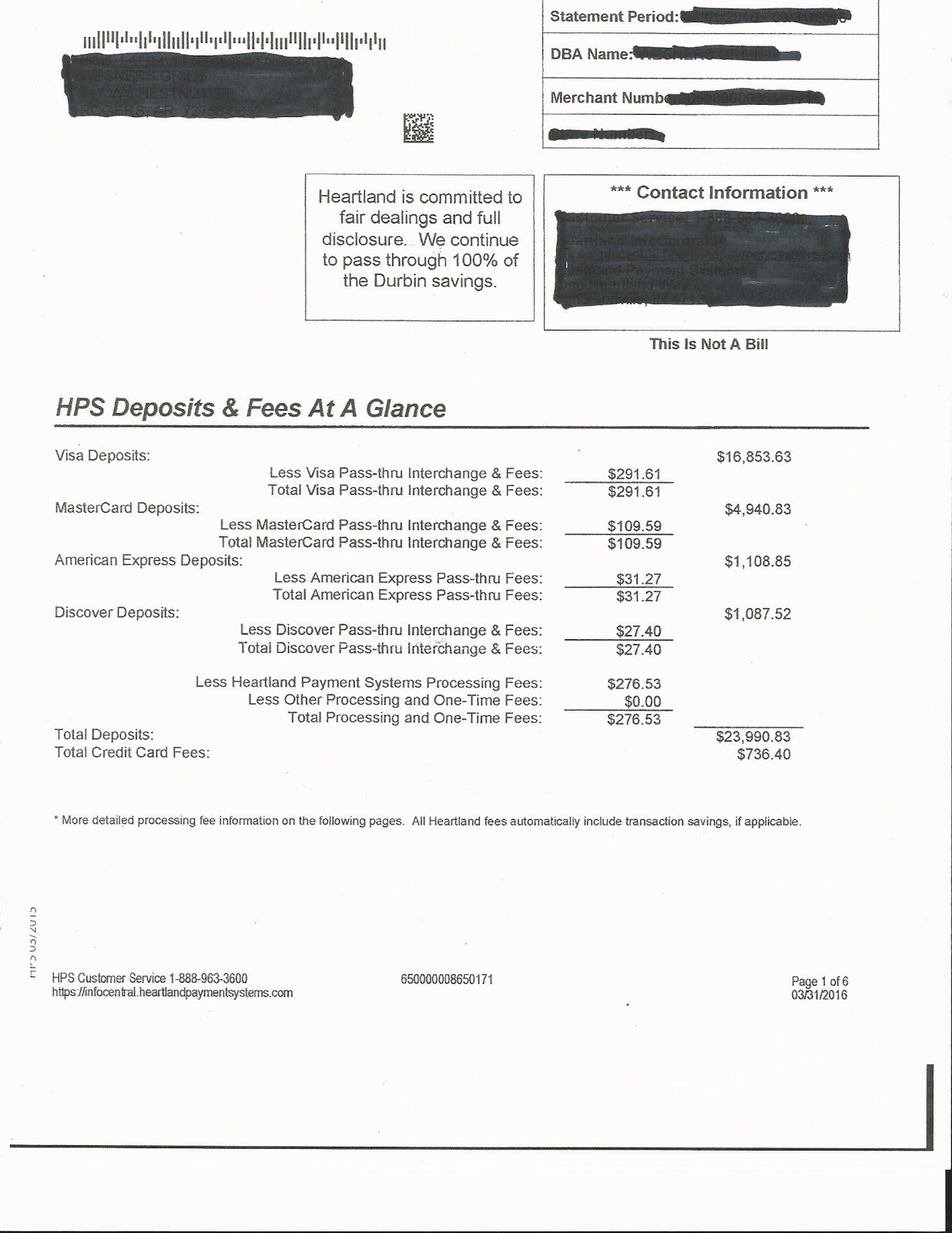 Fee Summary – This is usually pages 3-5 of your merchant statement, and it breaks out all of the fees that are summarized in the Page 1 Summary. You will see all the individual breakouts for the respective credit card brands, and you see the merchant account processor fee section. The section looks something like this: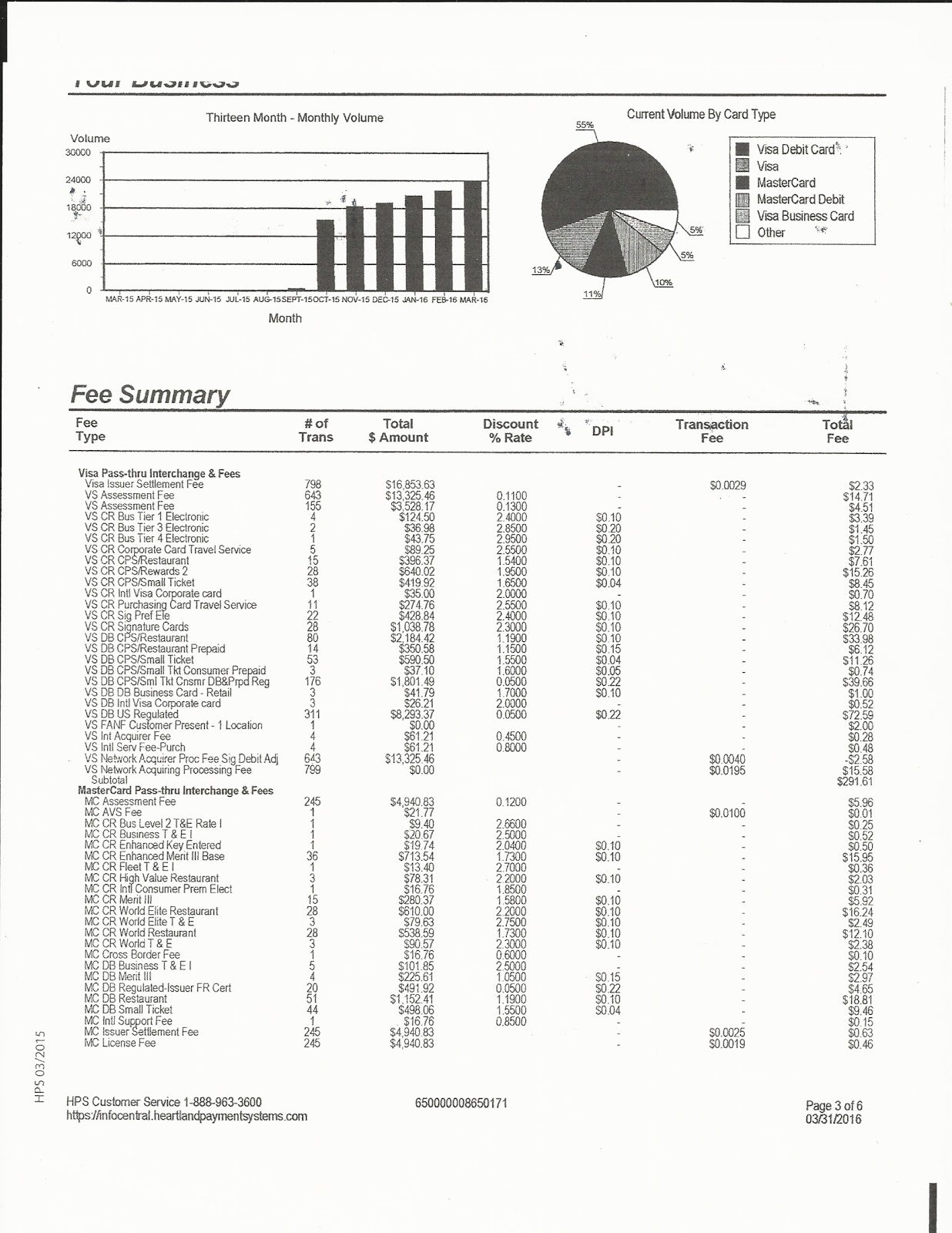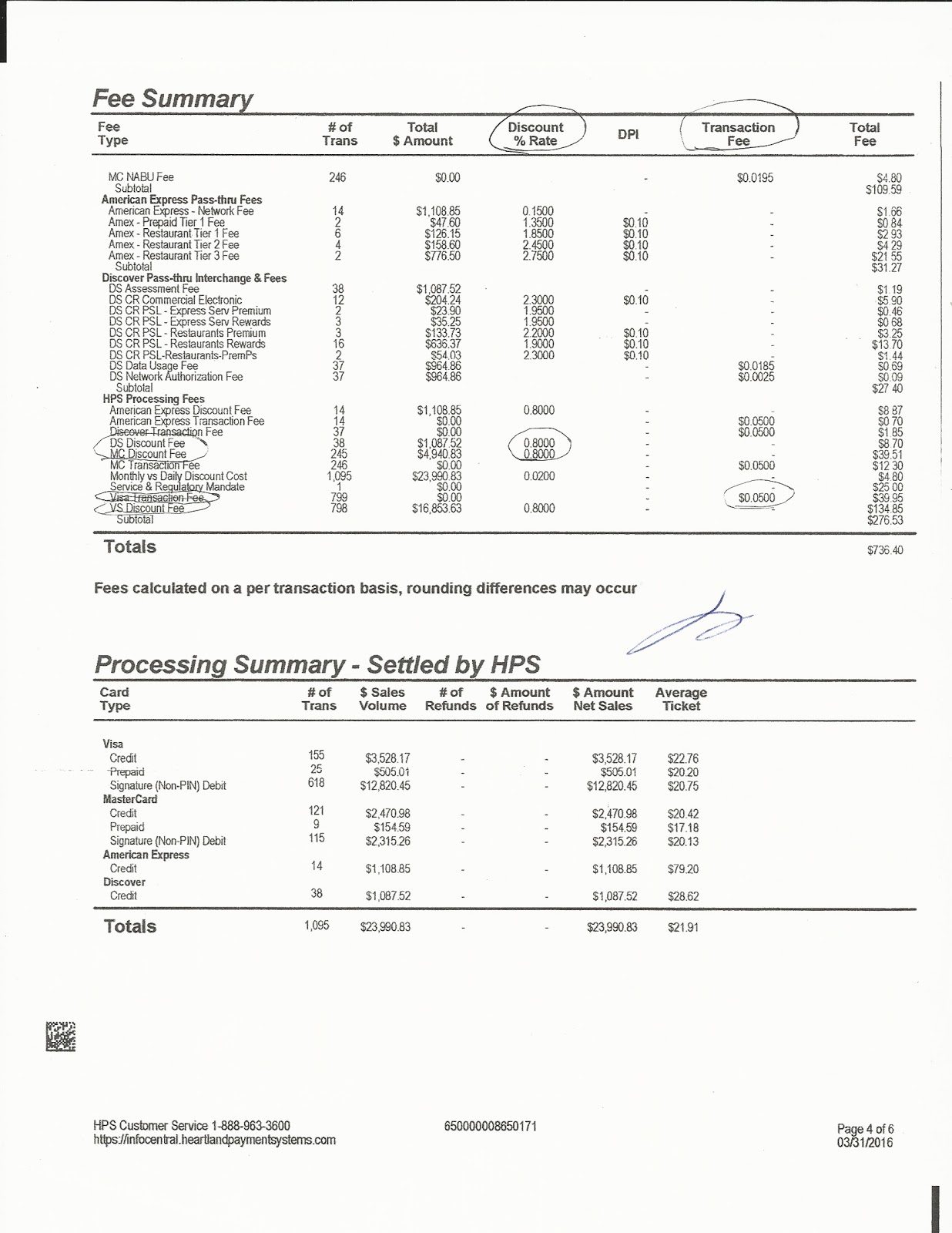 Now we are going to use information from this statement to calculate what's called your Effective Rate. Knowing this percentage is critical to understanding if you are getting a decent processing deal.
Effective Rate
Effective Rate = Total Credit Card Processing Fees / Total Deposits
Simply put, the Effective Rate is the total cost you are paying to process a single credit card. To calculate your effective rate, you divide your total credit card processing fees by your total deposits.
The average effective rate for credit card processing varies by provider, but in general, the merchant processor will likely offer you an effective rate somewhere between 2.9% to 3.3%. You can try to negotiate that even lower, especially if you're doing a high volume of transactions. While Square and PayPal's effective rates are lower (they charge a straight 2.7 % for brick and mortar and mobile payments), the downside is that there is no room for negotiation with them.
Here's an example from our page 1 above. Take the total fees charged and divide by total deposits made:
$736.40 (total fees charged) / $23,990.83 = .0306% or 3.06% Effective Rate
That's a good effective rate, but what if it were higher, say 3.6%? Then, you would want to refer to page 3 of your statement and look at the merchant processor account fees charged. It will detail out exactly what the processor is charging you as shown here:

In this case, you can see the business is getting charged for the card types and debit cards, plus a monthly PCI fee from the merchant account processor. You will also notice a fee called Monthly vs. Daily Discounts. I'm not sure what that fee covers, so I'd recommend asking about it. You'll also see any other monthly fees and charges in this section.
The bottom line is you want to compare this section of your merchant statement to the fees charged by other processors. The information you're seeking will stand out when compared side by side. I have personally seen dozens of business save $50 to $100 per month–that's $600 to $1,200 in savings per year–just by understanding their current rates better.
Next time you meet with your account representative, ask them to calculate your effective rate. At the very least, you'll find why you're paying exactly what you are paying. You may also find a better deal somewhere else or be able to get a re-negotiated deal, at a lower rate, from your current processor. How could you improve your business with an extra $600 to $1,200 dollars a year in your pocket?
So, What Does This All Mean?
As you can see, there are more than enough options on the market to fulfill your business's credit card processing needs. You will need to sit down and look at your current sales if you're an existing business, or your forecasted sales if you're starting up.
If you're doing less than $5K per month in monthly credit card sales, then I suggest going with Square or PayPal. Their pricing is very straightforward, and their software is more than enough for you to run your business successfully.
If you're doing more than $5K per month in credit card sales, then I suggest going with Payline. While it's not as easy to set up as Square or PayPal, they offer lower pricing that could make a significant difference if you have a high transaction volume.
Whichever merchant account processor you go with, be sure to ask questions about their effective rates, upfront and monthly fees, hardware fees, and other fees. Go with the merchant account processor that you feel is the most honest and fair with their rates.