Alibaba vs AliExpress: Which Is Best for Importing & Dropshipping?
Alibaba and AliExpress are both online marketplaces based in China that host third-party sellers. The main difference between Alibaba vs AliExpress is that Alibaba is exclusively intended for B2B transactions, whereas AliExpress is open to consumers.
Alibaba is best for businesses importing large quantities of wholesale products to resell online, in-store, or to other businesses. It offers lower per-item rates, opportunities to work directly with suppliers and manufacturers, and options for creating custom products.
AliExpress is best for dropshipping and placing small, D2C orders. It has no minimum order requirements and competitive retail prices, making AliExpress the better choice for small or startup businesses that want to sell products online without investing in inventory first.
Alibaba vs AliExpress at a Glance
Alibaba

AliExpress

Pricing

Extremely low and negotiable

(B2B wholesale rates)

Slightly higher and non-negotiable

(low, B2C-friendly rates)

Purchase financing

60-day interest-free, up to $150,000 for qualified businesses

✕

(Buy now, pay later programs available through Klarna & Zip)

Minimum order requirements

Vary based on seller

N/A

Shipping costs

Vary based on seller

Typically free

(plus affordable expedited options)

Business-to-business

✓*

✕

Open to consumers

✕*

✓

Buyer protection

✓

✓

Private label products

✓

✕

Delivery time

(includes order processing, production, fulfillment, and shipping)

15–45 days

7–45 days

Ease of use

Easy–Moderate

Very easy

More Information
*Technically, consumers can create an Alibaba account; however, not all suppliers on the site cater to consumers—most work solely with wholesale buyers.
For new ecommerce businesses, using an all-in-one platform to manage your website, store, inventory, and orders is the easiest way to get started.
Shopify is our top-recommended ecommerce platform. It integrates seamlessly with Alibaba and AliExpress— and has apps to manage dropshipping and order fulfillment, such as DSers.
Visit Shopify for a free trial
Alibaba vs AliExpress: Pricing & Features
Alibaba and AliExpress are structured similarly to eBay or Amazon. They both offer products at prices well below what you could find on any US-based retail site, but only Alibaba has true wholesale pricing.
On Alibaba, you negotiate quotes directly with manufacturers for large quantities of goods. On AliExpress, you can purchase one-off or small quantities of products, or have them dropshipped directly to your customers.
Alibaba Overview

Pros
Lowest per-item pricing
Interest-free purchase financing options
No membership fees
Robust customization and private-label options
Cons
No built-in shopping cart
Less user-friendly than AliExpress
Most sellers have a Minimum Order Quantity (MOQ) of a few hundred pieces or more
Very limited dropshipping options
Alibaba Features
Trustworthy platform with secure payment portal
Trade Assurance program which ensures timely shipments and item quality
Product inspection services to certify quality
User-friendly and easy-to-navigate buying process
Buyers can choose ready-to-ship products or message sellers directly to negotiate or customize products
Sizeable sellers and product inventory
Pay later option for buyers to purchase inventory with a financing option
Global sourcing tools for buyers and sellers, including translations for 21 languages
Alibaba has a wholesale pricing model designed for business customers. Wholesale pricing is the cost of a product before any retail markup.
For businesses looking to resell products, buying directly from manufacturers typically offers the lowest pricing—which means businesses can make a high profit margin on sales. Alibaba connects buyers directly with manufacturers. AliExpress has some of the same products as Alibaba, but at higher prices.
---
Minimum order requirements are the smallest amount of product you can purchase. Sometimes this is a dollar amount, but on Alibaba it's usually a specific number of products. Alibaba and AliExpress are made up of independent sellers, like on eBay and Amazon, so the exact requirements vary.
Alibaba sellers typically have minimum order requirements that range from 50 to 1,000 pieces. Since the products are being sold at such low prices, MOQs ensure that the supplier maintains profitability on all orders. Recently, however, many suppliers have lowered their minimum order quantities to 10 or fewer.
AliExpress doesn't have MOQs, so you can purchase single quantities of each item.
---
Alibaba now offers dropshipping to trade directly with factories, manufacturers, and international wholesalers. Dropshipping through Alibaba provides you a free marketplace to find suppliers to source products without minimum order quantity. This is exceptionally beneficial to test out product ideas before committing to significant inventory investment.
All sellers on the Alibaba dropshipping centers are top-rated or verified suppliers, and many support Alibaba's Trade Assurance protection policy.
As this is a relatively new service, Alibaba is very upfront about its current limitations, and acknowledges that search filters are lacking compared to the Alibaba.com marketplace. It also only connects to Shopify and WooCommerce platforms.
Additionally, AliExpress's market analysis tools provide a more in-depth view of trends and sales volume. Anyone who uses Alibaba Dropshipping must either analyze the data themselves or use a partner service provider—such as Modalyst, Syncee, Dropified, Sesam, or Sprocket.
So, although it is possible to dropship through Alibaba, we still recommend AliExpress as the better dropshipping solution.
---
Alibaba is the better choice for purchasing custom and private label products because the items come directly from the manufacturer. With Alibaba, you can easily get products with your logo, store name, or custom sayings for a very low price because they are added during the manufacturing process instead of afterward by a third party.
Many suppliers on Alibaba will manufacture products according to your design, so you are getting a truly unique product. With AliExpress, the products are typically pre-made, so there are limited customization options and they're usually more expensive.
---
The specific lead time for your orders can vary significantly depending on the supplier, the product you are purchasing, how big your order is, and if anything is being customized. Thirty days for product production from the time of payment is typically a safe bet.
It's important to keep in mind that it can take a long time to find the right supplier, negotiate a quote, receive samples, and finalize your order. Plus, if the product is being shipped from overseas, delivery can take a few weeks to a few months. So, in total, expect the process to take a few months.
---
Alibaba has freight procurement integrated into the platform. Powered by Freightos, Alibaba Logistics is a new marketplace that allows US retailers and businesses to compare pricing, book, manage, and track ocean and air shipping for their wholesale orders. Before Alibaba Logistics, available shipping costs, methods, and time would vary depending on the supplier you were ordering from and was a fairly opaque process.
Some Alibaba suppliers have warehouses in the US. So, if you are purchasing pre-made products from one of those suppliers, they can send you products directly from their US warehouse, which will be faster and much less expensive. With AliExpress, your products will generally ship via air since they are small quantities.
---
AliExpress Overview

Pros
Robust dropshipping options
No Minimum Order Quantity (MOQ)
Easy-to-use, built-in shopping cart
Competitive pricing
Cons
Higher per-item prices than Alibaba
Very limited customization and private-label options
No option to negotiate or build business relationships
Alibaba Features
Products are available to individual consumers
Independent sellers can sell products directly to buyers worldwide
Automatic translation to 18 languages
Currency conversions from 51 countries
Secure payment and transactions with 38 local payment channels
Buyer protection and simple returns
On-time delivery guarantee
AliExpress University learning resources for new sellers
Express shipping from 1 week to 2 months
In the news: AliExpress Focuses on Driving Consumer Sales
In addition to being the go-to supplier for ecommerce dropshipping, AliExpress has made efforts to expand its international consumer base and B2C sales.
AliExpress offers products from third-party sellers in a variety of categories, similar to Alibaba. The main differences with AliExpress are slightly higher pricing and anyone can place an order directly through the website—you do not need to contact suppliers directly and negotiate a quote. Although the per-item costs on AliExpress are higher, buyers can place much smaller orders and often receive free shipping.
Although many businesses use AliExpress to source products, the website functions more as a retail site in the sense that there are no minimum order requirements and anyone can make a purchase. Alibaba sellers typically have higher minimum order requirements, and while anyone can contact a seller for a quote, the sellers typically only work with businesses.
---
AliExpress is the best choice for dropshipping because you can order one-off products instead of massive shipments.
Dropshipping is a feature many AliExpress sellers offer. You can also find AliDropship apps on many third-party solutions, such as Shopify, to sell dropship AliExpress products. Additionally, AliDropship offers plugins for WordPress and WooCommerce to sell dropship products from AliExpress.
---
Alibaba is the better choice for sourcing custom and private label products because you are purchasing directly from a manufacturer that can create products according to your specifications. With AliExpress, you purchase pre-made products that typically cannot be customized.
---
Since the products bought through AliExpress are already manufactured, the lead time is much shorter for AliExpress orders than Alibaba orders.
AliExpress orders are generally shipped right away, though they are usually shipped from overseas. So, you would typically receive orders within 30 days of purchasing with free shipping.
---
AliExpress offers a one-stop shipping service through AliExpress and the Cainiao Network. This method provides:
First-mile pickup service
Consolidation service
International line-haul service
Customs clearance service
Last-mile delivery service
After placing orders on AliExpress, the seller will send the package to the AliExpress shipping center. From there, you will get tracking information to follow your package.
The arrival time for AliExpress Shipping depends on the shipping option you choose. It offers AliExpress Standard Shipping, which usually takes 15 to 45 business days, or AliExpress Premium Shipping, which estimates delivery time from 7 to 15 business days.
Costs depend on your location and the shipping service you select. However, most products will offer free shipping.
Since AliExpress purchases are much smaller than Alibaba wholesale orders, the shipping logistics are easier and less expensive—though it still takes time.
---
Alibaba vs AliExpress: Ease of Use
Alibaba and AliExpress have similar websites that are both intuitive and fairly easy to use. However, AliExpress is slightly more user-friendly—especially if you're not experienced with placing wholesale orders. On Alibaba, you need to reach out to suppliers directly and negotiate quotes.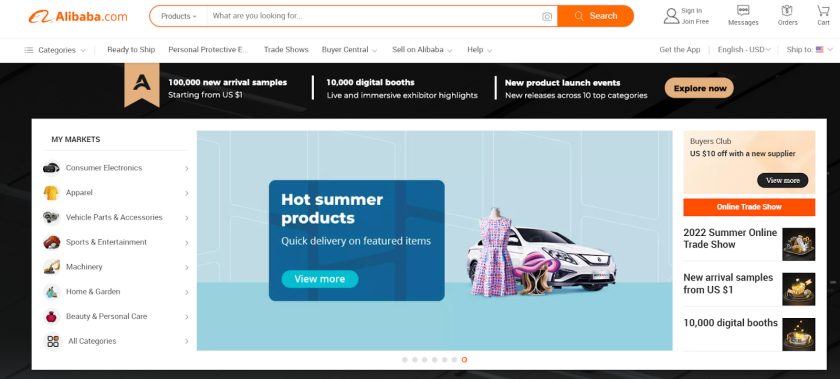 ---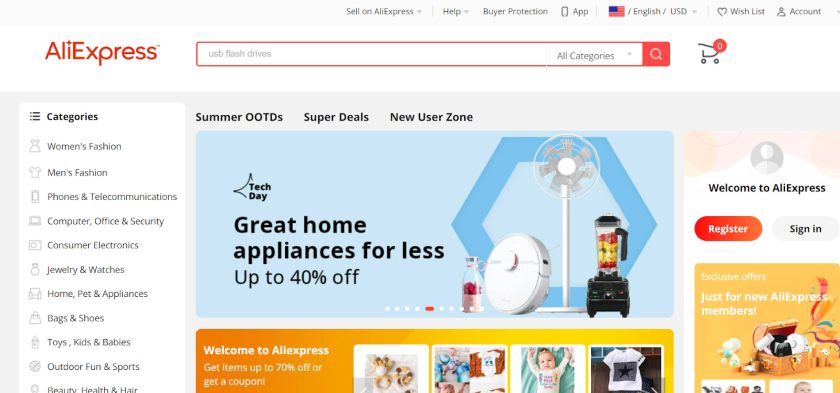 ---
Alibaba can be very easy to use if you're an experienced wholesale buyer. However, if you've never placed a wholesale order before, it may be a tough place to start.
Suppliers have no obligation to respond to your quote requests, so the process can be frustrating if you're not sure what information they're looking for or what questions to ask. Likewise, navigating the shipping, importing, and payment processes can be confusing.
AliExpress functions similarly to any retail store and has a built-in shopping cart, so no direct communication with suppliers is required. The ordering process is much more straightforward and much faster than with Alibaba.
Alibaba vs AliExpress: Customer Service
Since Alibaba and AliExpress are both marketplaces that consist of third-party sellers, the experience you have purchasing through them can vary greatly depending on the individual seller.
However, both marketplace platforms have rules and complaint procedures in place to try to ensure a good buying experience
When purchasing on Alibaba, businesses are dealing directly with suppliers—not Alibaba itself. However, Alibaba does have help centers, community forums, and areas to enter formal complaints and disputes.
Buyers can also contact Alibaba support via live chat. There is no phone support through Alibaba, but you will be in direct contact with your suppliers via email.
Similar to Alibaba, AliExpress has a help center and live chat option on the website, but doesn't have phone support. AliExpress also has dispute management services on the website for reporting suppliers or requesting refunds.
Alibaba vs AliExpress: Customer Reviews
Reviews for both Alibaba and AliExpress are mixed. The experience you have buying from these marketplaces can vary a lot depending on the supplier you purchase from. They all have varying policies and standards of quality that may or may not be what you are expecting.
Though there have been many reports of scam businesses on Alibaba, there are also many fantastic reputable manufacturers on the site. Alibaba has taken many steps in recent years to crack down on issues like product quality and counterfeit goods.
Many experienced wholesale buyers have a positive experience with Alibaba because you can purchase custom products for low prices.
Reviews for AliExpress are very mixed. Some businesses use AliExpress to dropship products without any issues. However, many retail shoppers who buy from AliExpress complain of orders not arriving, incorrect product shipments, and issues settling disputes or getting refunds.
How to Get a Quote From Alibaba Suppliers
| Do | Don't |
| --- | --- |
| Use Alibaba Trade Assurance | Buy branded products |
| Choose Verified Suppliers | Buy in bulk before testing the product or ordering samples |
| Pay through Alibaba's secure ordering system | Place an order before verifying details like material and size |
If you're interested in purchasing wholesale products from Alibaba, you will need to find a supplier with the products you want, and reach out to get a quote. This process is called "Request for Quotation." If you are new to wholesale buying, the process can be confusing.
Here's how to get a quote on Alibaba:
There are over 150,000 suppliers on Alibaba, so you want to be specific when searching for a product. For example, instead of "women's sneakers," search "women's lightweight running shoes."
To avoid any counterfeit or trademark issues, do not purchase brand name goods from Alibaba. If you are interested in selling name brand goods, source directly from the brand itself to ensure you purchase authentic products and avoid any potential legal issues.
Trademark owners can report and remove unlicensed or counterfeit listings from Alibaba. But there are thousands of suppliers on the site, and not all brands monitor/report counterfeit reproductions. Because of this, many counterfeit listings go under the radar and remain available for purchase on Alibaba.
---
When finding suppliers from which to purchase products, price is probably the first thing you'll consider. However, there are a number of other things to look for, including:
Trade Assurance: Some suppliers support this feature, which allows you to submit a claim to Alibaba if you are not satisfied with your shipment. Alibaba reviews the claim and may offer a refund. Look for suppliers that offer this as they are more likely to be reputable.
Gold Suppliers: Suppliers can pay Alibaba to be listed as Gold Suppliers. If a supplier is not Gold, that doesn't mean they aren't reputable. However, it is a safer bet to choose suppliers that are investing in their Alibaba listings.
Verified (Assessed) Suppliers: Verified suppliers have had their factories inspected by Alibaba's third-party service, which has deemed the suppliers reputable. Always look for Verified Suppliers.
When searching supplier listings, you can check off boxes to only show suppliers that have Trade Assurance and Verified Suppliers. It's a good idea to use this feature, especially if you are new to purchasing wholesale products. The individual listings will show if they are a Gold Supplier or not.
---
When it's time to submit an inquiry or request quotes, there are a few ways you can do this.
First, you can contact individual suppliers directly. In this initial contact, just introduce yourself, say what products you are interested in, and inquire about samples. Keep it short, simple, and professional.
Alternatively, you can use Alibaba's Request for Quotation (RFQ) service to request quotes from many suppliers at once. This form requires a little more information, but you will end up with a list of quotes to compare, which can be faster than selecting and reaching out to suppliers individually.
This service is free, but you can pay for faster results or more quotes. Keep in mind that there is no option to only select Assessed or Trade Assurance suppliers when submitting this form, so you'll have to check for that after receiving your results.
---
Request samples from the suppliers in which you are interested. You'll typically have to pay for your samples as well as shipping—but it's a worthy expense to ensure product quality.
You can sometimes negotiate for the cost of a sample order to be absorbed into the price of a larger order if you decide to continue. If a supplier does not offer samples, consider that a red flag and choose a different company. Samples allow you to assess and compare product quality before placing large wholesale orders.
---
AliExpress vs Alibaba Frequently Asked Questions (FAQ)
Alibaba and AliExpress are similar in many ways, yet serve very different purposes for retail business owners.
RFQ stands for Request for Quotation, which is a tool buyers can use on Alibaba to collect quotes for a specific product from many suppliers at once.
Filling out an RFQ form can be a lot faster than finding and contacting suppliers individually, though you will have less control over the results you receive.
---
Generally, yes, it is safe to buy from Alibaba. But, since it's a marketplace hosting independent sellers—like eBay or Amazon—there will always be sellers who aren't offering what they claim. It's important to take precautions to help ensure you are purchasing from a reputable supplier.
---
Amazon is strictly for consumers. AliExpress sells to consumers, but also has dropshipping tools for businesses. Some businesses actually source products from AliExpress to sell on Amazon.
From a consumer's perspective, the biggest difference is in shipping time. On Amazon, most products are available with free two-day shipping. On AliExpress, most products are coming from China, or (another overseas location) and will take 12 to 25 days to arrive.
---
Yes, you can dropship directly from Alibaba. However, the new service is still growing in its capabilities. Additionally, not all suppliers offer dropship services because they prefer to sell in bulk.
If you want to offer dropshipping, it's best to source from AliExpress. The prices are higher, but you can purchase individual items and most suppliers offer dropshipping.
---
There is no shopping cart on Alibaba's website. You need to contact suppliers directly through an inquiry form, email, or chat to place an order. Or, you can also submit a Request for Quotation (RFQ) form to receive information from many suppliers.
You'll need to negotiate price and payments directly with each supplier, and then navigate the Alibaba Freight marketplace for shipping—so the ordering process is longer and more complicated than on a retail site.
---
Alibaba Trade Assurance is a buyer protection program that suppliers can elect to offer. It's free for buyers to use and is designed to help build trust between buyers and suppliers.
Trade Assurance can help buyers get a refund if their orders ship significantly later than promised or if the products don't match the specifications outlined in the order agreement.
---
Bottom Line
AliExpress and Alibaba are resources that businesses can use to buy products from millions of suppliers at low prices.
AliExpress is the best option for dropshipping as it allows businesses to purchase single items and has plugins to integrate dropshipping right on your website. It is also the best option for startup businesses new to placing wholesale orders and importing products.
Alibaba offers established retail and ecommerce businesses unbeatable prices on wholesale products—including custom-made and custom-designed goods directly from manufacturers. It is free to use and protects buyers with Trade Assurance and Verified Suppliers.