Private label cosmetics are makeup and skincare products made by a manufacturer but sold under your own brand. This allows salon owners, estheticians, online sellers, and others to build a beauty label without investing in formulating, testing, and production.
As your private label business grows, you'll spend an increasing amount of time packing and shipping online orders. Try outsourcing your fulfillment process so you can spend your time actually running your salon or online store. Use FulfillmentCompanies.net, a free fulfillment matchmaker, to match you with one of their national and/or regional fulfillment companies to handle your online orders for you. Click for a free quote.
Visit FulfillmentCompanies.net
If you're ready to start building your own beauty brand, we'll show you how to do so in 5 easy steps.
Step 1: Research Private Label Cosmetics Suppliers
There are two primary ways you can search for private label cosmetics suppliers: online or in-person at beauty industry trade shows. We'll explore each of these options below, but first, let's discuss your goals for your branded beauty line.
The first step in your research is to define exactly what you want in your beauty line to help pinpoint what you need from potential suppliers. Call this your must-have list. For example, do you want only organics products? Do you want a line of skincare products, makeup, or both? Do you want products that contain certain ingredients? List everything that matters to you.
Once you have your must-have list together, here are a few more things to consider as you search for private label cosmetics suppliers:
Are they FDA approved?
Do they print labels and packaging for you?
What are the order minimums?
What are the label and packaging fees?
What is the turn-around time for new orders and reorders?
Now let's see where you can find potential suppliers.
How to Research Private Label Cosmetics Suppliers Online
To find suppliers online, Googling private label cosmetics USA. As you see below, this gives you a huge list of private label cosmetics suppliers to start your research: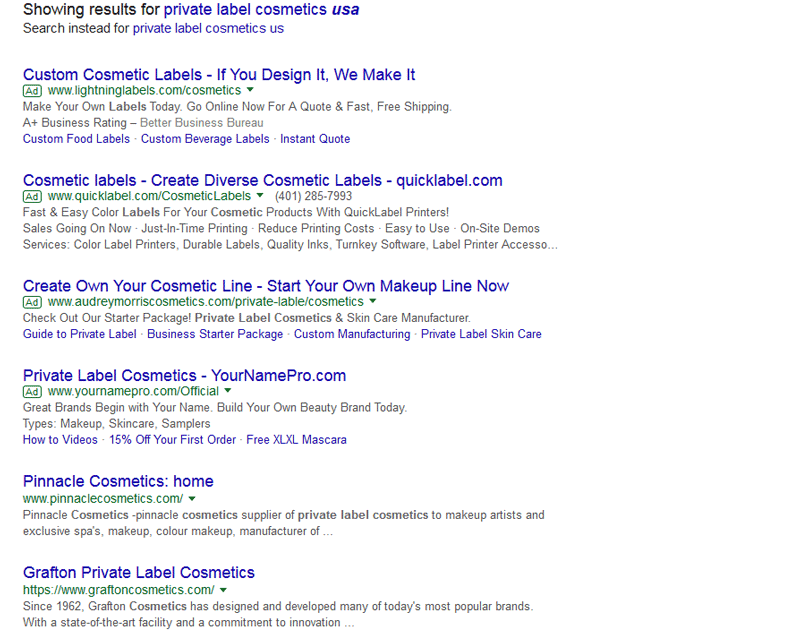 Visit a few supplier websites and you'll see that most cover the full spectrum of private label cosmetics, from customizable makeup programs to full skincare lines. Most suppliers offer a huge assortment, too, so you can mix and match products to craft a unique beauty products line.
Supplier websites also give you great insight into how their ordering process works. Many suppliers like Grafton Cosmetics, pictured above, even list very low minimum order requirements. So depending on the range of products you want to start with, it's quite possible to launch your own beauty brand for just a few hundred dollars using private label cosmetics.
You can further refine your Google search for specific requirements on your must-have list by including terms like natural, organic, and cruelty-free in the search box. Include whatever terms you require to define your own unique beauty brand.
Note! In your online research, you'll find suppliers based overseas, especially in China. While these offer lower pricing, imported cosmetics may not meet US purity requirements and other legal standards. Going this route could expose you to inconsistent products, customer complaints, or even lawsuits. With so many great US and Canadian-based private label cosmetics suppliers, there's really no reason to take this chance.
How to Research Private Label Cosmetics Suppliers at Trade Shows
Beauty industry trade shows are an excellent way to meet many private label suppliers in one convenient location. At these shows, you can get hands-on experience with many products and even leave with plenty of free and low-cost samples to review. Best of all, trade shows let you discuss your goals with potential suppliers in person and develop a relationship.
Attending trade shows is probably the fastest way to research suppliers and build your beauty brand. To find a show near you, visit a major supplier website. Most will have a trade show calendar page, like the Audrey Morris trade show page below.
If you decide to attend a trade show, be sure to look up the show organizers on Google and contact them to make sure you have the correct credentials for entry. Some require just your state sales tax number, others need proof of an existing online or physical business. It's best to find out ahead of time to make sure you'll be admitted.
After you've done your research and found some potential suppliers, it's time for the fun part: sampling and reviewing products.
Step 2: Request Samples & Review Products
If you search for private label cosmetics suppliers online, you'll see that most offer low-cost sample kits or allow you to order single samples. Going this route, you'll spend some money on samples, but this gives you a chance to check out products in person. If you can attend an industry trade show, you can pick up loads of free or low-cost samples all at once.
However you acquire samples, once you have them, your next step is to thoroughly review each product to see if it meets your expectations and fits your beauty brand. Here, your opinion matters most, but it's also a good idea to get input from others.
If you have a shop, spa, or set of clients, you can get them involved in trying out different products to see what everyone likes. After all, they are your potential buyers. If you don't have an existing clientele to tap, gather some friends to try out products and provide feedback.
It might take a few rounds of reviews and maybe even a few rounds of sample items from different suppliers, but eventually, you'll find a collection that defines your brand. When you have a solid idea of the line you want to sell, it's time to think about how you'll sell it.
Step 3: Decide How to Sell Your Beauty Line
Before placing your initial order, you need to decide how you want to market and sell your beauty line. Even if you plan to sell in your spa, salon, or online, there are plenty of other ways to get the word out about your beauty line:
In-store: salon, spa, specialty fashion boutique, natural foods shop, etc.
Online through your own website
On Amazon
At local home, gift, and craft markets
Through in-home beauty parties
Personal consultations
If you plan to sell primarily on Amazon, some private label cosmetics suppliers like Nardo's Naturals, below, make the process quite easy. If you use Fulfillment by Amazon (FBA) to store products and ship orders, they send your items to Amazon for you, too. This is something to consider if Amazon sales are your main focus.
You have many online selling options beyond Amazon, too. These include ecommerce websites, blogs with online store sections, and social media sites like Facebook and Pinterest. Even if you think you'll sell primarily on Amazon or through social media posts, you need to seriously consider launching your own website. Your own site is the best place to build a brand identity that's uniquely yours and under your complete control.
Diversifying your sales channels is a great way to grow your brand and sell more products. Unfortunately, keeping track of all of these channels can be a headache. Salsify is a product information management (PIM) platform that helps you gather all of your product content and data in one place. Easily create detailed product content to improve search performance and page conversion and get more products into the market faster than your competition. Start a free trial today.
Proposed: Best Online Sales Platforms
Online sales platform:
Use this if you are:
Get started here:
Weebly Website and ecommerce store builder
An online seller needing a beautiful website they can design themselves without any coding knowledge
See how to get started with Weebly
WordPress Blog-based Online Store
A beauty line that needs a modern blog-style website to market their brand and engage their community. This is best if you want to do regular blog or video posts to sell your beauty line
See how to sell products using WordPress

See how to launch an Ecwid store on WordPress
Ecommerce Platforms like Shopify & BigCommerce
A seller who wants to focus on volume product sales using an online store platform with volume order and inventory management tools
Comparisons the top-rated small business ecommerce platforms
Spreesy Social Media Selling
A seller who wants to sell through social media sites using Facebook Shop, Pinterest Buyable Pins, and Instagram Shoppable posts, and manage it on one central platform
Learn how to sell on social media sites using Spreesy
Amazon
A seller who wants to sell private label cosmetics on Amazon and Amazon to ship orders to customers
Learn how to find profitable products to sell on Amazon, and learn about Fulfillment by Amazon (FBA)
Planning to sell private label cosmetics from your own ecommerce website or beauty blog? Then you'll also need to decide where you'll store products and how you'll pack and ship orders. Try outsourcing your fulfillment process with the help of FulfillmentCompanies.net, a fulfillment matchmaking company. It matches you with the partner that best suits your business' needs — for free. Click here to get started.
Visit FulfillmentCompanies.net
Step 4: Design Your Brand, Logo & Packaging
As you explore potential suppliers, you'll find that most take care of the labeling and packaging process for you. You just supply your logo and they do the rest. This is the simplest way to label and package your private label cosmetics. It produces a professional look and ensures that your labels are correct per ingredients lists and other packaging requirements.
Many private label cosmetics suppliers also provide free images of your branded products, like the one below from Nardo's Naturals. If you're selling your beauty collection online, you can use these images to build your website or Amazon listings. This saves you the time and expense of photographing products yourself or hiring a pro.
Most private label cosmetics suppliers charge label printing and packaging fees on top of your product cost, so be aware of this during your research. These fees are clearly listed on most supplier websites. If you have any questions, a call to their customer service line should clarify any packaging fees or process questions you have.
To get your products labeled with your logo, most suppliers have you upload your logo with your order. Suppliers provide logo specs including the number of colors allowed, size restrictions, and file types. If you don't have the design skills to create your own logo, don't worry. You can find budget-friendly freelance artists to design a great logo to your supplier's specs on Fiverr. Or, some suppliers offer logo design as a service, too. If you want to try your hand at designing a logo, this logo design software can make it easy.
If you don't have a solid idea for your brand's logo, head to Pinterest and search for private label cosmetics packaging to find loads of inspiration:
Step 5: Order Your Private Label Cosmetics
After you've selected your private label cosmetics supplier, decided which items you want to carry in your line, and have your logo designed, you're ready to place your order. By this point you likely have spoken with a customer service rep, so this step should be simple, but here are some things to note and double-check:
Private label cosmetics are generally paid for up front, so expect to pay via credit card when you place your order
Make sure your product pricing and label printing fees are accurate
Be aware of turnaround times required for the labeling process
Understand that most private label cosmetics don't accept returns
Be aware of shelf life and expiration dates for the items you're selling
In most cases, after your private label cosmetics order is placed, you'll have a few weeks until it arrives. Use this time to get your website and other selling outlets like Amazon and social media pages up and running, or your store or spa set up for your new beauty line display.
The Bottom Line
Private label cosmetics are a simple and low-cost way to build your own beauty brand. Many cosmetics and skincare suppliers cater to private label customers ranging from spas and salons to online sellers and personal beauty consultants. Entry costs are so low and variety is so great that even fashion boutiques, healthy living brands, and active lifestyle businesses are expanding into this high-demand market.
Once you've selected your supplier and products for your initial line, you just need to design your logo, place your order, and plan out your selling strategy. And remember, don't tie yourself to just one selling outlet. Your plan for online selling might be complemented by in-home parties, and even selling at local markets and fairs. If you have a spa or salon, your in-store sales could expand greatly by offering your products online.
Do you sell private label cosmetics and skin care products under your own beauty brand? We'd love to hear from you. Please share your experiences in the comments below.