How to Private Label Products for Profit
Private label products are goods made by a manufacturer and sold under a retailer's brand name. If you want to learn how to private label products, you will find that the process is very similar to regular product sourcing. You'll need to find products to sell, build a collection, and market them to customers.
1. Figure Out What You're Going to Sell
Many products are available from private label suppliers: kitchen goods, electronics, specialty foods, cosmetics and skin care, tools, apparel, and fashion accessories, to name a few. The real challenge isn't finding a product you can private label—it's finding one that can make you money. Consumer demand, competition, and cost each play a role in a profitable private label program.
If you're just getting started with private label products, it's a good idea to first focus on a niche. Finding individual products to sell can work, but ideally you want to tie everything together around a common theme or interest. This will help create a cohesive brand identity for your store. Finding a niche also helps set your business apart from the competition by targeting a specific audience or filling a specific market need.
So, how do you find a niche market?
List your interests. Selling products you are interested in will help keep your business exciting.
Determine the audience potential. Use tools like Google Ads and Google Trends to make sure there are plenty of other customers that share your interests.
Research potential profits. Make sure the concept is profitable by determining interest, estimating costs, and doing market research to see price points for similar products.
Here are some tips to research products to sell in your niche.
Look at Popular Products on Amazon
Even if you don't plan to sell on Amazon, it is a great spot to research top-selling products and get ideas for your private label. As the world's largest retailer, Amazon covers practically every product category imaginable. Better yet, it provides trending sales data you can use to research top sellers in any niche you want to pursue.
Amazon's Movers & Shakers page allows you to drill down and find top sellers in any category or subcategory. It's updated hourly and features the "biggest gainers in sales rank." These pages also give you great insight into customer demand for all sorts of products, plus a good picture of the competition.
Research Trends Using Google Ads
The Keyword Planner Tool in Google Ads lets you see how many people are searching for a specific term online. This is a great way to gauge buyer demand for products, even if you don't plan to advertise on Google. Using search terms, you can see how many people search for a specific type of product each month. If no one is searching for it, you'll likely have a hard time selling it. But if people are searching for a specific product, it might be worth pursuing.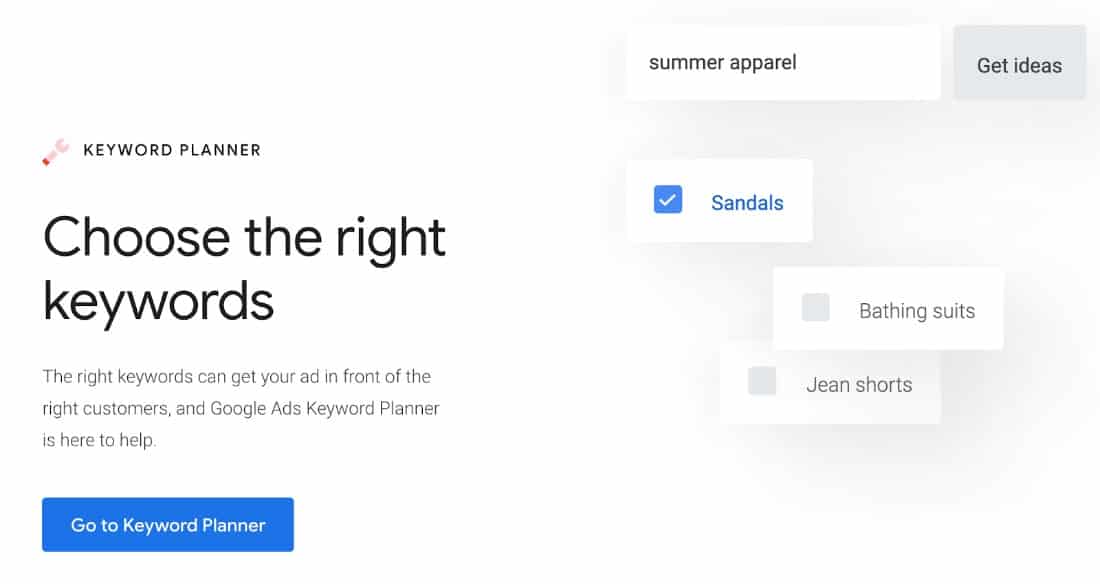 Google Ads also gives an idea of the competition you'll face if you decide to sell this item. Here, it rates search terms as high, medium, or low competition based on how many ads advertisers pay to run for that particular term. In this case, quite a lot of businesses target the search term "bamboo T-shirts" because it's considered high competition.
When starting out in private label sales, products with good search traffic—more than 2,000 searches per month—and medium or low competition ratings are a better bet. They'll also be cheaper to advertise if that's part of your marketing plan.
Even if you don't plan to advertise on Google Ads, this keyword research, combined with other product research, can help you pinpoint in-demand products to sell under your private label.
Google Trends is a less detailed but still useful tool when identifying product trends. It will show you if searches for a particular keyword are increasing or decreasing and how much general interest there is for that term.
Uncover New Ideas via Social Listening
Social media is also ripe with ideas on how to private label products. Like SEO research, social listening will tell you what people are interested in—except this is measured in conversations instead of search queries. There are a few free places and tools to check for these insights:
2. Find Private Label Suppliers
There are many ways to find manufacturers that cater to private label resellers. Where you start your search depends largely on what type of products you want to sell under your private label. You can import or manufacture large orders of private label products, place orders at trade shows, or work with suppliers to dropship private label products.
Tip: How to Choose a Supplier to Minimize Supply Chain Issues
Think local. The shorter and simpler the route, the less likely you are to run into shipping delays and complications.
Have a backup. It's a good idea to diversify your suppliers in case one has issues fulfilling your order.
Communicate effectively. If you anticipate future spikes in demand, give your suppliers a heads up so they're not caught off guard. Good communication fosters good relationships.
Search on Wholesale Supplier Sites
There are many online directories for wholesalers that sell private label products. Many of these marketplaces and directories validate the supplier before they're allowed to list, and some may even include reviews or buyer protections.
Source From Alibaba or AliExpress
Alibaba is one of the top names in product sourcing and a great resource for new sellers. It lists millions of products from manufacturers worldwide, the majority being in China, on both the Alibaba and AliExpress marketplaces. The sites make it easy to search for any product imaginable. Plus, you can sort the results many ways, including by price, material, minimum order, and even the ranking of the supplier.
Alibaba is a typical wholesaling platform, which means many of the sellers require buyers to purchase hundreds or even thousands of each product piece when ordering. Placing and paying for such a large order upfront can be nerve-wracking, especially if you're a newer business. There are safeguards in place, including Alibaba's Gold Supplier seller rating. If you stick with reputable marketplaces and use high-ranked sellers, you should be safe from scammers. AliExpress, on the other hand, has no minimum order requirements but slightly higher prices.
If you decide to go this route to source private label products, first search for products you wish to sell. You can include the term private label in your search, but don't limit yourself on these sites. Once you have a few candidates, contact each retail supplier to see if they offer private label packaging. Many do, even if they don't mention it in their listing. Don't be afraid to negotiate a lower order minimum or price—many expect this and are willing to negotiate.
Use Google & Other Search Engines
Google search is useful for finding manufacturers worldwide or specifically in the United States. This is a good way to find US-based private label suppliers for products that must meet health or safety requirements, like specialty foods, seasonings, supplements, and vitamins.
Let's say we want to sell bamboo T-shirts and prefer to find a US supplier. We'll use Google to search for "bamboo T-shirt private label supplier us." This gives us a full list of private label suppliers to review and contact.
Visit Wholesale Buyers Markets & Trade Shows
Wholesale buyers markets are one-stop shops for access to manufacturers in every industry, from home decor to fashion accessories to specialty foods. These markets hold private label opportunities since all sorts of manufacturers attend, and many accommodate private label needs.
Many popular buyers markets combine home fashions and accessories, kitchenware, gifts, specialty apparel baby, and fashion accessories like the wholesale markets at the Dallas Market Center.
There are many permanent wholesale buyers markets across the country. They also typically hold shopping events with additional temporary vendors. Other popular markets include:
There are also many temporary or pop-up wholesale trade show markets. These events are typically only open to business owners and allow retailers to shop products from hundreds or thousands of vendors at once. Popular temporary trade shows include:
Each trade show operates a little differently, but most of them are order-writing shows open only to business owners. At order-writing shows, retailers place orders with the vendors right on the show floor. Payment is either collected right there at the booth or through an invoice after the show. Many shows also have a cash-and-carry section, where you can purchase smaller amounts of products to take home that day.
Use Malls & Retail Stores for Inspiration
Your favorite stores can be a goldmine of manufacturer names for products that you want to sell under your private label. Most product labels feature manufacturer names and locations, and some even include manufacturer websites. You can use this information in a Google search like "product name private label city state."
You can also download apps on your smartphone to scan barcodes to pull up the manufacturer's details. Armed with a smartphone camera, you can gather loads of manufacturer contact information during visits to the mall, specialty boutiques, and big-box stores.
3. Request Quotes & Sample Products
After choosing the products you want to sell and confirming the suppliers will private label for you, it's time to request quotes and samples. Quotes should include these four things:
Product prices for the quantity ordered
Any private labeling or packaging fees
Shipping fees to your fulfillment location
Any import requirements and duties that you'll need to meet or pay
Some suppliers send free samples if you're an established company with a website to show them. However, others charge for sample requests from new buyers. In the latter case, it's very rare to be able to purchase samples below wholesale cost, as samples typically cost more than the wholesale price. However, even if you have to pay for samples, it's usually money well spent as it gives you a chance to review your product fully to make sure it's what you want to represent your brand.
How long it takes to receive your private label product samples depends on many factors, both in and out of your control. For complex products with custom product development, expect a longer timeline. For simpler product needs, you could have samples within a week. However, it's important to note that many supply chains across all industries are still impacted by COVID-19—and this includes shipping.
Remember: Your customers see your brand, not the manufacturer's name. Products must be worthy of your name because you're the one who has to stand behind it.
4. Design Your Logo & Packaging
Designing your product packaging is key to the success of your private label brand. From the look of your logo to package styling, your creativity can deliver an image to buyers and drive sales. First, you'll need to create a brand identity; then you'll need a logo. When those two steps are done, you'll be able to create custom product packaging.
Create a Brand Identity
Brand identity is the overall design and messaging behind how customers perceive your business. It is especially important for small and online businesses because it helps create trust.
Brand identity design is made up of three components:
Brand culture and values. Having a reason behind your brand and your products will help them resonate with customers and gives you a template to work from.
Market position. Have a strong understanding of your target audience so that you can develop a brand that resonates.
Visual components. All physical and visual elements of your brand should be instantly recognizable with your logo, colors, fonts, and packaging.
Craft your brand identity from the beginning, so that the result is a cohesive experience for the customer. Starting with determining your brand identity will help streamline the process of selecting products and working with manufacturers since you know exactly what you want the result to look like.
Design Your Product Packaging
Private label packaging can range from simple labels to paper sleeves, hang cards, or boxes—and whatever else applies to your product. How it's handled depends on your supplier's capabilities and what you want for your brand. Since this is a key element in the private label process, it should be part of your initial conversation with potential suppliers.
Most often, your supplier provides artwork specifications for your custom packaging. Give these specifications to your designer, and they'll create the necessary files to send to your supplier. Using these, the supplier prints packaging and assembles the finished products for you.
In some cases, private label suppliers take care of designing your labels or other packaging for you, so just forward them your logo. There might even be a reason to print your own specialty packaging and assemble products yourself once they arrive. It depends on your operation and branding goals.
5. Decide How to Fulfill Orders
Before placing your product order, you need to decide how you'll store products and get them into your customer's hands. You need to know this upfront so that you can give your supplier the correct delivery address when you place your order.
If you plan to sell your private label products in your retail store, this is an easy step. However, if you plan to sell online and ship products to buyers, you need to decide how you'll fulfill orders, meaning how you'll store products and pack and ship orders.
You have four primary choices for order fulfillment:
Dropshipping
In-house order fulfillment
Outsourced order fulfillment
Hybrid approach
Dropshipping is a fulfillment method for online orders where every step of the process is handled by the suppliers who ship orders directly to your customers and only bill you for the products you sell. Dropshipping is a good option for startup ecommerce businesses or any online businesses that don't want to purchase wholesale products upfront.
Get more guidance for your dropshipping business:
In-house order fulfillment is when businesses manage their own warehouse and shipping operations, typically with their own facility, equipment, and staff. In-house order fulfillment is best for established businesses or businesses that want total control over their end-to-end operations.
Companies can outsource order fulfillment to order fulfillment companies or larger third-party logistics companies. Fulfillment service companies specialize in handling inventory management, order processing, and shipping for you. This is a good option for businesses that want to save time by not handling operations in-house.
For many small businesses, handling order fulfillment on your own is too expensive and time-consuming. You can use third-party order fulfillment services to help you manage and streamline the process. Look for a provider that offers packaging, warehousing, transportation, and free shipping options for your customers without ruining your profit margin.
A hybrid approach to order fulfillment combines a few or all of the order fulfillment options above. This is a popular solution for growing businesses because it offers a lot of flexibility. For example, you can use in-house fulfillment for custom products or items that need to be assembled, such as gift baskets. You can use outsourced fulfillment to help manage seasonal sales spikes without expanding your warehouse. Use dropshipping for large, expensive, or infrequently purchased products you don't want to stock in-house.
6. Order Private Label Products
After spending time researching products, it's finally time to order your private label products. Make sure you've chosen a specific product and supplier and have personally tested the products to meet your standards. As a new buyer, you'll likely have to prepay for your order, including shipping. You'll also need to understand order minimum requirements—unlike samples, you'll need to place a bulk order. Order minimums vary widely and may be based on a dollar amount or number of units. Always check with your supplier.
At this point, be sure to review your quote or purchase agreement completely and double-check the following for accuracy:
Product pricing and shipping charges match your quote.
Delivery date, or date range if importing, is clearly stated.
Import requirements or duties are included, if applicable.
No surprise add-on fees appear that weren't on your original quote.
Remember, suppliers need to account for both production and shipping time, so check for details about when the order will ship and how long shipping is expected to take. These time frames vary, but many suppliers take five to 14 days for production. Shipping is based on location and shipping method, as well as any uncontrollable external factors like holiday, COVID-19, or weather delays.
Once you're happy with the purchase agreement, you can place your order and pay. Wire transfer, credit card, and even PayPal are common payments accepted by suppliers.
While you wait for your order to arrive, the next step is getting your website and other selling platforms like Amazon up and running.
7. Build a Website & Market Your Products
There are several ways you can market your products. Some sellers stick to their own platform and social channels for all of their sales, whereas others focus solely on Amazon or sell through both their website and Amazon.
To build a brand, you need to have your own website, even if you plan to sell on Amazon. These big marketplaces bring in the sales, but it's hard to create a unique identity if that's your only platform. Plus, if you only sell on Amazon or eBay, you're at their mercy. Any day can bring a change to seller fees, requirements that you have to meet, and so on.
Create an Ecommerce Website
Having a website is essential for any business, even if you sell in-store. Having a website makes it easier for new customers to find your business and will help bring in more sales. There are many affordable tools for small business owners to create ecommerce sites.
Popular Ecommerce Website Builders
| | | | |
| --- | --- | --- | --- |
| | | | |
| | | | |
| Best for: Most private label sellers | Best for: Growing ecommerce businesses | Best for: Individuals on a budget looking for a low-cost solution | Best for: Those growing a custom online store with content marketing |
| Monthly fee from: $29 | Monthly fee from: $29.95 | Monthly fee from: $12 | Monthly fee from: $0 |
| | | | |
See our guide to the best ecommerce website builders for more details.
Sell Private Label Products on Social Media
Every business should have a strong social media presence to engage customers, increase brand awareness, and showcase its brand. If you sell products, social media is especially important because every platform also serves as an additional sales channel.
Selling on Facebook is easy, and it puts your products in front of an additional customer base. To sell on a Facebook Shop, you'll need to create a Facebook business page if you do not already have one. Then, upload your product catalog manually or using an ecommerce platform like Shopify.
Like selling on Facebook, selling on Instagram introduces your private label products to a much larger audience. Facebook and Instagram are both owned by Facebook (now Meta), so once you have a Facebook Shop set up, selling on Instagram is a breeze. You'll need to set up your Instagram for Business page, then sync the product catalog from Facebook so that you can link to products in your stories and posts.
TikTok has over 100 million monthly users who are highly engaged on the platform. Unlike Facebook, which is purely pay-to-play for brands, any video can go viral on TikTok (though, there are also advertising options). Selling on TikTok is as easy as connecting your ecommerce platform and posting videos.
Put Your Products in Stores via Wholesale
You don't need to have your own brick-and-mortar store to sell your private label products that way. In fact, you can offer your private label products on a wholesale basis to retail stores that serve your target market. Create a separate wholesale pricing strategy and build a dedicated—but password-protected—section on your site for these buyers. You may also consider visiting local shops to make in-person connections and promote your products to wholesale buyers.
Sell on Third-party Marketplaces
Many third-party marketplaces allow for private label product sales as well. This is a great avenue for new brands in particular because it puts you in front of a ready-to-buy audience who already trusts the platform. Some marketplaces to consider selling your private label products include Amazon, Etsy, and Walmart Marketplace.
Frequently Asked Questions (FAQs) About Private Label Products
Figuring out how to private label products can be a tricky process for new and even seasoned product sellers.
What does it mean to private label something?
To private label something means to take a product that is manufactured by another company and add your company's logo or branding to the product for sale. Essentially, you are creating your own product line or label and outsourcing the manufacturing.
---
What is an example of a private label brand?
Grocery stores typically have store brands that are private label. For example, Trader Joe's often sells Italian food products under the brand Trader Giotto's. Target has many private label brands, including Archer Farms, which the company uses to sell grocery items.
---
How do you make private label products?
Private label products are ordered typically from a manufacturer or wholesaler that creates the product and brands it for the retailer to resell under its own brand.
---
What is the difference between private label and white label?
The two are often used interchangeably, even within the retail industry. Private label products are goods that are made exclusively for that retailer. White label products are standard goods that have custom labeling.
---
Bottom Line
Private label products are an effective way for any business to stand out from the competition with unique goods and powerful branding. Anyone can sell private label products by doing initial product research, requesting quotes and samples, placing orders, and creating sales channels.
You May Also Like …