A drop shipping business is a sales model where sellers accept orders via websites and other sales channels, but don't carry inventory and ship products themselves. Instead, drop ship sellers use suppliers that ship products directly to customers on their behalf. Thus, drop shippers have no upfront or ongoing inventory, storage, or warehouse staffing costs.
The process of planning and launching a drop shipping ecommerce business is similar to starting any other type of sales enterprise. You need a marketable concept, a source for goods, sales channels, and a marketing plan and tactics. What you don't need—unlike other startups—is a lot of cash to invest in inventory, facilities, and staff.
Sound like the right business plan for you? If so, here's how to start a drop shipping business—from concept to processing your first order—in five simple steps:
1. Develop a Marketable Drop Shipping Business Concept
Most successful businesses are based on a concept, and around that, you center your brand, content, and product collection. For many startup and side-gig sellers, this concept grows out of something they enjoy and are passionate about. Others develop a concept based solely on sales trends that they uncover through product research and trial and error.
Your first step is coming up with an idea for your business. However, don't let this step hold you up. In a drop shipping business—more so than other online sales models, in fact—you can proceed with a fuzzy notion of your business and brand. Then brainstorm, test, and fine-tune your concept as you go.
Here are three things to keep in mind as you explore drop shipping business concepts:
Niche Marketing Works—But Proceed with Caution
Niche marketing is a term touted by many online marketing pros—frankly, because it works. With niche marketing, you pinpoint your web brand, content, and products to appeal to a certain group of buyers, like scooter enthusiasts, sauna owners, bird watchers, etc.
This narrow focus helps websites rank high in topic-specific search results and attract an interested audience, like this scooter-enthusiast drop ship website.
For startup sellers with a specific passion—be it a hobby, sport, or lifestyle interest—targeting that niche can be a great starting point for your business concept. However, Jared Goetz, founder of The Gadget Snob, the second-fastest-growing Shopify drop shipping store in 2017, warns against being hyper-focused on a single niche from day one.
"We advise new drop ship sellers to start out with a general store to test various drop ship products before trying to pinpoint a specific niche category or market right away," says Goetz. "If you start out with a niche strategy that doesn't work out—which happens all the time—it's easy to get discouraged. We recommend that you diversify your approach, see what sells, and focus your business on your most successful selections."
"This way," Goetz explains, "you don't have to overhaul your concept or start over from scratch when a collection or product doesn't sell as well as you hoped." In fact, Goetz points out that "using a broad product strategy can help you spot drop shipping opportunities in hot-selling categories that might be worthy of their own spinoff niche websites."
Using Goetz's advice, an iOS tech gear enthusiast should test out a broader range of tech products, rather than launching with a narrow iOS focus from day one. Likewise, a baking blogger could just focus on bakeware, but would likely uncover more profitable opportunities by testing out a range of drop ship kitchen tools and serving products. Remember: drop shippers don't buy or stock inventory, so testing a wide range of products costs nothing but time.
Definitely think "niche" as you develop a business concept, but plan to test a range of products and then fine-tune your concept based on what actually sells.
Use Product Research to Spot Profitable Drop Shipping Opportunities
Whether you're niche-focused or casting a wide net in terms of your concept and products, you'll want to do some product research to get an idea of what's selling. Derek Jones, CEO of Pro Scooters Mart, says that startups can do this research by simply visiting Amazon.
"One of the easiest ways to pinpoint a profitable niche for drop shipping is starting your research on the king of ecommerce—Amazon," says Jones. "Startups can check out Amazon's Best Sellers by Category lists to see what products customers are actively searching for and buying within various categories. This exercise helps startups unearth all types of cool—and potentially profitable—niche drop shipping opportunities."
Another great reason to use Amazon for your sales research is that it's free. "Researching category and product ideas on Amazon takes time, but that's about all," says Jones. "There's no cost involved; you simply need to dig into the various best-seller lists, note the trending categories and products, and start building out your ideas."
To learn more about using Amazon's best-seller lists for product research, check out our guide to finding profitable product ideas on Amazon.
You can also use search engine keyword research to uncover profitable product ideas. For example, researching product-focused keywords in Google AdWords' free keyword planning tool gives you the current search volume for different products and topics. You can use this to examine the search popularity of just about anything, from plastic wine glasses and iPad covers to biking gloves and standing desks.
Keyword research helps you spot competitors in the space, but don't let a little competition dissuade you from a good idea. You can use competitor sites to gauge the viability of your idea and fine-tune your own concept. See how in our guide to niche marketing.
Google Trends is another free keyword research tool that tells you which terms and topics people are searching for and when they gain or drop in popularity.
Focus on Providing Solutions for Customers
Katie DeCicco, CEO of the drop shipping business Celebration Saunas, says, "Customers shop because they have a need and are looking for a solution." As you explore business concepts, DeCicco advises that you "ask how your business idea and related products solve problems for your customers."
DeCicco says "pinpointing a profitable niche market for drop shipping is difficult, but it helps to ask these questions as you test different concepts:

What problems are you solving?
What are your solutions?
How do various products answer shoppers' needs?

This is important because knowing what your shopper needs, and why they need it, is the key to building a solutions-driven business concept."
If you don't yet have a clear drop shipping business concept in mind, don't fret. In step two, you'll explore drop ship suppliers and the goods they offer, which is great for brainstorming ideas.
2. Explore Drop Shipping Suppliers
Once you have a general concept for your drop ship business, you're ready to explore the universe of drop ship suppliers and products.
Of course, you can jump right in at this step—it's tempting because this part is a lot of fun and great for brainstorming ideas. But fair warning: there are many drop ship suppliers out there and, quite literally, millions of products available—even to brand-new sellers. It can get overwhelming fast if you don't start out with at least a basic concept of the business you hope to build.
However you approach this with a concept in mind or to brainstorm ideas for drop shipping opportunities, you need to know two things:
There are two types of drop ship suppliers that you can use to source goodsdrop ship marketplaces and direct-source suppliers.
Each option caters to different types of sellers.
How to Start a Drop Shipping Business with Drop Ship Marketplaces—The Easiest Option
For new sellers, drop ship marketplaces are the easiest path to launching a business. These marketplaces exist to automate the entire drop ship process and make it easy for drop shippers to launch and operate a business. They do this by directly integrating with ecommerce platforms, which let sellers:
Easily search for goods to sell and add products to collections with a single click
Display stock availability to avoid back orders and customer service issues
Automatically forward orders to be shipped to the correct suppliers
Automate shipping confirmations to update customers
Pay the wholesale cost upon shipment, after the buyer has already paid for it
Goetz advises, "In the beginning, supplier marketplaces are good avenues to use, as they make it easy to get your business started and begin testing product popularity."
Ryan Burden of the drop shipping sites CountertopSpecialty and Stone Care Product Center agrees, saying "Marketplace profit margins run about 20 to 50 percent of the selling price, which is a healthy profit for this low-cost, low-risk selling method. The downside of using drop ship marketplaces," says Burden, "is that your competitors can access the same products."
With millions of products available in marketplaces, and more added daily, you can easily build out a unique collection based on your own brand. Oberlo makes it easy to curate drop ship products, add them to your site, and launch a complete Shopify store in just a few hours. It's free to use with Shopify and one of the fastest and most affordable ways to launch a drop shipping store. Start a 14-day free trial
Using drop ship suppliers, you pay for a product's wholesale cost when the item is ordered by your customer. Some drop ship suppliers also charge monthly or per-transaction fees to access their platform. However, most offer a free starter plan to help you start a drop shipping business without any upfront costs.
Top-rated drop ship supplier marketplaces to explore include:
Top Drop Ship Supplier Platforms & Starter Plan Costs
| Drop Ship Supplier | Starter Plan | Best For |
| --- | --- | --- |
| | Free | Shopify sellers. Oberlo lists products from thousands of individual vendors and AliExpress. |
| | Free | All sellers. Top import drop shipping marketplace works with most ecommerce platforms. |
| Doba | $29 per month | Shopify and Volusion sellers. Lists millions of products from U.S. and import suppliers. |
| | Free | All sellers. Fast shipping on goods from U.S. and European suppliers. |
| | Free | All sellers. Lists a collection of trendy goods from U.S., European, and Canadian suppliers. |
| | Free | All sellers. Print-on-demand (POD) supplier lets you add designs to products to print and ship on order. |
This is just a sampling of the many drop ship marketplaces available to startups, and the good news is that you don't have to pick just one. You can list and sell products from multiple marketplaces using the plug-and-play integrations with platforms like Shopify and WooCommerce.
How to Start a Drop Shipping Business by Sourcing Products Directly from Suppliers—More Difficult
Seasoned drop shippers and industry experts agree that drop ship marketplaces are ideal for startups as well as side-gig and part-time sellers. However, all agree that to grow a real ecommerce business, sellers need to look at more profitable drop ship options.
Goetz says, "For more experienced sellers, higher profit margins are attainable once you start sourcing your own partners and white-labeling with existing suppliers once you find your product niche." DeCicco agrees, stating, "I think Doba, Oberlo, and AliExpress are good places to start your niche product search and product collections. But working directly with U.S.-based manufacturers or importers that can drop ship for you is much more profitable."
You can find potential direct-sourced drop shipping suppliers through:
ThomasNet – This is a U.S. manufacturers database for sourcing goods across all types of industries.
Import Genius – This is a listing of U.S. importers that you can work with on a drop ship or to direct-import wholesale goods.
Hubba – This is a small business-focused supplier directory that gives you direct access to nearly 100,000 specialty brands to explore drop shipping options.
Buyer's Markets – Industry-specific buyer's markets are a great place to discover all types of suppliers, especially small manufacturers that might be hungry and open to drop shipping. Check out America's Mart, Dallas Market Center, and NY Now for starters and search for markets near you with an industry-specific online search.
Drop Ship Marketplaces – Modalyst, Oberlo, and other marketplaces also support bulk-purchase and volume seller pricing, so if one supplier's goods are a hit, you can work out more profitable options.
Private-Label Sellers – Some private-label manufacturers, including cosmetics and personal care lines, offer their own branded products to drop ship sellers.
Since manufacturers and importers generally have average order volume thresholds, they're unlikely to work directly with unfunded startups. For most drop ship newbies, this is something to have on the radar, but not a startup option.
Plus, unlike the drop ship marketplaces, most don't offer plug-and-play connectivity. To support these suppliers, you'll need a more hands-on approach in terms of adding products to your website and forwarding orders for fulfillment. That means using order and purchasing management software, which adds to your operating costs.
Once you're familiar with your drop shipping supplier options and have explored the goods they offer, it's time to get your website up and running.
3. Build Your Drop Shipping Website
You'll need a website to put your drop ship business plan into action, and for that, you need an ecommerce platform. Choosing the right one for your business depends on two factors: your overall business concept and your drop ship supplier plan. How you put these elements together dictates which platform is best for you.
Here's how to select the right platform and craft a website that fits your unique needs.
Your Overall Business Concept
Is your business concept more product-focused or more content-focused? This is important because some ecommerce platforms are better for content-rich sites, while others cater to product-focused businesses.
For example, dedicated ecommerce platforms like Shopify are better for product-focused websites, like Goetz's sales-focused Shopify drop shipping store:
However, if you're interested in building a content-rich website that also lets you sell products via drop ship, then a WordPress website like the one below is the better choice long term.
Why Content Matters to Your Drop Shipping Business
Creating content like blog posts, how-to's, recipes, product reviews, etc., helps your website rank high in the search engines. Plus, a content-focused business gives you plenty of fodder to support your marketing efforts.
If you envision content playing a major role in your overall business and branding concept, then the WordPress platform is better for your business. Bluehost is a WordPress hosting provider that also supports WooCommerce, a popular and robust ecommerce plugin. Bluehost offers a domain, hosting, a free email address, automatic WooCommerce installation, and a free 2-hour set up call, all for $6.95 per month. Click here to compare plans.
Your Drop Ship Supplier Plan
If you have your sights set on using Oberlo, Doba, Modalyst, Sprocket, or the many other plug-and-play drop ship marketplaces out there, then Shopify is a better ecommerce platform for you.
It leads the pack in terms of cutting-edge drop ship supplier integrations. With Shopify, you can test drive any number of available drop ship marketplaces, suppliers, and products, plus be the first to experiment with new players as they emerge.
Volusion is another dedicated ecommerce platform that caters to drop shippers. It boasts a fully integrated partnership with another leading drop ship marketplace, US Direct.

Without question, a newbie can get a drop shipping business up and running faster on Shopify or Volusion compared to WordPress. However, these platforms' blogging, content, and custom-design options are limited compared to WordPress/WooCommerce. To see a point-by-point comparison of these three platforms, visit our ecommerce platform buyers guide.
If you decide that Shopify is the best platform for your drop shipping business, you can use this quick-start guide to get up and running in no time. If you need help setting up your drop ship website—or just want a nifty logo to get your project off the ground in style—the budget-friendly freelancers on Fiverr are ready to help.
Amazon and Major Seller Marketplaces: Proceed with Caution
Yes, you can list drop ship items on Amazon and other large marketplaces like Walmart and eBay—but be careful. These marketplaces have seller fees, strict shipping deadlines, and customer service requirements. Many drop ship sellers do well on these platforms, but they're not startup-friendly by any means. Get to know your suppliers and the process first on your own site, then branch out to seller marketplaces.
4. Add Drop Ship Products to Your Website
Once your website is set up, it's time for the fun part: selecting and adding products to your website. How you go about this depends on whether you're using an integrated supplier or self-sourcing and adding products manually.
Most experts agree that the Shopify/Oberlo combination is the simplest way to start a drop ship business. "Shopify has the easiest integration with supplier marketplaces such as Oberlo," says Jared Goetz, "and is the easiest way to set up a professional website and build out using various drop ship products." So, that's what we'll use to illustrate this step.
To get started, we first install the free Oberlo App within our Shopify store dashboard, which is a one-click process. Once installed, it appears in our Apps page: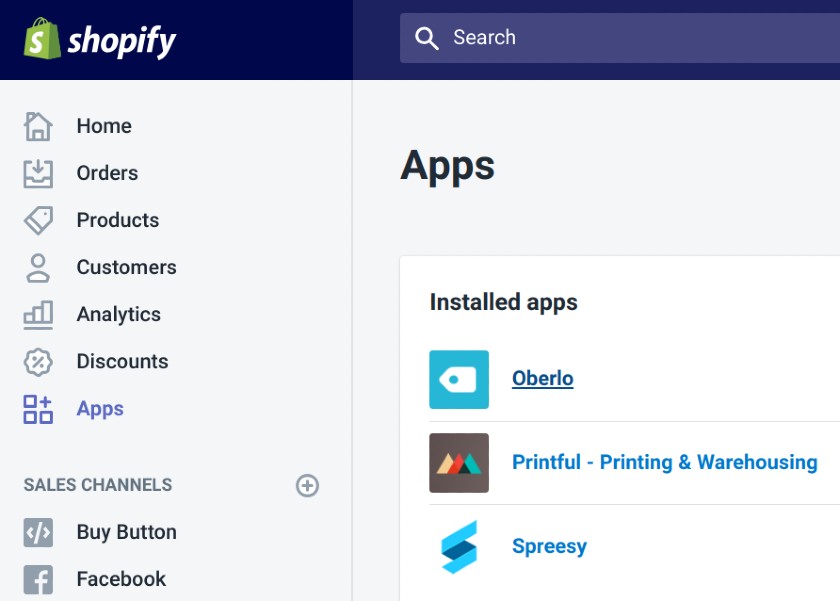 To add drop ship products to our store, we simply open Oberlo within our Shopify dashboard and start searching their vast product listing database, below. Here, we can search by keyword, category, item name, brand, or via filters, like top recommendations, best-selling items, specific suppliers, and even fast-shipping products.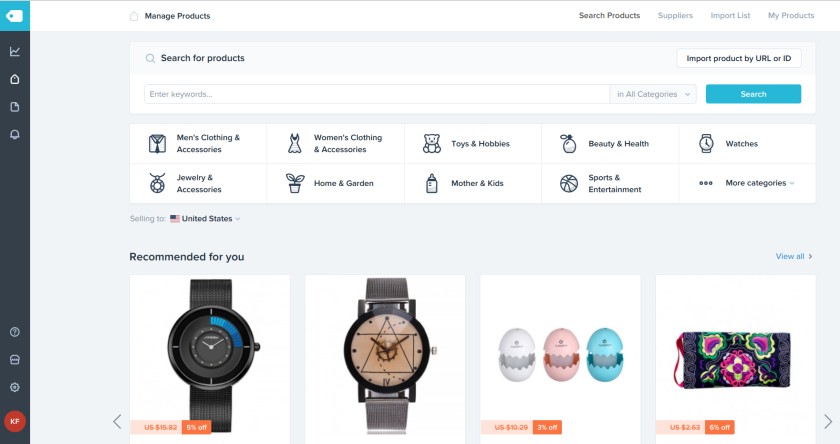 Exploring all of these options is really part of the fun, and very educational. And yes, we can filter searches to only show products that ship from U.S. warehouses, or set filters for price ranges, shipping options, and other criteria.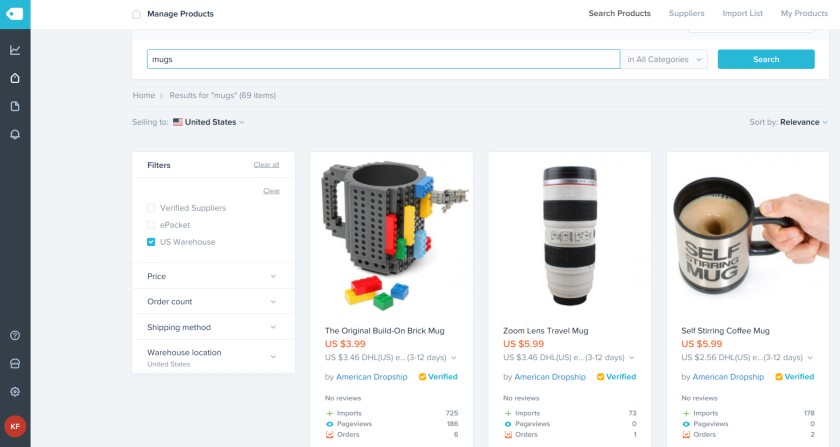 Search results display product thumbnails, shown above, with item cost, average shipping times and costs, as well as the number of times the item has been ordered. We can click on any item to find more details. To add the item to our site, we simply click Add to Import List, shown below, and Oberlo will automatically prep it for our Shopify drop shipping store.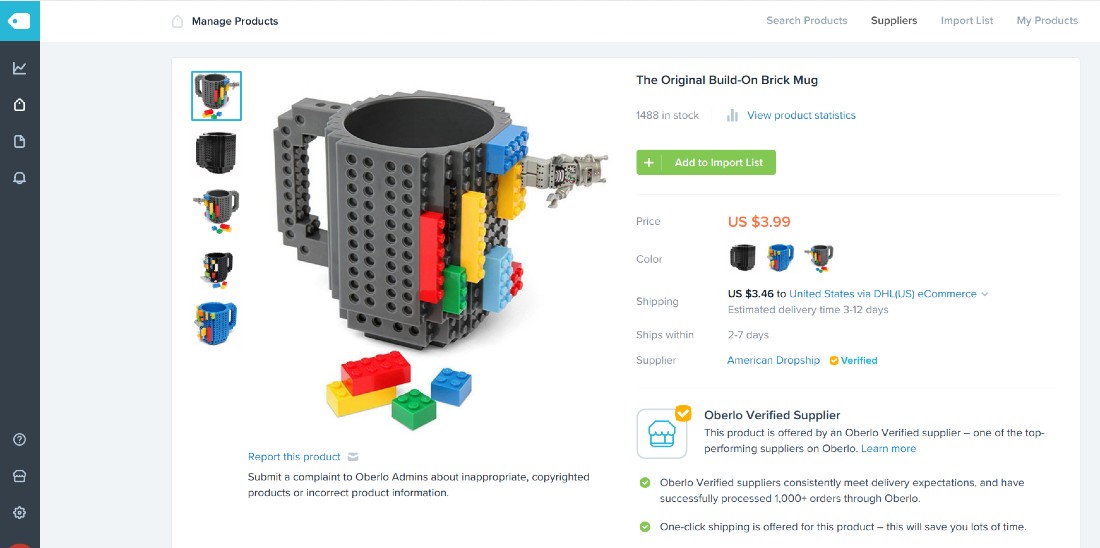 Before we import new items into your store from Oberlo, we can review and modify the items in our Import List. Here, we can add a Category, edit the Description, and inspect other data by clicking the Product, Description, Variant, and Images tabs in the screen below.

We can change our selling and shipping prices in this screen, too, under the Variant tab, shown below. Here, we can see our item and shipping cost, which is what we'll pay the supplier when we sell this item, along with updated inventory status.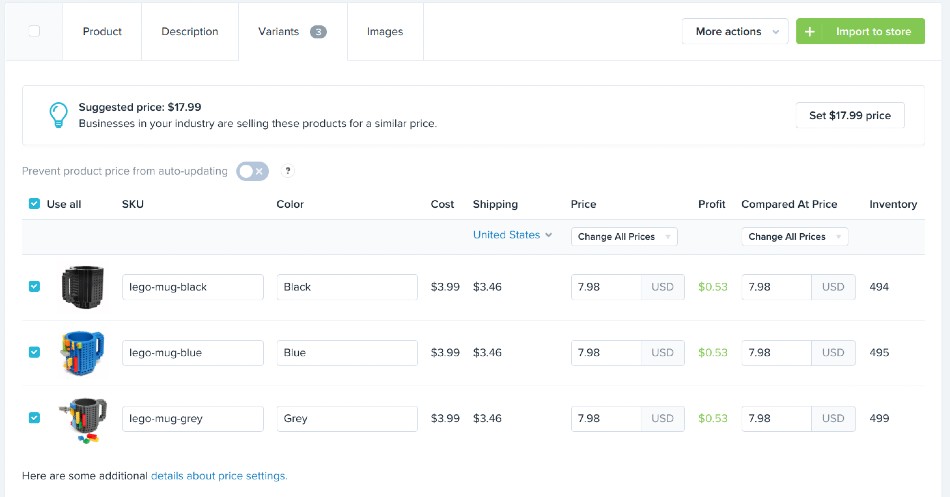 Oberlo automatically fills in a recommended retail price for us, so we won't accidentally publish items without a selling price—that's a nice perk. Plus, we can adjust our selling price as needed. Oberlo even suggests pricing based on other sellers to help us stay competitive. And if the items come in different colors, like this one, we can choose to list all or just select colors.
Once our edits are complete, we click Import to Store and our new item automatically goes live, ready for our shoppers to buy. The entire process took about two minutes, start to finish.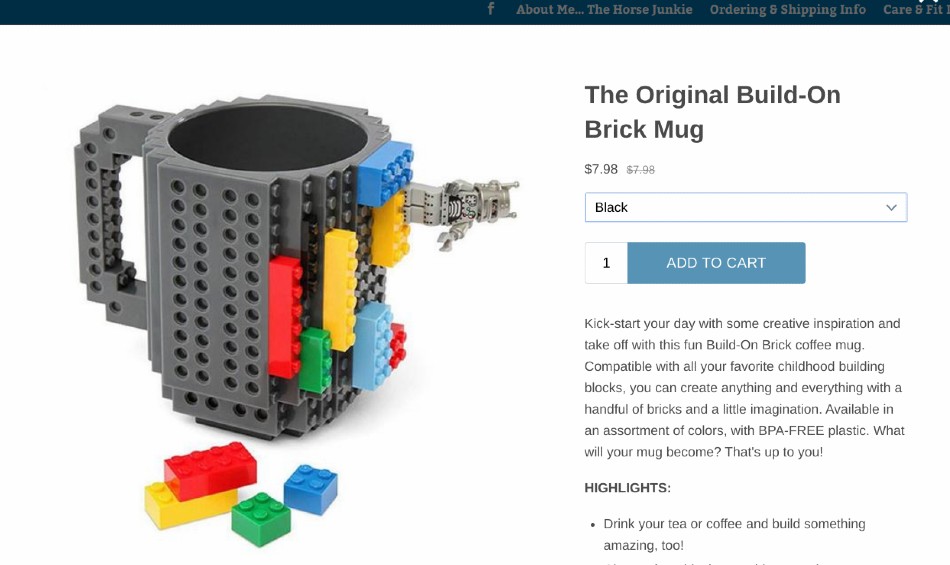 Of course, we can also upload many items in bulk very quickly and edit them later in our Shopify dashboard. Oberlo and similar marketplace apps make it easy to handle drop ship product uploads any way you wish.
Things to Consider When Selecting Drop Ship Items to Sell
Building a website and populating it with drop ship products isn't a technical challenge. However, you'll spend time searching through products and building a collection, so you want to be sure your efforts pay off in profits. Oberlo and similar marketplaces deliver transparent costs, upfront shipping fees, and supplier ratings to make it easy to identify and sell products with profit potential.
However, you'll want to consider these factors as you review potential products and work with various drop ship marketplaces:
Item Popularity – You'll find many items that show zero sales when you use marketplaces. If you think you can market them, then by all means, try them out. But, look at the top-sellers that the marketplaces list, too.
Profitability – You can change pricing, but be careful of slashing costs too much. Your credit card processing fees take a bite out of your profit, and you need to have something left over.
Shipping Costs – Shipping fees can be a turnoff for customers, so play with listing items at a higher price, then offer free shipping or low flat-rate shipping.
Item Quality – This is one of the biggest drawbacks of drop shipping—it's hard to gauge the quality of the goods. You can order them yourself, but most sellers just rely on marketplace supplier ratings and sales numbers when judging the quality of an item.
Supplier Reliability – This is up there with quality. Until you've worked with a supplier, you can't tell how reliable they are. However, most drop ship marketplaces are strict with their vendors and won't keep a vendor with ongoing service and quality complaints.
Return Policy – Most drop ship marketplaces try to avoid returns and handle many problems via no-return refunds, as Oberlo's return policy states. However, each marketplace operates differently and you'll want to check out the return policy and process for each one you use.
After you've populated your website with your hand-curated drop ship goods, it's time to market your drop shipping business, get some sales rolling in, and manage your orders.
5. Market & Manage Your Drop Shipping Business
Once your site is up, you need to market it to attract shoppers, and that's usually done via email, social media, and paid ads. Each of these marketing tactics is startup-friendly, but attacking too many at once can be overwhelming. Then, once your marketing is in full swing, you'll need to carve out a little time to make sure your orders are processing and shipping smoothly,
Use Simple, Low-Cost Marketing Tools to Spread the Word
In this step, you want to select a few marketing tools as your starting point and craft communications that appeal to shoppers. There are many ways you can go about this, but a good startup marketing plan includes:
Setting Up Email Marketing – This is built-in with Shopify and easy to add to WordPress and WooCommerce. Start building your email list from day one and send marketing emails highlighting new products, sales, and any content you create, like product reviews or how-to's highlighting products you sell.
Setting Up a Facebook Page and Shop – Shoppers love Facebook and you can easily set up a Facebook Page for your business and populate a Facebook Shop from your Shopify or WooCommerce product listings. Use Shop listings to create posts to your Facebook page and share across your personal network.
Setting Up Instagram and/or Pinterest for Shoppable Posts – Both Instagram and Pinterest let shoppers buy right from posts, and Shopify and WooCommerce support this.
Learning SEO Tactics – Search Engine Optimization (SEO) helps your website rank higher in search engines, and you need to learn SEO tactics since more than half of online sales still start with an online search—usually on Google.
What do you put in these marketing emails and posts? Remember the business concept, brand, and site content we discussed earlier—this is where it comes in handy. Having a solid idea of your concept, brand, and content that supports it helps you build marketing emails and social media posts that resonate with potential customers.
Whatever your concept—lifestyle basics, tech gear, hot fashions, pet toys—explain it in language that appeals to your audience. If you need help with this, there are plenty of dropshipping tips and budget-friendly marketing pros on Fiverr that can create and implement a marketing plan for your drop shipping business.
After these key marketing channels are set up, you can explore paid Facebook Ads and Google AdWords advertising. But it's a good idea to set up your free marketing tactics like email and social media first. These audiences take time to grow, so don't put them off. Learn even more about marketing a product-based business in our product marketing guide.
Manage Your Drop Ship Orders & Service Customers
Once your marketing efforts are in place, soon you'll start seeing orders trickle in. If you're using drop ship marketplace suppliers, order management and fulfillment is a hands-off process—but you do want to keep an eye on it. Your ecommerce platform dashboard will report new, processing, and shipped sales. If any orders sit unshipped too long, you need to follow up with an inquiry to your supplier.
As your orders increase, so will customer service needs. Be prepared—this is just part of owning an online business. It's a good idea to have a process in place to respond to customer queries, complaints, shipping problems, and return requests.
To minimize customer questions and issues, set up a good Customer Service page for your website. Be sure this page has clear information regarding:
Typical delivery times
Your return policy
Contact information
Answers to frequently asked questions
Posting this information on your Customer Service page lets your customers know what to expect when they buy from you. However, if you do have an irate customer (and it will happen), try your best to solve their issue quickly—even if that means refunding the order. Shoppers rely heavily on online reviews when deciding whether or not to buy from online businesses. Making a dissatisfied customer happy is often worth the cost of an occasional refunded order to avoid a bad rating on Facebook or Google.
Beyond handling occasional customer service issues, you also have basic accounting responsibilities. You need to track the money that comes in and goes out, including sales taxes. Learn the fundamentals in our guide to small business accounting, bookkeeping and taxes.
QuickBooks is a small business accounting software businesses use to manage sales and expenses and keep track of daily transactions. You can use it to invoice customers, pay bills, generate reports for planning, tax filing, and more. Take QuickBooks for a spin for 30 days when you sign up for a free trial.
Bottom Line
The drop shipping business model is the perfect solution for sellers seeking low-cost and low-risk entry into ecommerce. Learning how to start a drop shipping business isn't hard, but your business direction does dictate the type of drop ship website you need.
Overall, Oberlo and Shopify deliver the most turnkey drop shipping features of any ecommerce platform, and many experts recommend it to new sellers. It's also far easier to set up and run than WordPress. Try it free for 14 days.