Drop shipping offers entrepreneurs an affordable way to get into retail. If you're ready to learn how to start a drop shipping business, this article is for you.
While it doesn't take a lot of cash to start a drop shipping business, you will need to do a ton of work before you make your first sale. Just finding a product to sell that's suitable for drop shipping can be tough. Then, you have find the right supplier to partner with. After all that comes the crucial step of convincing the supplier that they should partner with you. This is the most difficult step when starting a drop shipping business. Only then will you be able to make a sale.
In this article, I'll show you how to identify the right products and convince top tier suppliers that you're a valuable partner. If you already have a product you want to sell online, you may want to look into using a fulfillment company. FedEx Supply Chain offers packaging, warehousing, transportation, and free shipping for your customers, all without ruining your profit margins. Click here for a free consultation.
Drop shipping businesses typically have 10 stages. This article covers the first 7 startup stages. Keep an eye out for coming articles that will address steps 7-10.
10 Stages: How to Start a Drop Shipping Business
Generate Traffic

Analyse & Optimize

Outsource & Automate

Repeat! (yup – that's right – a money making bonus step)
Step 1: Choose Your Niche and Decide What Products to Sell
Drop shippers aren't only competing with other drop shippers. They're also competing with large, well established, retailers like Walmart, Best Buy, and Office Depot. While those huge retailers have many advantages over drop shippers, they also have a significant weakness. Because they sell just about every type of product under the sun, they can't be experts in all the products they sell. That's the drop shipper's advantage!
You're going to focus on a very specific set of products and become an expert.  
What is a Niche?
In drop shopping, a niche refers to a very focused group of products.
Think of it this way: Walmart sells, well, just about everything. They don't have a niche. Office Depot is more focused, right? They only sell stuff for the office. That's more focused than Walmart, but still very, very broad. For a drop shipper to be successful, their niche has to be way more focussed. In this example, a Drop Shipper wouldn't want to just narrow down to "office furniture" or even "desks." A good niche would focus all the way in on "standing desks."
TIP: A Niche in Time Saves Nine – Focusing on a niche will make everything easier: from finding suppliers to building your store to generating traffic.
5 Things that Make a Niche Great
Here's some things that will help you find a great niche:
1. Product Price Point: $200 – $1,000
In drop shipping it often takes just as much time and  energy, to sell a $10 item as it does to sell a $1,000 item. With typical margins of around 20% a drop shipper who sells hats for $10 makes $2 per sale. A drop shipper who sells hammocks for $1,000 makes $200 per sale. Potentially the same amount of work for almost 100x the reward.  
With this in mind, your product price point should $200 – $1,000. Keeping your products above the $200.00 mark prevents you from doing a lot of work for very little profit. And while it might seem counter intuitive, setting a ceiling of $1,000 will prevent you from serving a market that requires a lot of hand-holding.
2. Your Customer = Disposable Income + Internet Savvy
Penny-pinchers are more likely to demand discounts, refunds, and return items. Rockefellers are likely to demand boutique-level service. Each cuts into your margins.
Your niche should resonate with customers in the Goldilocks zone – someone with money to spend but who won't demand lots of extra attention. Think upper-middle class.
Your customer should be comfortable buying online. Customers that are suspicious of, or unfamiliar with, buying online you'll spend all your time processing orders by phone.
3. Generic Brands are Better than Name Brands
As I explained in my article What is Drop Shipping?, drop shippers typically are not selling name brand products. A drop shipper just can't add value to name brand supplier or to a customer looking for a name brand.
Think of it like this: A customer that wants to buy a PlayStation already knows they want a PlayStation. That customer is never going to search in Google "top gaming consoles of 2016." In other words, they already know what they want and where to find it.
On the other hand, can anyone name the top five standing desk brands? Probably not. So you go search on Google "best standing desks." That's when you find an information-packed drop shipping site. Through product information, customer reviews, and other tailored content, they are positioning themselves as the authority on standing desks. Being an authority simultaneously adds value to their customers and their suppliers.
4. Products with Limited Local Retailers
Products that are especially good for drop shippers are those where a customer's initial search at local retailers will yield limited options.
Let's say I want a large aquarium. My local pet store maybe has ten options for me. It's highly likely that I'll want to view more options but it's not likely that I am going to travel to see other options. What I will do is hop online and search for "best large aquariums." Notice that I am not searching for savings – I'm searching for the perfect product. That a great customer for a drop shipper.  
Imagine the same person but they're looking for a PlayStation. They do a search for a PlayStation at local retailers. They find the product they're looking for at multiple locations but aren't happy with the price. So they go home a search "best deal PlayStation." This person searching for savings. They are not a good drop shipping customer.
5. Shipping: Light & Durable are Better than Heavy & Fragile
Drop shippers always need to be aware of the logistics behind shipping their products. While shipping will be your supplier's responsibility, you're responsible for the customer service for shipping. Shipping issues are the most common customer service issue you'll have.
Would you rather handle customer shipping issues for an outdoor fireplace or for porcelain collectables? Exactly. Save yourself headaches by avoiding products that are too heavy (expensive to ship) or too fragile (where damage may frequently occur during shipping).
TIP: Another product to avoid is something that requires lots of technical support to set up.
6. Existing Search Traffic
A good niche will already be generating search traffic from sites like Google. If a niche isn't generating search traffic it probably doesn't have many buyers. Checking search traffic is easy, just go to Google Adwords, sign in (its free to sign up), and under to "Tools" tab select "KeyWord Planner":

Next, type your niche into the search bar. Let's search "standing desk."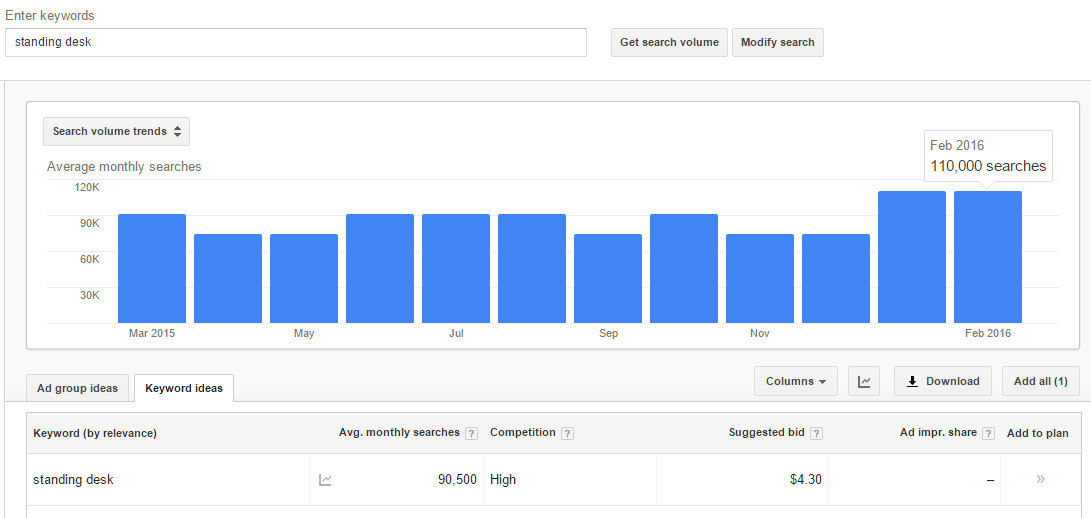 As you can see, Google is showing 110,000 searches for my niche last month. That's an indicator that there are potential buyers of products within my niche.
Compare that to a search for "kneeling desk."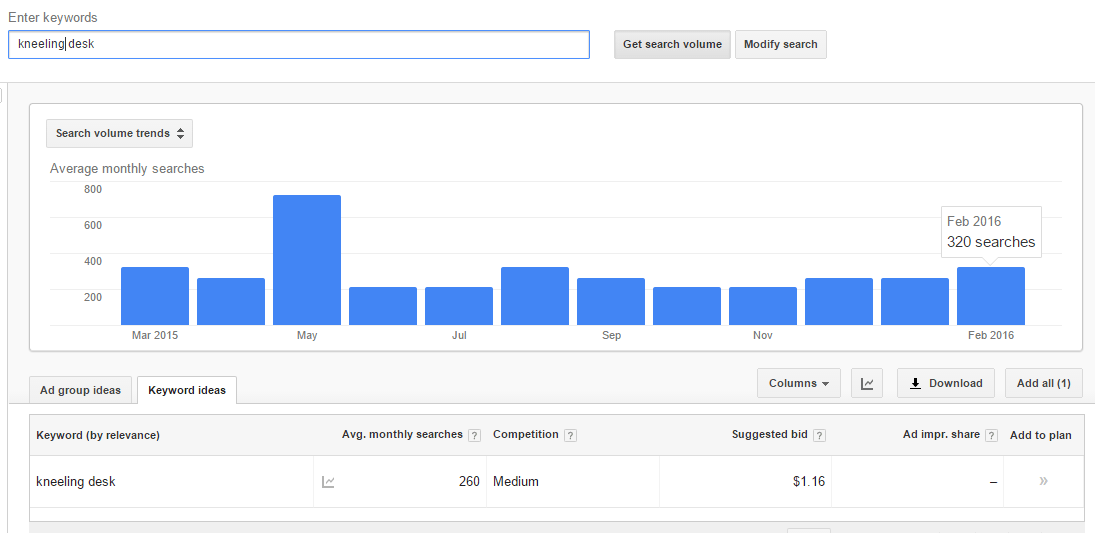 With only 320 searches last month, it seems unlikely that kneeling desks would make a good niche. Lower search results is a warning that there are probably few potential buyers out there.
(If you want help setting up Google Adwords, take a look at our guide.)
Taking this a step further, use Google Trends to see what search term traffic for your niche has looked like over time. Let's look at "standing desk" again: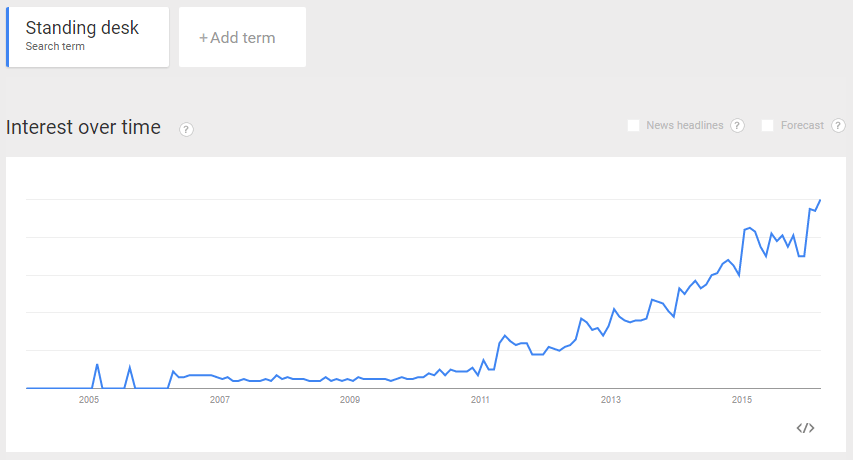 The fact that searches for my niche are climbing is a great sign!  
Step 2: Identify Your Competition
Now that you've picked a great niche it's time to check out the competition.
Your Niche Should Have Competitors
It might seem counterintuitive, but if you're all alone in your niche it's probably a bad sign. Think of it this way: A great restaurant has a line of people around the block waiting to get in. It might be tough to get a table there, but it'll probably be worth it. On the other hand, a deserted restaurant that can seat you right away – well, beware. Sure, you may have found an undiscovered gem. But more likely is that you've found a restaurant other diners have already learned to avoid.
If your niche doesn't have competition it's probably because other businesses found out the hard way that there isn't any money in it. Maybe there aren't as many customers as you think. Maybe there aren't any good suppliers. Maybe shipping costs and customer service demands eat away at the margins. Whatever the reason, you can't afford to waste your time on a bad niche.
Remember: competition means people are making money and that's what you're trying to do.
How to Find Your Competitors
First, Google your niche and click on Google's "Shopping" tab.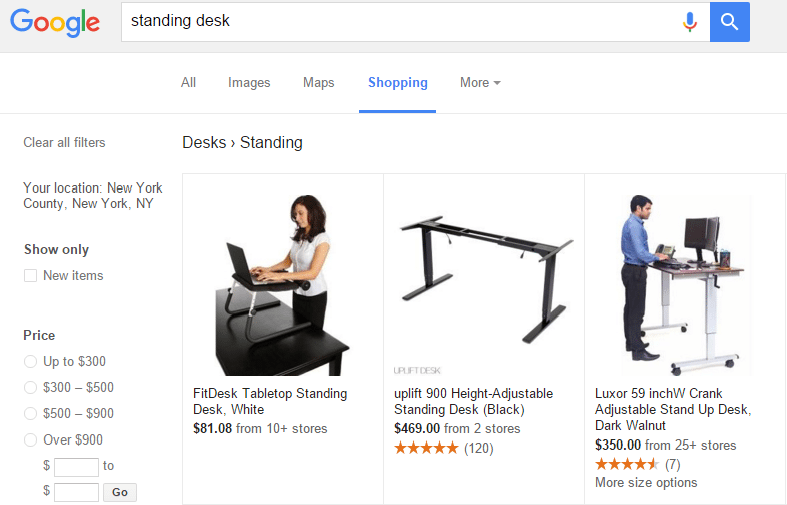 Next, click on the products and follow the links to the seller sites.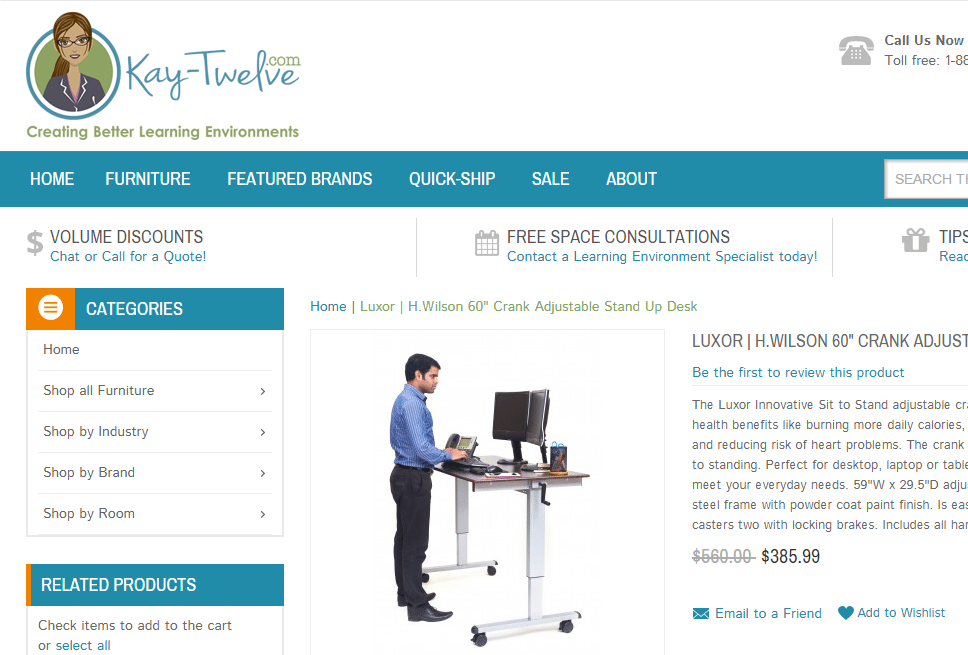 The first thing you want to know is whether your competitors are drop shippers like you or traditional retailers. Remember, you're not trying to compete directly with traditional retailers. So you want to find niches that have products and suppliers that would value a drop shipping partner.
To tell if your looking at a competitor that is a fellow drop shipper or is a traditional retailer find their location(s). If there are multiple locations, you are likely looking at a traditional retailer. If there is just one location listed on a About Us or Contact Us page, you're on the right track.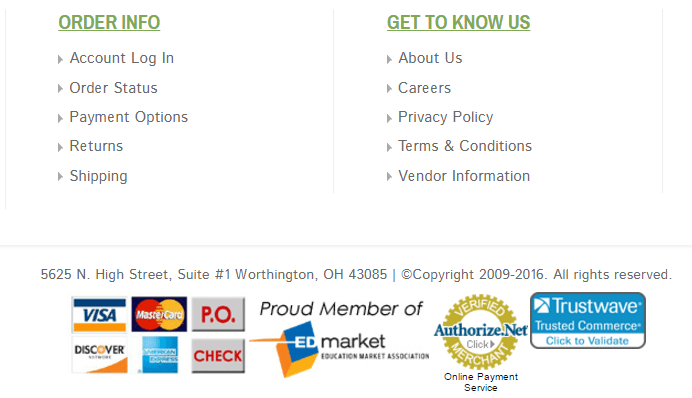 The last step is to take that address and search for it in Google Maps. Go down to the street view and in most cases you can actually see the place for yourself.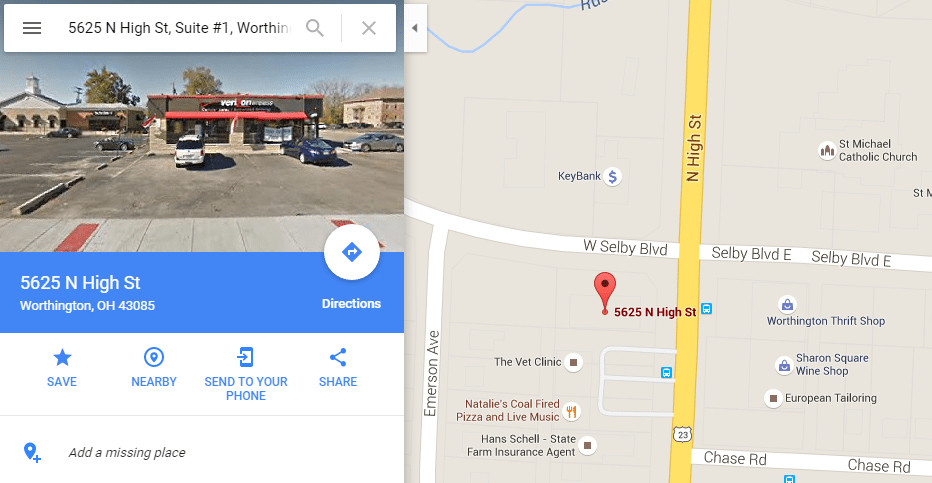 I feel confident here that I have found a competing drop shipper. Their online store lists only one address which includes a suite number and appears to be a Verizon store on Google Maps.
TIP: If you're finding that some competitors have big warehouses, they might be a Wholesaler who is also doing some drop shipping. That's not necessarily a deal breaker. They might still be willing to partner with the right drop shipper.
Is this a Drop Shipper or a Traditional Retailer?
| | Signs of a Drop Shipper: | Signs of a Retailer: |
| --- | --- | --- |
| Contact Us/About Us | One Address/Location | Many locations |
| Contact Us/About Us | Suite # or Unit # in Address | Showroom listed |
| Google Maps Street View | UPS Store or Small Office Complex | Storefront |
Step 3: Identify Top Tier Suppliers
Expert Tip: "You are completely dependent on suppliers to fulfill your orders. There are some companies that are extremely reliable: their products are generally in stock (or if they aren't in stock, they tell you right away), they ship your products when they say they will, and they get the order right. These are the good companies. Suppliers that aren't great do the opposite This leads to a lot of maintenance on our end. For our company, which prides itself on good service and fast shipping, issues with a bad supplier pose a big problem. They can appear as negative customer reviews."
— Devorah Neiger of MedShop.com explains the importance of a great supplier.
Finding Your Future Suppliers
Once you've identified the competition in your niche you want to find their top suppliers. You're not ready to contact the suppliers yet, but you need to know who you're trying to impress.
From you niche research, you know that your competitors have suppliers and products that are making them money. Rather than taking a big risk on unproven partners, use this information to your advantage. It's easy to identify your competitor's top performing products and brands. They will be featured front and center on their site because they want customers to find easily. They probably even have a "most popular products" or "most popular brands" page.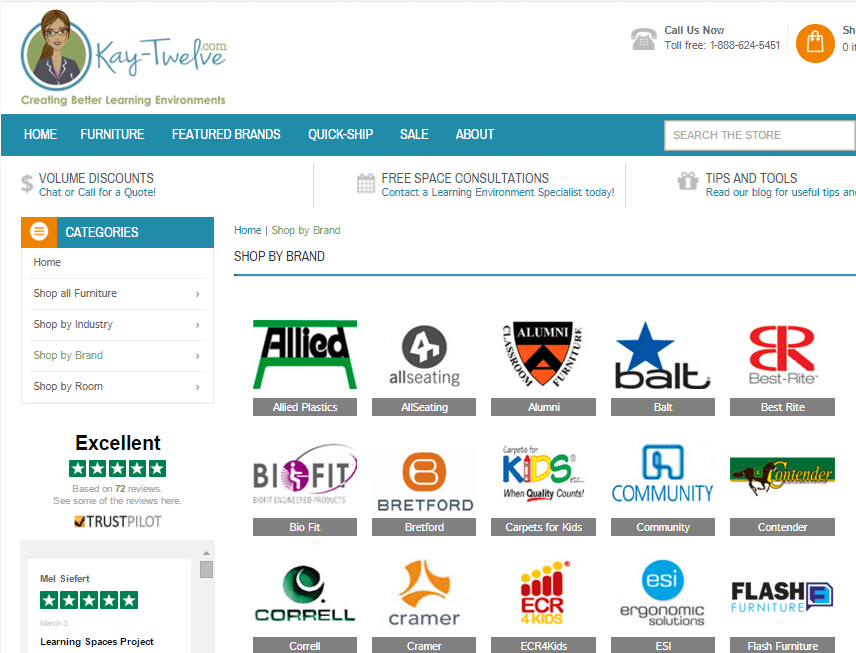 Create a list of all the brands, product names, and SKU (stock keeping unit) numbers that fit your Niche. Repeat this process for all your competitors and note who which brands and products you're seeing most often. You'll need this information to find your future suppliers.
You might be wondering if there's an easier way to compile a list of the top tier suppliers in your niche. Unfortunately, the suppliers you are trying to work with are not great at marketing (that's why they need your expertise!). So if I simply search in Google for "Standing Desk Drop Ship Supplier" I'm unlikely to find a drop shipping partner. That Google search will likely turn up supplier aggregators.
Aggregators know drop shippers have a hard time finding suppliers. So they sell access to a list of suppliers. Paying an aggregator for access to the supplier lists can be a reasonable option for young drop shippers. That said, aggregators tend to attract drop shippers looking for shortcuts and top tier suppliers don't want to partner with someone looking to take shortcuts. Top tier suppliers also don't want to waste time screening loads of shortcutters just to find one or two good drop shipping partners using the aggregator. So while an aggregator will likely connect you to suppliers willing to work with you, it's unlikely those suppliers will ever be your business's top partners.
There are several reputable aggregators, including Worldwide Brands, DOBA, and Dropship Direct.
TIP: As you're searching your competitors' sites for suppliers, take note of what you like and don't like about your competitors' websites and stores. Keep notes! You'll use this information to help you design the perfect store. I recommend Insightly's CRM for this job.
TIP: You can get a sense of how popular your competitors sites are by entering their URL into Compete.com. Pay special attention to the most popular sites.
Researching Your Future Suppliers
Once you have a list of your competitors' suppliers, you want to verify that those suppliers meet two essential standards: MAP Policy Enforcement and No Pay-to-Play .  
MAP Policies
MAP (Minimum Advertised Price) policies are rules set in place by suppliers to protect their brand value and their retail partners. A MAP is the lowest price that  a retailer is allowed to sell the supplier's product. You not only want to know that the suppliers you work with have a MAP policy, but that they enforce that policy.
Enforcement of MAP policies is important to drop shippers because without it a price war can occur. That's a race to the bottom. Drop shippers will see their profit margins evaporate and suppliers will see their brand devalued. Top tier suppliers understand this and strictly enforce their MAP policies.
You can tell if your potential suppliers enforce their MAP policies by searching their product in Google Shopping. You should see lots of listings for the same product. You're looking for a common lowest price. If the lowest price is $349.99 and retailers are not listing the product below that, the supplier likely enforces a MAP policy. But if see retailers dipping below what seems to be the MAP, the supplier likely doesn't enforce their MAP policy. That's a red flag.
TIP: MAPs also let a drop shipper know their lowest possible margin on a product. If margins are very thin at a product's MAP, it might be a good idea to see if their are alternatives with a higher MAP.  
No Pay-to-Play
Suppliers who make drop shippers pay a monthly or annual fee for the privilege of selling their products are not top tier partners. This is usually an indicator that the supplier is more interested in you padding their pocket than build their brand. Top tier suppliers will value your drop shipping store because you can introduce their products to paying customers. In most cases the only way to know if a supplier has a pay-to-play policy is to inquire by phone or email. Most suppliers have the appropriate contact information for these inquiries on their sites.
Note: Supplier pay-to-play policies are different than aggregator fees. You're paying aggregators to save you time and energy. Their product is the list.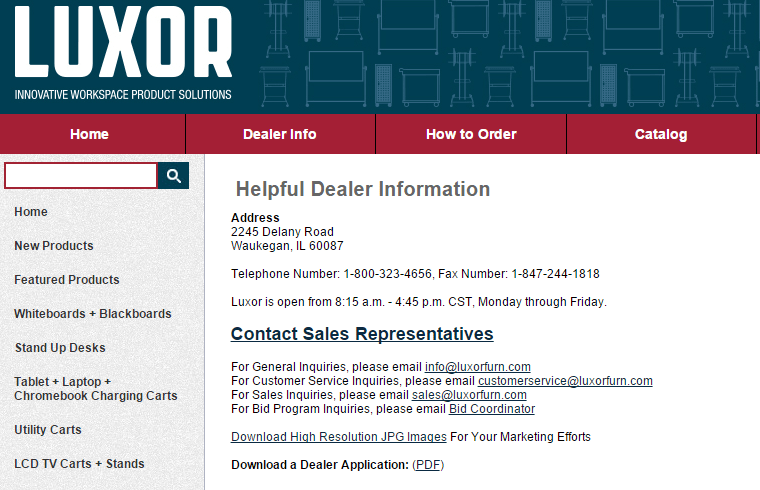 Bonus: More Qualities of a Top Tier Supplier
Additional qualities to look for that will mean you've found a top notch Supplier:
Real-time inventory (your supplier instantly updates you on their inventory levels)

Comprehensive online product catalog

Customizable data feeds

Online searchable order history

Generous return policies

Anything to help you streamline, automate, and keep your customers happy
Step 4: Build Your Drop Shipping Website
You have to have your store up before a supplier will agree to partner with you. Suppliers know that talk is cheap. They need to see you're a partner who knows how to execute.
Build Your Drop Shipping Website
Building a good drop shipping website doesn't require high level knowledge of site building, web design, or coding. There are a number of E-commerce platforms that make it easy – they're basically plug-and-play. I prefer Shopify. In fact, in my next article I will walk you through opening a drop shipping store on Shopify. But there are other companies, like Magento and Bigcommerce that are also good.
Your site will always be a work in progress. You'll update products, add new features, optimize the layout, and more. That said, you're about to build the foundation and framework for your future store. You'll also hang enough on the walls that when you show Suppliers the site, they can get a clear idea of how it will look.
Here are four features every drop shipping site should have before contacting suppliers:
1) Sample Product Listings and Brand Pages
You need to be able to show suppliers what their products would look like in your store. It will be much easier to convince a supplier to work with you if they see their product displayed, professionally and prominently, on your site. This will also show suppliers that you're ready for business. So build out pages for each of your potential suppliers.
Also, include user reviews of your suppliers products and brands.
"More often than not, new drop shippers tap into two sources of reviews that have already been generated, " Says Matthew Mercuri of Dupray. "They take the publicly available ones that are monitored by a third company and incorporate them into their own systems. Alternatively, new drop shippers tap into the already-curated reviews that the manufacturer has."
You also may want to be ready with a plan to collect your own reviews. Companies like Testimonial Guard and Trustpilot can help you collect reviews quickly and efficiently.
2) Third Party Trust & Reviews
Many companies provide third party monitoring as a service. Here are a few companies you can look at: Trust Guard, Merchant Safe, or TRUSTe.  They all come with corresponding badges that you can display on your site. These badges signal to customers that your business can be trusted. They might seem like small add-ons but are important. They're a small thing that makes your customer comfortable making a purchase on your site. And if customers are comfortable, suppliers are too.
3) Clearly Posted Shipping and Return Policies
Your Shipping and Return Policies should be easy to locate on your site and easy to understand. Customers don't want to feel like you're discouraging returns or tricking them on shipping fees. Just as important, suppliers don't want to work with drop shippers who treat customers like this because it's bad for their brand. Shipping and return policies will vary based on your niche and the individual supplier. That said, you should have enough information from your competitors' sites to put together a passable Shipping and Return Policies page.
4) Put Your About Us and Contact Us Page to Work
Almost every website has an About Us and Contact Us page. They're easy to neglect, but for drop shippers these pages are essential. Without a physical store, these two pages are the only way to show customers what you're about and how you'll treat them. Suppliers are judging you by this messaging, too.
Your About Us page should be brief, engaging, and tell your story. This should not read like a resume. After reading your About Us page a customer should know why the niche inspires you and what you're bringing to the niche that no one else is.
Your Contact Us page should be easy to find. It should feature an email address, phone number, hours of operation, instant chat and a physical address. After seeing your Contact Us page your customer should have no doubt that you're there if they need you.
Step 5: Develop a Plan to Generate Traffic
Next, it's time figure out how you'll bring customer to your store. A clear blueprint detailing how you plan to generate traffic for your site is critical to the success of your business. Suppliers need to see this blueprint, too. After all, what good is a great looking store without customers?
Mastering each of these marketing strategies takes time and practice. For now, you just need to have an idea of how each of these works and which ones make most sense for your drop shipping business.
Here are the 6 most effective ways to generate traffic for your drop shipping store:
Google Adwords: check out our guide for Google Adwords

here

.

Google PLA (Product Listing Ads): this is an

in depth guide

.   

Facebook Ads: check out our guide for advertising on Facebook

here

.

Retargeting:  here a great

beginner's guide to retargeting

.

Email Offers to Past Customers: Check out this excellent

tutorial

from MailChimp.

Niche Blogs: Find blogs related to your Niche and offer to do a guest blog post or inquire about placing banner ads on their sites.
After suppliers have heard how you plan to generate traffic they will ask about your advertising and marketing budget. They want to know that you have a dedicated budget for advertising and that you have a plan to expand your marketing efforts as you grow.
Read our article on Effective PPC Bidding Strategies  to help stretch your advertising dollars.
Step 6: Register Your Business
The last step before contacting suppliers to set up drop shipping deals and get you business started might seem like a no-brainer, but it's easy to forget. You have to form and register your business with the proper government agencies. In addition to income taxes, drop shipping also has sales tax and sales tax exemption issues that you must also address.
Most suppliers will require you to have an EIN (Employer Identification Number) and Sales Tax Exemption Permit before approving you as a drop shipping partner.
According to SalesTaxSupport.com, "Depending on the jurisdiction, acceptable documentation can include "home state registrations or resale certificates, the MTC Multi-Jurisdictional Exemption Certificate, the Streamlined Sales Tax Exemption Certificate, the ship-to state resale certificate."
Since the process for getting a sales taxes exemption permit is different in each state, you probably want to speak with a tax professional.
Step 7: Securing Drop Ship Agreements with Suppliers
"What we find is that most sellers want to simply add our products to their store. This is not of interest to us. What we want is sellers who have a high traffic channel such as a blog, website, YouTube channel, etc. to promote our products on. Sellers have to understand that in order to be desirable to a manufacturer, they must invest the time to create a sales channel that we would want to be part of."
Call, Email, & Repeat
Suppliers won't be knocking on your door. At this point it's time to put on your sales hat and start working the phone. Begin reaching out to all the suppliers on the list you compiled from your competitors.
Reaching a decision maker at a supplier can take time. Remember, you'll be calling and emailing them out of the blue. Suppliers get lots of these kinds of inquiries so it might take a few tries before they realize you're a serious business with the potential to be a great partner. The important thing is to stay positive and when you do get a decision maker on the phone be ready to make an effective pitch.
PRO TIP: Be sure to contact a lot of suppliers because many companies do not want to drop ship.  They might not understand online commerce or they might have had a bad experience with it in the past.  In my experience it is always best to get on the phone with them or visit them in person (if that is an option) to show them you are a real person and start to create a relationship.  Another good practice is to send your business license or reseller license to them on first contact so they take you seriously." – Tom, Money Soldiers
Launch Dates and Firm Timelines
Your site should have a launch date set. Launch dates conveys to the supplier that you are serious and ready to start selling. A launch date also forces the supplier to consider that if their products aren't listed on your site by then, someone else's will be. Wouldn't they rather have you building their brand than their competitor's?
Your launch date is one way of setting a timeline. Timelines are important because it prevents decisions from being put off indefinitely. You will do yourself a favor by setting and confirming timelines during all your conversation with suppliers. Set timelines for: follow up calls, when contract will be sent out, etc. You'll have to be the force moving deals forward – setting clear timelines will help you with this.
Paying Upfront or Paying on Terms
If all goes well, your supplier will ask you about payment options. Suppliers are used to working with drop shippers in two ways: paid up front and paid on terms. Paying upfront is exactly what is sounds like: when you place an order with the supplier you pay for that order immediately. Paying on terms means that you place an order with the supplier (which they must fill) and you pay them at a later date, typically 30 days later. This is referred to as payment terms on a net-30.
You want to be clear that you will not need payment terms. Payment terms amount to a form of credit offered by supplier. Offering other businesses credit is risky. By paying upfront you avoid the issue of asking for credit as a yet unproven business. Without the risk, it is much easier for a supplier to approve you as a drop shipping partner.
Tip: Your customer will pay you first. You'll then pay your supplier for the same order. Knowing that they will have no problem covering cost of products with the supplier, a smart drop shipper uses a rewards credit card to make their purchases so that each sale brings both points and profit.
6 Keys to Your Supplier Pitch:
I want your products to be featured in the launch of my new site.

Here's what inspires me about the niche.

Here are the ways I will bring value to my customers and your business.

Here's how I will be generating traffic to my site.

I will pay upfront, not on terms.

Mention the launch date again.
Summary
At this point you know how to start a drop shipping business. In just 7 steps you have gone from choosing a Niche to securing your suppliers. In future articles I'll talk more about steps 8-10 (generating traffic, optimizing your site, and automating your site). Don't miss my next article where I will show you how to open your own drop shipping store using Shopify's free 14 day trial. 
Don't forget to check out our free guide on how to get a website up and running in less than an hour.