How to Open a Shopify Dropshipping Store in 5 Easy Steps
In the News: Shopify's Oberlo Discontinued
As of May 12, 2022, Oberlo was delisted from the Shopify App Store, and the Oberlo app will officially shut down on June 15, 2022.
We are working on updating this article and now recommend small businesses use DSers to open a dropshipping store with Shopify. DSers is a dropshipping app within the Shopify App Store that connects sellers to the AliExpress dropshipping network.
Dropshipping is a popular low-cost ecommerce model because you don't have to buy products upfront or keep inventory on hand. Shopify connects to hundreds of dropshippers via apps that automate every step, including its own Oberlo app, making it the quickest, easiest, and most economical way to launch an ecommerce business.
Overall, expect to shell out about $120 as an initial setup fee for your Shopify dropshipping store and prepare a monthly operating expense of at least $30 for software fees.
Step 1: Sign Up for a Shopify Account
The first thing you need to do is activate your Shopify free trial by opening an account. To do this, visit Shopify and enter your email address, business name, and create a password as we did below.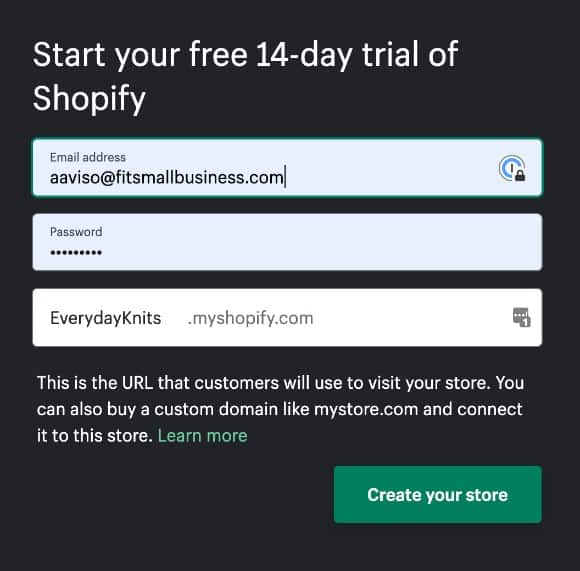 If you're still unsure of your business name or your business concept, don't let that stop you from test-driving Shopify and Oberlo. You can change your store's name and even your email address in your Shopify store settings at any time. Exploring dropshipping products using Shopify and the Oberlo app is a terrific way to brainstorm and test different business ideas.
Once you have signed up and confirmed your email address, Shopify will take you to your store dashboard.
For this demo, we're adding Oberlo dropship products to our Everyday Knits Shopify store. For more information on getting your storefront designed and functional, read our full guide to setting up a Shopify store, which walks you through how we set up Everyday Knits.
Step 2: Connect the Oberlo App to Your Shopify Store
To be able to explore and add products to your Shopify store, you need to connect a dropshipping app. Since Oberlo is Shopify's fully integrated dropshipping supplier network, it's quick and easy to install and use.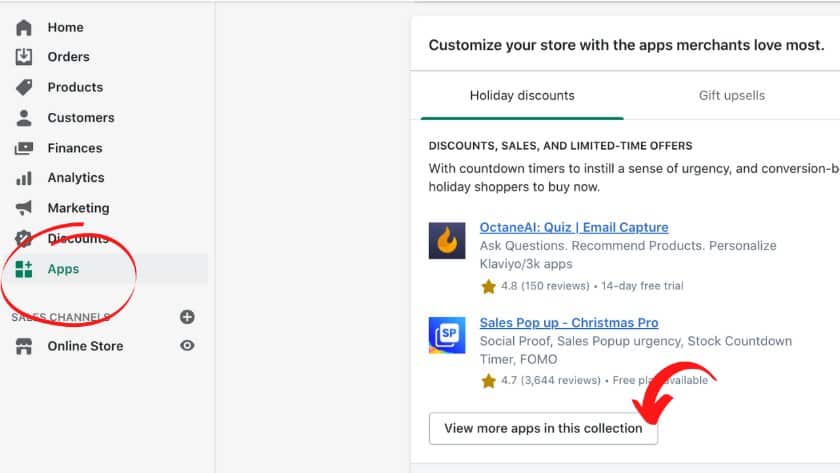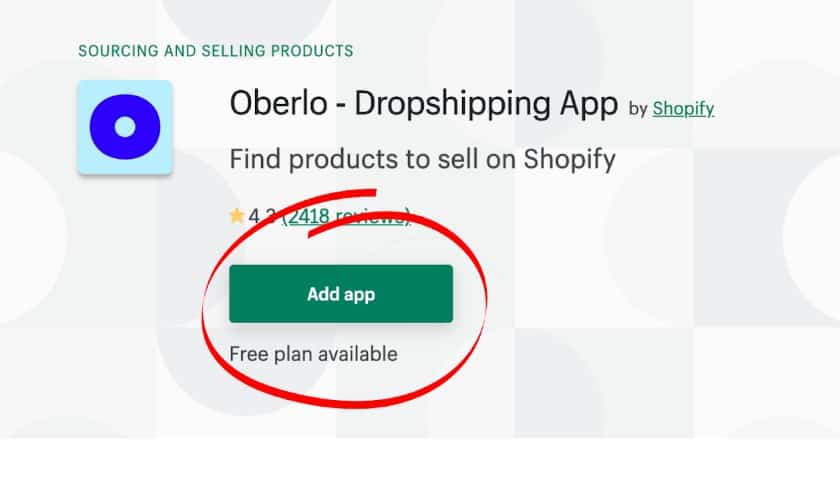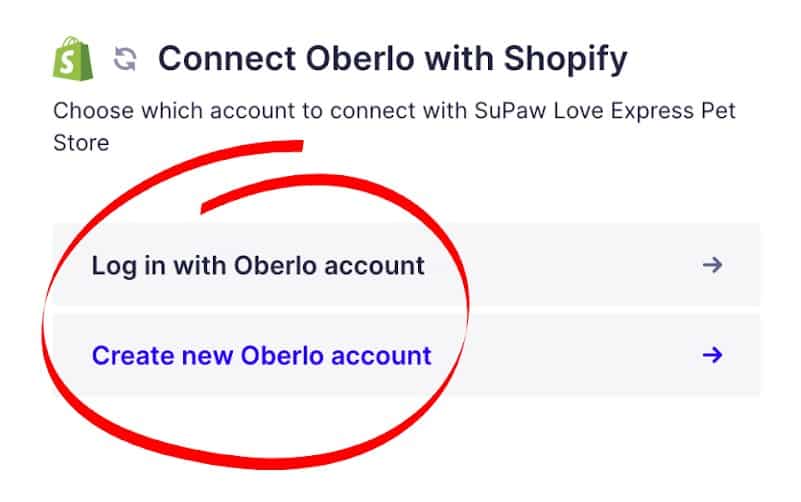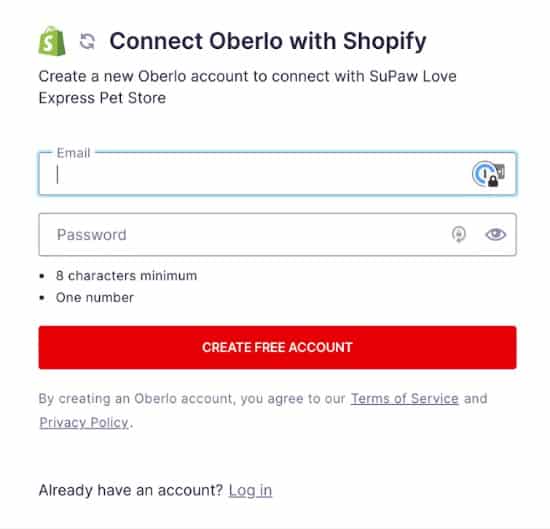 After you have created your Oberlo account, you will be taken to your Oberlo dashboard, which will also show a basic setup wizard you can follow.
Step 3: Find Products to Sell in Your Shopify Dropshipping Store
Once the Oberlo app is installed in your Shopify store, your product discovery fun begins. Oberlo's intuitive interface lets you make either broad or very specific product searches with a few keystrokes. It's a good idea to start by exploring various products related to your business idea (or ideas) and see what you come up with.
From your Oberlo dashboard, click "Find Products."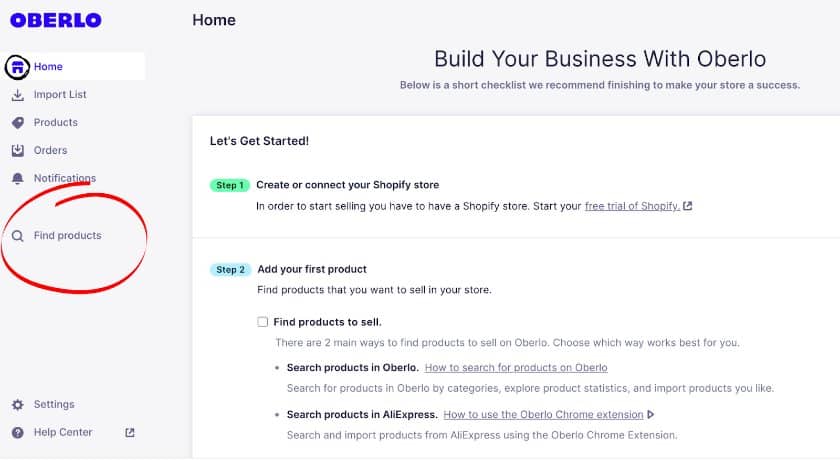 Before you search for products, think about the country that you plan to sell your products in so that you can check available shipping methods and costs and potential delivery timeframes.
You can search for products in two ways.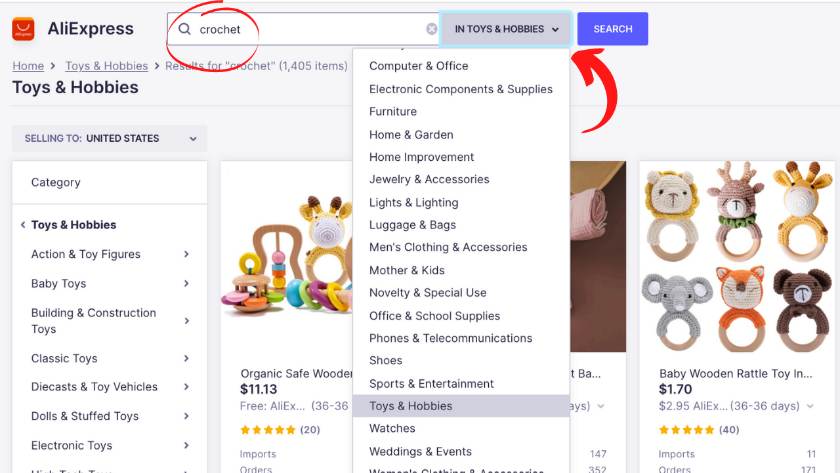 When you have set your country in the "Selling to" drop-down, you can check shipping cost estimates for products by clicking on the arrow icon next to the product description.
To know more about the product, click on the thumbnail image.
Tips on How to Select Good Oberlo Products to Sell
There are a few things to keep in mind before you build a huge product list in Oberlo.
Be ready to write product descriptions: Most Oberlo dropship suppliers provide item details like size and material, but few provide a ready-to-go detailed product description; even if they do, you should write your own to connect the item to your brand and customer.
Review pricing: Oberlo automatically sets a suggested retail price, but it's a good idea to review the profit margin and search online to see if that price is competitive with other sellers; marking your price up on all items, then offering free shipping sitewide is a marketing tactic that many successful dropshippers use.
Communicate shipping times to customers: With dropshipping, fulfilling orders is out of your hands; it's a good idea to include the estimated delivery times in your product descriptions.
Check supplier reviews: Suppliers are given a rating for every transaction, which will be reflected in their feedback score.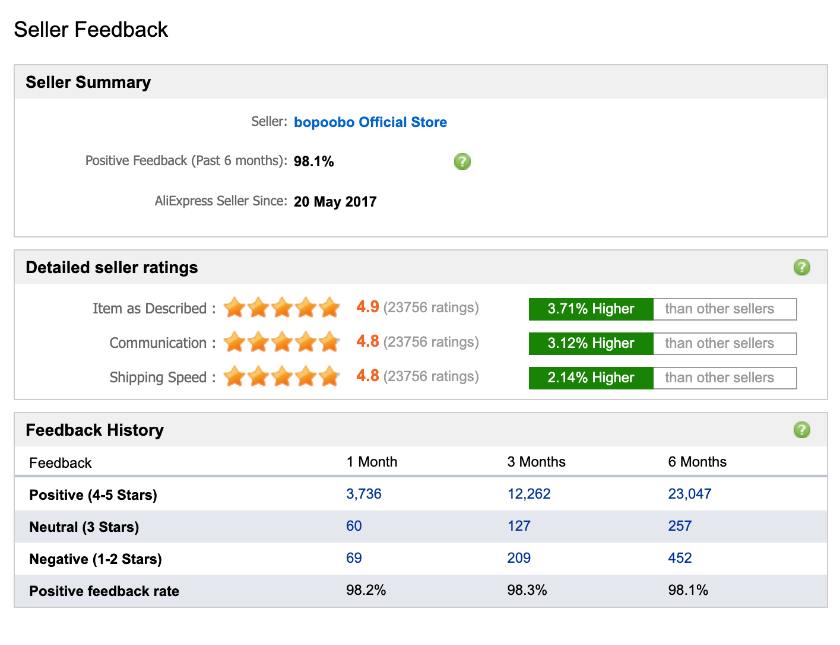 Review product images: Since you would not be holding stock inventory, it's crucial for you to choose products that supply high-quality images from the get-go.
Check product statistics: You can check for positive reviews about the product, how many sales it has generated, and how many Shopify/Oberlo stores have offered the product.
If you review its page as a whole, you'll find quality images and plenty of details for your description. Now, you are ready for your next step—importing the product into your Shopify store.
Step 4: Import Products to Your Shopify Store via Oberlo
After you decide which products you want to sell, you can add them to your Shopify store—add the products to your Import List in Oberlo.
From the product page, click on "Add to Import List."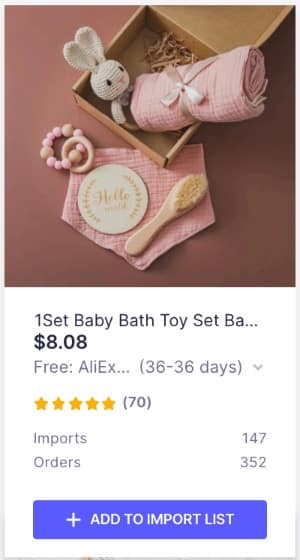 The product will then appear on the "Import List" page where you can edit its information.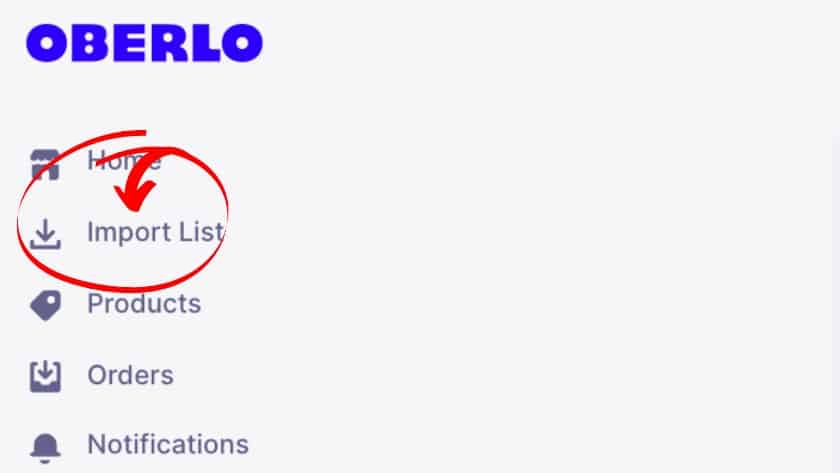 Once you click on "Import List," you will see the list of products you have chosen to add to your Shopify store.
Edit Product Details
We suggest you edit product details in the Oberlo dashboard before importing them to your Shopify store.
You will see five tabs on your product details page as outlined below:

On the "Product" tab, we can:
Change the title of the item. Suppliers usually add long product titles stuffed with lots of keywords to help them show up in search results.
Manually add it to one or more Shopify Product Collection if already set up; if not, this can be done later in your Shopify dashboard.
Identify a product "Type," which Shopify can use to add items to "Collections" automatically.
Add keyword tags for search engine optimization (SEO) and site search.

On the "Description" tab, have three to five sentences as your product description. Decide which relevant information from the original product description you'd need to keep. Remember that well-crafted product listings lower refund rates, lead to more sales, and help build trust with your customers. Learn how to write product descriptions that sell.
Tip: All product descriptions will be imported in English. If you wish to use another language, you need to edit product details to match your store's language.

On the "Variants" tab, review the variants available and deselect any that you don't want to sell.
Choose variants that are relevant to your store. For example, if you are selling pet accessories for small dogs, you can leave out variants that are for larger dogs.
Don't leave too many variants available as they can be overwhelming to potential customers. This can lead to indecision and unfulfilled sales.

On the "Pricing" tab, you will see available variants and their corresponding costs, potential shipping costs, the retail price, and the potential profit you will make. Learn how to price a product.
The cost and shipping columns show the prices you need to pay the supplier for the product and its shipping. Use these details to decide how much you should sell the product for in your store.
In the price column, set the product price that your customers will pay you.
The profit column helps you see the potential profit you could earn from selling this product.
The compare-at-price column helps you set sale prices for your items.
A product's shipping details are not imported to Shopify. You need to create manual shipping rates in the Shopify admin.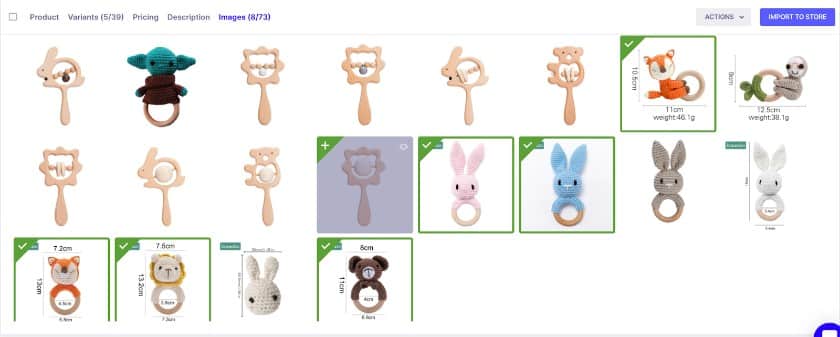 On the "Images" tab, you will find all the images a supplier has for the product. You can select ones that apply to your store by checking each image.
As you proceed through each tab, Oberlo automatically saves your changes. Then, when complete, a quick click on the "Import to store" button sends the item to your Shopify product list immediately.
Once the product is imported, you will see it in your Shopify store dashboard. You can find it by opening a new tab and going to your Shopify account. Click on "Products." Alternatively, you can click on "Edit Product on Shopify" from your Oberlo dashboard (after the product is imported).
When you click on "Edit Product on Shopify," you will open a new tab for your Shopify product detail page, as shown below.
Categorize Your Oberlo Products
After importing a few products from Oberlo into Shopify, the next step is setting up your Shopify Store from your Shopify dashboard. You can start by setting up Product Collections to organize your dropshipping items for easier shopping. To do this, click on "Collections," then "Create Collection" in your Shopify dashboard, and you'll see this screen.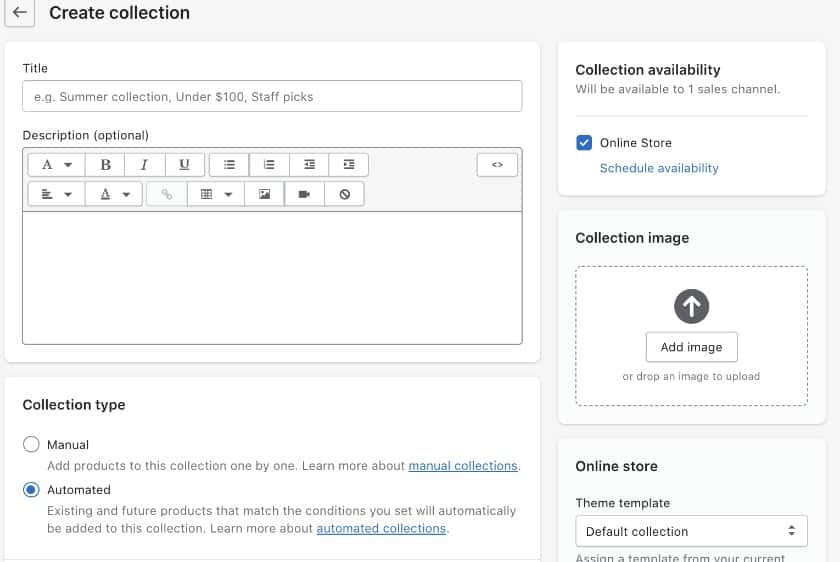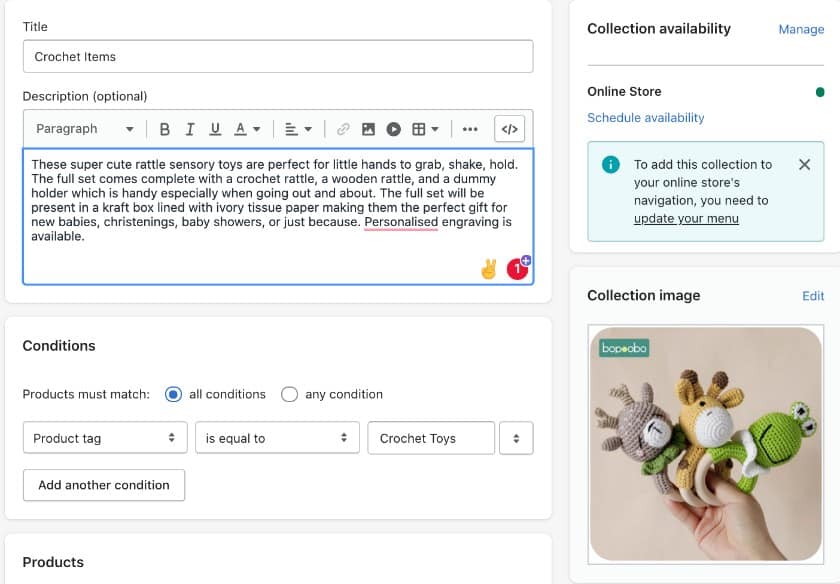 Step 5: Set Up Your Shopify Dropshipping Store
Once your product collections are set up, it's time to complete key store details in Shopify. These include
Shopify store theme set up (the store's design)
Informational pages for Customer Service and Shipping Details
Menus to simplify navigation for shoppers
Payment, shipping, and tax information
A store domain name (create or connect one)
Shopify leads you through each of these setup steps within your dashboard, so we're not going to cover this in great detail here. For more detailed instructions, read our guide on how to set up a Shopify store, which outlines everything in nine easy steps.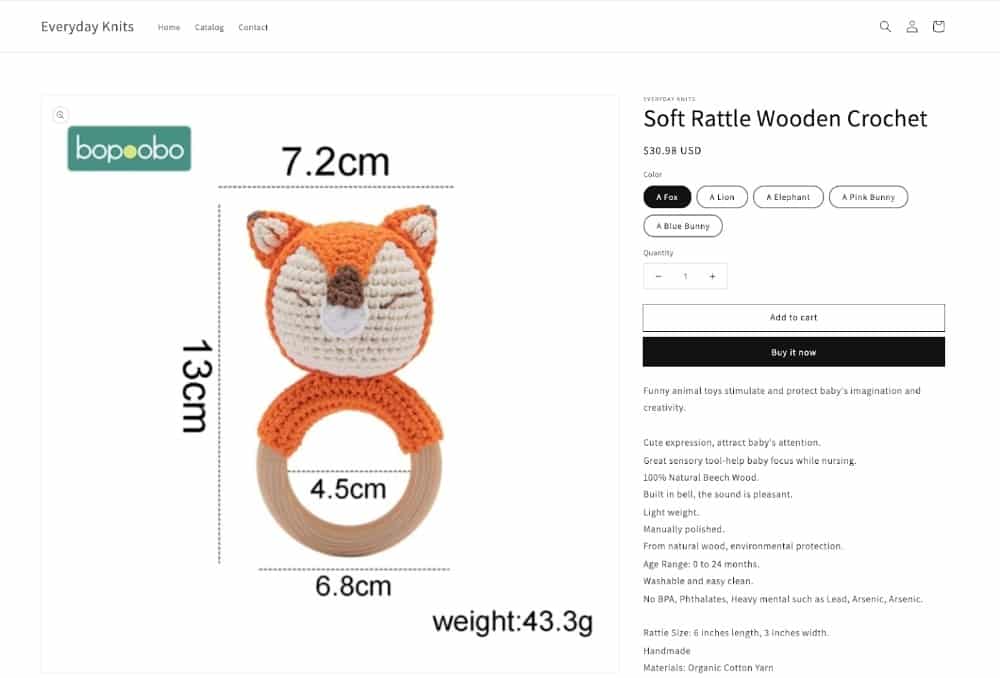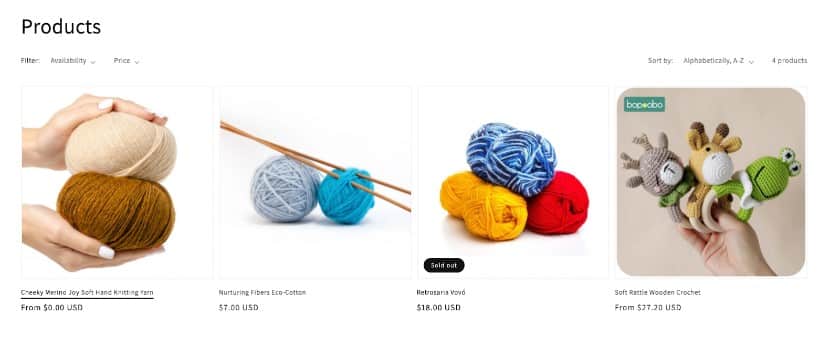 Fulfilling Dropshipped Orders via Oberlo
Once you are satisfied with your store design and have set up shipping settings and subscribed to a Shopify plan, you can make your site live to start receiving orders.
To fulfill an order for a dropshipped item, go to your Oberlo dashboard and click on Orders from the navigation bar.
You will see a list of products under the To Order tab. Clicking on it will open a list of orders you need to fulfill. Those that have a blue logo are Oberlo imported items in your Shopify store. Simply click Order Products, choose a shipping method, and Oberlo Supply will handle the rest.
Next Steps: Add More Products & Market Your Shopify Store
After your starter Shopify dropshipping site is live, you can start exploring additional dropshipping product options and marketing channels. Curating an exciting collection of goods and marketing them well are key to dropshipping success. Shopify helps you with all of this, which is why it is our top pick for starting a dropshipping business.
Of course, searching and adding new products via Oberlo should be an ongoing task, but you can also explore other dropshipping apps in the Shopify App Store. These include
Print-on-demand (POD) dropshippers: POD drop shippers like Printful and Printify let you add your unique designs to a range of products
Specialty dropshippers: Dropshippers like Modalyst and Spocket connect you with US, Canadian, and European goods; you could also try selling custom-packaged coffees with Dripshipper.
Aggregate dropshippers: Tap massive drop shipping networks like Inventory Source to add entire vendor lines or name-brand products to your lineup.
You'll also want to expand your customer outreach using Shopify's built-in marketing tools. Here are four ways to market your products that you can check out as soon as your store goes live.
Of course, product line development, marketing, and answering customer queries are ongoing tasks for any dropshipping business. Still, you'll find that Shopify's integrated platforms make these tasks as seamless as possible.
The Costs of Launching a Shopify Dropshipping Store
Startups, especially dropshippers, usually operate on a small budget. That's why it is also essential to consider the costs involved in setting up a Shopify dropshipping store. A basic Shopify dropshipping store has the following operating expenses:
A Shopify subscription: Starts at $29 per month
An Oberlo subscription: Has a forever-free plan and a paid subscription at $29.90 a month
A domain name: Shopify lets you register a domain name for $14 a year
Product costs: Budget for initial product cost of $75 to $100 to sample products before listing them on your store. This can vary depending on the types of products you want to list.
Based on these prices, expect to pay an initial $120 setup fee for your Shopify dropshipping store and prepare to have a monthly operating expense of at least $30 for platform fees; your product costs will vary greatly on your chosen products. Note that this does not include add-on apps for things like cross-selling or pop-ups, nor does this account for marketing costs to help you make sales—the average customer acquisition cost on Facebook is $28.11.
Bottom Line
Setting up a Shopify dropshipping business is quick and easy. Use helpful third-party apps to find products to sell and add them to your site so that you can launch a complete Shopify store in just hours. Once your store is live, you can start marketing your business.
Shopify lets you enjoy a 14-day free trial, with no credit card required. You can take advantage of this offer by exploring if dropshipping is a profitable ecommerce model for your business.
You May Also Like …