Today's leading business conferencing systems make it quick and easy to hold large meetings among remote or distributed teams. They also include features such as call management and file sharing. We looked at several audio and video conference services on the market to determine the best six best based on a variety of use cases.
6 Best Conference Call Services for 2020
Conference Call Service

Best For

(Best Overall) Businesses looking for a comprehensive business communications platform with powerful conferencing

Companies looking for international conferencing capabilities

Organizations looking for a customized phone plan offering conferencing and a la carte features

Business owners seeking a virtual phone number provider along with capable conferencing modules

Teams that need to hold large remote meetings of up to 300 people

Companies looking for a free video conference option with useful meeting tools

Last updated on 04/25/2020
What Conference Calling System is Right for You?
Answer a few questions about your business and we'll give you personalized product match
How We Evaluated Conference Call Services
A conferencing service should allow remote users to easily join a meeting either by phone or through an app on a desktop or mobile device. It should also come at price points that most small businesses can afford. While we considered any service that supported multiline audio or video conversations, we considered the best to have advanced features like call recording, click-to-connect, high-definition audio quality, and added security.
We determined the best conferencing call services using the following criteria:
Price
Call quality
Number of participants
Number of meetings
Conference bridge
Business application integration
Support access
Ease of use
While we have found that video conference calling features are now available as part of complete phone systems, some businesses prefer to use separate video conference software. These dedicated platforms typically offer even more advanced collaboration tools and are a good option for businesses that use traditional landlines for their business calling needs. Learn more about the best by visiting our guide on the best video conferencing services.
RingCentral: Best Overall Conferencing System
RingCentral is a business phone system that offers unlimited domestic calling, call management functionality, and more. The service, which offers pricing starting at $19.99 per user, per month for two to 19 users on an annual basis, also offers video and audio conferencing capabilities for up to 200 people. RingCentral is our best overall pick because it has the best balance of being both a powerful conferencing and a general business telephone service.
| RingCentral Strengths | RingCentral Weaknesses |
| --- | --- |
| Powerful set of telephony tools | More expensive than some alternatives |
| Exceptionally easy to use | Does not support as many participants as other solutions |
| Conferencing for up to 200 people | Lacks unlimited international calling |
RingCentral Pricing
Essentials: $19.99* per user, per month
Standard: $24.99* per user, per month
Premium: $34.99* per user, per month
Ultimate: $49.99* per user, per month
*Pricing is on an annual basis for two to 19 users, but volume discounts are available.
And if you sign up for service today and purchase a phone, you'll get your 1st month free, 20% off afterwards, and an additional free phone. Get started today.
RingCentral Features
Audio/video conferencing: RingCentral lets your team members talk either by dialing in to an audio conference or logging in to a virtual meeting via audio or video.
Dial-in: RingCentral provides a range of different numbers you can choose to act as a telephony gateway into your meetings.
Call management tools: RingCentral's conference controls include the ability to mute participants, send meeting invites to guests by text or email, specify calls as listen-only, and call recording.
For more information on RingCentral, check out our RingCentral user reviews page.
8×8: Best Conference Calling Service for International Calling
8×8 is a small business voice-over-internet-protocol (VoIP) system that offers conference calling for up to 100 participants, along with tools for controlling participants via mute, block, and other business VoIP phone features. 8×8 starts at $25 per user, per month, and also allows for unlimited calling for up to 47 countries around the world, making it perfect for companies with an international business presence.

| 8x8 Strengths | 8x8 Weaknesses |
| --- | --- |
| Unlimited international calling | Unlimited calling to certain countries restricted behind premium plans |
| Easy audio/video conferencing | Meeting limits capped at 100 people |
| Internet faxing capabilities | Not as intuitive as other systems |
8×8 Pricing
X2: $25 per user, per month with unlimited calling for up to 14 countries
X5: $35 per user, per month with unlimited calling for up to 35 countries
X8: $55 per user, per month with unlimited calling for up to 47 countries
8×8 Features
Remote conferencing: 8×8 allows for both audio and video conferencing, so it can accommodate your entire team regardless of whether they are on a phone or a desktop app with a webcam.
International calling: Hold telephone conferences with your international contacts in up to 47 countries around the world.
Call recording: Save conference audio with recording features available in the X5 and X8 packages.
Vonage: Best a la Carte Call System With Conferencing
Vonage is a small business phone system that offers pricing plans starting at $17.99 per user, per month for five users. On top of conference calls for up to 100 people, Vonage also offers the ability to add on specific features at an extra cost. This includes toll-free numbers, call recording, and more. This is perfect for collaborative teams that want to effectively build a bespoke service for their specific needs.
| Vonage Strengths | Vonage Weaknesses |
| --- | --- |
| Add individual features as needed | Meetings capped at 100 users |
| Intuitive conferencing interface | Extra features could add up in costs |
| Video and audio conferencing available as well | Video conferencing minimal compared to other systems |
Vonage Pricing
Mobile: $17.99 per user, per month, no conferencing
Premium: $27.99 per user, per month with conferencing for up to 100 people
Advanced: $37.99 per user, per month with conferencing for up to 100 people
Vonage Features
Conference controls: Vonage comes with a complete set of conference control tools, such as mute, block, kick, screen share, and more.
A la carte features: Add a toll-free number, support tools, call recording, and more for an additional monthly fee.
Call whisper: Send private phone messages to other participants during calls.
Grasshopper: Best Conference Calling Service for Virtual Phone Numbers
Grasshopper is a virtual phone service that costs less than a dedicated VoIP system, but requires an existing number to forward calls from. Grasshopper starts at $26 per month on an annual basis and comes with unlimited domestic calling and texting. It also comes with the ability to hold phone conference calls, making it perfect for those looking for a virtual solution with conferencing modules.
| Grasshopper Strengths | Grasshopper Weaknesses |
| --- | --- |
| Affordable | Requires an existing phone line |
| Allows businesses to hold audio teleconferences | Lacks native video calling support |
| Easy to use | Interface isn't as smooth as other systems |
Grasshopper Pricing
Basic: $26 per month for one number and three extensions
Premium: $44 per month for three numbers and unlimited extensions
Platinum: $80 per month for five numbers and unlimited extensions, reporting, and unlimited virtual faxing
Grasshopper Features
Phone conferencing: Grasshopper lets you hold phone conferences with your teammates so that everyone can stay productive even while apart.
Toll-free numbers: Each version of Grasshopper lets you choose between a local or toll-free number for your business.
Voicemail transcription: Read your voicemail messages as text within your inbox.
You can learn more about Grasshopper's plans and features by visiting our Grasshopper reviews page.
Phone.com: Best Conference Calling Service for Large Group Meetings
Phone.com, which starts at $9.99 per month on an annual basis, is a business VoIP system that offers both pay-as-you-go and unlimited calling plan services. What sets Phone.com apart from competitors is that it offers phone conferencing for up to 300 participants. As such, it is ideal for teams that want to hold large remote meetings over the phone.

| Phone.com Strengths | Phone.com Weaknesses |
| --- | --- |
| Offers unlimited and limited plans | Number of plans can be overwhelming |
| Generous conference accommodations | Unlimited plans are expensive |
| Offers video and audio conferences | Clunky conferencing interface |
Phone.com Pricing
Base: $9.99 per month for 300 monthly minutes or $24.99 per month for unlimited calling
Plus: $14.99 per month for 500 monthly minutes or $32.99 per month for unlimited calling
Pro: $29.99 per month for 1,000 monthly minutes or $49.99 per month for unlimited calling
Phone.com Features
Conferencing: Phone.com offers audio calling for up to 300 people at a time and every user can be assigned their own dedicated conference bridge number.
Video calling: The Pro version of the system offers unlimited HD video calling for up to 300 people at once.
Flexibility: The fact that Phone.com offers both unlimited calling plans and those with set minute limits ensures that you can pick a plan that meets your needs.
Zoom: Best No-frills Video Conference Calling Service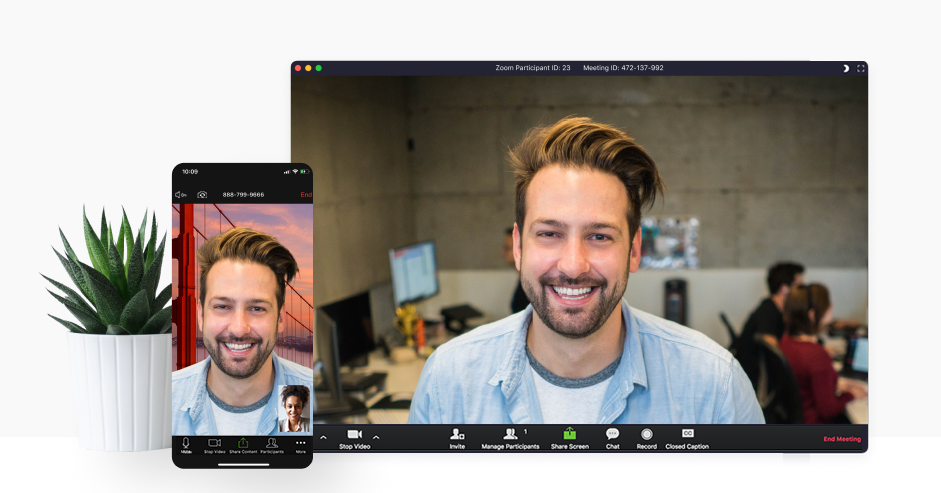 Zoom is a video conferencing service that offers both phone and internet video meetings. There is a limited free version as well as paid versions starting at $14.99 per host, per month. The service offers HD video calling, screen sharing, and is exceptionally easy to use. Zoom is a good fit for companies that are looking for an intuitive conferencing system that does not come with a phone system.

| Zoom Strengths | Zoom Weaknesses |
| --- | --- |
| Offers a free version | Does not come with a phone service |
| HD video and dial-in functionality for up to 500 participants | Meetings on Free version are limited to 40 minutes |
| Screen-sharing capabilities | Can suffer reliability issues |
Zoom Pricing
Basic: Free, 100 participants, 40-minute meeting length
Pro: $14.99 per host, per month, 24-hour meeting length
Business: $19.99 per host, per month, 300 participants per meeting; requires at least 10 hosts signed on to the plan
Enterprise: $19.99 per host, per month, 500 participants per meeting; requires at least 100 hosts signed on to the plan
Phone meetings are available with all paid plans for an additional $100 per month.
Zoom Features
Video meetings: Zoom offers HD video calling and crystal-clear audio on a decent internet connection.
Phone conferencing: For an additional $100 per month, users can dial in to your Zoom meetings via phone.
Screen sharing: Zoom allows you to share the contents of your screen. You can even use an on-screen pen to highlight items.
Free Standalone Conference Calling Software Alternatives
Conferencing calling is a common feature found in leading voice over IP (VoIP) business phone systems, which is why the majority of our recommendations are for complete phone services. However, some providers set limits on the number of participants you can host on a conference call with their entry-level plan, which may limit the feature's effectiveness for some businesses.
Standalone conference calling services can serve as a budget-friendly alternative to upgrading a business phone plan but have drawbacks as well. For example, some services require you to manage multiple phone and ID numbers, which can be a hassle. Call quality also often suffers if too many people join the line. That said, there are a few budget-friendly standalone services to consider before agreeing to pay extra for additional phone features you may not need:
FreeConferenceCall.com: Best for teams looking for an intuitive, effective, and free conferencing solution
UberConference: this standalone software is a good option for small teams who need higher-end features
FreeConference.com: the software offers several benefits for global teams, making it a good alternative for international conferencing
Bottom Line
Conferencing tools are an increasingly essential part of our daily workflows. Even when we are physically apart, we can stay in touch with team members and maintain productivity. The best conferencing services on the market come at a variety of price points to meet any budget.
We recommend RingCentral to anyone looking for a capable, intuitive conferencing system. The phone system offers both phone and video conferencing capabilities and is exceptionally easy to use. The company also offers a 15-day free trial so that you can try it out for yourself.