Voice-over-internet-protocol (VoIP) services empower businesses to ditch traditional legacy landlines and embrace internet-based systems. These new, evolving services offer substantial cost savings as well as advanced features like mobile apps, software integrations, auto-attendants, and video conferencing.
However, not every VoIP platform is a good fit for home offices. Some focus on enterprise private branch exchange (PBX) solutions. Others charge higher rates for team collaboration features and high-capacity meeting functionality—services that solopreneurs and freelancers don't really need at prices they can't afford. We looked at several VoIP services and narrowed it down to the top six home office solutions based on features, price, ease of use, and user feedback.
We found the best VoIP services for home offices, based on a number of use cases, are:
Ooma: Best Overall VoIP Service for Home Offices

Ooma is a small business phone system that offers all the features a business needs to establish a professional calling experience from home. It comes with affordable desk phones and easy-to-use desktop and mobile apps, allowing you to customize how you make and answer calls from your office. Plans start at $19.95 per user, per month and provide extensive call management functionality.
Ooma is the perfect VoIP option for small businesses with big needs. Ooma's basic plan is feature-rich but affordable, while the premium tier gives small business owners room to scale. Thanks to its well-thought-out plans and nicely packaged features, Ooma is great to take from early-stage startup days all the way toward an established company.

| Ooma Strengths | Ooma Weaknesses |
| --- | --- |
| Scalable plans and functionality | More expensive than other home office solutions |
| Compatible with a desk phone, smartphone, and desktop | Clunky user interface |
| Includes extensive call management features | Desktop app only available on Pro plan |
Ooma Pricing*
Ooma Office: $19.95 per user, per month for unlimited domestic calling, text messaging, mobile app, auto-attendant, call management features, and multidevice ring
Ooma Office Pro: $24.95 per user, per month for a desktop app, call recording, and voicemail transcriptions
*Pricing is on a monthly basis.
Ooma Features
Multi-ring: Enable your business number to ring your desk phone and mobile device to ensure you never miss an important call.
Video conferencing: Take your communications beyond phone calls and text messages with video conferencing meetings, chat, and screen sharing.
Virtual receptionist: Automate how you handle incoming calls with custom messages, routing, multilayer menus, and modes for business hours and after hours.
Visit our Ooma user reviews page for more information.
Grasshopper: Best Home VoIP Service for Professional Features

Grasshopper is a VoIP solution for small businesses that need to make a big impression. Professional features like custom greetings, instant responses, and incoming call control empower business owners to handle more phone calls with less hassle. Plans start at $29 per month for one phone number, three extensions, and complete access to all of Grasshopper's features.
Thanks to Grasshopper's universal features, you don't have to beat your head against the wall choosing the right plan. Every plan includes Grasshopper's basic and advanced features. They only differ in how many phone numbers and extensions you need for your business. With plans ranging from one number and three extensions to five numbers and unlimited extensions, Grasshopper can provide all the VoIP calling functionality your business will ever need.

| Grasshopper Strengths | Grasshopper Weaknesses |
| --- | --- |
| Advanced features available on every tier | Entry-level plan is costly relative to other home VoIP services |
| Easy-to-use app | Lacks unlimited international calling |
| Instant responses and custom greetings make a great first impression | Initial setup can be time-consuming |
Grasshopper Pricing*
Solo: $29 per month for one phone number and three extensions
Partner: $49 per month for three phone numbers and six extensions
Small Business: $89 per month for five phone numbers and unlimited extensions
*Pricing is on a monthly basis. Annual pricing is available on Grasshopper's pricing page.
Grasshopper Features
Incoming call control: Customize your business hours, screen callers, and block certain calls.
Custom greetings: Play your customers a prerecorded message when they call.
Instant response: Text your callers back automatically whenever you're unable to pick up a call.
For more information on Grasshopper and its features, go to our Grasshopper user reviews page.
Google Voice: Best Home VoIP Service for Google Workspace Users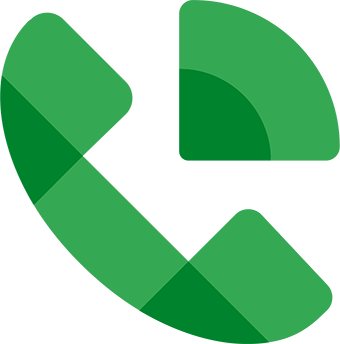 Google Voice is a cloud-based VoIP platform that harmonizes smoothly with the suite of apps in the Google Workspace. With Google Fi compatibility and Meet and Calendar integrations, you can keep all your workflows under one roof. Voice is affordable and easy to use, utilizing powerful behind-the-scenes artificial intelligence (AI) and simple call management features to deliver a reliable business phone system.
Freelancers and business owners with limited demands can get their feet wet without any investment with Google Voice's free plan, but they'll likely need to upgrade soon to satisfy basic communication needs. Paid plans start at $10 per user, per month and come with all the fundamental functionality you need to deliver high-quality calling experiences.

| Google Voice Strengths | Google Voice Weaknesses |
| --- | --- |
| Straightforward integration with Google apps | No advanced call management features |
| Affordable plans scale nicely for freelancers and small teams | No emergency calling |
| Familiar user interface makes Voice easy to set up and simple to use | Voice-to-text function is often inaccurate |
Google Voice Pricing*
Personal: Free for one user only
Starter: $10 per user, per month for up to 10 users and up to 10 domestic locations; it includes unlimited calling and SMS, Google integrations, call forwarding, and voicemail transcriptions
Standard: $20 per user, per month to add unlimited users, unlimited domestic locations, a multilevel auto-attendant, Ring Groups, and desk phone support
Premier: $30 per user, per month for international locations and advanced reporting
*Pricing is on a monthly basis.
Google Voice Features
Video conferencing: Add video conferencing to your suite of communication possibilities with Voice's integration with Meet.
Google integrations: Easily integrate Voice with Google Workspace apps like Meet, Calendar, and Gmail.
Smart AI: Google's smart AI filters spam calls, transcribes voicemails, and lets you configure your PBX.
Check out our Google Voice user reviews page for more information.
Phone.com: Best Home VoIP Service for Affordable, a la Carte Pricing

Phone.com is a VoIP phone system that offers everything from voice, text, video, fax, conferencing, and collaboration under an a la carte pricing model. Businesses can pick and choose the features they need to create a custom-made, affordable communications solution. Plans start at $12.99 per month with additional features available via add-on pricing.
Phone.com delivers an impressive suite of features that are available on every plan. These include auto-attendants, routing, scheduling, Follow Me, hold music, unlimited extensions, and integrations with customer relationship management (CRM) tools. If you want to control every aspect of your business phone system and drive down costs wherever possible, Phone.com is one of the best solutions on the market.

| Phone.com Strengths | Phone.com Weaknesses |
| --- | --- |
| Unlimited and metered pricing plans available | Dated user interface |
| Impressive suite of features available in all packages | Metered plans get expensive if you incur overages |
| Affordable pricing | Customer service has a poor reputation |
Phone.com Pricing*
Base Account: $12.99 per month for one line, 300 minutes, 2,000 texts, and access to all Phone.com's standard features
Plus Account: $19.99 per month for one line, 500 minutes, 3,000 texts, premium hold music, and voicemail-to-text functionality
Unlimited Extension: $29.99 per extension, per month for unlimited minutes and texts; price per extension decreases with more lines
*Pricing is on a monthly basis, but annual plans are available too. Add-on pricing also allows you to build the package you'd like without necessarily needing to upgrade to the next tier.
Phone.com Features
Menus (interactive voice response): Set up multilayer menus using custom recordings to walk your callers through business hours or other directories.
My.Phone.com: Access your Phone.com account on any device with a browser, empowering you to work from your phone, tablet, or computer.
Text-to-greeting: Create custom audio messages with a selection of over 40 automated personalities.
GoDaddy SmartLine: Best Service for Home Business With Set Hours

GoDaddy SmartLine offers solopreneurs and freelancers a bare-bones VoIP solution. It's simple, affordable, and easy to use. SmartLine essentially adds a second phone number to your device (via an app) to separate your business calls from personal calls. It also comes with a few helpful features to manage your calls: custom voicemail greetings, ringing only during business hours, and caller ID.
SmartLine's plans start at $9.99 per month and include unlimited calling and texting. Business owners looking for a simple way to protect their personal numbers and organize all their customer communications in one place will love GoDaddy SmartLine's pared-down functionality and easy-to-use app.

| GoDaddy SmartLine Strengths | GoDaddy SmartLine Weaknesses |
| --- | --- |
| Easy to set up and use | Bare-bones call management functionality |
| Affordable plans | No desktop or web application |
| Find work-life balance with custom hours, do-not-disturb mode, and number blocking | Not compatible with desk phones |
GoDaddy SmartLine Pricing*
SmartLine Unlimited: $9.99 per month for a local U.S. number
SmartLine Toll-Free: $19.99 per month for a toll-free 1-800 number
*Pricing is on a monthly basis.
GoDaddy SmartLine Features
Caller ID: Know who's calling for you and who's calling for your business so you can always answer like a pro.
Work-life balance: Avoid interruptions and disturbing the lives of the other members of your household with custom business hours, do-not-disturb mode, and number blocking.
Custom voicemail greeting: Create your own voicemail greetings to make every call a professional experience—even the ones you miss.
magicJack: Best Home VoIP Service for Utilizing a Desk Phone & Mobile App

magicJack is a simple, out-of-the-box VoIP solution that delivers fundamental features at an affordable price. You simply pick a phone number (or port an existing one), choose your desk phone, download the mobile app, and get started. magicJack has a single business plan that includes all the basic functionality you need. It also provides add-ons like an auto-attendant, virtual fax, and toll-free numbers for a monthly fee.
Business owners wanting a simple solution that includes a desk phone will enjoy magicJack's no-frills VoIP service. It doesn't compete with more robust services like Ooma and RingCentral, but it provides the basic call management functionality a business needs to offer a professional calling experience.

| magicJack Strengths | magicJack Weaknesses |
| --- | --- |
| One affordable, scalable plan | Must purchase desk phone |
| Simple and easy to use | No video conferencing or integrations |
| Useable over desk phone, mobile, and desktop | Auto-attendant requires extra cost |
magicJack Pricing*
magicJack for BUSINESS: $15.99 per line, per month; includes all the features, namely: call handling, music on hold, conference bridge, and 3-way calling
When signing up, you'll have the option to choose a few add-ons:
Auto Attendant: $10 per month
Virtual Fax: $5 per month
Toll-free Numbers: $5 per month
*Pricing is on a monthly basis.
magicJack Features
Music on hold: Give your customers a pleasant waiting experience with music on hold.
Enhanced call forwarding: Customize exactly how you want inbound calls to be routed to one of your phone numbers with simultaneous, sequential, and fallback forwarding options.
Auto-attendant: Program a virtual receptionist to greet inbound callers and direct them to the right extension.
How We Evaluated the Best VoIP Services for Home Offices
The best VoIP services for home offices need to be simple, easy to use, and affordable. Plus, they should have the basic call management functionality you need to create professional calling experiences for all inbound and outbound phone calls. These are the need-to-have characteristics, but most of the top solutions we identified include loads of nice-to-have features too.
When comparing solutions, here are the primary criteria we considered:
Price: We compared solutions to find the highest-quality services with the most affordable prices.
Ease of use: We compared tools to determine which ones were easier to set up, use, and optimize.
Call management features: We analyzed the call management features to see which gave users the most control over their inbound and outbound phone calls.
Customer support: We analyzed customer support offerings and promises to determine which solutions will resolve your issues the quickest.
User reviews: We read reviews (from users like you) to learn more about their experience using the different platforms.
For the best overall VoIP service for home offices, we recommend Ooma. Ooma's Office plans deliver simplicity and flexibility bundled in a low-cost plan. Whether you want to communicate via desktop, smartphone, or desk phone, Ooma has affordable plans that are easy to set up, use, and scale.
Bottom Line
VoIP solutions come in various shapes and sizes, but not every platform will satisfy the functionality, simplicity, and affordability that home offices demand. Fortunately, there are plenty of options available built with the home office in mind.
When it comes to the best VoIP services for home offices, Ooma takes the lead. Its comprehensive call features bundled into affordable pricing plans make it a low-cost, reliable solution for professional calling experiences. Give Ooma a try on their 30-day, risk-free trial.